Island Ecosystem Advocate Duane Silverstein Named July Sea Hero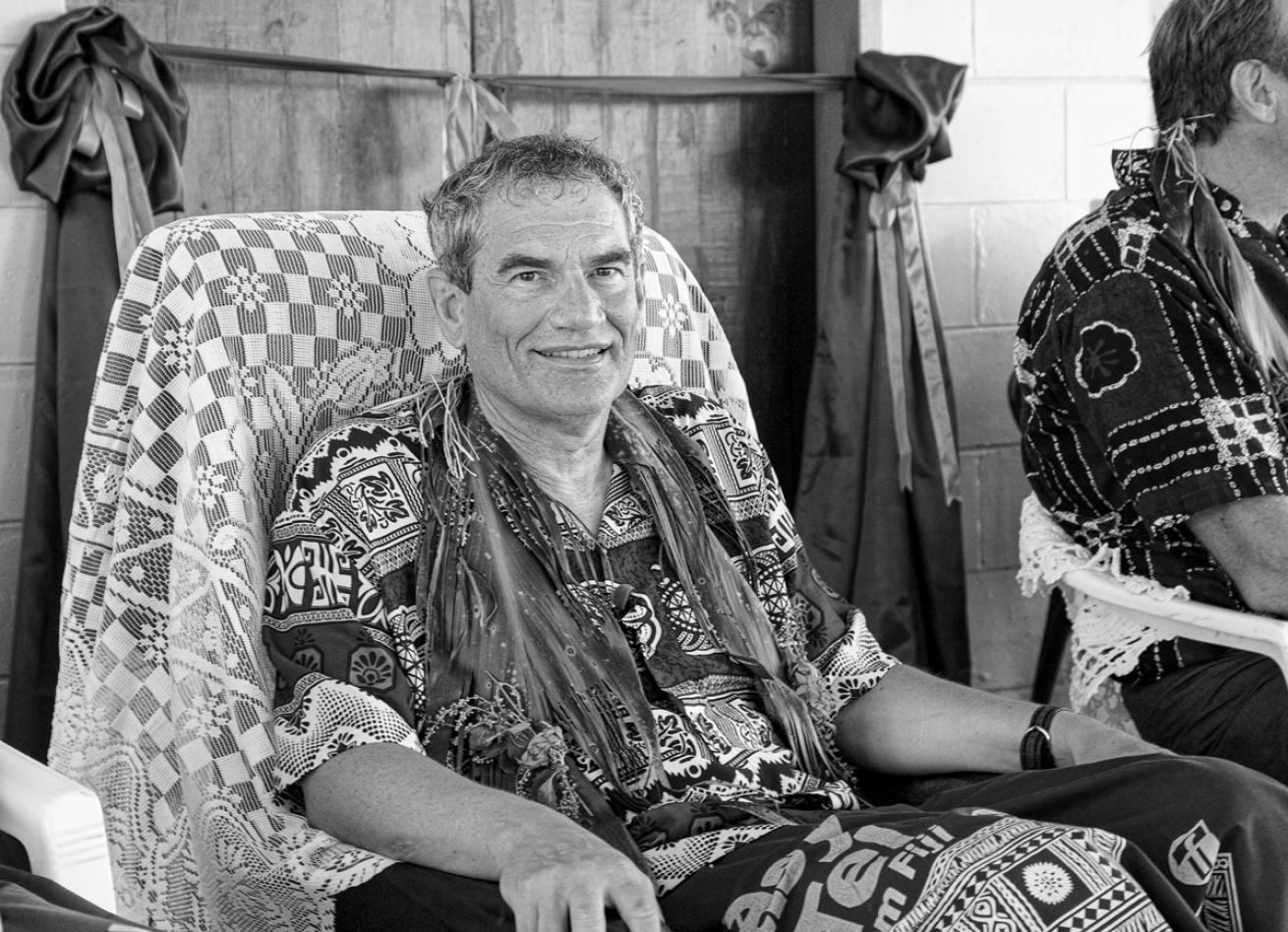 Silverstein at a Seacology opening ceremony in Fiji.

Seacology
Year Dive Certified: 1991
Age When Certified: 39
Dive Certification Level: PADI Advanced Open Water Diver, NAUI, SSI Nitrox
Words to Live By: "Cowards die many times before their deaths; the valiant never taste of death but once." —Shakespeare
Instagram @seacology_photos
Facebook Seacology
Duane Silverstein's volunteer experience with Native Hawaiians during the summer after his first year of law school changed the course of his life. He left school and dedicated his efforts to protecting the endangered habitats and cultures of islands. For more than 20 years, Silverstein has led the nonprofit Seacology as its executive director. He's visited more than 210 islands and 87 nations, and the work of Seacology has led to the protection of more than 1.4 million acres of threatened island terrestrial and marine ecosystems. For his dedication to the unique ecosystems of islands and his award-winning career with Seacology, Silverstein is our July Sea Hero.
Q: Seacology is focused on protecting islands. What about this organization's mission has led you to dedicate the past 22 years to its cause?
A: The overwhelming majority of plant and animal species extinctions in recorded history have taken place on islands. After my first year of law school, I volunteered for a small nonprofit organization in Hawaii working with Native Hawaiians to help them protect their land and sea. I loved working with the Hawaiian people so much that I dropped out of law school and dedicated my life to protecting the endangered habitats and cultures of islands.
Q: As executive director of Seacology you have championed a "win-win strategy" for working with local communities. Why is this strategy so important, and does it come with any challenges?
A: Improving islanders' quality of life by giving them something tangible such as a school or freshwater delivery system, in return for promising not to fish in a newly created marine reserve, is the least we can do. After all, local people need to feed their families, and it is only right that they get something in return for their sacrifices on behalf of the environment. But it is also the only strategy that is going to work in the long run. It is up to them to protect their land and sea, and they need an incentive to do so. The main challenge is that you have to let the local people decide what they want. After the 2004 tsunami, we asked the people of the Andaman Islands what they needed to help them get back on their feet. They said six chickens and two goats per household. Our first response was, "What on earth does that have to do with tsunami relief?" They responded by saying they could eat and sell the eggs and the milk. So, that is exactly what we provided to them.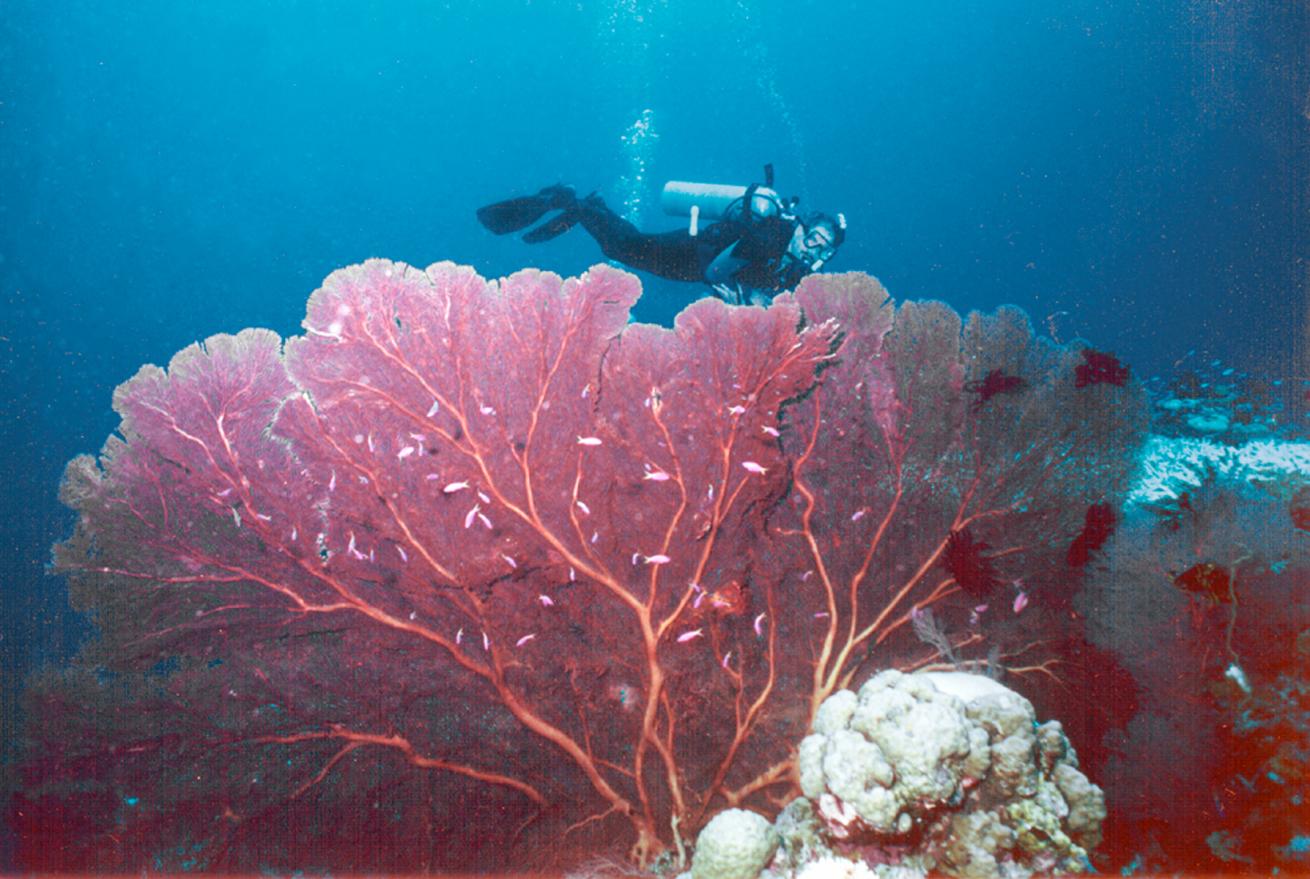 Silverstein dives in Papau New Guinea.

Seacology
Q: How do you determine which islands have the most critical or immediate needs?
A: We have a network of part-time field representatives on islands throughout the world. They work out of their own houses and serve as Seacology's eyes and ears, identifying communities with a strong commitment to conservation as well as local partner organizations that can execute the projects that we fund.
Q: How can divers get involved with Seacology?
A: I know some lofty answer is expected here, but the single best way divers can help is by spreading the word about Seacology, and by making a tax-deductible donation through our website. Our major donors are invited to join us on dive trips during which we visit our projects.
Q: What do you view as the greatest challenges in marine conservation today? How are these challenges reflected in your own work?
A: The two greatest challenges to marine conservation today are warming of the oceans and overfishing. We tackle the first by supporting mangrove and sea-grass preservation projects. These two ecosystems sequester very large amounts of carbon and play an important role in combating global warming. We address overfishing by establishing no-take marine reserves, where fishing is not allowed or is restricted.
Q: What's been your most satisfying moment?
A: I have been lucky enough to attend Seacology project openings on islands throughout the world. These often involve traditional ceremonies, dancing, a huge feast and cutting a ribbon to officially open a new school, community center or freshwater delivery system. I took this job because of my passion for preserving island ecosystems. However, my most satisfying moments are seeing how important Seacology projects are to island villages. In Western terms the cost is minimal, but these island villages could never otherwise afford to build a school or solar energy system.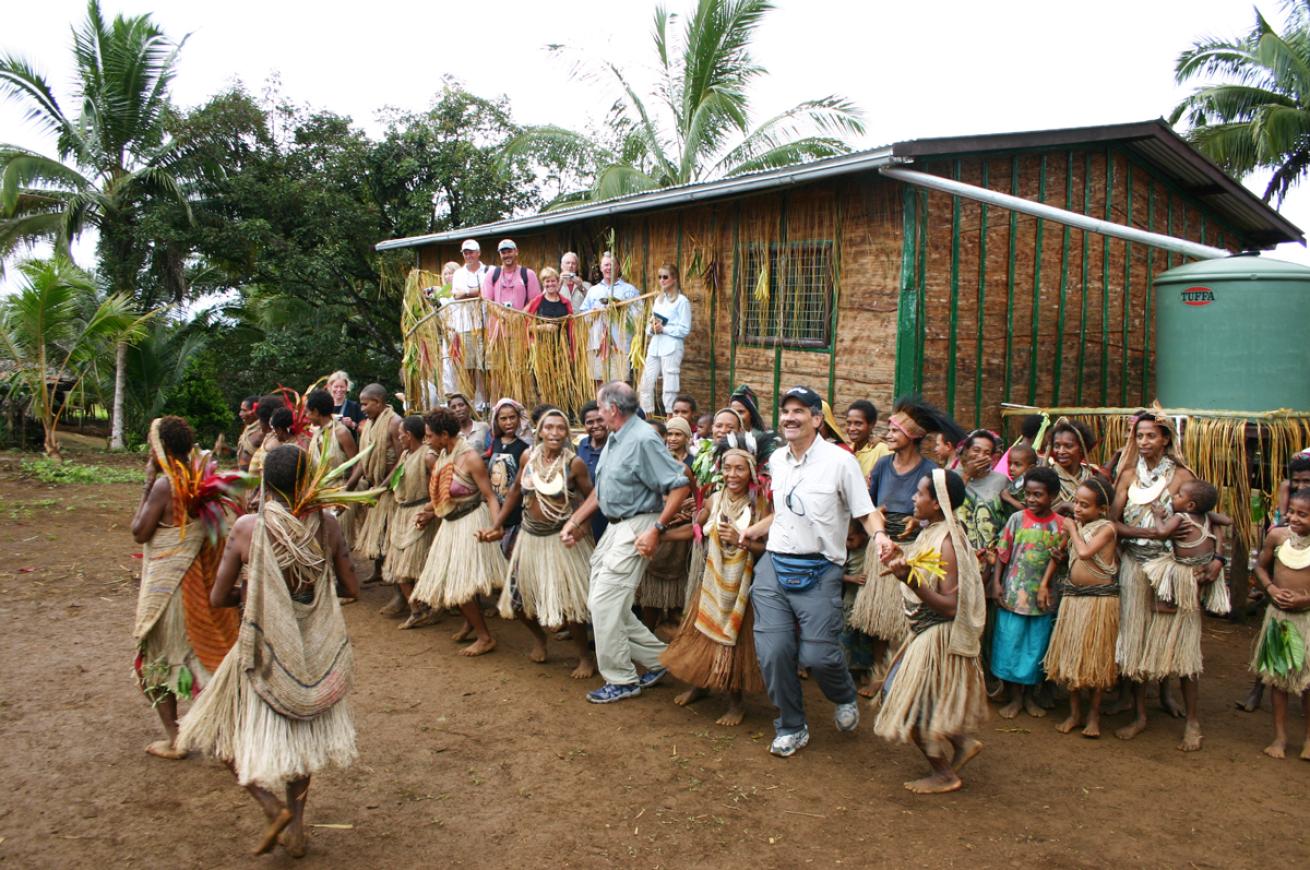 Silverstein joins locals at an opening ceremony for a Seacology-funded community center in Papua New Guinea.

Seacology
Q: What's been your most surprising moment?
A: Surprise number one is that Seacology has now launched 375 projects in 64 nations, protecting a total of over 1.4 million acres of threatened island terrestrial and marine ecosystems. These numbers were unimaginable when I started at Seacology. Surprise number two is, though we go about our work quietly with no fanfare, we have received recognition from around the world. Several years ago, the Prince Albert II of Monaco Foundation honored us as the most innovative nonprofit in the entire world. Last year we were nominated for the Nobel Peace Prize. Of course, we are thrilled that Scuba Diving magazine's Sea Hero recognition is now added to this growing and humbling list.
Q: Who are your sea heroes?
A: I am proud to call Sylvia Earle a friend. She is my number one sea hero. Additionally, there are so many Indigenous islanders throughout the world fighting to protect their environments. Though their names are not recognizable they are among the world's sea heroes.
---
Each Sea Hero featured in Scuba Diving receives a Seiko SRPD43 watch valued at $525. For our December issue, judges select a Sea Hero of the Year, who receives a $5,000 cash award from Seiko to further their work. Nominate a sea hero at /seaheroes.
---