The Longest Dive Trip Yet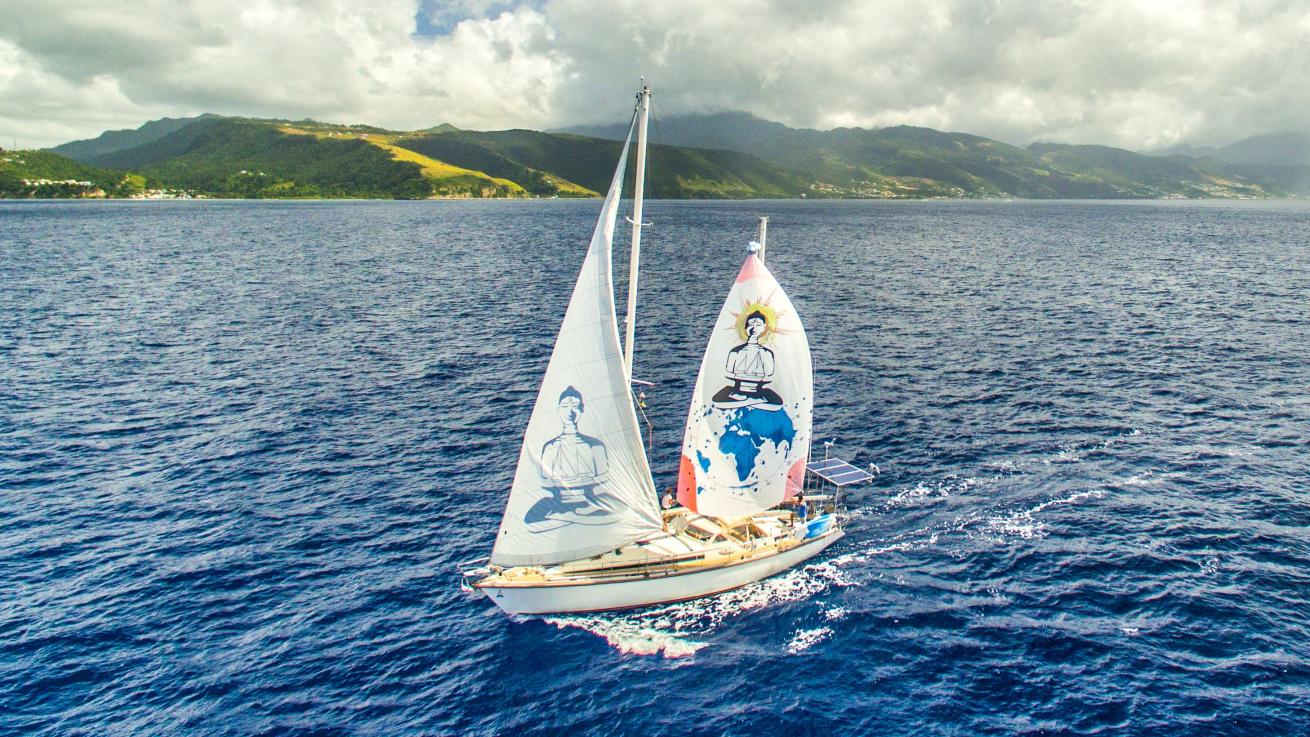 Shots of Delos under sail.

Courtesy Brian Trautman
You probably haven't heard of half of the islands that Brian Trautman has in his logbook. That's because he's not limited to destinations with resorts and dive centers. For the past 13 years, he has been traveling the globe aboard the 53-foot S.V. Delos, a self-contained sailboat with an air compressor, 2,000 watts of solar power, a watermaker, freezer and two stills–so yes, he can make a blended drink after the dive day ends. The set-up also enables him and his wife Karin to explore anywhere reachable by wind. To date, they've explored 46 countries, including the Cook Islands, Mauritius, Fiji, Papua New Guinea and many places off the radar for most landlubbers.
Question: How'd you get the idea to sail the world?
Answer: After working at Microsoft, I quit to start a company with a few friends. Around this time, I stumbled upon a book called something like "How to Cross an Ocean on Your Own Boat." That idea seemed unattainable, but it stuck with me as amazing. Then during one morning commute into Seattle, I realized that this–just staring out the bus window–was my favorite part of the day. Suddenly, I just knew I could not spend the next 30 years doing this. I gave my business partners one year's notice. Then I sold everything and bought S.V. Delos.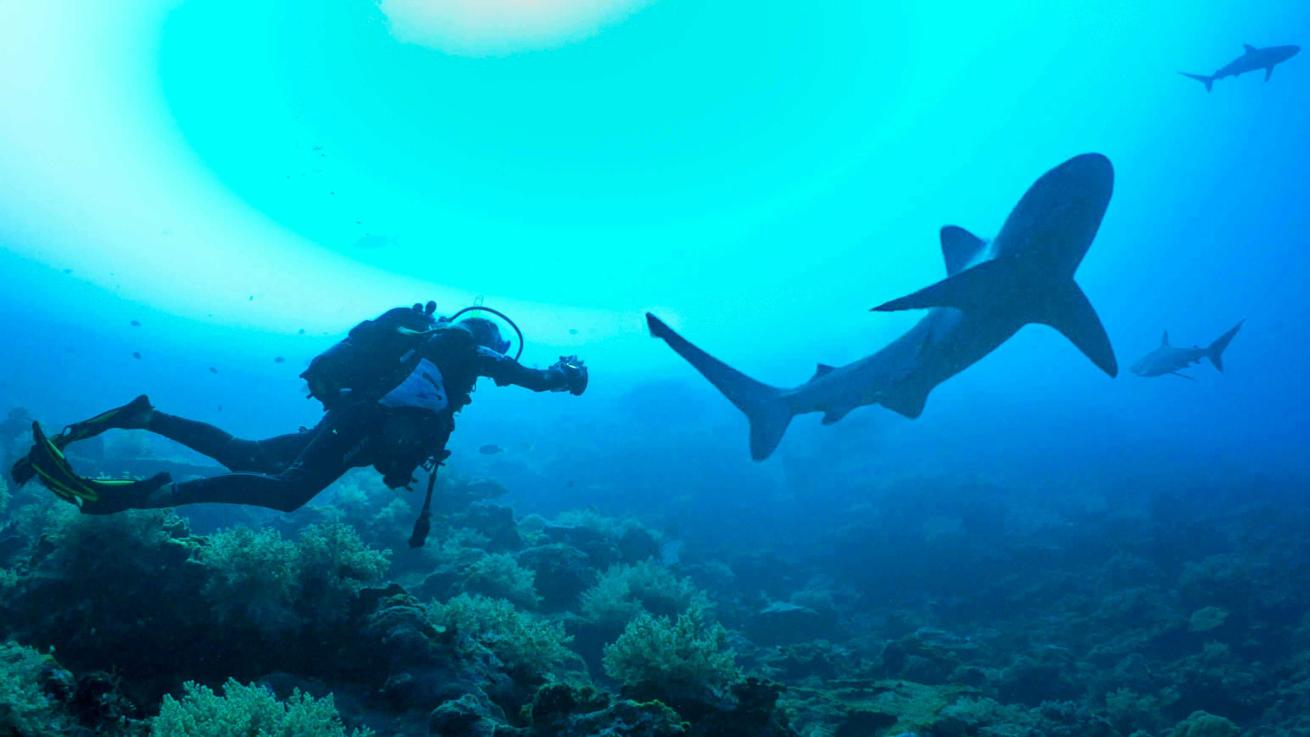 Scuba diving with sharks in Bassas da India.

Courtesy Brian Trautman
Q: How'd you get set up to do a dive trip of the world?
A: At a coffee shop in Sausalito, California, I met a guy who had planned on sailing the world. He had outfitted his boat with everything you could want. But a medical condition led him to cancel the voyage. His basement was full of scuba gear that he needed to unload–it was like a candy store for divers. Compressors typically cost at least $8,000 and he sold me one for $2,000. We also bought a few sets of dive gear. I thought, 'Why not?' And it just made sense. We planned on sailing to destinations too remote to have dive shops.
Q: Where did you cut your teeth diving?
A: One of the first remote places we dove was Mexico's Socorro Island off of the Baja Peninsula. It hadn't been on our itinerary until we went for happy hour in Puerto Vallarta chatting. Another sailor told us to go and how to get the permits, which boiled down to heading to a Mexican restaurant where a lady there had a cousin who worked in the Mexican Interior, and she got all the paperwork for us. From there, it was down to Cabo and then a two-day sail to Socorro. We ended up spending five days diving with manta rays, interacting with us so close up. It was just out of this world.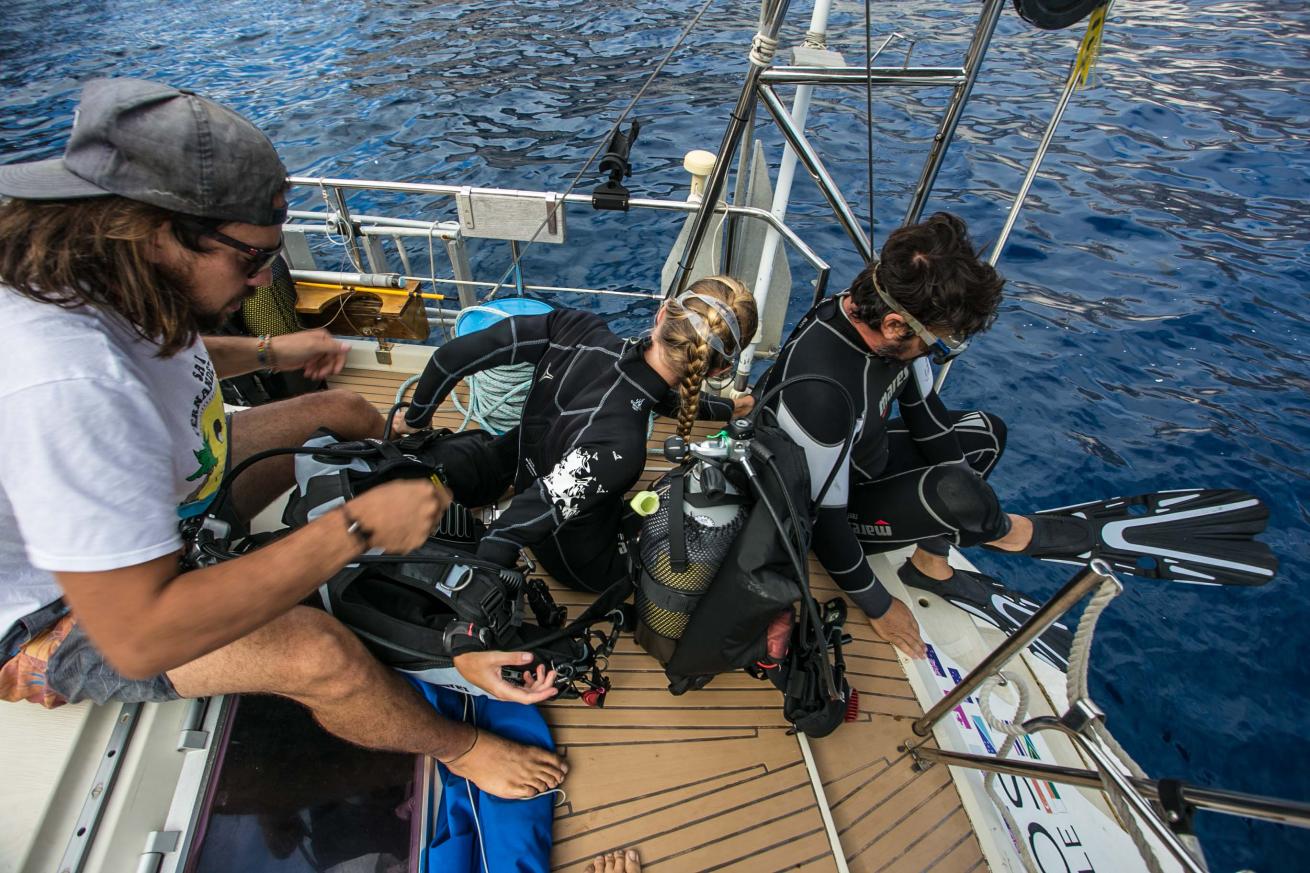 Gearing up to dive off S.V. Delos.

Courtesy Brian Trautman
Q: Tell us about diving from a sailboat and planning.
A: We typically do one dive a day, making it as long as possible. We follow our dive computers to make sure we follow depth limits. We have never had any problems. We also dive in groups. At any given time, we usually have a few friends or family members on board, and we split up. We take out our 12-foot dinghy and half of us keep watch while the other half are in the water.
Q: What's the wildest place you've been diving?
A: We visited Chagos in the middle of the Indian Ocean. It's one of the only purely uninhabited places on the globe. When we dove, oceanic whitetips kept bumping against us. We also saw a lot of species–like coral trout and grouper– that are fished out anywhere that has people and spearguns.
Q: Where else was a wild place to dive?
A: When we were in South Africa, sailors told us we had to stop at Bassas da India, an island in the Mozambique Channel. There is no land – just an atoll. In the water, we saw schools of hammerheads above us. We encountered grouper so big I was afraid they would swallow my camera housing.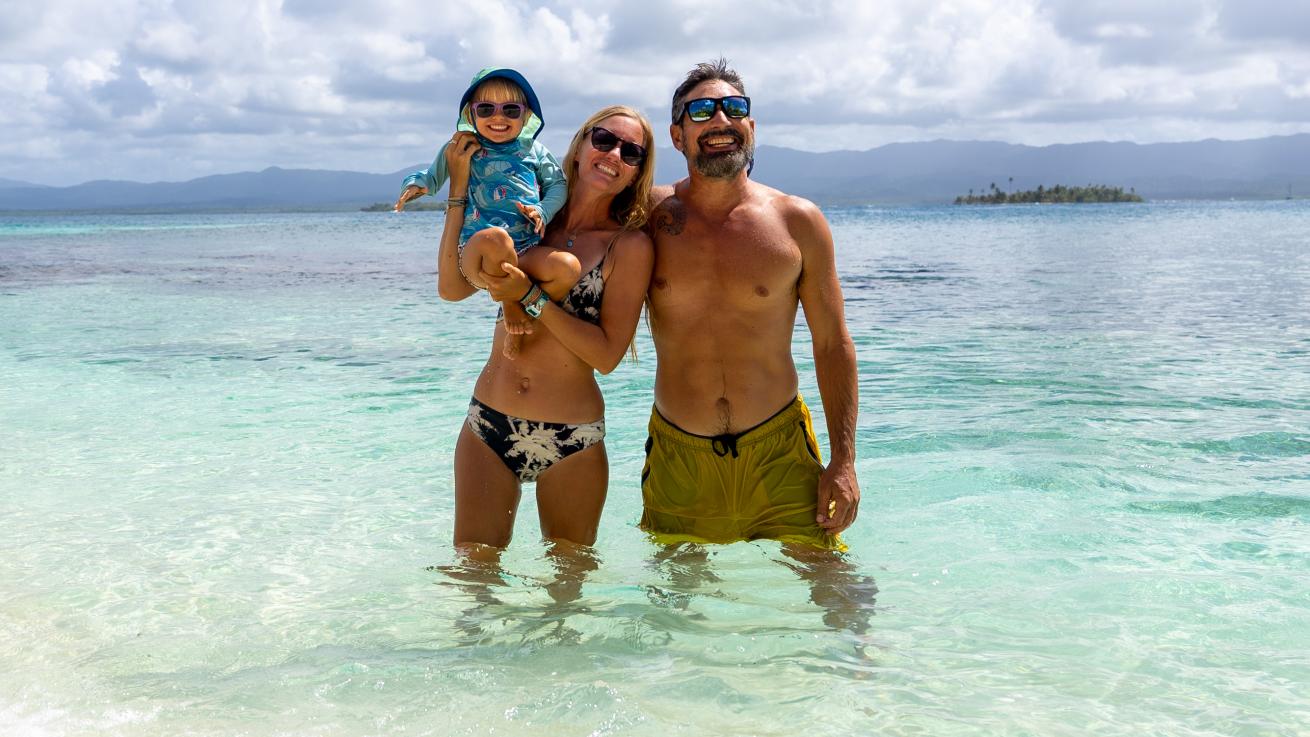 The Trautman family enjoying life at sea.

Courtesy Brian Trautman
Q: Have you ever had any close calls?
A: We were in Vanuatu, diving a wreck called S.S. President Coolidge. That week, we had a guide. He offers a weeklong tec program where he trains you to dive the wreck, and if you do well, he takes you on a dive called the Gauntlet. You enter the stern at a depth of 197 feet and swim the length of the ship, doing decompression stops the whole way and exiting the bow. During the dive, a friend of ours got lost inside. We thought he was gone. Turns out he ended up having to take off his tank and BC and squeeze through a portal, pulling his gear out behind him. He just barely made it to the deco stop.
Q: Was that the only danger you've faced?
A: Another time, we were diving off Ascension Island in the middle of the Atlantic Ocean, some 1,000 miles from Africa and 1,400 miles from South America. There was an ocean cave that we decided to explore. That day, there was a huge swell. When we started the dive, the surge rocked us a bit. At first, it didn't seem like much, but then it pulled me and my brother's friend out into this abyss. There was nothing we could do. I was holding onto a rock, trying not to let my mask get ripped off as my camera and my body were getting scratched up. We were trapped – the water had so much force. I saw Karin signal, asking what she could do. I told her to swim away because there was nothing she could do to help us. We had to wait until the direction of the force changed, blowing us back out.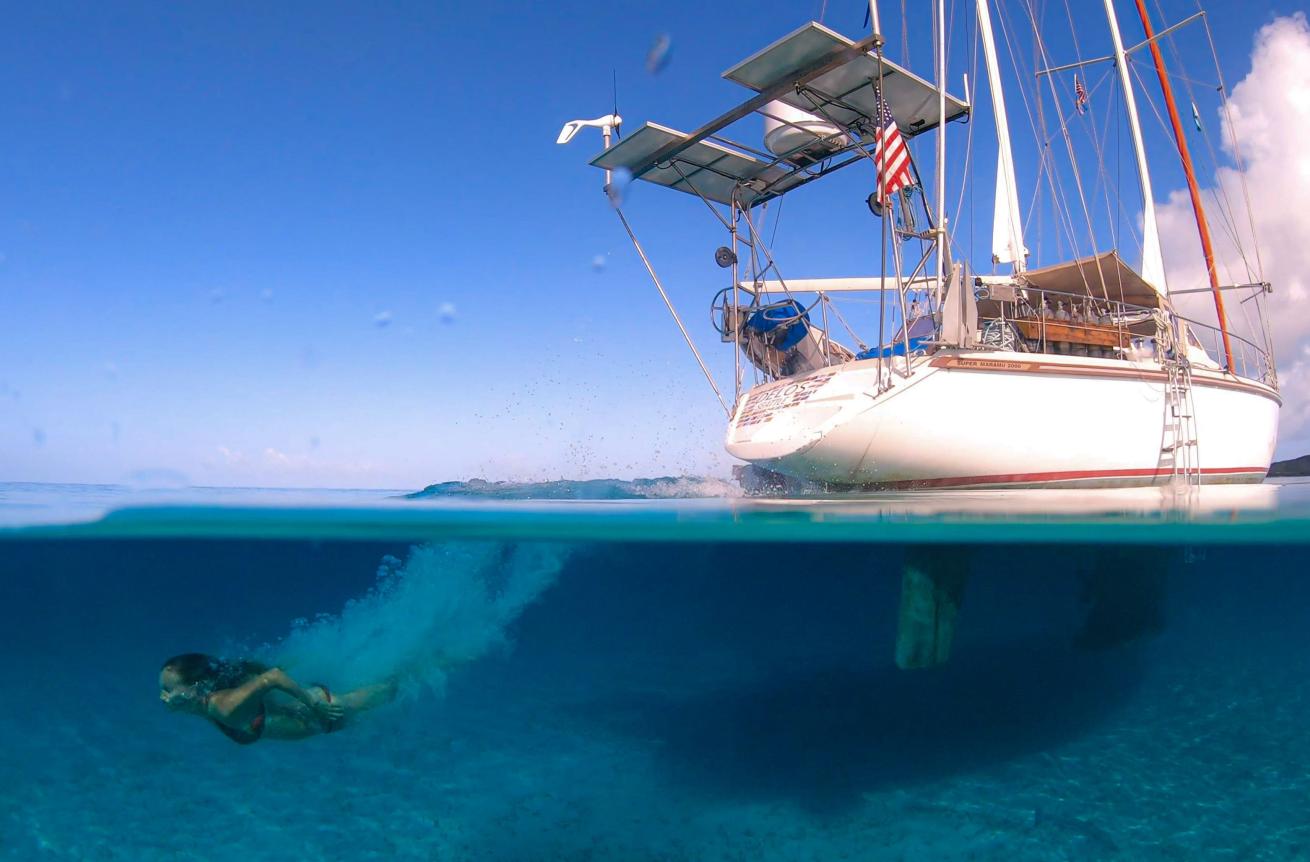 Karin diving off the S.V. Delos

Courtesy Brian Trautman
Q: Any advice for anyone looking to sail the globe?
A: Go. Go before you're ready. You will never be 100 percent prepared for any journey.
Follow Trautman's adventures on YouTube.
Remember
Never enter a wreck or other overhead environment without first getting the proper training and having the proper equipment for that environment.
---