Maui, the Aftermath: Stories of Loss, Grief and Community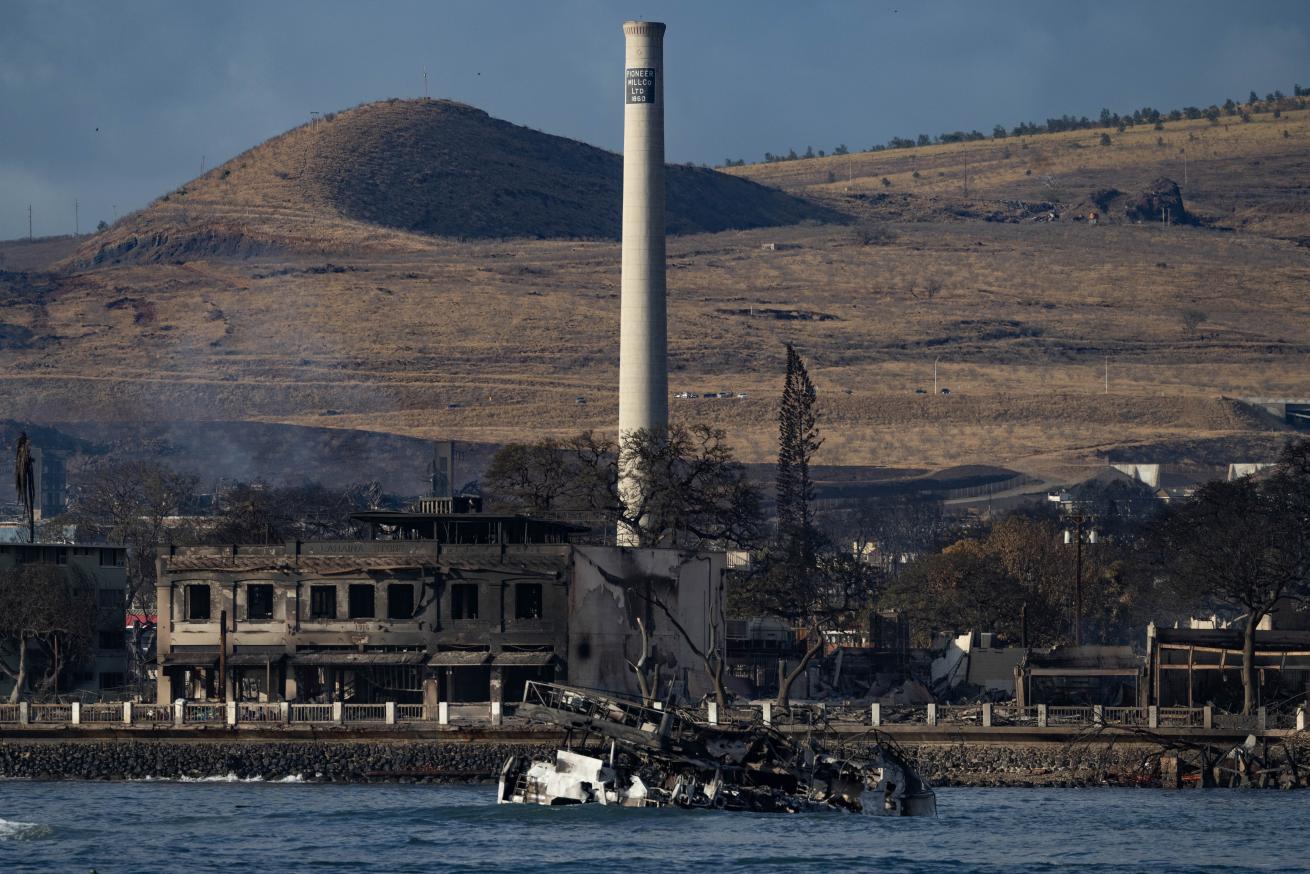 Historic Lahaina after the fires.

Courtesy Selket Kaufman
In May 2023, we arrived in Maui—the last stop of our editorial trip covering the unique diving off the Hawaiian Islands. Ready to embark on some shore diving adventures, we met up at the beautifully decorated Maui Diving Scuba and Snorkeling Center in Lahaina. The rows of gear, underwater photographs and rental equipment had us feeling like kids in a candy shop. But what stuck out to us most were the inviting atmosphere and feeling of community that owners Jessica and Steven Pickering worked hard to establish. As we waited for Steven to prepare our rental tanks for the day, one of the staff, Antonio Harmsen, introduced himself.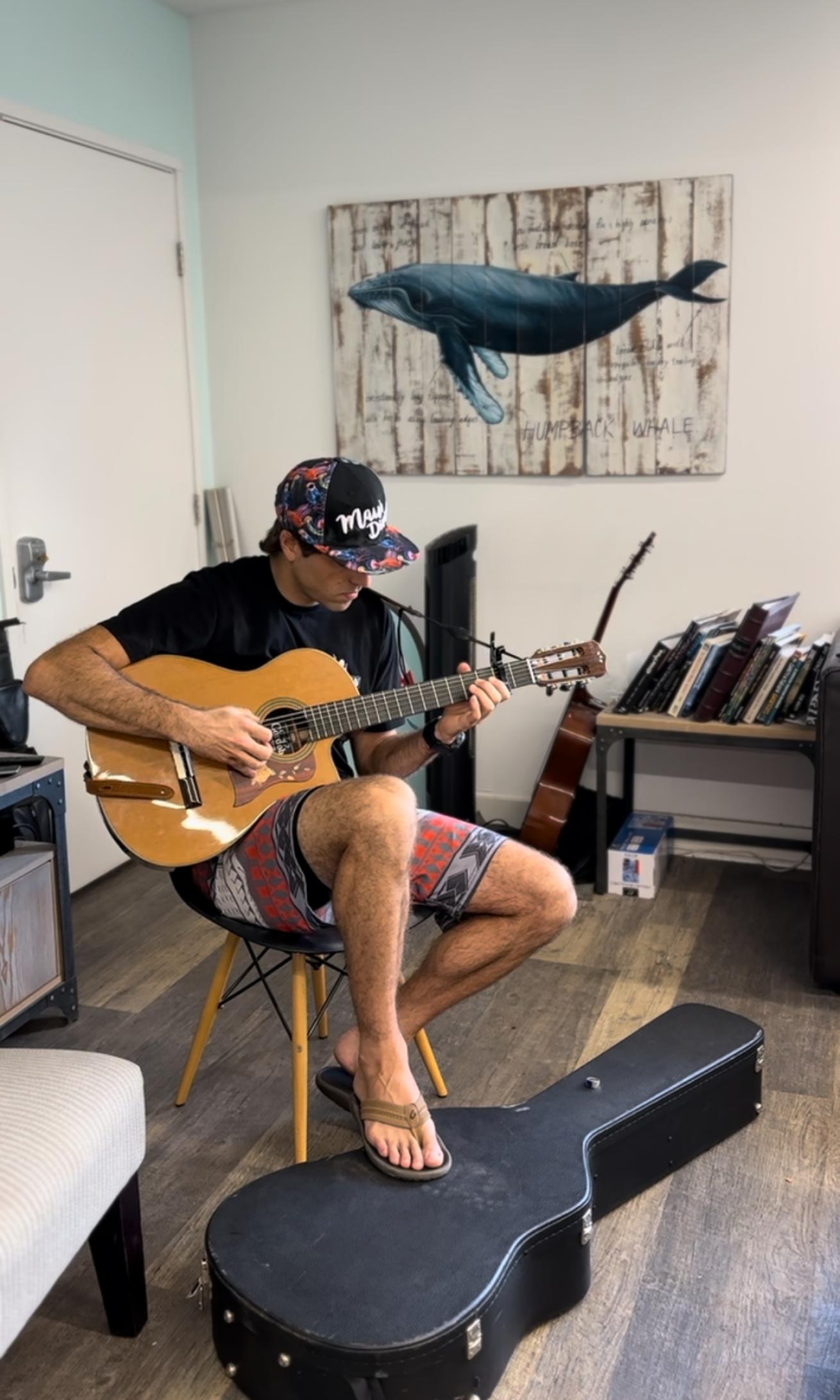 Antonio Harmsen plays the guitar at Maui Diving and Snorkeling Center

Kristin Paterakis
Oozing with excitement, the Chilean native shared with us his dream of becoming a dive instructor, after previously working as an actor in Spain and Maine. He then grabbed a guitar and began to serenade us. Through the melody, it became clear that this shop was more than a place to learn to dive. It was a space to gather, share stories and meet others with a shared love for the ocean. Three months after our visit, Maui Diving in Lahaina rested in ashes.
Unprecedented Fires
In the afternoon hours of Tuesday, August 8, strong winds from Hurricane Dora combined with blazing fires engulfed parts of Maui, including the historic town of Lahaina, razing hundreds of buildings. Residents received little to no warning that their lives were in danger. The intense speed of this fire made it "nearly impossible" to notify residents, the BBC reported. Officials have reported nearly 100 deaths, making it one of the deadliest fires in U.S. history.
The fire left unimaginable suffering in its wake and devastated the local dive community. We reached out to our new friends and dive pros in Maui to hear their stories first-hand and find out how we can support the community.
The Day of the Fire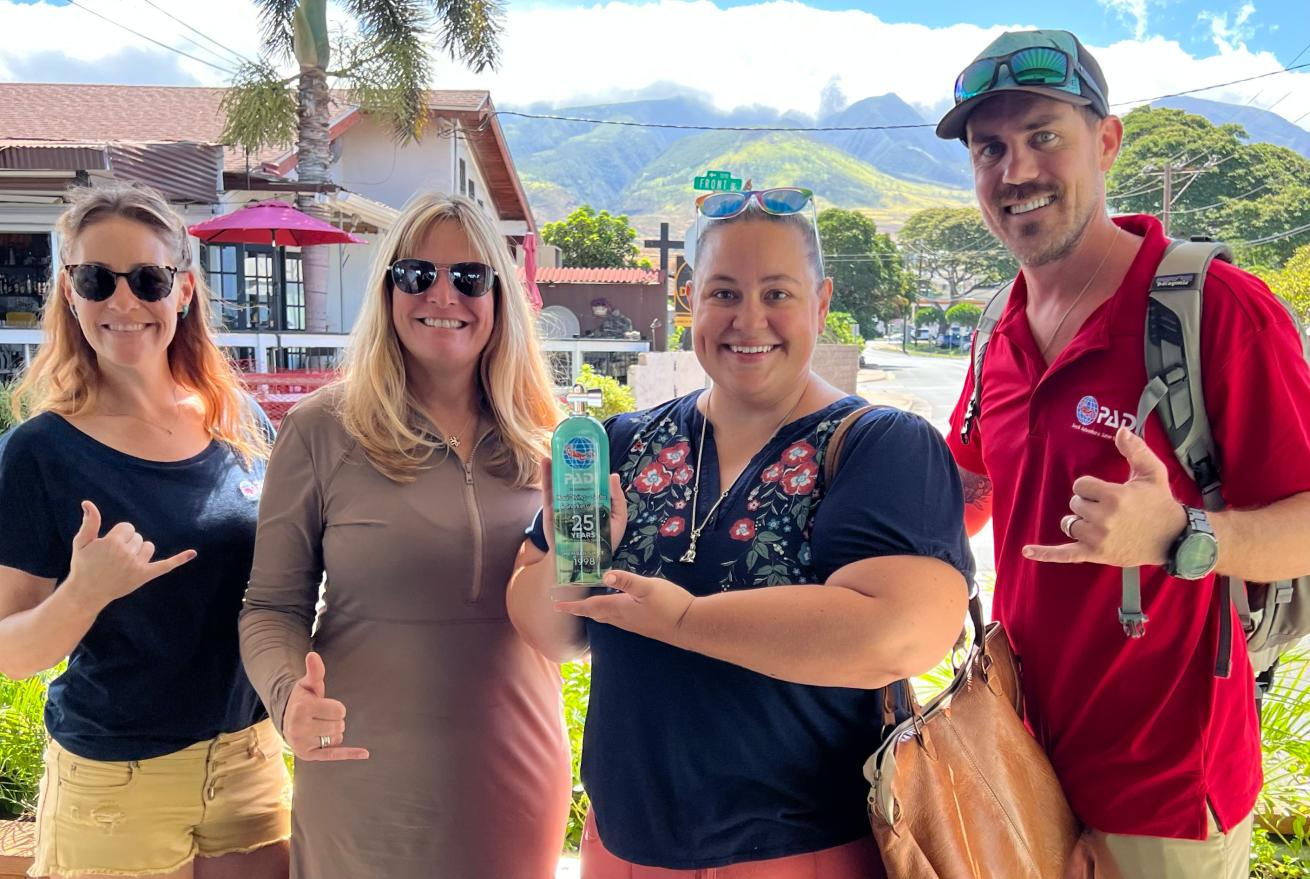 Jessica Pickering, second from right, receiving an award from the PADI team for outstanding service for 25 years.

Courtesy Jessica Pickering
Jessica Pickering
Early in the day, Jessica was astonished by the fierce hurricane winds, sharing stories on social media of trees toppling over. As the day continued and Jessica went out to film another video, she noticed something different—black billowing smoke. "I know black smoke means residences," Jessica says, "and it got really bad and I thought: 'that looks close.'" She says she "casually" began to grab her dogs' crates and food, and even cooked some food to pack.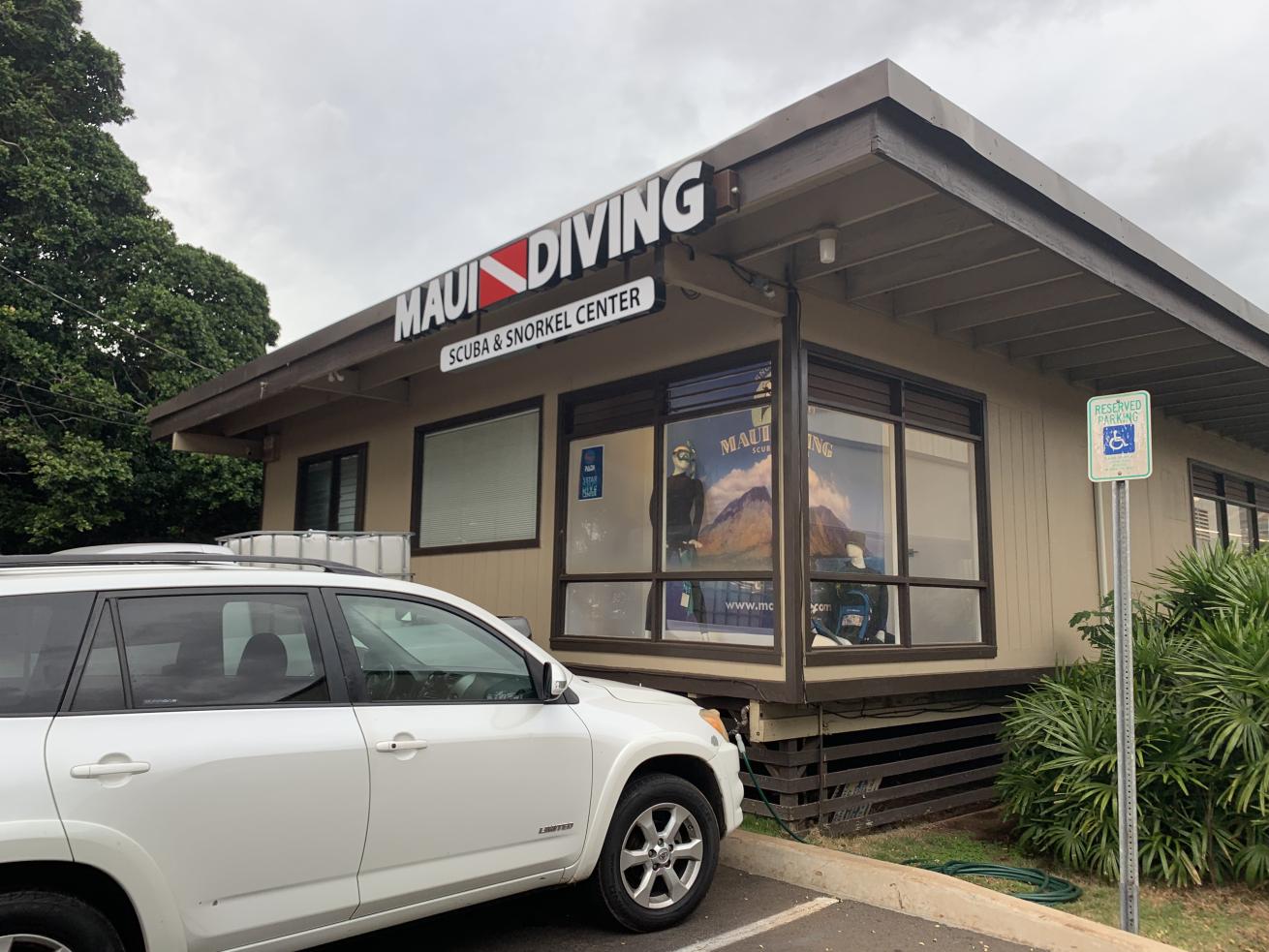 Maui Diving storefront before the fires on Aug. 8.

Courtesy Jessica Pickering
As Jessica prepared for a potential evacuation, expecting a phone or news alert, she was interrupted by a loud pounding. She looked up at the garage window to see Antonio, her housemate and employee, eyes bulging with fear. "We have to go—right now," he said.
Frightened to a chill by his urgency, Jessica raced to find her husband, who was on the roof with a hose in 70-mile-per-hour winds, attempting to douse their home. They finished loading their car and while trying to figure out the best way out, Steven jumped out to extinguish fires in the neighborhood.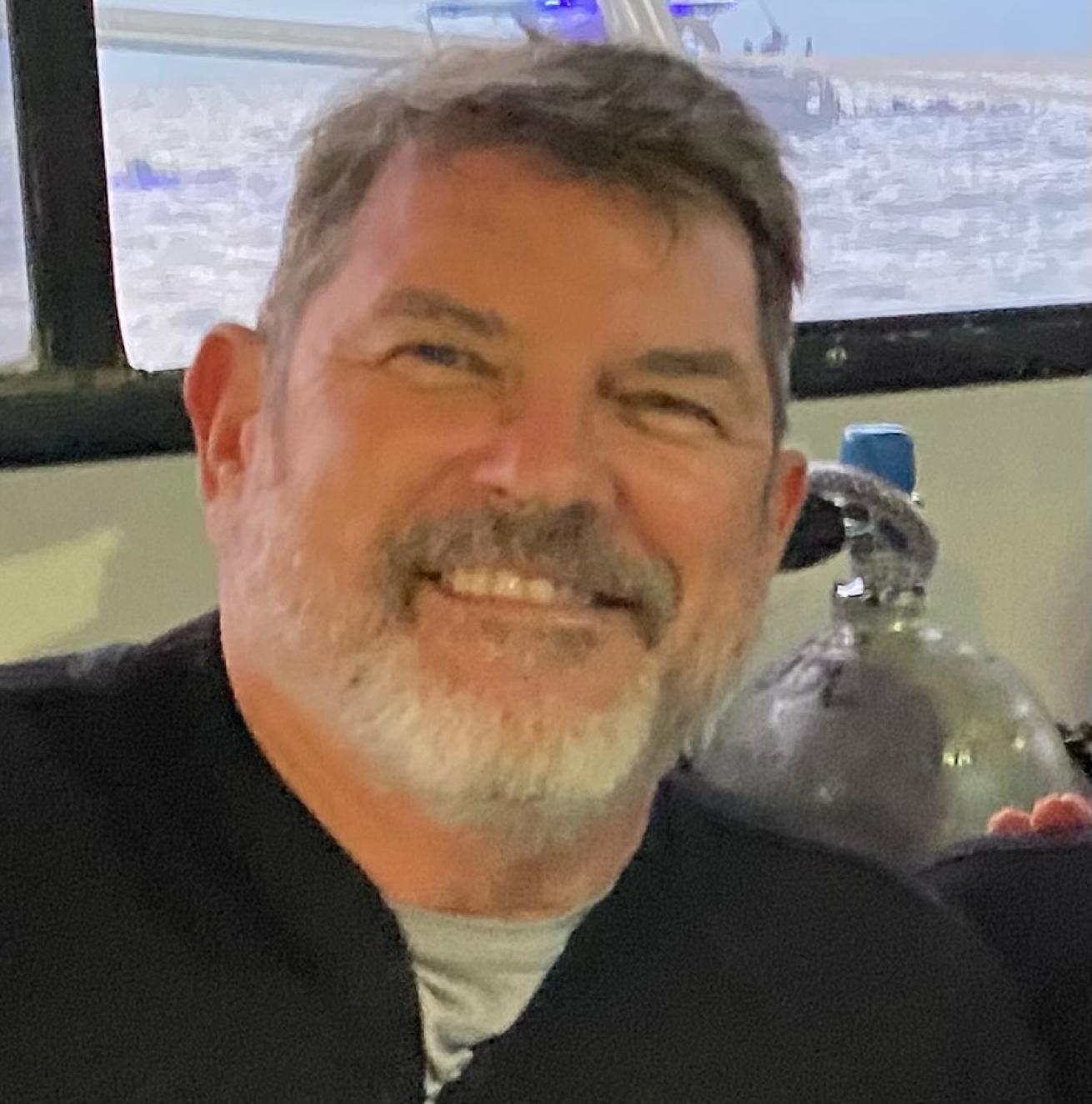 Greg Howeth owner of Lahaina Divers came to Maui 32 years ago.

Courtesy Greg Howeth
Greg Howeth
While the Pickerings and Antonio evacuated, Greg Howeth, owner of Lahaina Divers, received an unexpected knock at the door. A group of divers visiting Lahaina for their PADI Instructor Development Course came to seek refuge as the fires blazed in town. With no power or cell service, the only place they knew to go was Greg's home, where pool training sessions were conducted earlier in the week. Thirty-two years ago, Greg extended his vacation to Maui to work as a dive instructor. "I showed up on an island. I had a backpack with some clothes. And I had a dive bag and I ended up owning the company that I went to work for," he says. In the time since calling Maui home, this was unlike any disaster he had experienced. Greg had already had to cancel charters and close his shop due to high winds and power outages. He listened to the newly minted instructors share their evacuation experience in awe. He quickly took them in, though later they evacuated to a friend's home farther from the fires.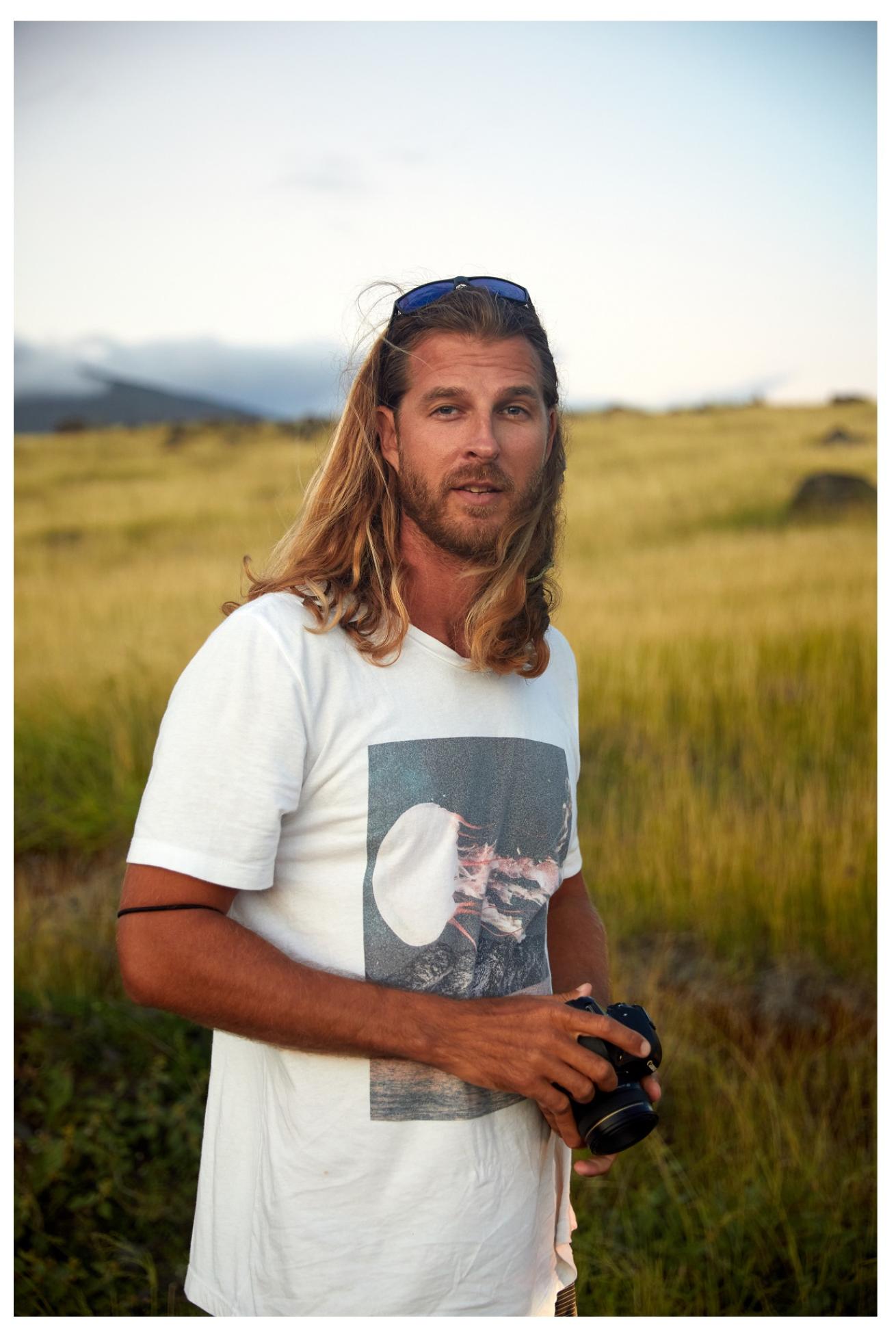 Underwater photographer and boat captain Andrew Raak had been living in Lahaina for about a year until the fires.

Courtesy Mikaela Gauer
Andrew Raak
Andrew Raak, a professional underwater photographer and boat captain for PacWhale Eco-Adventures encountered a bad omen while visiting a friend on Aug. 8; his friend's cat ran out the door and sprinted away. While searching for the cat, they noticed smoke on the hills close to Lahaina. Andrew quickly returned to his apartment to prepare a ditch bag. "I grabbed my computer, my hard drives and some clothes," he said, thinking he'd have time to gather the rest of his belongings later. He then stopped by his neighbor's apartment to take her dog with him, just in case. "By the time I left her apartment, the hallway had filled with black smoke and when I came out of the doorway it was like night out… Looking back on the city, it was just burning," he said. That's when he realized that there wouldn't be time to prepare any further.
The Aftermath
The flames continued for the next three days, leaving a path of destruction on the coastal town and its surrounding waters. Over 2,000 homes and 800 businesses were lost. While some lucky individuals found shelter in hotels or with friends, the majority of the 13,000 survivors were left searching for shelter and aid.
Jessica Pickering
The day after the fires, Jessica and Steven were sheltered at a hotel in Kaanapali. Jessica was able to view some videos that another local had taken of the damage in Lahaina. As he swiped through them, she waited hopefully, noting the destruction: "The dive flag standing in the plaza was just gone," she says "That was the first time that I knew that the shop had been burned to the ground." Just years after recovering from the coronavirus lockdown, the business that she spent years building was gone.
Then she got some positive news, the house she shared with Steven and Antonio was spared. Her relief was bittersweet. "I was one of the luckiest and I still lost my entire business," she says. Jessica expresses gratitude that their second dive center located in Kihei is still standing. Recently, from a generous donation, she acquired a container they will use as a meeting point to serve shore divers in the Kaanapali area.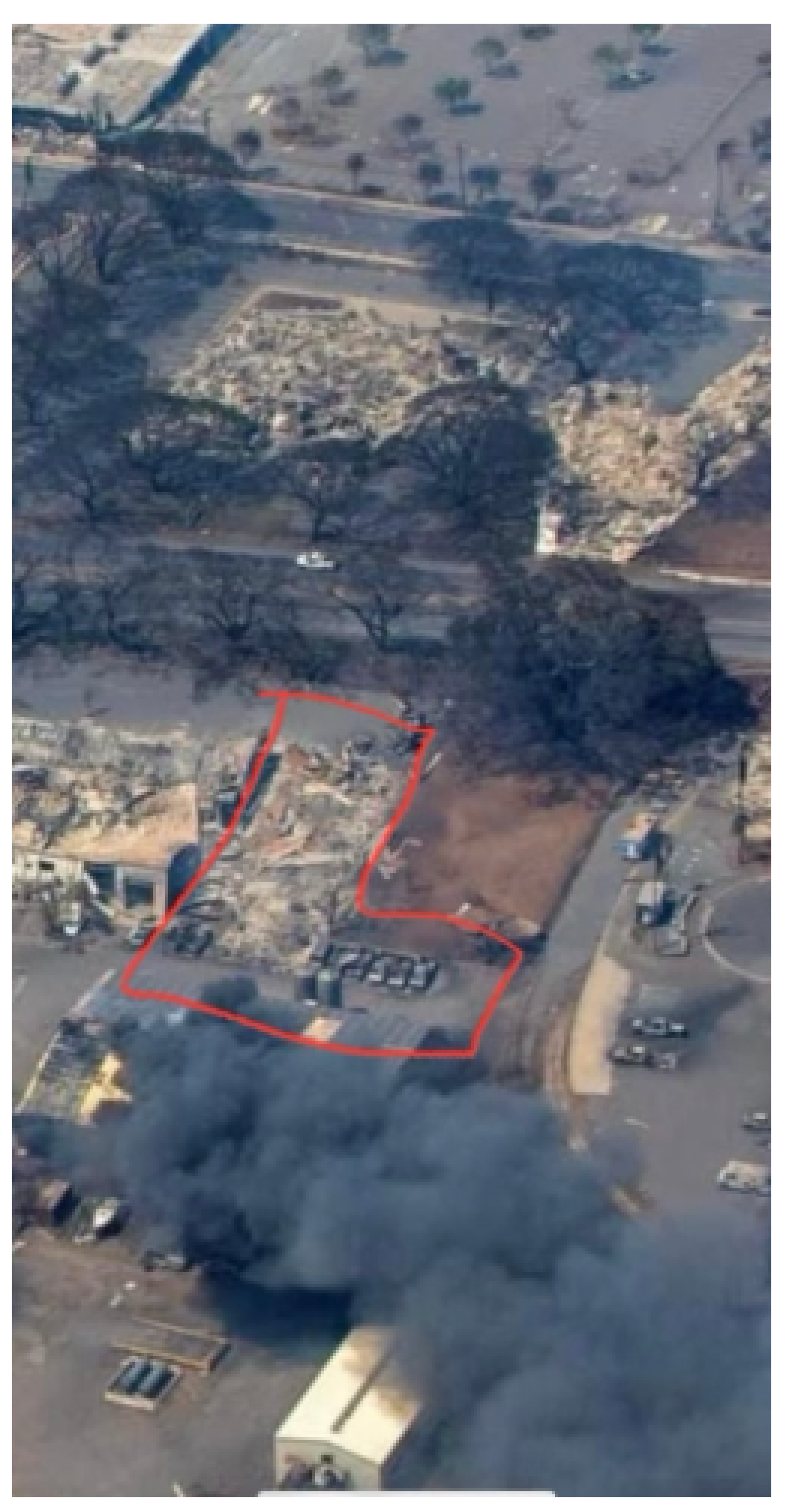 What is left of Maui Diving

Courtesy Jessica Pickering
The people of Maui experienced unfathomable trauma, and some may never want to enter Maui's surrounding waters after the loss that took place there. Jessica finds it important for people to take care of their mental health, and for some, that means returning to the sea. "The ocean is so many people's therapy. The times you can go out there and you can be underwater, be with the beauty of nature and feel calm. You can have a sense that everything's going to be okay."
Additionally, part of healing after a disaster includes helping out your neighbors. Jessica feels there has been little government assistance. Instead, it's primarily been "people doing things for people," she says. "I've never been a part of a community that has come together for each other so well. And I think that is absolutely remarkable."
Greg Howeth
For Lahaina Divers, the loss was considerable. "We lost the building, our classroom, our training facilities and the air compressors," Greg says. "The boats are sitting at the bottom of Lahaina Harbor. " The quintessential Victorian-style home-turned-dive shop was once right in the center of town, near bustling restaurants, bars, retail shops and a giant banyan tree—the largest in the U.S.—that has for years served as a meeting place and place to relax. The tree survived the flames and now stands as a symbol of the town's resilience.
Greg's home still stands, but his grief hangs heavy over the phone line as we speak. He considers himself fortunate and leans on his faith to get through these challenging days. As for his staff, many lost their homes and their possessions. A GoFundMe donation that Greg created to go to only his employees (which Jessica also did) has raised nearly $150,000. "I can't thank people enough for making sure my crew has been taken care of," he says. "It's heartwarming to see."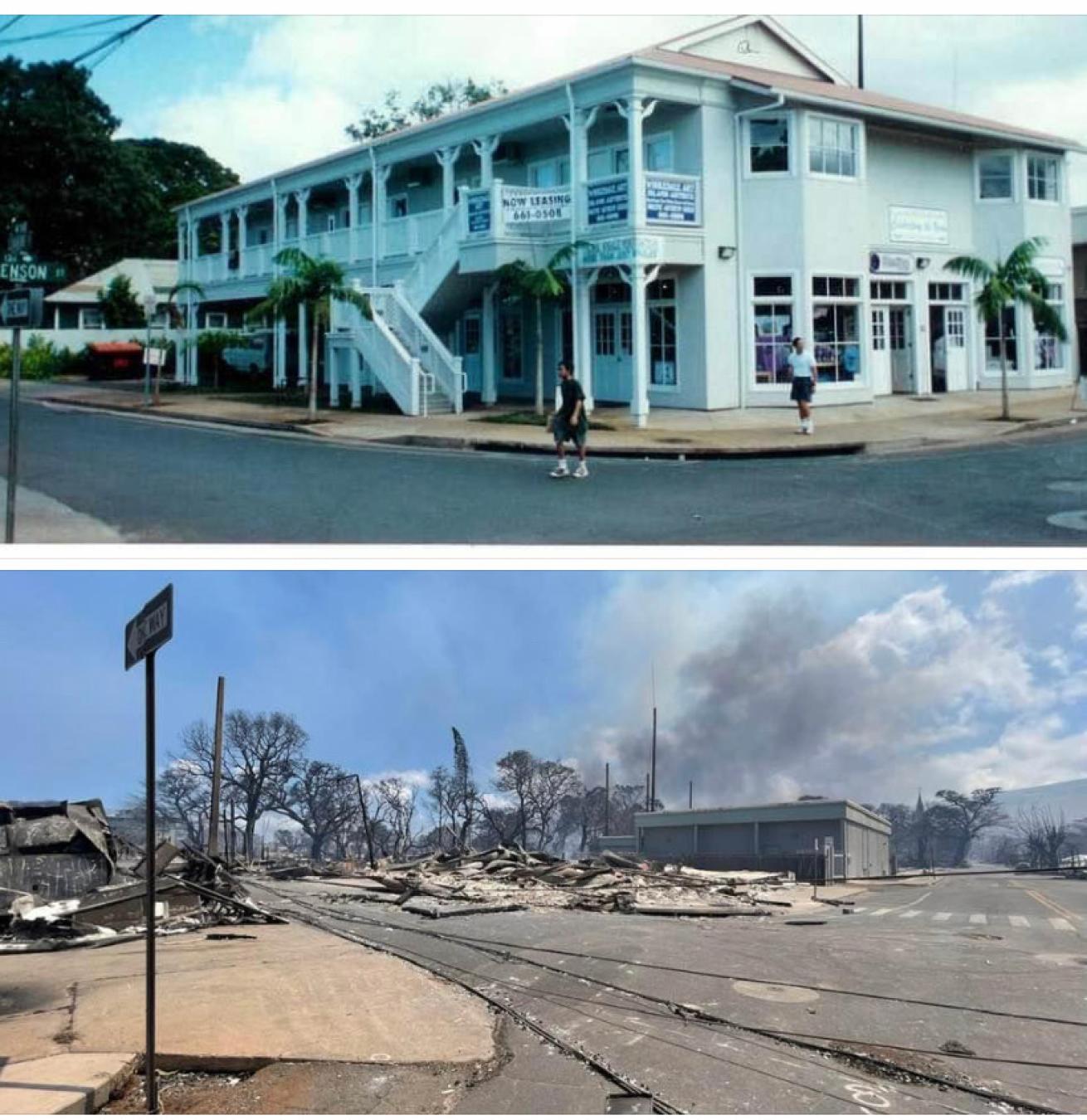 Before and after shots of Lahaina Divers.

Courtesy Greg Howeth
Greg admits his ego initially had him saying he was "going to build back bigger, better, faster and stronger." Months later, he is slowing down, deciding to spend time with his family and wait to decide what's next.
Andrew Raak
Although Andrew's apartment is still standing, the damage from the fire has made it inhospitable. He lost everything he didn't take with him that August afternoon. Like many in Maui, he helped out as he could, focusing on supporting his community in the maritime industry.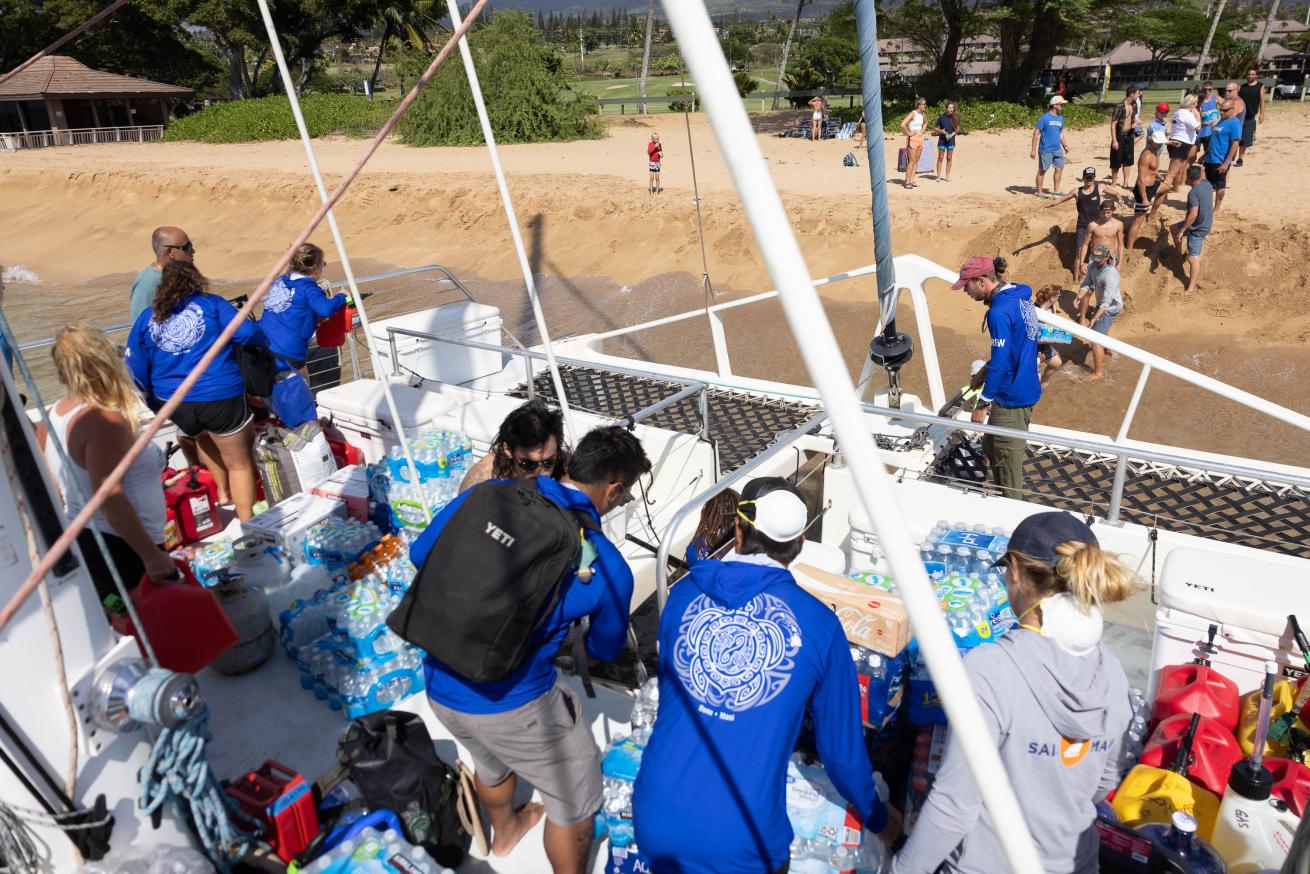 PacWhale Eco-Adventures helping to bring aid to areas in Maui difficult to access after the fires.

Courtesy Selket Kaufman
As a boat captain, he was able to assist in the delivery of goods. He was also involved in the less glamorous side of disaster recovery, joking that "it's not what you'll see on the news, but keeping safety and security is just as important during these times." After living the dive nomad lifestyle for 15 years, Andrew moved to Maui, after working multiple seasons there, to put down roots, and he plans to stay. "Just because things go bad, you don't just up and leave your community. You want to stay to the end and help these people get back up on their feet," he says.
The Road to Rebuilding and Recovering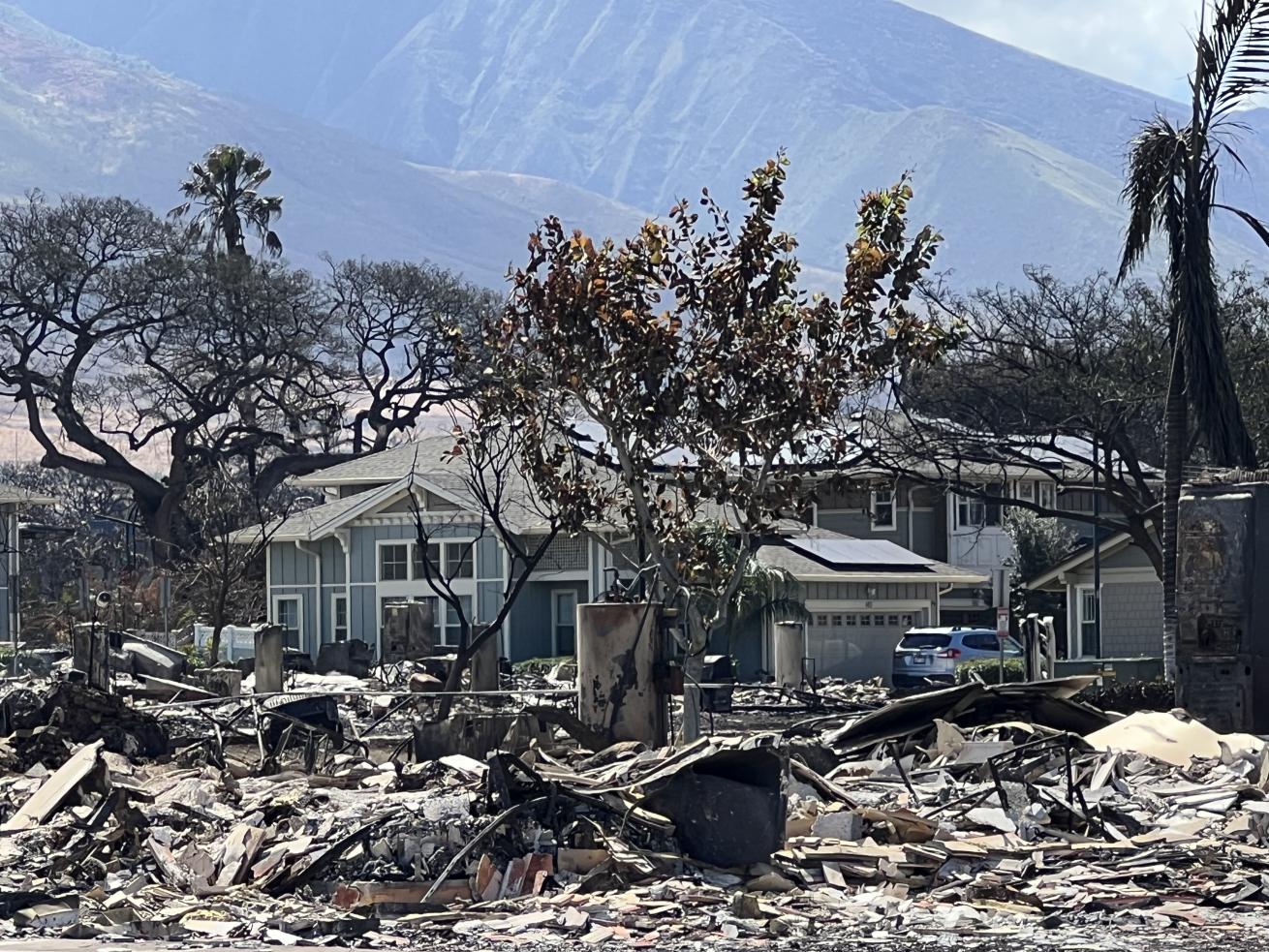 The destruction of the fires in Maui.

Courtesy Jessica Pickering
It will take time for Lahaina to rebuild. It's a collective effort that will require many considerations, like reassessing structural needs based on today's environment and ensuring that Lahaina isn't transformed into an elite tourist destination, even less affordable to locals, reports the University of Hawaii (UH). But there are ways we as divers can support Maui—in person or from a distance.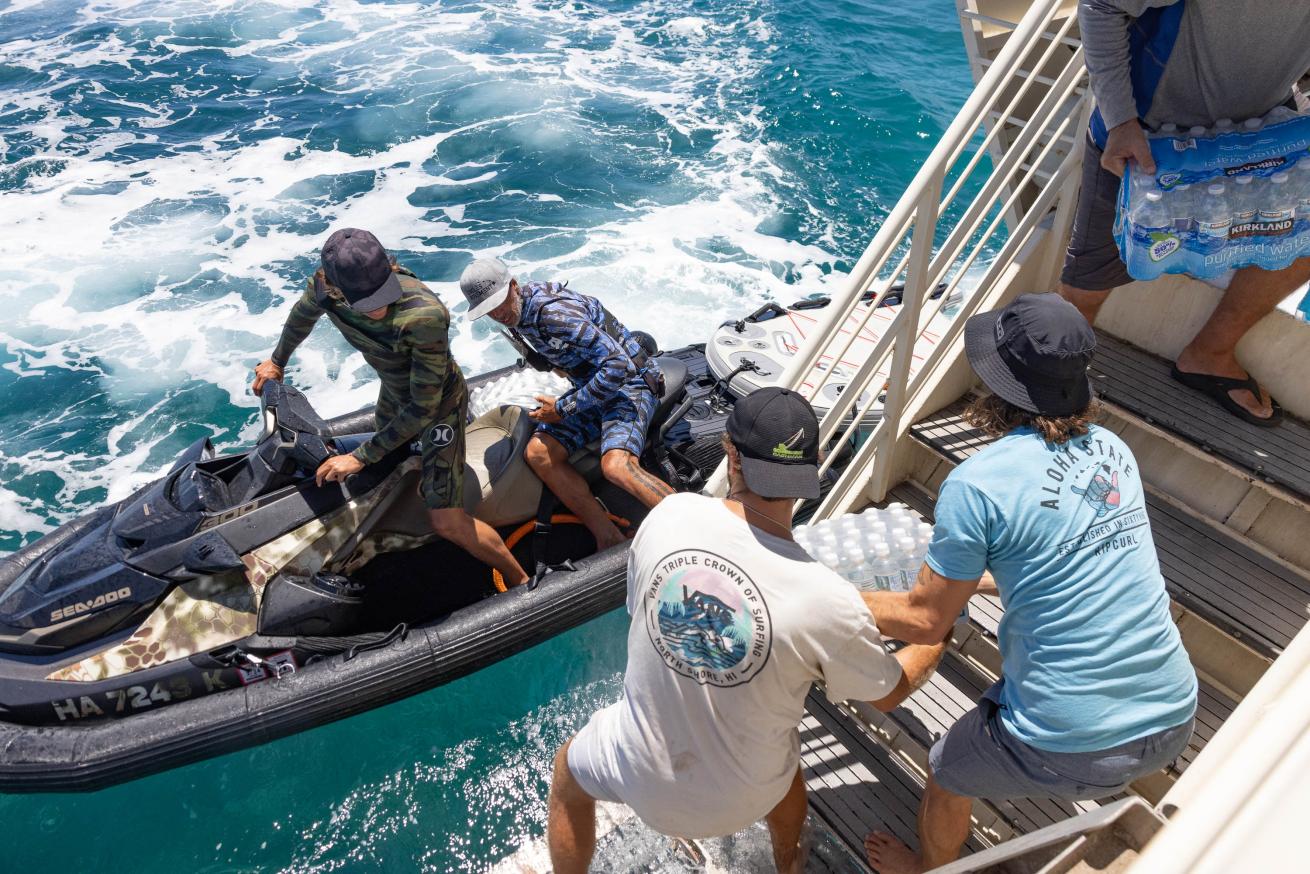 The maritime community steps out to help out individuals in Maui needing aid.

Courtesy Selket Kaufman
Tourism is Maui's main economic driver, and according to the UH report, the island has lost more than $13 million per day in visitor spending since the fires. Though the town of Lahaina remains restricted, Maui is open, and as Jessica says, tourism is necessary for their economy.
"If the island shuts down, it's gonna be like after COVID-19 where we didn't have tourism for eight months, and I didn't have any customers. We can't do that," she says. "We need the people to come work and we need the people to come dive if if we're going to get through this," she adds.
Respecting the historic conflict of tourism in Hawaii, Andrew still fears the complete loss of tourism. "To turn the faucet off completely to tourism to the island, it's going to have some ramifications. So not only would we deal with a bad fire, but we would lose businesses, jobs and economic opportunities for people to earn their livelihoods."
At press time, West Maui (the area surrounding Lahaina) has begun to open in phases, despite opposition from locals who are still grieving during this time and who remain houseless. Officials are working to make sure individuals sheltering in hotels are not evicted as tourism opens up again.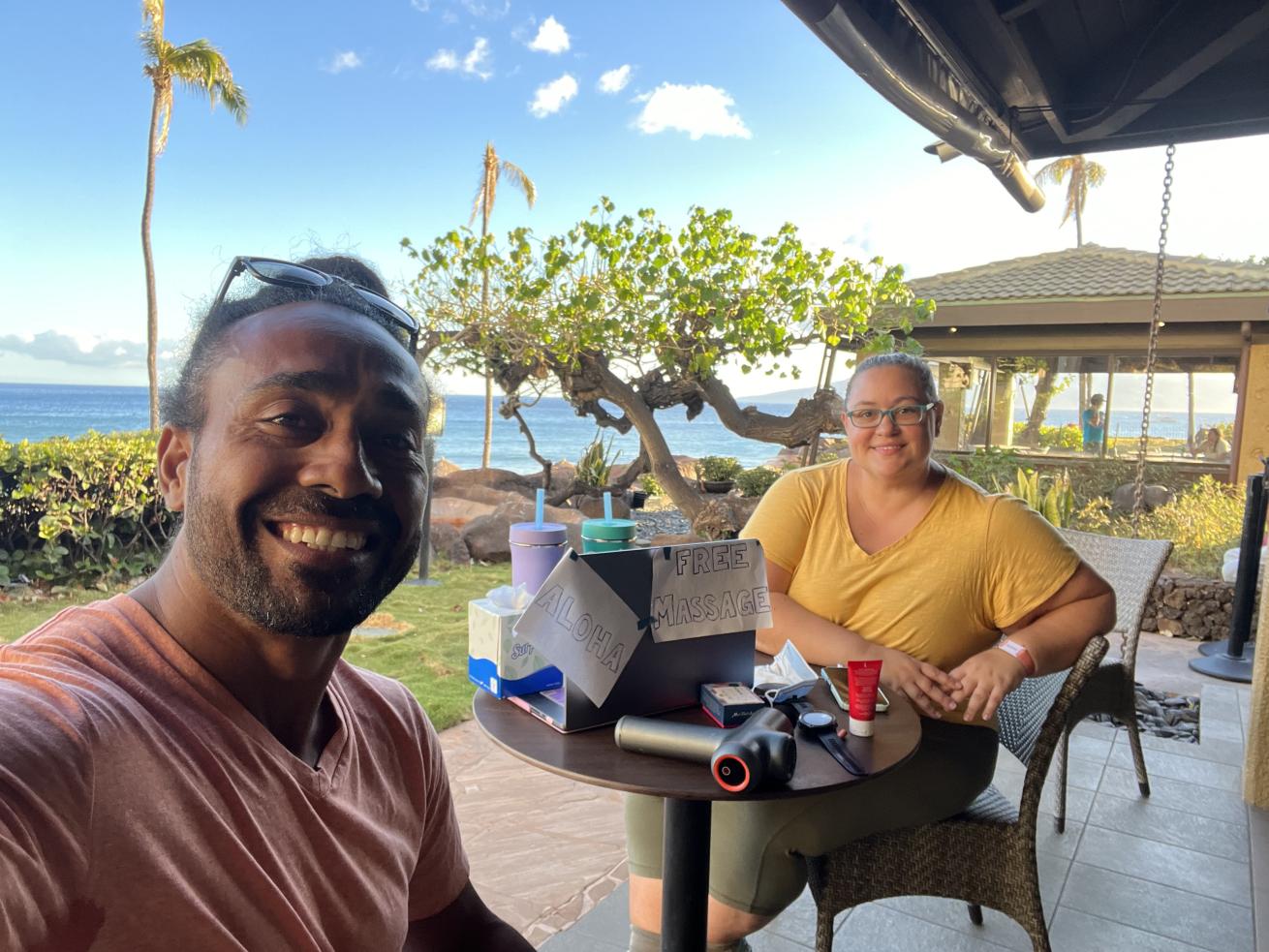 Steven and Jessica PIckering spend time giving out free massages to other residences who are temporarily living at the hotel.

Courtesy Steven Pickering
Though none of the dive professionals we spoke with are native to the island, they all embrace the "aloha spirit" and are doing what they can to help out their larger community. During these times of difficulty, Andrew says, "You rely on your neighbor far more than you would on the mainland. And this is where this island spirit if you will, this aloha of your day-to-day, you realize you depend on each other. And that's definitely shining through."
The recent fires in Maui have challenged the island's community in unprecedented ways. The experiences shared by Jessica, Greg and Andrew represent just a small scope of what Maui has lost and exemplify the unwavering resolve to rebuild and rejuvenate the diving industry.
In supporting Maui's recovery, every dive and interaction counts. As members of the broader dive community, our patronage can make a difference. Let's dive with an awareness of Maui's challenges and a commitment to its recovery, helping to rebuild not just an industry, but a community.
If traveling to Maui, be respectful. Think before taking images or videos of the destruction or asking individuals about their traumatic experiences, as they are still healing. When available, support local businesses. Visit mauirecovers.com and mauinuifirst.com for resources and information.