Economist Turned Conservationist Muditha Katuwawala Named May Sea Hero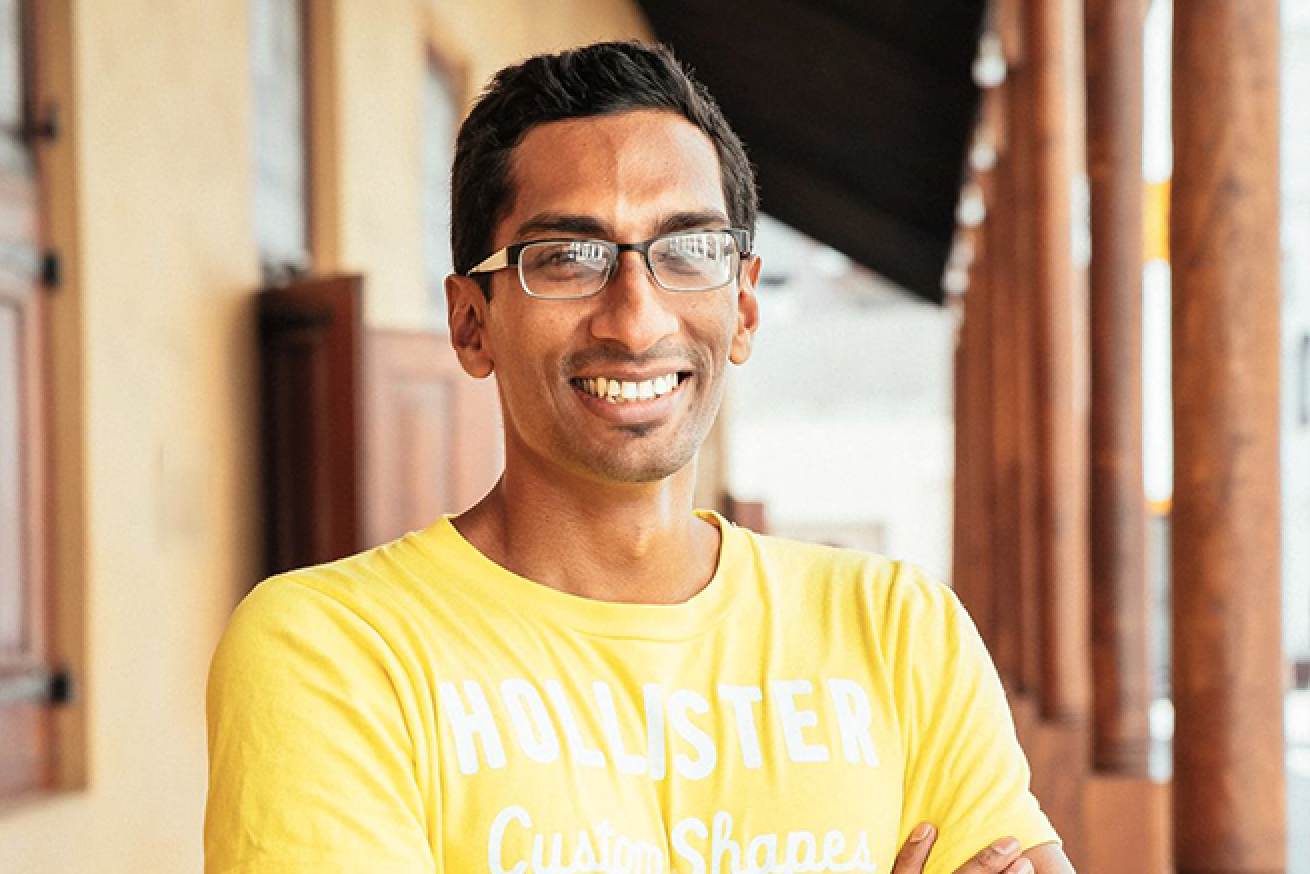 Muditha Katuwawala named May Sea Hero

Courtesy The Pearl Protectors
Year Dive Certified: 2020
Age When Certified: 31
Dive Certification Level: PADI Open Water Diver
Instagram: @PearlProtectors
Facebook: Pearl Protectors
Words to Live By: "A true selfless act always sparks another."
-- From the film Klaus
---
An economist turned conservationist, Muditha Katuwawala's passion for the ocean and emotional connection to his home country of Sri Lanka led him to found The Pearl Protectors in 2018, after a staggering report named Sri Lanka as one of the top ocean-polluting countries in the world. What started as an idea to clean up ocean pollution quickly evolved to address the most urgent marine conservation needs in Sri Lanka. For mobilizing the largest group of volunteers to assist in the aftermath of the M/V X-Press Pearl nurdle spill disaster and for his efforts in educating Sri Lankans on how to safeguard their marine environment, Muditha Katuwawala is our May Sea Hero.
Q: What led you to found The Pearl Protectors?
A: The Pearl Protectors was set up to create awareness around various ocean challenges. Specifically, the threats the ocean faced around Sri Lanka in 2018. When The Pearl Protectors was started, Sri Lanka had been named one of the top ocean-polluting countries in the world. That was emotional for me because Sri Lanka is an island in the middle of the Indian Ocean with so much abundance of marine life and ecosystems, and yet, generally in Sri Lanka, when anybody says "environment," they usually refer to terrestrial wildlife.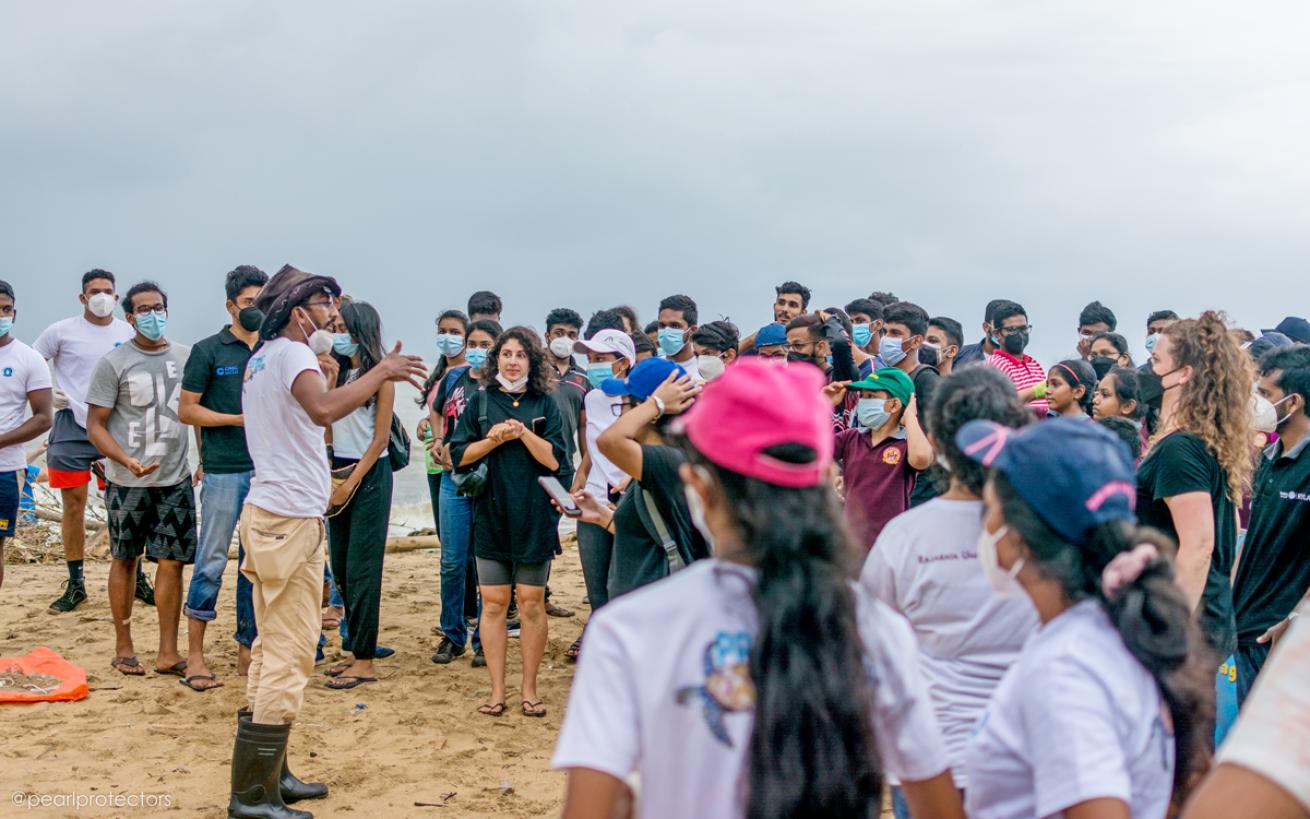 Katuwawala briefs volunteers on the impact caused by nurdles after the M/V X-Press Pearl disaster during a cleanup event.

Courtesy of the Pearl Protectors
The purpose was to share knowledge about the importance of the ocean and to create awareness about the challenges and get people to stop using single- use plastic, because that was one of the major issues Sri Lanka was facing. That, coupled with me visiting shorelines around Colombo and seeing piles of waste loading up on the beaches, where you can't even see the sand.
It wasn't making sense to do only cleanups; we needed to address the root cause and change people's perceptions. One of the goals of The Pearl Protectors was to make a volunteer platform for ocean conservation, for anybody passionate about the ocean to come together and safeguard the marine environment. The Pearl Protectors has three components: creating awareness, advocating for better policies and regulations in Sri Lanka, and promoting volunteerism through ocean conservation.
Q: How did your focus change afterthe nurdle spill caused by M/V X-PressPearl in May 2021?
A: Beginning in 2018, The Pearl Protectors focused on awareness and trying to get people to cut down on plastic. During COVID, we did a lot of awareness, and despite all difficulties, we even held Sri Lanka's largest virtual summit. Unfortunately, the M/V X-Press Pearl maritime disaster took place during this time, on May 25, 2021. Initially, it was underreported, but we soon learned how bad the situation was: toxic fumes, oil and chemical spills, and worst of all, the nurdles— tiny plastic pellets used in plastics manufacturing that began to pile up. Initially, we worked with authorities and were out in the field, conducting surveys of the pollution. But we soon understood the critical urgency to remove these microplastics. We started the Nurdle Free Lanka campaign to address this and began collecting as many nurdles as possible through volunteering.
The Nurdle Free Lanka campaign was broken into four components to create awareness. First was the awareness aspect since this was the first time this had happened in the Indian Ocean and people were not at all aware of what nurdles were. At the same time, we mobilized volunteers to remove the nurdles. The third part was to innovate the use of different types of sieves to collect as many nurdles as possible. We built trommels, hand-held sieves, hanging sieves, while also surveying different beaches to see where the highest distribution of nurdle pollution was. We continue to do this today, and this is by far the largest voluntary campaign in Sri Lanka. We have contributed significantly in Sri Lanka to raise awareness about the impact caused by the spill of nurdles while mobilizing volunteers to remove over 1.5 metric tons of nurdles.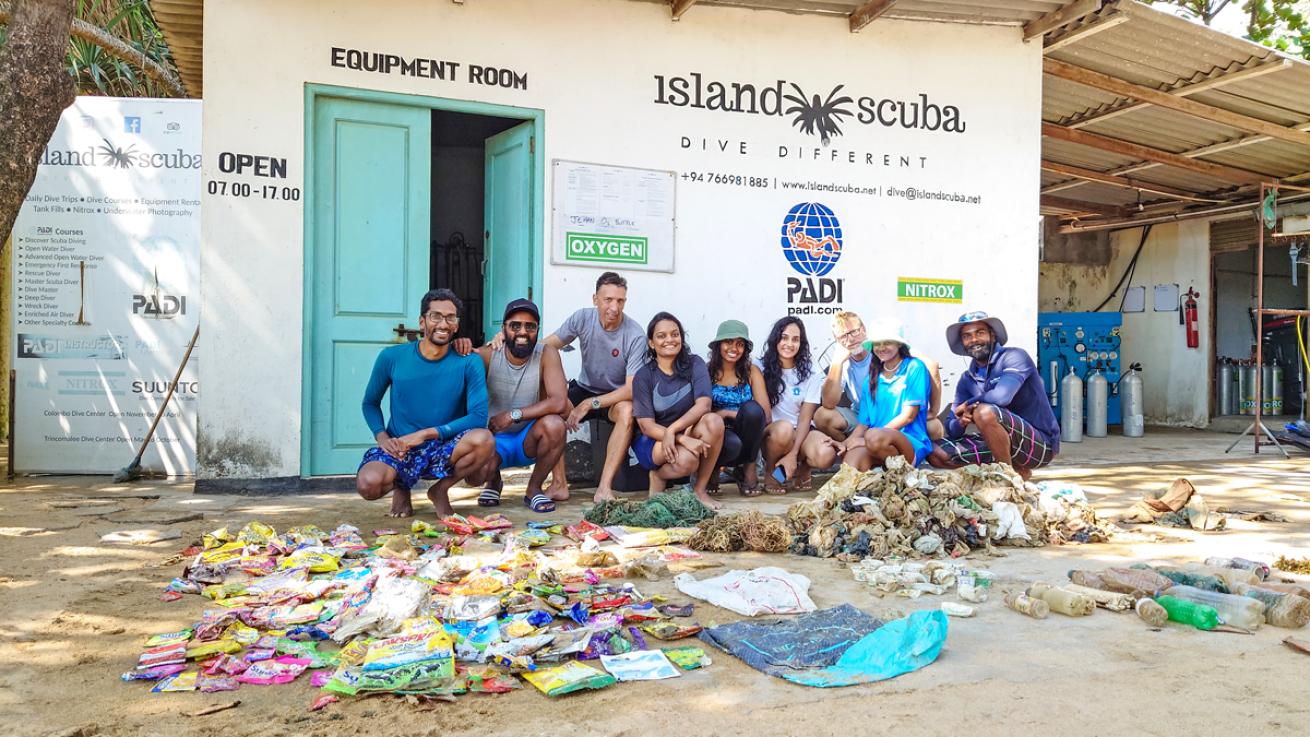 Katuwawala and volunteers display the waste collected at Palagala Reef after an underwater cleanup in Colombo, Sri Lanka.

Courtesy of the Pearl Protectors
Q: How does The Pearl Protectors mobilize volunteers when a new conservation need arises?
A: The Pearl Protectors has over 1,800 registered volunteers, mostly from Sri Lanka. We continue to offer different activities and opportunities for volunteers and citizen science programs. In 2020, it was estimated that about 80 percent of the sea around the Western Province of Sri Lanka was polluted and 50 percent of the sea around Sri Lanka was polluted. With such significant numbers, we knew that we had to do more than coastal cleanups; we had to go down to these ecosystems to remove much of the plastic pollution. Otherwise, pollution and fishing nets that have been stranded would take over. We have a streamlined method of mobility. We ask volunteers to register and we send callouts to volunteers whenever a need arises, and based on their availability, they will sign up and be mobilized for volunteer opportunities.
For example, Turtle Patrol, which is running right now every night: Volunteers are at the beach trying to protect turtles' eggs from being stolen by poachers. And about two years ago, when pilot whales started stranding on the western coast of Sri Lanka, we were able to mobilize volunteers immediately and they went out to the beach and saved those pilot whales—so we are very quick to respond to any need that arises.