Mermaids Save Distressed Diver From Drowning off of California's Catalina Island
Three distressed divers surfaced offshore of California's Catalina Island this October. Two struggled to hold up their unconscious dive buddy who was not breathing and foaming at the mouth. That's when mermaids came to the rescue.
"We're pulling him, and we're getting a little winded, a little tired out," diver Joshua Claramunt tells Fox News. "And then, out of nowhere, just a bunch of mermaids show up."
Claramunt was diving with his father, Javier, and his father's friend, Pablo Avila when Avila lost consciousness. As luck would have it, Elle Jimenez—popular TikTok mermaid and the first-ever PADI Mermaid Instructor Trainer—was teaching a PADI Advanced Mermaid Training course nearby at Casino Point. She and two other professional PADI mermaids, Chin Burger and Elaina Thomas, finned into action as soon as they heard the cries for help.
"While we were practicing our mermaid rescue scenarios, we heard a yell for help," says mermaid Elaina Thomas. "When we swam over, I saw him coughing foam. He had no pulse and his eyes were dialated. That is when my rescue training kicked in and I began to help Pablo – including mouth to mouth."
When the mermaids reached the group – still in their mermaid tails and seashell bras – the mermaids began ditching Avila's gear and weights.
"I picked up the weights, which must have been about 35 pounds, and it immediately pulled me under. I had to let it go into the depths to stop myself from drowning," Jimenez said.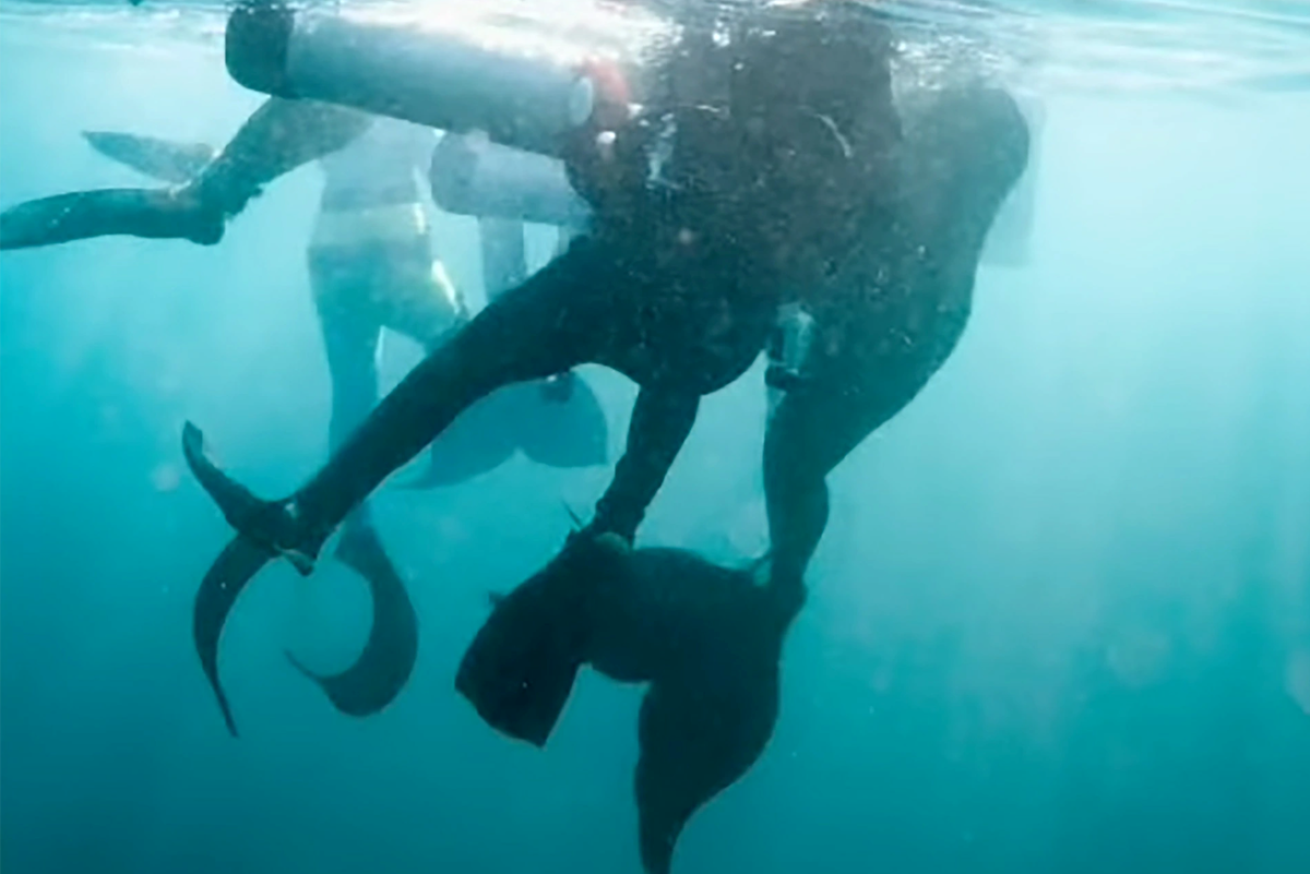 Mermaids came to the rescue as soon as they saw a diver in distress.

Darren Joshua Leonardi/Nativ Productions
As a PADI Scuba Diver Instructor and trained EMT, "I made the decision to give him mouth-to-mouth because he looked so dire," Thomas added. She got Avila back to shore as quickly as possible, where emergency services began care. After several hours of treatment in a decompression chamber, he woke up. He has since recovered.
"There is a misconception about mermaids, I don't think people realize just how trained we are in lifesaving skills," Jimenez says, noting mermaids are skilled freedivers trained in sea rescue procedures. "The rescue has given a whole new meaning to the PADI program because if I hadn't been trained properly, I wouldn't have been able to help the diver."
---
---
With Alvia on the mend, the Claramunt sent a message to their heroines: "You all were amazing. Real life mermaids to the rescue. You made me believe in fairytales again. Thanks again for all you did."
The mermaid program is a PADI specialty that leverages athleticism, confidence, composure and safety. "[This rescue] really shows how well-trained our pros are– across disciplines–and it's just so darn hopeful," says Julie Andersen, PADI's director of global brand and PR.
---