The Perdix 2 Dive Computer: What You Need to Know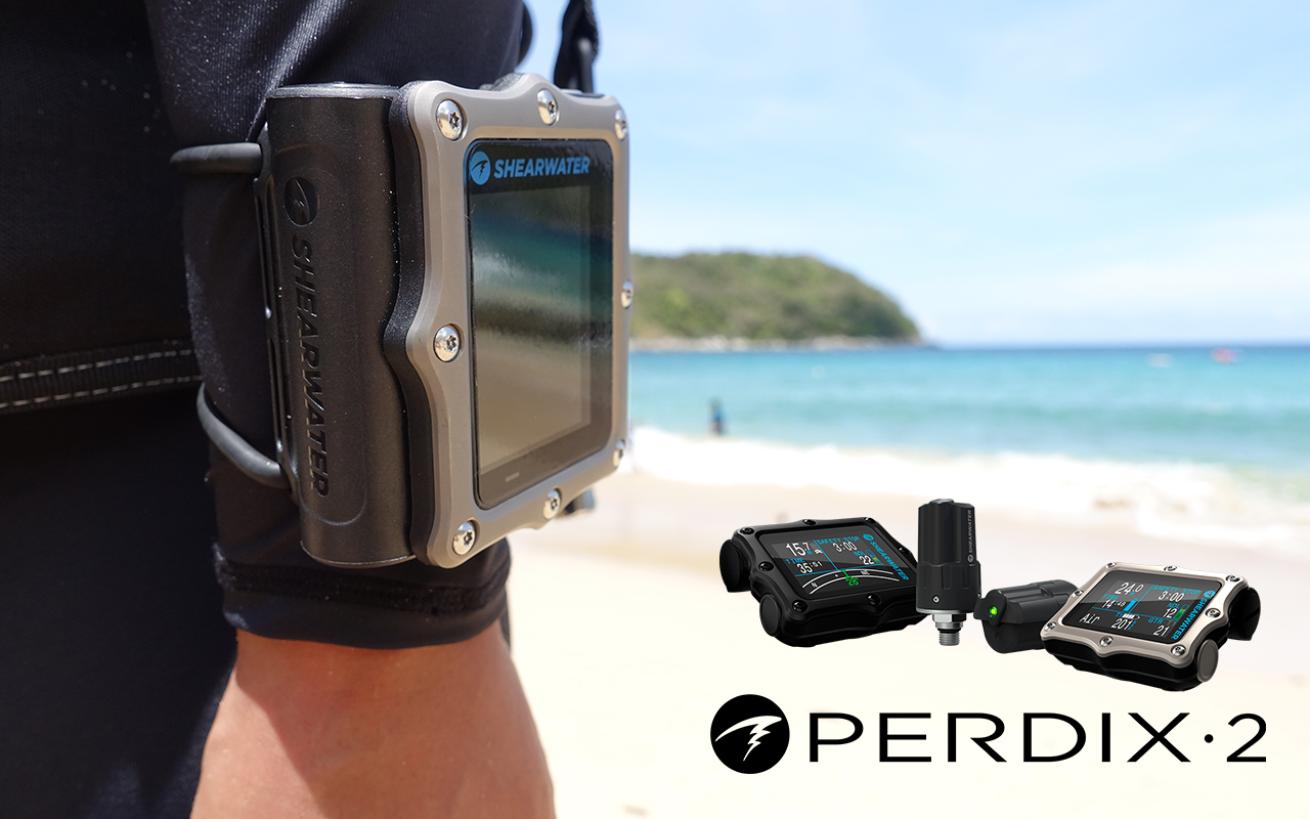 Key features of the Shearwater Perdix 2 dive computer include a high-resolution, full-color LCD display that is easy to read, even in low light conditions.

Courtesy of Shearwater
Your dive computer is your lifeline. You need to know you can trust it — no matter the depth, no matter the conditions, no matter what kind of diving you do. The Shearwater Perdix 2 is the computer you need, compatible with every type of diving. The Perdix 2 is the latest version of Shearwater's popular and award-winning Perdix line of computers. Every upgrade Shearwater — one of the most reliable and trusted makers of dive computers — made to the Perdix 2 builds on the success of its predecessors. The flagship Perdix 2 is compatible with all levels of diving, so as your skills and comfort level grow, you won't need to buy a new computer. The Perdix 2 has you covered, from single tank to multiple tank setups, and it's compatible with up to four tank transmitters. Multiple diving modes let you choose between air, Nitrox, three-gas mode, the OC technical mode for diving, and closed circuit/bailout mode for rebreather diving options.
No matter what kind of diving you do, Perdix 2 provides accurate, reliable decompression information with easy-to-set conservatism settings to suit your preferences, or advanced features for those more comfortable with inputting personalized customizations. Best of all, you will never be locked out of this computer — just one more way Shearwater builds trust with its users.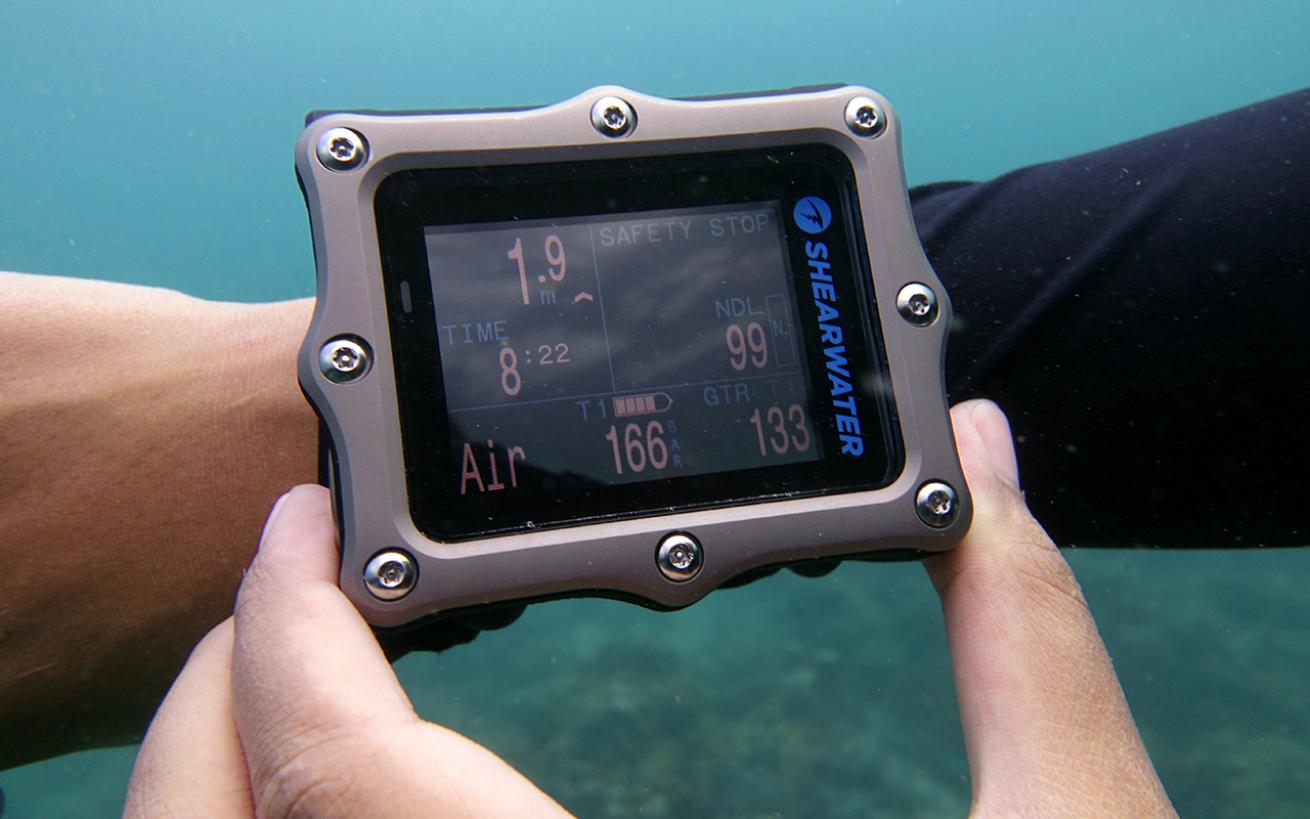 The Perdix 2 dive computer is very user-friendly, with an intuitive menu system that is easy to navigate.

Courtesy of Shearwater
While previous versions of the Perdix were praised by test divers for their durable builds, the rugged Perdix 2 raises the bar. The team behind the Perdix 2 created a slim-profile computer that stands up to their own demands for diving — something that's resistant to scratches and impacts thanks to the titanium bezel and piezo button, LED backlit screen and aluminum-silicate window screen, all of which make it suitable for frequent travelers, shore divers and adventurers who tackle the most challenging diving conditions.
Even with all this functionality built in, the Perdix 2 is easier to set, navigate and understand than some dive computers equipped with only basic features and functions. It is operated using just a few buttons. Navigating through the menus is a breeze, and you can quickly access all the important information so you can keep your attention focused on the dive.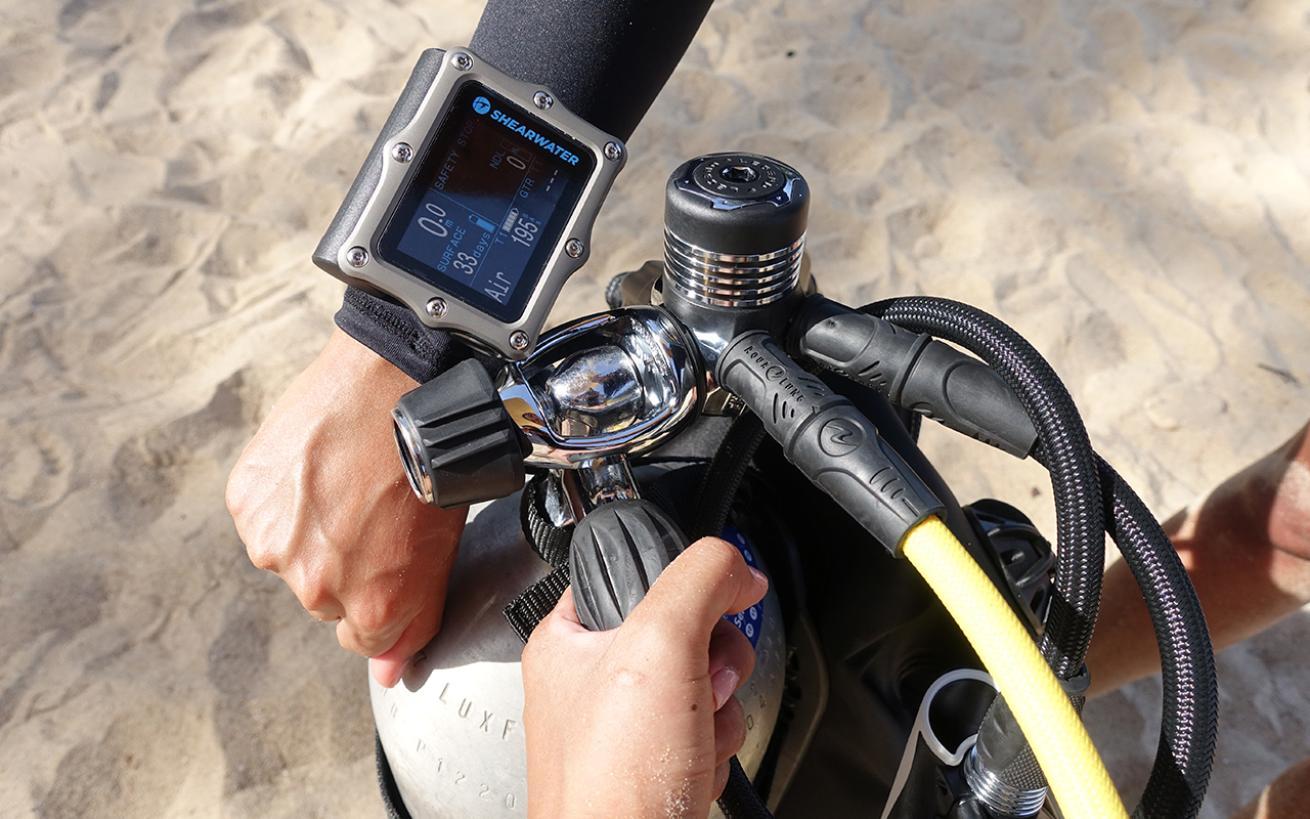 In addition to standard dive mode, the Shearwater Perdix 2 has several other modes, including gauge mode, which provides depth and time information.

Courtesy of Shearwater
Another bonus: The AA battery that the Perdix 2 runs on is user-replaceable. So, too, is the 3V CR2 Lithium battery in the tank transmitters, all of which eliminate lost dive time and the need for expensive dive center service visits.
Divers familiar with the first iteration of the Perdix computer should know that this updated version delivers several key improvements, including the titanium bezel and piezo buttons. The Perdix 2 also vibrates, providing another level of safety so you don't miss an alert. Improved battery life and aluminosilicate toughened glass enhances clarity: The screen is brighter and sharper, making it easier to read information at depth.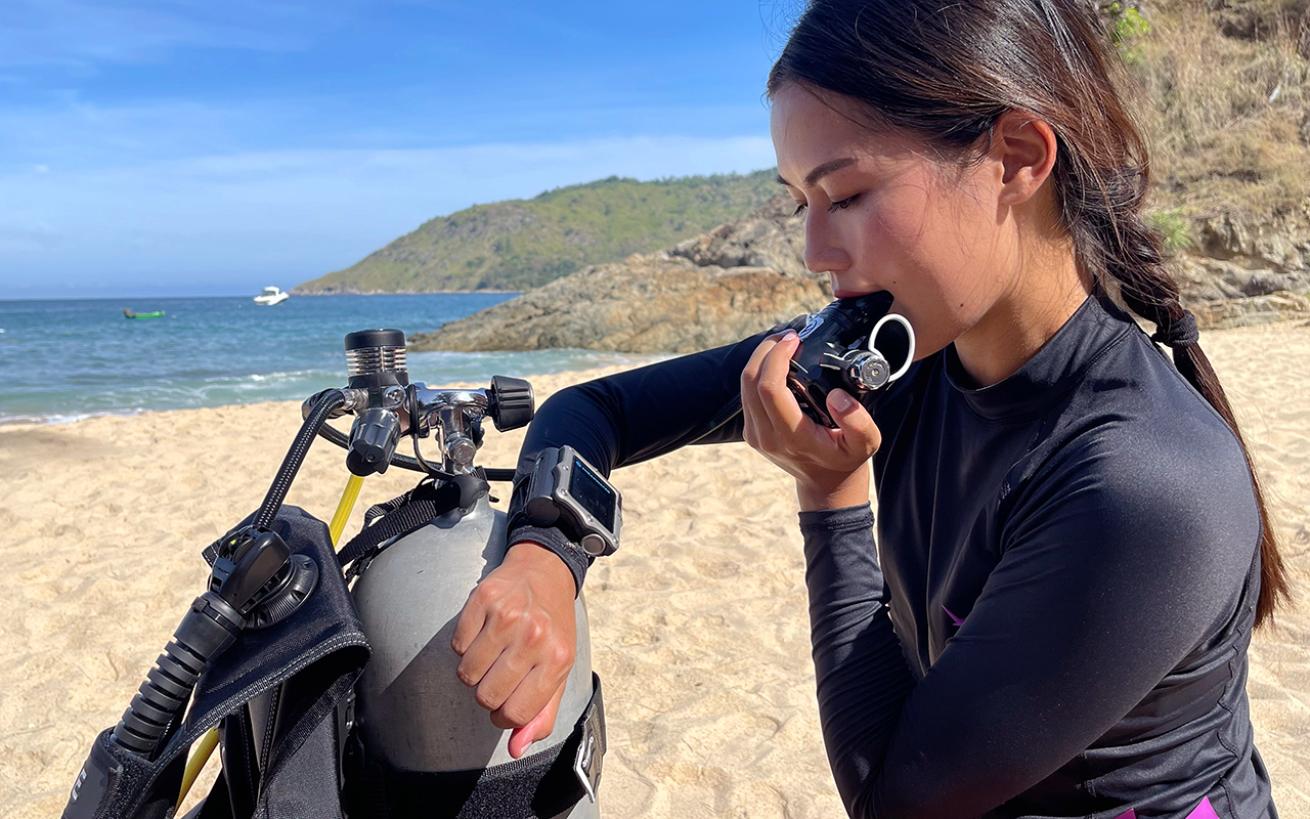 The Shearwater Perdix 2 is an upgrade of the original Perdix dive computer, and it comes with several features that make it an excellent tool for divers.

Courtesy of Shearwater
Perdix 2 is the dive computer that many explorers, researchers and technical diving instructors rely on. Shipwreck historian Richie Kohler, Emmy award-winning underwater cinematographer Becky Kagan Schott, Dive Talk hosts Gus Gonzalez and Woody Alpern, and cave explorer and technical diving instructor Natalie Gibb all dive the Perdix 2.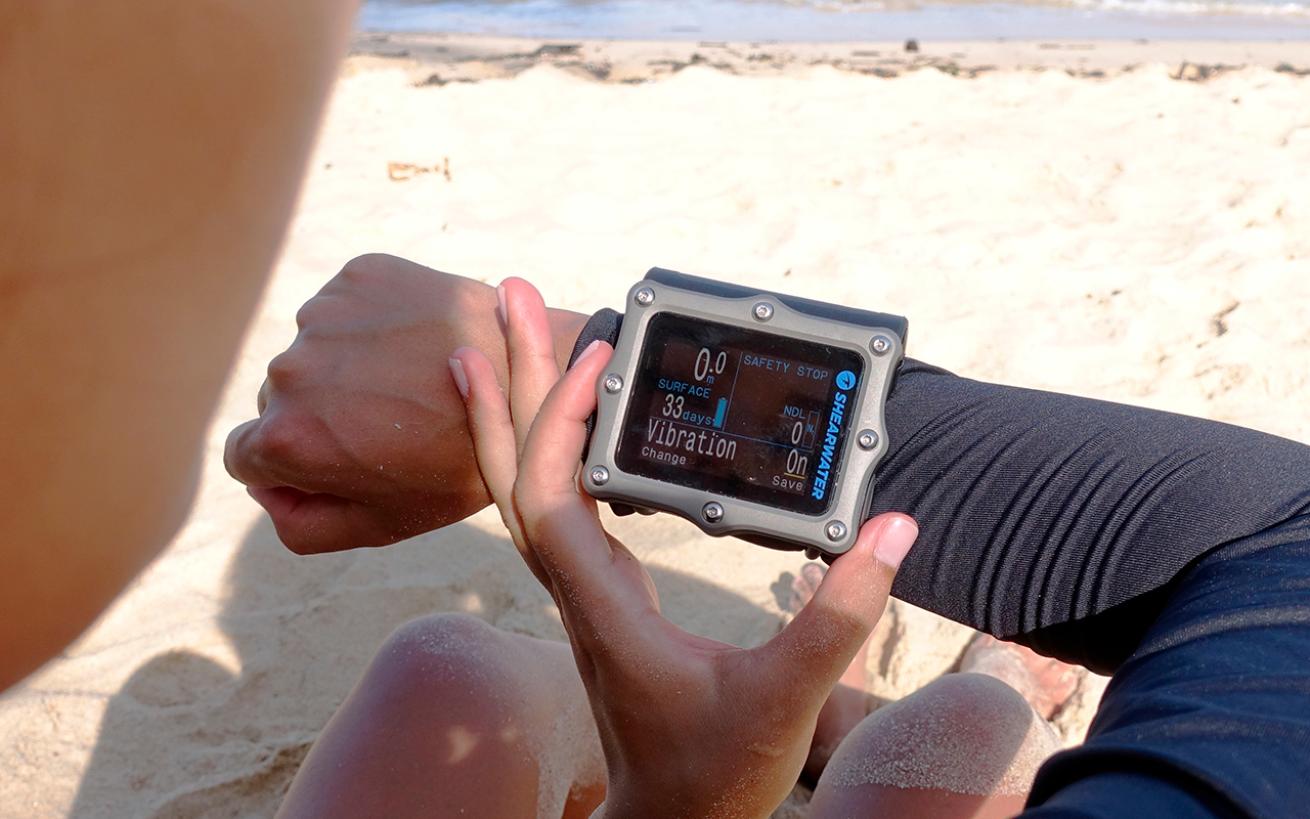 The Shearwater Perdix 2 has a trimix mode for diving with helium-based mixes, and a rebreather mode for divers using closed-circuit rebreathers.

Courtesy of Shearwater
Shearwater stands behind every computer they make, knowing the computer will meet the demands of any kind of underwater exploration you take on. Every product they make is supported by Shearwater's stellar customer service team in the unlikely event that you ever need help. It's just one more way that Shearwater ensures that every dive you make with the Perdix 2 will be an easy one.
Visit shearwater.com to learn more.