Peru's Most Important Artificial Reef Is Threatened to Be Destroyed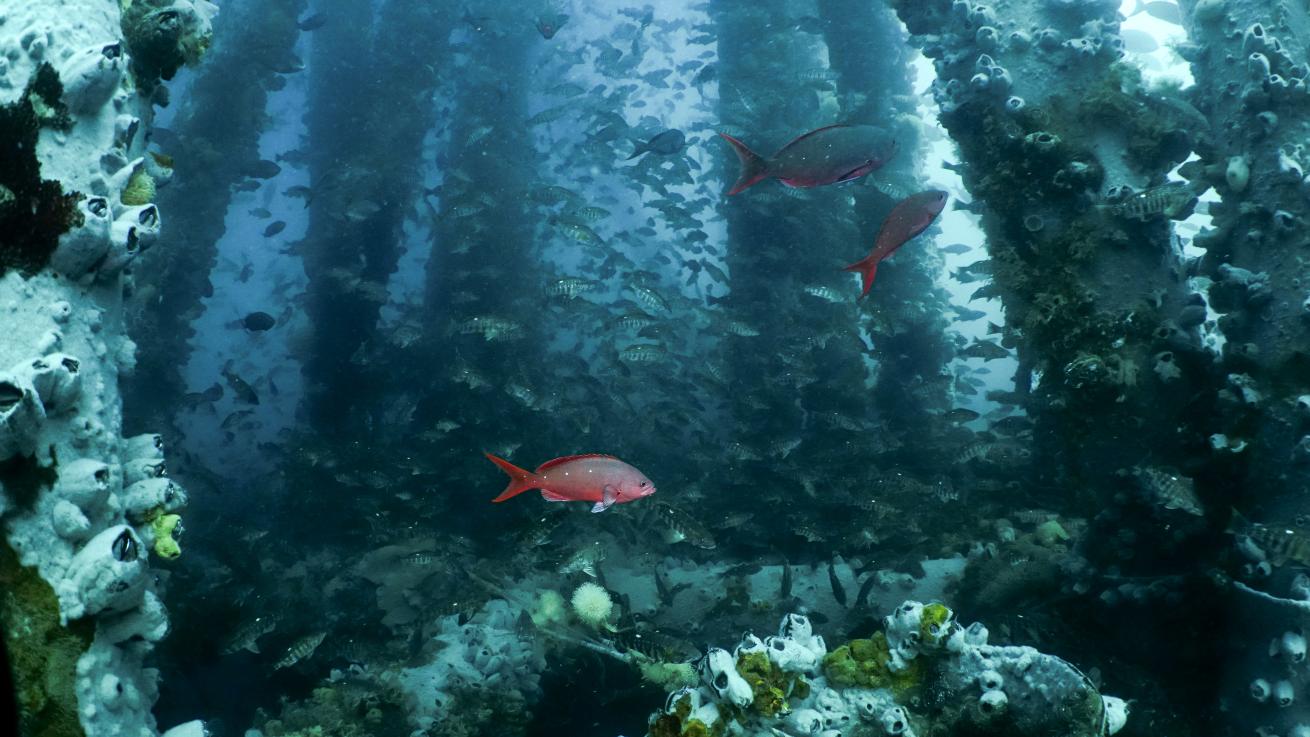 Artificial Reef MX-1. Los Organos, Piura, Peru.

Denisse Sotomayor
Fifteen years ago, in the north sea of Peru, an oil platform called MX-1 stopped producing oil and was abandoned. Since its construction off the coast of Los Organos, nature appropriated its structures and became a refuge for more than 80 species of wildlife, a resting place for sea lions and birds and an underwater playground for divers. But now, this imposing and abundant Peruvian reef is in danger.
Why It's Important to Protect An Abandoned Oil Rig
Within the depths of MX-1 one can find an impressive array of marine life. Broomtail groupers and Peruvian chromis live together among colourful sponges and huge barnacles, the perfect home and hiding places for many species. If lucky, divers may encounter charismatic megafauna such as whale sharks, manta rays, killer whales and hammerhead sharks.
Yuri Hooker, a renowned marine biologist with extensive experience exploring the Peruvian sea, has identified a total of 26 species of fish and 56 species of invertebrates at this site. Hooker has discovered two types of nudibranchs MX-1, the endemic Felimare sechurana and another yet to be identified.
With the removal of this structure, many animals will be killed and the survivors will lose their homes as well as a safe reproduction area.
Related Reading: This Oil Rig is in a Sanctuary. Is it Better Removed or Made into a Reef?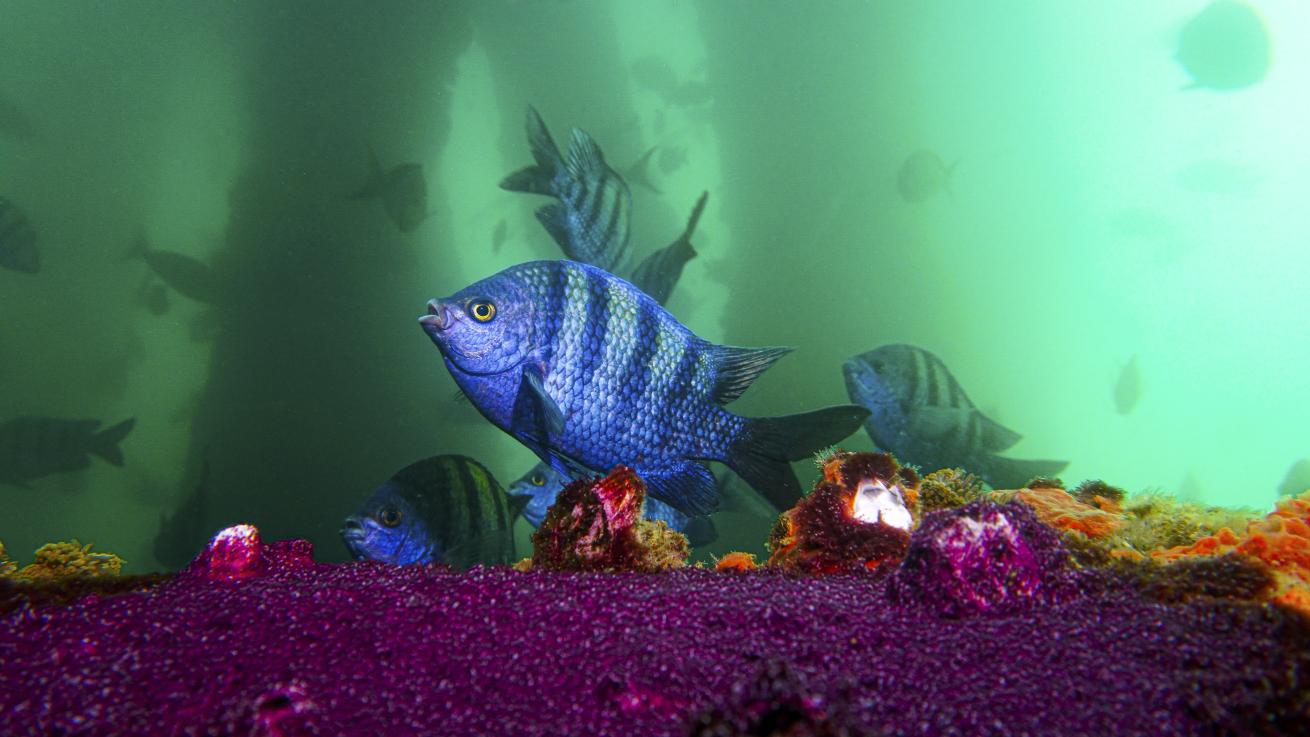 Male sergeant fish taking care of his nest (purple spot) at a depth of 16 feet

Denisse Sotomayor
A Diver's Playground
This impressive artificial reef is 206 feet deep and an underwater amusement park for divers to explore. "I have been diving on the MX-1 for 10 years and have dived more than 5 thousand times. Every millimeter of the structure has life, it is impossible to get bored, every dive is different," says Maurice Epstein, scuba instructor and founder of the Spondylus diving school. The diving centers in Piura have created a circuit traversing ropes around the platform and vertically down to 80 feet. These ropes facilitate exploration and give recently certified divers more security, serving as a lifeline as strong currents frequent the area.
At the first stop, located 16 feet below the surface, divers are greeted by the stunning sight of hundreds of sergeant fish. Look closely, and you'll notice distinctive purple spots on the pipes, which serve as the nests for these captivating creatures. At 50 feet, there is a structure that divers call "the wheel," where one has fun looking for elusive octopuses, tiny nudibranchs and funny face blennies. All this while surrounded by sea lions and hundreds of fish such as creolefish and sea bass. Diving in Peru at MX-1 is discovering a world of colors, and if you go between August and October, you may even experience an orchestra of humpback whales.
Related Reading: New Artificial Reefs Coming to the Florida Panhandle
Impacts on the Community and Culture
In addition to benefiting the ecosystem as a breeding and refuge zone for a wide variety of species, the MX-1 also benefits the local community. Los Organos (Piura) is a beach of artisanal and ancestral fishermen who fish with hook and line (versus nets) and use the wind to navigate. This fishing method is considered an Intangible Cultural Heritage by UNESCO, which is slowly disappearing due to large-scale fishing. If someone throws a fishing net in the MX-1, it is most likely to get entangled in the pipelines and get lost. Therefore the structure encourages the use of only more selective/sustainable methods, such as hook and line, in the vicinity.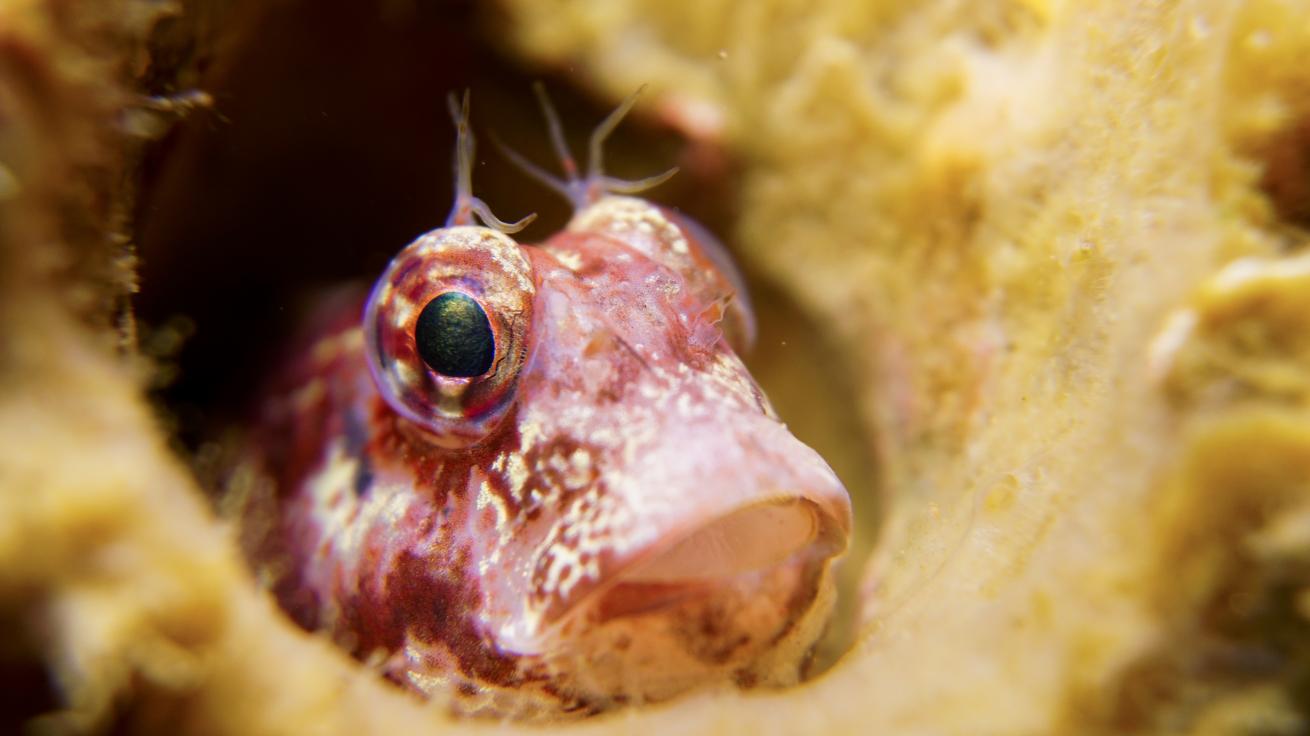 Macro photo of a blenny inside a barnacle

Denisse Sotomayor
Why Remove A Hot Spot?
So, why do they have to remove it? According to Peruvian law, after any exploration or exploitation of hydrocarbons, the company must remove its structures and leave the space as it was found. But what if the structure improved the health of the ecosystem? Peruvian law does not consider that possibility.
Since last year, a group of ocean lovers from different professions have come together to defend the artificial reef MX-1 and to show the government all the benefits it has brought to the local community, to make the authorities reflect and request the Peruvian government to modify that law. This legal defense is unprecedented in Peru.
Throughout the world, other countries have shown the importance of oil rigs becoming reefs. In Mexico, Malaysia and California (USA), the government has authorised the use of oil platforms as artificial reefs for the benefit of the ocean with success.
Related Reading: Diving Southern California's Oil Rigs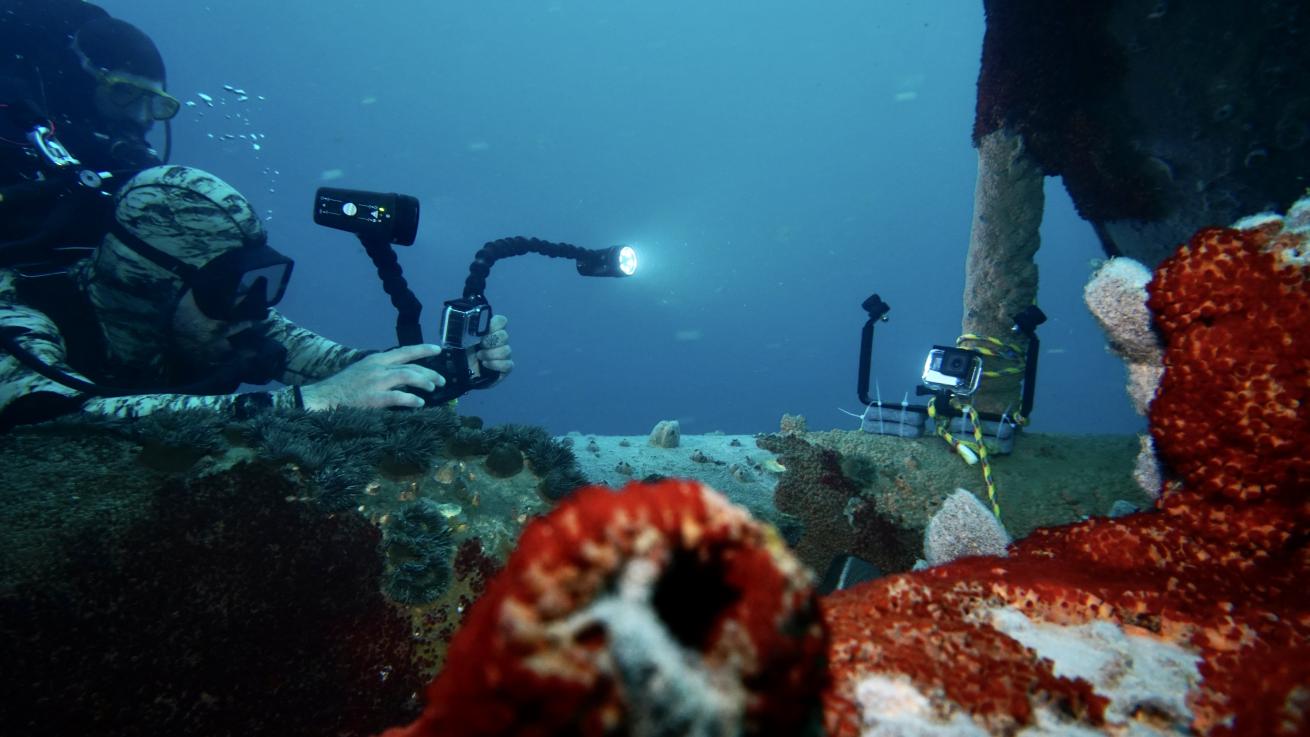 Installation of a camera for an ichthyology thesis of the Universidad Cientifica del Sur

Denisse Sotomayor
Threats to the Reef
Time and a lack of political will threaten the destruction of this reef. The oil company Savia has finished its exploitation work in the area and must remove all its platforms before Nov. 15, 2023. One of these platforms is the MX-1, from which they have already removed the entire top structure.
Adriana Zavala, marine biologist, co-founder of Chelonia Dive Centre and one of the leaders of this defence, says, "We have obtained the support of the Peruvian Society of Environmental Law (SPDA) and the NGOs Oceana and Sustainable Ocean Alliance (SOA), who have reinforced our citizen petition. Together we fight to preserve the most important artificial reef in our country. As Peruvians, we hope to continue sharing this incredible place with people from all over the world".
If you want to support this artificial reef, you can sign the online petition: https://www.change.org/p/no-a-la-remoci%C3%B3n-del-arrecife-de-la-la-plataforma-petrolera-mx-1-minamperu-imarpeperu-minproduccion
---