Photographer Becky Kagan Schott Honored as a Scuba Diving Sea Hero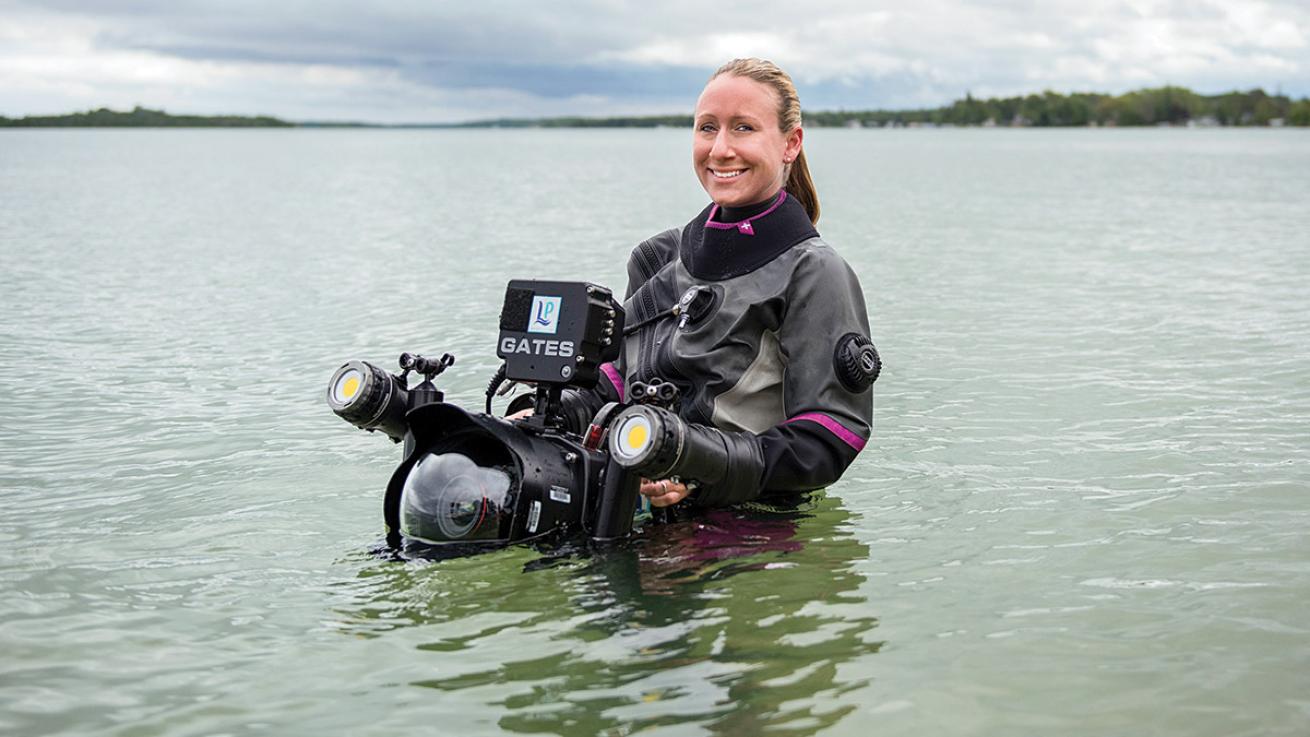 Underwater photographer Becky Kagan Schott earns Sea Hero honors from Scuba Diving magazine.

Becky Kagan Schott
Year dive certified: 1994
Age when certified: 12
Dive certification level: TDI mixed-gas rebreather instructor, cave diver, trimix
Words to live by: "Every morning you have two choices: continue to dream, or wake up and chase them."
Photographer, videographer, instructor, explorer — which role is your favorite?
That's tough because I'm equally ­passionate about everything I do. Travel and experiences are really important to me. I've met amazing people all over the world, and shared amazing moments. Those memories are what I treasure — if I happen to have my camera with me, that makes my heart really happy!  
As a photographer, you have introduced many to the underwater world — is that important to you? 
The biggest compliment is someone telling me they've been inspired to travel, take a class or pursue a dream because of a photograph I created. I started shooting because I wanted to share my passion and the incredible feelings I experience underwater, whether I'm in the ocean, in a cave or under ice. I've been fortunate to come face to face with sharks, whales, penguins and seals, or to be the first on a virgin shipwreck, or to document cave exploration. I'm inspired by the underwater world, and it was seeing photos that first led me to take up diving. For people who will never dive, it's important to share images of underwater wonders, to educate and stimulate the imagination.
You're known for work in extreme situations — caves, deep dives, shipwrecks — have you ever exceeded your limits? 
I have, and that's why I'm so ­vocal about taking your time and gaining ­experience — experience is what has ­allowed me to survive when things have gone wrong. Most of my close calls have involved TV productions and pushing the limits for a producer who wanted a certain shot. Over the years, I've learned to say no when I don't think it's safe. 
You've dived pole to pole — what is your favorite spot to shoot? 
Hands down, my favorite location is the Great Lakes. I am very passionate about preserved shipwrecks and their incredible stories of mystery, tragedy and survival. They inspire me to try to capture and share their haunting beauty.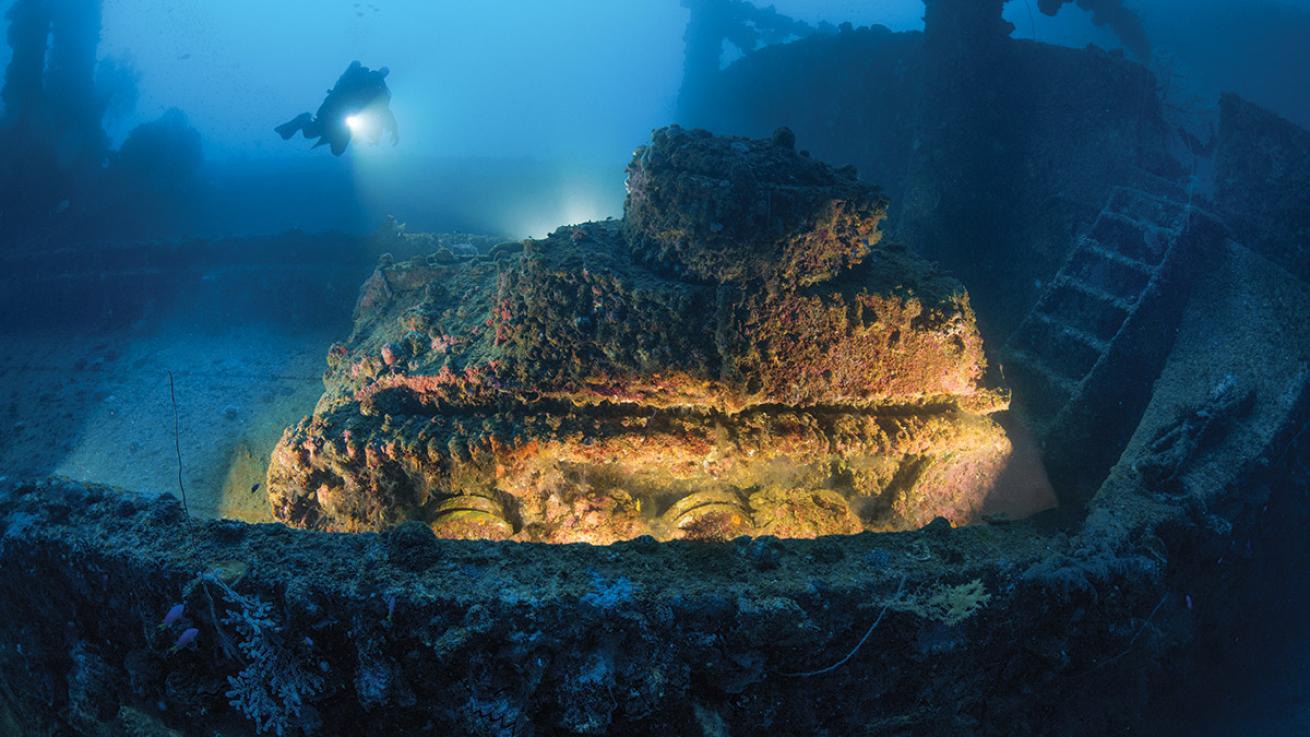 Sea Hero Becky Kagan Schott is known for her creative use of lighting in challenging environments. Here, a CCR diver checks out a small tank on the port side of the Nippo Maru in Truk Lagoon.

Becky Kagan Schott
Tell us about your most satisfying ­moment.
Winning my first Emmy Award was ­extremely emotional. I was 29, and the story that won was a positive cave-­diving feature. I was so proud to have judges who weren't divers recognize it, and to promote cave diving in a positive light on television, since it's usually not ­mentioned unless there's a death or situation such as what happened in Thailand.
What are you working on now? What's next? 
Recently, I did a cavern shoot for Red Bull; another shoot for Smithsonian magazine photographing the new OceanGate submarine that will visit Titanic next year; and personal projects documenting wrecks in all five of the Great Lakes. This summer, I'll be diving in all of the lakes and focusing on areas I haven't been to. I've been working on artistically photographing different types of ships in each lake, from side paddle-wheelers to steel freighters; my personal favorites are the wooden schooners from the 1800s, with masts still standing. My goal is to put together my first book, to showcase the wrecks and their stories.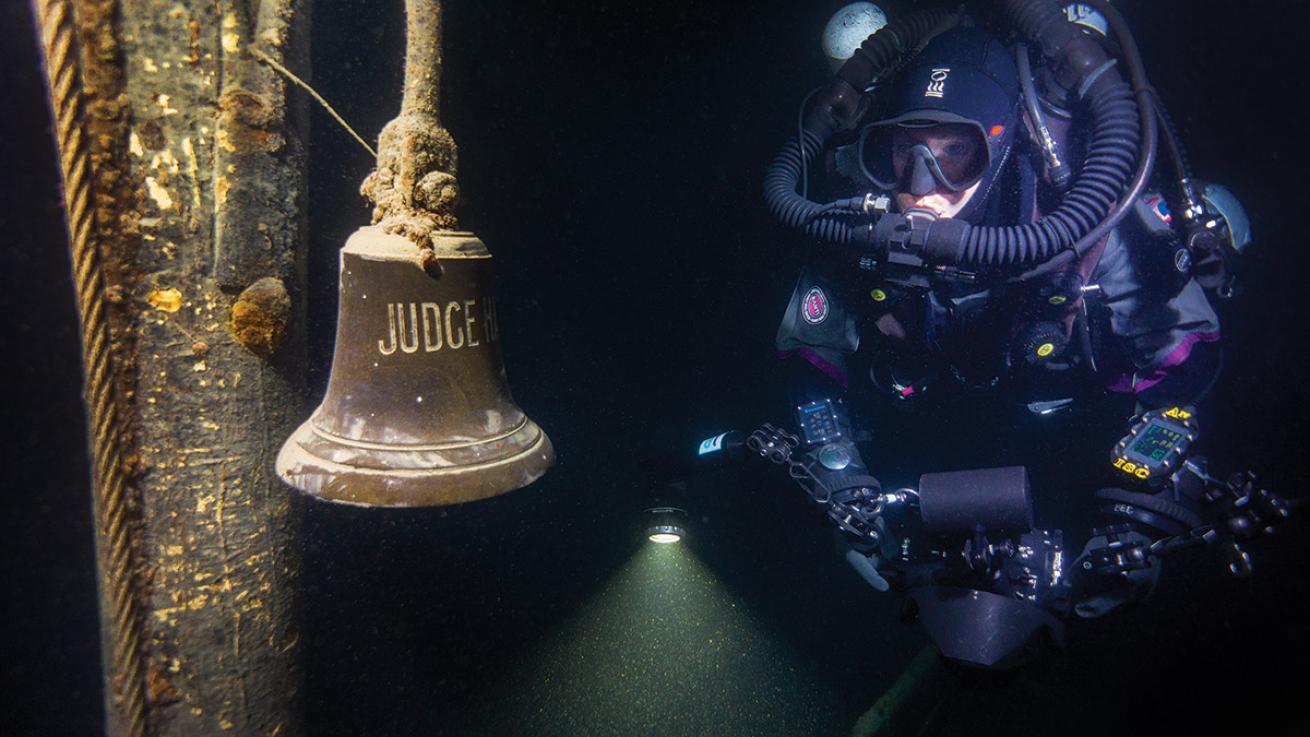 Schott prepares to shoot the bell on the Judge Hart in Lake Superior. The wreck sits at just over 200 feet, in 38-degree water.

Jitka Hanakova
Who are your sea heroes?
I admire others with the same ­passion — we're like a little family. When you share experiences together in remote places around the world, the trust you develop is priceless. I admire Evan ­Kovacs, Pete Mesley, Jill Heinerth and Dr. ­Simon Mitchell. I also admire my dive buddy, Capt. Jitka Hanakova, because she's strong in so many ways, and we have great adventures together giggling underwater on long decompressions. All of these people have an infectious drive, tenacity, and love for caves, shipwrecks or science. 
Anything else you'd like readers to know?
As a technical-diving instructor, ­safety and training are really important to me. A lot of divers go too fast, too soon, and end up in an overhead environment or on a rebreather on a deep wreck before they have the experience to handle a situation when something goes wrong. No shot is worth your life — the cave or shipwreck will be there for next time. Know that the journey is enjoyable, and gaining the skill and expertise to someday dive on a cold, deep shipwreck will give you the ability to enjoy it safely, because you've trained and done the work-up dives to get there. We see a lot of amazing images on ­Facebook that inspire us to want to do more-extreme dives, but remember, it takes time to get there sometimes.