Plastic-Free Warrior Kristal Ambrose Named Sea Hero
YEAR DIVE CERTIFIED: 2007
AGE WHEN CERTIFIED: 17
DIVE CERTIFICATION LEVEL: Divemaster
WORDS TO LIVE BY: There's always sunshine above the clouds.
In her early 20s, Kristal Ambrose decided to free her beloved Bahamas from plastic pollution after spending two days helping to remove plastic from a sea turtle's stomach and witnessing the Great Pacific Garbage Patch.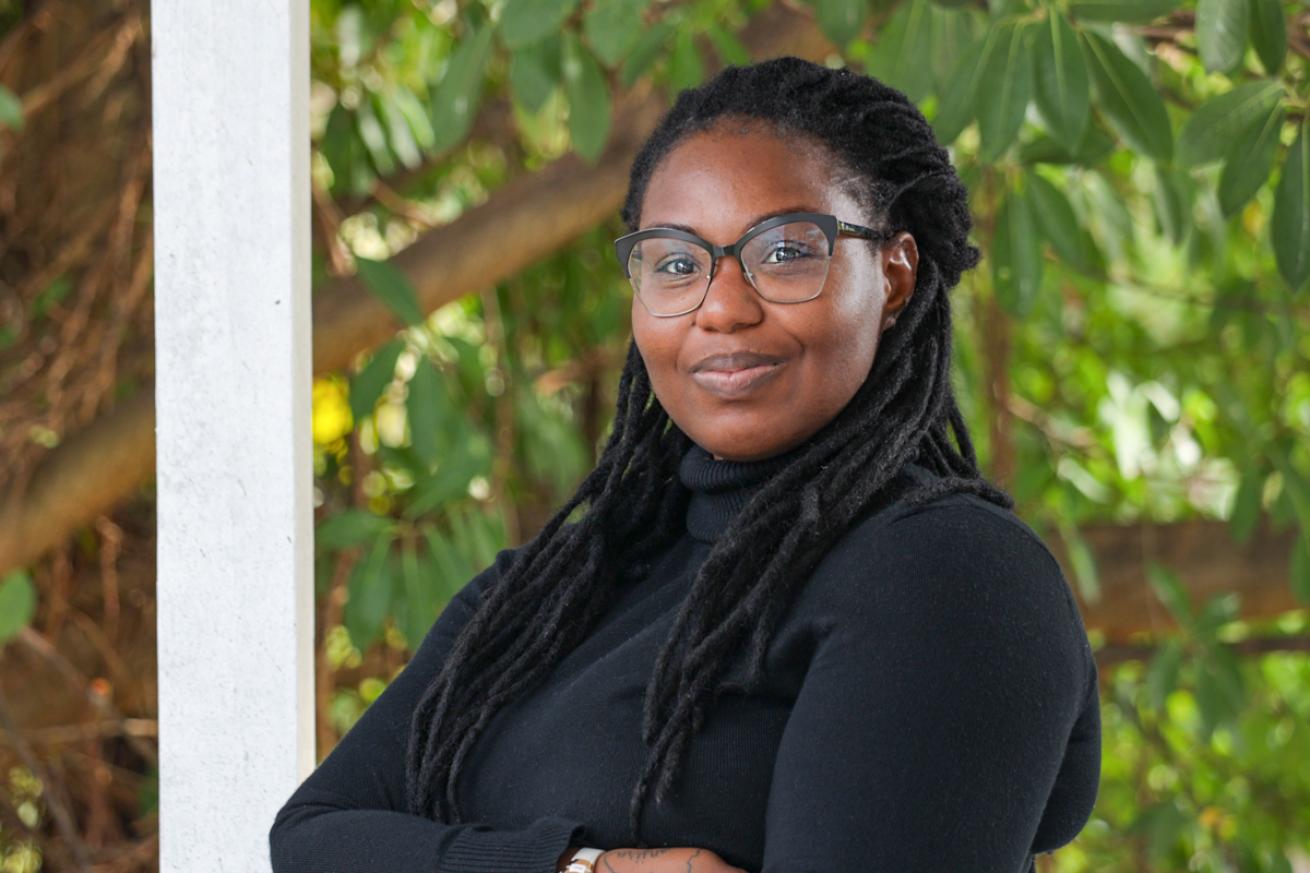 Ambrose is researching strategies to synchronize monitoring events for plastic marine debris on beaches in the wider Caribbean for her Ph.D. at the World Maritime University.

Sidney Curtis III/Goldman Prize
She launched the nonprofit Bahamas Plastic Movement in 2014, through which she creates transformational marine debris experiences for other young people. She and her youth #PlasticWarriors convinced the Bahamian government it was time to ban single-use plastics to protect the island's marine ecosystem. For that, she is our June Sea Hero.
Q: You got a bill written by children and teens implemented nationwide in the Bahamas to ban single-use plastics. Tell us how you made this happen.
A: This was the culmination of years of research, education, youth activism and citizen science administered through the Bahamas Plastic Movement's #PlasticCamp.
In 2017, we decided to take on a plastic bag ban for the Bahamas. I hosted a youth activism workshop on a single-use plastic (SUP) ban. Over three days we studied plastic pollution reduction policies from different countries and worked with a social scientist to make surveys measuring local attitudes and perceptions of an SUP ban. A local lawyer taught us how legislation worked in the Bahamas, as well as what we should consider when drafting a bill.
Under her guidance, we started with a low-hanging fruit: a plastic bag tax. We set up a meeting with the Minister of Environment and flew from Eleuthera to the country's capital, Nassau, New Providence. Our #PlasticWarriors, ages 10 to 14, confidently, eloquently and passionately spoke truth to power during the meeting, calling for a change—even singing to the minister: "We are the change, we're the solution, we can fix this plastic pollution!" Seeing the students passionately petitioning for their future set the fire under the minister's feet to push forward a ban he and his team had started drafting.
Q: What changes have you seen since the ban was fully implemented halfway through last year?
A: More data needs to be gathered and compared against figures pre-ban, but there is broad compliance among most food vendors, grocery stores and restaurant franchises. I have seen SUP in the supply chain still, which needs enhanced enforcement.
Q: Children are a driving force of your plastic-free movement. How do you unlock their potential as change agents?
A: By making them partners. I'm saying, "Hey, this is a big problem and we are all a part of it. What can we do together to make a change?" When young people's voices are heard and validated, it empowers them to take on any challenge, no matter how difficult. They have a perspective that deserves to be viewed and a world of potential that belief, partnership and leadership reveals.
Q: What have these #PlasticWarriors taught you that you think applies to advocacy movements outside of the Bahamas?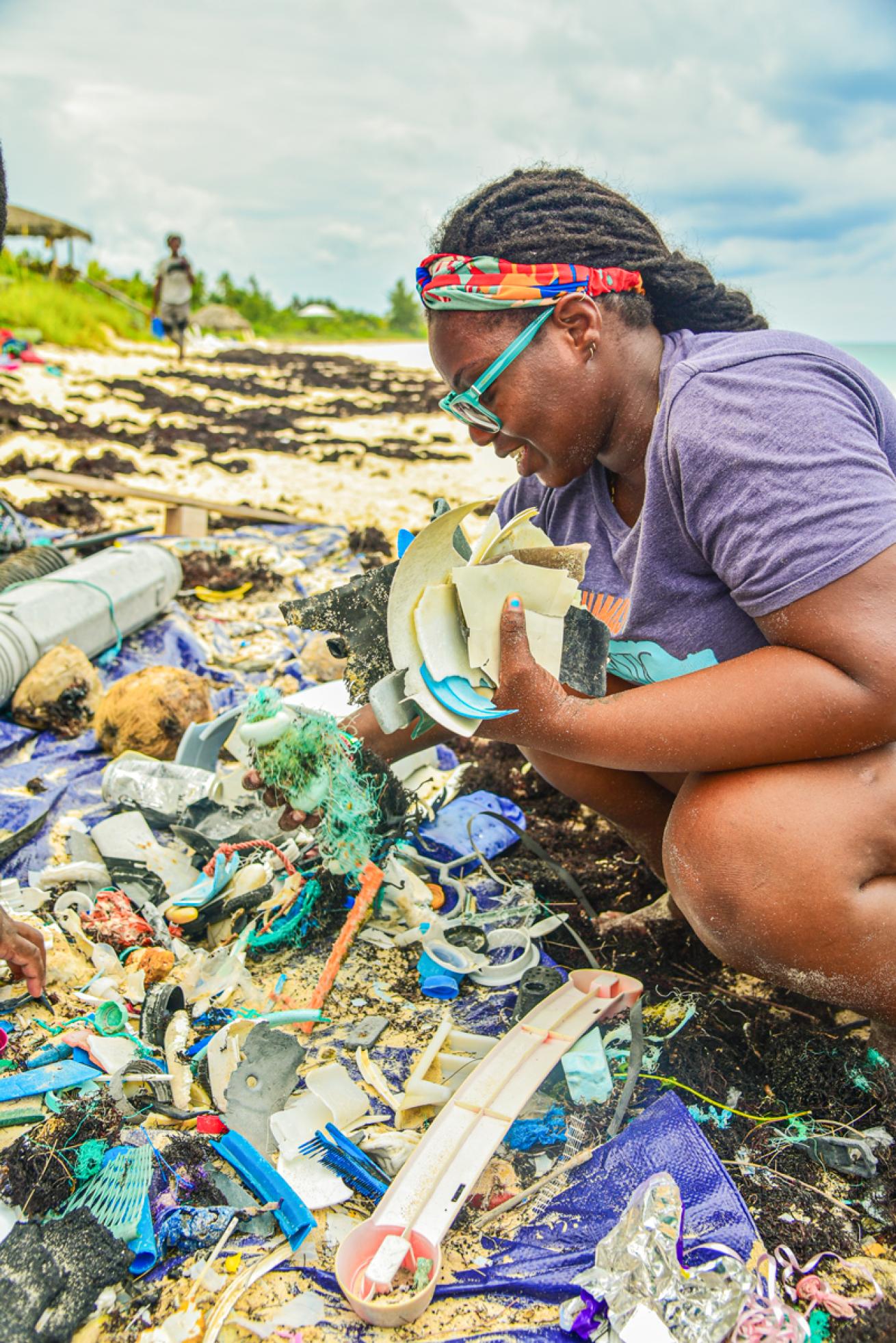 Ambrose is passionate about empowering her youth #PlasticWarriors.

Dorlan Curtis JR./Jawanza Small
A: That it's not about the individual, it's about us. It's about the work that empowers so many. So often, I wanted to quit—I thought I wasn't doing enough or my ideas weren't cutting-edge enough, so much so that I considered not having camp one year. I asked my students how they felt about not having camp. They looked at each other, then looked at me and then burst into laughter, saying, "Miss Kristal are you crazy? We need this! What about the future? We look forward to this." When you feel insecure, remember your why!
Q: You lead your marine debris initiatives with joy when most environmental news is dreary. Why do you think joy is an important element in this work?
A: Because there is a fine line between depression and inspiration I try to straddle. When I talk about plastic pollution, I often have a silly grin on my face, and I smile because of the joy in the journey toward change. It's important to be realistic about the extent of this issue—it's bad!—but you can inspire more people to change with hope than despair.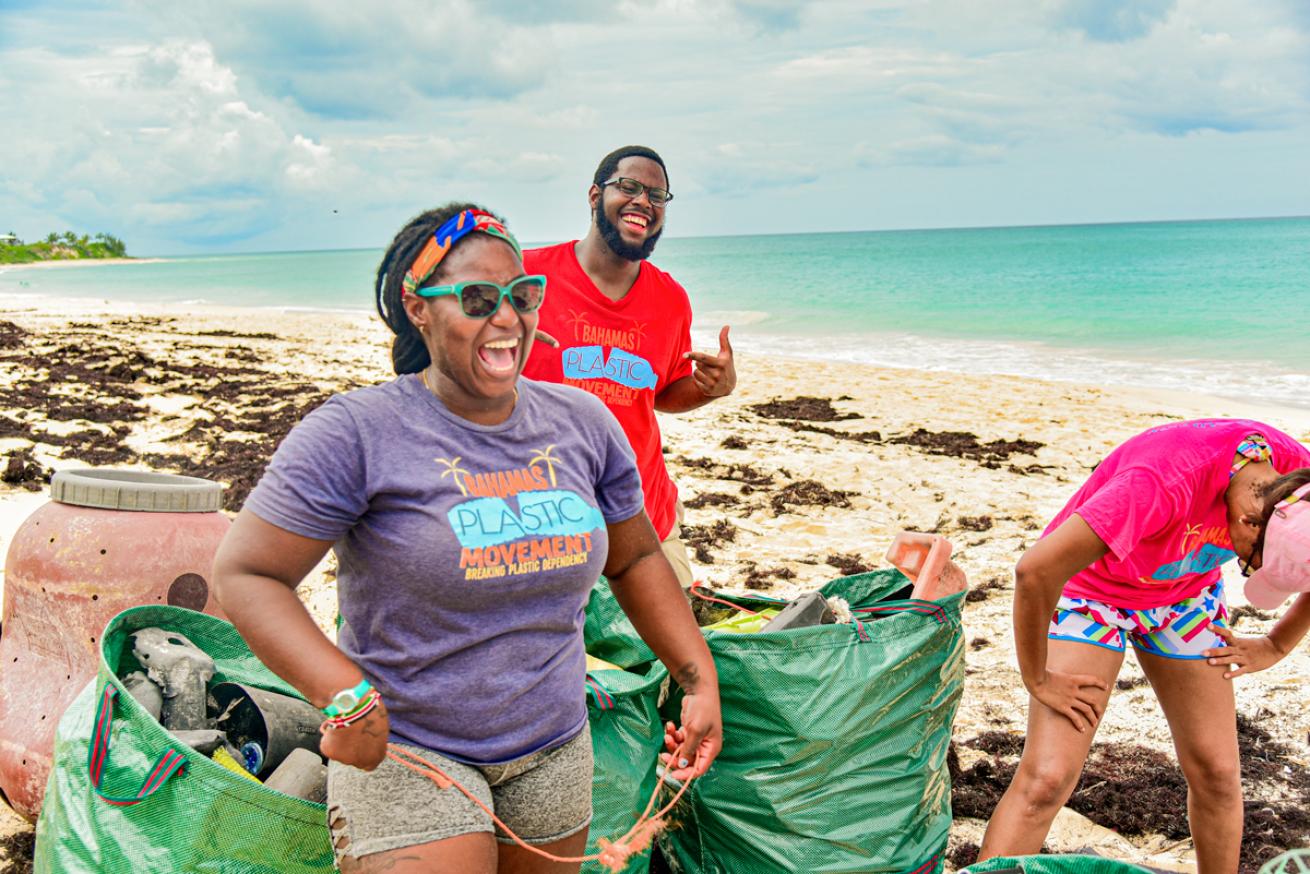 Ambrose leads a beach cleanup.

Dorlan Curtis JR./Jawanza Small
Q: What do you have to say to critics who look at plastic bans as an overly simplistic solution to a complex problem?
A: "You gotta start somewhere!" It's not the solution, but it's a part of the solution. Small Island Developing States like the Bahamas that have little to no waste infrastructure need to look at top-down approaches that turn off the plastic production tap and turn the tide on plastic pollution.
Q: What are the greatest challenges we face in tackling plastic pollution globally and what are our greatest opportunities to overcome them?
A: Apathy. This might destroy the planet before climate change and plastic pollution combined. Getting people to care, and translating that care from a hashtag to applied action and behavior change, is hard, especially in this era. In my opinion, the greatest opportunity to overcome them is to connect with nature. Whether you are landlocked or live near the coast, something as simple as appreciating a flower in bloom or clouds moving through the sky is a small spark of nature appreciation that can lead to connection.
Q: How can our readers meaningfully reduce their own plastic footprint?
A: Assess your footprint first. What single use items are you using a lot? Begin there. Refusing plastic bags and water bottles and swapping them for reusables are a great place to start. And it doesn't need to be anything fancy or super expensive, meet yourself where you are and use what you have. Take a metal utensil from home and keep it in your bag to avoid SUP ones; keep your glass pasta jar and turn it into a cup or food storage container; take a reusable straw with you when you dine out and say no plastic straw, please. The possibilities are endless. You just have to start.
Q: What's your next steps to reduce the plastic on your home shores?
A: I'm pursuing my PhD, with a regional focus of plastic in the Wider Caribbean. It's no secret that the transboundary movement of plastic is affecting the environment within the region. I'm currently looking at strategies to synchronize monitoring events for marine plastic debris on beaches in the Caribbean to inform policy and removal efforts that can support management.
Q: Is there anything we did not ask that you would like readers to know? Tell us what's important to you!
A: Stay true to who you are and lead with heart! Trying your best can take you further than you think. Remember that you are the ocean: strong, powerful, dynamic and filled with beauty.
Each Sea Hero featured in Scuba Diving receives a Seiko SRPF77 watch valued at $595. For our December issue, judges select a Sea Hero of the Year, who receives a $5,000 cash award from Seiko to further his or her work. Nominate a sea hero here.