Prepare to Play—Building a Scuba First Aid Kit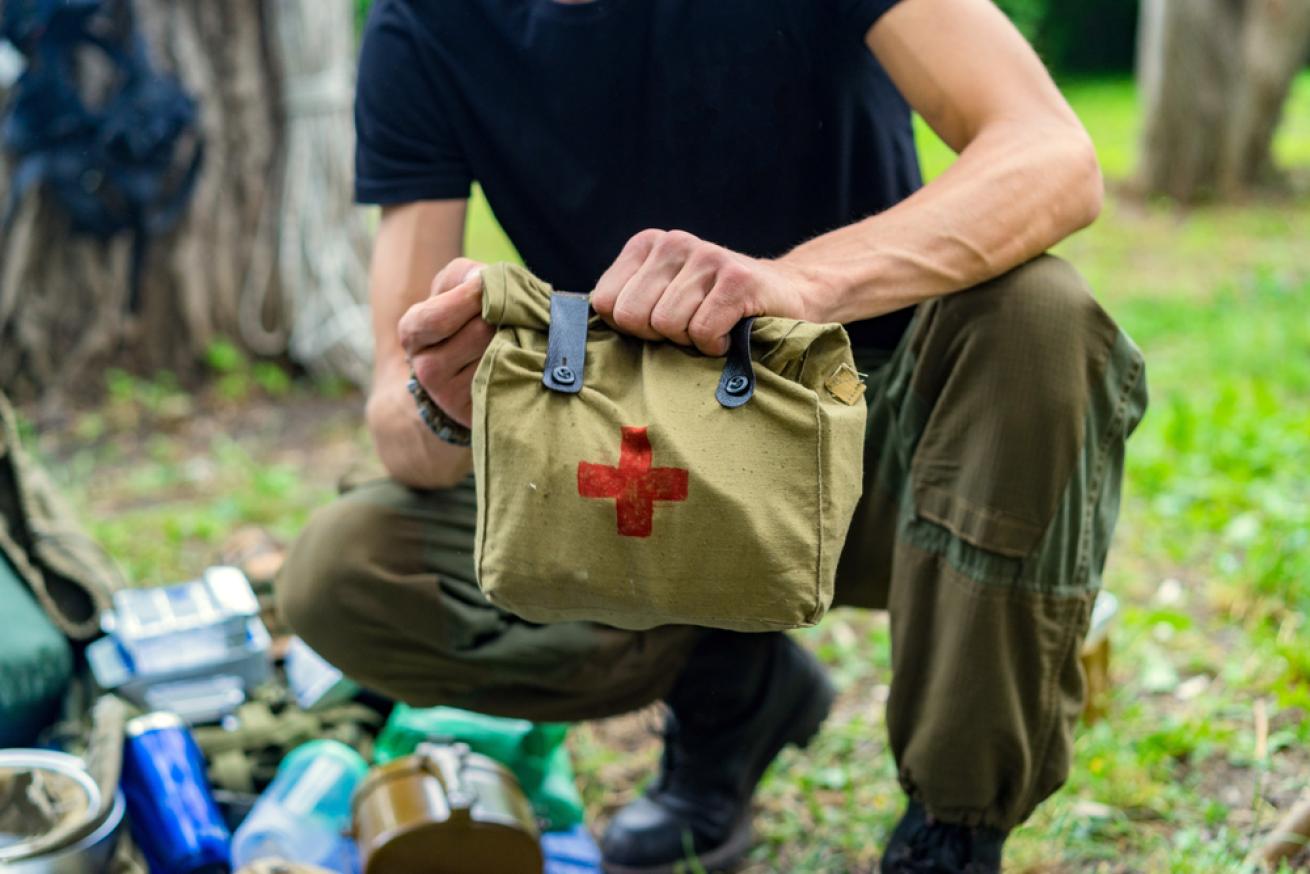 A well-stocked first aid kit and proper training can prevent danger in the field.

Shutterstock.com/TheWorldofWords
The best dives always involve a bit of distance. Finding a reef or cove off the beaten path can reward us with a treasure trove of life to marvel at. Natural beauty has a way of distracting us in the best way possible; watching worries meld with bubbles and drift off toward a sunlit surface can be the best way to spend a day.
Yet, sometimes that happy daydream can be interrupted. Preparation is key in diving. From gear checks to buddy checks, ample knowledge and well-maintained equipment are necessary to safe and enjoyable diving, and a well-stocked first aid kit is part of this equation.
The Basics
There are some staples everyone should have in their kit. Whether you dive the warm waters of Florida or the frigid Great Lakes, you need a starting place to grow from.
Building your own first aid kit with a dive buddy can be a great way to talk over potential scenarios and plan for an upcoming trip. Remember to discuss any previous health issues, making sure to include any medication you or your dive buddy take daily.
Pack plenty of waterproof adhesive bandages of varying sizes—little problems can quickly become big problems outdoors. Blister or moleskin bandages are great for hiking or fin-kick blisters, and easily fit in a compact first aid kit.
Don't skimp on the over-the-counter medications—your dive buddy will thank you, and there are single-serving packets available to save space in your kit. Acetaminophen, aspirin and any other pain reliever should be in every first-aid kit to mitigate a headache or muscle fatigue.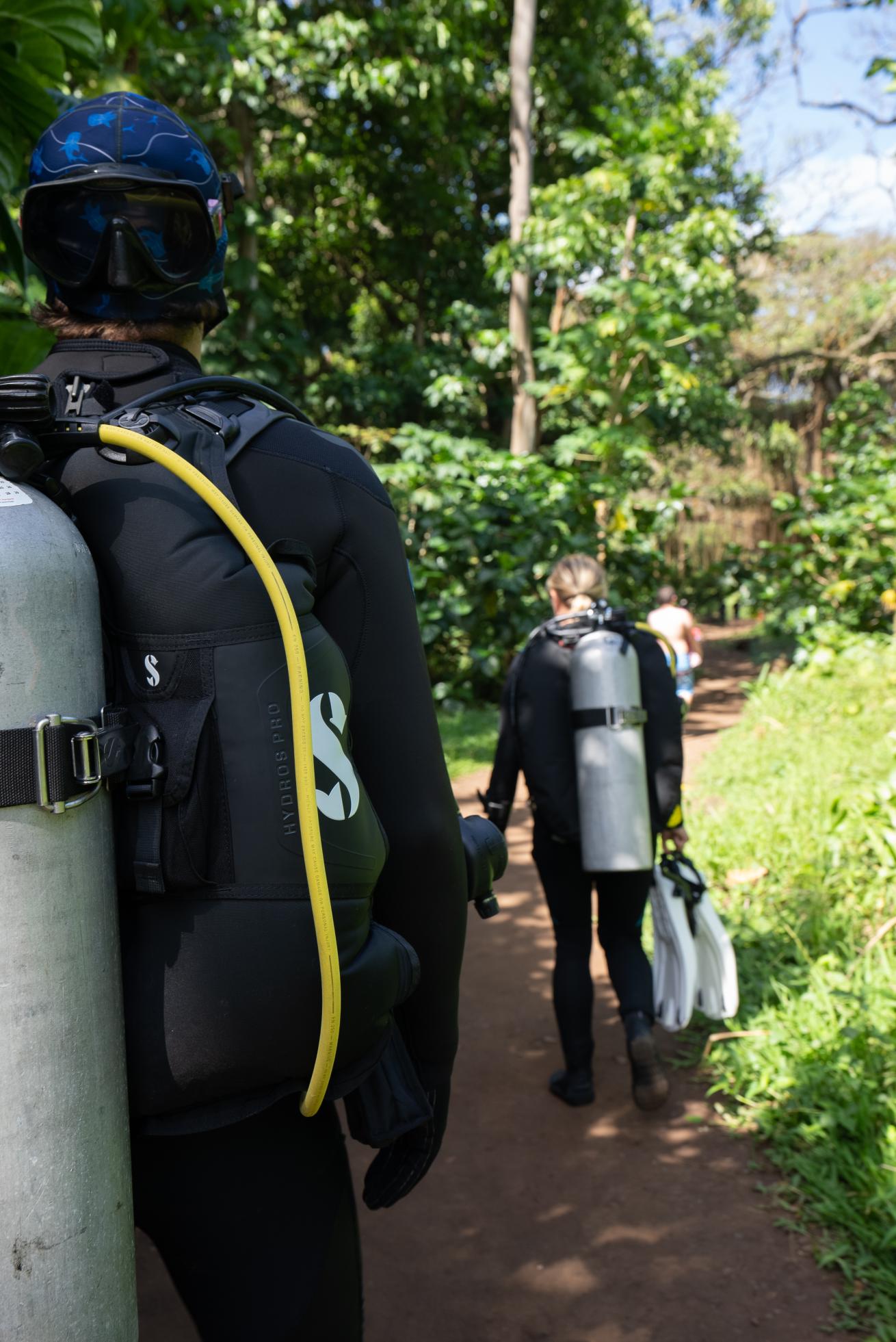 Diving may take you to remote places. It is important to be prepared.

Kristin Paterakis
Electrolyte rehydration packets are great to add—remember, you lose minerals via sweat in addition to fluids, and both need to be replaced. Sunscreen and motion sickness pills are two of the most wanted and often forgotten items, so pack those in too.
Remember to balance preparation with reality. You don't have to lug an oxygen tank down to a remote cove for a single shore dive if you even have access to one. Bring only what you can responsibly carry and keep track of.
For that reason, multipurpose items are great. Bring a double-sided mylar blanket for signaling and staving off hypothermia.
Many of our excursions involve motorized vehicles, on land and sea, which brings the potential for serious traumatic injuries. Pack emergency pressure dressings, just in case.
Remember: never use any equipment or methods you are not trained in or familiar with.
To summarize, a solid DIY first aid kit should include these 12 essentials:
Signaling method, like a whistle or visual aid.

Adhesive bandages of varying sizes.

Blister or moleskin bandages for friction injuries.

Pain-relief and anti-inflammatory medications, like ibuprofen or acetaminophen, as well as antihistamines.

Marine-grade sting relief wipes or a small bottle of white vinegar.

Sunscreen.

Motion sickness relief pills.

A mylar blanket.

Electrolyte rehydration packets.

Triple antibiotic ointment.

Large sterile gauze pads.

Emergency pressure dressings.
Related Reading: Delayed Consequences | Lessons for Life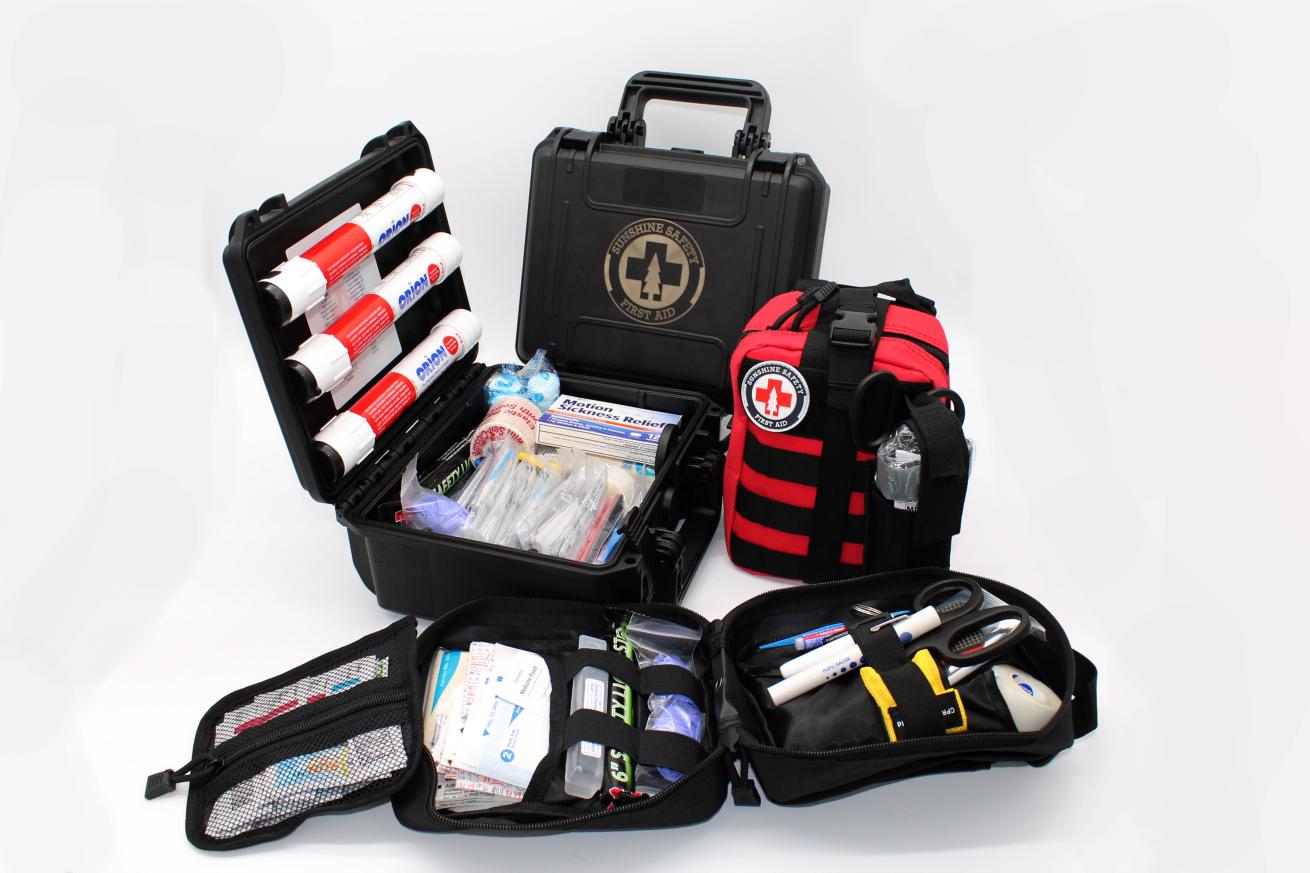 Companies like Sunshine Safety First Aid or Divers Alert Network have several pre-made kit options which can help take the guesswork and cost out of building your own kit - make sure they cover whatever activities you have planned.

Domingo Salas
Many companies like Sunshine Safety First Aid or Divers Alert Network have several pre-made kit options which can help take the guesswork and cost out of building your own kit. Make sure they cover whatever activities you have planned, and add any personal medications or items you wish.
Add to Your Kit Before Your Trip
Just like there are different fin-strokes for different folks, needs can vary greatly based on diving activities. Cave and wreck diving demand more specialized gear and training than beach shore dives, and the same is true for first aid.
Spearfishing? Consider advanced trauma training and specialized equipment such as hemostatic bandages and occlusive chest seals. Night diving? Chemical lights for marking entry and exit points can help rescue personnel locate you. If your diving location is particularly remote, bring a satellite communication device to reach rescuers.
Related Reading: Fishing for Trouble | Lessons for Life
Practice for Play
The most important ingredient in any first aid kit is training. Consider taking a wilderness first aid course with your dive buddy, and talk through scenarios specifically involving diving. Practice how to rescue each other, how to apply bandages, and how to use a tourniquet. Be sure to bring a first aid kit you and your dive buddy are familiar with. Practice how you play so you can enjoy your underwater adventures to the fullest.
Keep your cardiovascular fitness in mind as well—don't let that dream vacation be the most activity you've had in months. Proper fitness and hydration are key to enjoying the outdoors safely.
It is impossible to prepare for every eventuality, but with proper training and equipment, you can dive with peace of mind, and enjoy the wonderful excursions only our blue planet can offer.
---