The Best Destinations for Shore Diving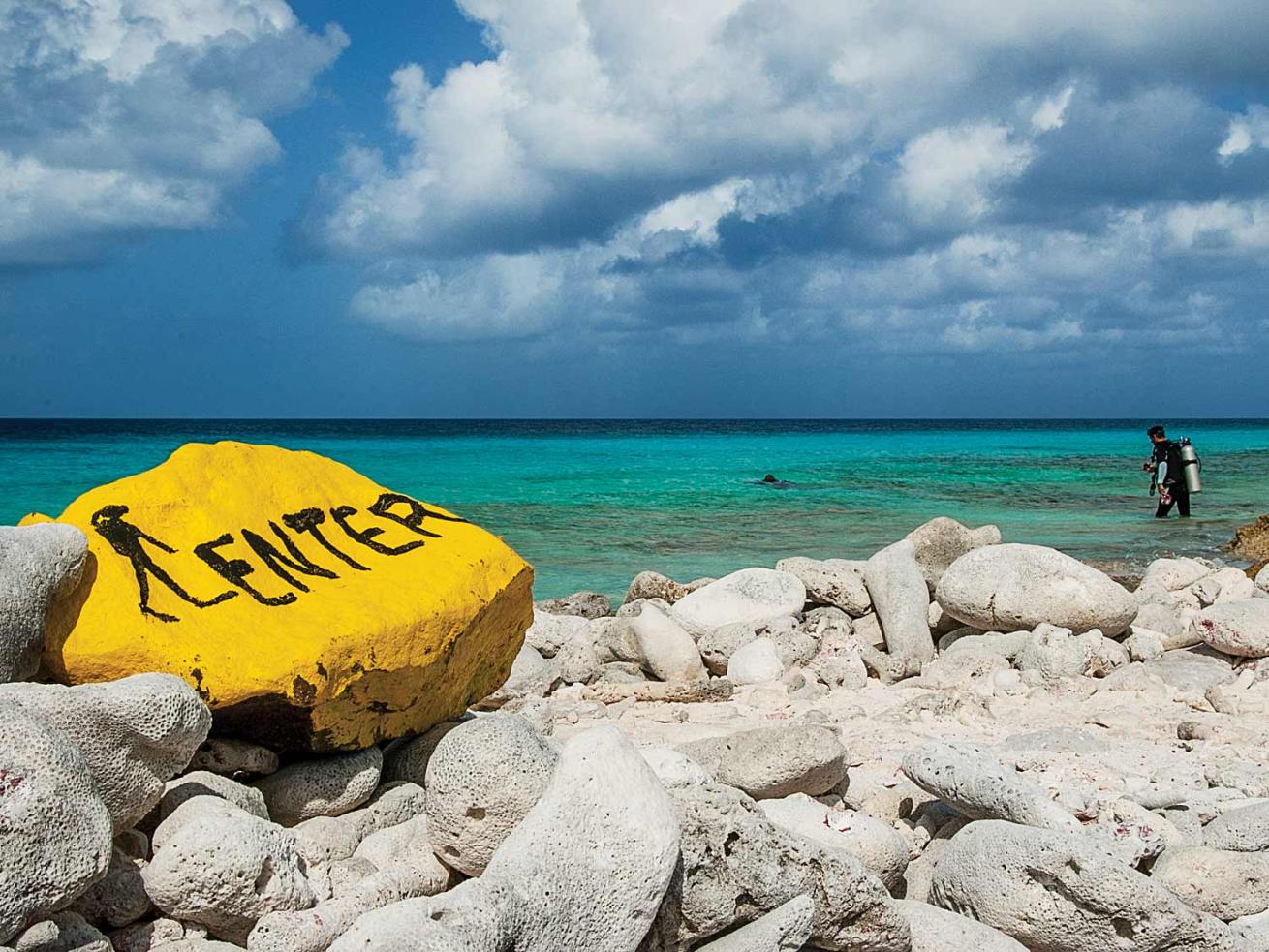 Painted stones mark Bonaire shore-diving sites

Lorenzo Mittiga
Hawaii
Not every ­mainlander who's been to Hawaii knows about the shore diving. A few sites, such as Maui's Lahaina Wharf, might be better known, but many are tucked away where locals love to visit. Take the site on the Big Island known as Four-Mile Beach. Just off mile marker 4 on Ali'I Drive south of Kailua-Kona, ­divers can find this 40-foot-deep site where eels, crabs and whitetip sharks roam. All the major islands, including Kauai, Maui and Oahu, have something to offer divers who put in the research.
Readers Picks
Operators
Jack's Diving Locker, Big Island, Hawaii
Kona Honu Divers, Big Island, Hawaii
Maui Dive Shop, Hawaii
Scuba Shack, Maui, Hawaii
Big Island Divers, Hawaii
Kona Diving Company, Big Island, Hawaii
Liveaboard
Kona Aggressor II, Big Island, Hawaii
U.S. Virgin Islands
In the U.S. Virgin Islands, the shore-dive ­offering is about quality over quantity. "The dives that we do have are outstanding," says Michelle Pugh, owner of Dive Experience on St. Croix.
Take Cane Bay, for ­example. This north shore dive is relatively easy, with a wall reachable via a seven-minute swim. There, divers can encounter seahorses, octopuses, lobsters and sea turtles. It's such a favorite site of Pugh's that for years she would shore dive the site before heading in to work.
St. Croix is also famous for Frederiksted Pier, home to tons of critters and juvenile reef residents.
Also on the shore-dive list is Butler Bay, where ­physically fit swimmers can experience five wrecks located in one spot, reachable via a 15-minute swim.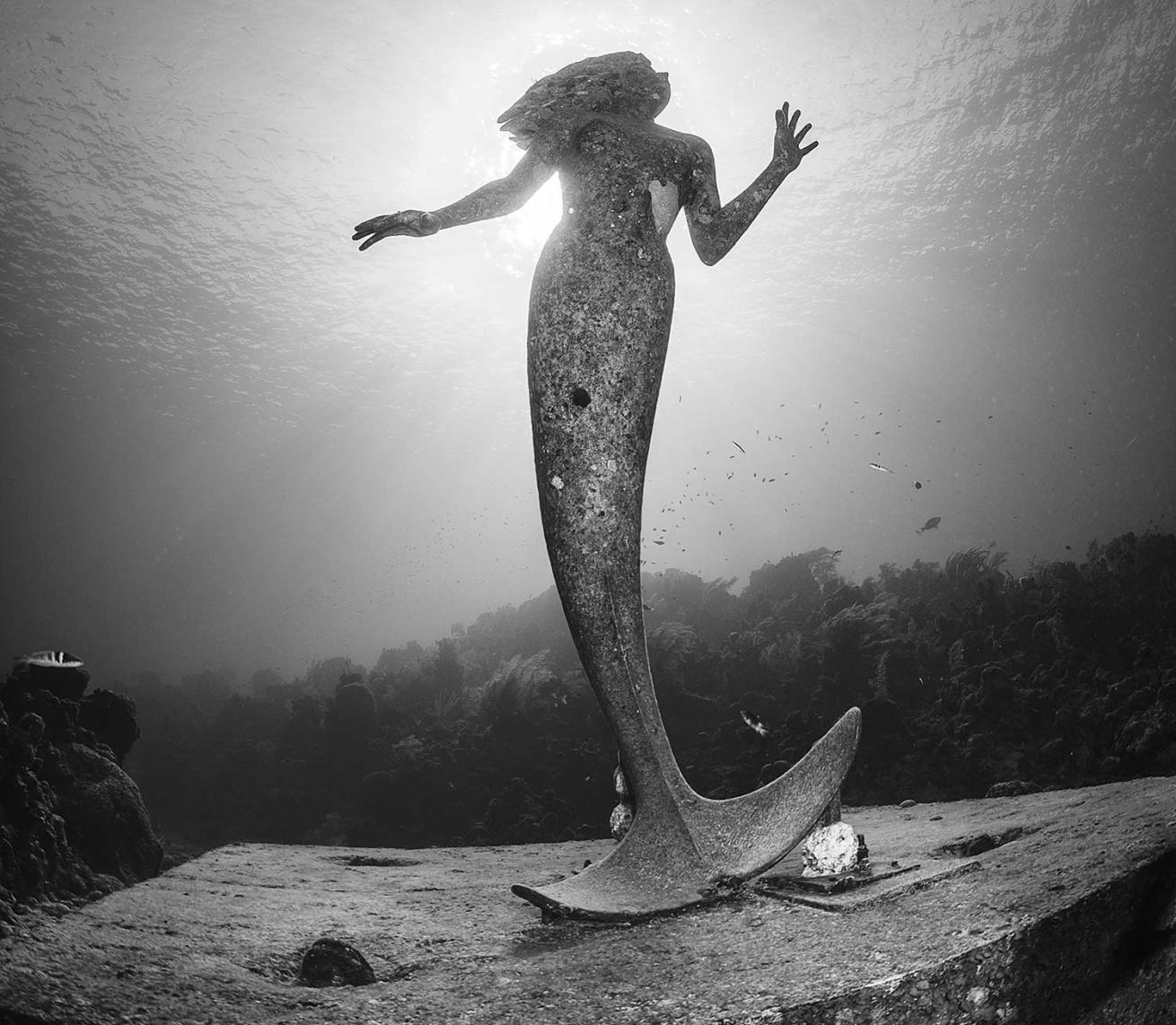 The Amphirite statue lures divers off Grand Cayman

Jennifer Penner
Cayman Islands
On Cayman Brac, 2013 was a good year for divers. Resident Nina Banks suggested adding markers for each shore dive; then she helped paint and number 25 red rocks to designate each of the island's shore dives. She also authored a guide to the sites, detailing entry points, depths and ­compass headings to reach each site. Do note, however, that ­Cayman Brac's rugged coast requires divers to be a bit fit in order to carry gear to the starting point, as well as ­navigate rocky entries.
Grand Cayman offers nearshore sites where you can see popular man-made ­attractions — and plenty of life — such as the ­Amphitrite statue at the Sunset House Reef and the Guardian of the Reef nearby Divetech's ­Lighthouse Point dock.
Readers Picks
Resorts
Little Cayman Beach Resort, Cayman Islands
Sunset House, Grand Cayman, Cayman Islands
Brac Reef Beach Resort, Cayman Brac, Cayman Islands
Operators
Ocean Frontiers, Grand Cayman, Cayman Islands
Reef Divers, Little Cayman, Cayman Islands
Liveaboard
Cayman Aggressor IV (replaced by Cayman Aggressor V)
Kelp forests are accessible from shore in California

Michelle Manson
Monterey, California
California's ­northern coast is known for kelp forests, sheer walls, beach entries and a long list of life, from ­nudibranchs to Pacific octopuses. One top shore-diving pick is ­Breakwater Cove, also known as San Carlos Beach, where divers can find macro life among the explosion of anemones — when they're not interacting with one of the most curious colonies of California sea lions. Or opt for Point Lobos State ­Natural Reserve, popular as much for its easy access via a boat ramp as it is for its rich ­invertebrate life.
Bonaire
No other dive destination in the Caribbean is more welcoming of beginner shore divers.
"Bonaire is a very, very easy location to scuba dive by yourself with a buddy," says Serge de Groote, dive operations manager for the Divi Flamingo Beach Resort.
Bonaire has long been known for shore diving thanks to 60-plus well-marked sites spread along the leeward coast. Plus, calm waters and visibility of 100 feet and greater add to its popularity.
Moreover, the underwater topography lends itself well to newbies; within 60 feet of depth, divers can see everything Bonaire has to offer.
Most sites require less than a minute of surface swimming before you can drop down.
"There's a site called Ol' Blue. It's one of my favorites because the parking is just right in front of the beach — and then 10 yards from shore, you are right on the reef," de Groote says.
Many Bonaire resorts make it easy on DIY ­divers. Buddy Dive — the No. 1-­ranked operator in the Caribbean by our readers — offers a scuba-tank drive-through so certified divers can easily pick up tanks in their rental trucks.
Readers Picks
Resorts
Buddy Dive Resort, Bonaire
Divi Flamingo Beach Resort, Bonaire
Operator
Curaçao
A majority of the dive sites on Curaçao are ­accessible from shore, making it a top choice for those looking to log lots of sites and variety.
Plus, most of the sites are highly accessible for divers of all levels.
"The reef is very close to the shore — some of the sites start straight away, less than a minute's swim from land," says Zoe Osborn, instructor at the Dive Bus, a dive center located on the southern coast of Curaçao.
"Shore diving is much easier than people think, making it a nice surprise that's good for beginners," she says.
As for her favorites, ­Osborn says she has two. "Pierbaai Reef for the big variety of soft and hard coral, and the ­Tugboat, which has such a ­variety — tons of critters and a nice reef wall. You can just spend hours there."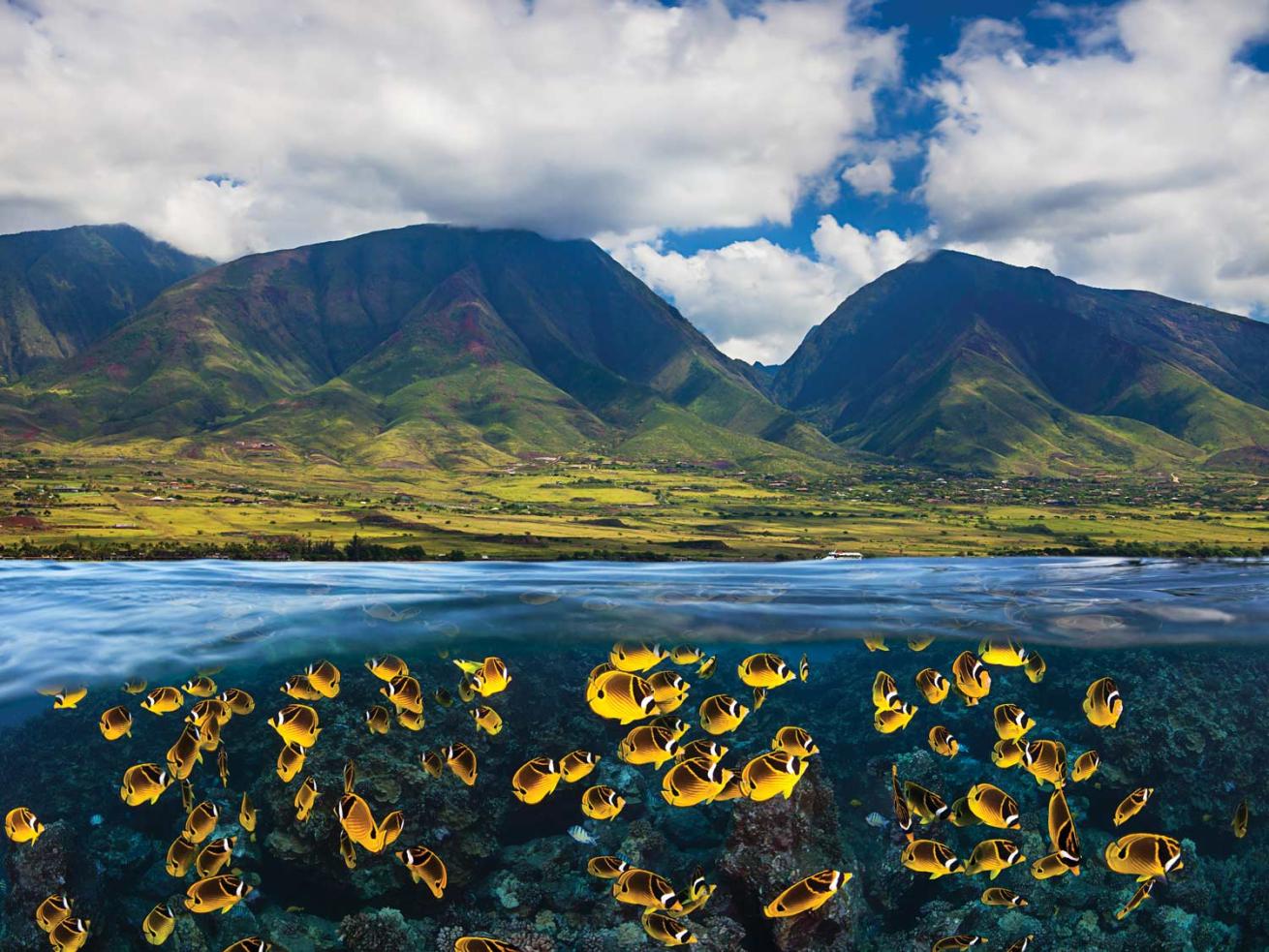 Racoon butterfly-fish and the west Maui mountains shine in this digital composite image.

David Fleetham/oceanwideimages.com
Philippines
Few shore-diving locales boast the list of exotic finds — including blue-ringed octopuses and pygmy seahorses — that the island of Cebu in the Philippines can.
One choice stretch on the island is Moalboal on the western coast. This area serves up 14 shore dives, including White Beach, where giant frogfish and leaf scorpionfish are regulars. Spread along this stretch are several other sites, each known for a mix of the exotic, ­including sea moths and ornate ghost pipefish. Just south of this site is Turtle Bay Resort, whose house reef is known for exotic critters and, of course, green sea turtles.
More critters abound ­nearshore at Atmosphere Resorts and Spa on the island of Dauin. Here, trained eyes can spot pygmy seahorses, hairy frogfish, flamboyant cuttlefish and more.
Readers Picks
Resorts
Atlantis Dive Resorts, Puerto Galera, Philippines
Atmosphere Resorts and Spa, Dauin,Philippines
Turtle Bay Dive Resort, Cebu, Philippines
Fort Lauderdale, Florida
Lobsters, sea turtles, nurse sharks and a whole lot of Atlantic tropical fish: These are the reasons divers favor Lauderdale-By-The-Sea, a coastal town just north of Fort Lauderdale on Florida's Atlantic coast.
The town's most popular dive is also known simply as "Lauderdale-By-The-Sea."
"I've never heard it called anything else," says Bill Cole, owner of Sea Experience dive center in Fort Lauderdale.
Find the dive at the end of Commercial Boulevard, at Anglin's Pier. There, the reef starts at depths of 15 feet and runs parallel to shore.
"It's very close and very convenient," Cole says, ­adding that as long as you have a permit, you can dive for lobster. As for seasonality, summer brings the most ­reliably calm weather.
"I'd say that you have a 95 ­percent chance of perfect conditions in summer, and about a 70 percent chance of calm weather in winter."
Cole adds: "Of course, you can't shore dive the wrecks — they're too far out. So what we recommend is a shore dive in the afternoon or as an early-morning dive after diving the wrecks from a boat."
Readers Picks
Operators
Sea Experience, Fort Lauderdale, Florida
American Dream Dive Charters, Fort Lauderdale, Florida
The Liberty wreck off Tulamben, Bali, is accessible from shore and burgeoning with life.

Tobias Friedrich
Bali, Indonesia
Bali's biggest shore-diving draw spans 456 feet. Find the Liberty on the eastern edge of the island's northern coast. It's a popular shore dive thanks to its position less than 100 feet from shore, in a spot that rarely sees current. Plus, the ship sits on a slope, with its shallowest sections in just 16 feet of water. Torpedoed in 1963, the cargo ship has had more than five decades to collect growth that now serves as habitat to a range of small tropicals. The structure itself draws in large schools of jacks, making for a strong, well-rounded dive.
Vancouver Island, Canada
More than a dozen shore dives dot the southern coast of Vancouver Island, Canada, running north and south of the city of Victoria. Highlights include fields of ­strawberry anemones and 2-foot-tall plumose anemones.
One prime spot is 10 Mile Point, an advanced wall dive known for wolf eels, octopuses and one of the area's densest ­colonies of sea anemones.
Caribbean and Atlantic
Bonaire
U.S. Virgin Islands
Curaçao
Cayman Islands
Bay Islands, Honduras
North America
Florida
Washington
British Columbia, Canada
Monterey, California
Massachusetts
Pacific and Indian
Hawaii
Bali, Indonesia
Philippines
Red Sea, Egypt
Maldives
What Is Readers Choice?
More than 5,000 readers chose their favorite destinations, resorts, operators, liveaboards and more for our 2019 awards. Here we highlight some of the top vote-getters for each category, and point out the winning resorts, operators and liveaboards that operate in that area, listed in order of votes received.
For more: /readerschoice