Scuba Diving FAQs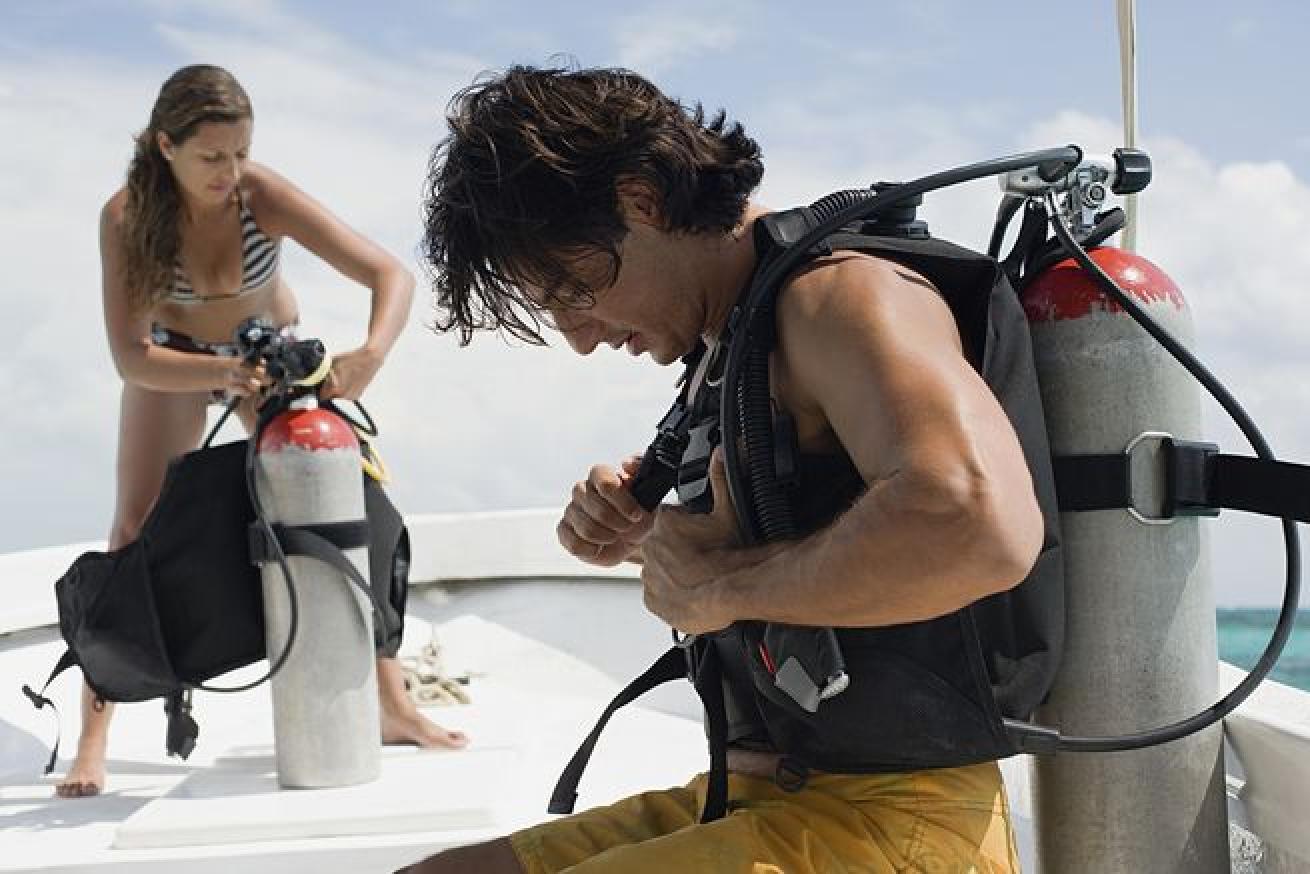 Thinking about trying scuba diving? We answer some pressing FAQs.

iStock
Thinking about taking the plunge and pursuing a scuba diving certification? We tackle the scuba diving FAQs that might spring to mind before you get started.
What Are the Physical Requirements for Scuba Diving?
Scuba diving is a fun, relaxing activity, but it's important for divers to be healthy and fit.
Before getting in the water, students must complete a medical questionnaire — they'll be asked to receive a doctor's clearance if any potential medical issues exist. This way, they are safe to go full steam ahead with the dive course.
It's also important to be comfortable and competent in the water. Many courses have built-in tests to make sure you can handle yourself underwater and stay safe. Here are some of the physical skills tested:
PADI
10 minute float/swim without swim aids
200 meter/yard continuous surface swim without aids or a 300 yard/meter swim with mask, snorkel and fins
Should I Buy or Rent Scuba Diving Gear?

Owning your own scuba diving gear can guarantee comfort and fit, but is not a requirement. Many shops require incoming students to buy a mask, fin and snorkel before diving, because these items have a personal fit. Almost all gear, including computers in many cases, can be rented at a dive shop.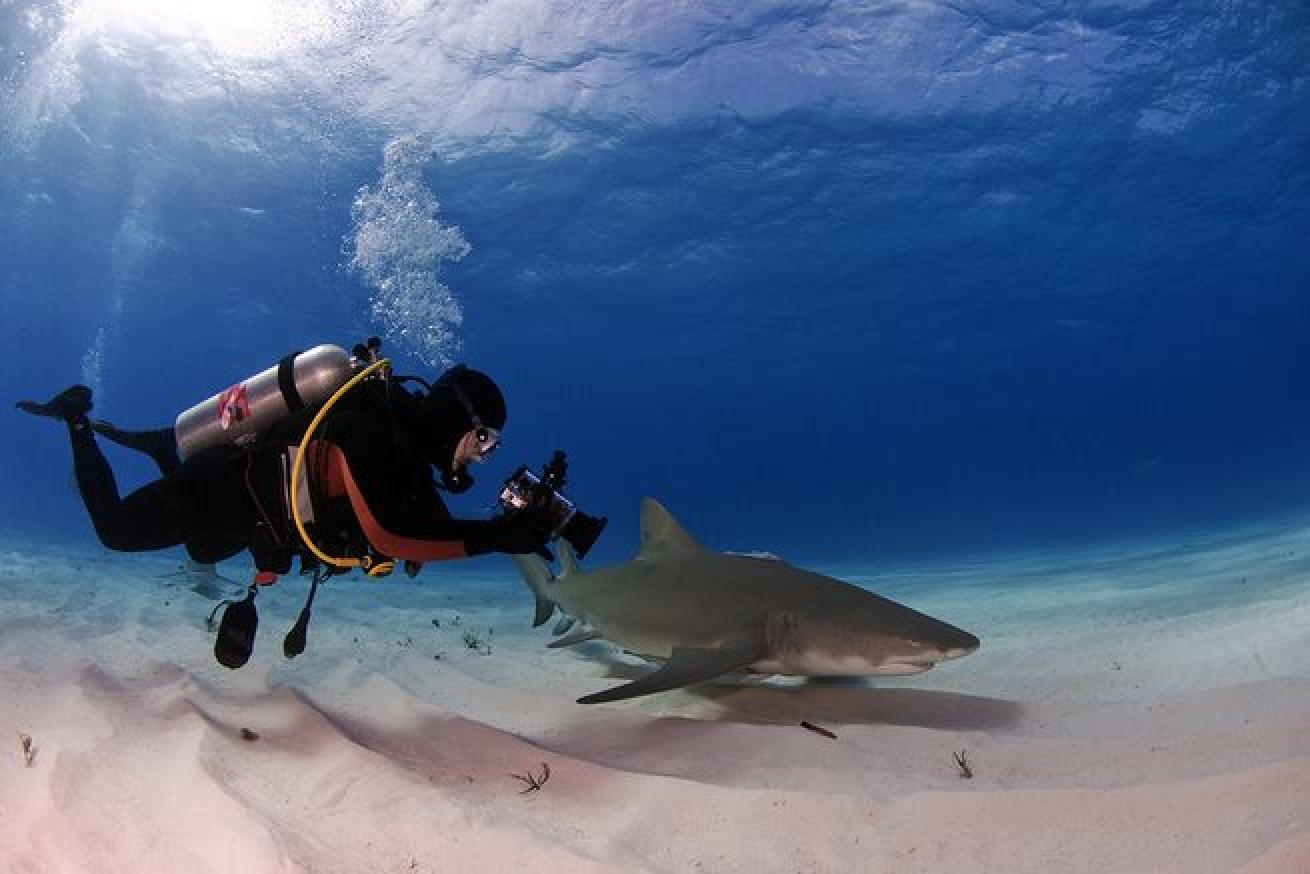 Most divers consider themselves lucky to see sharks in the ocean.

Shutterstock
What if I see a shark?
Congratulations! Sharks are amazing marine animals, and encounters with the graceful creatures are highly sought out by divers around the world. Despite what many people believe, sharks are not mindless killing machines, and attacks on divers are very rare. Mostly, sharks will swim quickly away underwater, but, if you're lucky, you may get to see them in their natural habitats for an extended period of time.
What is eLearning?
An open-water or scuba diver training course consists of three parts:
Coursework
Pool aka Confined-Water Dives
Open-Water Checkout Dives
Many dive training agencies — including PADI — allow students the chance to complete much of their coursework at home, leaving only in-water training and check-out dives to complete. The eLearning, or online coursework, takes students through the academic training with slideshows, videos and narration, making the curriculum interactive and more impactful.
Is there an age limit for scuba diving?
The minimum age requirement for most training agencies is 10 — including NAUI, PADI and SSI — but there are also introductory programs offered for younger children.
Where can I get scuba diving certified?
The main scuba diving certification agencies — including NAUI, PADI and SSI — have affiliated dive shops across the country and around the world. You can find the shop closest to you or travel to a new location to become a certified diver. Many resorts also offer special resort certifications or introductory courses that will give you a taste of what diving is like.
Diving with family and friends makes the whole experience even better.

Shutterstock
Can I get certified with my family/friend?
Of course! Having a friend or family member working toward a scuba diving certification with you at the same time can make the experience even better. You'll have a dive buddy from the get go!
How much do scuba diving lessons cost?
Earning a scuba diving certification can be much more affordable than most people think. The cost of learning to dive can vary greatly from shop to shop, depending on which course you choose and a variety of other factors. Before you sign up for the class, be sure to ask if the price includes:
Gear rental
Learning materials
Use of tanks during course
Boat fees
Checkout dives
The final cost of obtaining your basic certification can range from about $300-$600 depending on where you decide to get certified, what is included in the class and more. If you choose to seek out private lessons, the pricing will change.
Does your scuba diving certification expire?
No. Most recreational scuba certifications do not expire. However, it is important to keep up to date with your knowledge and skills to ensure a fun and safe dive.
Many operators will ask to see a log of your latest dive, and if you have not been in the water recently, you will have the chance to complete a skills check or refresher course.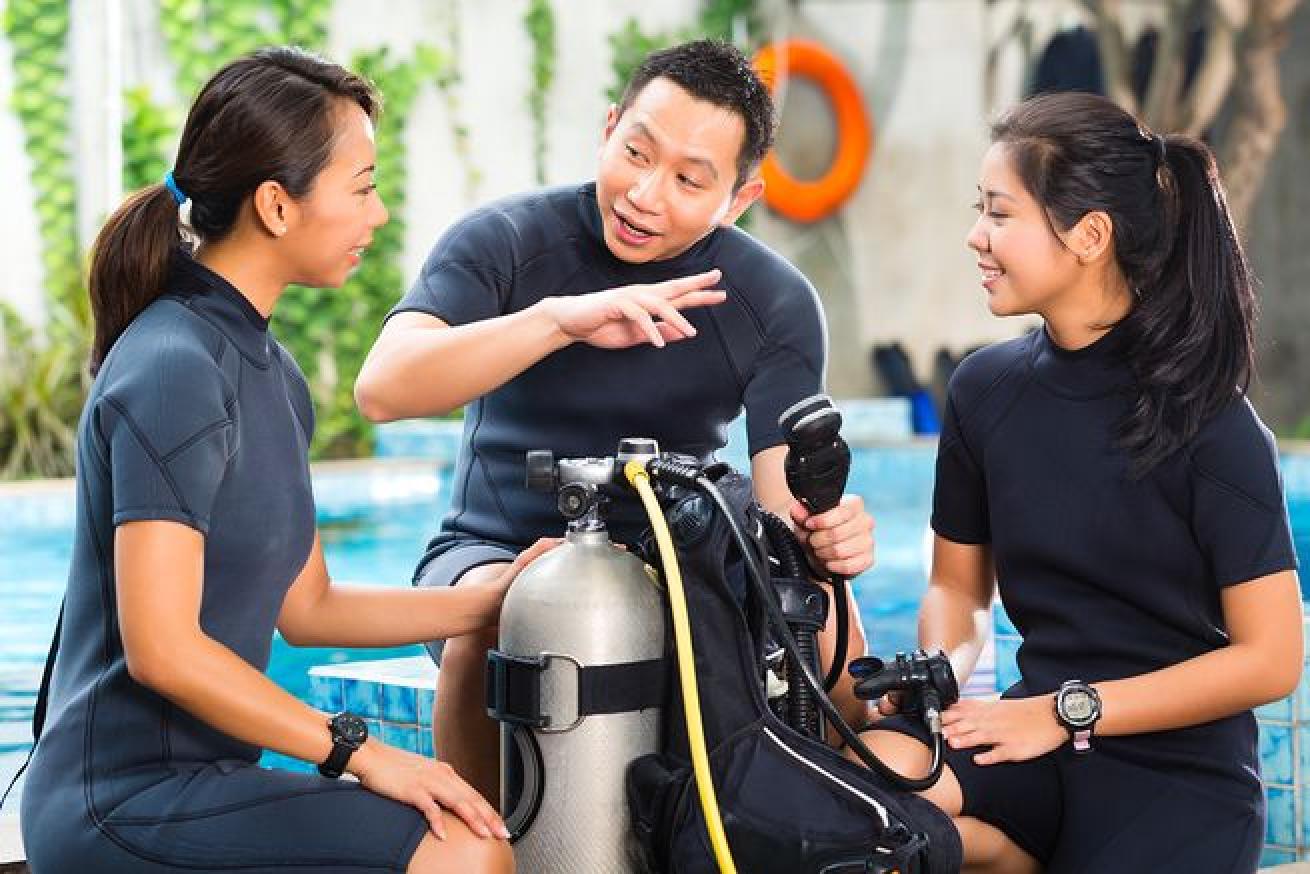 How long does it take to get scuba certified? There are a few factors to consider.

Shutterstock
How long does it take to earn a scuba diving certification?
It's always one of the first questions that comes up: How long is this scuba course going to take? Before you go scuba diving, you need to have the knowledge and skills to pull it off. A scuba diving certification course will give you just that and get you ready for some amazing adventures underwater.
Each dive shop offers different schedules for certification. But if you complete your coursework ahead of time via eLearning, the certification course could take as little as three to four days. Once you have found an instructor whom you feel comfortable with, check their options to see if the training can be completed on your schedule.
Want to pick the best certification plan possible? Here are the different ways you can pull it off.