#SharksNearMe Documents Sharks in Popular Culture
Sharks are having a moment. Just look around you. It's not just bad shark movies like Sharknado and Mega Shark versus Giant Octopus; sharks are everywhere, if you're looking for them.
Since 2016, the hashtag #SharksNearMe has been used to document this golden age of sharks in pop culture. Shark Advocates International president Sonja Fordham coined the term after seeing a ray during a visit to an aquarium. "As a city-dwelling policy person, I don't get nearly enough time with wild elasmobranchs and I never have my own stunning underwater photos to share," Fordham tells me. "Still, like so many others, I see sharks everywhere, and I thought it would be fun to link people from all over in a celebration of the many ways sharks and rays turn up in culture. The idea was to encourage and even challenge people to seek, appreciate and share photos of the sharks around them—not only in their travels to shark habitat, but in their daily lives. Over the years, the hashtag has been used to showcase sharks in art, aquaria, markets, museums, cuisine, clothing, jewelry, toys and a wide variety of other paraphernalia, in addition to sharks in the wild. I'm very pleased it's taken off and hope to see the celebration continue!"
A few weeks ago, I asked my social media followers who were stuck at home to look around and take a photo of something shark-y in their homes, and folks had all kinds of stuff!
I saw pet beds, office supplies, coffee mugs, even masks and hand sanitizer (see below.)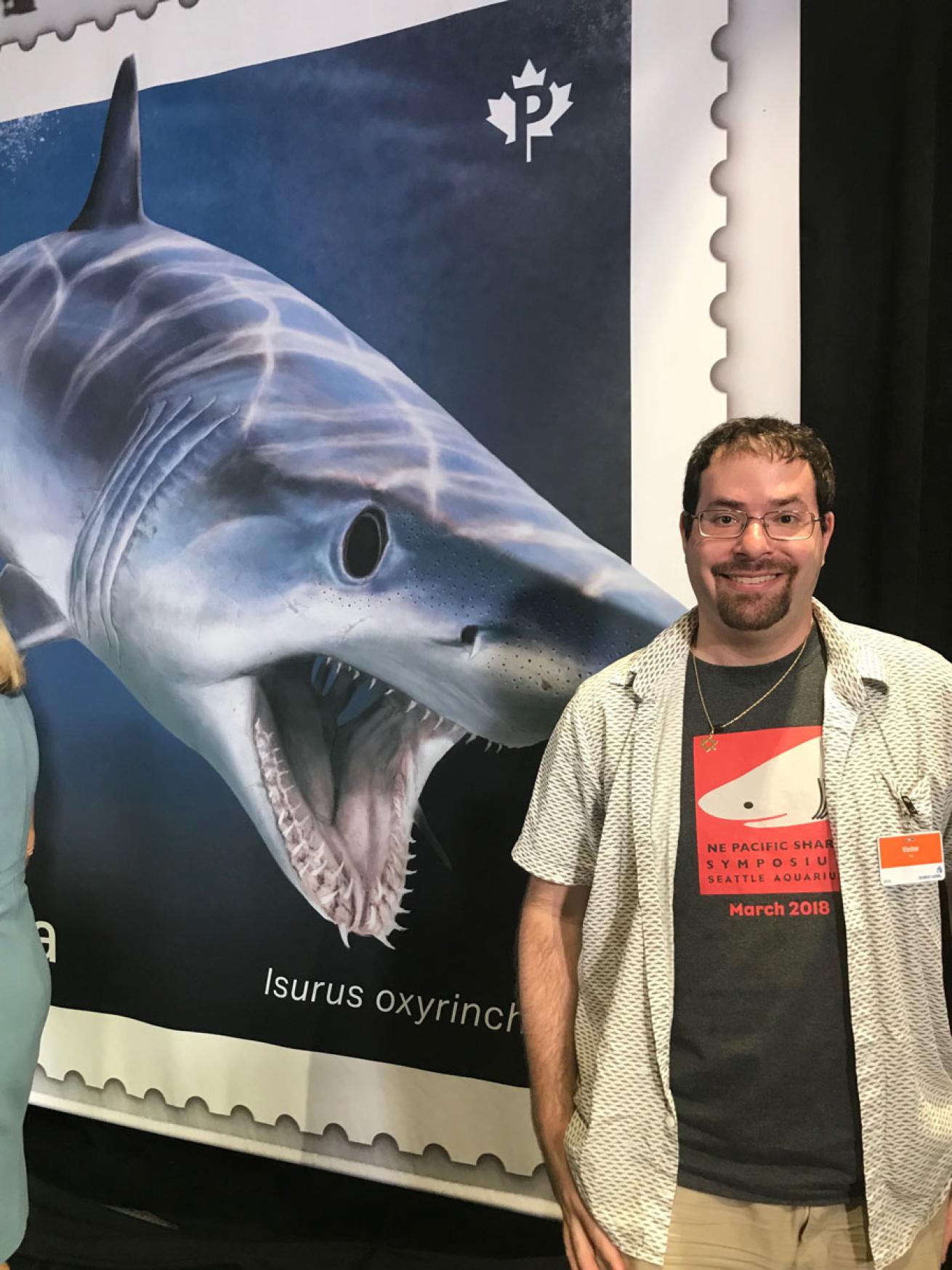 David Shiffman attended the launch party for Canada's new shark stamps, as seen above.

Courtesy David Shiffman
I see Baby Shark-themed children's toys when I go to the grocery store, and my wife and I entertained ourselves during quarantine building a shark Lego set. Both Canada and the United States have released shark stamps in the past few years.
It's not just toys and knickknacks, but even fashion from major brands—which gets its own hashtag: #ElasmoSwag. My personal collection includes a Tommy Hilfiger shark-print tie and a Banana Republic shark shirt. I even got 20% off my Black Friday shopping haul of shark-print polos at the Greg Norman store when I showed the sales clerk I'm a shark scientist.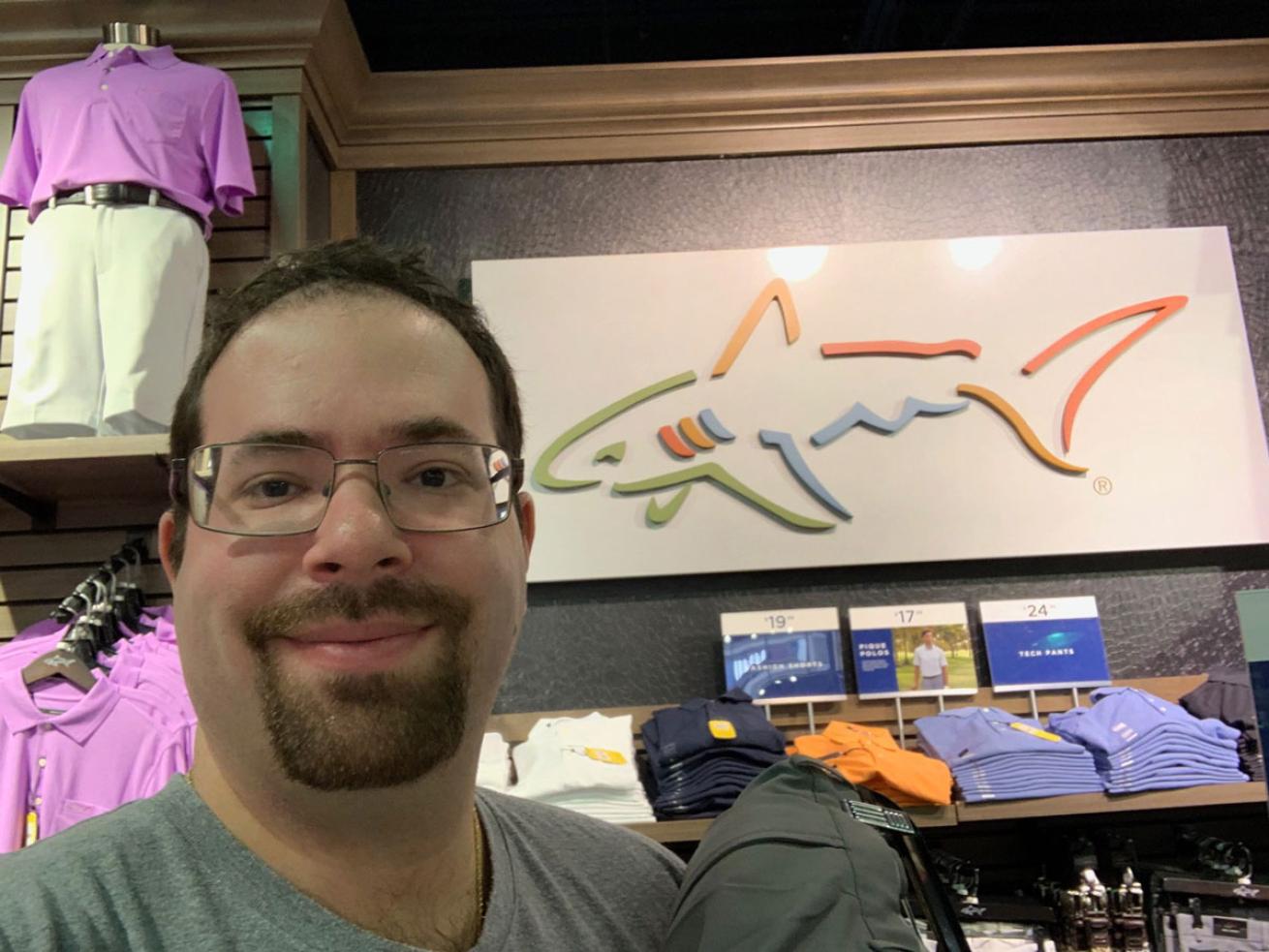 David Shiffman poses in front of Greg Norman logo.

Courtesy David Shiffman
You can participate even if you aren't leaving your house; there are plenty of #SharksNearMe on TV and in movies! Sharks have been featured in at least one commercial during each of the past seven Super Bowls, ranging from selling cellphone plans to alcoholic seltzer drinks—and who can forget Left Shark, the star of the 2015 Super Bowl halftime show. A quick scroll through the #SharksNearMe hashtag on Twitter will yield more examples from TV shows like The Simpsons or South Park and the movie The Princess Diaries.
So if you're missing the ocean while we all stay home to flatten the curve, check out #SharksNearMe on Twitter and Instagram. And if you have shark-y stuff in your home or see a shark while watching TV, post it on social media and tag me.
---
Dr. David Shiffman is a marine conservation biologist specializing in the ecology and conservation of sharks. An award-winning public science educator, David has spoken to thousands of people around the world about marine biology and conservation and has bylines with the Washington Post, Scientific American, New Scientist, Gizmodo and more. Follow him on Twitter, Facebook and Instagram, where he's always happy to answer any questions about sharks.
The views expressed in this article are those of David Shiffman, and not necessarily the views of Sport Diver or Scuba Diving magazines.