Eight U.S. Aquariums Where You Can Go Scuba Diving
Even landlocked divers need a hit of bubbles in this era of temporary grounding. If you can't hit the surf, consider one of these AZA-Accredited aquariums for your fish fix.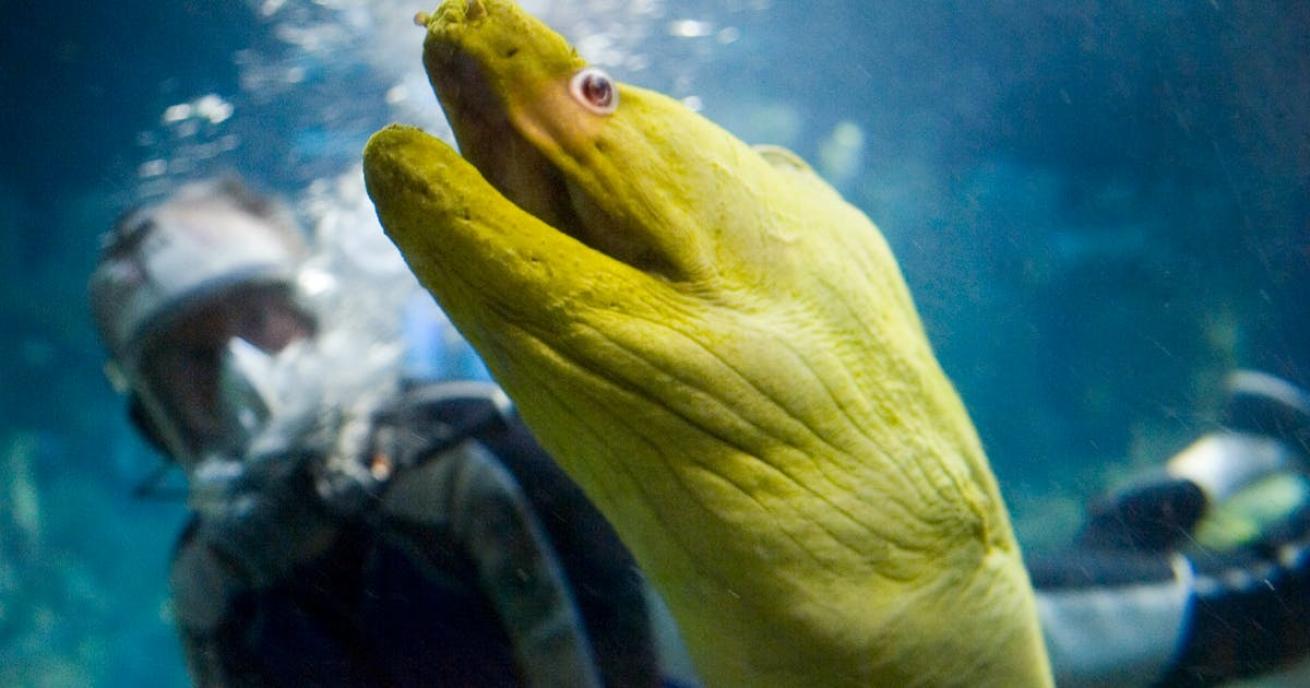 A volunteer diver at Shedd Aquarium.

Courtesy Shedd Aquarium
Dive Volunteers in the Caribbean Reef exhibit hand-feed the animals during presentations, answer guests' questions while underwater, prepare food and assist in animal observations. Volunteers need to pass a scripted audition as part of training so public speaking experience, knowledge of aquatic life and an ability to commit to two years or more is preferred. Wild Reef divers assist in animal feeding and observations in multiple habitats. (The large shark exhibit is restricted to staff.) Rescue diver certification is required. Evening Divers in the Abbott Oceanarium do not have contact with the marine mammals, but play a vital role in keeping the habitat clean and maintained. Five hours of cold water diving experience required.
Dive Volunteers must be 21 and able to commit to a year or more of weekly shifts (either a.m. or p.m.). All divers must have their open water cert, with at least 30 logged dives. The program is popular and often has a waiting list.
---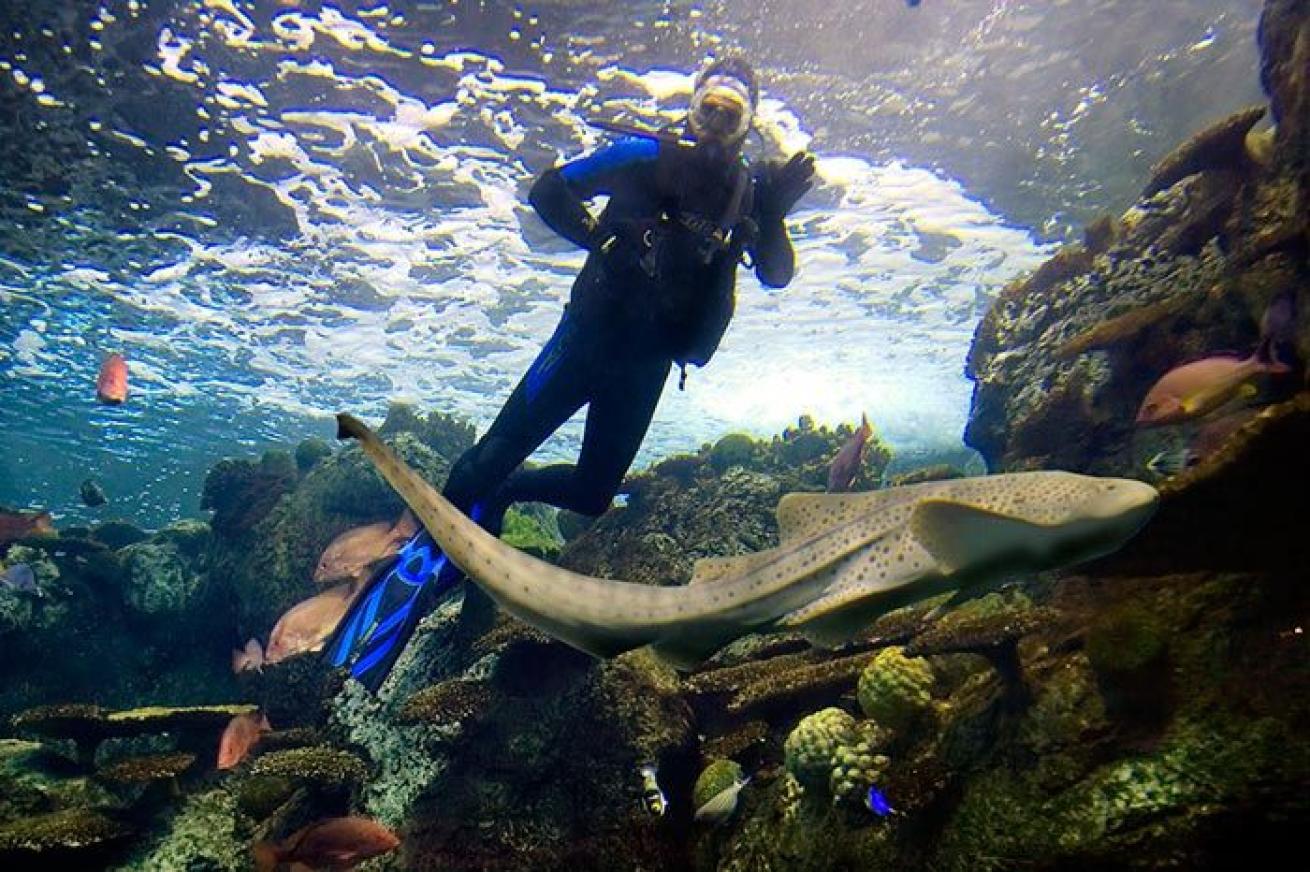 Dive Immersion at Aquarium of the Pacific

Courtesy Aquarium of the Pacific
Certified divers (must be 15 or older) can slip into this warm, 350,000-gallon Tropical Reef Habitat to meet more than 600 tropical fish up close and personal. This gorgeous exhibit represents the famous Blue Corner dive site off the coast of Palau. Over 350,000 gallons of water and more than 1,000 animals from the tiny cleaner wrasse to the zebra shark can be spotted by keen eyes.
The experience runs two and a half hours, including a behind-the-scenes tour of the dive program and aquarium operations. The Dive Immersion program also includes use of an underwater camera (and memory card to keep) and allows participants to bring their own gear, making this an ideal way for lens-lovers to capture elusive critters not always easily seen in the wild. (And saving that airfare to Palau!) Though on temporary hiatus, this unique program will return to daily operations when the indoor portion of the aquarium reopens.
---
Adventure Aquarium — Camden, New Jersey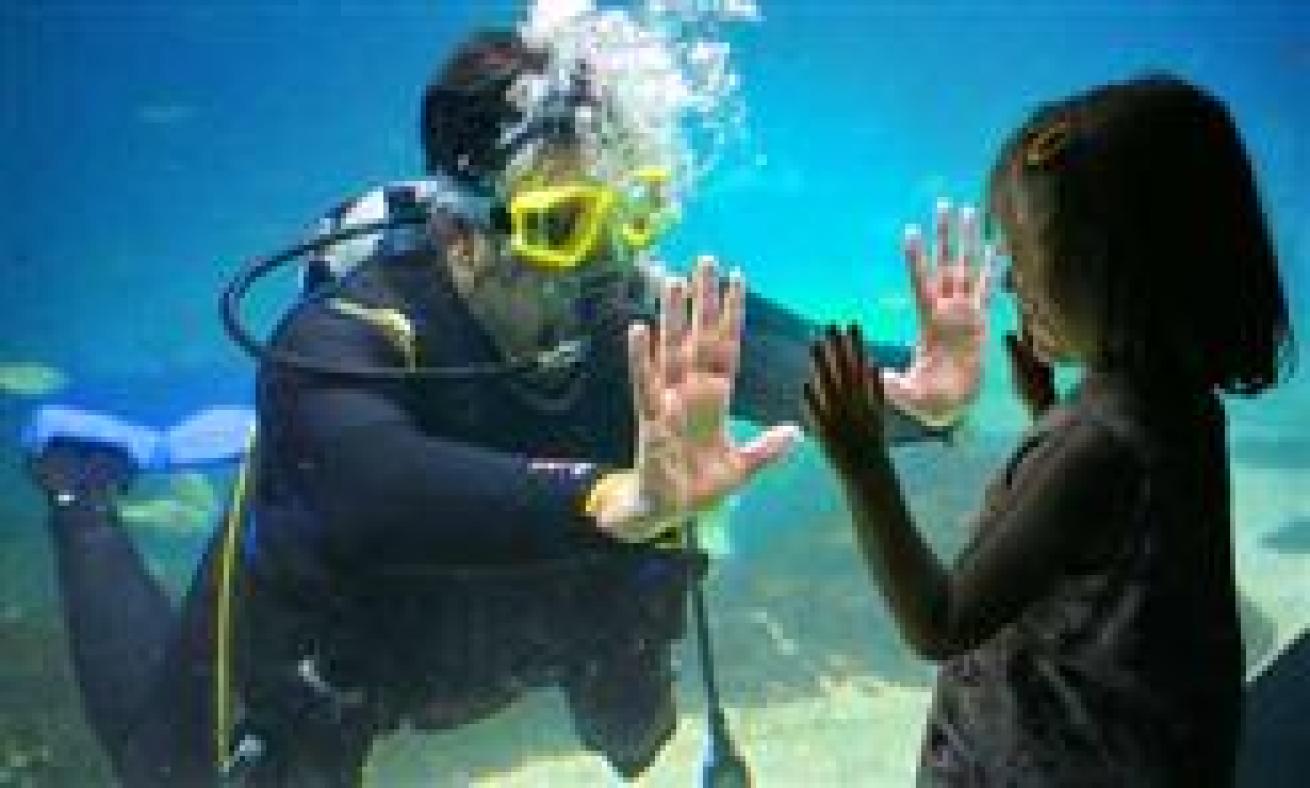 Dive volunteer communicates with a guest through the exhibit glass at Adventure Aquarium.

Courtesy Center for Aquatic Sciences
Dive Volunteers at Adventure Aquarium bubble into the Ocean Realm exhibit (760,000 gallon habitat with two movie-screen-sized windows featuring southern stingrays, silky, zebra and hammerhead sharks, sea turtles, and more. Some volunteers perform shows using underwater microphone tech. Slightly less glamorous, but equally important, are duties assisting in exhibit maintenance and helping with food preparation and feeding.
Dive Volunteers must be 18 and commit to a year of volunteering 16 hours a month (two pre-scheduled full days each month). SCUBA Certification with at least 25 logged dives, CPR/First Aid and a pool test are also required. While the aquarium doesn't anticipate bringing in new volunteers until early 2021, the online application system is open (application reviews take place every four months).
---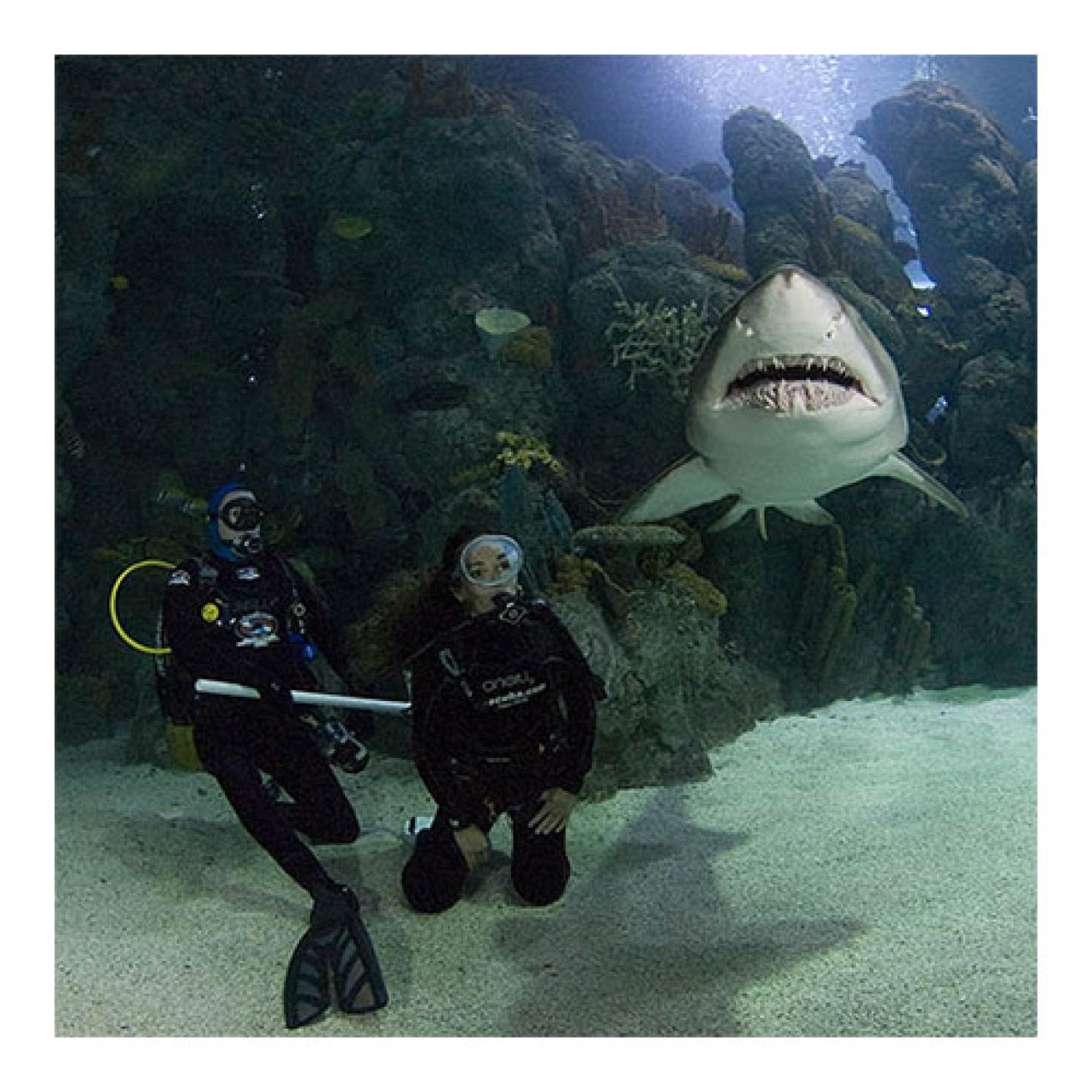 Downtown Aquarium Eco Aquarium Diver Specialty

Courtesy A-1 Scuba & Travel
Dive With the Fish and quite a few other marine friends (including the occasional mermaid) at this thoroughly landlocked aquarium's Under the Sea habitat. More intimate than larger aquariums, the coral reef dive includes small number and plenty of opportunities to encounter turtles, nurse sharks, eels, rays, large groupers and cod. Rather than being aquarium-run, dive operations are handled by local PADI Five Star A1 Scuba. Aquarium Eco Diver Specialty Course includes Shark Ecology, Sea Turtle Ecology, Fish Identification and the NEW Manta & Ray Ecology aspects to identify a large variety of animals and observe their characteristics and behaviors. Appreciate the fragility of the underwater world and apply what you learned in the e-manuals in two amazing diving environments at the aquarium.
Fun Fact— if you ever dreamed of indulging your inner Ariel, the Aquarium's team of Mystic Mermaids cavorts among the barracuda, stingrays, reef sharks and a 400lb Queensland grouper. (Open Water Certification required, though all mermaid'ing is done sans tank and that 74 degree water could freeze your tail off.)
---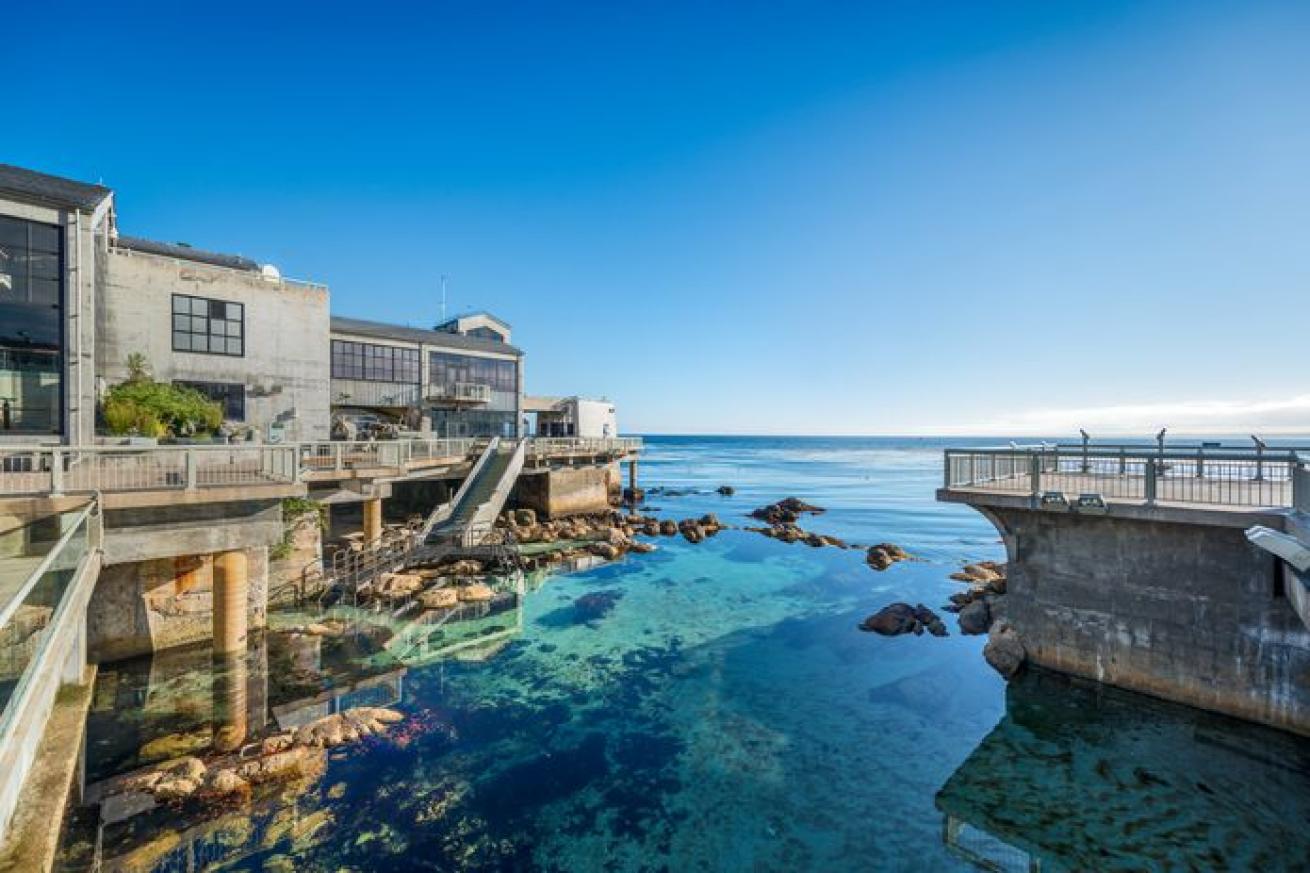 Great tide pool at Monterey Bay Aquarium

Courtesy Monterey Bay Aquarium
Although restrictions have closed "the pool" for now, dive parents should keep this gem on their radar to get kids excited about the wonders of SCUBA. Kids aged 8-13 can don a dry suit and gear with a staff dive guide to explore the aquarium's Great Tide Pool— an open reservoir of ocean water pulled in from the bay to circulate through the aquarium's exhibits and back out. This 90-minute educational surface-SCUBA experience is run with a safety-conscious three to one ratio; includes a dive briefing, basic intro to diving practices and interpretive tour of the marine animals that call the Great Tide Pool home.
---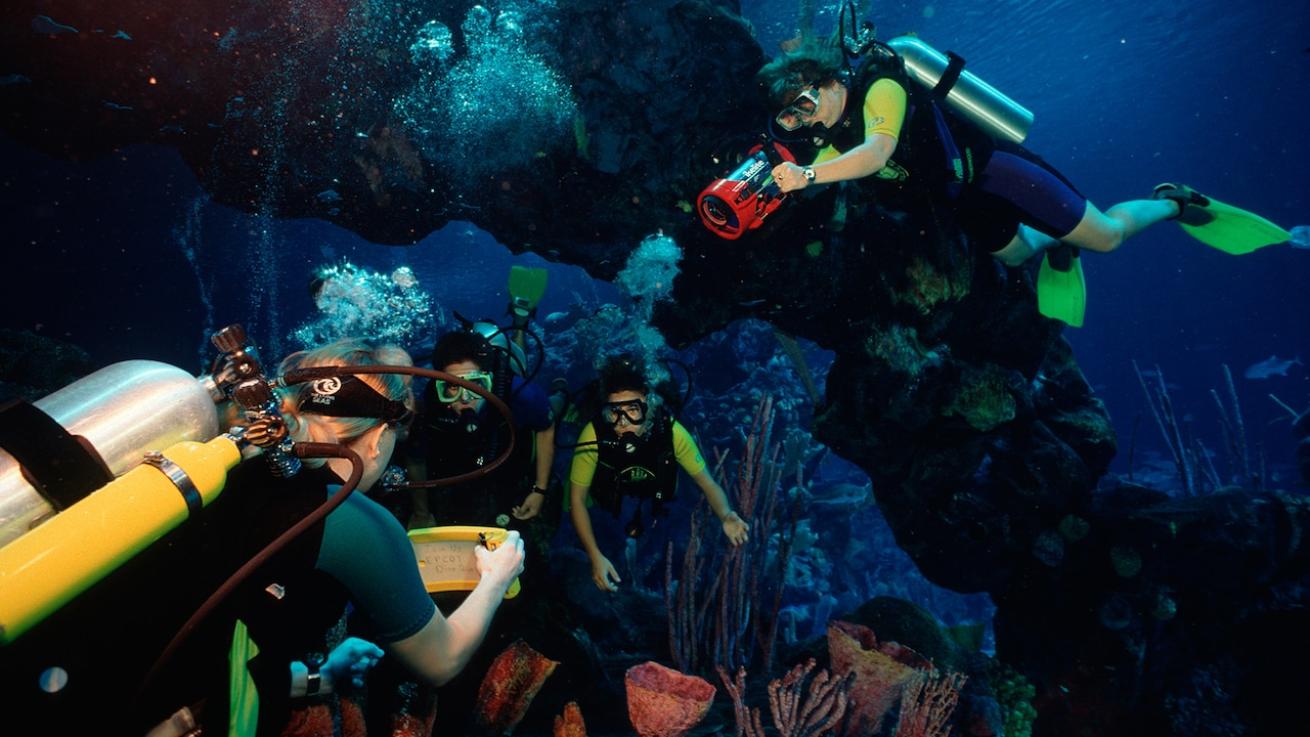 Dive Quest at Epcot Seas Adventure

Courtesy Disney Parks
DiveQuest at Epcot Seas Adventure not only gives you a serious cool-down from the Florida heat, but offers 5.7 million gallons of pristinely kept saltwater coral reef habitat. Find Nemo and over 6,000 other marine creatures like sea turtles, angelfish, dolphins, eagle rays and sharks during your dive through Caribbean Coral Reef at the Nemo and Friends Pavillon. After an initial briefing and quick 10-minute guide through the massive exhibit, buddy pairs can poke around on their own and interact with the sea life (or the two-legged variety through its 56 large windows). The abundance of marine life, fish and corals spotted has been compared to what could be enjoyed in a dozen or more dives. The experience lasts three hours and includes a behind-the-scenes animal care and education tour. Guests must be over the age of 10 and SCUBA certified, but do not need to purchase park admission. However, the fee for the Dive Quest experience does not include admission into the park.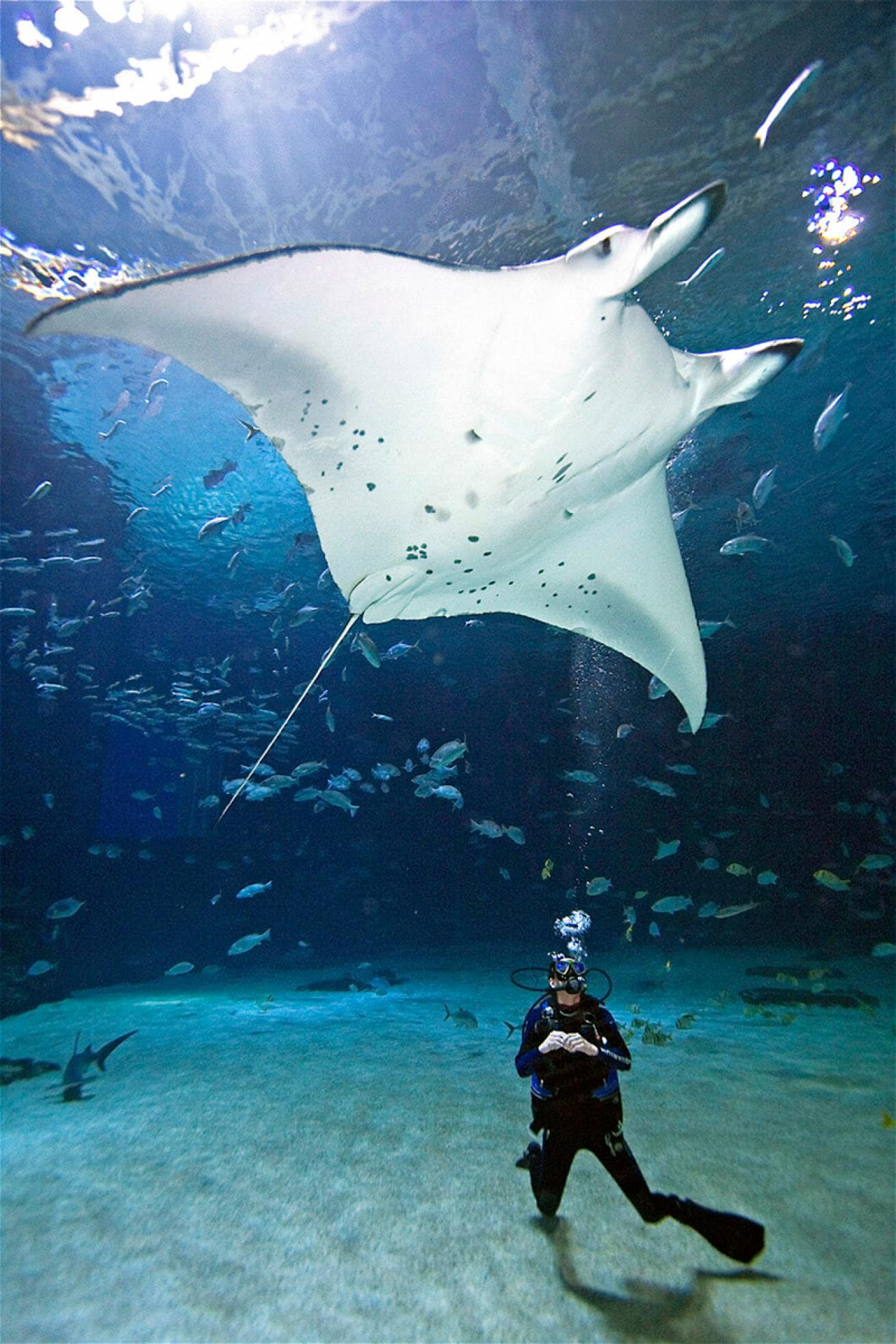 A diver watches in wonder as a soars above in the Georgia Aquarium.

Courtesy Georgia Aquarium
You're assured encounters with pelagics when you slip into the Georgia Aquarium's 6.3 million gallon tank! Whale sharks, manta rays and thousands of other sea creatures meander through the water, including a Tank the sea turtle. Maxing out at 30 feet, the tank is 76 degrees. Visitors can choose between two dive experiences. The Journey with Gentle Giants experience is for any certified diver over the age of 12. (An adult must accompany any child between the ages of 12 and 14.) The experience includes a topside tour of the Ocean Voyager exhibit and a half-an-hour dive. Pre-registration is encouraged, but walk-ins will be accommodated space permitting. More advanced divers can opt for the Rebreather Experience, a rebreather try dive in the same tank. Divers must be 18 or older to do the rebreather dive, which can last up to one hour, and pre-registration is required. No photography is allowed during either dive experience, but an HD video will be available for purchase after the Rebreather Experience. Dive costs range from about $280 to $470, depending on dive and aquarium membership status, and a portion of the proceeds supports the Georgia Aquarium's research and conservation work.
Want to give scuba diving a try before signing up for your certification? Head to the Florida Aquarium in Tampa, where anyone over the age of nine can kit up to try diving among stingrays, barracudas, a sea turtle, a sand tiger shark, and more than 1,000 other sea creatures. Divers receive a free commemorative video of the experience. The dip costs $100 per person for aquarium members, or $110 per person for non-members. COVID-19 precautions make this an exclusive experience, as the aquarium is not mixing guests from parties. Groups of up to four divers are permitted at one time.