This Florida Art Nonprofit Will Make You a 3D Reef Sculpture for Any Occasion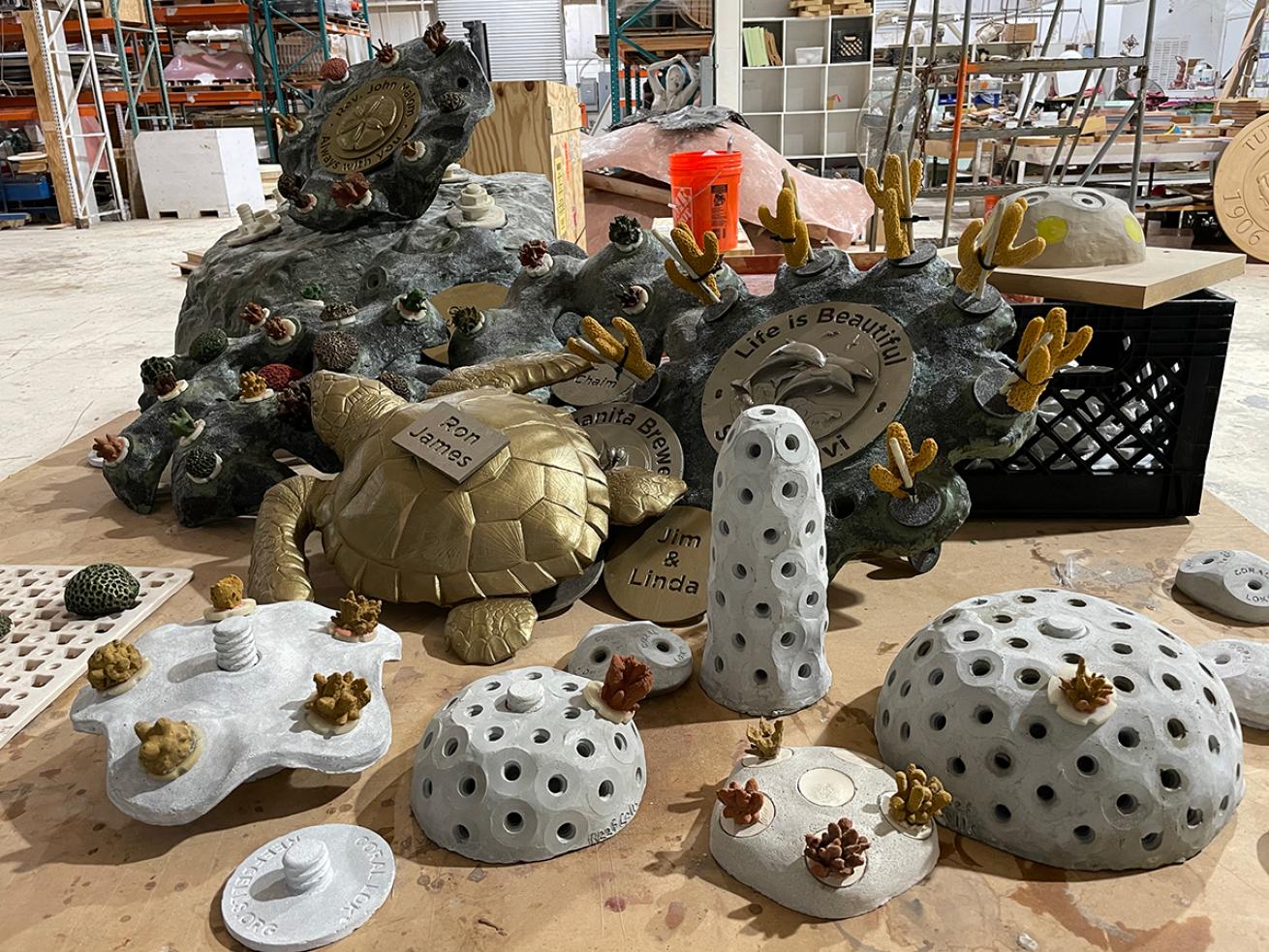 A collection of Ocean Rescue Alliance sculptures wait for deployment.

Courtesy 1000 Mermaids
Florida's southeast coast has long inspired artists to paint with blue hues or sculpt marine life, but a dive site off Riviera Beach in Florida is taking ocean art to a deeper level.
Resting on the ocean floor, the 1000 Mermaids artificial reef project in Palm Beach County is a museum without walls. Dive 45 feet below sea level, and you'll find mermaids and other sea-inspired sculptures housing fish and algae.
The non-profit Ocean Rescue Alliance (ORA) is behind the project, which is coral and marine restoration with a community twist: Ocean lovers can commission a statue to commemorate anything from an anniversary to the life of a loved one.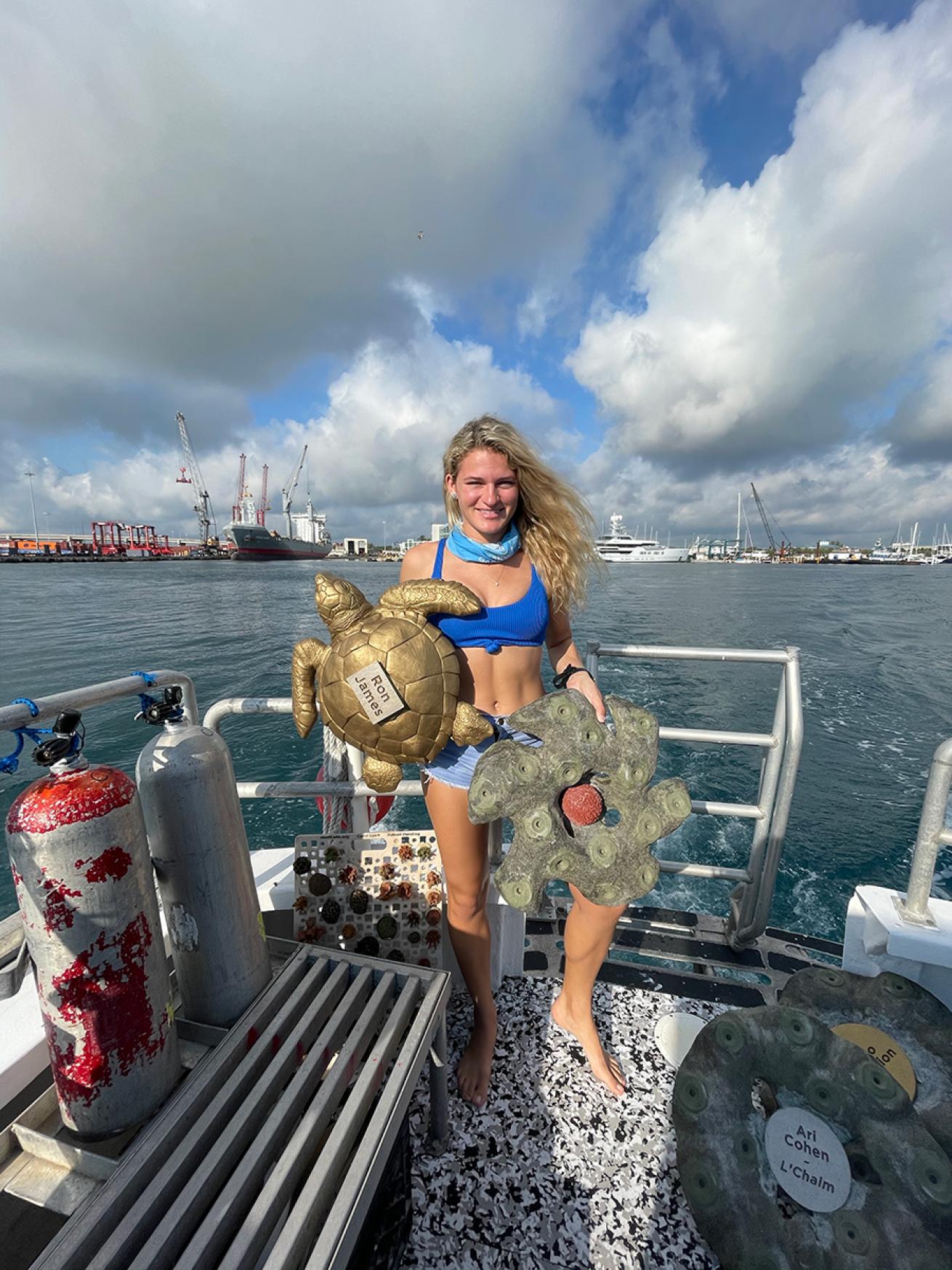 Thomas stands on a boat holding two 1000 Mermaid project sculptures.

Courtesy 1000 Mermaids
Shelby Thomas, CEO and director of research for ORA, was asked to join the 1000 Mermaids project as the coral biologist in 2020, a year after the initiative was already underway.
"I loved the art and saw it as a catalyst to bring awareness and aid in funding restoration projects through economic incentives," she says. "I also brought the science to make them more biologically impactful."
Warming oceans has contribute to widespread coral bleaching, including on the Great Barrier Reef and it's predicted that 70 to 90 percent of coral reefs could disappear by 2040.
While there is a public awareness of the fact that coral reefs are dying, Thomas says people don't typically know how to help. The 1000 Mermaids project has become an opportunity for her to provide them with a solution. "Being able to link the bridge between science and communicating through art and connection is what really just drew me to the project," she says.
Lifesize Mermaids
The first mermaid came to life when two local artists were commissioned to create a sculpture for their client's boat. They applied a plaster mold to a model's body in order to create a cast that they then turned into a mermaid, but when the sculpture was complete, their client could no longer afford it. When asked by the artists what to do with the sculpture, the client replied, "Throw it in the ocean."
They turned the glib comment into inspiration, taking the idea to artist and architectural cast stone expert Chris O'Hare. O'Hare worked with Thomas to innovate a safe material for the ocean using a mix of calcium carbonate, a mineral found in the skeletons and shells of marine animals, and could replace the body casting method with 3D scanning.
Thomas poses next to the original mermaid statue molded on professional mermaid Emily Guglielmo.

Making Waves Productions
A little over a year ago, Emily Alexandra Guglielmo became the first person to test out the experience. The Orlando resident is a "professional mermaid" who's hired to attend events, birthday parties and conventions in costume, and that day was no different. She recalls O'Hare's warehouse in Boynton Beach being filled with modules not yet laid to their resting place at the bottom of the ocean. She wore a shell top and mermaid tail and sat on a table while O'Hare used a device to scan her from every angle, collecting the data needed for a 3D scan. Guglielmo's left forearm is placed over her head in her sculptural form, right hand tucked behind her ear and her mermaid tail is swung around to the height of her hip.
In November 2020, a blue crane on a barge deployed the sculpture into the ocean where it will stay forever. Thirty-two mermaid sculptures, which can be as large as 10 feet tall and weigh 5,000 pounds, currently grace the ocean floor after two deployments. The project's goal is to reach 1,000.
Honoring A Diver
Waiting to be deployed on the same barge as Guglielmo's mermaid that day was a sculpture of a man wearing a snorkel, goggles and flippers; next to him, two 12 by 12-inch hearts, inscribed with the names Kevin and Meagan, connected by one smaller heart labelled Sydney.
Last spring, 30-year-old firefighter paramedic and diver Kevin Patrick Mehaffey died in a car accident, leaving behind his pregnant fiancée, Meagan McIntyre. During this time, McIntyre reflects, the "worst thing in the world happened to me, but also the best thing in the world happened to me, which is having my daughter."
Mehaffey had a deep connection to the ocean and worked with organizations like 4ocean, a company clearing beaches and oceans of harmful plastics. To honor the certified free-diver, the memorial reef was laid in his honor just a couple of months after their daughter, Sydney, was born.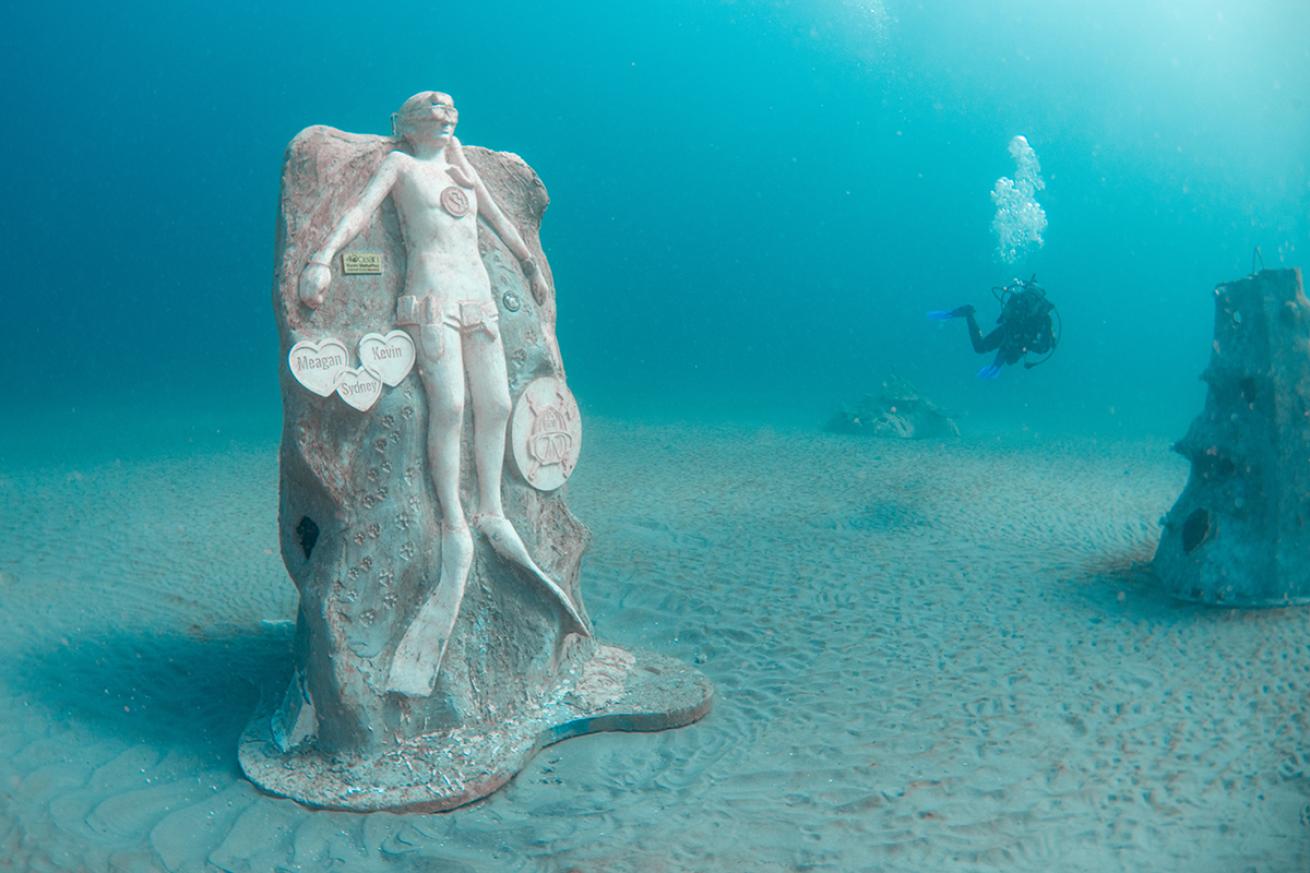 After Kevin Mehaffey died in a car accident, a Kickstarter funded the creation of a statue inscribed with his name, alongside those of his fiancée Meagan McIntyre and their daughter Sydney.

Andre Johnson
"It's amazing that I get to share that with my daughter one day and actually get to show her that all these people love her dad so much and what they did for him and for us as a family," she says.
The Riviera Beach dive site, home to Mehaffey's memorial, is just the beginning. On July 15, 1000 Mermaids will expand beyond Palm Beach County to a new artificial reef site in Dania Beach for its third art deployment.
One of the modules that may ultimately grace the new site is Jordyn Hannah's first wedding anniversary gift to her husband, Kyle Hannah. The couple married at Lookout Mountain in Tennessee. Their plaque will read "The Hannahs, Established 2020," with two wedding rings etched beside it. "It will be there forever, just like we'll be together forever," Jordyn Hannah says.
Thomas says they're waiting to have at least 30 new plaques ready to roll before the Hannahs' module will be deployed, which she hopes will be in August. The starting price for a plaque is around $400, and inquiries can be made on its website.
"The ocean is out of sight out of mind for many people, and now giving them a way to engage as part of the solution gets them to think about it more and more on a daily basis," Thomas says.
---
Correction: This article initially described the statues as created with 3D printing. They are created with 3D scanning, not 3D printing, and the story has been updated to accurately reflect the creation process.
---