Three Great Dive Trips for 2023
Planning a trip to one of these dive hotspots? Here's what you need to know. Featuring insight from locals, tips for timing seasonal experiences, and the scoop on favorite dive sites, as well as some lesser-known sites you'll want on your radar too.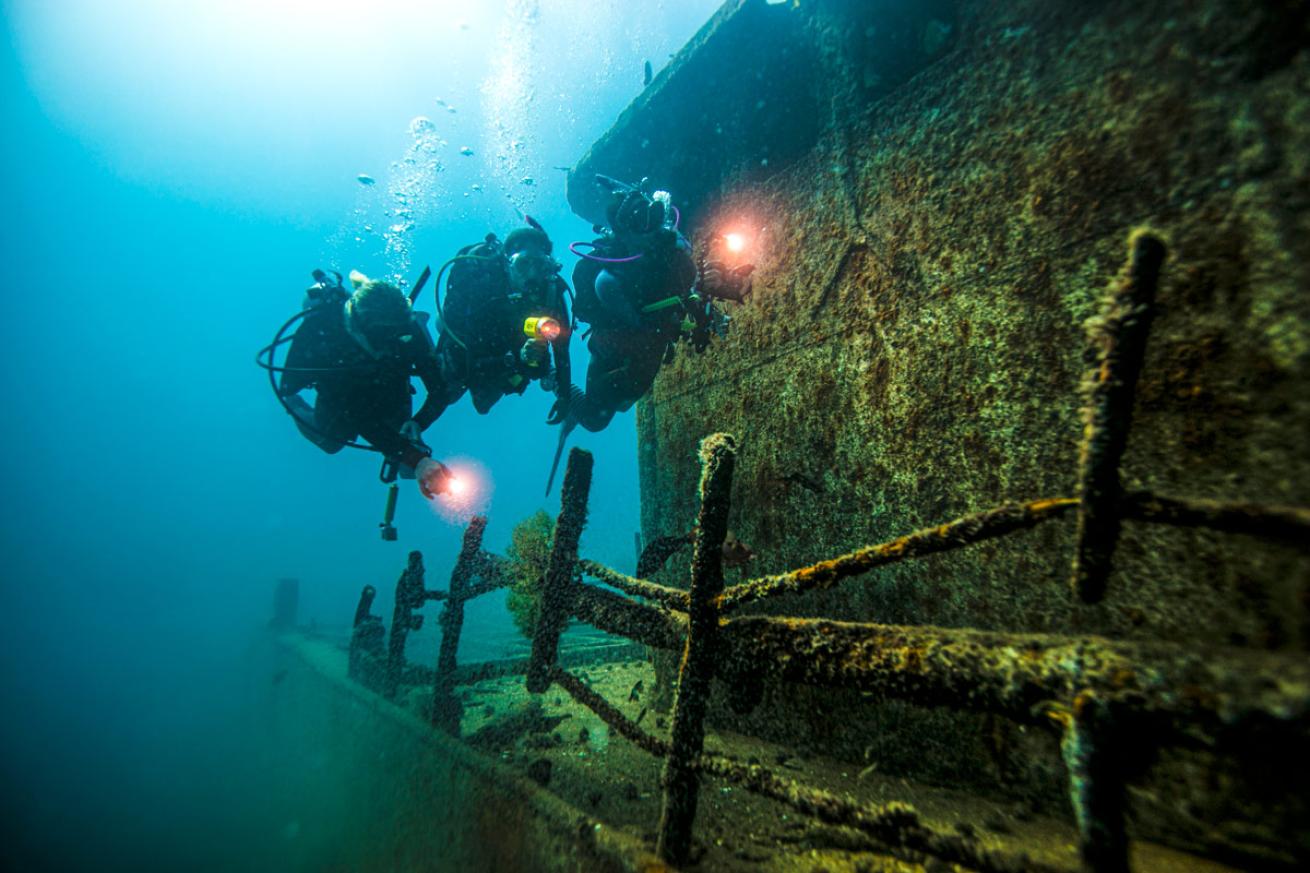 The Chinese cargo ship Fang Ming can be dived from La Paz.

PADI
Baja California Sur
Under the Radar
Most people come to La Paz, 100 miles north of Cabo San Lucas, to see whale sharks, sea lions and mobulas. But James Curtiss, of the Cortez Club dive center, says to put the wreck of the cargo ship Fang Ming on your wish list too. "It's teeming with quality marine life and superb for photographers," he says.
The Classic Dive
They're not always doing their thing. But when they are, the site called Sandfalls—near the Arch within the Cabo San Lucas Marine Park, just a few minutes' boat ride from the marina—makes for an amazing dive. Sand streams through the clear waters, plunging off an underwater ledge and disappearing into the deep blue abyss below.
Dive Report
"This time of year is when everything starts to become pretty," says Julio Baylón, of Manta Scuba Diving in Cabo San Lucas. "Every day we have encounters with devil rays, sea lions, lots of beautiful tropical fish, frogfish, eels, whitetip reef sharks, turtles, and beautiful coral nurseries in the Corridor area."
Susan Long, of Mexico Liveaboards, says recent Explore Baja trips aboard the Rocio del Mar liveaboard have been fruitful. "We just did a fabulous night dive with mobula rays. Also, orcas are being seen a lot this year!"
Plan a Trip
Winter is whale season, but that's hardly all you'll see during surface intervals and, if you're lucky, on dives in the region. Baylón notes visitors can spot humpback whales, dolphins, orcas and sea lions, as well as migrating gray, fin and blue whales.
November through early June is the season for getting down to Socorro on a liveaboard. "Divers can see seven species of sharks," says Long, "including schooling hammerheads, Galapagos, silky, tiger, whitetip, silvertip and blacktip."
Second-Time Visitor
In Loreto, about 150 miles north of La Paz, intrepid diving in super scenic surrounds awaits off the islands of Coronados, Carmen and Danzante. Blue whales arrive in the waters here during the winter months, from December to March. Dives at Coronados deliver sea lions galore. Then make for Carmen and Danzante for the best sea conditions and idyllic landscapes, suggests Yago Rodriguez, of dive shop Blue Nation.
St.Lucia
Under the Radar
Most divers do not expect the resort beach dive at Anse Chastanet to be such a great introduction to the reef, says the resort's assistant scuba manager, Callistus Jackson. "The Anse Chastanet reef is home to many critters, some quite rare, such as the black brotula," he says. "Our guests also delight in spotting seahorses right offshore, as well as frogfish. Due to successful coral planting out of our own nursery, you see the most staghorn coral on this reef too."
The Classic Dive
The sites called Fairyland and Superman Flight showcase spectacular elkhorn, star, barrel sponge and brain coral, says Curtis Antoine, of BodyHoliday Saint Lucia resort's dive operations. Parrotfish, squirrelfish, blue damsels, yellowtail snapper and flying gurnards, stingrays and trumpetfish are among the many reef denizens commonly spotted.
Dive Report
The diving in St. Lucia of late has been "simply amazing," says Jackson. "Currently, we are seeing seahorses, frogfish, schools of creole wrasse and towering barrel sponges—just a few cool things that can be spotted underwater here."
Plan a Trip
Coral spawning takes place in the waters around St. Lucia during the month of August, says Antoine, usually in the six to eight days after the first full moon of the month. And between March and May, Jackson says, humpback whales migrate through the island's waters.
Second-Time Visitor
In case you missed it during your first time here, venture off the resort to hike to the top of Gros Piton, the island's iconic emerald-hued peak that towers 2,619 feet above sea level. Count on between three to six hours to complete the 4-mile out-and-back hike.
Hawaii
Under the Radar
Did you know you can learn to dive like a Navy SEAL in Hawaii? Oahu's Trident Adventures teaches divers how to jump from a doors-off helicopter into the ocean before scuba diving with a U.S. Navy SEAL. It's the only company in the country to offer such an experience, and it is FAA-approved. Bringing the bravery is on you.
The Classic Dive
Hawaii's manta calling card is the famous Kona night dive on the sand near Garden Eel Cove. Huge manta rays follow close behind the swarming plankton to kick off their loop-the-loop feeding spectacle. "The purpose is sustenance but the incarnation is beauty and grace," is how Byron Kay, of Kona Honu Divers, describes it.
Dive Report
"On some of our recent long-range charters south along the [Kona] coast to dive collapsed craters, lava tubes and caves, we've been seeing pilot whales and bottlenose dolphins," says Jackie Hogan, of Kona Honu Divers. "Someone even spotted a juvenile silky shark on a dive." The winter months—from December into February—also bring hammerheads to these waters, she says.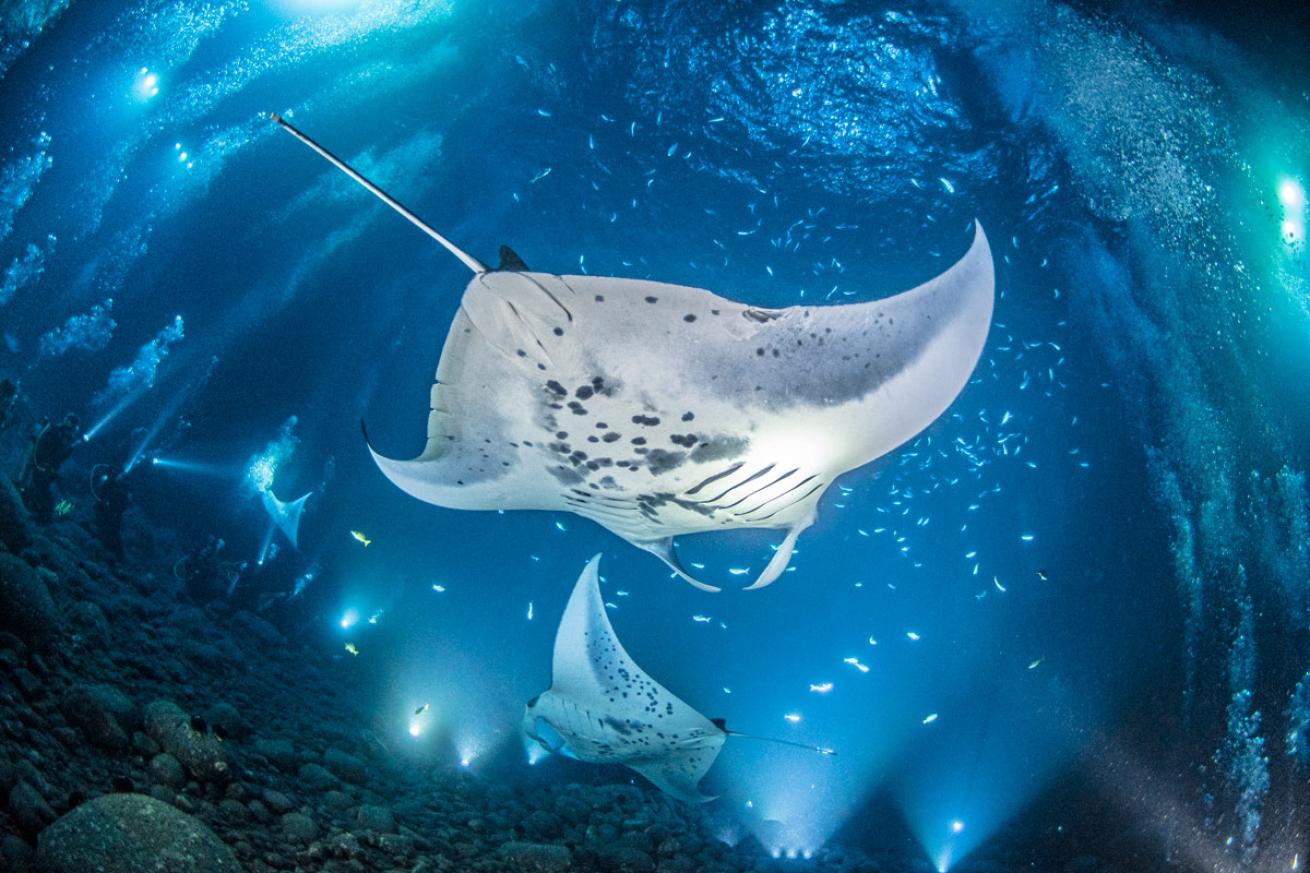 A manta night dive near Kona.

JASON SINTEK
Plan a Trip
During the summer months, when there's less swell, Hawaii's Big Island delivers excellent shore diving options that surprise even seasoned divers. Schooling akule fish, mantas, and all kinds of nudibranchs are among the things you might see at shore diving spots like Nudi Madness on Kawaihae Harbor and Kailua Pier, says Kay. No boat required.
Second-Time Visitor
Experienced divers can check out Oahu's west side and dive three purpose-sunk World War II-era shipwrecks on a single tank using DPVs, says Stephan Kaplan, of Trident Adventures. "Two of the ships are LCUs (land craft utility vehicles) used during the war, and the other is a very large sunken barge," he says.
---