Tourist Train Endangers Mexican Cenotes and Prehistoric Sites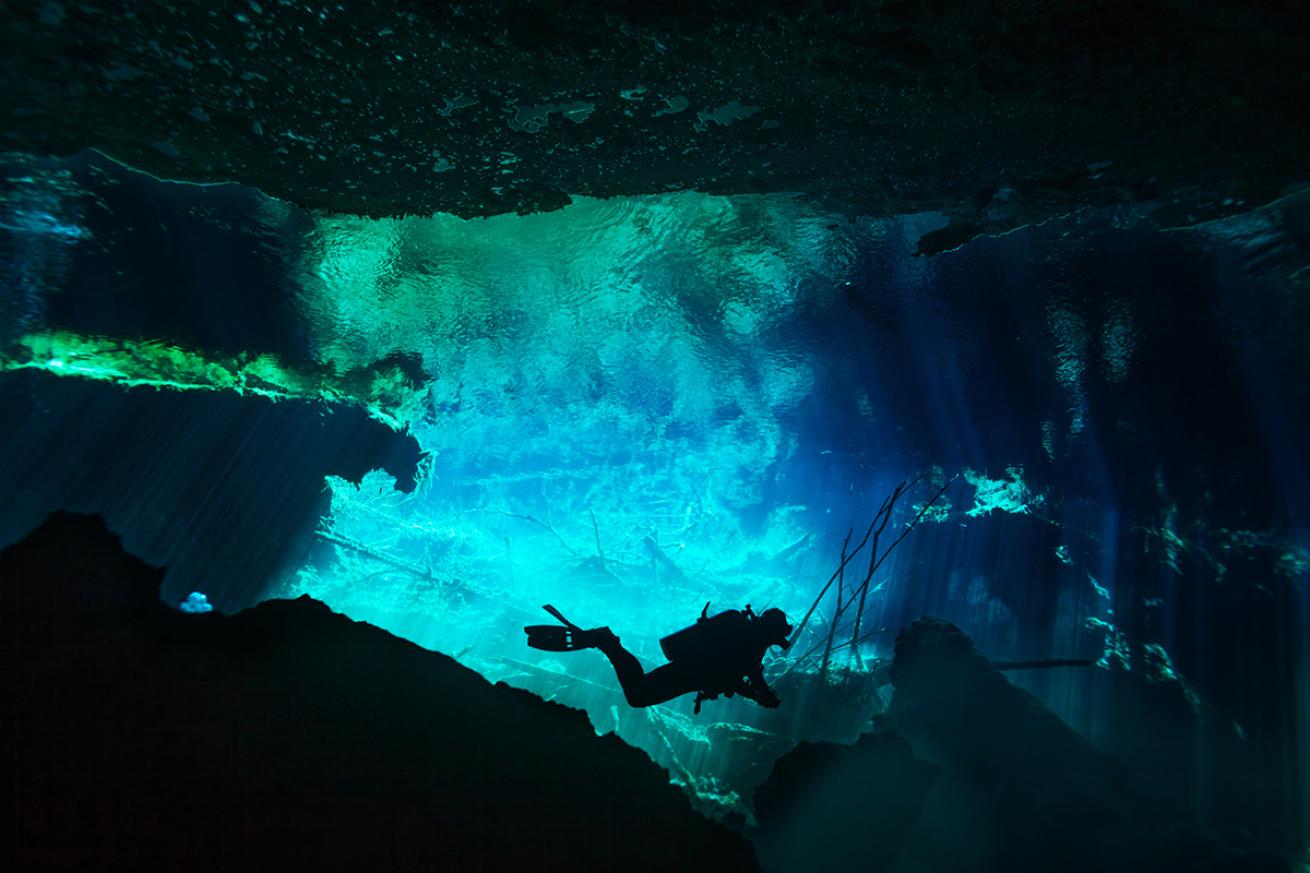 A diver explores the Azul Cenote in the Yucatan peninsula, where the Mexican president is pushing through a new tourist train that will likely harm or destroy underground cenotes.

Shutterstock.com/Sergey Novikov
A tourist train being built along the Caribbean coast of Mexico threatens the area's extensive cave systems. In the face of public opposition, the Mexican government has invoked its national security powers to force the project forward.
The Maya Train will run a 950-mile loop around the Yucatan peninsula to connect beach resorts and archeological sites. Environmentalists, cave divers and archeologists claim the project will fragment the lush jungle, collapse the limestone caves, called cenotes, and destroy the ancient sites within them, like some of the oldest human remains in North America.
For decades, archeologists and volunteer cave divers have slowly and painstakingly cataloged the flooded, narrow cave systems, which can take decades to explore. The water-filled cenotes act as fragile time capsules, preserving irreplaceable prehistoric relics. In these caves, divers and archeologists discovered Naia, the nearly complete skeleton of a young woman who died around 13,000 years ago, and The Woman of Naharon, who died roughly around the same time.
Diver-archeologist Octavio del Rio has explored Yucatan caves for three decades and participated in the discovery of the later skeleton. "I don't know what could be more important than this, right? We are talking about the oldest remains on the continent," he said.
Despite these concerns, President Andrés Manuel López Obrador is urging his government to forge ahead. In November 2021, the President required all federal agencies to automatically approve public works projects deemed to be "in the national interest" or to "involve national security." He recently invoked national security powers to decree that priority government projects can now forego filing environmental impact statements; they can justify any damage done after work is completed through paperwork.
In May, activists won a court injunction against the proposed train route because deforestation and construction began between Cancun and Tulum without the requisite EIS. The government overcame the injunction with a hastily-drafted and summarily-approved EIS that treats the caves as construction obstacles.
The EIS details plans to cut down 42 miles of jungle, add tons of crushed rock atop the soil as foundation and sink beams and cement columns through the roofs of the caves to support the 100 mph railway. This will likely collapse the cenotes and destroy the invaluable discoveries they hold.
"I never knew we lived in a country where the president could just do whatever he wants," said diver Jose Urbina Bravo, who filed one of the court challenges.
The National Institute of Anthropology and History is tasked with protecting relics along the train route, but the government's experts aren't experienced or trained enough to complete the long, deep cave dives needed to do so. Notwithstanding this, incredible discoveries have been made near the surface—right in the path of the train.
The government's actions will cause "irreversible damage to the jungle," Urbina Bravo warned. "We continue and will continue to pay the price for these errors."
---
Diving Mexico's Cenotes
---