The Ultimate Galapagos Liveaboard Adventure
These enchanted isles give up their secrets as you crisscross the equator.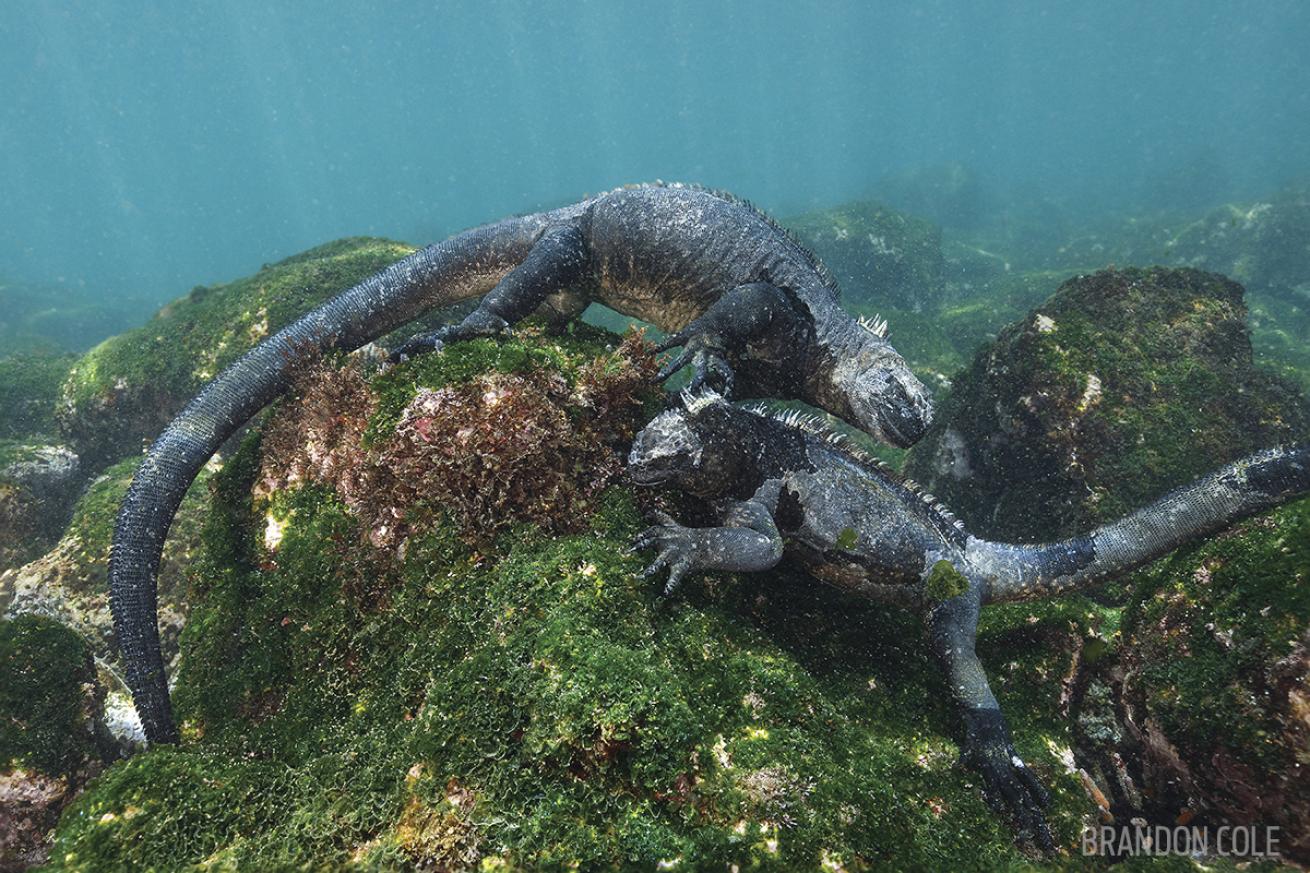 Marine iguanas feed underwater on green algae that grows on rocks in the super-cold shallows.

Brandon Cole
Thank goodness for the lowly barnacle. I'm locked in a death grip with these little glove-shredders, barely resisting a wicked current threatening to rip me away. My view in the "theater" below Darwin's Arch is one of the finest in the underwater world. A wall of bigeye jacks holds on the right, a cloud of steel pompano to the left. A green turtle sweeps by, listing to starboard and spinning about in the maelstrom, seemingly out of control but cool as only ancient reptiles can be. Creolefish in the millions are everywhere. And just beyond the curtain of scales are the hammerheads. In hypnotic waves, dozens ascend to take center stage briefly before gliding back out of sight. One glimpse of their alien beauty, or a single photo of that impossible profile, is enough to bring divers from across the globe. Of my 15 dive buddies aboard Galapagos Aggressor III, half confess during our welcome dinner to a burning wish to see hammerheads. Galapagos is the ultimate destination for many divers, and for a good many reasons besides hammer time. Over a weeklong cruise jammed with adventures above and below, we will visit eight islands and cross the equator four times. Darwin's Enchanted Islands and the Aggressor crew deliver an abundance of animal sightings, challenging dive profiles, panga rides and land excursions.
Our liveaboard odyssey begins in the Ecuadorian archipelago's central islands. Bartolome Island has our vote for most postcard-perfect panorama. Penguins waddle about at ocean's edge next to iconic Pinnacle Rock; dives at Punta Martinez and Punta Carrion along bouldered slopes and mini walls introduce us to the local marine denizens and help us get our underwater groove before the long haul north to the promised land.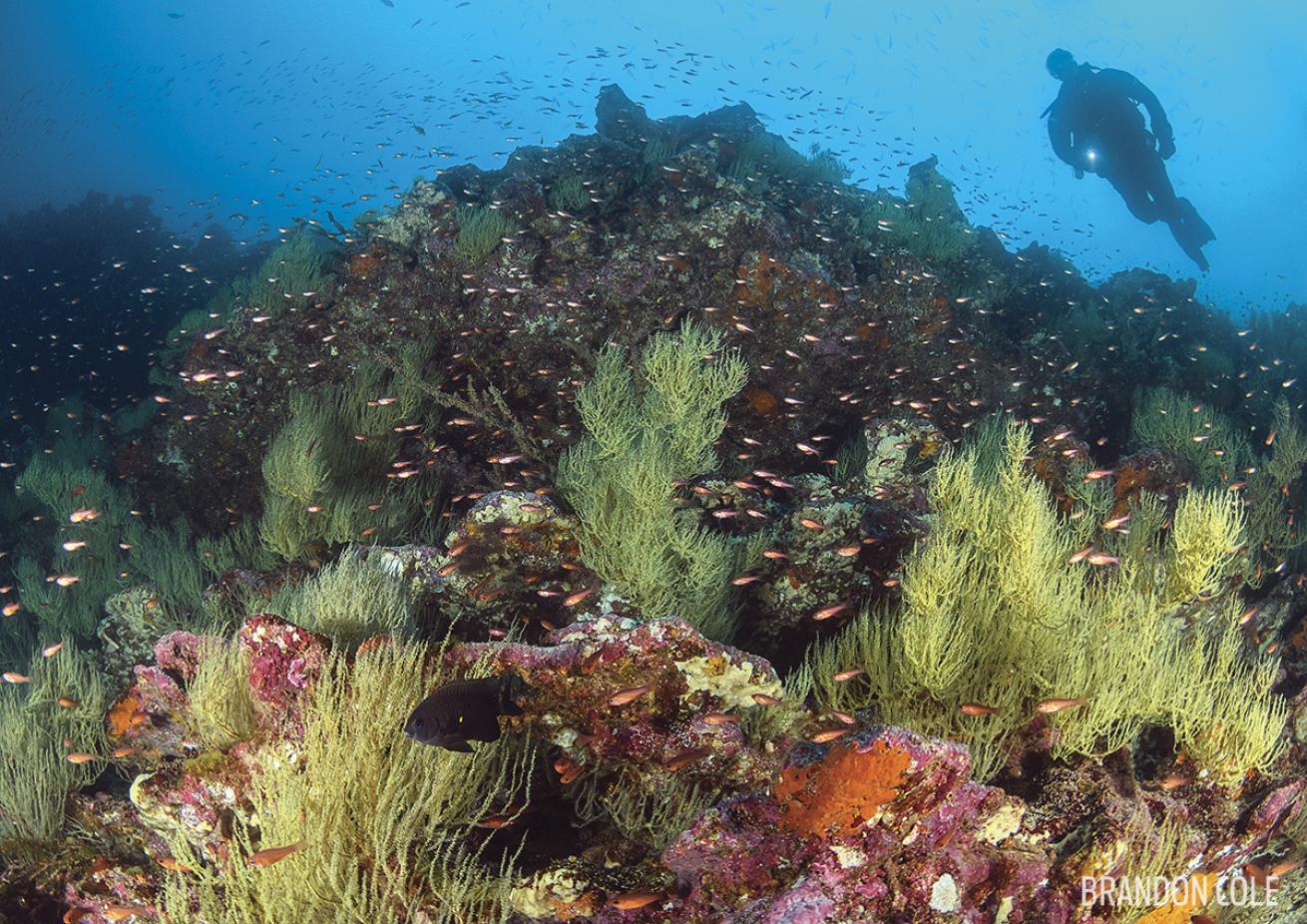 Hundreds of cardinalfish in yellow cup black coral.

Brandon Cole
Steaming 125 miles overnight, we awaken at remote Wolf Island. While the crew prepares the dive deck and launches two inflatable dive tenders, we gather on the top deck with cups of joe to share expectations for the day ahead. Birds divebomb into heaving seas while head-high rollers pound the rocks to explode upward in furious spume.
Bottlenose dolphins leap 50 yards away, which I take for a good omen. Nelson — cruise director, naturalist and guide — opens the briefing, announcing: "Your training is over. Up until now, the diving was just for practice. There's a beautiful current today, and we have a surge too. Welcome to Wolf Island."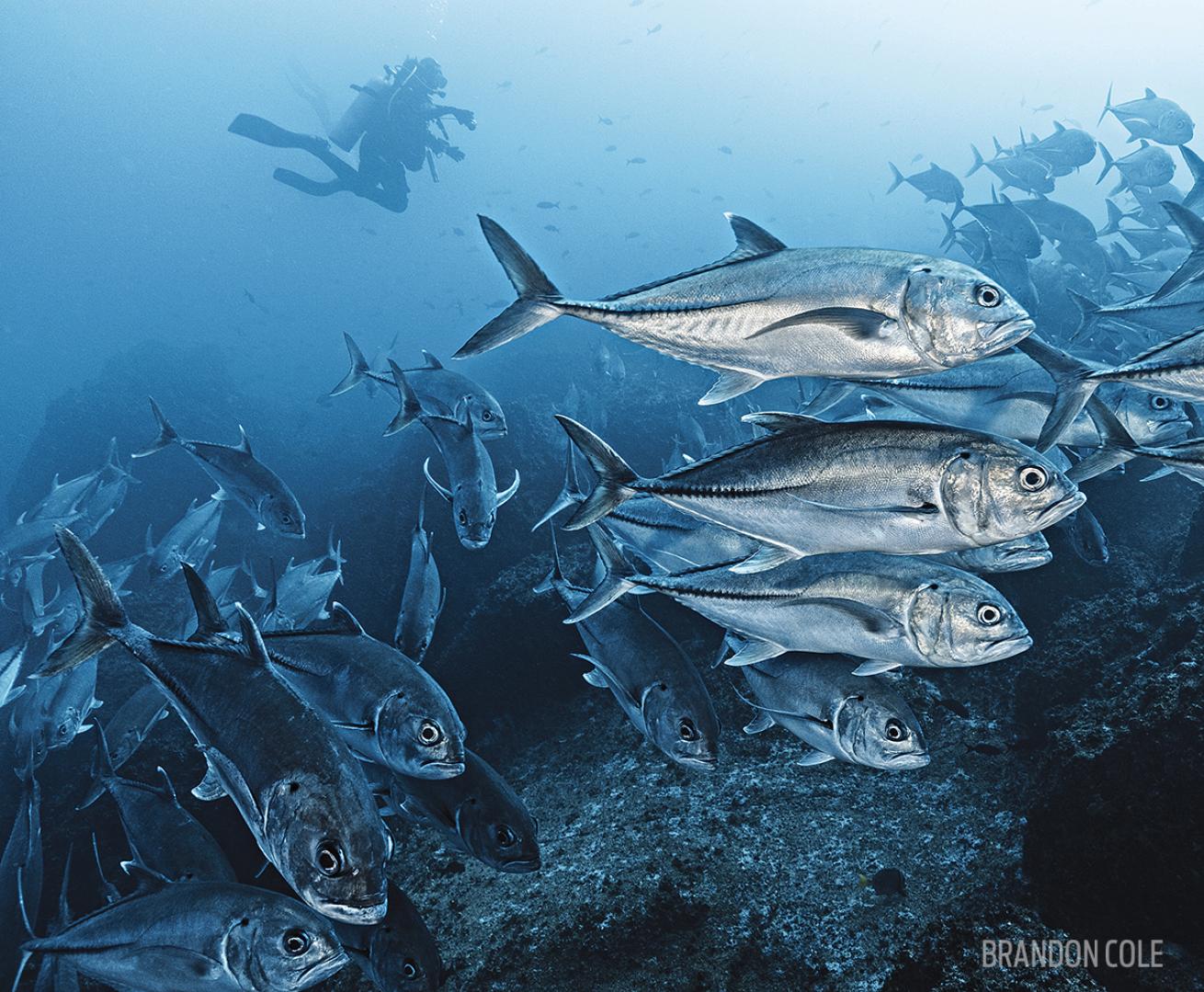 Bigeye jacks swirl beneath divers.

Brandon Cole
This is where we gain an appreciation for barnacles. At Landslide, we drop into fish soup at high boil. There are parrotfish and goatfish, jacks and hogfish, puffers, wrasses and creole fish. Barrel-chested Galapagos sharks power through the fishy clutter — these 10-footers aren't shy about approaching us for a look-see. Hammerheads saunter past above and below. Turtles and rays congest the airways. Viz is about 25 feet, in part due to happy plankton (nutrient-rich upwellings abound in Galapagos), in part due to seething crowds of fish. The current is formidable; the surge above 50 feet is flip-you-upside-down strong. Without the humble, steadfast barnacle, we would be doomed. We perfect a "hunker and drift" technique, alternating between relatively stationary moments gripping barnacle-covered rocks, and spirited, warp-speed drifts as we're pulled inexorably southward. It's exhilarating and exhausting, wild and woolly. At 40 minutes we kick out into the blue to relax, and stare in awe as 50 hammerheads slide beneath us.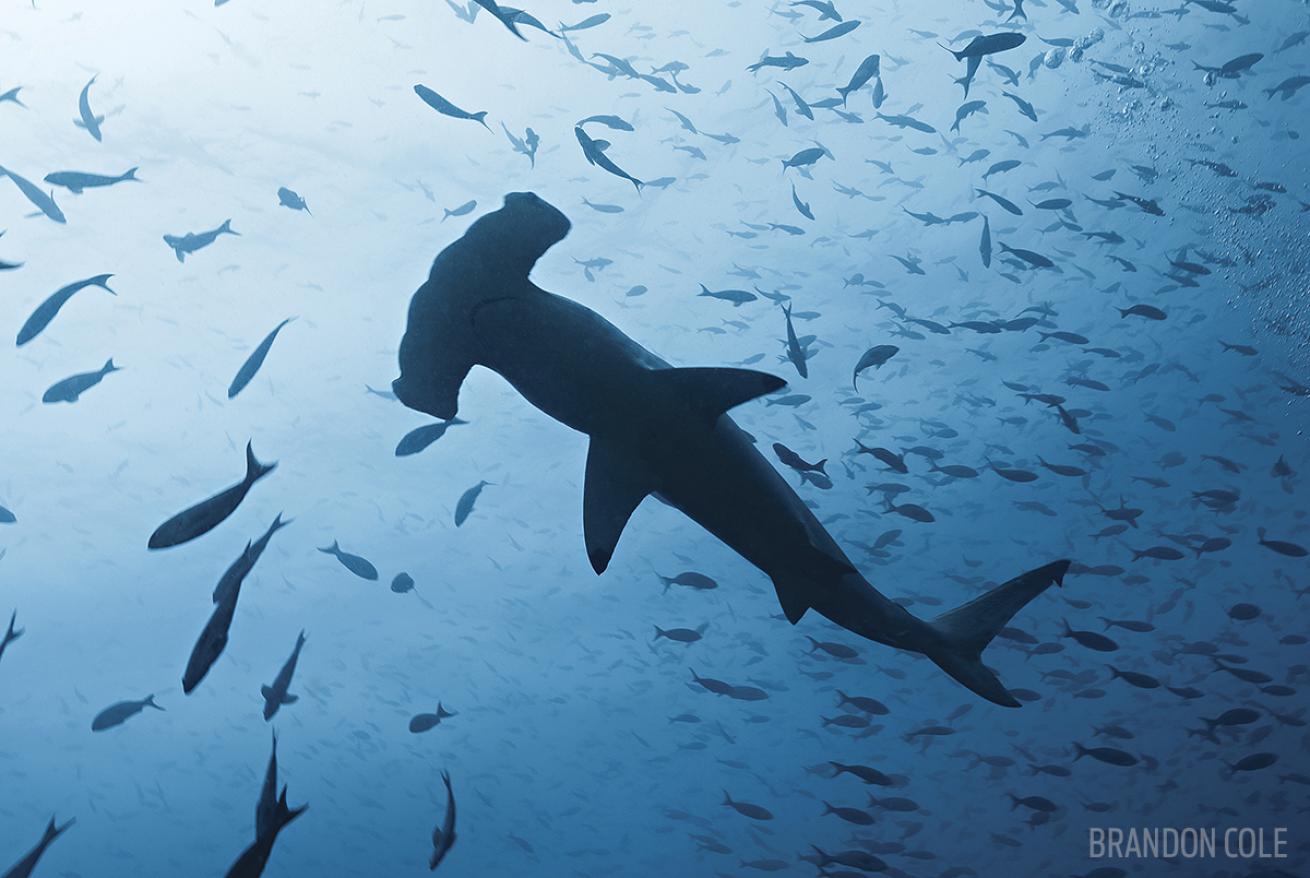 Sphyrna lewini can grow to 10 feet.

Brandon Cole
We catch our breath at Shark Bay, where a mild current carries us past mounds of mushroom-shaped coral. The place is absolutely crawling with moray eels, some leering from shadowy lairs, others free-swimming or draped across coral heads like toothy, spotted feather boas. More sharks, of course, and turtles too, but the real showstoppers are a hungry eagle ray snuffling along oblivious to us, and a school of at least 300 yellowfin tuna.
Though our days blend together in comfortable routine, the variety of experiences and encounters promises distinct memories. At Darwin Island, there was the mad-dash sprint with the bus-size whale shark. Off Fernandina Island's Cabo Douglas, observing marine iguanas feeding underwater immersed our buddy Celia in her own National Geographic documentary. Mark from Australia was keen to photograph the red-lipped batfish, and succeeded masterfully. Our lucky group even swam with false killer whales, and watched a sperm whale lift tail flukes high into the sky.
My buddy, Melissa, reveled in the stark contrasts above the waves, writing in her journal about the "iron-red cliffs of Baltra Island frosted with ghostly white palo santo trees, the undulating black curves of bygone lava flows alight with brilliant, skittering Sally Lightfoot crabs." At Isabela Island's Punta Vicente Roca, two dives in refreshing 65-degree water along a wall smothered in orange sea fans and yellow black corals rewarded us with ocean sunfish, playful sea lions, and 6-inch-tall seahorses. We saw four different ray species (marble, mobula, eagle and golden cownose) at Cousins. And in the highlands atop Santa Cruz Island, we kneeled next to the famous giant tortoises for which these amazing islands are named.
Our voyage of discovery reinforced the allure of the Galapagos Aggressor III liveaboard lifestyle: Sleep soundly, eat well, explore boldly, experience fully and, of course, dive, dive, dive. Repeat daily, remembering to begin breathing each time the marine (and terrestrial) life takes your breath away.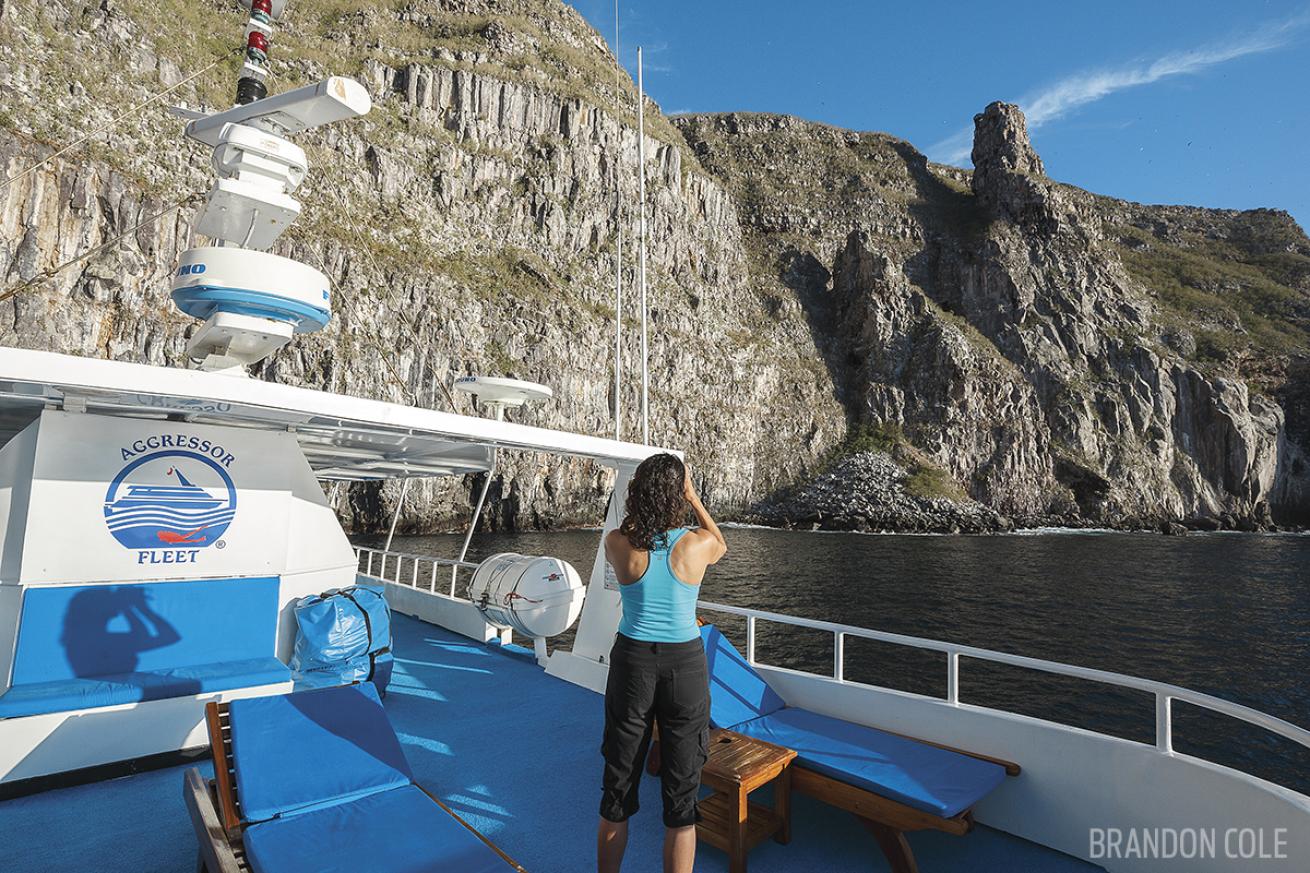 Brandon Cole
---
NEED TO KNOW
WHEN TO GO: Galapagos is superb year-round. January to May is the warm season, with air temps 75 to 85 degrees F, occasional afternoon rain showers, but also lots of sun. Some refer to this as manta season because divers see more mantas and other rays. Hammerheads are common too, though sometimes a bit deeper. June to December is the cooler garua season — drier but often overcast and misty, with air temps 65 to 75 degrees F. More plankton means lots of big animals, including hammerheads, and a high chance of whale sharks at Darwin.
DIVE CONDITIONS: January to May, seas generally calm, viz 40 to 100 feet, water temps 65 to 80 degrees F. June to December, seas are rougher, with cooler water temps (60 to 75 degrees F) and lower viz (20 to 60 feet). Diving is intermediate to advanced due to cool water, strong currents and surge. Wear a full 5 or 7 mm wetsuit, and take a hooded vest just in case. Gloves and an SMB are mandatory! Diving nitrox gas is strongly recommended.
OPERATOR: Galapagos Aggressor III, 100-foot-long luxury liveaboard yacht with a 22-foot beam, custom-designed, -built and -equipped for safe diving and comfort. Nine crew pamper 16 guests. All eight staterooms have air conditioning, private bathrooms and showers, and TV/media players.
PRICE TAG: Seven-night cruises in 2018 are $5,995 USD per person, shared accommodations. Park fees ($100), transit/visitor's card ($20), and nitrox ($100) are extra.
GETTING THERE: Choose Guayaquil (GYE) as your international hub, and arrive at least one day early to destress and get over jet lag. The airport is close to the city, limiting chances of flight issues due to weather and volcanic eruptions that can affect Quito air traffic. Let Aggressor Fleet book your domestic flights for better baggage allowance and assistance checking in. Bring enough U.S. cash to cover the national park fee, transit card, taxis, etc.