The Ultimate Guide to Scuba Diving Hawaii's Big Island
The majority of Big Island scuba diving is found off the west, or leeward, coast of the island. Here, the underwater topography varies from caves with sleeping whitetip sharks to arches where eagle rays wing past. Pinnacles, tunnels, wall dives and craters all are in the mix.
The Big Island packs the most fish of the Hawaii Islands thanks to its vibrant reefs—in total, the island is home to 1,100 species, with 129 of them found only in this island chain. Divers swim alongside Pacific species such as raccoon butterfly fish, yellow and convict tangs, and Moorish idols. In addition to the Pacific varieties, one of the highlights is learning Hawaii's endemic fish, from Hawaiian whitespotted pufferfish to Potter's angelfish and a handful of wrasse species.
Big Island diving is also known for critters, from the dragon moray eel, with its tiger-orange face with white spots, to frogfish that swell to the size of volleyballs. Octopuses are so common that they're regularly spotted on daytime dives. Nudibranchs are also found by the dozens. Perhaps most exciting is how regularly divers share space with the big stuff, including eagle rays, sharks, mantas and, lately, whale and tiger sharks. "You often don't get this close to wild animals, and these guys don't mind at all," says Shannon Shea, a dive guide at Jack's Diving Locker. The Big Island is most famous for those mantas, which show up consistently at night—it's as close to a sure thing as you can get for a wild reef encounter.
Best Dive Sites in Big Island
From shark diving to manta ray night dives, scuba in the Big Island means one thing: incredible animal encounters.
Manta Ray Night Dive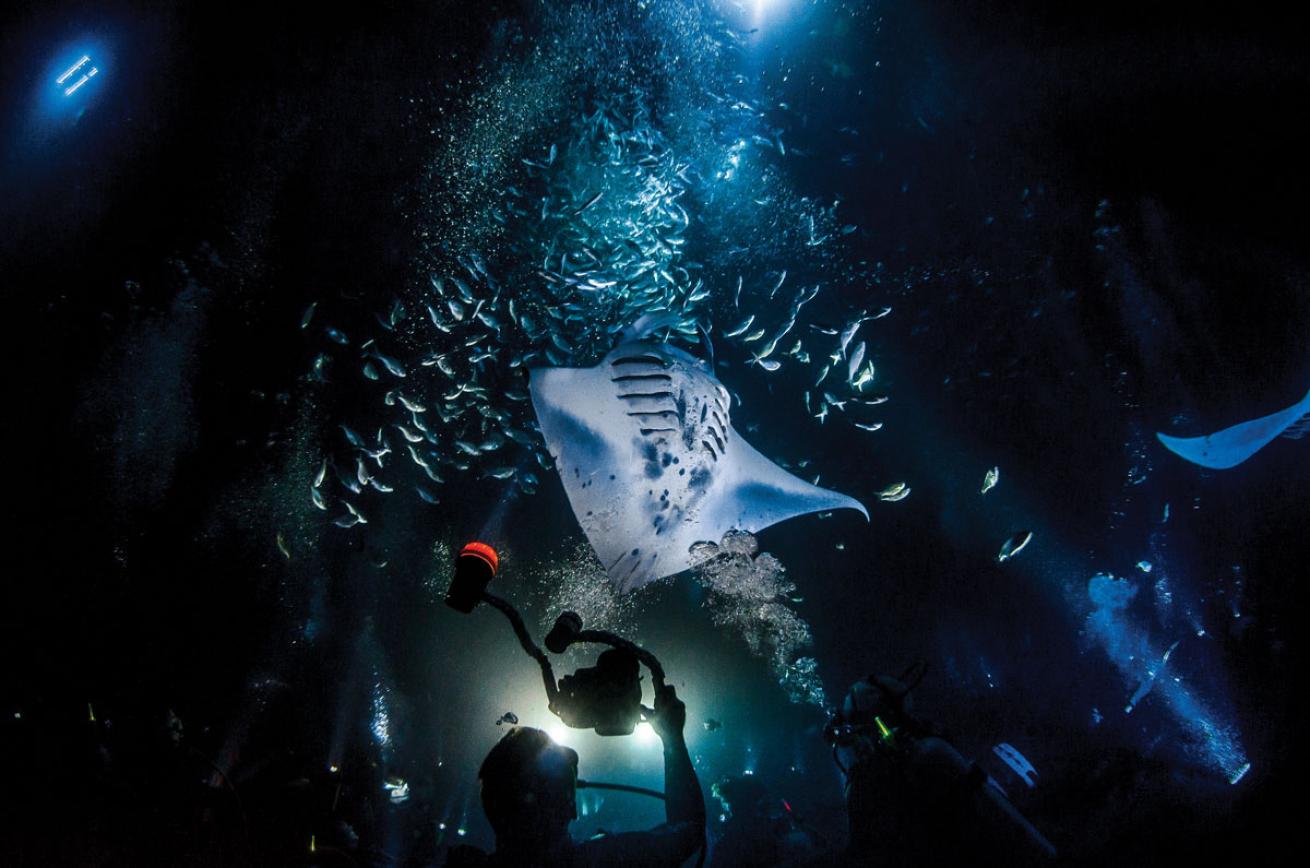 The mother of all night dives.

Greg Lecoeur
The Big Island manta ray night dive is open to divers and snorkelers alike. Thanks to an underwater shelf at Keauhou Bay near the Sheraton Kona, divers can sit at a depth of roughly 35 feet as 10 or more mantas swoop overhead, feeding on the plankton that swarm the "campfire," aka underwater lights used to attract the buffet. "Nobody who comes on this dive and sees mantas isn't incredibly moved," says Jack's Diving Locker's Shannon Shea.
The Long-Range Dive
Offered by Kona Honu Divers, this trip welcomes those with a logbook of 25 entries or more. Sign on and you'll head much farther north or south than most local operators for an exploratory experience on a pristine reef. No two trips are the same.
Black Water Dive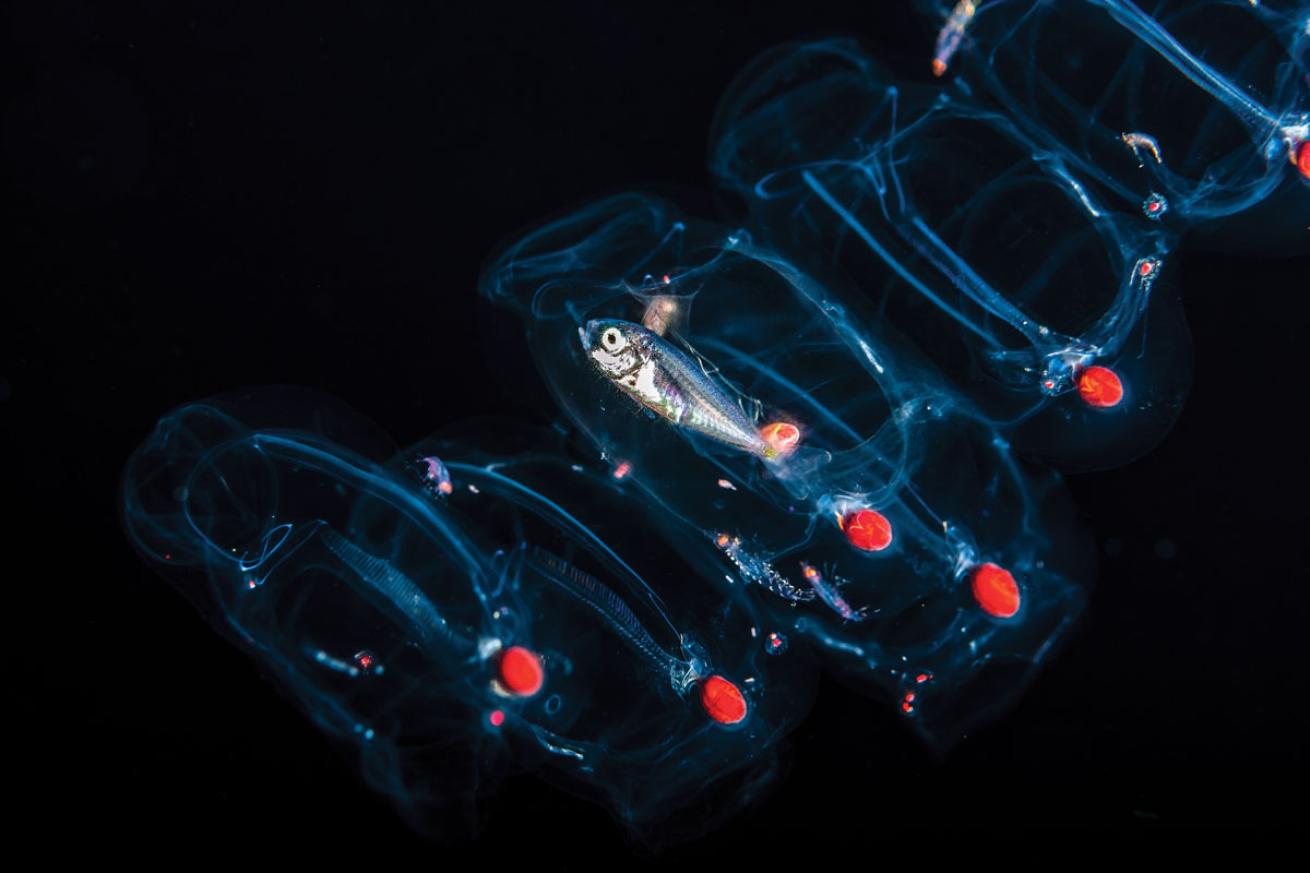 Larvae in salp on a blackwater dive.

Greg Lecoeur
Jack's Diving Locker calls it the Pelagic Magic Dive; Kona Honu Divers, the Black Water Dive. For this nighttime trip, both take experienced divers off the coast to sections of the ocean where the bottom is 6,000 feet below. Then it gets weird. Divers encounter a parade of deepwater oddities, from tetrapods to jellies. Some, such as the tunicate Pyrosoma, emit their own light.
Crescent Beach
This shore dive in Kona delivers quick drop-offs up to 80 feet in depth and the chance to encounter Kona's most famous tiger shark, Laverne. The 14-foot female tiger shark is known to hangout at this site due to its close proximity to Honokohau harbor. The chance to spot Laverne may be one of the reasons divers keep coming back, but Crescent Beach has more to offer than chance encounters with pelagics. Nudibranchs, octopus, sea turtles and eels all frequent the area and there is no shortage of tropical reef fish to be found swimming among the coral fingers and lava formations.
MORE: The Ultimate Guide to Scuba Diving Hawaii
Must-Do Topside Activity
Mauna Kea Summit is not to be missed, thanks to its 14,000-foot elevation, high above the cloud line. What this height affords you is the chance to witness the stars unobstructed. Mauna Kea Summit Adventures carts guests in four-wheel-drive microcoach vans to the top of this dormant volcano for hot dinner and cocoa, followed by stargazing courtesy of high-power telescopes.
---