The Ultimate Pacific Coast Scuba Road Trip
This Pacific road trip takes you from San Diego to Seattle, some of the best diving in the U.S. Although California is known for its sunshine, water temps top out in the mid-60s during summer, and in the Pacific Northwest, warm-water diving is anything over 55 degrees Fahrenheit. You may be able to get away with a 7 mm in SoCal, but you'll want your drysuit in tow for this trip.
Day 1: La Jolla Cove, California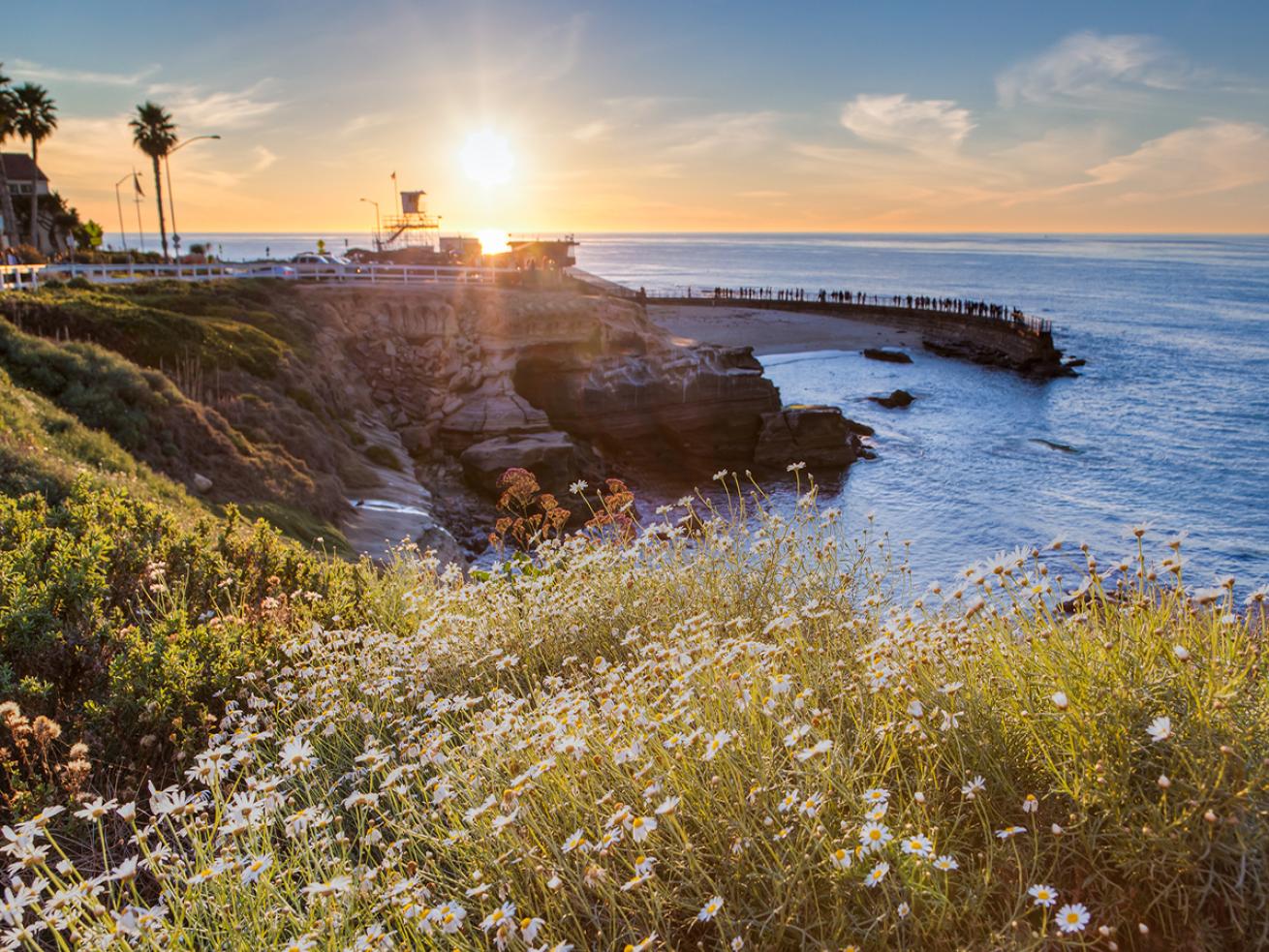 La Jolla is one of the most popular dives in SoCal.

Shutterstock.com/kan_khampanya
This Pacific road trip starts in one of the southernmost cities on the coast — San Diego. Rent tanks from Ocean Enterprises and take a morning dip in La Jolla Cove, a shore diving destination known for its thick kelp forest habitat and friendly resident seals and sea lions.
Grab tacos to refuel after your dive, then drive just under two hours to Long Beach, where you'll catch a charter to Catalina Island the next morning.
Where to Eat: The Taco Stand in La Jolla, The Attic in Long Beach
Where to Stay: Hotel Maya in Long Beach
Day 2: Catalina Island, California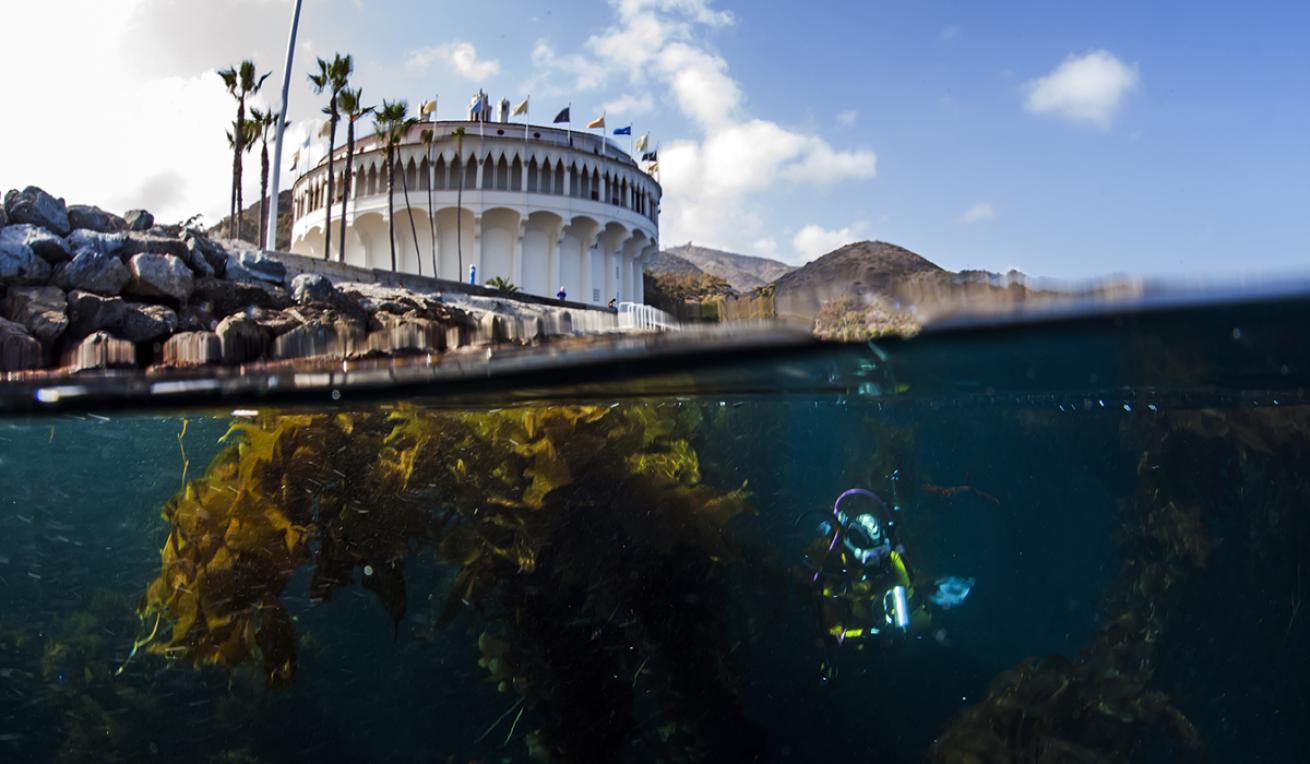 A diver fins through the kelp off Avalon Point.

Shutterstock.com/Michael Bogner
Bright and early, board a three-tank dive trip to Catalina through Deep Blue Scuba & Swim Center. Catalina Island is 22 miles offshore, making it one of the best places to see pelagics like bat and torpedo rays and leopard and horn sharks. Your charter will take you to sites like Farnsworth Bank, Blue Caverns, and Bird Rock, which are full of kelp and coral. If you're lucky, you may even spot a Catalina goby hiding out on the reef.
Once you've returned to Long Beach, head a couple of hours north and stay the night in Santa Barbara.
Where to Eat: Broadway Donuts in Long Beach and Lucky Penny in Santa Barbara
Where to Stay: Santa Barbara Inn
Day 3: Monterey, California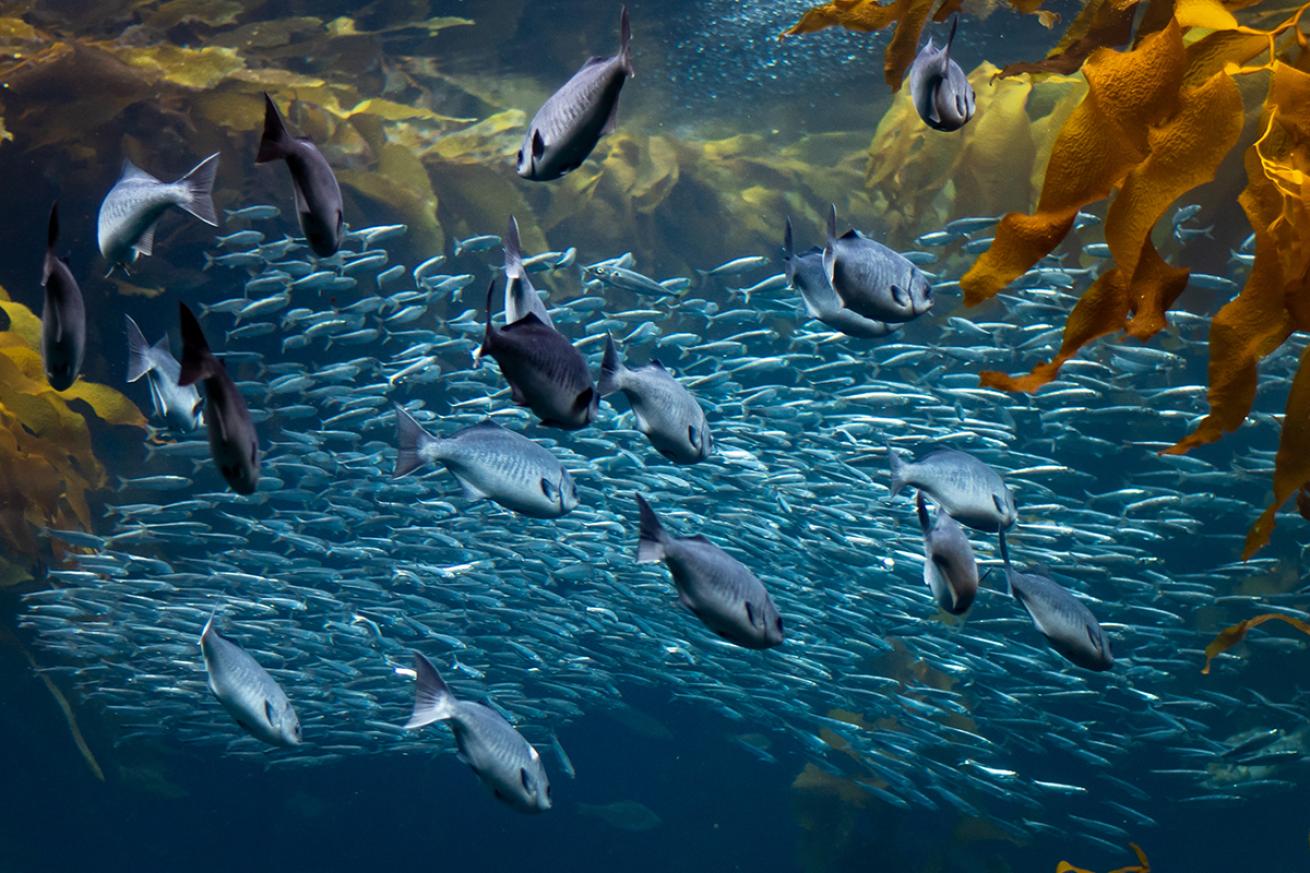 Sardines pass behind a school of halfmoon blue perch in a Monterey Bay kelp bed.

Shutterstock.com/David A Litman
Wake up and hit the road. Monterey a four-hour drive from Long Beach and well worth an afternoon dive after you reach your destination. As Monterey Bay is a shore-entry hotspot, you can rent gear through Aquarius Dive Shop and dive at your leisure.
If you're looking for the best sites to poke around and see marine life like rockfish grouper nudibranchs, octopus, and more, we recommend the Breakwater or Point Lobos in neighboring Carmel.
Where to Eat: Chad's Cafe in Santa Barbara, El Torito in Monterey
Where to Stay: Spindrift Inn in Monterey
Day 4: On the Road
The next day, you'll stay dry, but that doesn't mean you won't be exploring. Much of the nine-hour drive from Monterey to Roseburg, Oregon, snakes through the mountains of Northern California.
You can drive over the Golden Gate Bridge in San Francisco, stretch your legs on a short hike to Burney Falls northeast of Redding, take a detour to see coastal redwood forests, or just enjoy the open road.
Where to Eat: The Breakfast Club in Monterey, McMenamins Roseburg Station Pub & Brewery in Roseburg
Where to Stay: Hampton Inn & Suites in Roseburg
Day 5: Clear Lake, Oregon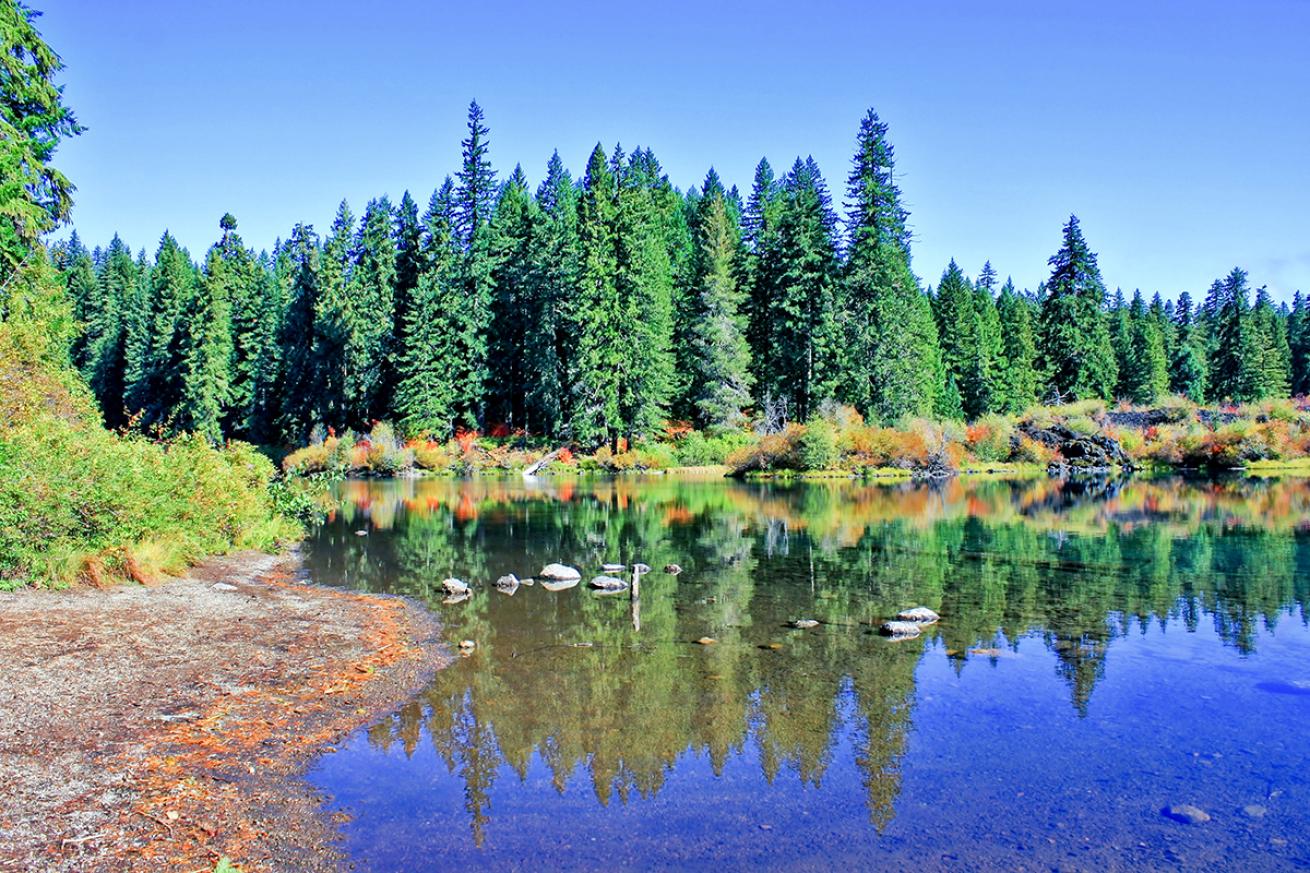 Remember to adjust your weights moving from the ocean to this freshwater site.

Shutterstock.com/Victoria Ditkovsky
After a restful night, hop back in the car for a two-hour drive to Clear Lake, stopping at Eugene Skin Divers Supply to rent gear on the way up. Clear Lake is one of the most unique sites in the area. It's a freshwater, mostly spring-fed lake that's — as its name suggests — crystal clear.
A volcano eruption formed the lake three thousand years ago; magma formed a natural dam across the Mckenzie River, flooding a small forest. Thanks to the frigid lake water, many of the forest's trees still stand, submerged but well-preserved and ready for divers to wander through.
Where to Eat: Elmer's Restaurant in Roseburg and Skip Bar & Restaurant in McKenzie Bridge
Where to Stay: The Suttle Lodge & Boathouse in McKenzie Bridge
Day 6: On the Road
After a cozy night in the forest, head back to Eugene to drop off your tanks, then journey on to Seattle, the final stop on your road trip. The total drive time is just over six hours, and Portland is at about the halfway point, making it a perfect pit stop to check out local charms.
Where to Eat: Cornbread Café in Eugene, Pike Place Chowder in Seattle
Where to Stay: Thompson Seattle
Day 7: Edmonds Underwater Park, Puget Sound, Washington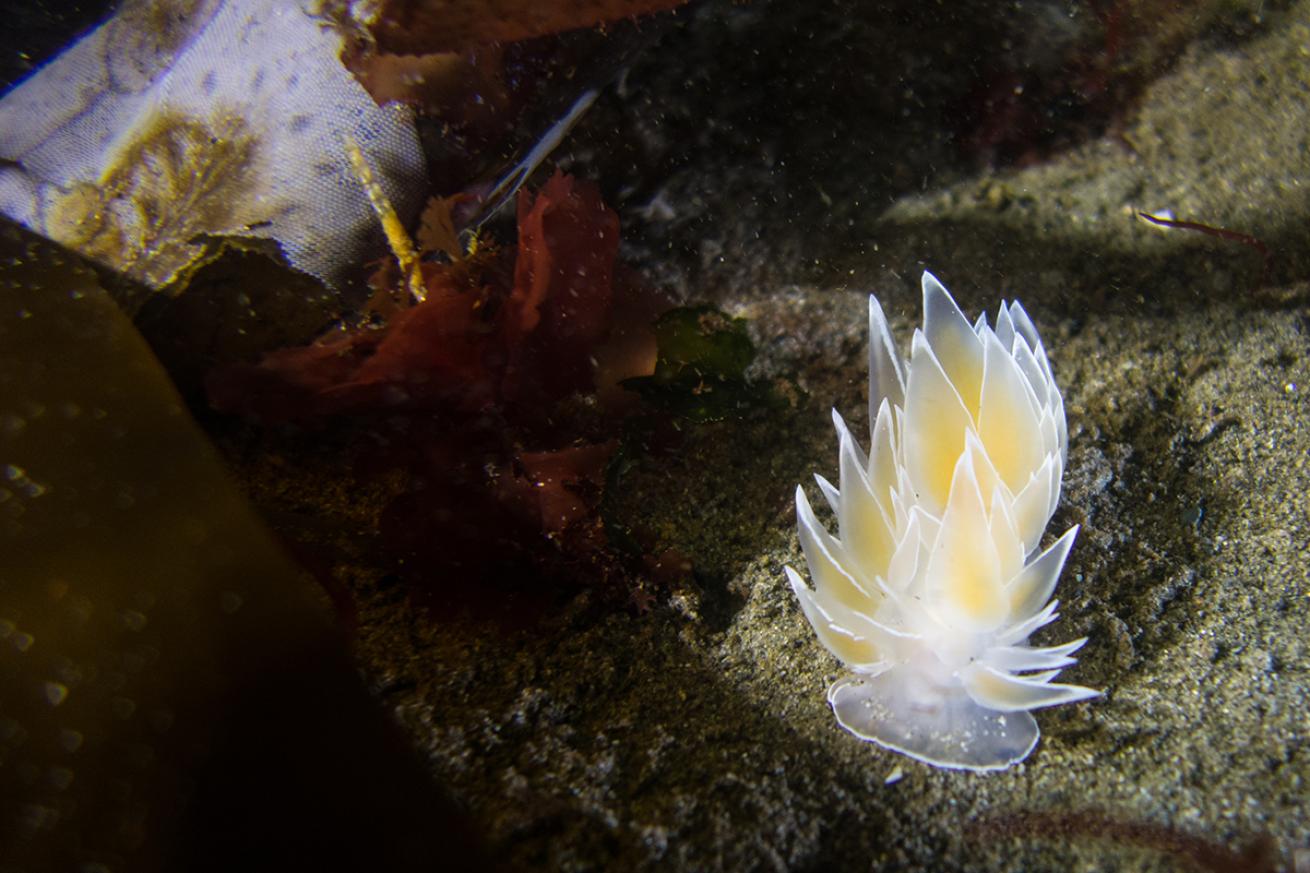 A white lined dirona nudibranch sits in Edmonds Underwater Park.

Shutterstock.com/Kirill Koval
There are many beautiful dive sites in Puget Sound, and Edmonds Underwater Park, about 20 minutes north of Seattle, tops the list. You can rent tanks and get a map of the shallow site at Underwater Sports, which is located right next to the park dive shop. Then, take your time poking around eelgrass beds, coral-encrusted wrecks, and artificial reefs looking for massive lingcod, rockfish, giant pacific octopus, and more.
Top off your trip in Seattle with fresh-caught oysters over a sunset view of the Sound.
Where to Eat: Lowell's Restaurant in Seattle, Elliott's Oyster House in Seattle
Where to Stay: Thompson Seattle
---
This guide is one in a running series of great scuba diving road trip itineraries. Keep the adventure rolling with more drive-and-dive road trip ideas!
---