Underwater Photographer Amanda Cotton Joins Scuba Diving's Sea Heroes
OCCUPATION: Owner of A Cotton photo Creative Works and Executive Director Executive Director of Water Women Inc.
DIVING SINCE: 1999
CERTIFICATION LEVEL: Technical Diver, Cave Diver, Professional Diver
WORDS TO LIVE BY: "Have courage and be kind."
In 2014, underwater photographer, expedition leader and Women Divers Hall of Famer Amanda Cotton founded Water Women Inc. to focus on empowering girls ages 8 to 18 to become leaders and advocates in water-related industries through internships and mentorship programs.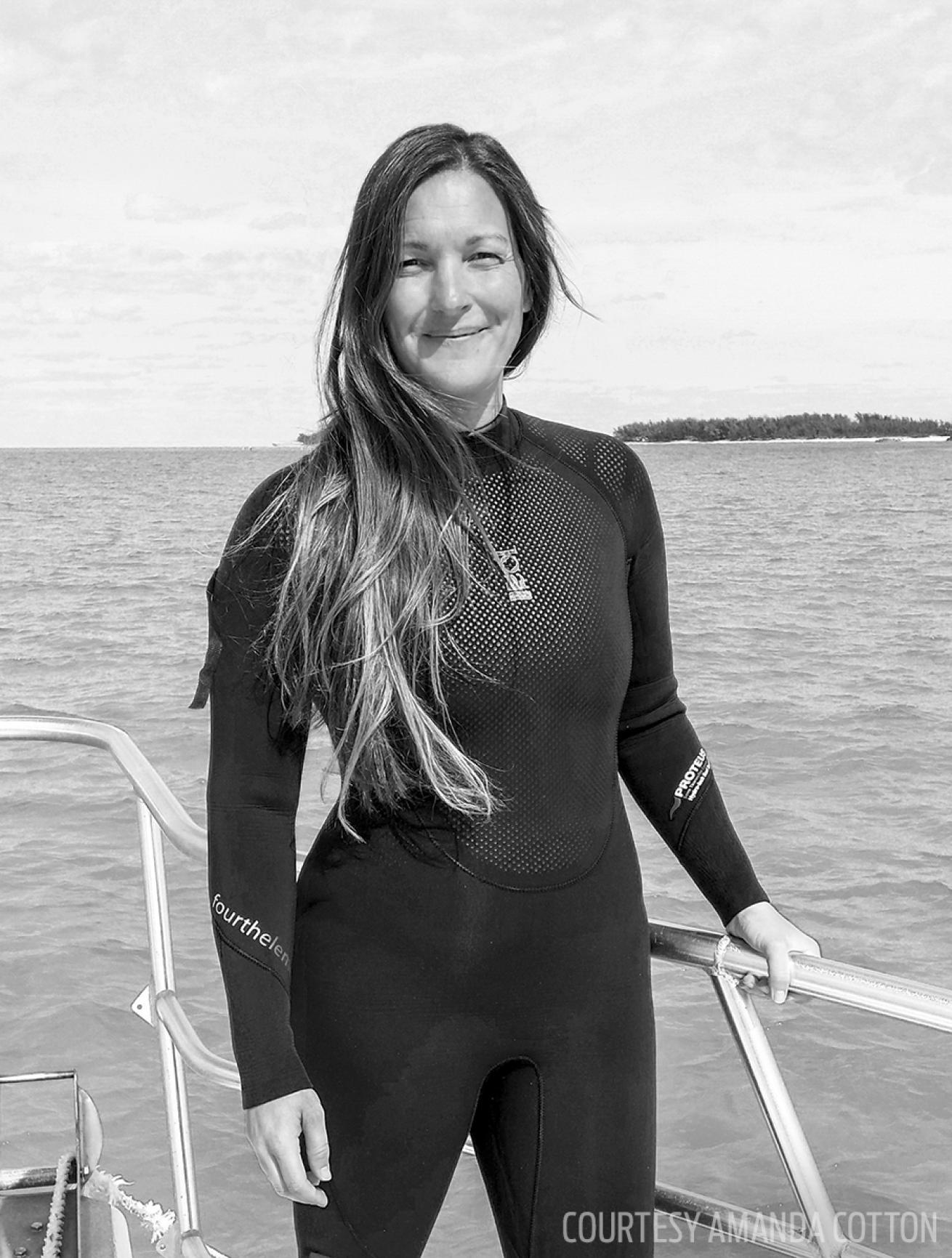 Courtesy Amanda Cotton
Each girl is paired with a female expert in the specialty of her choice, whether it's underwater photography, marine science, marine biology or commercial diving. Water Women currently has 42 participating mentors around the globe, from boat captains to NASA aquanauts.
Q: YOU DIDN'T JUST FOUND WATER WOMEN — YOU ARE AN ACTIVE MENTOR. WHAT'S THAT LIKE?
A: I am constantly in awe of the girls I work with; it has been life changing for me. These young women have inspired and humbled me with their determination, courage and tenacity. I have a special place in my heart for the first young woman I mentored, Rebecca Burnett, who has gone through several of our Water Women programs. She is everything I wish I could have been at her age: smart, determined, compassionate, driven and self-confident.
Q: YOU'VE BEEN OBSESSED WITH SHARKS SINCE AGE 4. WHAT'S IT LIKE TO WORK CLOSE TO THEM?
A: Mesmerizing. I get completely lost in the moment, watching the grace of their movements and feeling the power of their presence. I wonder what it must feel like to roam the oceans the way they do — they represent freedom to me in a way nothing else has. I see them as beautiful, powerful, misunderstood, but they are vulnerable. It feels all the more needed to help the general public fall in love with sharks so we can continue to push for their protection.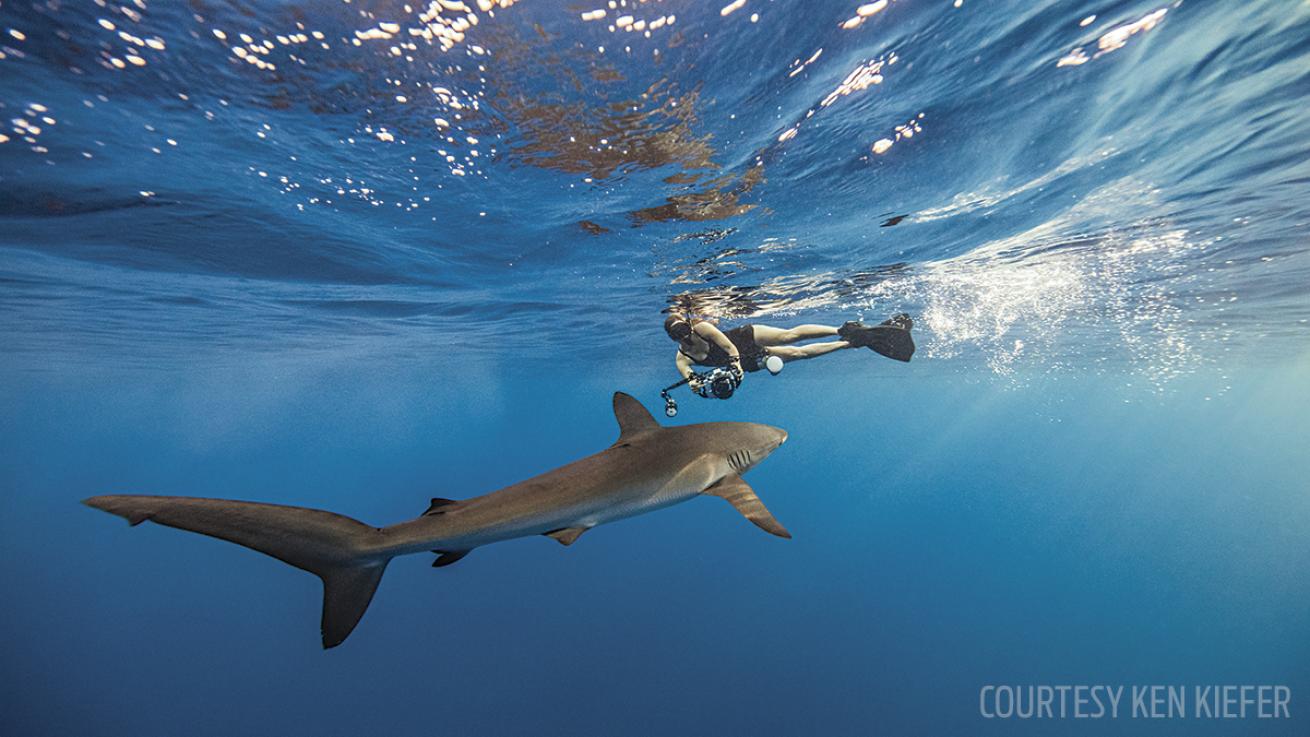 Amanda Cotton photographs a shark.

Courtesy Ken Keifer
Q: WHAT IMPACT DO YOU HOPE YOUR IMAGES HAVE?
A: By capturing images of the extraordinary things I get to see, and sharing them, I hope to be able to bring joy to others, and to inspire others to live, think, understand and feel. I want to help protect our oceans by sharing the beauty below the waves. I want to give back to the ocean because she has given me so much.
Q: HOW DID YOU GET STARTED?
A: I have loved photography since I was in middle school. It became an obsession through high school and eventually led me to Brooks Institute of Photography [the legendary Ventura, California, arts institute that shut down in 2016] for my undergraduate degree. During my time at Brooks, I participated in the Underseas Program established by master photographer Ernie Brooks. I loved my time in the program, and it helped kick-start a career in underwater photography for me through the training and connections I made with fellow Brookies.
Q: YOU STRESS THAT YOUR OFFICES ARE GREEN. HOW ARE YOU TRYING TO REDUCE YOUR FOOTPRINT?
A: We specifically work with eco-friendly operators that focus on reduce, reuse, recycle. Many have stopped using single-use plastics on their boats and in their hotels. We also give presentations to school-age children on the importance of protecting the environment and how they can get involved. Simple daily changes like reusable water bottles, saying no to straws while eating out, and bring- ing reusable takeout containers on trips and projects has helped. While traveling I try to use public transport as much as possible, carpool or take buses when I can, and I bike often.
Q: WHAT ARE YOU PROUDEST OF?
A: My children. Without a doubt the most monumental thing I have done in my life was create beautiful human beings who inspire me every day; they push me to help protect our environment, in particular our oceans, and they ll me with hope for our future. During our time in the Philippines, my son, who is 5, saved an octopus that had accidentally been brought to shore while hiding inside a rock. He was quite concerned and told everyone it needed help to "go back to where it truly belongs, into the ocean."
Q: WHAT IS ON YOUR BUCKET LIST?
A: There is still so much of the world left to see. I want to dive Silfra in Iceland; I want to dive with Southern right whales. I want to dive Antarctica. I want to visit every country in the world; I still have about 85 to go.
Q: ONE OF THE WAYS YOU SHARE YOUR ADVENTURES IS TO POST PHOTOS OF AIRPORT CARPET.
A: My collection stands at 567 different carpets. It is a weird obsession, and I love that friends from around the world share airport-carpet images with me online. My favorite is still Changi Airport in Singapore, a carpet lover's dream.
---
Each Sea Hero featured in Scuba Diving receives a Seiko Prospex PADI Special Edition SRPA21 watch worth $525. In March 2018, judges will select the Sea Hero of the Year, who will receive a $5,000 cash award from Seiko to further his or her work.