Exploring the Unforgettable Wall Dives of West Caicos
It's 6:45 a.m., and I'm in a pocket-size rental car on the way to meet Dive Provo. Driving on the left side of the road isn't as difficult as I thought it would be, though hitting the indicator and not the windshield wipers is next to impossible—I make this mistake repeatedly. The navigation screen in the car is a swirl of Japanese symbols so I have left my phone on roaming. I try not to think about the 10-dollar-a-day charge I'm incurring.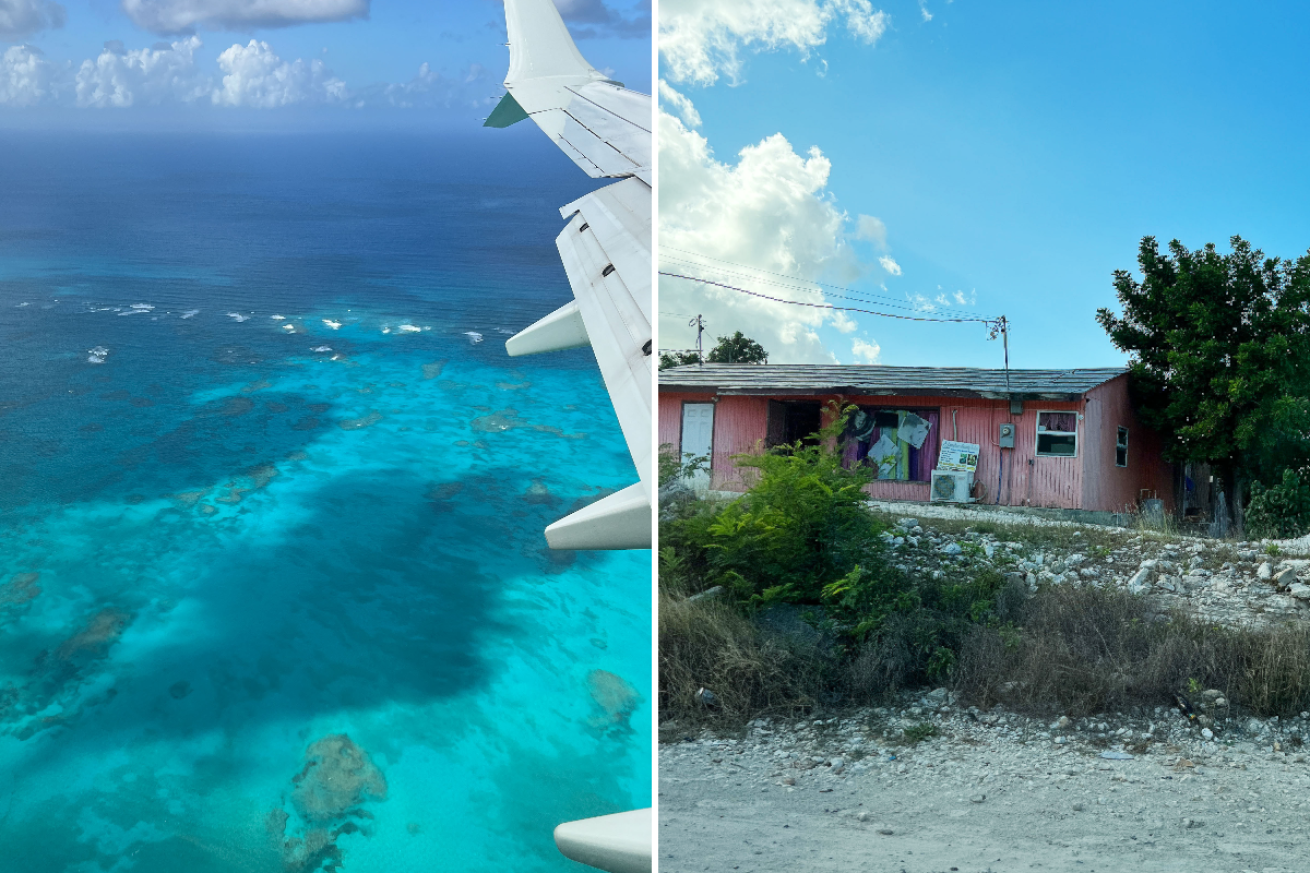 The island of Providenciales and a typical house in Blue Hills.

Candice Landau
Unlike most people visiting the island of Providenciales in Turks and Caicos, I am not staying in a resort. I'm in an Airbnb in Blue Hills. It's dubbed "affordable accommodation," though for just seven nights, even this home has a ticket price of $1,500. That said, it is more affordable than any resort I can find. True, I don't have a swimming pool or room service or a view of the world-famous Grace Bay Beach, but I do have insight into how many of the locals live; at least that's what my dive guide, Jason, later tells me.
In Blue Hills, each house sits amid a quarry of limestone rubble. Potcakes—the local name for indigenous dogs—roam the dirt roads, and corner shops and washing lines spread from door to iron-bar-covered window.
Instead of traffic lights, on Providenciales, traffic circles are how intersections are controlled, and an average speed limit of 40 miles per hour on Leeward Highway means the trek from one side of the island to the other can take some time, especially if you're competing with rush-hour traffic as I am. After what should be a 20-minute drive but instead ends up taking 40 minutes, I draw near my destination.
The meandering road to the dock looks like much of the island—unfinished construction, palm trees and mangroves, native oak and mahogany, unmarked speed bumps, and even the occasional piece of real estate I couldn't hope to afford, complete with tennis court, swimming pool and white-washed facades with large mirrored windows and colorless patio furniture.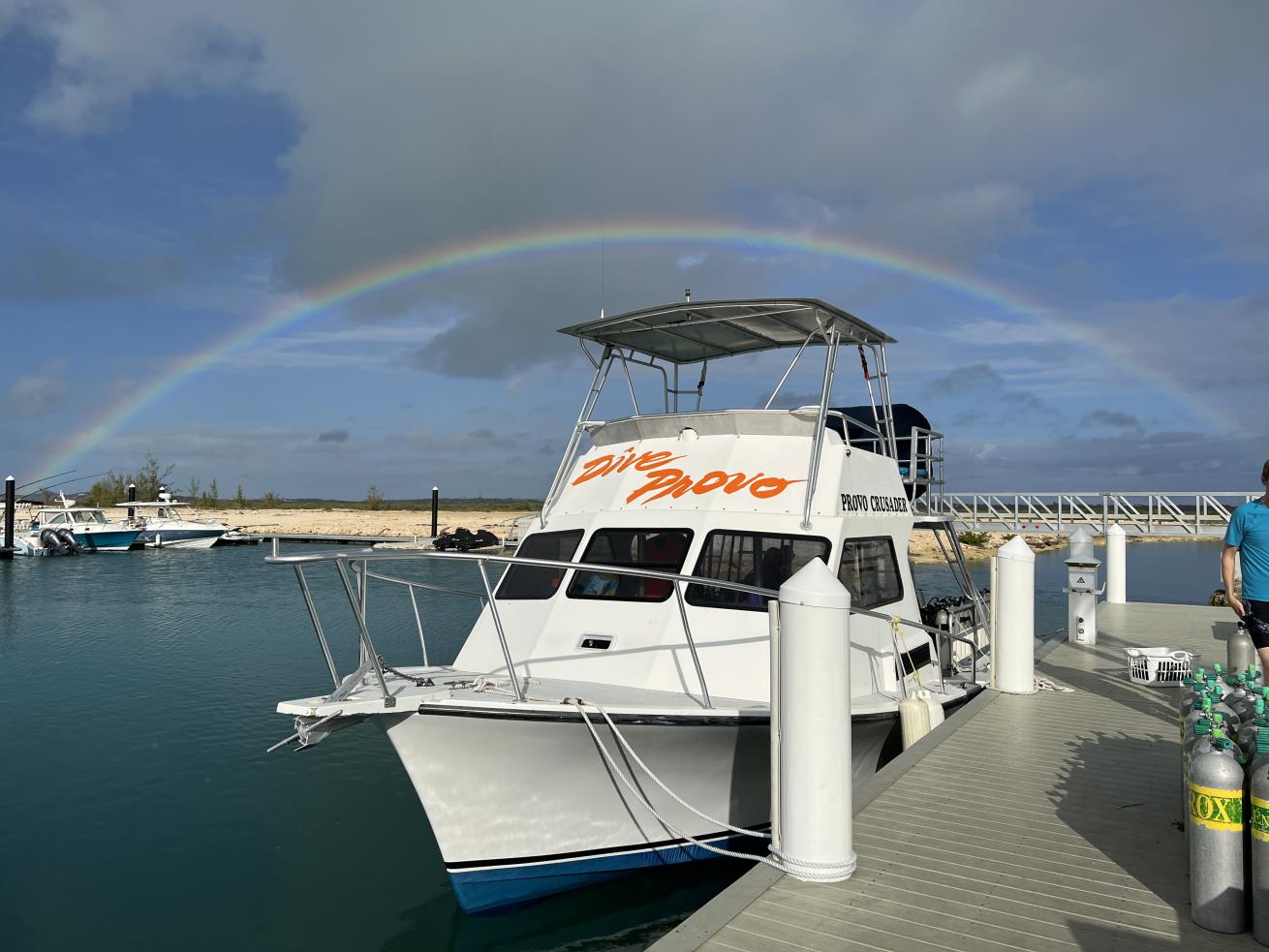 The author conjures a rainbow for a day of diving with Dive Provo off the West Caicos walls.

Candice Landau
When I pull into the Caicos Marina parking lot, it's easy to spot the operation I'll be diving with. Dive Provo has not one but two large boats, each equipped with a small army of tanks.
My boyfriend and I are a little late to the show and I scramble to piece my equipment together in between greeting the captain, TJ; Abbie, a divemaster candidate; and our dive guide, Jason.
Before long, we are off, jetting out to West Caicos where we will be diving—the water is an unreal hue of turquoise and my phone's camera struggles to do it justice. Although the sky is partly cloudy and a gentle wind prevents me from overheating, we are still close to the equator—just 21 degrees north. I know my skin is already burning but I can't bring myself to cover up; it feels decadent. I pay for my hedonism later when the skin on my back curls then flakes like burning paper.
Related Reading: How to Take Care of Your Skin During a Dive Trip
Once TJ and Jason have tied up to the mooring buoy, Jason briefs the site. His playful sense of humor and irreverent NASA-branded baseball cap belie how hard-working and experienced he is, having dived, instructed and captained extensively in Turks and Caicos.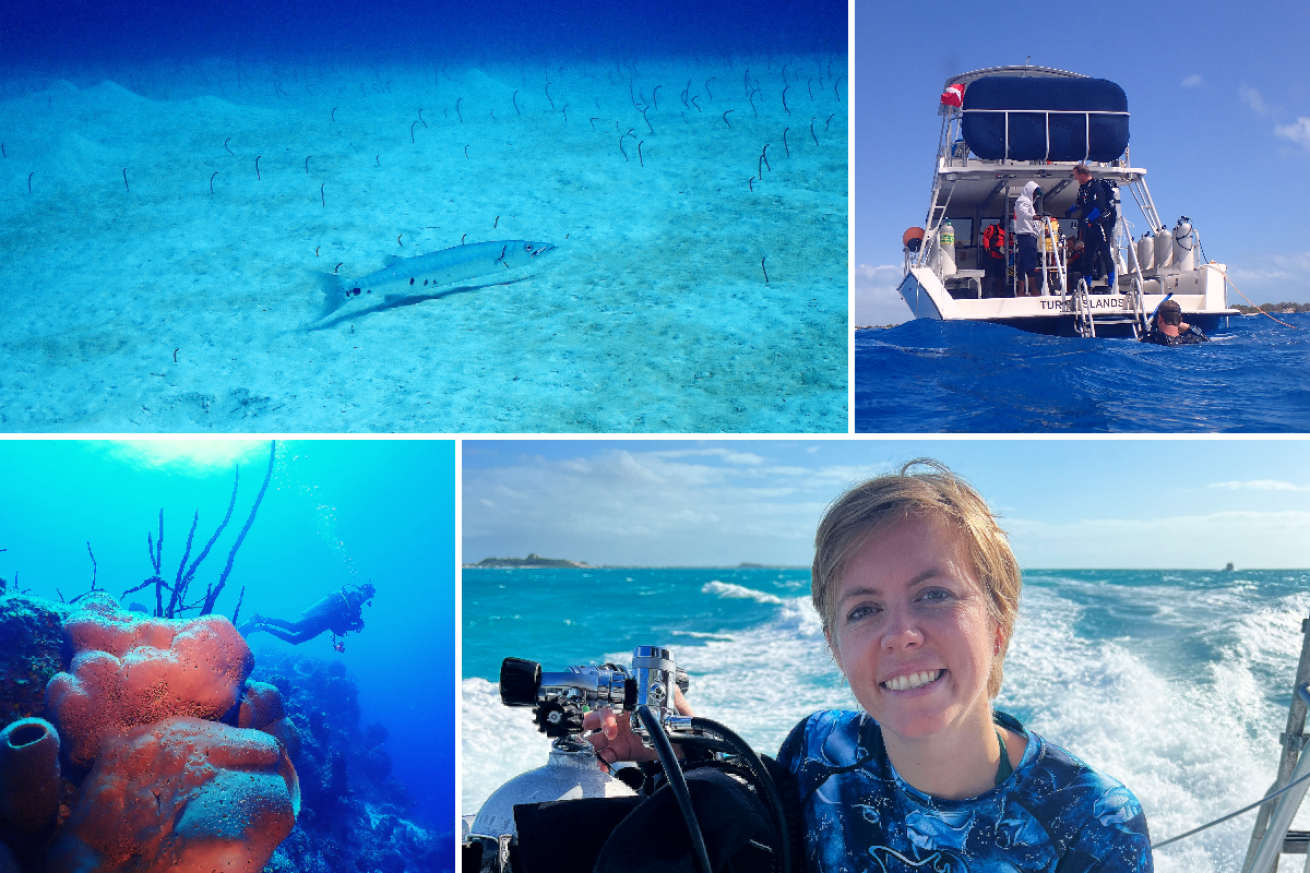 Clockwise from left: A barracuda in the sandy bottom. Jason from Dive Provo helps divers enter the water. The author's boyfriend looks out into the blue. The author layers up in an effort to help her 2/3 mm wetsuit go a little further.

Candice Landau
A Typical Dive in West Caicos
This first briefing is much like the others I will experience as all of the dives are wall dives. We will drop down to about 50 feet over a white sandy bottom and head out to the edge of the wall. Jason reminds us to keep our NDL above 10 minutes and to let him know when we hit it or are at 1,500 psi.
My initial impression as I drop is of a white desert—the water is crystal clear and the sand carved into perfect ripples. A feeling of tranquility washes through me, and my usual predive nerves dissipate. I am home. Barracuda hover and glint in the sunlight, and smaller silver fish track my descent, maintaining a healthy distance. Once the others have joined, we set off for the wall.
Visibility must be in the order of 80 to 100 feet. It's magnificent. I squint into the distance, wondering if I'll see a humpback whale—it's the season for them, after all. As Jason sets up an marker to make it easier to find the boat on our return, I pause and survey the coral reef skimming the entire ledge of the wall, rising like a miniature mountain range.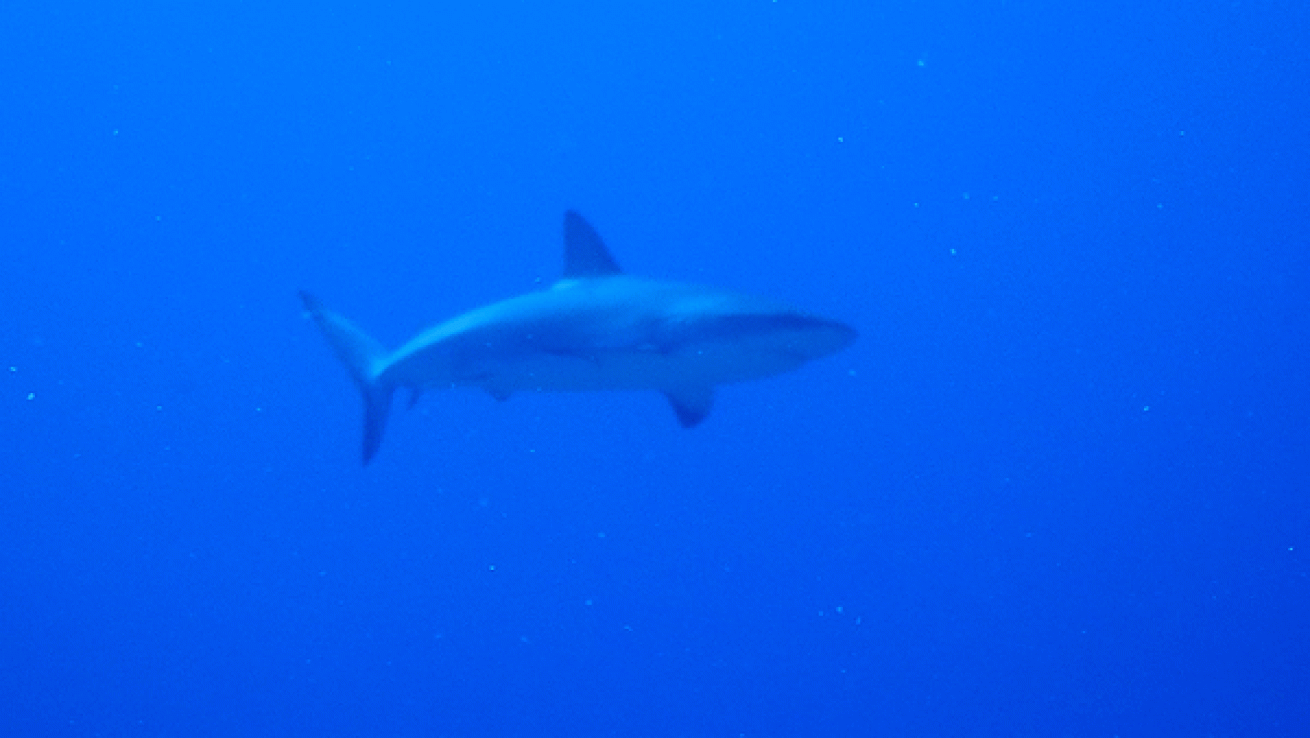 A blacktip reef shark swims by divers early on in their dive, circling back to check in on them.

Candice Landau
Within minutes, a blacktip reef shark meanders past us, followed shortly thereafter by a large sea turtle. I turn my camera on and begin filming. The shark is unperturbed by our presence. Slowly I frog-kick after it and get my first glimpse over the edge of the wall. It drops steadily down to what must be at least 130 feet and then flattens out a bit more before plummeting again into the beckoning depth.
As I follow both the shark and Jason I can't help but hover along the edge of the wall. There's something thrilling about teetering on an abyss. I'm not a complete thrill seeker, but right here on the verge is where I thrive.
While I am taking everything in on this first dive—the majestic turtle flying by, the pastel-colored parrotfish crunching noisily on the corals, and the dramatic topography—Jason picks his way through peaks and valleys, gliding elegantly, slowly past awe-inspiring giant barrel sponges, all while keeping to the 60-foot depth limit he said he would.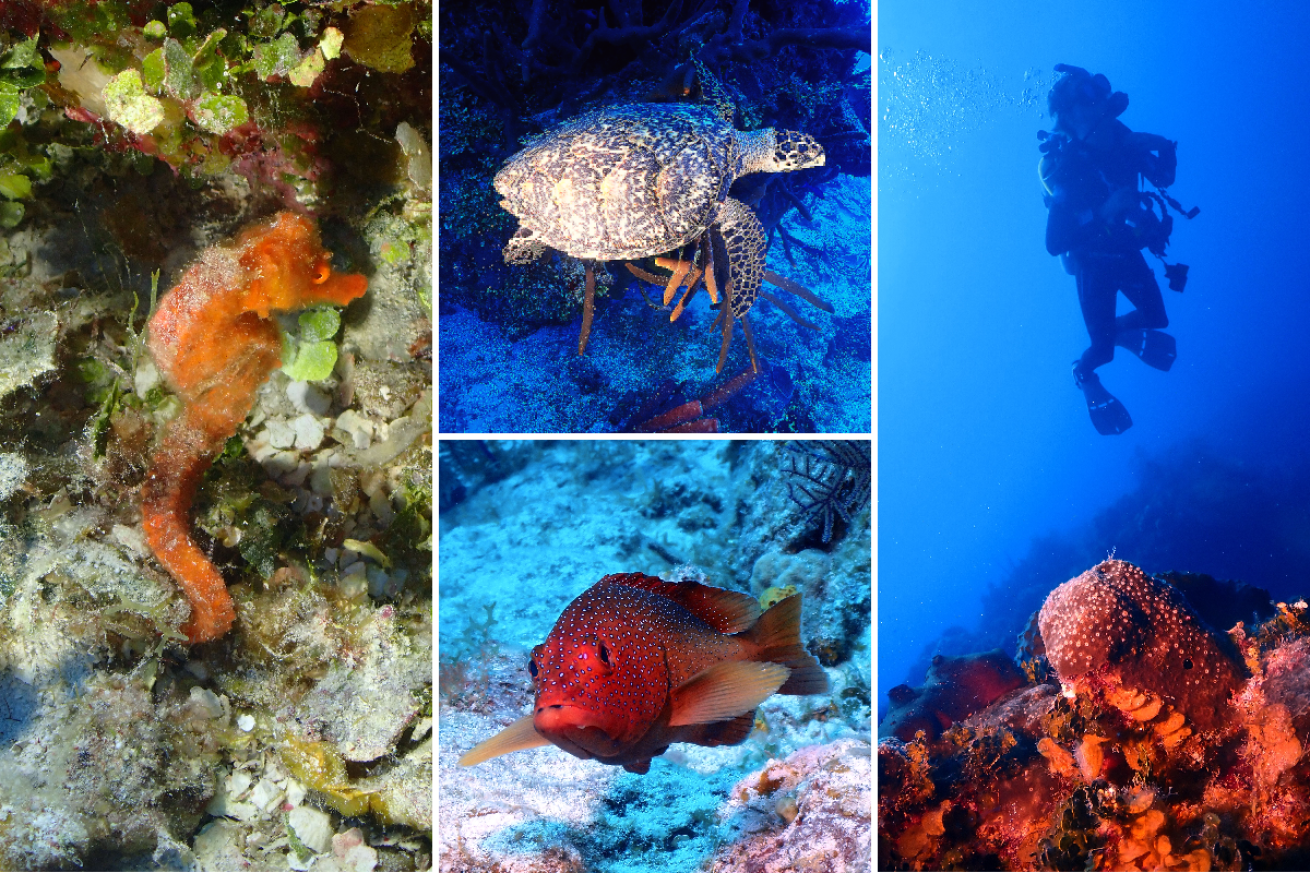 Clockwise from left to right: The first seahorse the author has ever seen in the wild. A sea turtle glides by. Stephen hovers over the edge of the wall. A coney grouper watches the author take photographs, particularly enjoying the noise the camera arms make when rotated into position.

Candice Landau
Before long, he gestures to get my attention. He points to a large rock. Nestled in the middle of it is a bright orange seahorse. In fact, it's the very first seahorse I've ever seen in the "wild." I can tell my video lights are making it nervous so I attempt to get my shot as quickly as possible. It faces away from me, but its one eye rotates back, tracking my movements.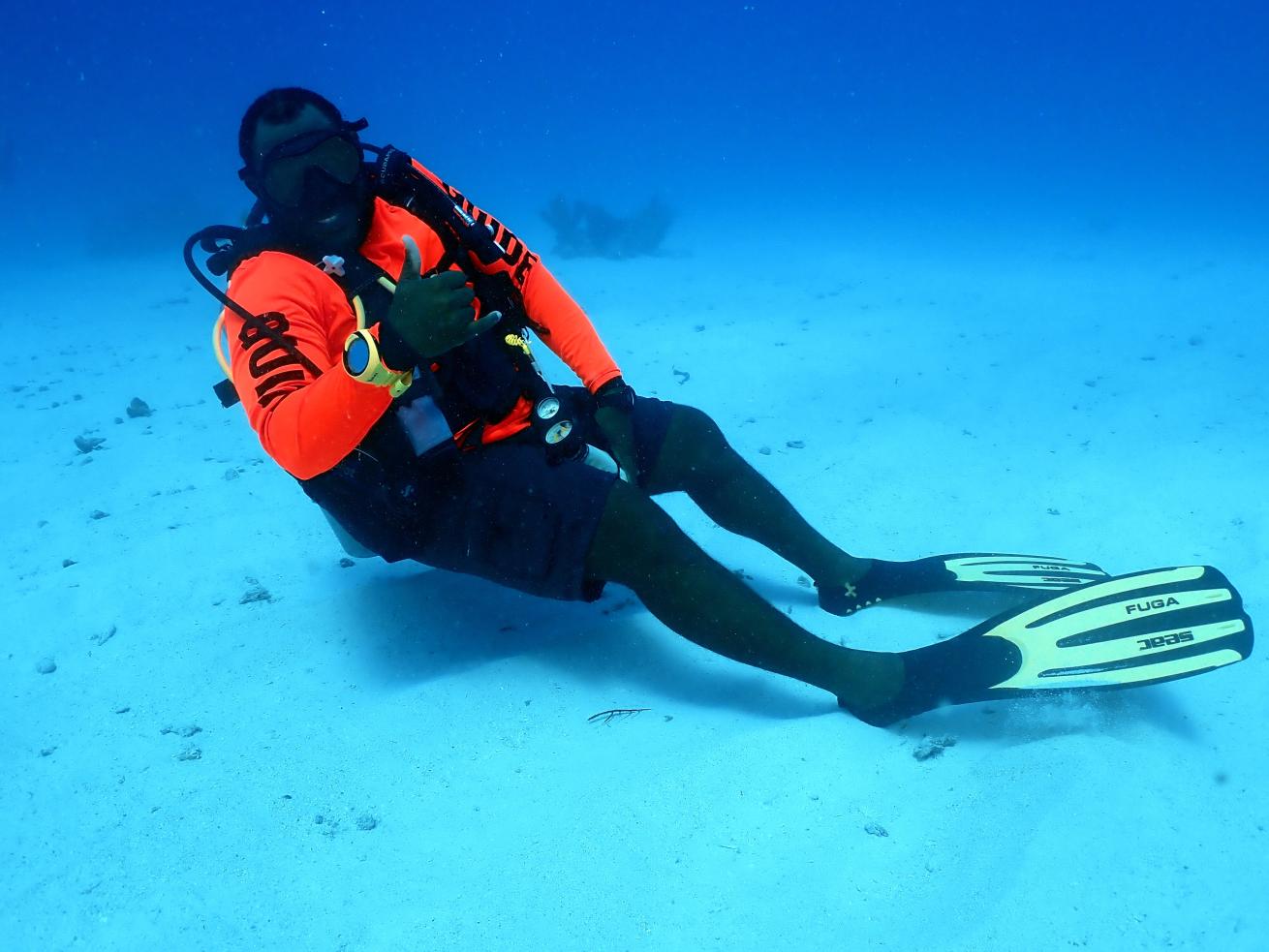 TJ poses for a shot. He is easy to spot as we dive thanks to his bright orange "Guide" t-shirt, a tactic the author is surprised many more dive operators don't adopt. If you show up for a trip without a buddy, you also get to wear a bright yellow t-shirt that reads "Buddy." This helps the staff keep track of everyone.

Candice Landau
When I board the boat 45 minutes later I am struck by three things: A 2 to 3 mm wetsuit is a little chill for this time of year, I've already got a ton of camera footage, and this is a dive I would happily do again—exactly as I felt when I dived RMS Rhone in the British Virgin Islands. It's a good thing I feel this way because, as it so happens, almost all of the diving along West Caicos is wall diving very similar to our first site, Magic Mushroom.
Related Reading: The Best Destinations for Wall Diving in 2023
TJ guides us through the next site, Boat Cove. Yet again, a reef shark shows up, this time sticking around, curious as a cat. It checks in on us throughout the dive, sometimes swimming below along the edge of the wall, sometimes above. I fancy I can hear it asking what we're up to and why we make all these noisy bubbles.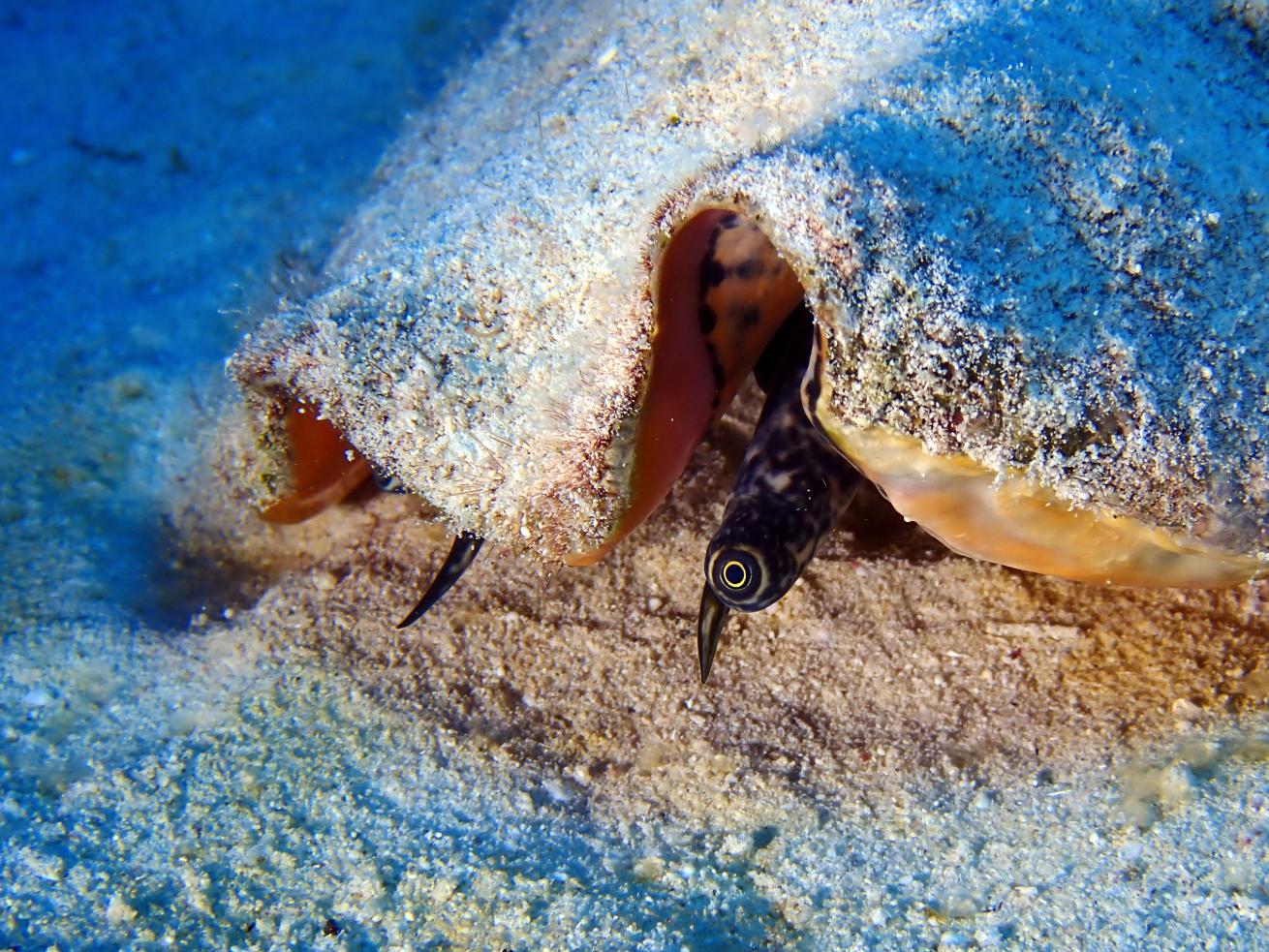 A conch peers curiously out at the photographer. Luckily, she's a vegetarian.

Candice Landau
As my dive comes to an end I notice conch shells dotting the sandy bottom, rose-pink lips their giveaway. I am thrilled. The fact that they, like the shark, are curious means their long, stalked eyes will be jutting out of their shell even when they spot my glaring lights and leggy camera.
After a couple of minutes I feel a tap on my shoulder. My boyfriend is gesturing to his dive computer and giving me the "end the dive" signal. I look to my own computer and startle. My NDL is low. Out here it's easy for things to get away from you as you spend so much time at depth. I make a mental note to keep on top of the wall next time. Were I to visit again, I'd definitely opt for nitrox.
Over the course of the next few days, I continue exploring the dramatic drops and beautiful reefs with Dive Provo. I meet two more incredibly talented instructors—Marco and Pat. Each dive guide adds their own flair to the experience. Marco has traveled Asia and the Pacific and shares photography tips with me. Pat tells me all about Reef Fund, a nonprofit that Dive Provo sometimes partners with to help preserve and protect the underwater realm. I find myself wishing I'd known of this organization before I made the trip. They're responsible for setting up many of the mooring buoys that dot the walls out here.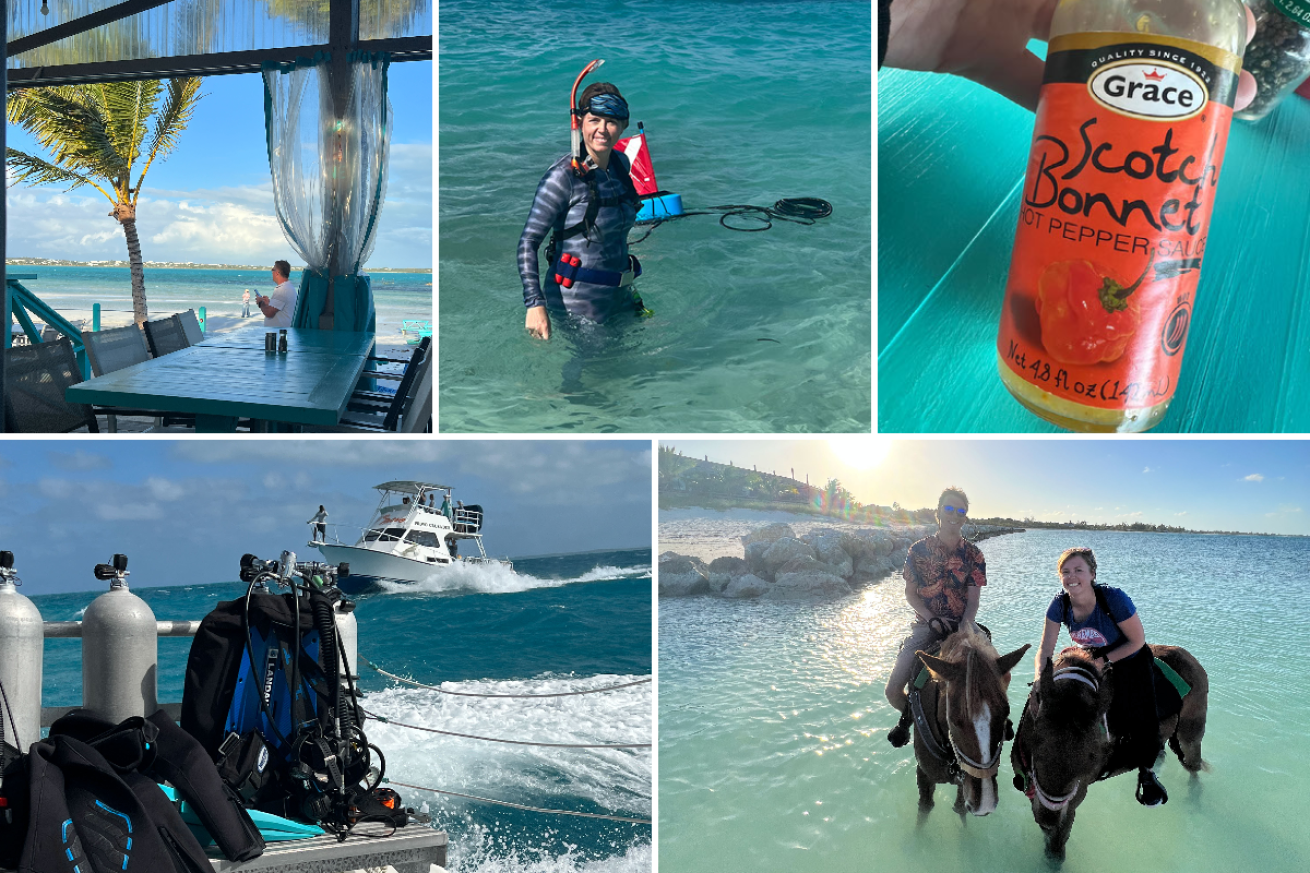 Clockwise from left to right: Omar's Beach Hut makes for an idyllic place to relax, day and night. Candice explores snorkeling beaches with her Blu3 Nomad. The author purchased about four of these hot sauces. The author enjoys her carbon fiber backplate on board Dive Provo. Stephen and Candice do a horse ride through the water before heading back to Omar's for dinner—again!

Candice Landau
The other thing I learn from Pat is that once you're underwater if you listen carefully between breaths, you can hear the humpback whales. I don't have a chance to test this theory until the next dive with TJ. Sure enough, she's right. In between each rasping breath, I hear them calling to one another, long drawn-out songs pitched in the range of a question. It's a poignantly beautiful sound. One that makes my heart ache—for the boat noise we unwittingly make, for the fishing nets they're so often found entangled in, and for the rapid speed at which we plunder their environment of resources. I spend much of my dive at Yankee Town stopping to listen, my throat dry thinking about them.
Related Reading: Scientists Launch Groundbreaking Research Project to Decode Whale Language
Exploring Providenciales' Other Charms
For a day the sea conditions worsen and we decide to move our last dives out. Instead, we dip over to Smiths Reef to do some mini diving on my Blu3 Nomad and then we visit our favorite dinner spot on the island—Omar's Beach Hut. Here the cocktails are fruity, the hot sauce a delicious Jamaican variety that tastes like chutney and pickled onions, and the food, for vegetarians, uncompromisingly good. It is times like these—when the wind whips the sun into submission and when the pace of life, so much slower than even my pleasant remote job—I wonder why I don't quit everything to live on a tropical island, or work a job on a boat. I'm at constant war with my divisive desires.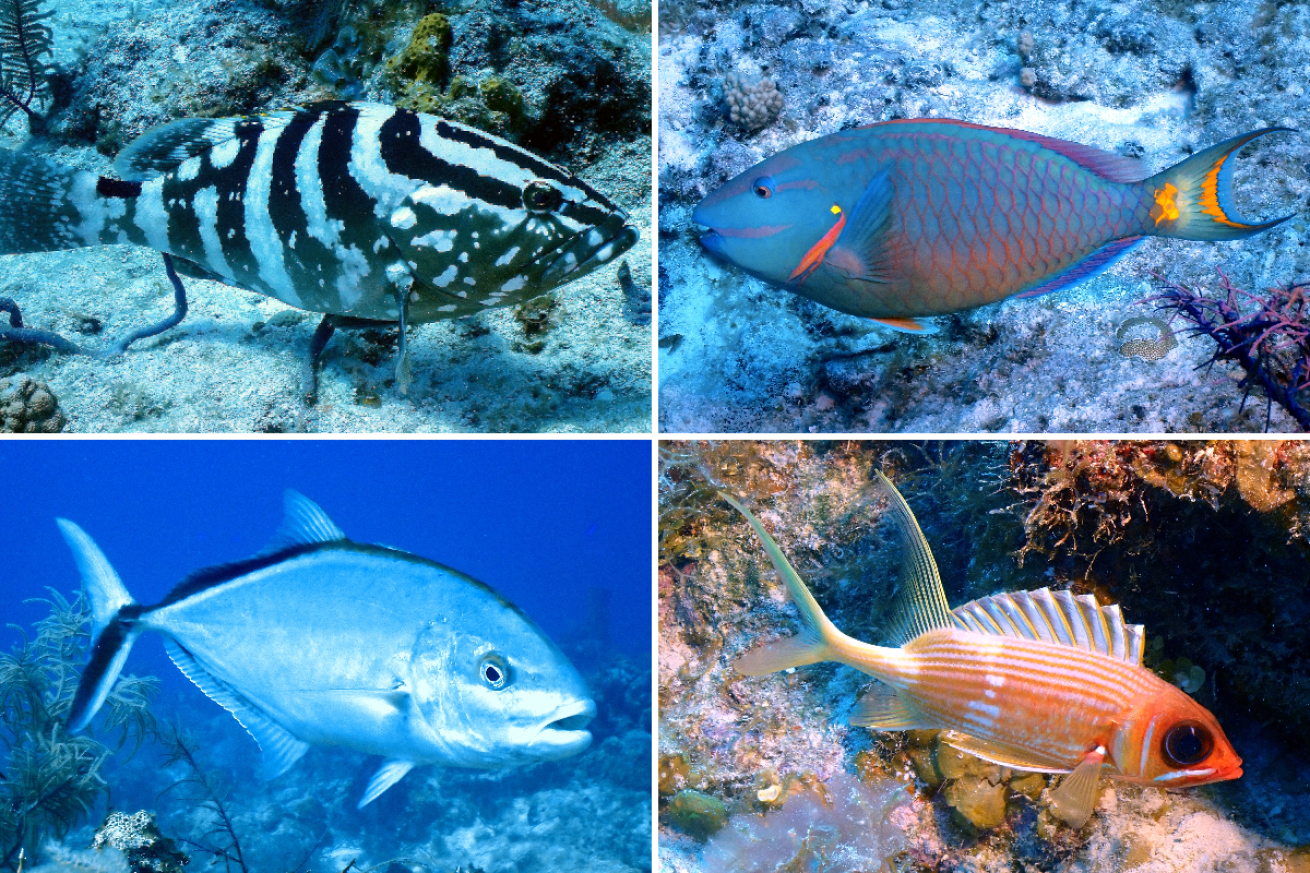 Clockwise from top left: Nassau grouper. Stoplight parrotfish. Longspine squirrelfish. Bar jack. All fish you're likely to see on your dives.

Candice Landau
We also spend some time exploring the touristy side of town. The resort area on Turks and Caicos is a miniature copy of your average wealthy American city. Think Santa Barbara, or West Palm Beach, or Carmel with fewer art galleries. It's all palm trees and fuchsia bougainvillea, and cafes and bars spilling onto outdoor patios. Manicured, beautiful and safe—but a lot like back home in the States. I can't help feeling slightly disappointed, hoping as I was for something that felt different. A touch more grit and distinctive culture. A little more edge.
Marine Life and Dramatic Drops: The Real Reason to Visit These Islands
On the final day of diving, the fish decide to turn on the charm, and to my absolute delight, I discover that, much like cats, they too play with laser dots. At Rock Garden, my OrcaTorch truly shines. Each time I use it to calmly gesture to a point of interest, the surrounding fish barrel toward the green dot, either chasing it, or playing with it, I'm not sure which. Before long I find I have a trail of interested friends. A bar jack stays close at heel, and even the shy squirrelfish peer like gophers from behind the rock they're guarding to see what is up. It's a maelstrom of activity.
Related Reading: Do Fish Play? Maybe
Stephen swims over the Gully in West Caicos, a large yellow tube sponge in the foreground.

Candice Landau
While the fishy dive certainly makes my day, my favorite dive still has to be the Gully thanks largely to the sheer chasm carved into a section of the wall. If you thought wall diving couldn't get more dramatic, then this site exists to prove otherwise. I fail to capture the drama on camera and later curse myself for not having attempted to photograph it while looking up, especially as yet another reef shark swims from below, right through the crevice.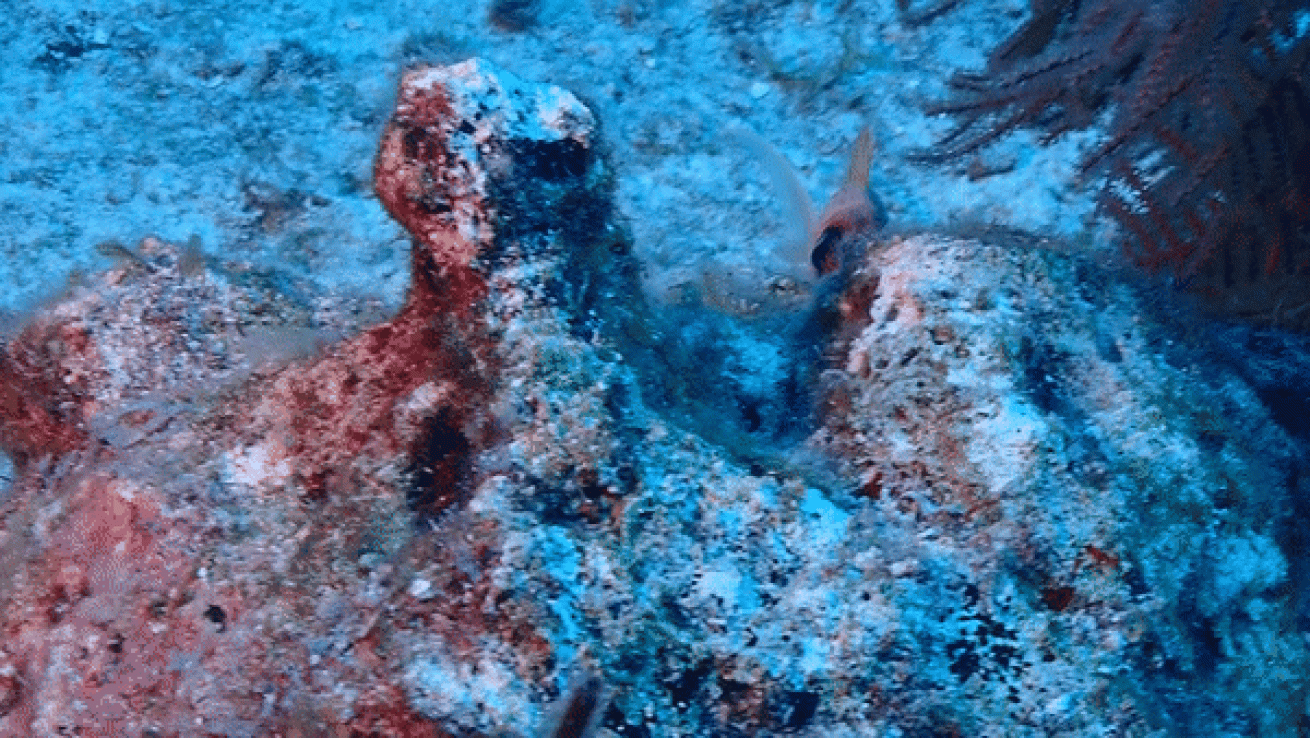 A longspine squirrelfish peers out at the author.

Candice Landau
While all of my dives in Turks and Caicos are wall dives, I am surprised to find each as interesting as the last. Saying you'll get bored of this type of dive is like saying you'll get bored peering at Wyoming's snow-capped Teton mountain range. Impossible. And while these islands may not have had the vibe that a place like Mexico has, if you're into watersports, beaches and wall dives, this is the spot for you. If you get a chance don't miss the opportunity to take the ferry over to North and Middle Caicos too. These islands are remote but a wilderness lover's dream, with Mudjin Harbor winning the spot for one of my favorite beaches of all time—geologically fascinating and utterly breathtaking.
If you have questions about this trip, about diving Turks and Caicos, or about exploring Provo, email Candice at candice.landau (at) padi.com or reach out to @scubascribbles on Instagram.
---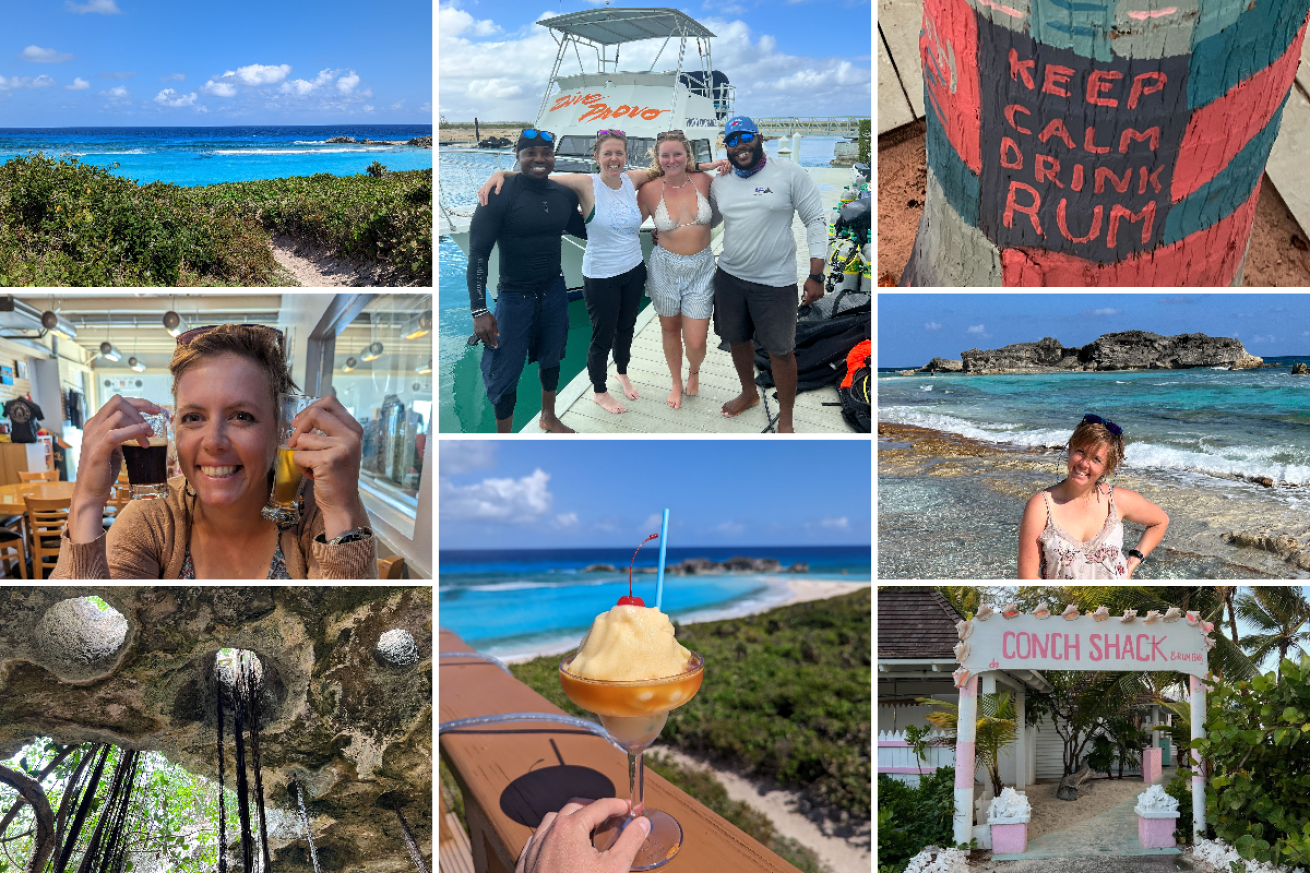 A taste of Turks and Caicos: Mudjin Harbor; Mudjin Harbor Bar and Grill; Da Conch Shack; Indian Caves; Turks Head Brewery.

Candice Landau
Need to Know
Operator: Dive Provo (rental gear available).
Conditions: During the winter months, conditions in Grace Bay are harder to predict. As a result, much of the diving happens off the more sheltered island of West Caicos. Expect an hourlong boat ride to reach West Caicos.
When to visit: While hurricane season in the Caribbean is from June to November, Turks and Caicos is still considered a year-round destination. The author's trip took place in February 2023.
Average water temperature: In winter the water temperature can drop as low as 74 degrees Fahrenheit. In summer it peaks at around 84 degrees. Rash guards or shorties are recommended in the summer, and full 3 mm or 5 mm wetsuits in the winter.
Getting there: If you're visiting Turks and Caicos you're likely flying into Providenciales. This is the main airport in the region, and large flights land here.
Where to stay: While the author stayed at an Airbnb, there are a lot of different options depending on your budget and your preferences. This is an island packed with resorts, condos, and more.
Sites dived by the author: Magic Mushroom, Boat Cove, Devil's Horn, Yankee Town, the Gully, Rock Garden.
The author's favorite places to eat and drink: Omar's Beach Hut, Turk's Kebab, Coco Van, Turks Head Brewing, and Da Conch Shack.
The author's favorite nondiving excursions: Horse riding on the beach, Mudjin Harbor on Middle Caicos, Coral Gardens and Smiths Reef for snorkeling
Useful resources when planning a trip: Fodor's In Focus Turks & Caicos Islands guide book, Official TCI Tourism website, Visit Turks and Caicos website.
Why are so many of the dives wall dives? The Turks and Caicos islands are positioned on an undersea plateau marine bank that rises roughly 10,000 feet above the Atlantic Ocean sea floor. It's along this bank that we love to dive, dancing between the shallow barrier reef and the edge of the plateau.
---