Wayne Hasson Joins Scuba Diving's Sea Heroes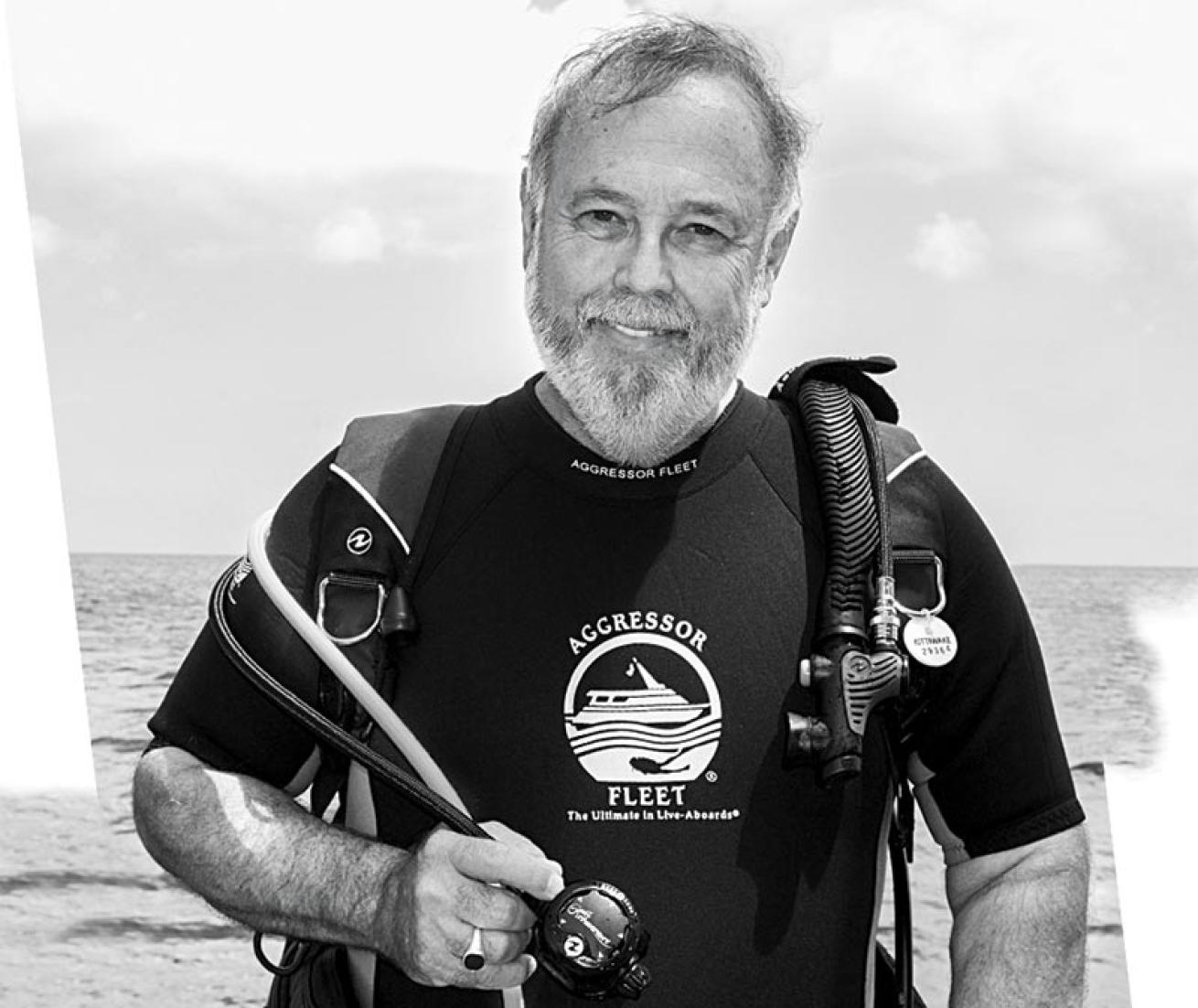 Wayne Hasson, Aggressor Fleet president and Oceans for Youth founder, is honored as a Scuba Diving Sea Hero for giving back to the next generation of divers.

Wayne Hasson
Wayne Hasson, president of Aggressor Fleet, is legendary as the man who invented liveaboard diving as we know it today. He's come a long way since trying to teach himself to dive at 17 with equipment from Sears, Roebuck — "admittedly, I was not very good at this," he says with a laugh. What hasn't changed is Hasson's childlike wonder at all things ocean, and his passion for introducing kids and adults to that world through the Oceans for Youth Foundation, a network of thousands of volunteers who bring ocean education to student and civic groups. For his drive to share and protect the underwater realm, Hasson is our May Sea Hero.
Oceans for Youth Foundation is about to hit 20 years. Tell us how it started.
Oceans for Youth (oceansforyouth.org) began with the SASY, or " Supplied Air Snorkeling for Youth" [a modified scuba unit that allows users to breathe from a continuous air supply while floating on the surface]. I invented this device and received a patent that was licensed to Scubapro, Aqua Lung and others. Within the first few years, there were hundreds of SASYs used in resorts, dive shops and even at Disney World parks. PADI offered a SASY certification; they later went on to develop their own programs for youth.
Why is it important to introduce young people to the oceans?
It's youth who can make a difference to future generations. But it takes more than a handful of dive shops, instructors and training agencies. It will take our government and governments around the world insisting on more marine-science education in public and private schools to enable young people to really understand the importance of protecting our oceans.
Year Certified: 1969

Age When Certified: 20

Certification Level: SSI Instructor Certifier; PADI, SDI, TDI and NAUI Instructor

Words to Live By: "I live to dive and enjoy being underwater wherever I am."
Oceans for Youth does not exclude adults — it has always been our mission to engage adults to educate youth about aquatic life. From the start, we solicited volunteers to go into schools and show kids programs that we provided, many of which were donated by the Ocean Futures Society founded by Jean-Michel Cousteau, who sits on the Oceans for Youth advisory committee.
Oceans for Youth sponsors travel to Cuba's Gardens of the Queen — why Cuba?
Gardens of the Queen is a prime example of what our oceans would look like today if only we were allowed to protect them as Cuba has so far. Cuba managed to do this by simply not allowing any outsiders to come into their waters and take their marine resources. They established marine protection programs early on, with very little in the way of financial resources, protecting and keeping this 75-mile stretch of flora and fauna healthy. Divers who do the Oceans for Youth program leave with a sense of respect; hopefully many will tell others — including younger generations — that they witnessed life underwater the way it should be everywhere.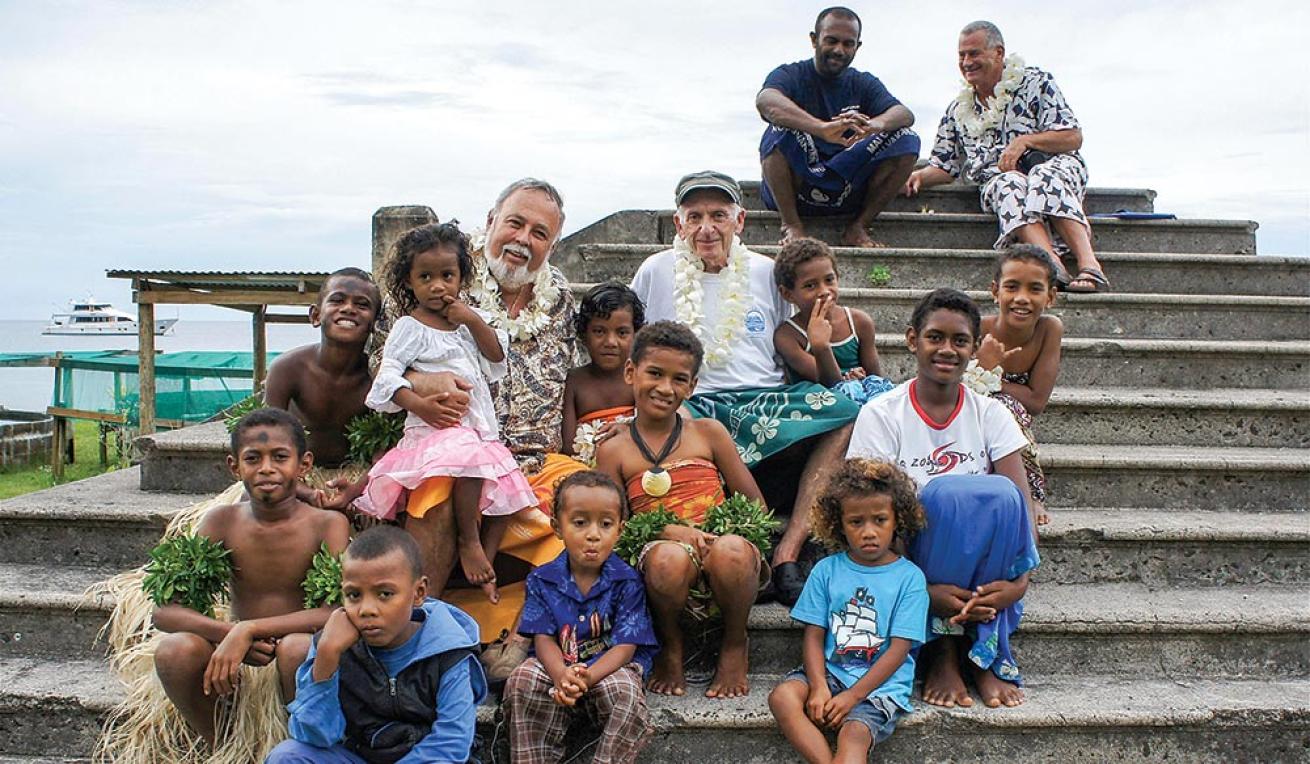 "I'm just a big kid myself," says Hasson, seen here (center left) with local children in Fiji.

Wayne Hasson
What's the biggest challenge you see in marine conservation?
Finding many more men and women who think alike and believe in saving what we still have left of our environment, people who will take time to talk to our youth about the importance of aquatic life for the future of our planet. Over-fishing is the most critical issue today, followed by the pollution we put into our waters that ends up harming or actually killing our natural resources.
What's been your most satisfying moment with Oceans for Youth Foundation?
The day the dive industry first said "yes" to lowering the age to become certified [to 10 for junior open-water divers]. I became a NAUI Instructor in 1971 and have taught thousands to dive, and even today enjoy sharing any bit of knowledge I have about our sport and the environment we must all work to protect. To be able to go into schools and give presentations that excite our youth and inspire them to take a look underwater is a pleasure I have had so often in my life, along with ever so many smiles, laughs and hugs.
How can divers help?
Use your own powers of persuasion to encourage youth to take a look underwater.