Five of the World's Most Luxurious Liveaboards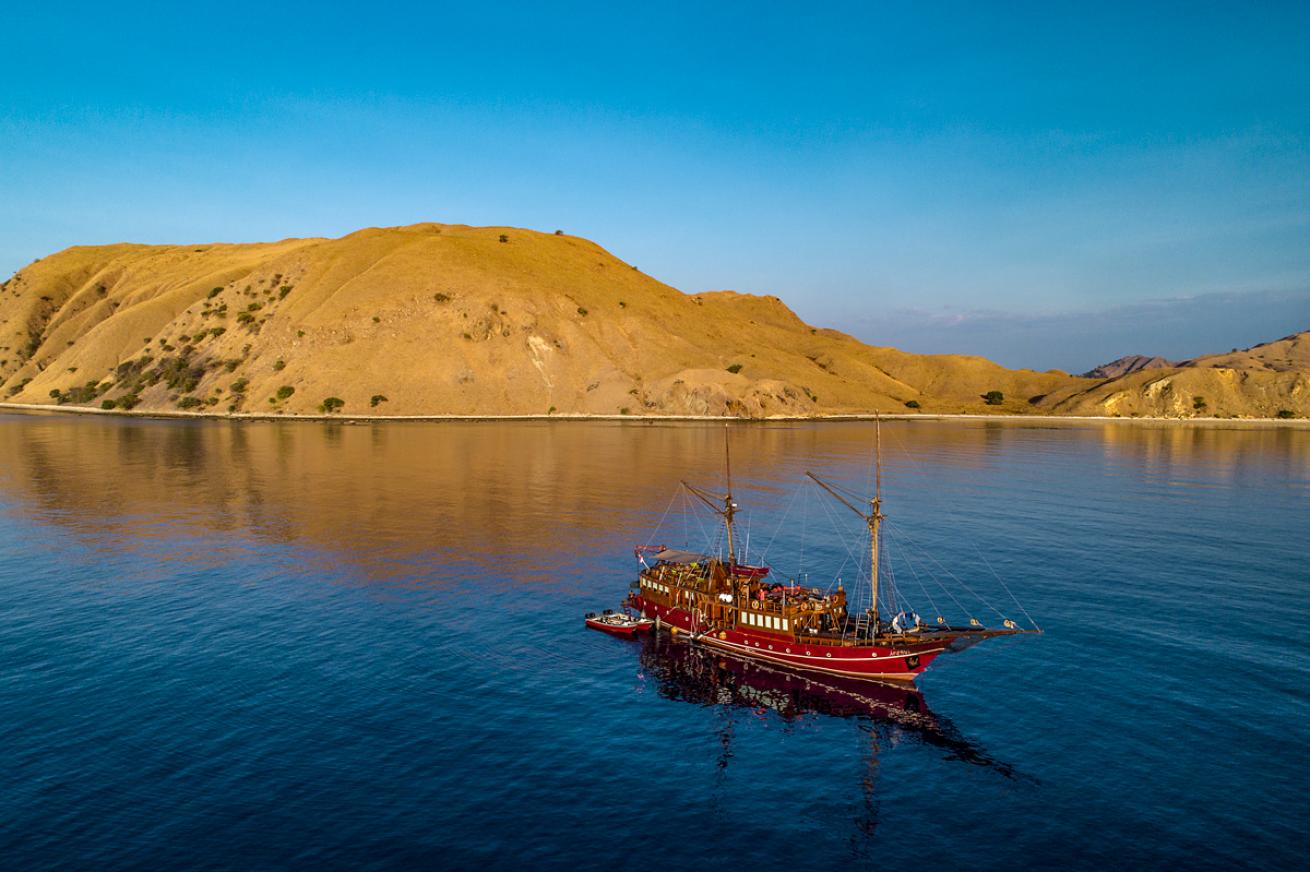 Arenui, based in Indonesia, was built in the style of a traditional wooden Phinisi sailboat with five-star amenities.

Courtesy *Arenui*
Picturesque destinations, beachfront accommodations, premium excursions—the dive life has its indulgent moments. But sailing the seas on a beautiful yacht with fine dining, onboard spa treatments and exciting marine encounters? Now that's true luxury. Here are five of the most deluxe liveaboards to add to your dream-trip list.
Galapagos Aggressor III
With such diverse and unique life to be seen both topside and underwater, the Galapagos is an enchanting destination for any diver.
But sailing in style on Galapagos Aggressor III, you'll combine the thrill of seeing megafauna and visiting iconic dive sites with the amenities that make a trip a vacation. Bright blues and rich teak wood accents give this 100-foot-long yacht an elevated nautical feel. Its spacious salon has plush couches to relax on, and the top level is split into a sun deck with chaise lounges and a large covered cocktail area perfect for al-fresco R&R between dives.
When it's time to dive, you'll board a tender and visit Wolf Island and Darwin Island, home to the iconic Pillars of Evolution (formerly Darwin's Arch).
Visiting from June to November, you're sure to encounter whale sharks, while December through May will bring large schools of hammerheads, mantas and eagle rays.
No matter when you set sail, you'll have the chance to see dolphins, marine iguanas, penguins, sea lions, fur seals, and plenty of rays and sharks—including Galapagos sharks, which were first discovered in this region.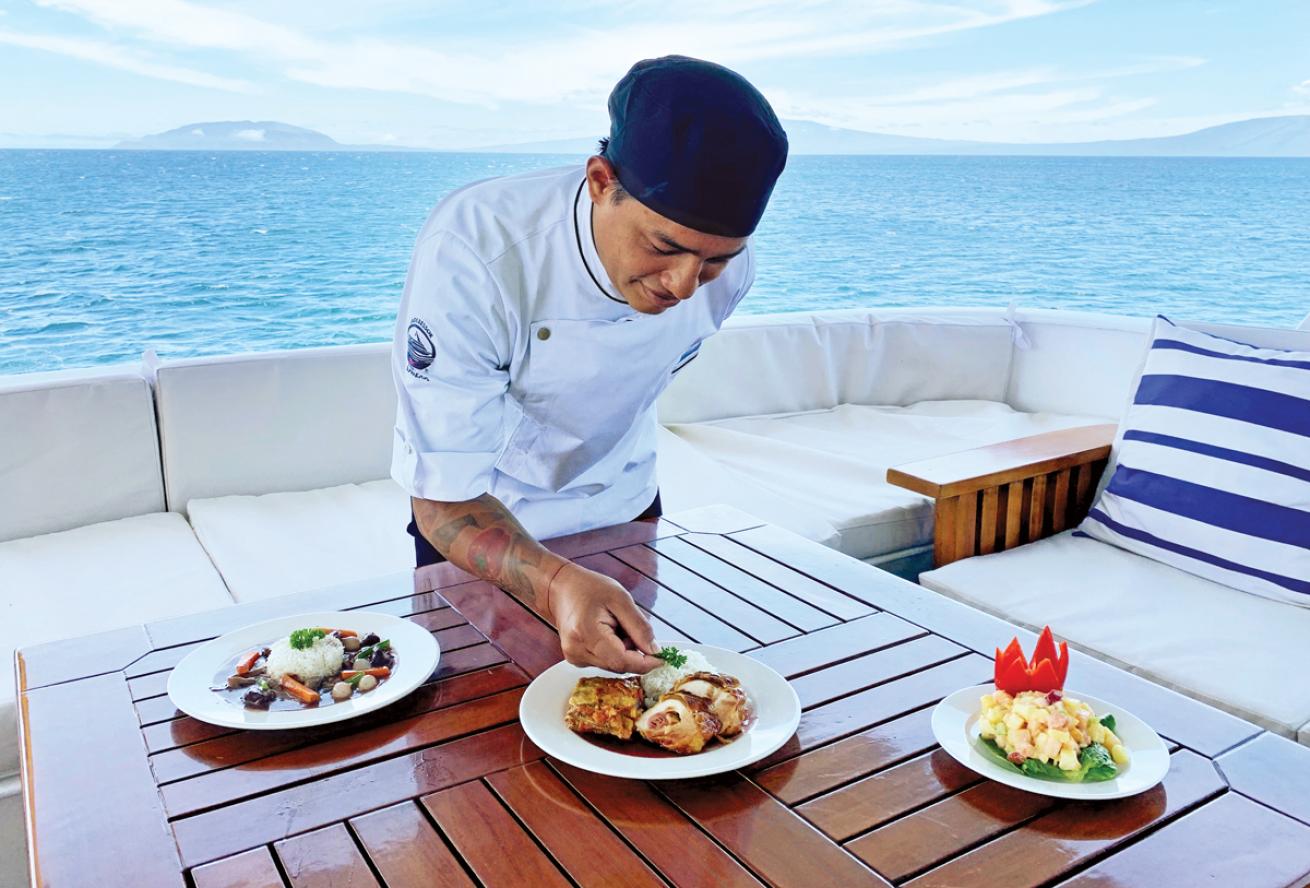 Some of the chef-prepared dining options aboard Galapagos Aggressor III.

Courtesy Aggressor
You'd be remiss to visit the Galapagos and not explore the gems it holds topside too, which is why this high-end charter includes a few land excursions.
Take in incredible vistas on an afternoon hike to the top of Bartolomé Island's summit and a private bus tour across the Highlands of Santa Cruz Island; visit a tortoise reserve to see giant Galapagos tortoises; and keep an eye in the sky for rare birds like albatrosses, flamingos, blue-footed boobies and royal frigate birds.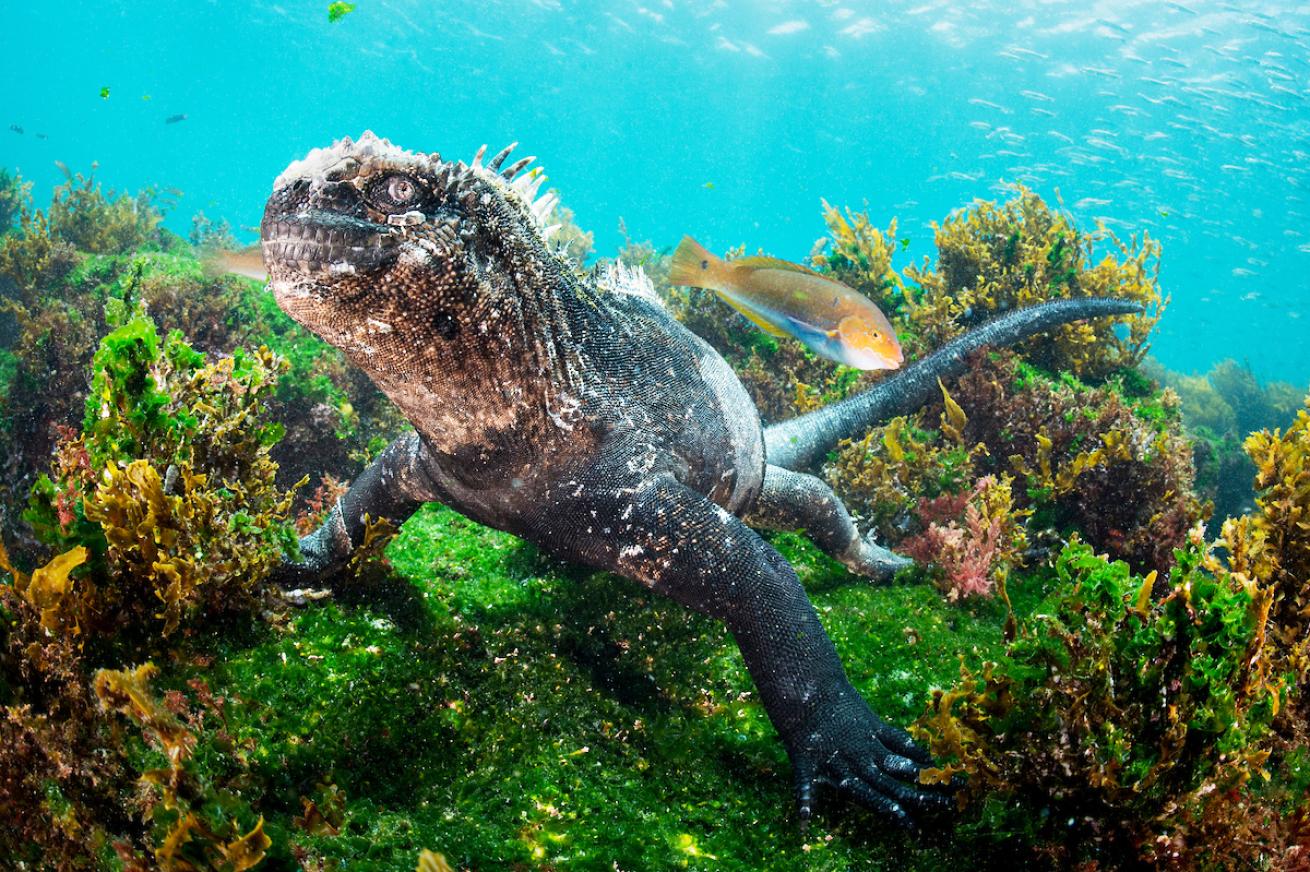 Steve Jones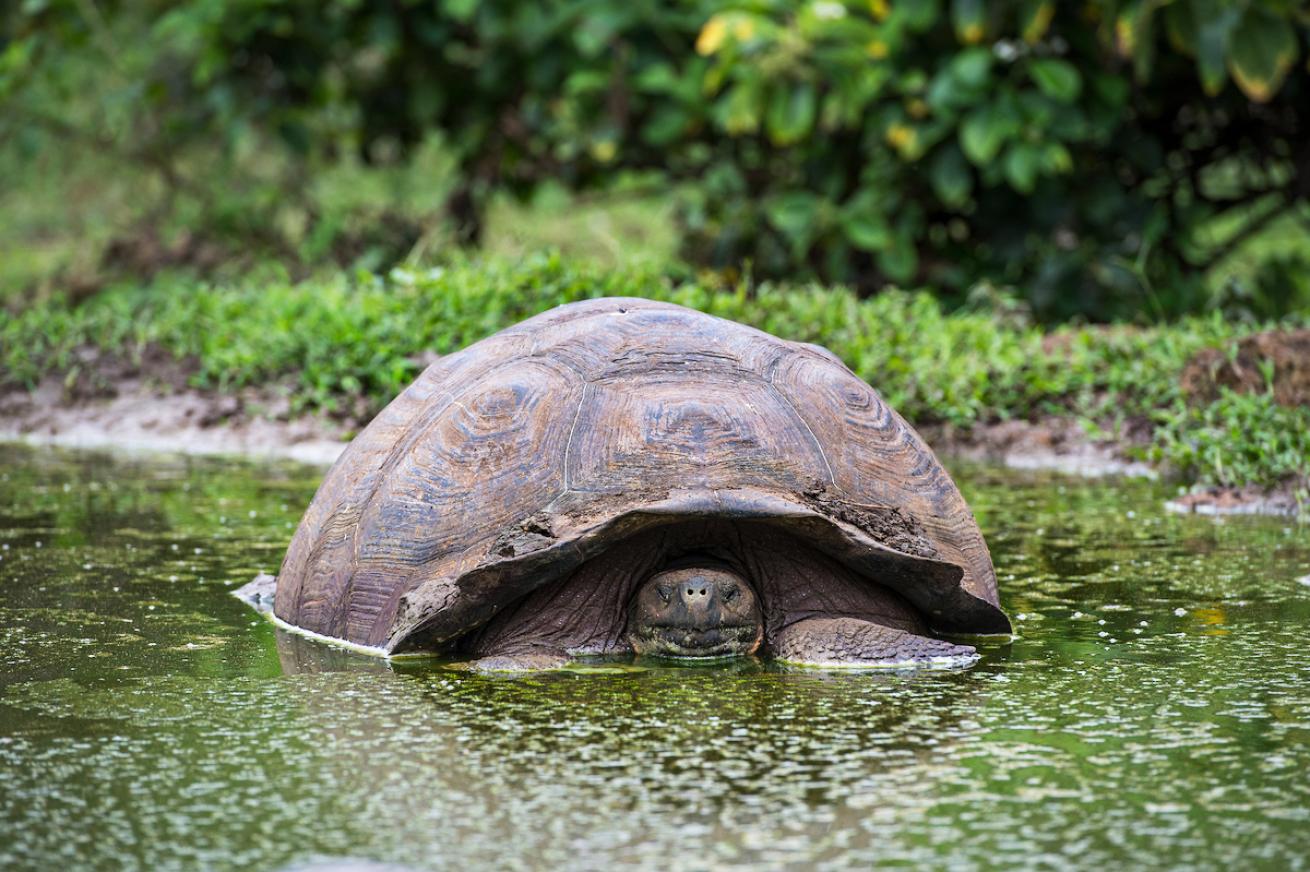 Steve Jones
End each day of adventuring with a chef-prepared meal in the dining area, then head up to the hot tub to watch 
the sunset with a beverage in hand.
Need To Know
Home Port Baltra, Galapagos

Dive Season Charters can be booked year-round.

Cconditions From June to November, water temps range from 60 to 75 degrees. From December to May, waters are warmer, ranging from 70 to 86 degrees.
Price $6,995 to $7,150
Contact [email protected]
Arenui
Boarding this classic Indonesian ship, you may feel like you're stepping back in time. But the designers
of Arenui, which is built like a traditional wooden Phinisi sailboat, made sure it was equipped with all the amenities of a five-star hotel.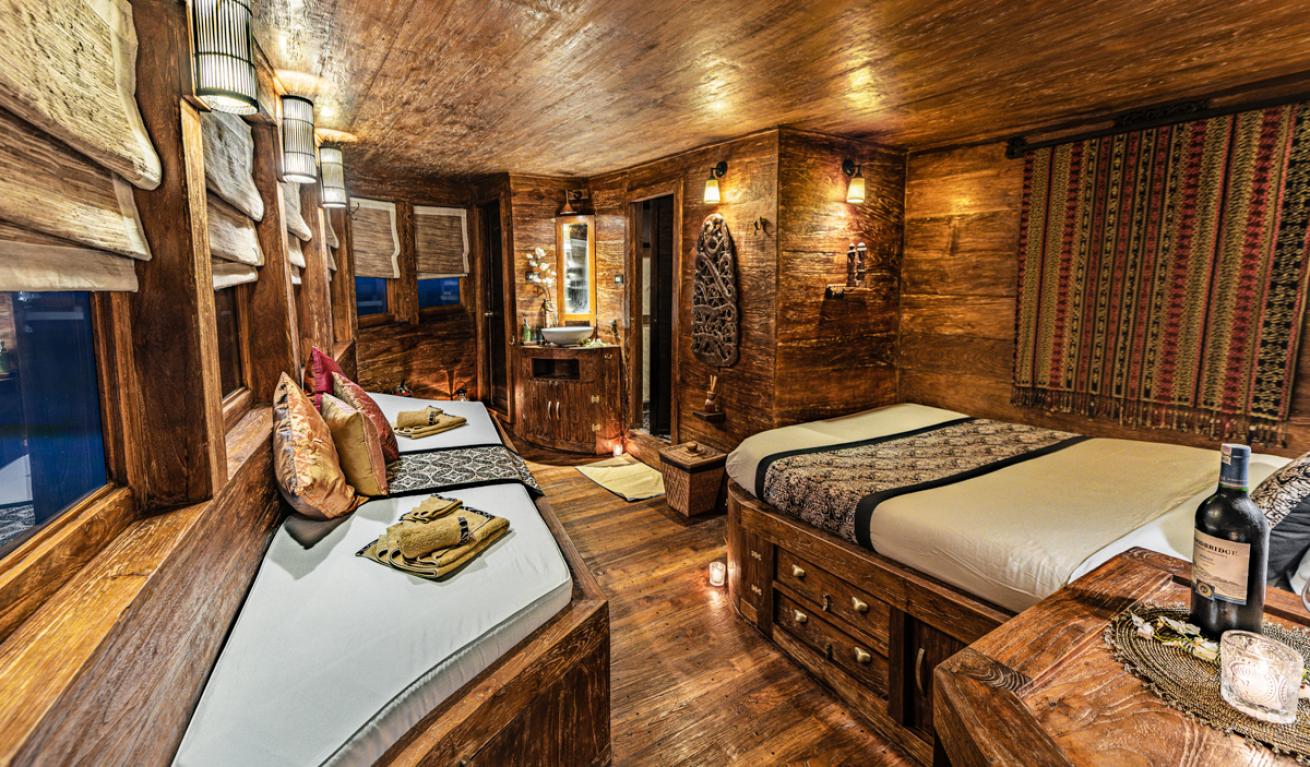 A rich boutique cabin aboard Arenui.

Courtesy *Arenui*
You can think of it as a 141-foot luxury pirate ship, crafted from ironwood in South Sulawesi, Indonesia, and accented with handmade bronze, brass and copper features such as door handles and lamps. The ship's elaborate decor and rich colors mimic what you'll see underwater.
Arenui sails a few routes, visiting bucket-list destinations including Raja Ampat, Komodo and Alor. There's even a 22-night Best of Indonesia trip for those who want to see it all.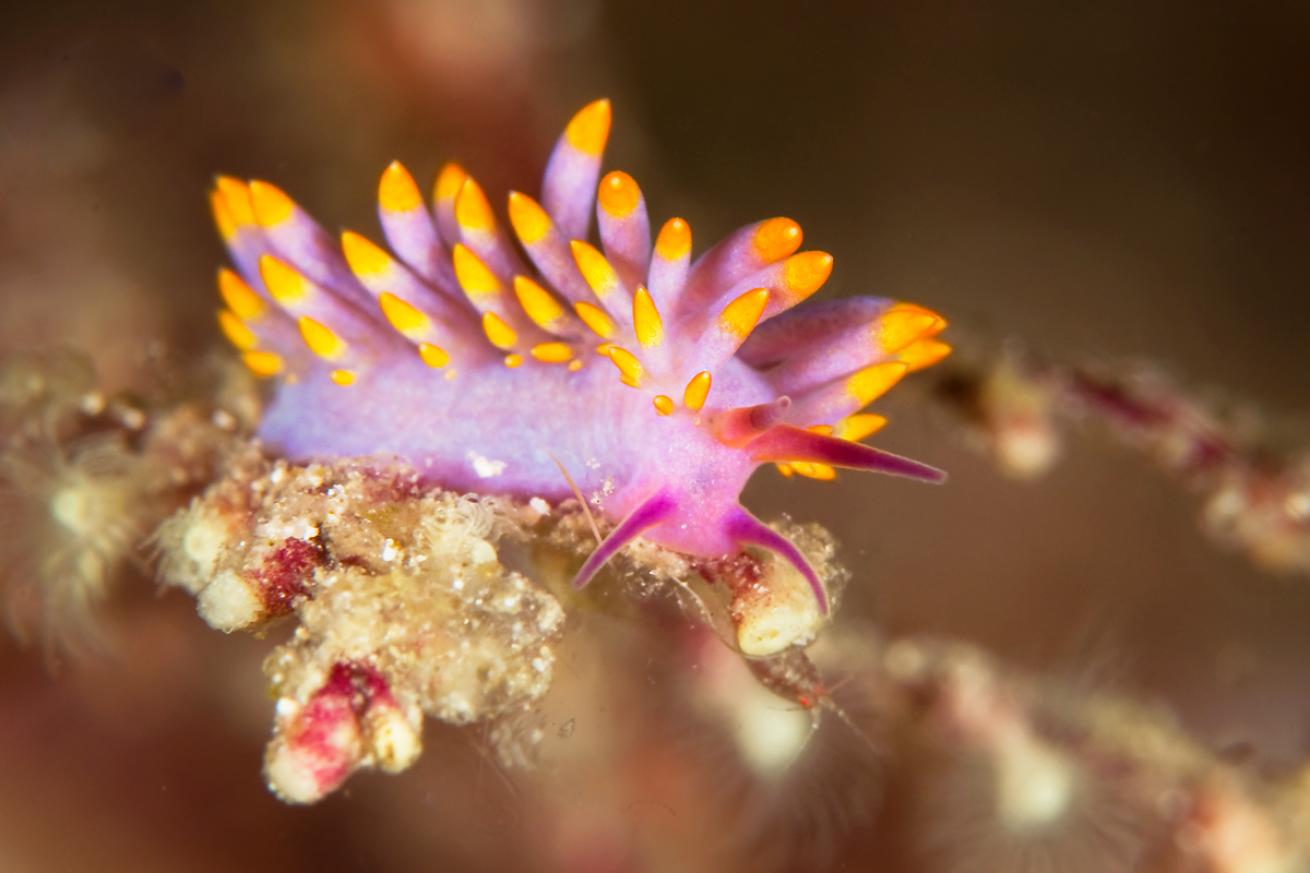 A Cuthona sibogae sea slug spotted in Indonesia.

Takako Uno
Each itinerary has something extraordinary to offer: Alor is a critter-spotter's paradise, with untouched reefs and animals such as nudibranchs, seahorses and the elusive Rhinopias scorpionfish. Raja Ampat, located at the heart of the Coral Triangle, is a hub of biodiversity unlike anywhere else on Earth. Its reefs are some of the most colorful you'll see, and they're home to animals big and small. Visiting Komodo, you can dive around a volcano, encountering pelagics like mola mola, whale sharks and mantas—plus, there are side excursions to see the famed Komodo dragons up close (or, from a safe distance).
Back on board, the topdeck sky lounge, complete with day beds and mattress-topped benches, is great for sunbathing, taking in views or getting a soothing massage. Each night, you'll enjoy candle-lit dinners prepared by internationally trained chefs and served either in an ornate indoor dining room or the open-air sky restaurant. And you're sure to get sound sleep in the boutique cabins—some with king-size beds—which feature the same wood panel- ing and detailed fixtures seen throughout the ship.
Need To Know
Dive Season Charters can be booked year-round.
Conditions Water temps range from 81 to 86 degrees year-round.
Price $4,690 to $14,740
Contact [email protected]
Pacific Vortex
The Vortex dive yacht is a former Canadian Coast Guard vessel that's been converted into one of the most superior liveaboards cruising the Pacific. The 140-foot boat allows only 14 guests aboard at a time, so whether you're eating dinner or gearing up on the dive deck, you'll never feel cramped.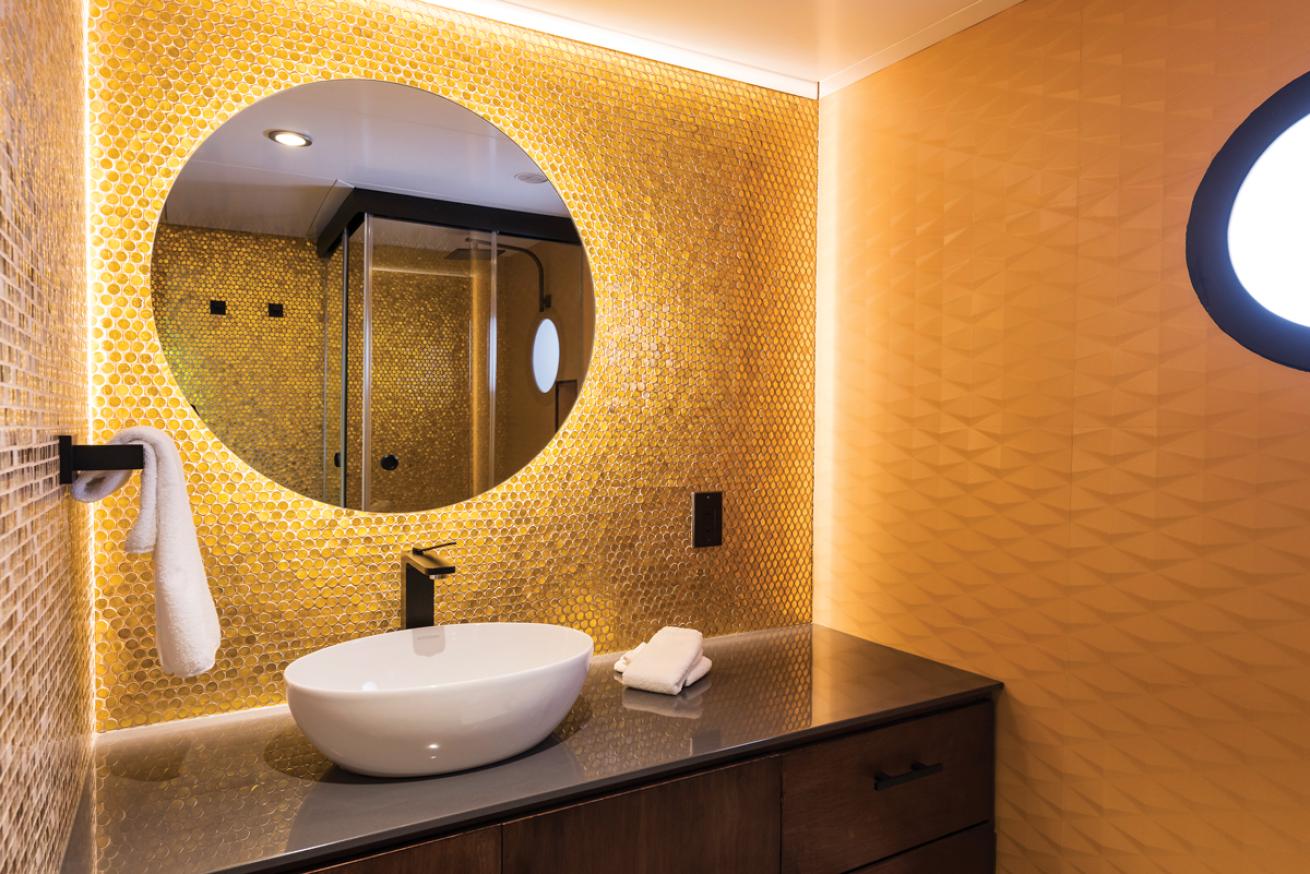 Luxurious amenities abound aboard the Pacific Vortex.

Courtesy Ana Paula Alverez / Pacific Fleet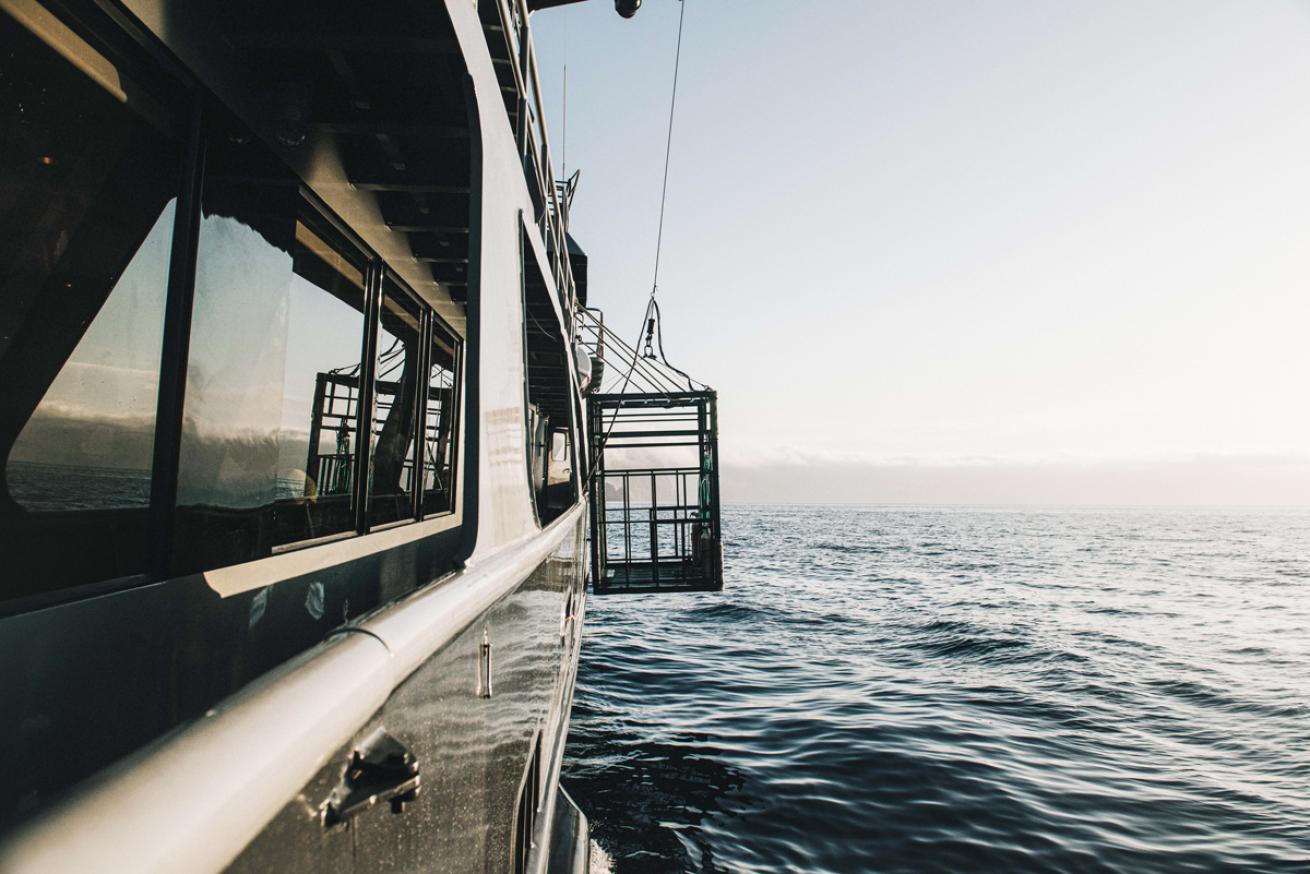 Vortex offers big-animal encounters, such as sharks or manta rays depending on the time of year. One thing that can be enjoyed year-round: luxury amenities and plenty of room to relax.

Courtesy Ana Paula Alvarez / Pacific Fleet
"All divers know that when it comes to liveaboards (and boats in general), each inch counts—a lot," says Jorge
De Haro, Pacific Fleet's marketing director. "The Vortex could easily fit more than 30 guests, but that was definitely not our intention. Our intention was to create something unique. And to provide unique experiences."
It's safe to say Vortex delivers on this goal. Visiting Socorro Island, Roca Partida and San Benedicto from November to June, divers can see giant pacific mantas, humpback whales, jacks, tuna and over seven species of sharks. If you're lucky, you may even see an orca or baitball.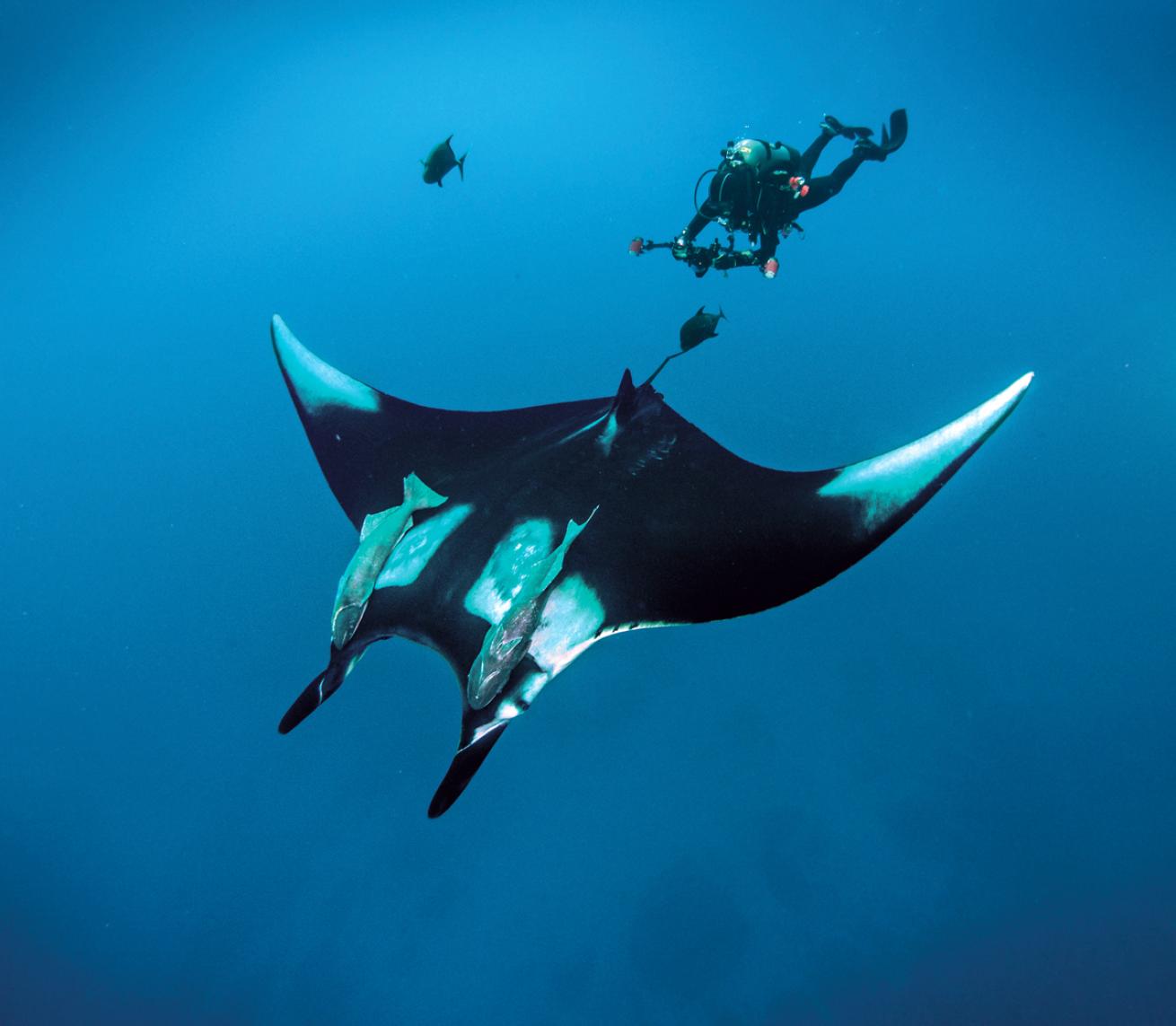 A diver captures an image of a beautiful Manta Ray.

Olga Torrey
From August to October, the ship moves to Guadalupe Island, where guests can spend days cage-diving with great white sharks. It even has a self-propelled cage that allows divers to observe these animals in their natural environment.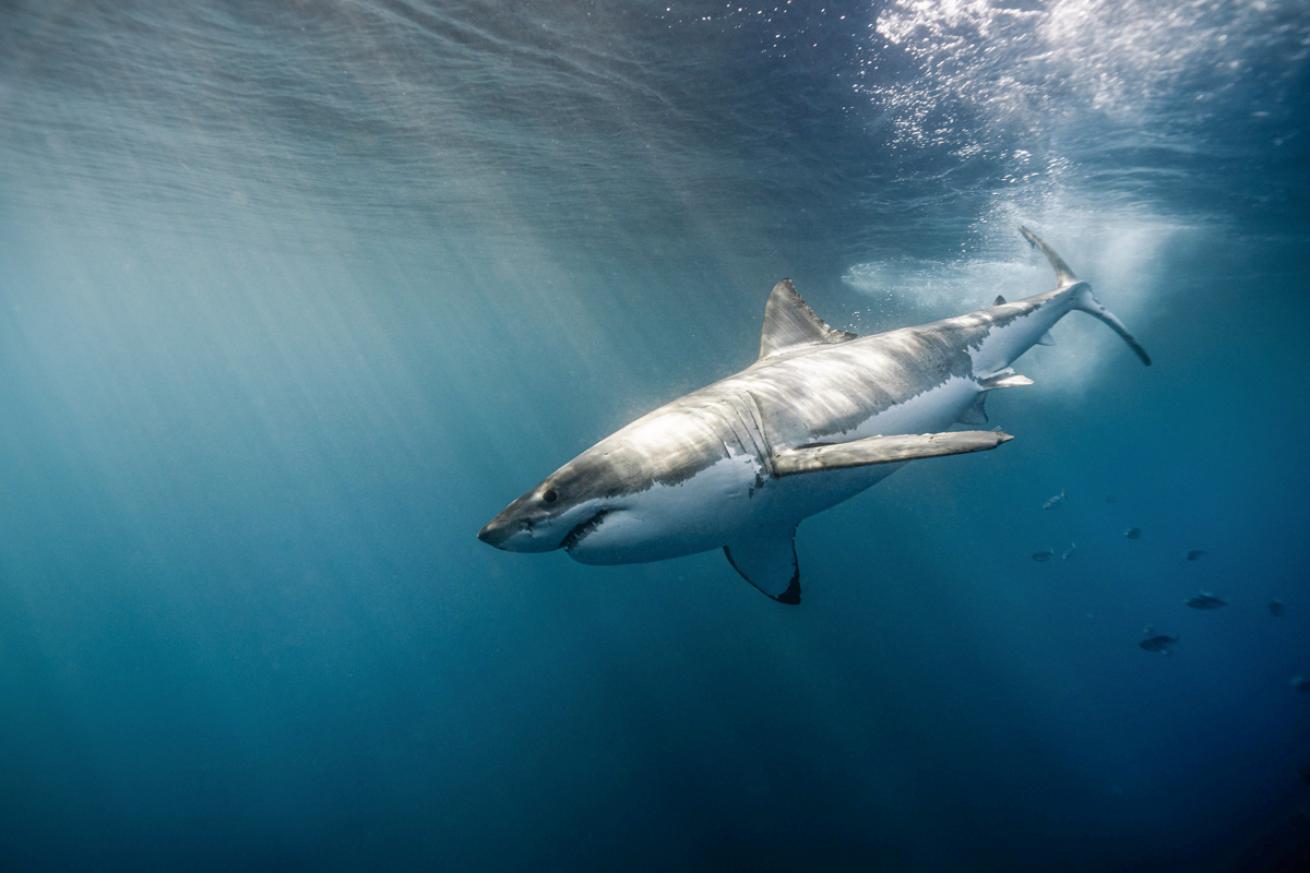 A Great White Shark glides by.

Courtesy Will Strathmann / Pacific Fleet
The ship offers four- to 12-night itineraries, including signature trips. During these excursions, the yacht hosts special guests such as world-class chefs, photographers, and wine and spirits experts to enhance your time out of the water. But between its roomy suites with king beds, outdoor bar with beer on tap, and plush lounges, it doesn't need much to ensure your surface intervals are top-notch.
"Everything on the Vortex was tailor-made and hand-picked," De Haro says. "But it's not just about luxurious linens, silverware, top-shelf liquor, etc. It's about service and extra space. It's a completely different experience. And if you are already traveling 24 hours out to sea, why not have the best experience possible?"
Need To Know
Dive Season Vortex visits the Socorro Islands from November to June and Guadalupe Island from August to October.
Conditions Water temps from 74–80 degrees in Socorro and 65–70 degrees in Guadalupe during respective dive seasons.
Price $5,000 to $10,050
Contact [email protected]
Scuba Scene
They say bigger is better, and at 141 feet, Scuba Scene is one of the largest vessels on the Red Sea. The yacht, which underwent an extensive renovation in 2021, has covered and uncovered outdoor seating areas, a salon with plush couches, and an elegant dining area for meals and treats prepared by the onboard head chef and pastry chef. Each room has its own climate control and mini fridge, and en suite bathrooms are finished with stone-tiled showers and modern fixtures.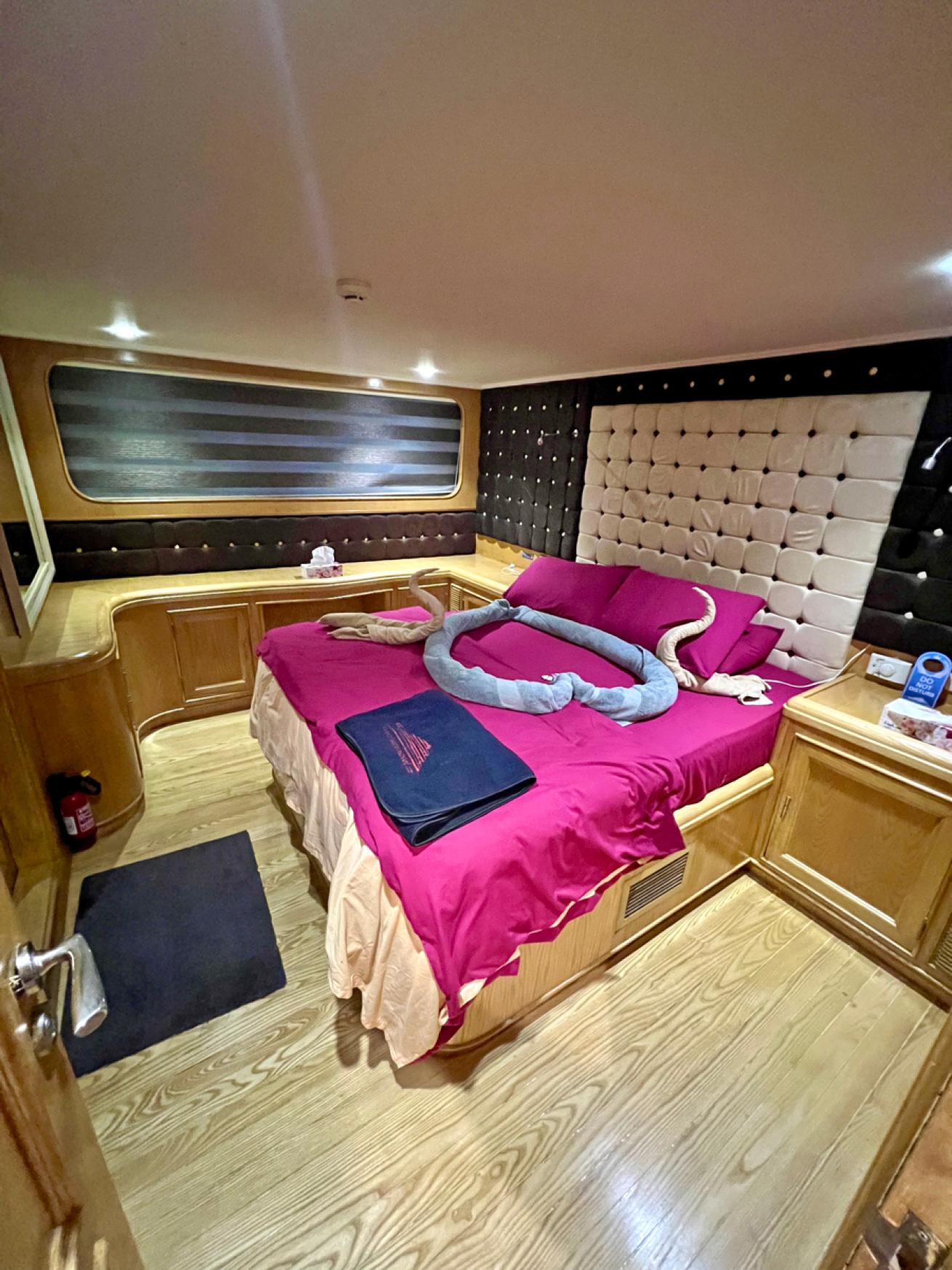 A newly renovated cabin aboard Scuba Scene.

Courtesy All Star Liveaboards
"All liveaboards offer the same basic experiences underwater. When choosing a luxury liveaboard versus a standard one, it comes down to how you want to live while you dive," says Kevin Purdy, All Star Liveaboards' sales marketing manager. "With Scuba Scene, there are four decks for guests to spread out and relax."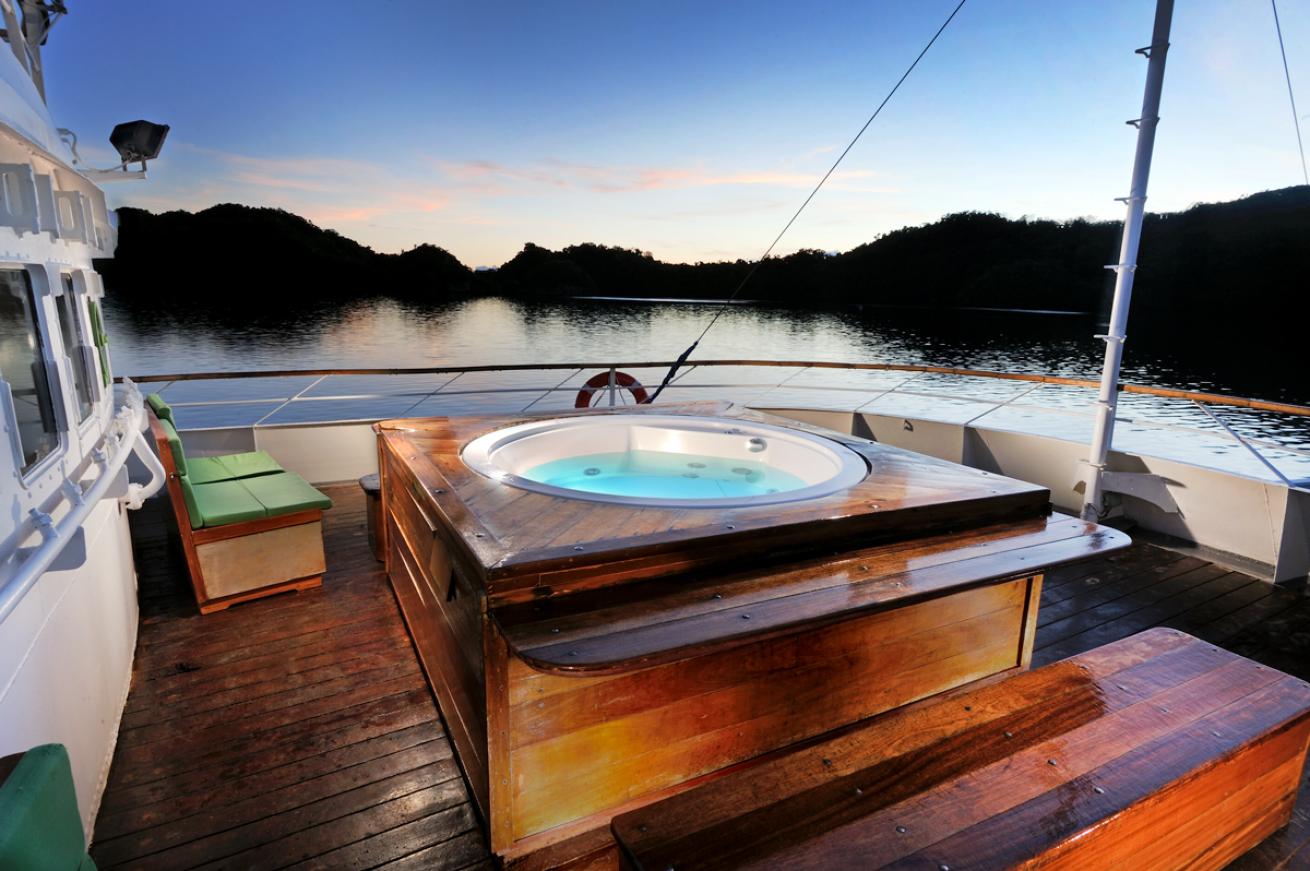 The jacuzzi aboard M/V Solitude One.

Courtesy All Star Liveaboards
Although bubble-watchers will have a fantastic trip just staying on the boat, the real excitement comes below the waves. Scuba Scene has itineraries in the Northern and Southern Red Sea, with highlights including Ras Muhammad National Park, the SS Thistlegorm wreck and Elphinstone Reef.

In either direction, you'll be wowed by the region's vibrant colors and healthy coral covering. Along the reefs, keep an eye out for moray eels, batfish, native lionfish and rare nudibranchs. You could also encounter megafauna like rays, dolphins and some of the over 40 species of sharks found in the Red Sea.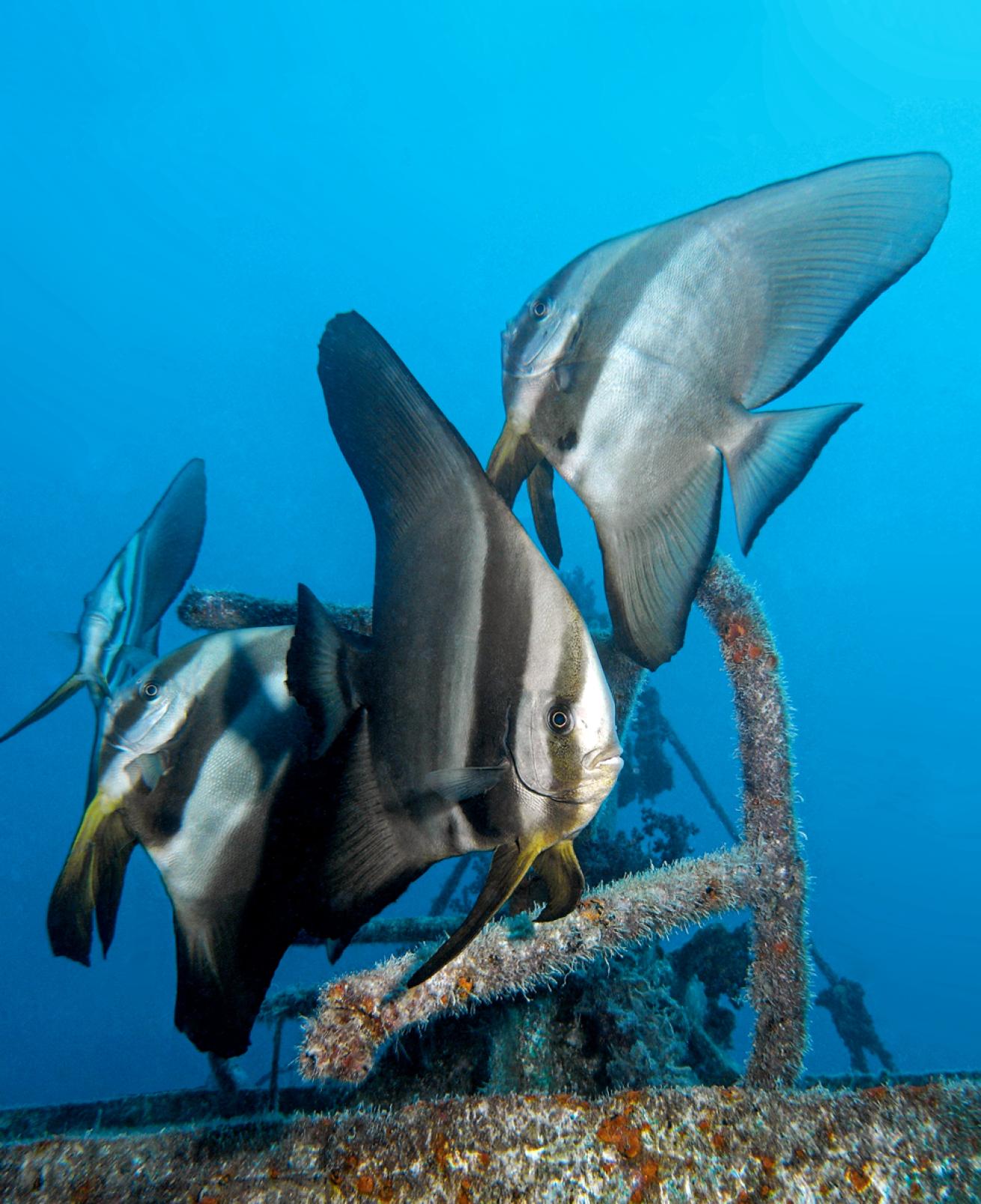 Batfish on an artificial reef in the Red Sea.

Courtesy All Star Liveaboards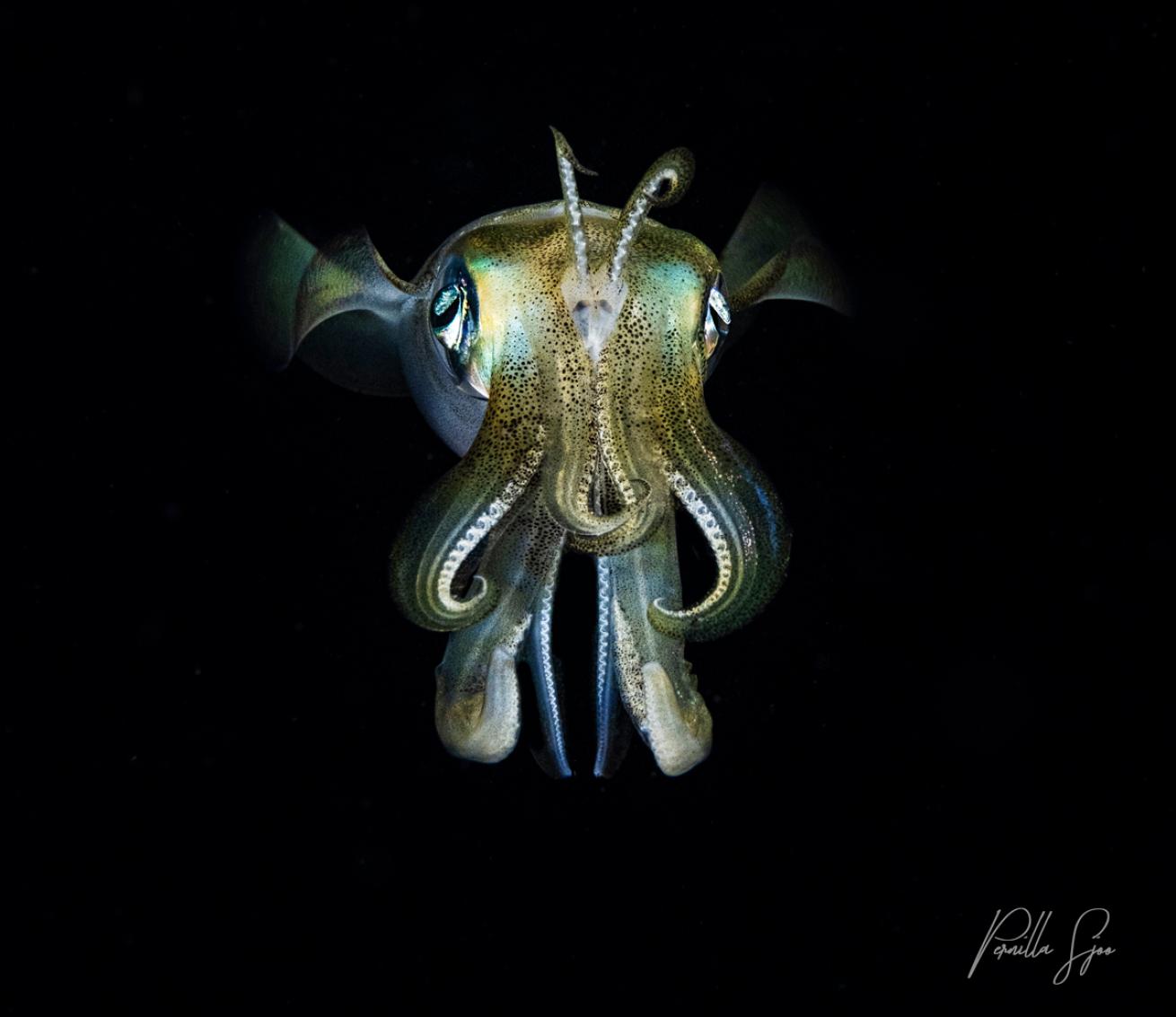 A cephalopod on a black-water dive in Romblon.

Courtesy All Star Liveaboards
To get the full historical and cultural experience of Egypt you can add a pre- or post-sailing excursion to see the Pyramids of Giza, tour the capital city of Cairo or cruise down the Nile River.
Need To Know
Home Ports Hurghada and Port Ghalib, Egypt

Dive Season Charters can be booked year-round, but the best times to dive the Red Sea are March to May or September to November.
Conditions Water temps range from 68 degrees in winter to 88 degrees in summer.

Price $1,300 to $1,700
Contact [email protected]
M/V Solitude One
Another archipelago with breathtaking topside views and even more picturesque underwater marvels, the Philippines is a highly sought-after destination for divers. There are plenty of liveaboards to choose from in the region, but one stands out from the rest—if only for its sheer size.
The largest ship on our list, the rebuilt steel-hulled merchant vessel M/V Solitude One spans an incredible 171 feet. As you can imagine, it's spacious. There are 10 rooms with en suite bathrooms shared between 22 guests, including one quad cabin for groups of individual travelers or those who don't mind giving up a little privacy to save cash on the trip of a lifetime.
Six- to 12-night itineraries are available in the Philippines from April to October. There are three destination choices: Tubbataha Reef Marine Park; Anilao to Surigao; and Romblon, Ticao and Verde Island.
Tubbataha is known for its healthy reefs, such as the notable Jessie Beazley Reef, which is a magnet for megafauna like hammerhead and mako sharks, eagle and manta rays, and more. Anilao is a hotspot for muck diving. And the Romblon, Ticao and Verde Island itinerary features black-water night dives, a tour of the Snake Island mangroves, and a stop at Manta Bowl, one of the best places to see rays in the Philippines.
On some routes, such as from Anilao to Surigao, the captain stops off at a secluded beach for guests to enjoy a tranquil dinner ashore. Finish with a nightcap in the bowside jacuzzi, and you'll be feeling refreshed and ready to roll out of bed and back into the ocean the next day.
Need To Know
Dive Season Charters can be booked year-round; due to seasonal rains, the best time to dive the Philippines is March to June.
Conditions Water temps range from 73 to 86 degrees.
Price $2,820 to $5,170
Contact [email protected]
Palau Siren
This 131-foot-long sailing yacht was handcrafted by master builders in Sulawesi, Indonesia, to combine traditional Palauan design with modern comforts. The stunning craftsmanship is seen throughout the ship, from the camera preparation area to the teak dive benches to the sun deck dotted with lounge chairs—perfect for catching some rays, or catching some Z's between dives, which is something you can only do when on a liveaboard.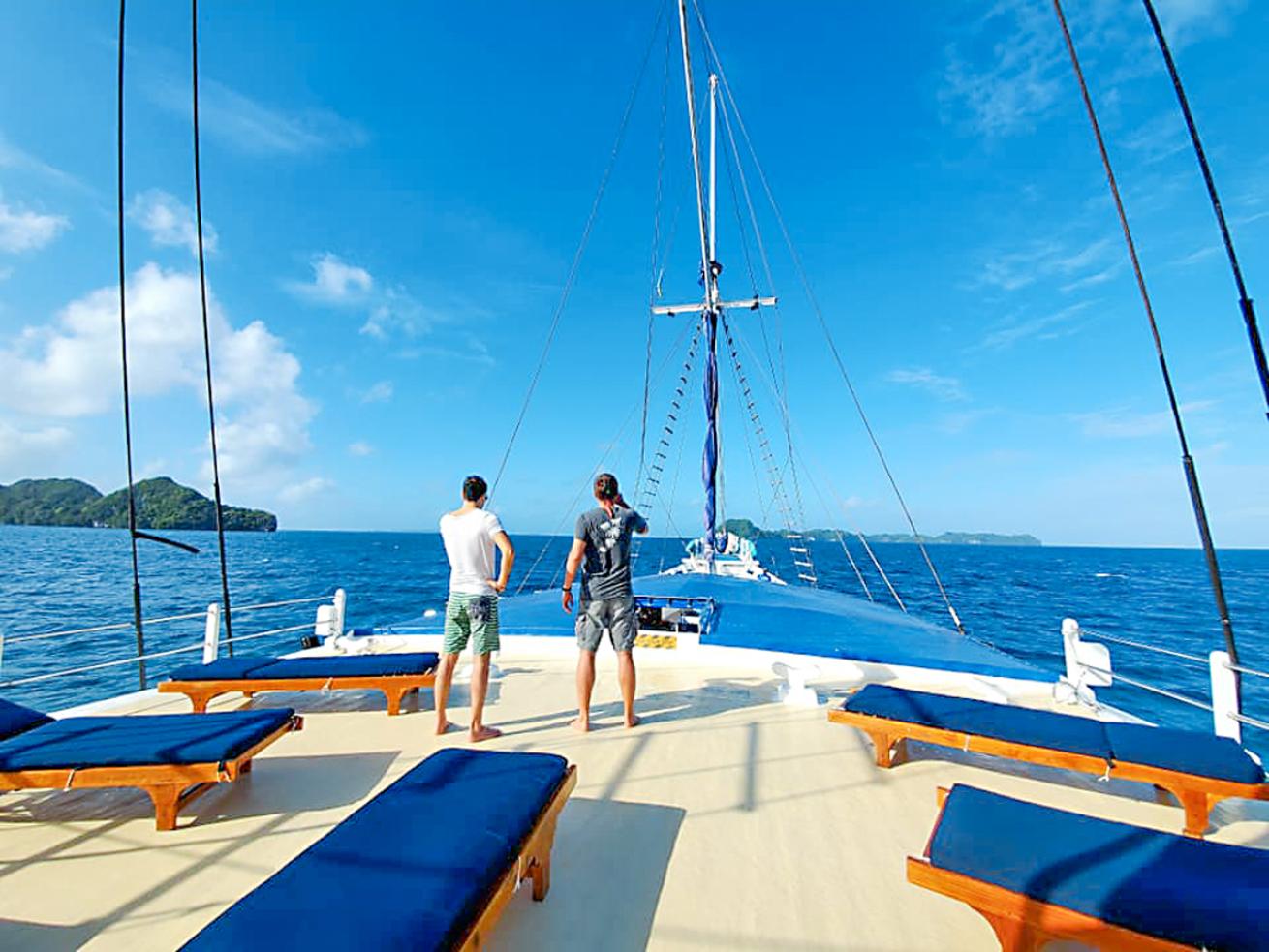 A trip aboard Palau Siren is a bucket-list experience, from the dive deck to the saloon to the action underwater.

Catherine Chow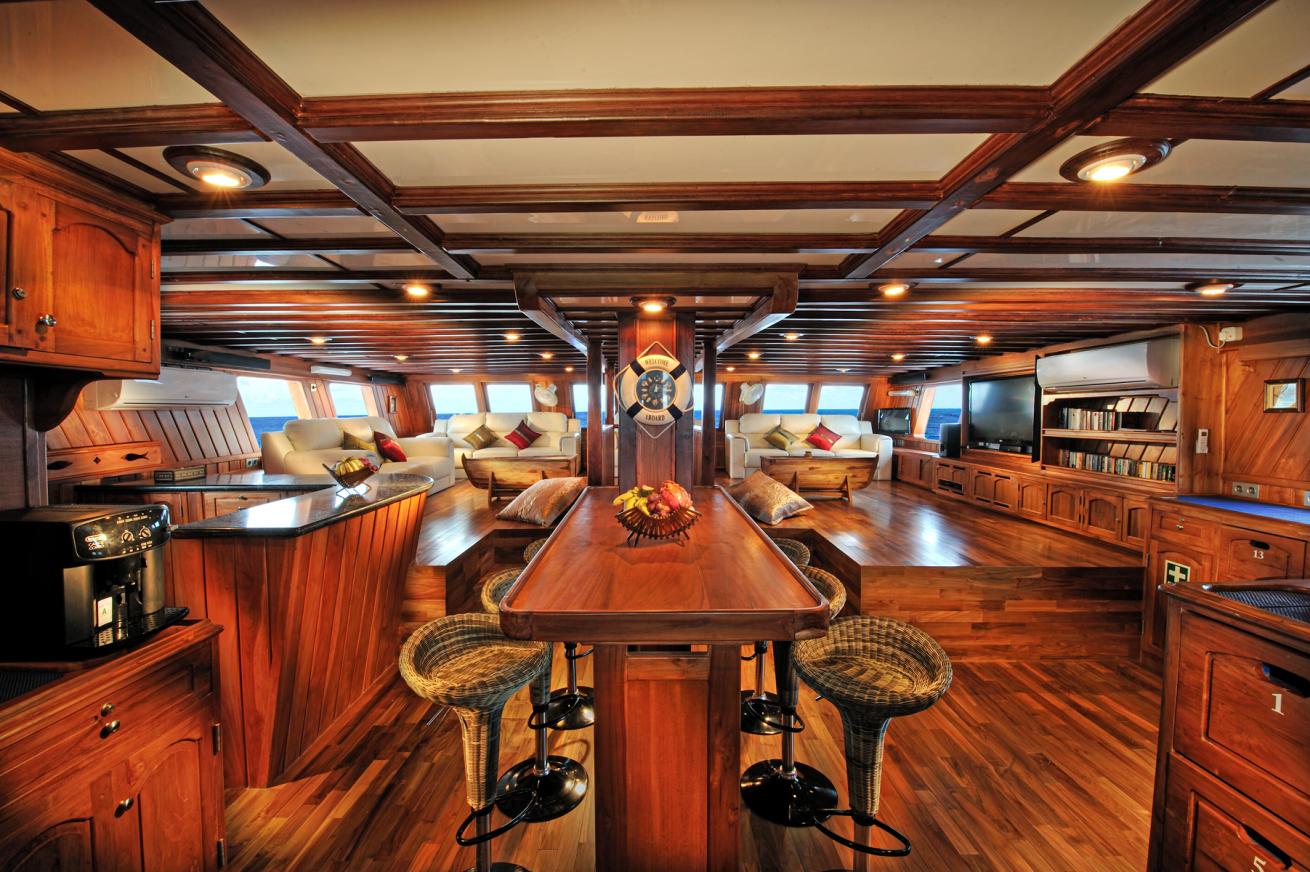 The saloon aboard the Palau Siren.

Courtesy Master Liveaboards
"[Palau's] a small place, so many of the sites can be done as a day trip. Obviously, that day trip involves a long ride each way and not much in the way of home comforts between dives," says Mik Jennings, Master Liveaboard's business and commercial manager. "With liveaboards, you are essentially on a peaceful and quiet floating hotel. You wake up, throw on your dive gear and away you go."
Plus, it's easier to see nighttime spectacles like the new-moon spawning aggregations of bumphead parrotfish and fullmoon aggregations of red snapper—each of which is a focus of an itinerary on Palau Siren.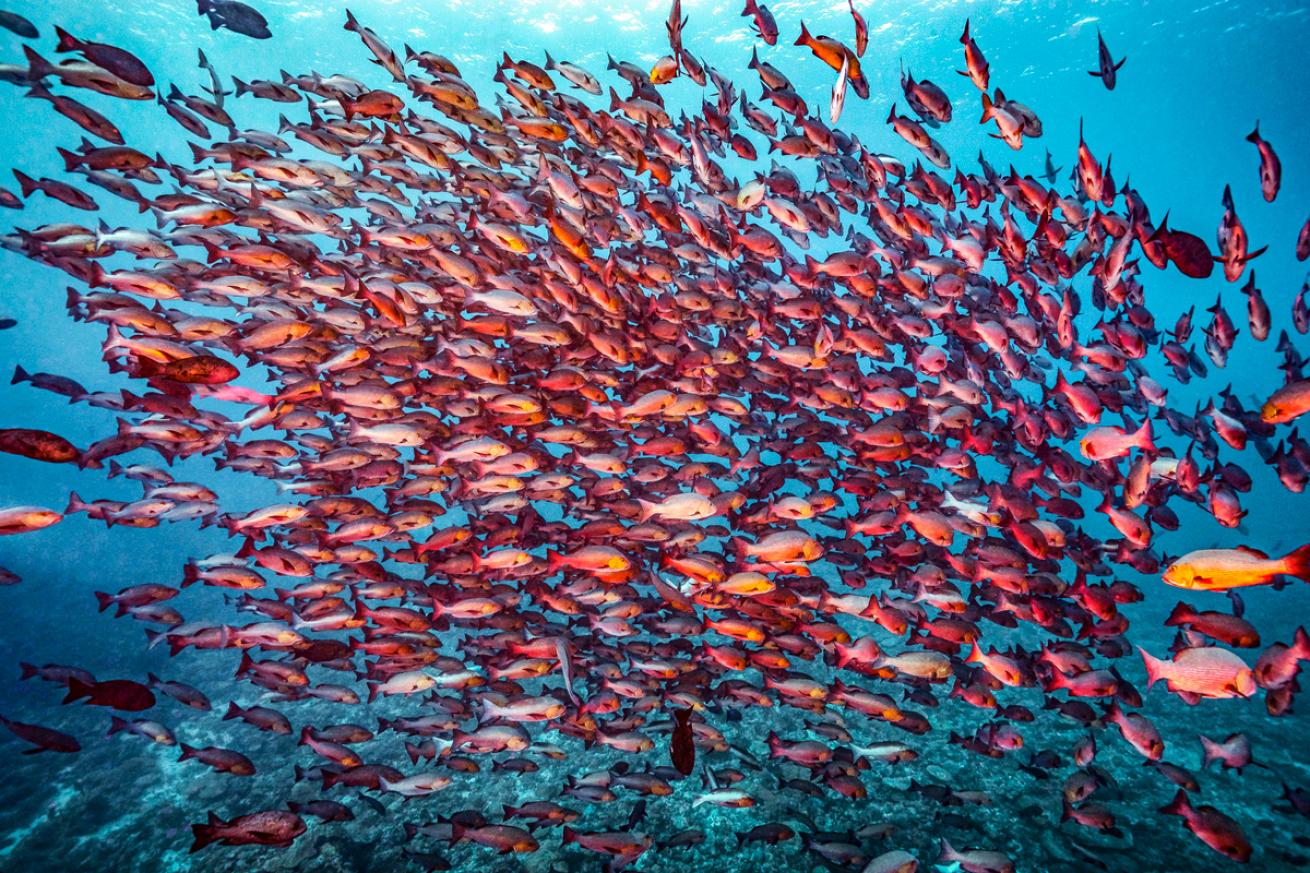 Red snapper swim above the reef.

Tobias Friedrich
There are 12 crewmembers and only a maximum of 16 divers allowed aboard, so between visiting renowned sites like Ulong Channel, Blue Corner and a pit stop at Jellyfish Lake, you'll have plenty of space to recharge on the boat. "We have a lower customer number and high- er staff number than most boats. This means that we really can provide an amazing level of customer service. But there is also the space and the comfort of the vessel," Jennings says. "The more comfortable you are, the less you have to do for yourself, the more relaxed you are. After all, everyone is there on vacation, to relieve the stresses of everyday life." And what's a better way to relieve stress than by getting a post-dive massage on the upper deck, soaking in the sunshine and gentle ocean breeze?
Need To Know
Home Port Koror, Palau

Dive Season Charters can be booked year-round.

Conditions Palau's water temps range from 81 to 86 degrees year-round. It's best to vis
it during the dry season from October to May.

Price $3,787 to $5,650
Contact [email protected]
Four Seasons Explorer
The first image that comes to mind when many people picture luxury travel is overwater bungalows connected by a snaking boardwalk in the gin-clear waters of the Maldives. Four Seasons Explorer takes that magic and converts it into a floating sanctuary on the sea, complete with all the elegant touches you'd expect from a Four Seasons resort. "Everything on board is about connecting you to the ocean while experiencing the highest level of expansive living," says Juliana Ang, a spokeswoman for the Four Seasons. "Adding the experience of a luxury liveaboard to a destination as extraordinary as the Maldives makes every day a bucket-list experience."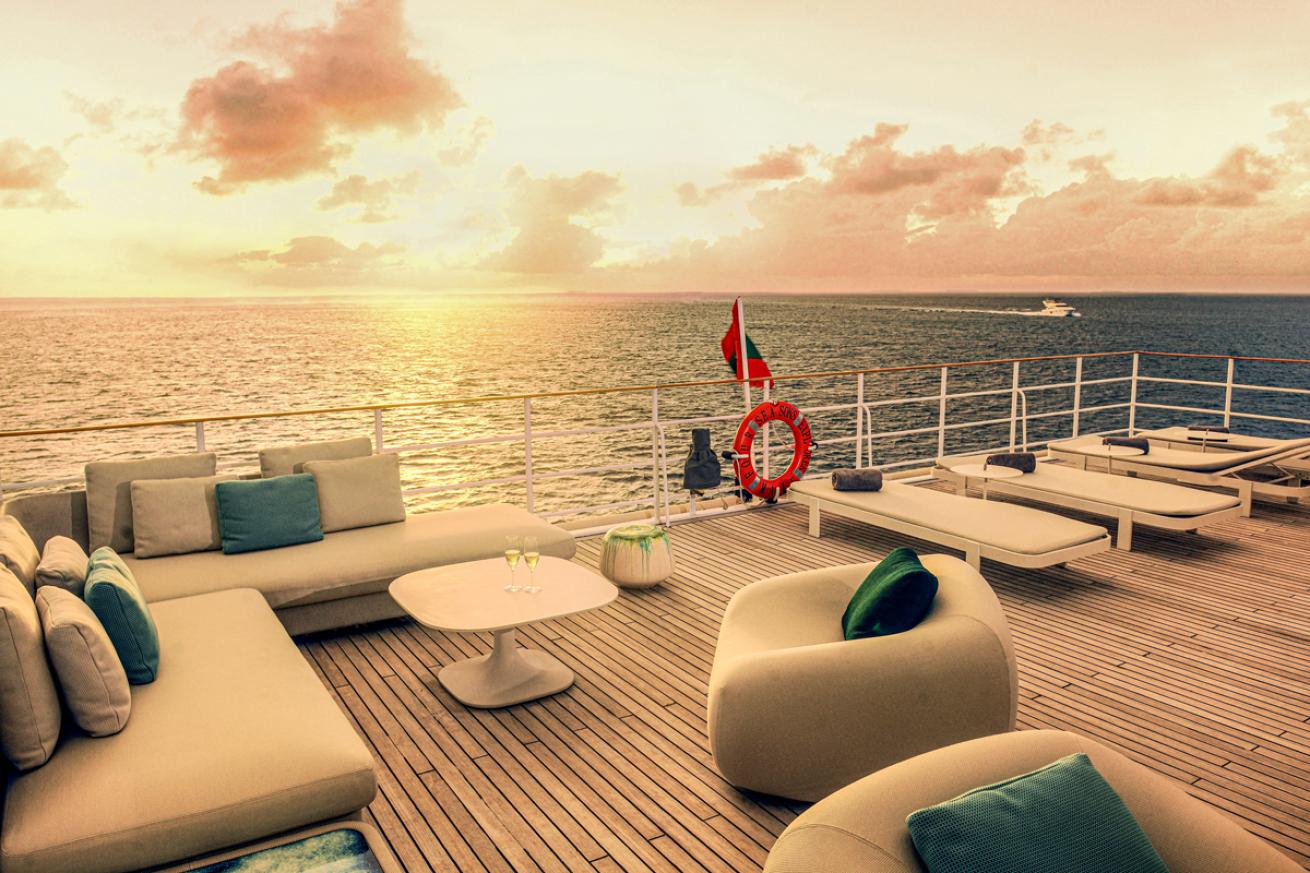 The sun deck aboard Four Seasons Explorer, from which you can have an encounter with whale sharks.

Courtesy Four Seasons
The 128-foot catamaran has dive tenders as well as a traditional wooden dhoni dive boat to get you close to the action. May to November is manta and whale shark season, as currents push plankton-rich water throughout the atolls. But water clarity is best from December to April, when the currents reverse.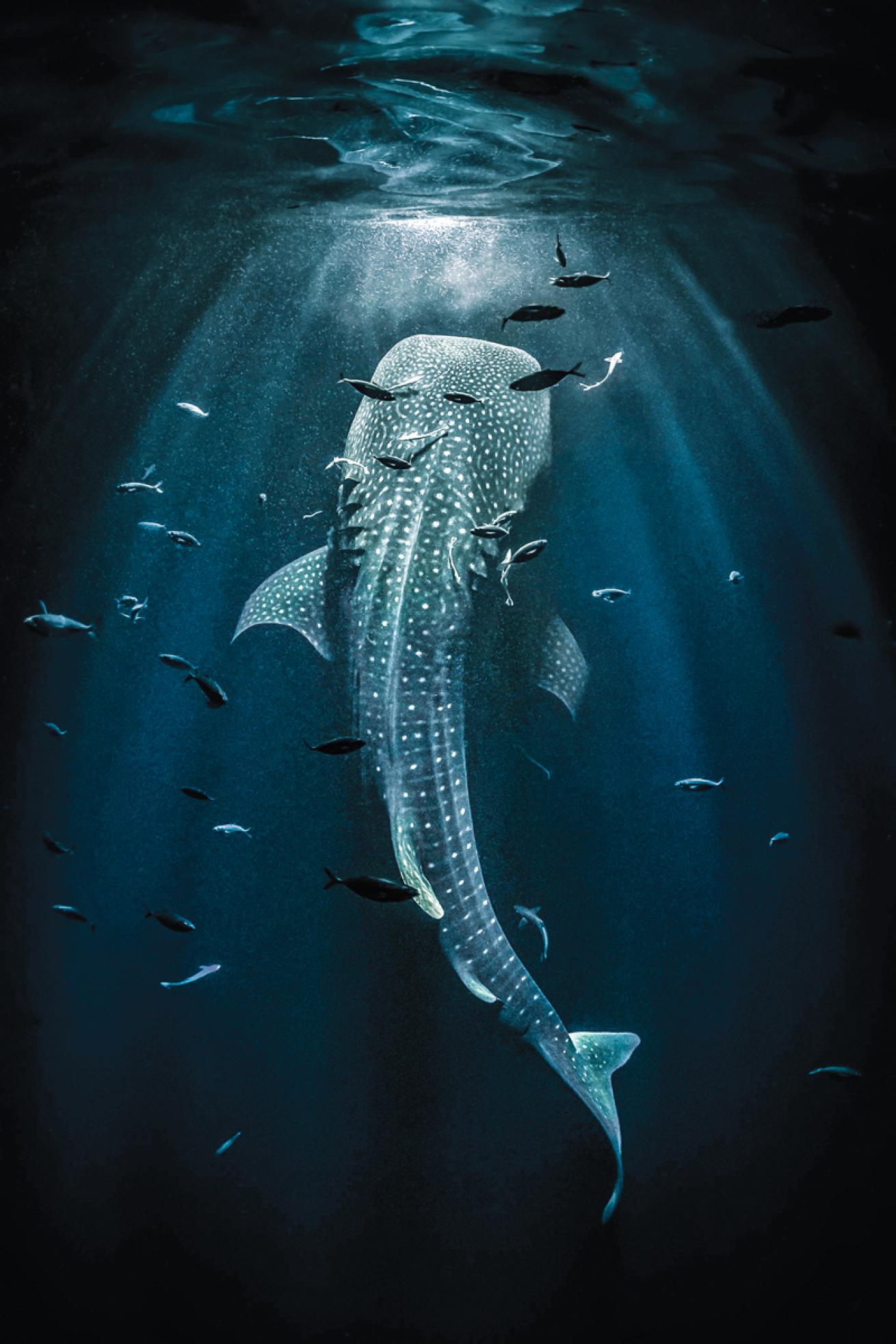 A majestic Whale Shark sighting.

Courtesy Four Seasons
Aboard the yacht, swap stories at the indoor or outdoor bar or lounge on the sun deck. Or just retreat to your room. The yacht's Explorer Suite features a king-size bed, private sun deck and a wall of windows offering some of the best views on the ship. And all rooms have en suites with a separate bathtub and shower, refrigerated private bars and sitting areas.
You can also indulge in a rejuvenating treatment from the resident spa therapist either while sailing or on a secluded beach for ultimate relaxation. Speaking of beaches, one highlight of Four Seasons Explorer is a barbecue during which guests come ashore a white-sand islet for dinner under the stars. "Little beats the magic of midocean encounters with pilot whales and whale sharks, before marooning on a deserted sandbank for a gourmet dining experience," Ang says.
Need To Know
Home Port Landaa Giraavaru, Maldives
Dive Season Charters can be booked year-round

Conditions Water temps range from 80–86 degrees year-round.
Price $3,000 to $17,640
Contact reservations.mal @fourseasons.com