10 Reasons You Should Go Scuba Diving in Baja California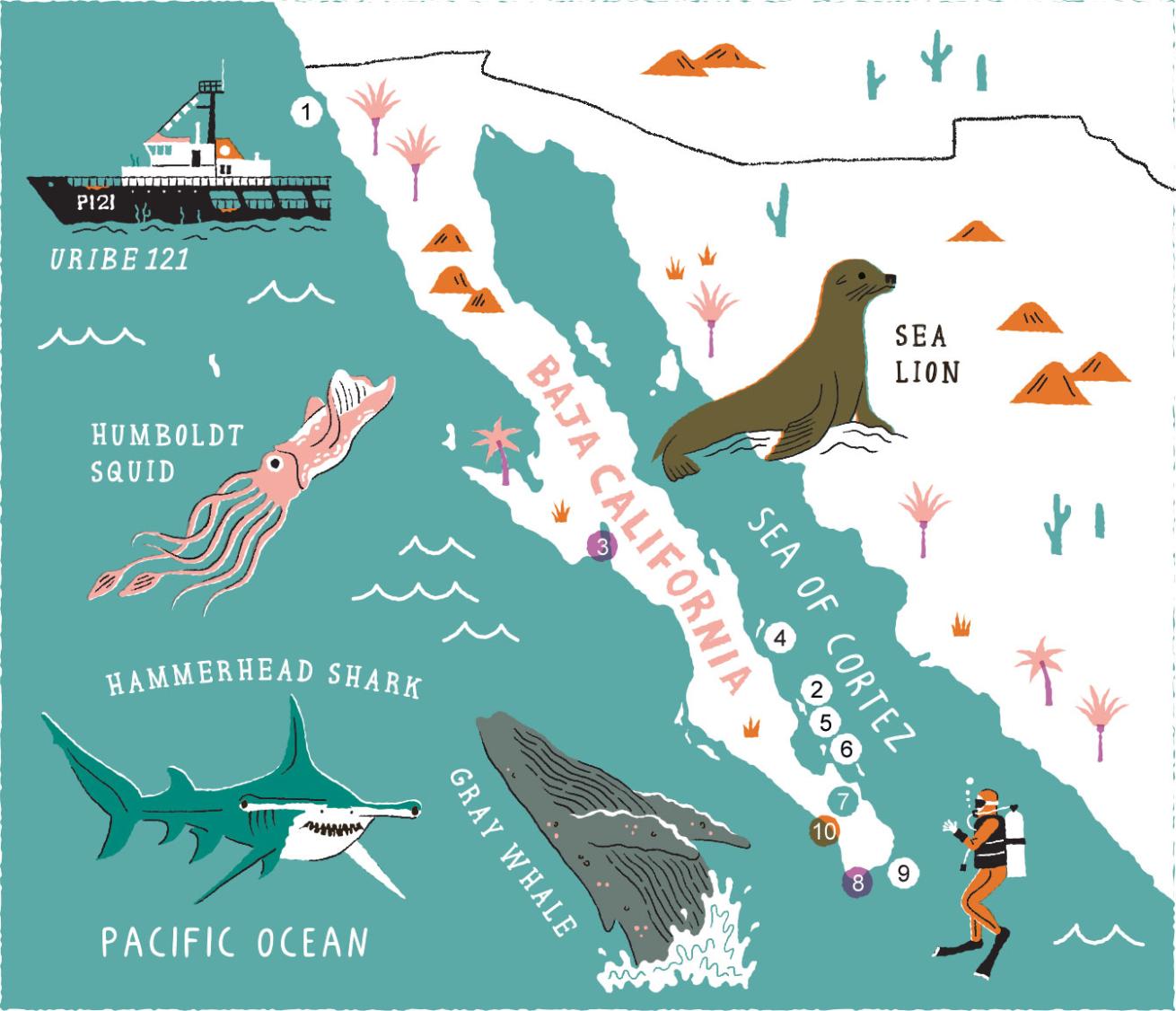 Soak up some sun in between underwater encounters with wrecks, sea lions, schooling fish and more.

Stuart Hill
1. URIBE 121
Roughly 50 miles south of San Diego off Rosarito, the 220-foot-long wreck of this Mexican navy patrol boat was purpose-sunk in 2015 to form the first artificial reef in the Rosarito Underwater Park. Visits to the Uribe 121 are usually paired with dives in a nearby kelp forest— a win-win.
2. LOS ISLOTES
Ochre-hued islands rising from the Sea of Cortez near La Paz draw sea lions and those who adore their antics to this shallow site, also referred to as the Colony. Hundreds of sea lions live here year- round; the in-water action takes place at depths between 25 and 50 feet.
3. GO WHALE-WATCHING IN SAN IGNACIO LAGOON
Watching whales watching you is pure magic. December through April is peak season for taking boat tours to spot eastern Pacific gray whales showing off their calves in San Ignacio Lagoon, where the whales spend the winter.
4. LORETO BAY NATIONAL MARINE PARK
You could spend your entire dive vacation at this preserved underwater volcanic paradise, home to 800 species of fish, sea turtles, Humboldt squid and much more. Uninhabited islands such as Danzante and the Coronados thrill divers with striking underwater rock formations, coral gardens that blaze with color and schooling fish galore.
5. GO GLAMPING IN ESPIRITU SANTO
November through April's perfect Baja weather is prime time for sleeping in a luxury tent and bathing under a solar shower on a remote island beach in the Sea of Cortez.
6. SALVATIERRA WRECK
This 320-foot-long former landing craft reborn as a Baja ferry sank in 1976 after running aground off La Paz. Every- thing from schooling barracuda to nudibranchs thrives in depths that max out around 60 feet.
7. VISIT A HISTORIC MINING TOWN
A visit to Baja's historic gold- and silver-mining town, El Triunfo, is a real surprise, complete with restored colonial buildings to explore and stylish cafes, such as Bar el Minero. (Don't miss the paella and draft root-beer floats.)
8. LAND'S END
You're in both the Sea of Cortez and the Pacific Ocean when you dive this fa- vorite Cabo San Lucas site, where you can often see underwater sand falls where the bodies of water meet. School- ing baitfish, tuna and sea lions abound.
9. GORDO BANKS
A shot at seeing whale sharks, giant manta rays and schooling hammerheads draws advanced divers to this deepwater seamount some 28 miles off Cabo San Lucas, where you can try your luck diving with giants in around 110 feet of water.
10. SWING BY TODOS SANTOS
About an hour north of Los Cabos, Todos Santos, designated a Pueblo Mágico (magic town) by Mexico's Secretary of Tourism, is worth at least a day trip if not several days of your time. Beginner surfers can try their luck—or lessons—at the mellow break at Playa Cerritos, south of town.
DIVERS GUIDE TO BAJA CALIFORNIA
AVERAGE WATER TEMP From 65 to 75 degrees F
WHAT TO WEAR 3 mm to 7 mm wetsuit with hood
AVERAGE VIZ 40 to 80 feet with the best visibility from August to November
WHEN TO GO August to March
MORE INFO travel.padi.com/d/baja-california