25 Reasons to Love Scuba Diving in Florida
For scuba divers, the pool's always open in the sunshine state.
It can take several months to construct a backyard pool, but that's nothing compared with how long it took to build the Sunshine State. For millions of years, Florida was submerged under ocean — a primordial soup thick with creatures. As the animals died, their skeletons piled up, creating sediment, and eventually, a peninsula emerged. The state's prehistoric past is evident in the Keys' coral reefs and the fossils embedded in freshwater caves. Add stellar viz, wrecks and year-round warm water, and you've got a diver's definition of the perfect underwater playground.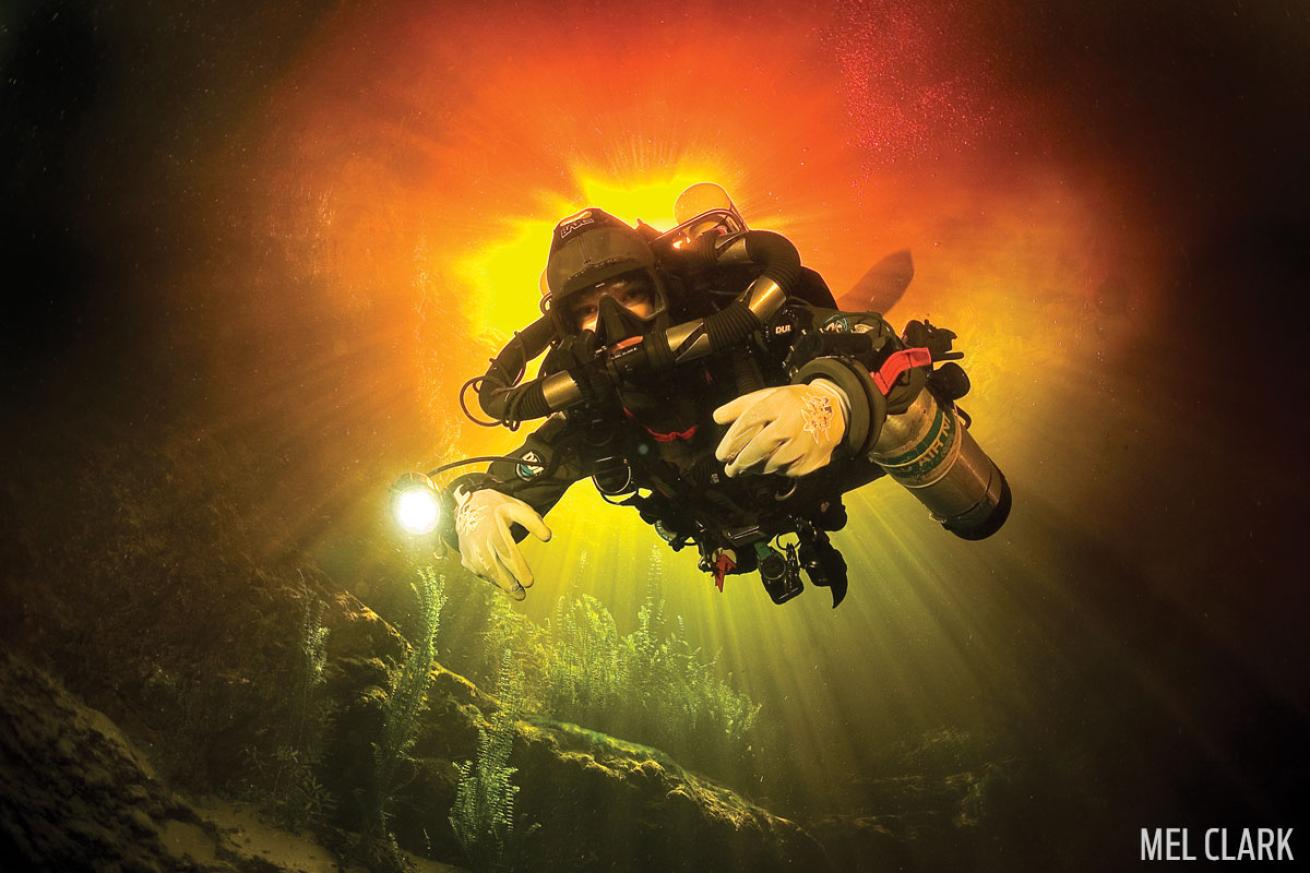 Florida has nearly 100 cavern and cave diving sites.

Mel Clark
The Sunshine State took home the following 25 accolades in the 2018 Scuba Diving magazine Readers Choice Awards:
FIRST PLACE (Caribbean & Atlantic)
Best Overall (Florida Keys)
Visibility (Florida Springs)
Big Animals (Florida keys)
Wrecks (Florida Keys)
Cave, Cavern, Grotto (Florida Springs)
Freshwater (Florida Springs)
Shore Diving (Florida Springs)
Beginners (Florida — overall)
Advanced (Florida Keys)
Snorkeling (Florida Keys)
Freediving (Florida Keys)
Photography (Florida Keys)
Technical (Florida Springs)
SECOND PLACE
Visibility (Florida Keys)
Conservation (Florida Keys)
Macro (Florida Keys)
Snorkeling (Florida Springs)
Freediving (Florida Springs)
Technical (Florida Keys)
THIRD PLACE
Visibility (South Florida)
Wrecks (Florida Panhandle)
FOURTH PLACE
Big Animals (South Florida)
Technical (Florida Panhandle)
FIFTH PLACE
Big Animals (Florida Panhandle)
Technical (South Florida)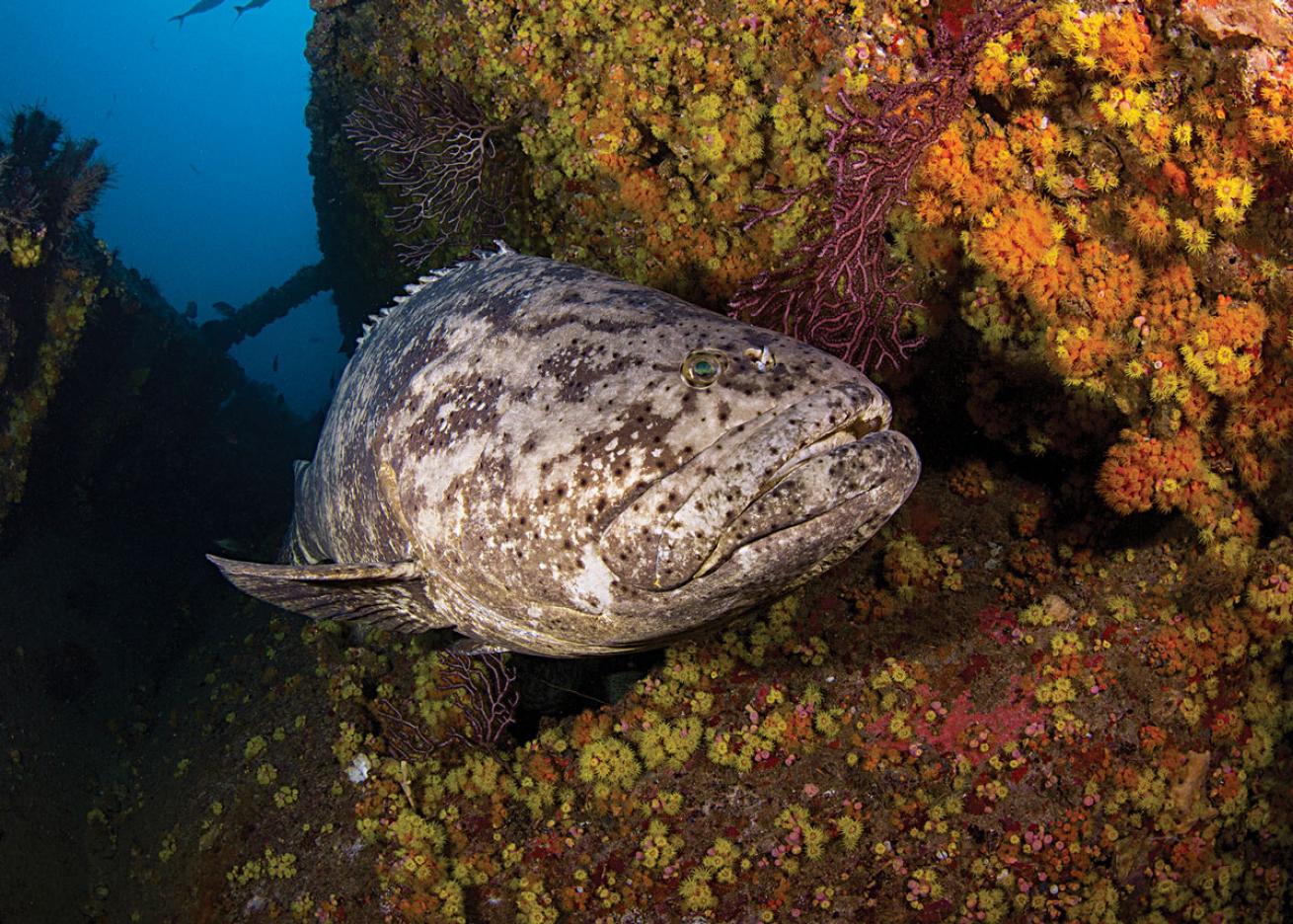 Many divers travel to Florida in hopes of encountering a goliath grouper on a dive.

Shutterstock
WRECKS
Florida Keys
1 ) STILL WATERS RUN SHALLOW
The Keys' shallow wrecks are truly just the skeletal remains of the ships they once were, but beginners can explore Benwood and Cayman Salvage Master.
2 ) WRECK TREK
The ex-military missile- tracking ship, Gen. Hoyt S. Vandenberg, which once tracked space launches off Cape Canaveral, Florida, and monitored Soviet missile launches during the Cold War, was sunk off Key West. The Keys boasts an impressive slate of other wrecks, including Spiegel Grove, Duane and Eagle.
3 ) A.P. WRECK COURSE
Tired of being confined to the outside of wrecks? Key Largo's Horizon Divers offers advanced wreck-penetration certifications.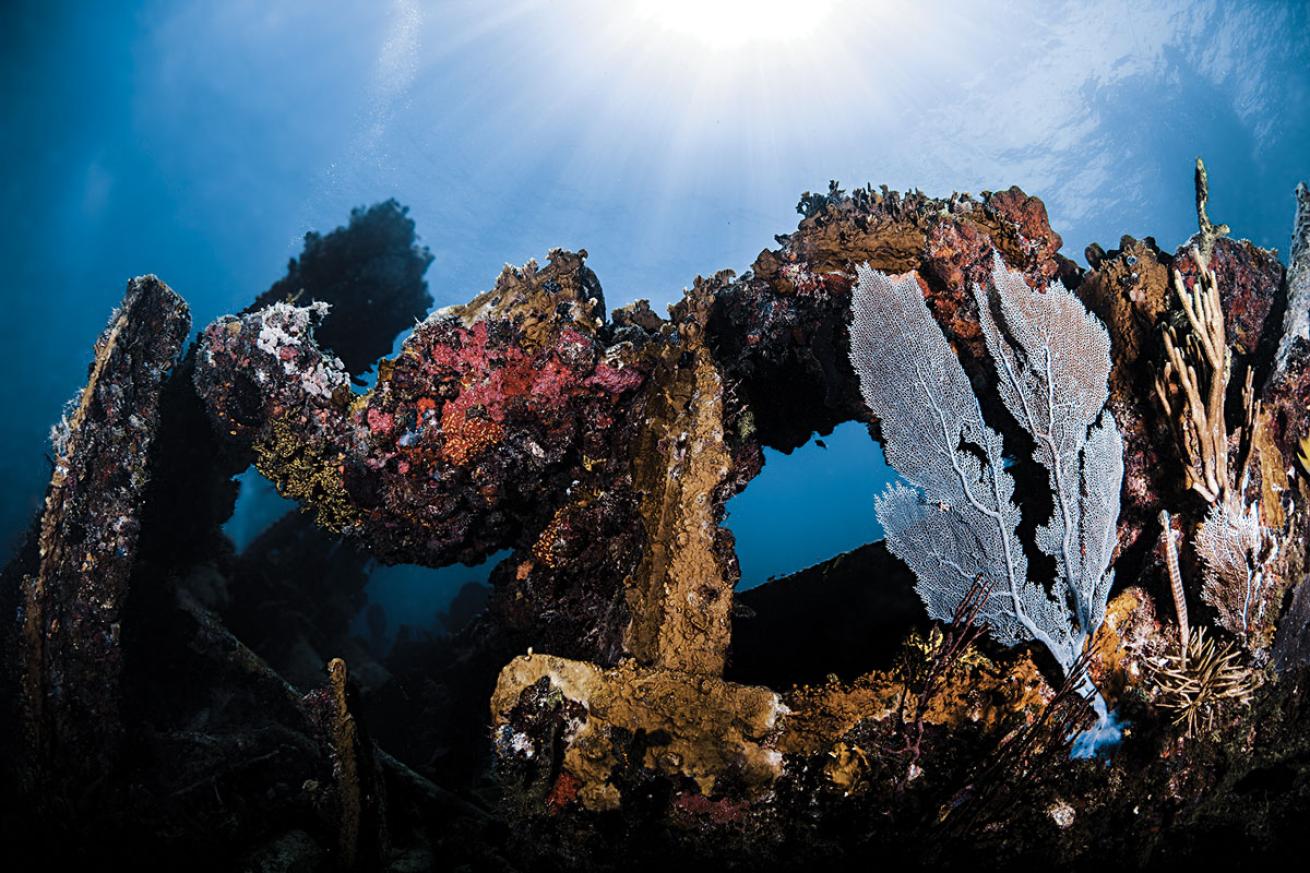 Shipwrecks abound — from the Florida Panhandle to the Florida Keys, there is a shipwreck for every diver in the Sunshine State.

Shutterstock
4 ) DIVER AND GOLIATH
Divers aren't the only creatures drawn to the island chain's wrecks. Beefy goliath grouper, eagle rays, turtles and occasional visitors such as whale sharks like to shelter on them.
5 ) THE AFRICAN QUEEN
Made famous in the 1951 movie of the same name starring Humphrey Bogart and Katharine Hepburn, African Queen is located in Key Largo. The steamboat is on the U.S. National Register of Historic Places. Afterward, head to Key Largo's Caribbean Club, where Key Largo was filmed in 1948 (starring Bogie and Lauren Bacall) — the walls are lined with Bogart memorabilia.
VISIBILITY
Florida Springs
6 ) THE DIVING IS EASY
Thanks to stellar viz and calm conditions, there's no easier place to dive than in Florida's springs, including Devil's Den and Blue Grotto.
Manatees gather in the Florida springs when the outside temperatures are cooler. You are more likely to see the manatees between the months of November and April.

Shutterstock
7 ) LET'S GET TECHNICAL
The springs are also the doorways to intricate cave systems, such as Peacock Springs' Orange Grove Sink near Luraville.
8 ) MANATEE MAGIC
During winter, Trichechus manatus seek warmth and food in springs like Three Sisters.
9 ) FAMILY FUN
During the dog days of summer, the springs are a refreshing respite. Families cool off at popular ones like Ginnie.
10 ) MERMAID TALES
Nothing evokes the sense of nostalgia for Florida's disappearing roadside attractions as the mermaid show at Weeki Wachee Springs State Park.
BIG ANIMALS
Florida
11 ) THE INCREDIBLE HULKS
Goliath grouper (Epinephelus itajara) are drawn to every corner of the Sunshine State — especially on wrecks off southeastern Florida, the Keys and Gulf of Mexico Panhandle.
12 ) TURTLE CROSSING
The loggerhead (Caretta caretta) is the most common sea turtle found in Florida, but you can also encounter hawksbills, greens and Kemp's ridleys. The Turtle Hospital in Marathon, Florida — the world's only state-certified veterinary hospital for sea turtles — treats injured and sick individuals.
13 ) YOU'LL NEED A BIGGER BOAT
Seasonal aggregations for many species of sharks — including bull, blacktip and lemon — occur in the southeast Atlantic between Boynton Beach and Jupiter every winter. They spend about three months in relatively shallow waters before they begin heading back north.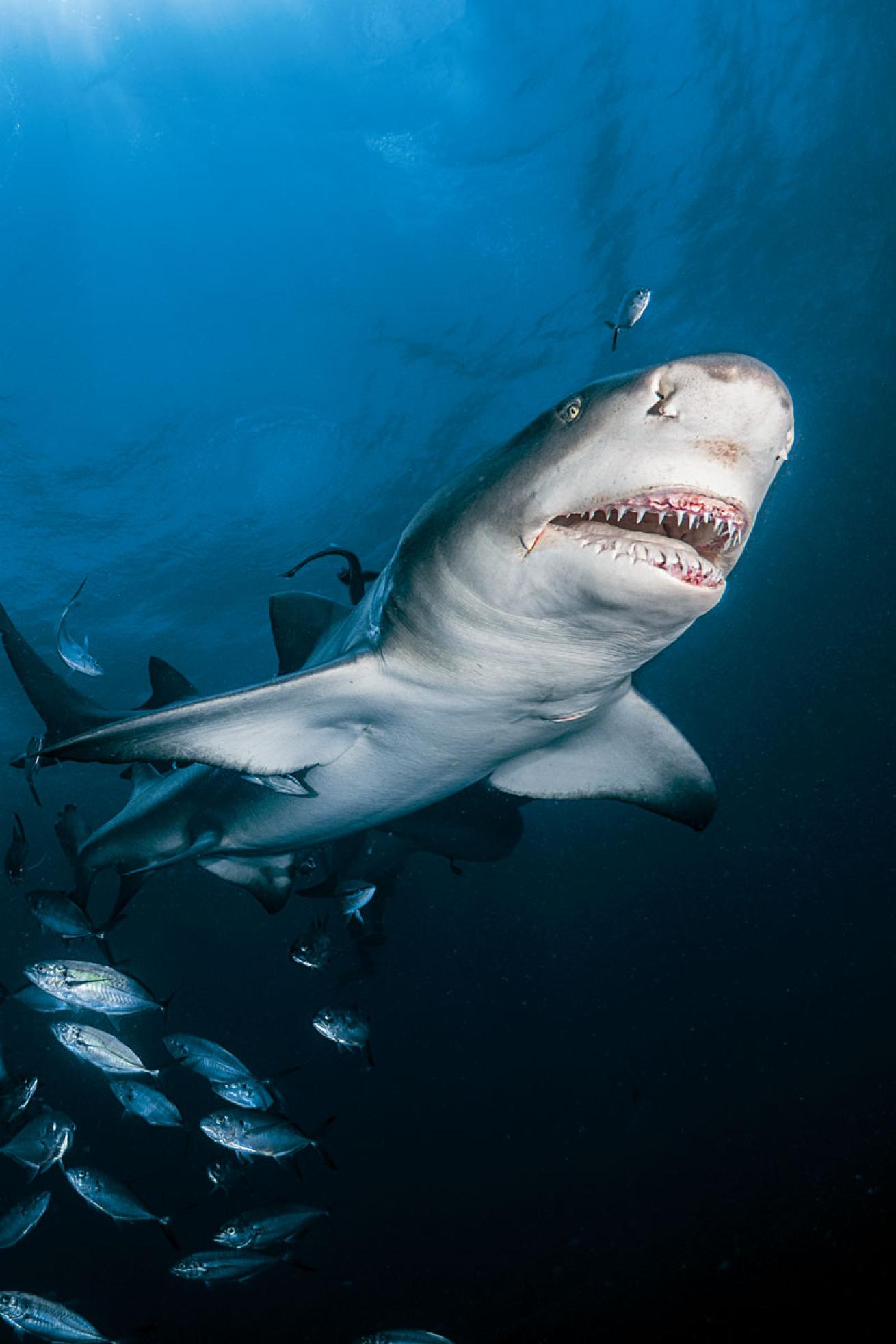 It's common to spot nurse sharks or blacktip reef sharks while diving throughout the Florida Keys.

Shutterstock
14 ) FLY LIKE AN EAGLE
You can find graceful spotted eagle rays — which tend to be loners — just about anywhere you dive in the Sunshine State, but Aetobatus narinari especially like hanging around on shallow reefs and shipwrecks.
15 ) DOLPHIN DELIGHTS
Divers love when bottlenose dolphins play in the boat's wake and accompany them to the dive site. You can book a dolphin-watching cruise to see them, or get very lucky and see them underwater — your chances are best off Florida's southwestern coast.
PHOTOGRAPHY
Florida Keys
16 ) PICTURESQUE REEFS
The Keys' picture-perfect charms above water are matched by its underwater splendors. Whether you're new to underwater photography or a published shutterbug, you'll find plenty of worthy subjects on the reefs. One don't-miss spot is Largo's famous Christ of the Deep, a solid-bronze statue in only 25 feet of water. And be sure not to overlook the lovely stretch of spur-and-groove reefs known as Looe Key; located in the Lower Keys, they offer a diverse population of tropical fish, corals, sponges, hydroids and shellfish.
17 ) INSTAGRAM MOMENTS
Combined with the Keys' excellent visibility and fish life such as grouper, snapper and pompano, wrecks like Spiegel Grove and Eagle can be either the focal point or brilliant backdrop in your underwater images.
18 ) BACK TO SCHOOL
Stephen Frink's series of Digital Master classes in his home waters of Key Largo is aimed at the experienced underwater photographer who owns a DSLR housed camera and is already proficient in the basics.
19 ) OH, DEER
In addition to photographing the diminutive Key deer (Odocoileus virginianus clavium) in the sanctuary located in Big Pine Key, you might get your chance to snap images of ospreys, white ibises, cormorants, butterflies and marsh rabbits.
The Keys has the only barrier reef in the U.S.

Shutterstock
20 ) PRETTY AS A POSTCARD
The only land route to get you to all locations in the 113-mile-long string of islands is the Overseas Highway. Sometimes traffic is aggravating, but with spectacular water views on both sides, it's hard to complain. Kayak through the flats, islets and mangrove forests of the backcountry around Big Pine and No Name keys for a unique, primeval photo opp. The 280 acres that Lignumvitae Key Botanical State Park protects is one of the few places in the world to see old-growth mahogany, lignum vitae and strangler fig trees. Capture a bit of history at Key West's national historic landmark Fort Zachary Taylor Historic State Park. Completed in 1866, the fort played an important role during both the Civil War and Spanish-American War. It's also a lovely locale for composing Instagram-worthy sunset photos.
BEST OVERALL
Florida Keys
21 ) EASY-PEASY BEGINNER DIVING
The Keys has the only barrier reef in the U.S., which is bathed by year round warm, clear waters. From north to south, from the Upper Keys to the Lower Keys, each region offers easy, shallow sites perfect for new divers.
22 ) CONCH REPUBLIC DIVING LIFESTYLE
The term "Conch" once referred to the descendants of Bahamian immigrants in Florida; today, it refers to all Keys residents. Tourism is the No. 1 business, and the chain caters to the flip flops and T-shirts crowd.
23 ) WORLD-CLASS WRECK DIVING
Go full-on tec diving or keep it a little tamer by exploring the exteriors of the Keys' marquee wrecks: Spiegel Grove, Duane, Bibb, Eagle and Vandenberg.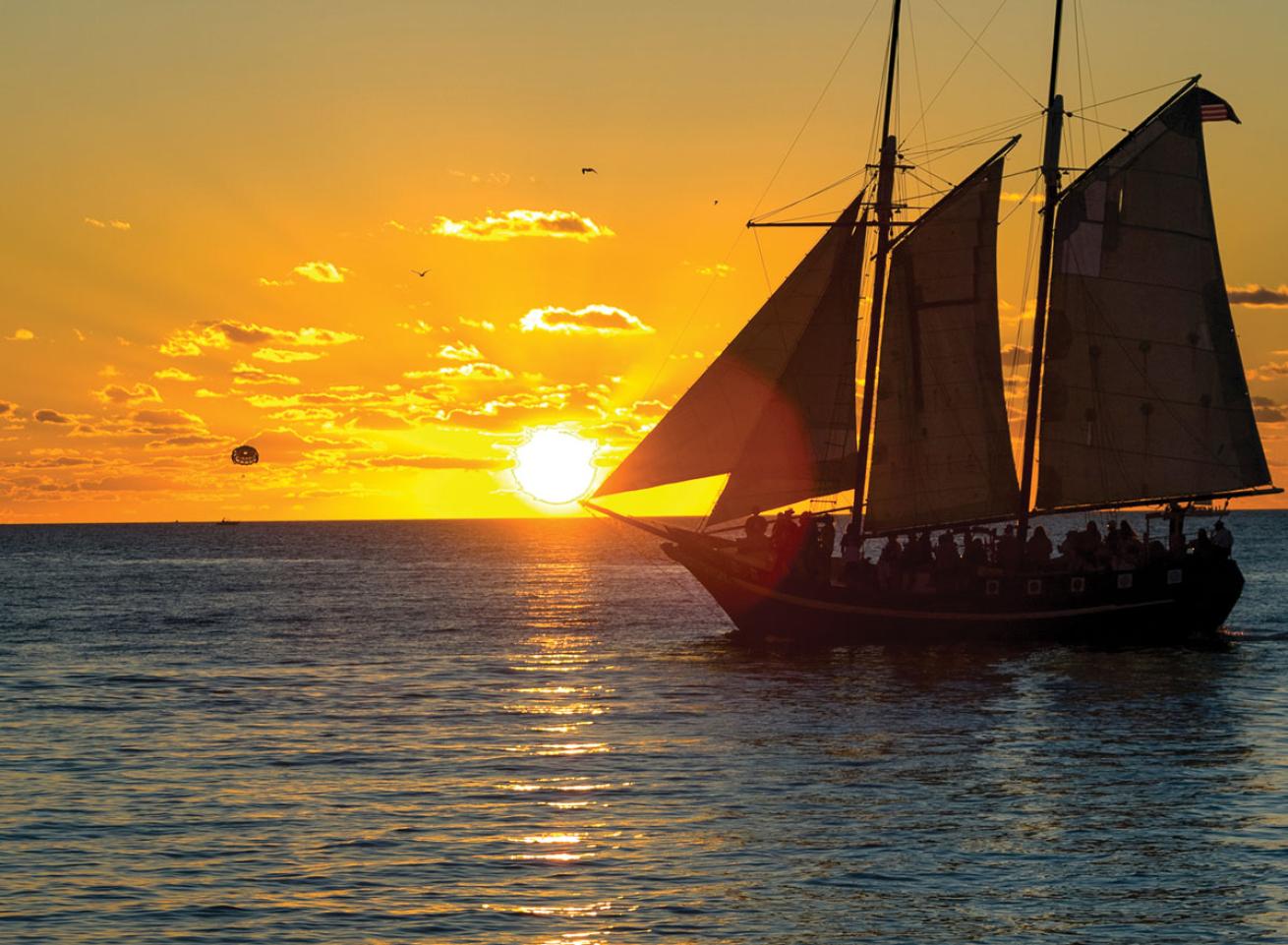 There are almost too many options for catching a sunset in the Florida Keys.

Shutterstock
24 ) A CULTURE OF CONSERVATION
The reefs here fall under the protection of the Florida Keys National Marine Sanctuary; Key Largo's renowned Coral Restoration Foundation spearheads crucial programs to save endangered corals.
25 ) SPECTACULAR SUNSETS
All along the Overseas Highway, you can find a spot to sip a cocktail, kick off your sandals, and watch the sun melt into the water — but go at least once to where it's a celebratory party every night — Mallory Square in Key West.