An Adventurer's Guide to Diving Malaysia's Perhentian Islands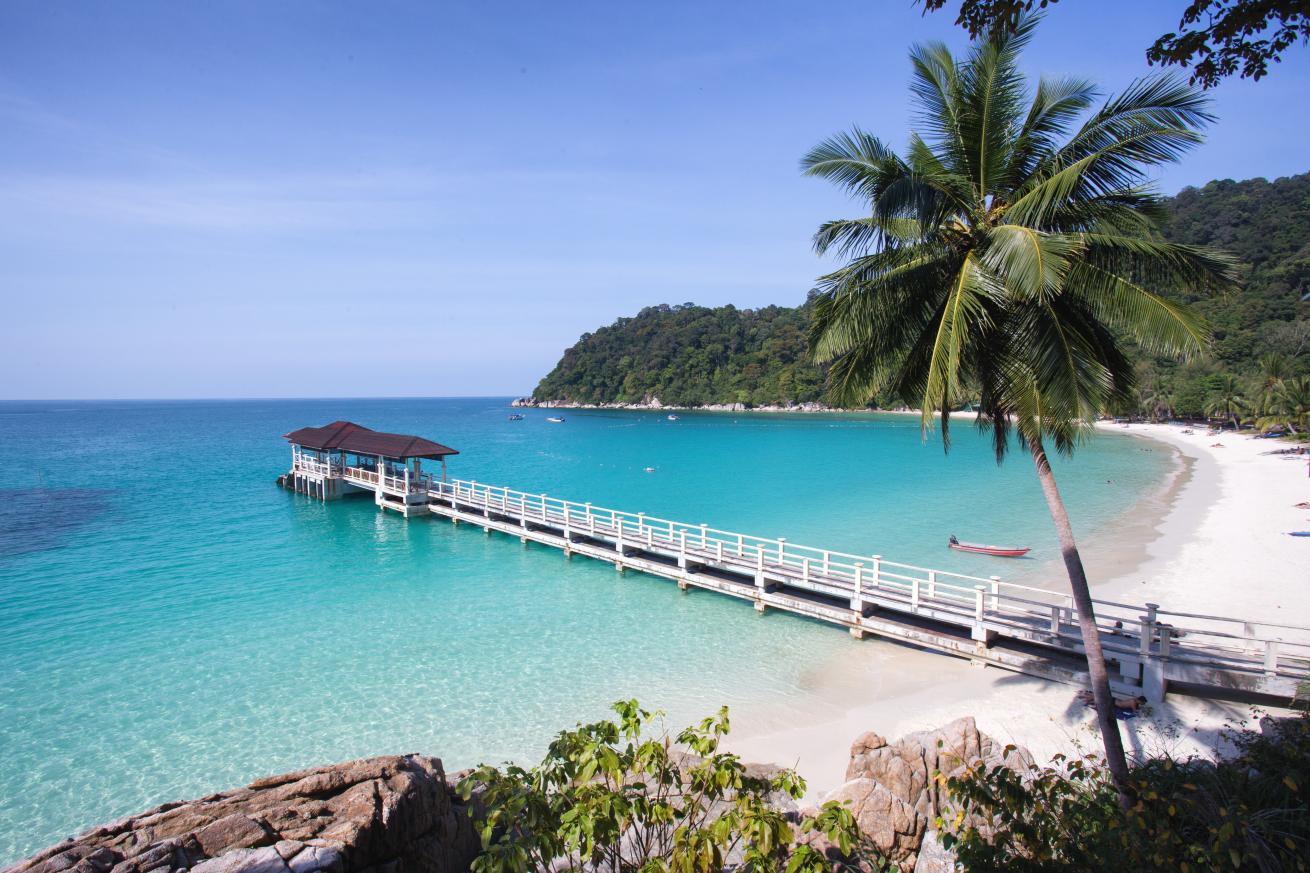 Beautiful sandy, white beaches and crystal clear waters are found throughout the Perhentian Islands.

Shutterstock.com/Dzerkach Viktar
The Perhentian Islands lie roughly 12 miles off Malaysia's east coast in the South China Sea. The two sister islands, Pulau Perhentian Besar (Big Island) and Pulau Perhentian Kecil (Little Island), sit within the protected Terengganu Marine Park, which offers some of Southeast Asia's best diving.
The isolated area boasts 24 sites where divers can find wrecks, reefs, deep and drift dives, and a spectrum of marine life ranging from common tropical fish to pelagics and hard-to-find species spotted on muck dives. Although dive schools and guesthouses are abundant in the Perhentian Islands, the term "desert island" is appropriate due to its limited infrastructure and hard-to-reach location along with the unruly jungle, soft alabaster beaches and local wildlife.
Related Reading: The Best of Big Island Shore Diving
Best for Beginners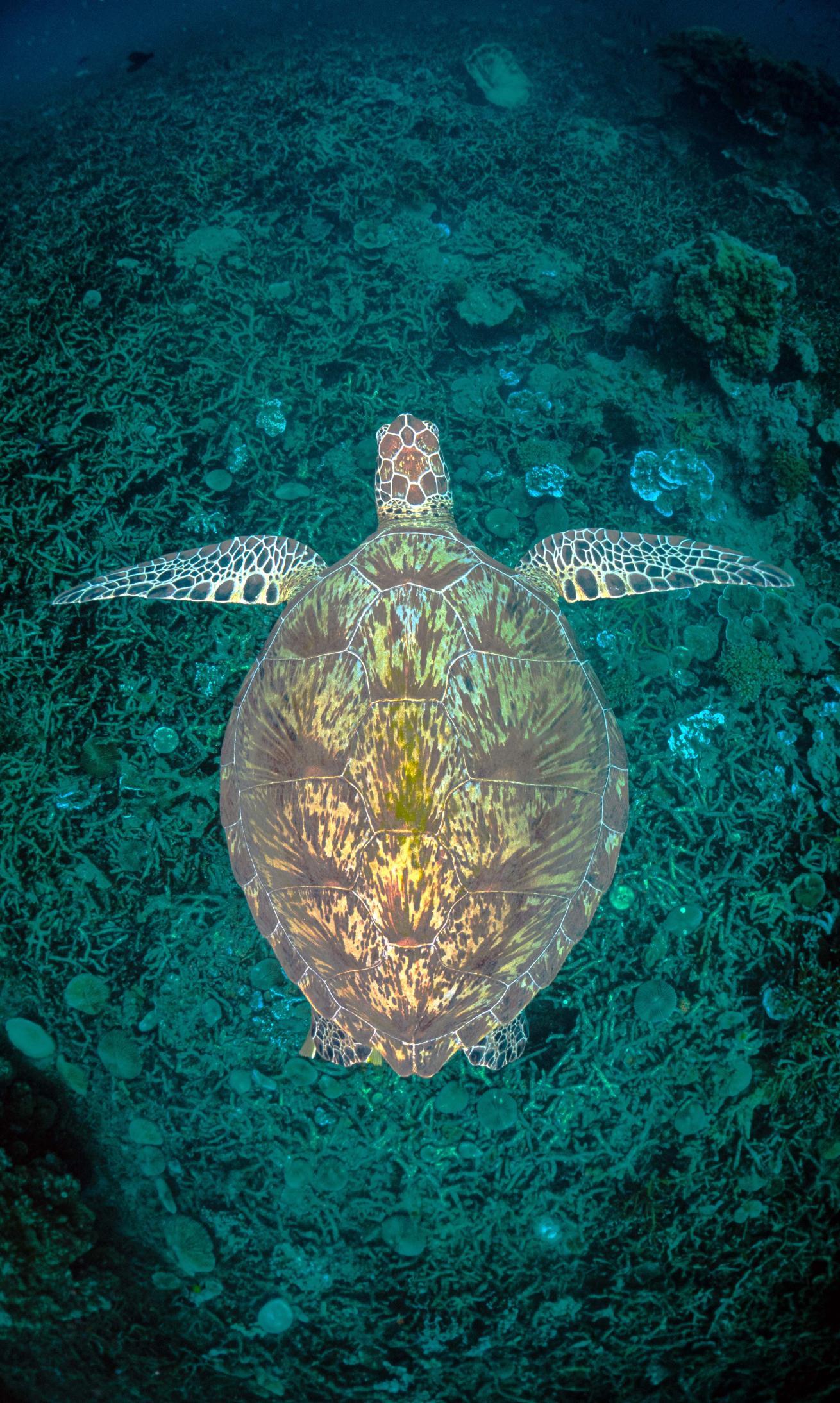 A beautiful hawksbill turtle found diving in the Perhentian Islands.

Zakh Hymann/Panorama Diver Perhentian
"The Perhentian Islands are blessed with ideal diving conditions for beginners, including gentle currents and shallow, easy-to-reach dive sites," says Nural Izham, a divemaster who manages operations at Ombak Dive Resort on Perhentian Kecil. "Wrecks with swim-throughs, the opportunity to spot larger pelagics, and a variety of caves and rock formations are the main draw for advanced divers." Those looking to get certified or continue training have many choices. Here are some of the best sites for diving in the Perhentian Islands.
Shark Point
As the name suggests, Shark Point is one of the best sites in the Perhentians for spotting blacktip reef sharks. A shallow reef on the southern tip of Perhentian Besar, it reaches a maximum of 30 feet (9 meters). The reef is large and relatively flat–it's advisable to descend horizontally, after which an easy dive around the reef's edge will reveal the hunting sharks, turtles, barracuda, pufferfish and batfish. If you're new to diving, I recommend staying at depth here until you need to turn the dive, as the surface can get busy with snorkelers and small boats.
Related Reading: An Unforgettable Dive: Learning What It Takes to Get "the Shot" of a Great White Shark
Tokong Laut (Temple of the Sea)
Also known as The Pinnacle thanks to its dramatic, column-like shape, Tokong Laut takes 20 minutes to reach by boat and is the most famous diving spot in the Perhentian Islands. Currents can be stronger here, so using a rope to descend is wise, but at depth, the current is ideal for carrying you gently around the site. Reaching 80 feet at its deepest point, The Pinnacle rises from the sea floor, covered in coral and crevices that hide giant pufferfish, moray eels, hawksbill turtles, bamboo sharks and squid. Pelagics such as barracuda, fusiliers and tuna are common, while whale sharks have also made a rare appearance.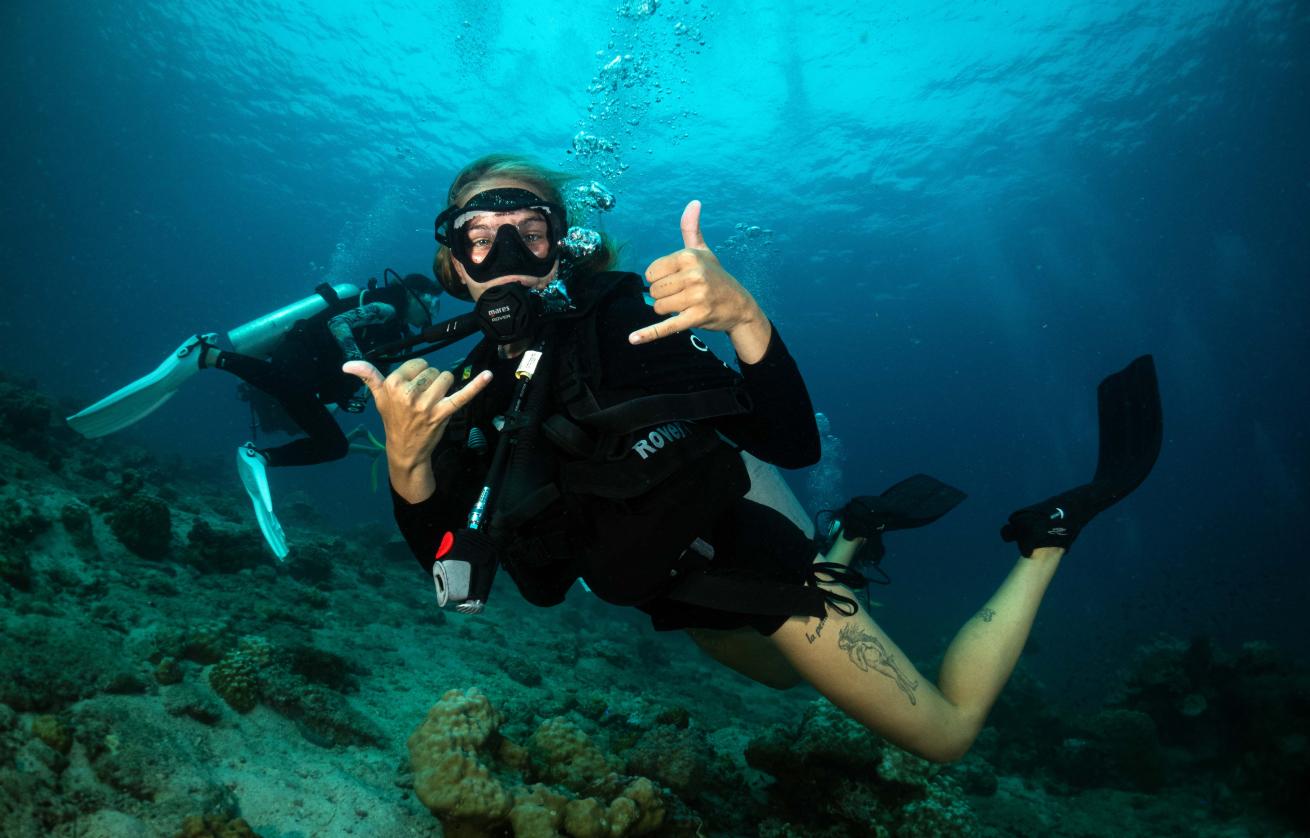 Divers explore the lesser-known Perhentian Islands, Malaysia.

Zakh Hymann/Panorama Diver Perhentian
Sugar Wreck
The Sugar Wreck, a 300-foot cargo ship that sank 60 feet below the surface, lies almost midway between the Perhentian Islands and the mainland. The vessel is the biggest wreck in these waters. Its cracks, crevices and insides are home to species such as coral catsharks, bamboo sharks and blue-spotted stingrays, which lurk close to the ship itself while barracuda, red snappers and other pelagics circle above in large schools. Penetration is possible for more experienced divers in the engine room and original cabins, although visibility can be low.
Related Reading: The Best Wreck Dives In Southeast Asia
Tanjung Basi
"Tanjung Basi is the Perhentian Islands' most underrated dive site," says Nural, "particularly if you want to spot pelagics and schools of triggerfish." Known for being aggressive during mating season, beware of the many small caves and boulders where these fish like to hide. There are three species of triggerfish here, along with sea turtles, giant moray eels, trevallies and sharks. I'd recommend being at least Open Water-certified to dive here, as although depths range from shallow (25 feet) to deep (60 feet), currents can be intense.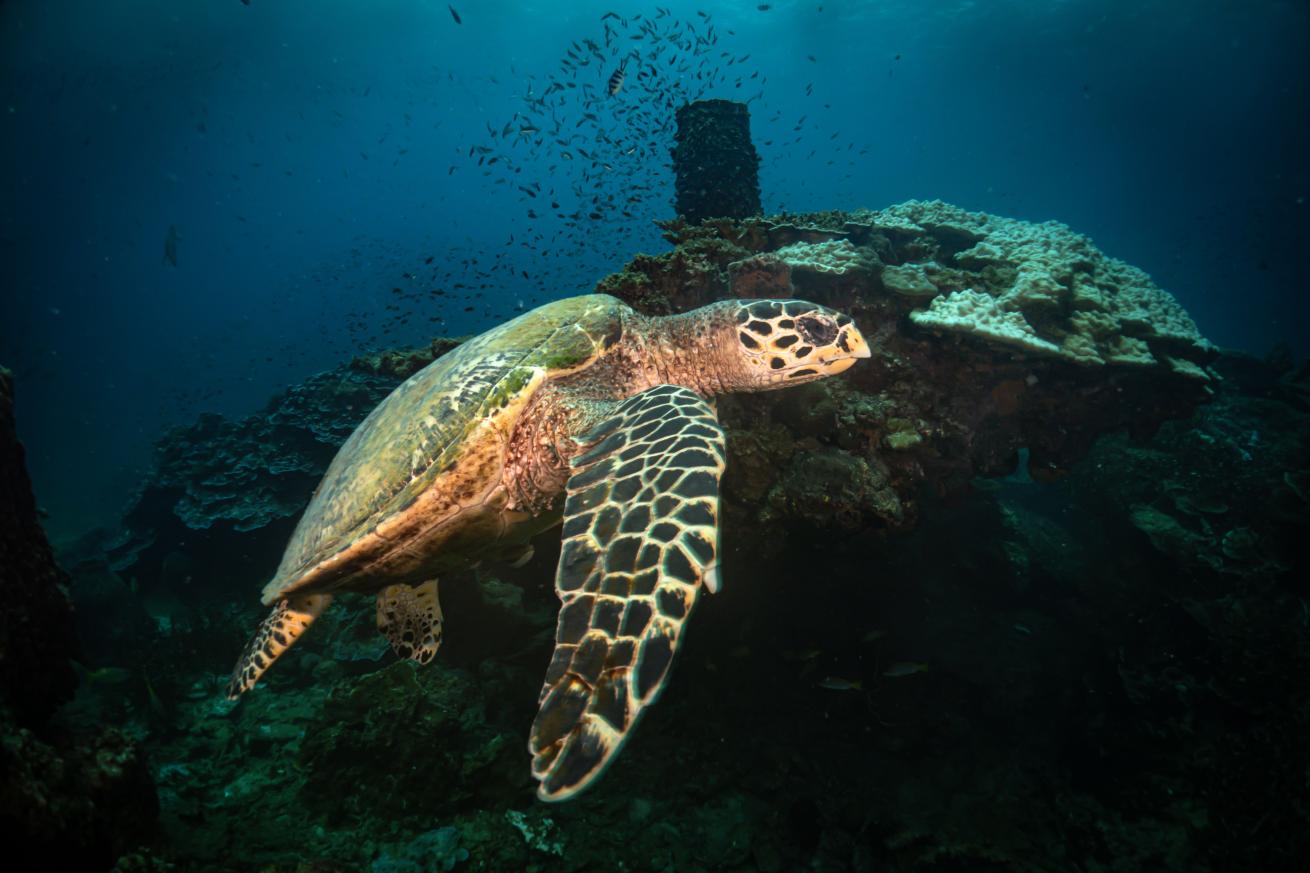 Hawksbill turtle in the Perhentian Islands.

Zakh Hymann/Panorama Diver Perhentian
Topside on the Perhentian Islands
Watersports
The water in this area of the world is glass clear—so much so that halfway to a dive site, our instructor spotted a sea turtle 20 feet below the waves, which we had the fortune of jumping in with. Along Long Beach on Perhentian Kecil and PIR Beach on Perhentian Besar, local shops and restaurants rent kayaks, glass-bottomed canoes, stand-up paddle boards and snorkels. You can enter multiple house reefs from the shore, and waters are calm enough that you'll get halfway around an island in a kayak without too much exertion.
Hiking
Both islands are covered in lush jungle. Although generally the best way to travel between beaches is by water taxi, trekking can be a fun alternative. The walk from Long Beach up to the windmill at Lookout Point on the northern end of Perhentian Kecil is a particular highlight, and on Perhentian Besar, try the route from Teluk Keke Beach toward Arwana Beach. Bug spray, water and walking shoes are the only essentials, but keep a keen eye out for the 7-foot-long monitor lizards, venomous spiders and geckos that often appear on the paths.
Related Reading: How Do Sea Turtles Breathe? Fun Facts You Should Know about Sea Turtles.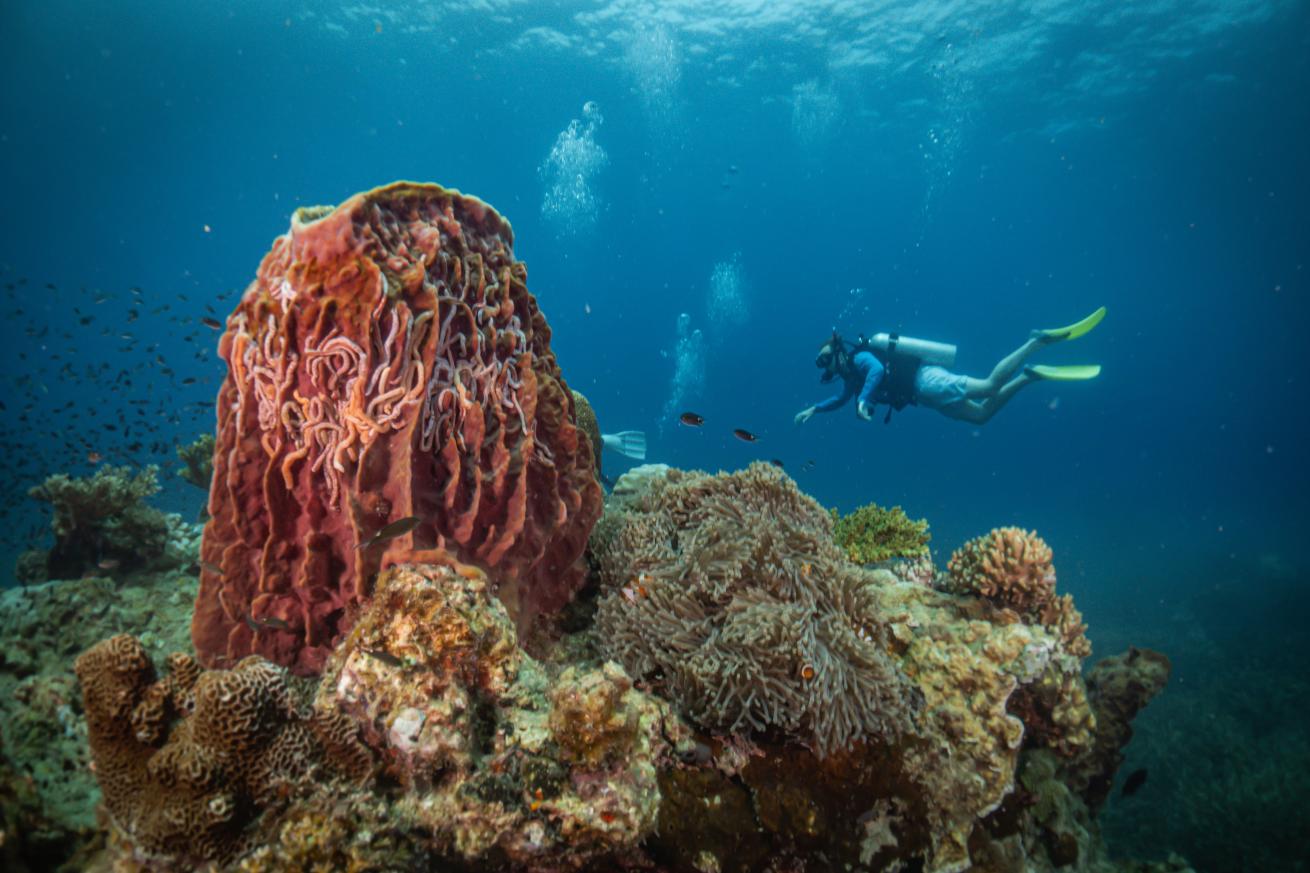 Zakh Hymann/Panorama Diver Perhentian
Need to Know
When to Visit
The Perhentian Islands generally shut down between October and April due to the monsoon season and unfavorable diving conditions. The summer months of June, July and August are the best but also busiest times to go.
Conditions
Visibility depends largely on the dive site; however, you can expect between 35-65 feet (10-20 meters) across the board. Water temperature is a steady 80-90 F (27-32 C), so you'll only need a rash guard, but thermoclines are common making a thin wetsuit helpful.
Getting There
You'll need to take a short one-hour flight from Kuala Lumpur to Kota Bharu, from where you can take a minibus approximately an hour to Kuala Besut Jetty. From there, a 45-minute speedboat ride will drop you off at your destination. Aside from flights, the above transport can usually be booked in advance via your hotel or dive school on the islands.
---