The Best Wreck Dives in Southeast Asia
The warm, tropical waters of Southeast Asia's Coral Triangle, a marine area surrounding Southeast Asia, are home of the most biodiverse communities in the underwater world. But the region has more to offer than coral — it's also a fantastic place for wreck dives, in part due to the Pacific's geopolitical importance during World War II. There are plenty of wreck dives for both open water and advanced divers.
USAT Liberty, Indonesia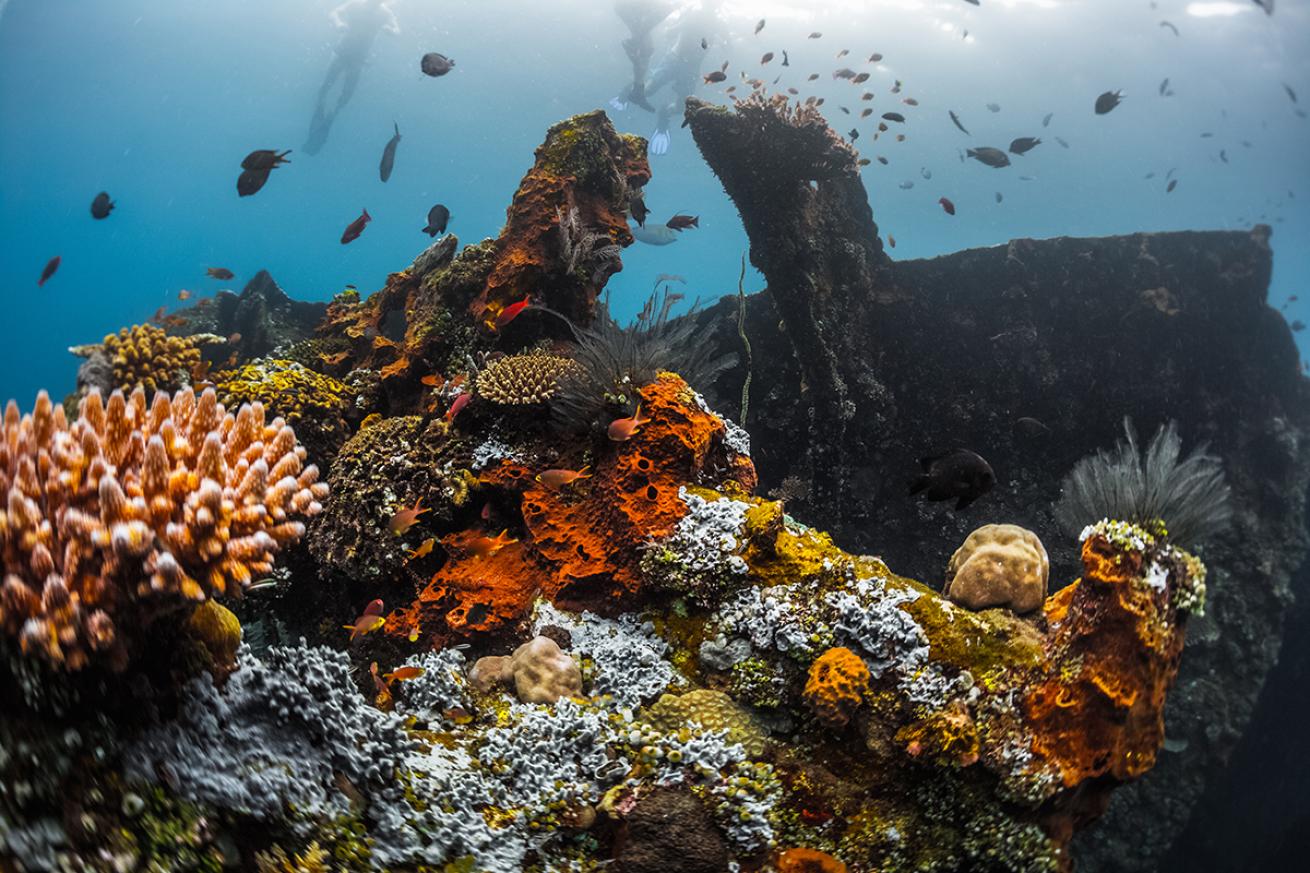 Shutterstock.com/Dudarev Mikhail
The USAT Liberty cargo ship, struck by a Japanese torpedo in 1942, is one of the most popular dive spots in Indonesia.
After a failed repair mission during the war, it was beached in Tulamben, a small fishing village on the northeast coast of Bali. It slid off the beach and into the surf in 1963, making it an easily accessible shore dive in calm waters.
Wreck dive sites within the depth limits of open water certification are less common, so the Liberty is a great place for newer divers to explore. Due to the immense size of the wreck, just under 400 feet in length, it can be explored in plenty of ways, with dive depths ranging from 13-98 feet. Although the vessel is degraded, it's still a photographer's dream, especially the eerie hull emerging from the blue waters. Visibility is usually amazing, with plenty of coral and marine life to be seen including eels, surgeonfish and potato grouper.
The quiet towns of Tulamben and nearby Amed might not have the bustling excitement of Ubud or Seminyak, but the slower pace is part of the appeal. They attract divers from all over the world. In addition to the Liberty, there are dozens of other dive sites in the region, making it worth a few days of any Balinese vacation.
HTMS Khram, Thailand
For an epic wreck dive off the Pattaya coast, check out the HTMS Khram. This U.S. navy gifted this ship to the Thai Navy in 1962, but after the warship was decommissioned it was scuttled in 2003 as a dive site and artificial reef.
The ship sits at a depth of 91 feet with incredible visibility. Because the ship was well-prepared as a dive site, there are plenty of safe swim-throughs to check out, particularly the engine room. Although covered in barnacles, you can still clearly make out all of the dials and controls, surreal to see underwater, as well as sea turtles, rays, and scorpionfish.
Jake Seaplane, Palau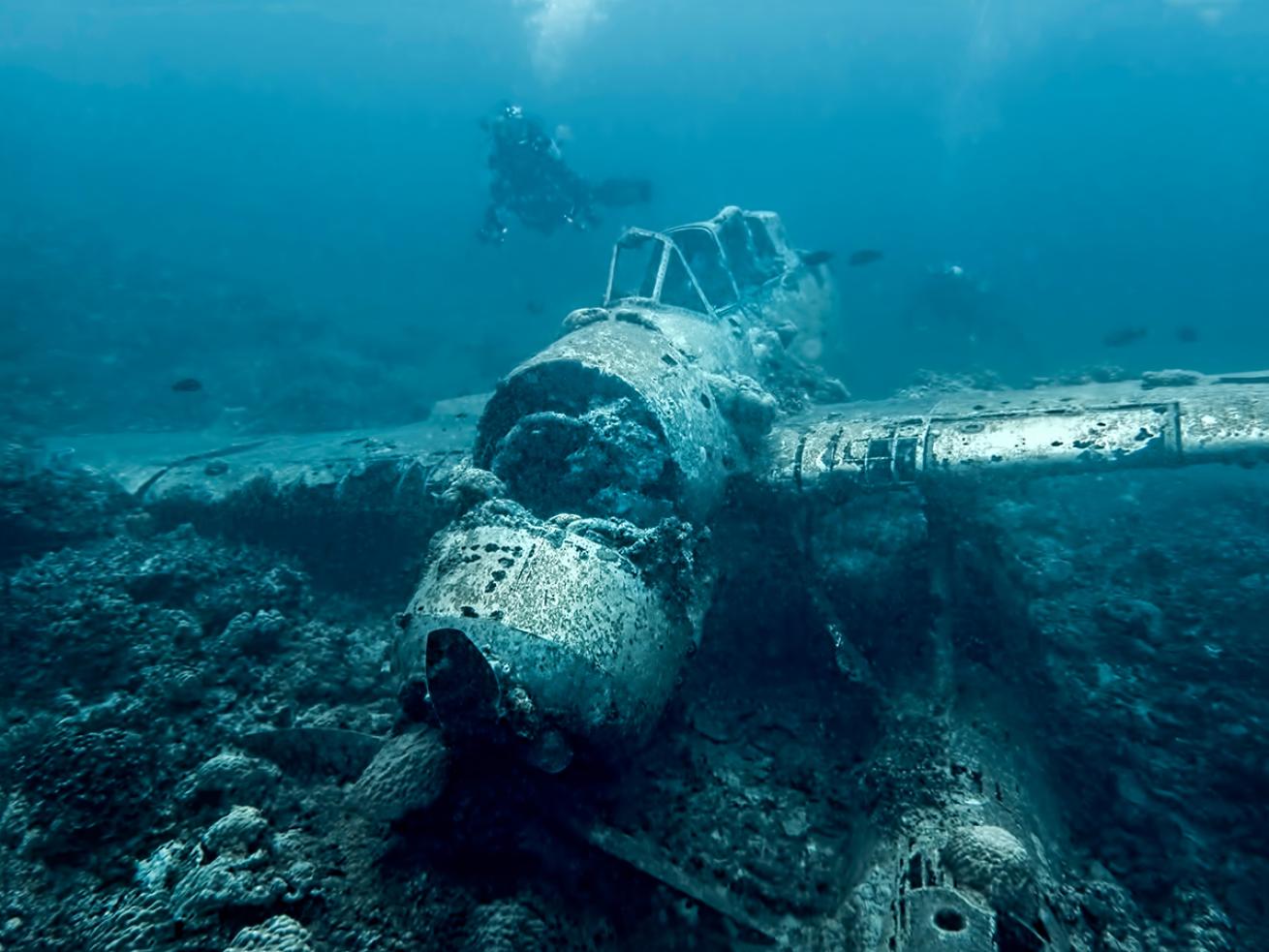 Shutterstock.com/Eric Donalson
If you find yourself in Palau, a small chain of islands in the Micronesia region, the Jake Seaplane is an easy dive that's also fun for snorkelers, since the wreck is visible from the surface.
Just a few minutes by boat from Koror will get you to the dive site, a Japanese reconnaissance plane that's believed to have crashed in World War II. A fisherman discovered it in the 1990s and it has since become a popular dive site.
The wrecked plane sits in 49 feet of water and is a straightforward dive that anyone can visit, with plenty of coral formations. While Palau is better known for shark diving, it's also home to a few wreck dives from WWII that are worth your time–in addition to the Jake, check out the Iro Maru and the Zero Fighter.
King Cruiser, Thailand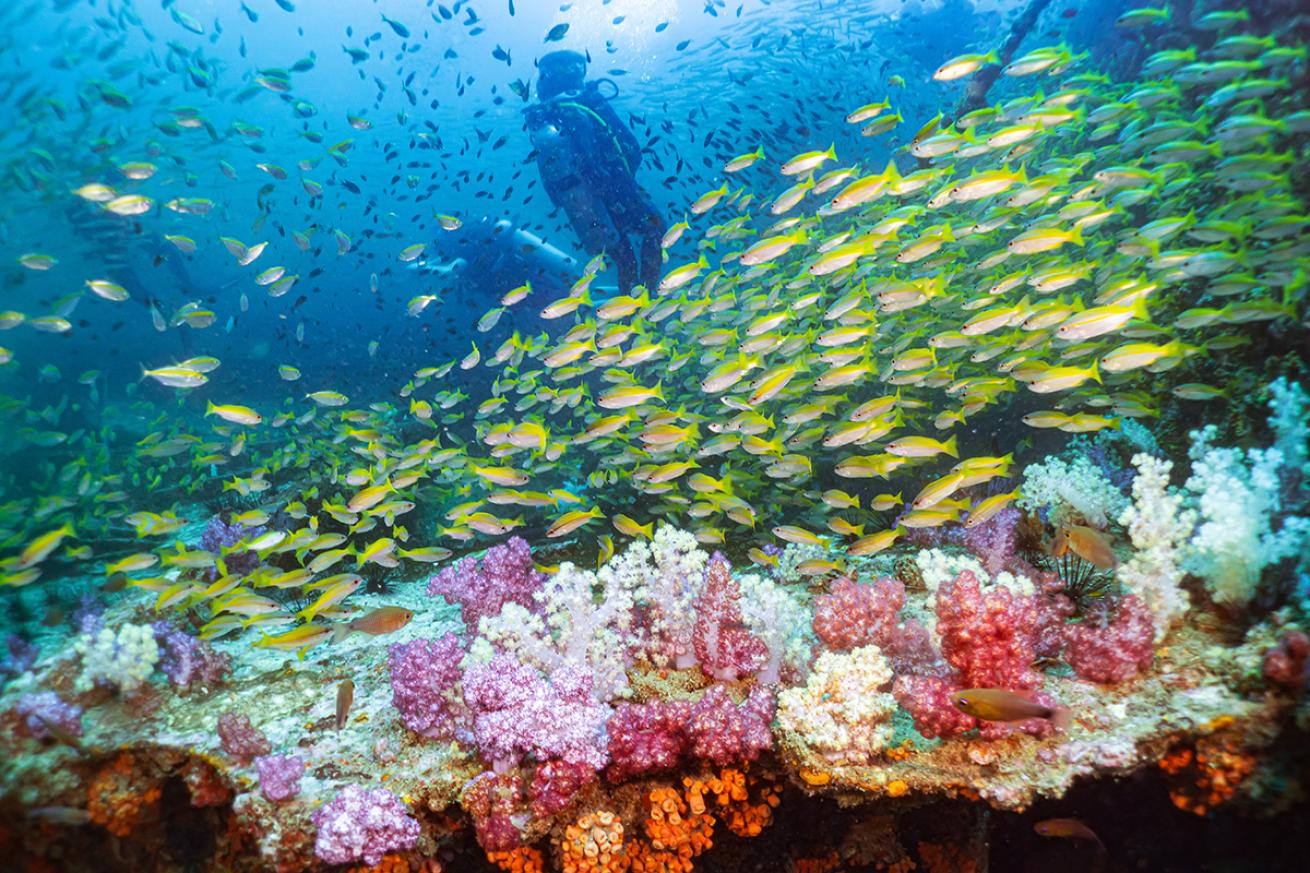 Fish swarm below divers on the King Cruiser.

Shutterstock.com/Methanon
It's not often you come across an underwater car ferry, but the King Cruiser, off the Phuket coast, is an exception. This car and passenger ferry operated between the islands of Phuket and Phi Phi, but hit a reef and slowly sank in 1997—everyone on board was evacuated.
This massive ferry is now a unique underwater dive site for advanced divers, thanks to a depth of 102 feet and strong currents. Part of the ferry has collapsed, so swim-throughs are no longer safe, but this huge, 279-foot long ferry is still fascinating to see. You can also spot plenty of tropical fish, but the occasional leopard, bamboo and whale shark have been seen here from February to April.
USS Boston, Papua New Guinea
Thought to be a former US Army freight ship, the USS Boston sank near Madang around 1946, in Papua New Guinea. It's now an incredible dive site in about 98 feet of bright blue water. Despite its age, the wreck is in great condition, with the bow and stern still clearly identifiable.
A huge diversity of marine life is found around Madang, including sharks, sea snakes and large schools of fish. Although Papua New Guinea is less frequently visited than its neighboring islands, like Indonesia and the Solomons, divers are rewarded with crystal clear water and dozens of easily accessible reef and wreck dives.
---