Alexander Springs: The Best Dive Site in Florida For Newly-Certified Divers
Nestled in the heart of the Ocala National Forest, Alexander Springs is a glittering turquoise gem of a swimhole and the start of the Spring Creek run. Surrounded by Maples, Sweetgum and Cabbage palms, it's easy to feel you're in the midst of the great outdoors.
Like Blue Heron Bridge, Alexander Springs is one of the most popular dive sites in Florida. It's easy to dive, shallow and close to centrally-located cities like Orlando. It's also a great place to experience the gin-clear springs Florida is so well known for.
Related Reading: Best Springs for Diving in Central Florida
Where many of Florida's diveable springs are privately owned and accessible only after paying a fairly steep entry fee—Blue Grotto and Devil's Den, for example—Alexander Springs is comparatively affordable. During the week it costs just $9 per person and at weekends $12 per person. Unlike the privately-owned sites, however, there aren't as many amenities for divers. For example, it's a fairly long walk to the water from the parking lot, there isn't a place to fill tanks or rent gear, and there aren't benches specifically set up with divers in mind.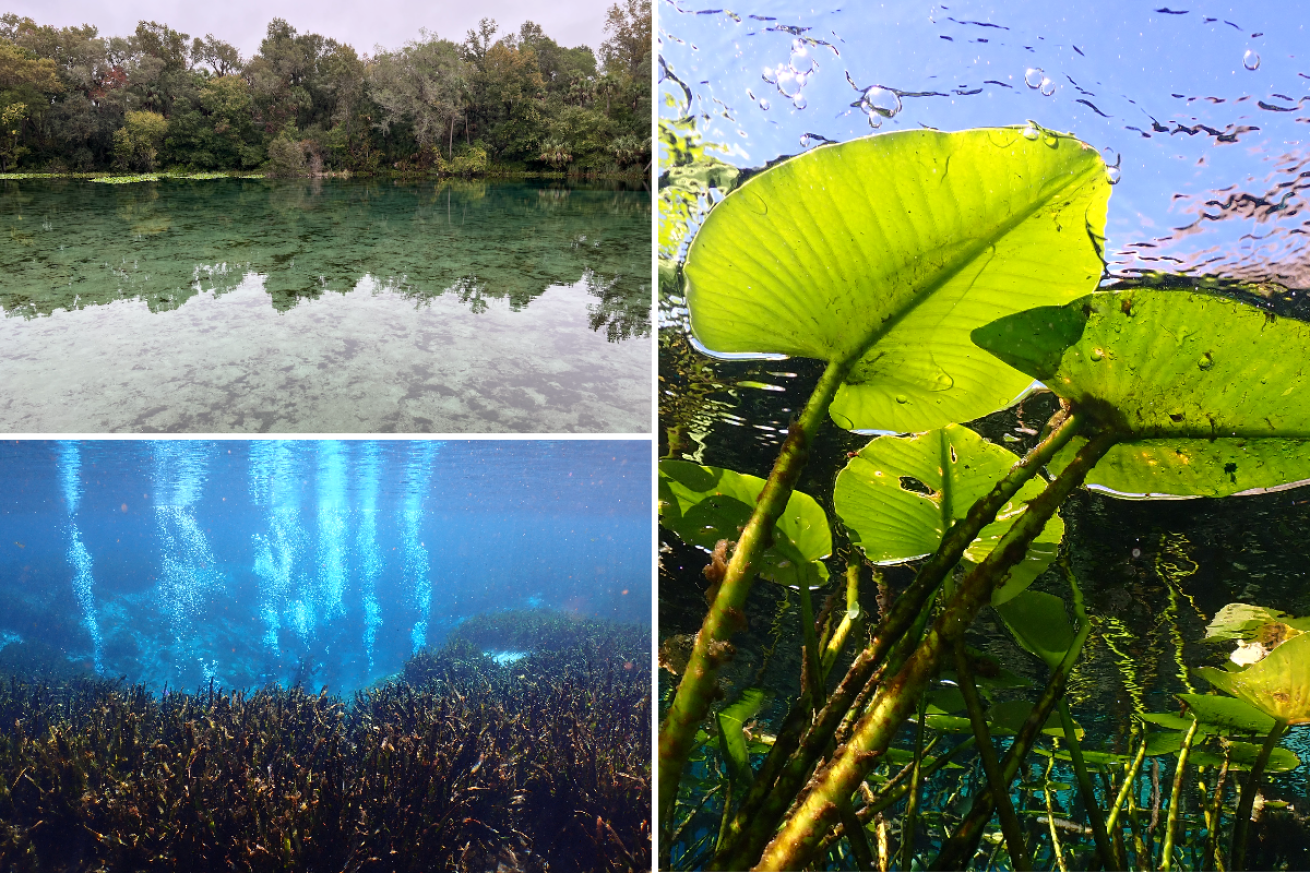 Counterclockwise from left to right: Alexander Springs from above; the deep section underwater surrounded by aquatic grasses; the lily pad maze in Alexander Springs

Candice Landau
Getting to Alexander Springs:
Alexander Springs is located in the Ocala National Forest and is actually the only place in this forest where scuba diving is allowed. The nearest dive shops include Seminole Scuba (a PADI 5 Star IDC Center) and Florida Dive Company.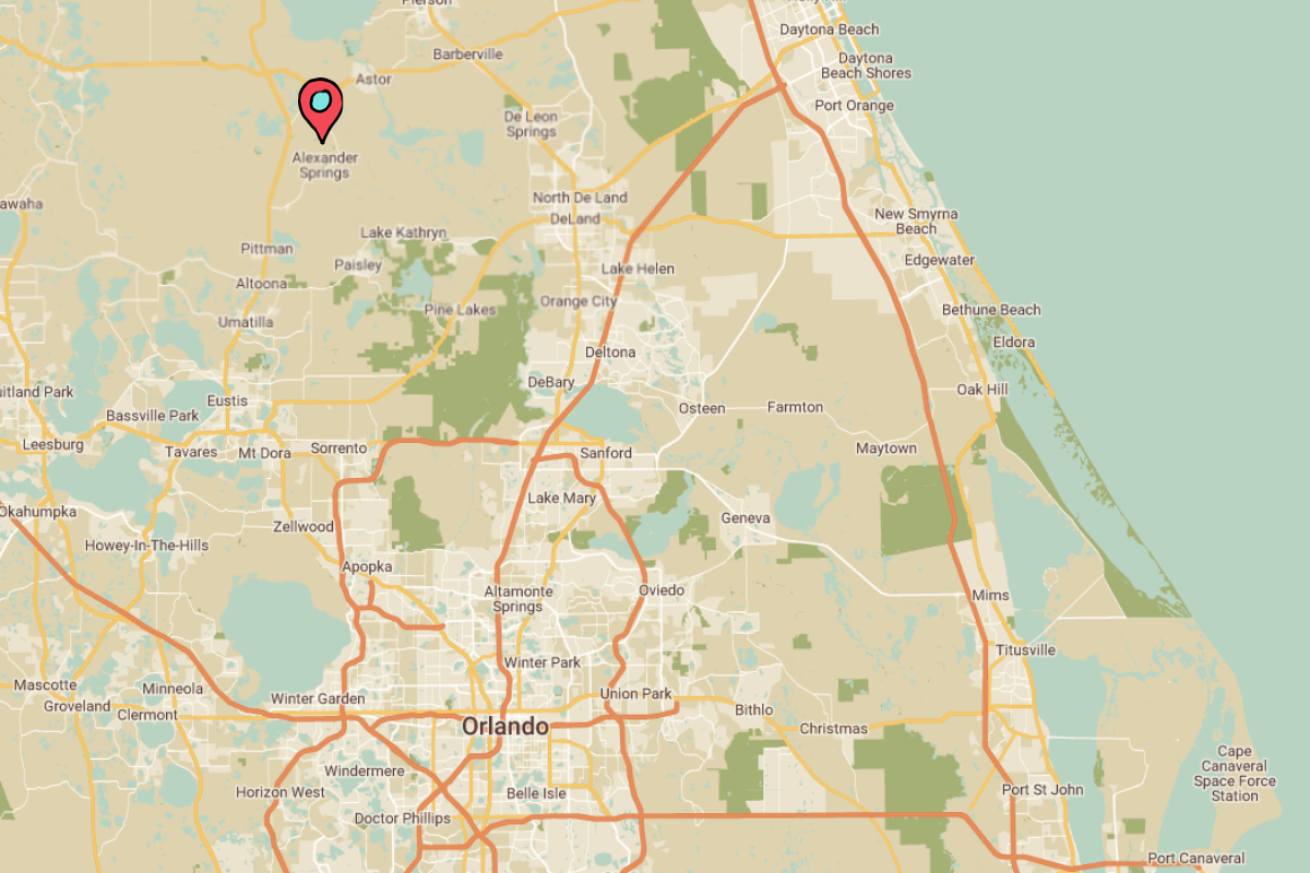 Alexander Springs is only a little over an hour away from Orlando. Bring your scuba tanks with you as there aren't any on-site dive shops!

Google Maps; Candice Landau
When to Dive Alexander Springs:
If you're going to dive Alexander Springs on a weekend, the first thing to know is that the gates don't open until 8 am. However, you will find that people start lining up outside the gate as early as 6.30 am. This is especially true in summer and the warmer months. In winter it's much easier to dive this site on a schedule that suits you.
Unfortunately, this can mean getting entry into the springs is at times, challenging. Alexander Springs is popular with families who just want to get in the water, mermaids (yes, you heard that right), church groups, and well, everyone really. The bad news is that once the parking lot is full, the gates close and no more people/vehicles are allowed to enter until there is space. It's a problem you'll become very familiar with if you live in or frequently dive central Florida springs.
My Recommendation: get there at 6.45 am during the Summer and 8 or 9 am once the temperature cools.
When the gate does finally open, you'll pay your fee, put on your wristband that indicates you're a diver and drive to the spacious parking lot where you can choose to gear up or load your gear into a wagon and walk it down to the water's edge. The walk to the water is about 0.15 miles (not short when you're in gear but not impossible by any means).
If you take a wagon down, you may want to walk it back up to. While I have yet to have anything stolen by leaving stuff near the water's edge, there is always the possibility as there are sometimes a lot of people around.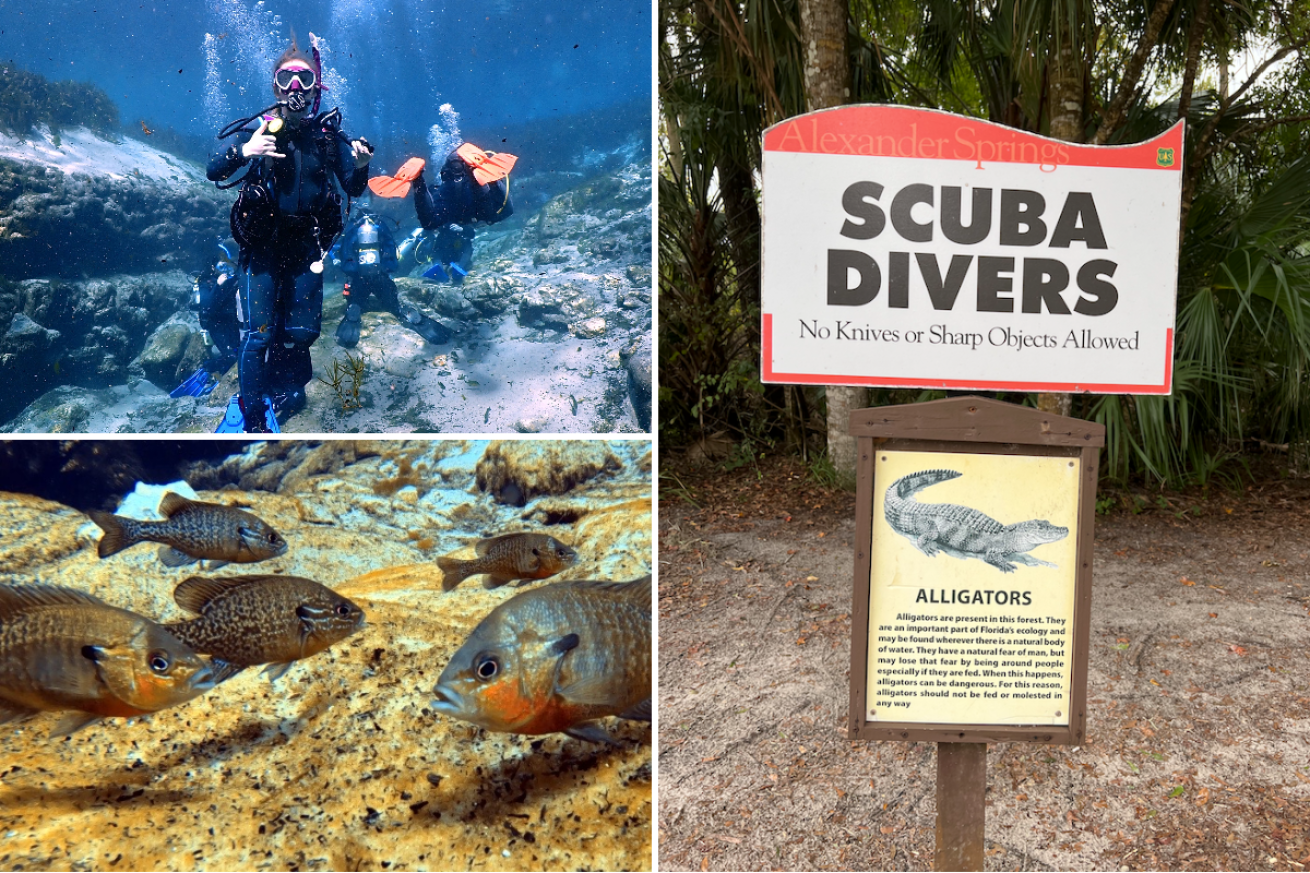 A few things you'll see in Alexander Springs: Divers and mermaids, alligators (maybe), fish, and much more!

Candice Landau
What You'll See Underwater in Alexander Springs
Alexander Springs is a first-magnitude spring meaning that it discharges at least 64 million gallons of water a day. When you drop into the small "deep" area (23 feet) that I like to call "the sink," you can actually feel the water pouring out of the hole in the ground. Swimming over this hole you might even feel yourself pushed up to the surface. In this sink area there are multiple other small cracks and crevices where you can see water gushing out. It's actually quite beautiful and perfectly safe to dive. Because this area is fairly small, when instructors teach here, it can get pretty crowded—a word of warning!
Related Reading: A Year-Round Guide to the Best Diving in Florida
Outside of this sink area, most of the roped-off section where diving and swimming is permitted is only about four to seven feet deep, depending on where you are. Very shallow! Another notable point of interest outside of the broiling sink is the lily pad section on the other side of the spring, which you can just see in the image above. These lily pads actually create an underwater maze with paths and swim-throughs that look as though they've been carved out intentionally. If you're practicing underwater photography, this section is a dream as you can capture beautiful images of the plants floating on the water surface above, just don't stir up the silt or you're pictures will be grainy. You're also very likely to see a lot of fish and even turtles in this section.
While signs outside the springs do warn about alligators, you aren't likely to be bothered by them. If you do see them, like sharks, they're probably going to be more scared of you and flee upon sight. I've heard them croaking like bull-frogs in the morning and even seen one in the distance, though this only happens when the spring basin is pretty empty. When there are tons of people in the water in summer, good luck finding one!
Regardless of where you are in the spring, your visibility is going to be gorgeous. That is, unless you stir up the silty bottom. I recommend practicing your frog kick here or a modified flutter kick. If I'm with students, I usually leave the water with a whole lot of sand in my hair…
What Fish and Other Life Can You Expect to See?
Largemouth bass, Tilapia, Golden shiner and Crevalle jack are all fairly common at this site. I've also been lucky enough to spot Gar (over in the lily pad section) and the largest Florida softshell turtle I have ever seen! Yes, bigger than Blue Grotto's Virgil, though not half as friendly.
If you've got a camera, snap a picture of the fish and check out the Florida Springs Institute. They've got a great guide that will help you identify what you're looking at. They've even got a guide to identify turtles!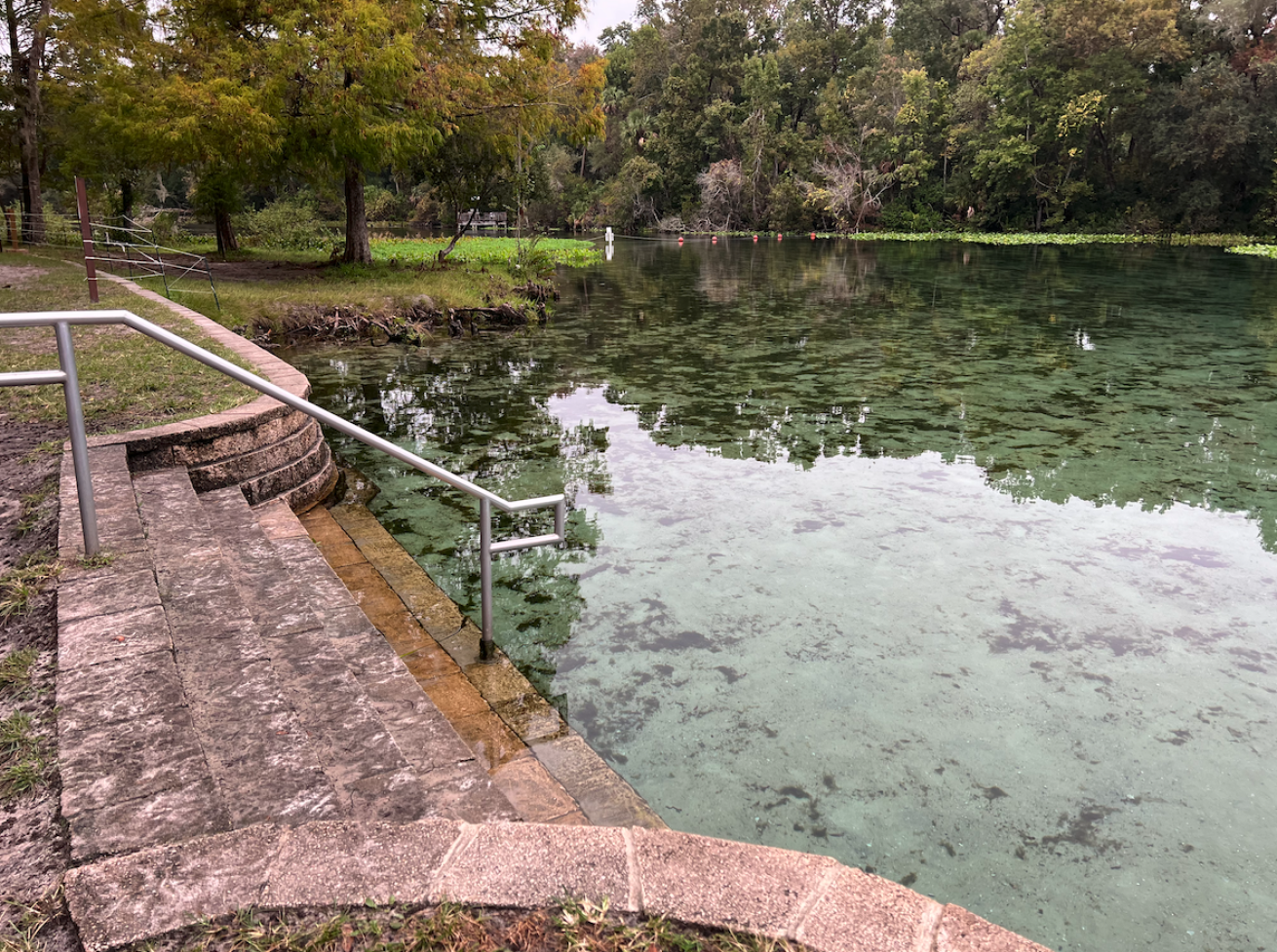 Alexander Springs lies in the heart of the Ocala National Forest. Maples, sweetgum and cabbage palms give this site an almost tropical feel.

Candice Landau
Entry and Exit Points:
Entering the spring is pretty easy as there are stairs in two places. Exiting is a little more challenging as the last stair, or first stair if you're exiting is fairly high. I usually have to help students out, or use the railing on the stairs to haul myself out. Alternatively, if you're not walking your gear up on your back, you could take it off in the water and make your own life a little easier.
There's a rinse-off shower near the staircase to your right as you look out across the spring. Very handy if you want to give your gear a quick rinse off, especially if you've kicked up silt!
Alexander Springs: Need to Know
You can learn more about this site (and check whether or not it is open) on the USDA Forest Service website.
Hours: 8am to 8pm.
Water temperature: Year-round the water temperature is about 72°F.
Exposure protection: I dive in at least a 3mm wetsuit at this site, though that can quickly feel cold. I recommend a 5mm wetsuit if you're teaching. Some instructors will even wear drysuits here.
Entry fee: $9 per person on weekdays and $12 per person on weekends. You can also purchase a $75 annual day use pass if you know you'll be frequenting the site a lot! See more about entry fees here.. If you're diving, taking your scuba certification card with you! They'll hold it hostage at the entrance (they like to keep track of who is diving) and you can pick it up on your way out.
On-site amenities include: Restrooms with showers, an amphitheater, picnic tables, grills, picnic shelters, a small on-site shop/concession building, and a 67-unit campground.
Closest dive shops: Seminole Scuba (a PADI 5 Star IDC Center) and Florida Dive Company.
---