A Year-Round Guide to the Best Diving in Florida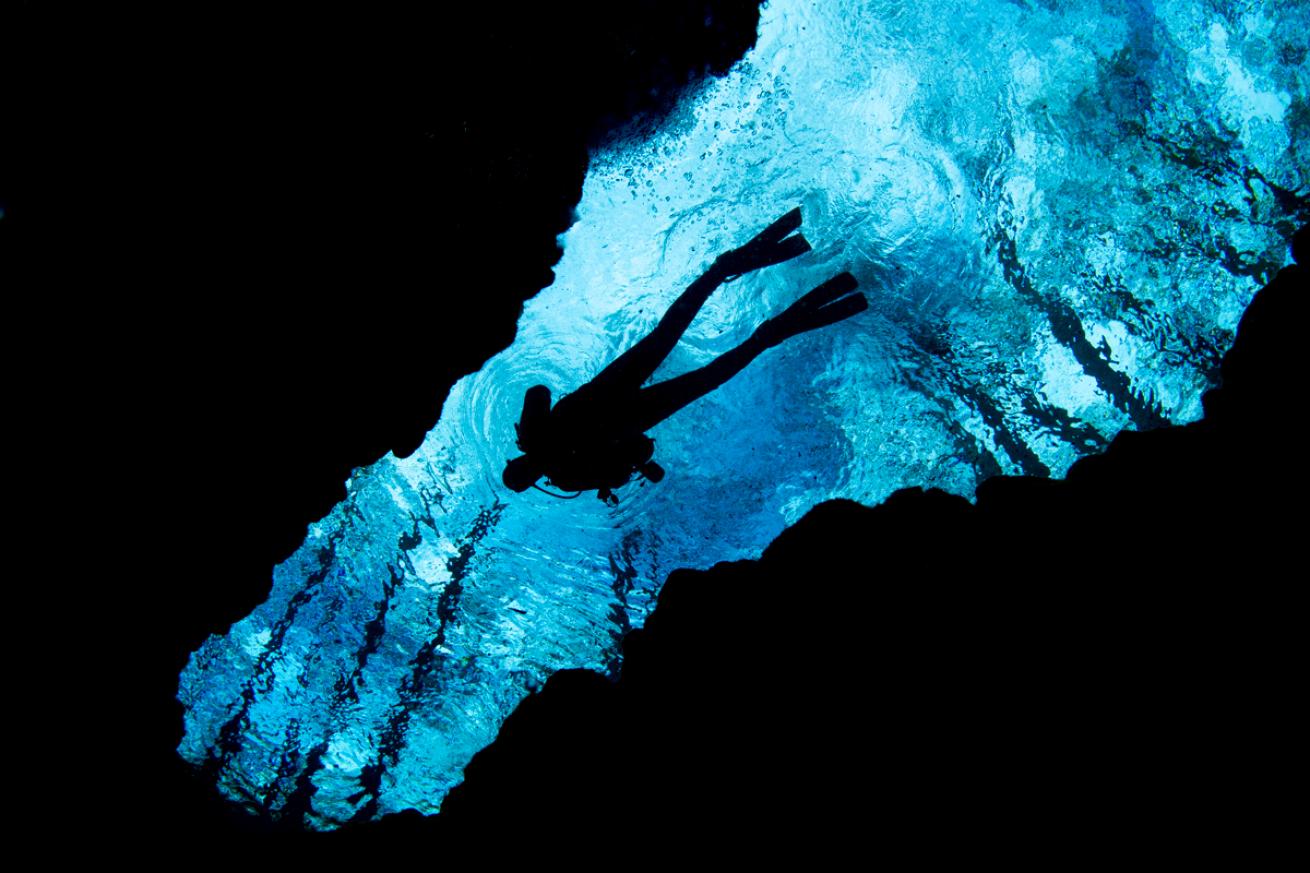 A diver fins near the surface at Little Devil's Crack, a cavern that can be dived year-round in Ginnie Springs, northern Florida.

Josepperianes/Shutterstock
You don't need to travel outside the United States to see exotic tropical marine life and experience world-class diving any time of the year. In fact, Florida has the third-largest reef system in the world, and offers practically any diving you can think of—two unique coastlines, fossil hunting, alligators, caves, caverns, manatees, sharks, reefs, wrecks galore, muck diving and off-the-charts black-water diving. Floridians will tell you the state has two seasons: summer and winter. Dive seasons, however, are dictated by the type of encounter, the location and, of course, the weather. In short, there's manatee season, goliath grouper season and shark diving season. Most all else can be dived year-round, but some hotspots are best experienced in summer.
Speaking of summer, Florida's are, not surprisingly, hot and humid, with gin-clear, glassy 1- to 2-foot flat seas, although the heat does rouse tropical storms from June 1 through November 30. Hurricane season looms ever present in the back of Floridians' minds until one gets too close to ignore. If you're planning to visit during this time, don't forget to buy trip insurance. Floridians live for the winters, when it's sunny, breezy, there's less humidity and temperatures in most parts of the state hover in the mid-70s. The Gulf Stream current spoons colder waters into the mix from up north, so unless you are a polar bear, you'll want a 5 mm wetsuit until April. Keep in mind January and March generally have the strongest winds and high seas. All of which leads you to make your first seasonal choice...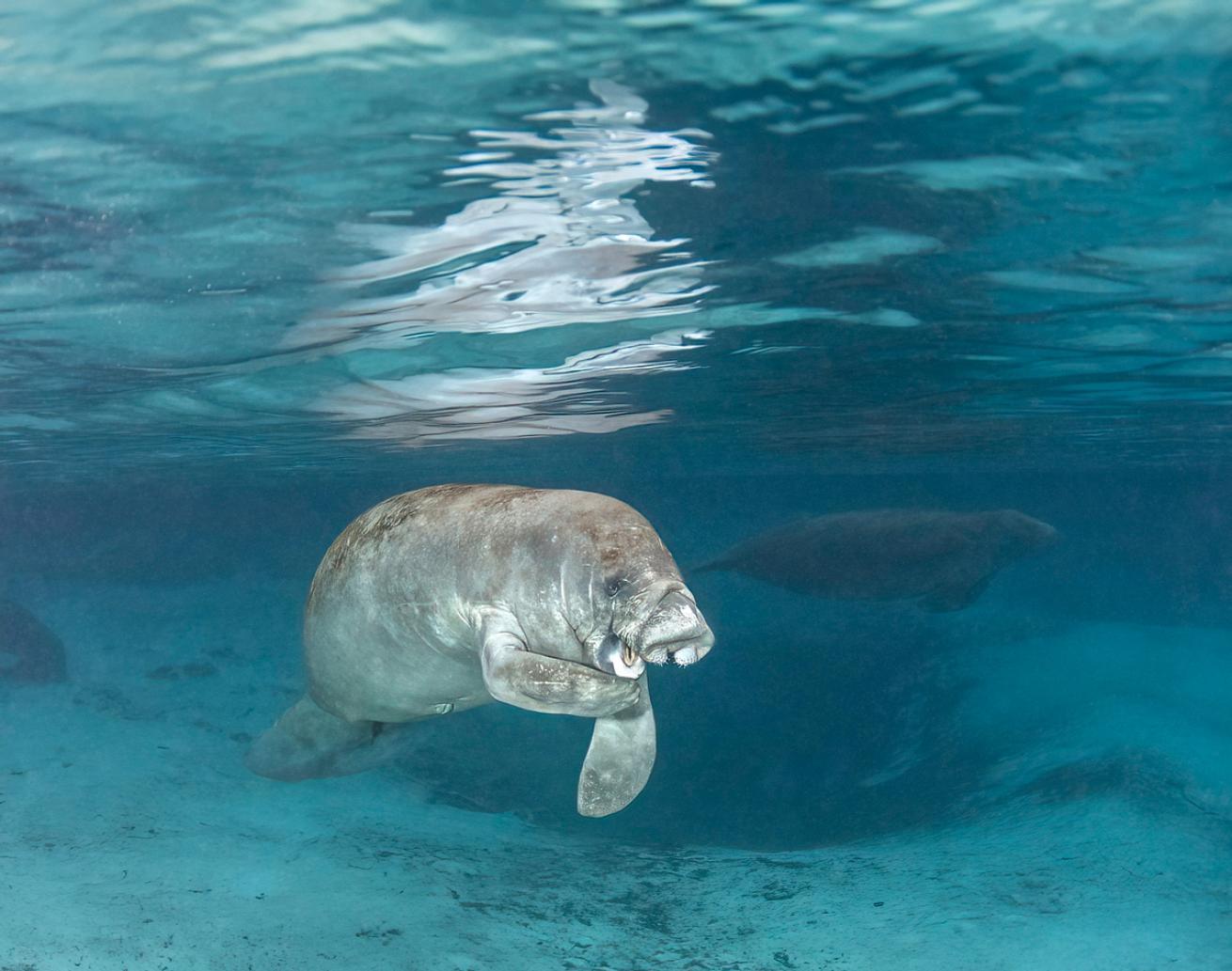 A manatee poses for the camera at Three Sisters Springs in Crystal River.

Joni Hanebutt/Shutterstock
Manatee Season
West Coast
Mid-November to February
Crystal River is the manatee capital of the world. These spring-fed waters play host to a cute and cuddly all-ages snorkeling adventure in Kings Bay, Three Sisters Springs and Homosassa Springs.
Sea cows become stressed in water temperatures below 68 degrees, which can make them vulnerable to sickness and even death. When the water temperatures drop down in the southern Gulf of Mexico, hundreds of manatees flock north because the springs maintain a constant 72 degrees year-round. That's your cue to book your trip.
Be aware that when there are too many manatees, park rangers may close off areas to afford the manatees a peaceful, tourist-free gathering. This is for the safety of both humans and manatees, whose sheer size is intimidating at 1,000 pounds. Worry not, all dive operations give a presentation on proper etiquette for interacting with these protected mammals.
Get an early start: The 5:30 a.m. tour is a rite of passage in these parts. If you're taking photos, you'll want midmorning ambient light because flash is not permitted.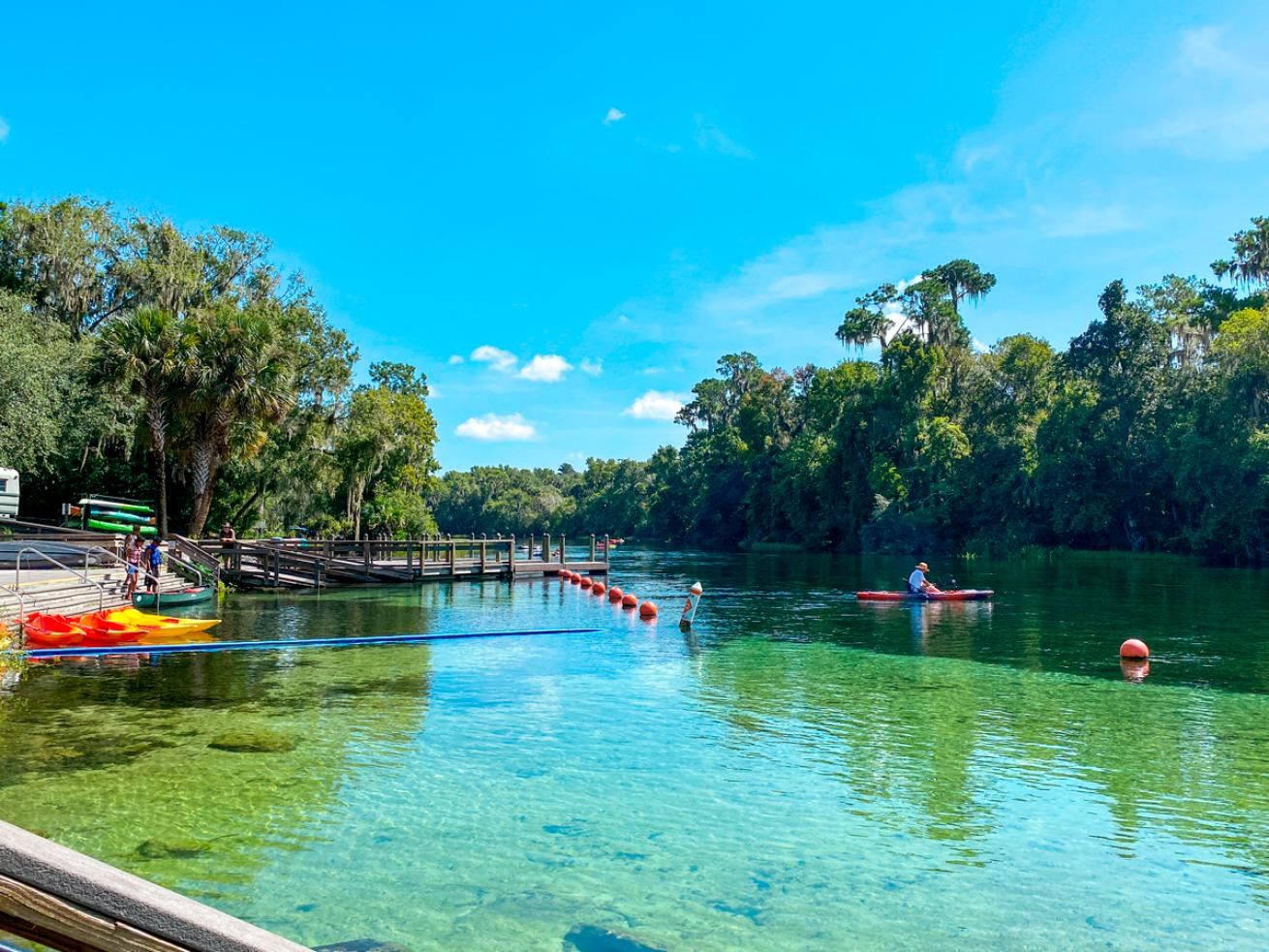 Rainbow River offers diving, tubing and other opportunities for year-round water recreation.

Joni Hanebutt/Shutterstock
Conditions Air temps are chilly at 40 to 50 degrees; water temperature is 72 degrees. Wear a 5 mm wetsuit, and bring a dive coat.
Operators Bird's Underwater; Fun 2 Dive
Trip Tip The nearby Rainbow River is a blast of a drift dive; you can also rent tubes here.
A goliath grouper on the MG-111 wreck.

Joni Hanebutt/Shutterstock
Goliath Grouper Season
South Florida
July to early October
For a real kick, every diver should book a goliath grouper dive at least once in their lifetime, if not as an annual pilgrimage. One of the largest aggregations of these docile, Volkswagen bug-size sea bass occurs around the wrecks off Jupiter and West Palm Beach. Local dive charter captains will take you to the best wrecks to watch this annual act of fishy fornication, such as the Ana Cecilia, the Mizpah and MG-111. Remember to book early as these boats fill up fast.
Weighing over 600 pounds, these protected gentle giants, once hunted to near extinction, are just now making a major comeback. When approached slowly, their curiosity wins, and they may come in close to you! They command their own reef system, complete with remoras and enormous silvery baitballs surrounding them like an invisibility cloak. While diving you may hear their deep baritone mating bellows, likened to a sonic boom that freakishly resonates through your body and surely causes panic or the giggles. If you get lucky you may get to see them stacking up 50 high. I think it's fair to say that almost every wreck in Florida has its year-round resident goliath mascot, should you miss the season.
Conditions Water temps average 83 to 86 degrees. Wear a 3 mm wetsuit. Currents can be strong here.
Operators Pura Vida Divers; Jupiter Dive Center
Trip Tips Communicate with the dive shop about recent sightings to pick the best date. Early morning trips are recommended. Spots fill fast; book early.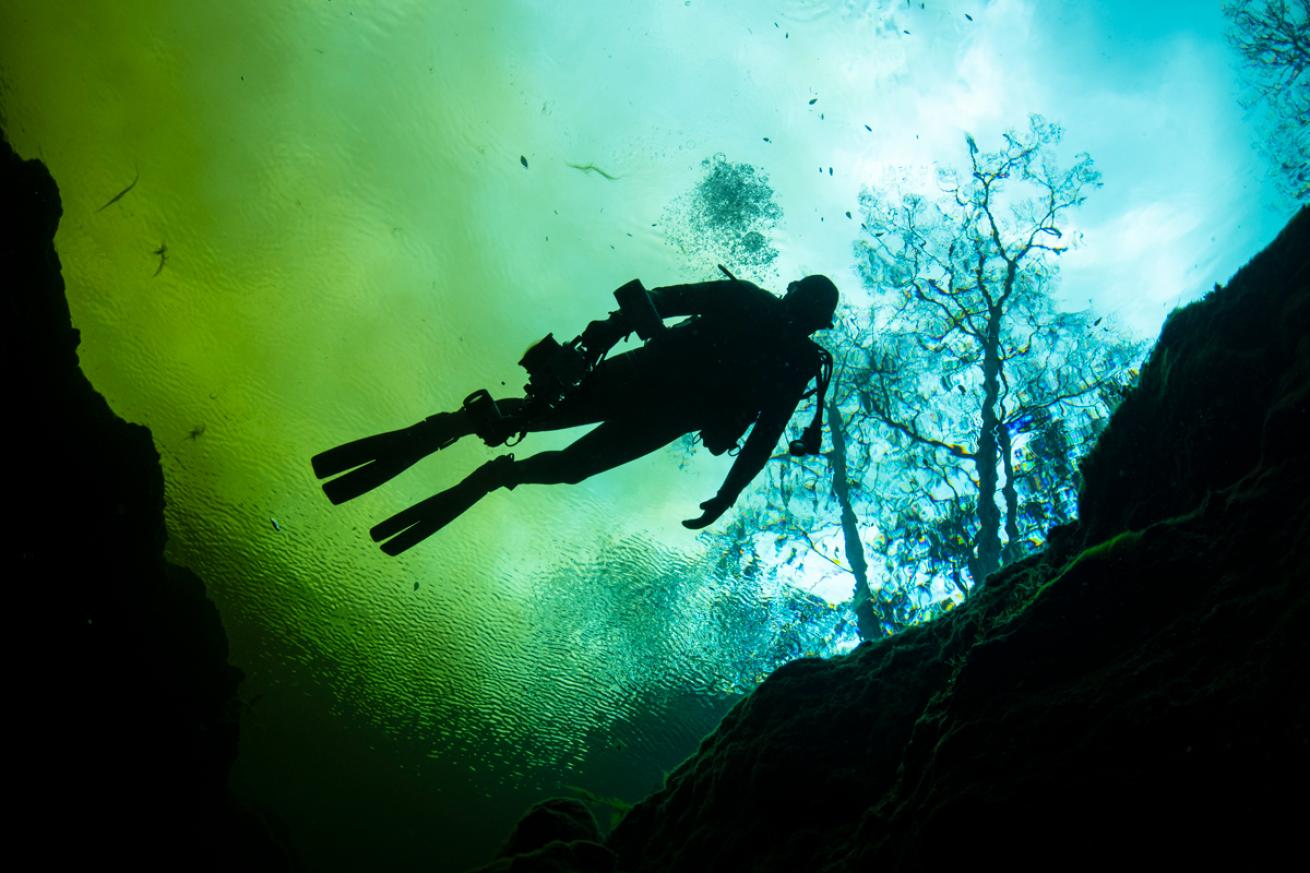 Exploring Devil's Eye at Ginnie Springs.

Joni Hanebutt/Shutterstock
Year-Round Highlights
Freshwater Springs
These sites are a great add-on to a winter manatee trip but can be super refreshing on a steamy summer day. There are hundreds of crystal-clear freshwater springs fed by underground rivers in the central and northern parts of the state, offering kayaking, swimming, snorkeling and, in several cases, diving.
Scuba diving is only permitted in a handful of springs, with a dive buddy: Ginnie Springs is home to the Devil's Spring System, including Devil's Eye, Devil's Ear and Devil Spring, which together generate roughly 80 million gallons per day.
Devil's Den Prehistoric Spring and the Blue Grotto Dive Resort, featuring Virgil the turtle, are 45 miles away in Williston. These basins are actually sinkholes. Recreational diving is permitted only in the open-water basins and upper caverns where light can be seen. The lower cavern is reserved for cave-certified divers or trainees with instructors.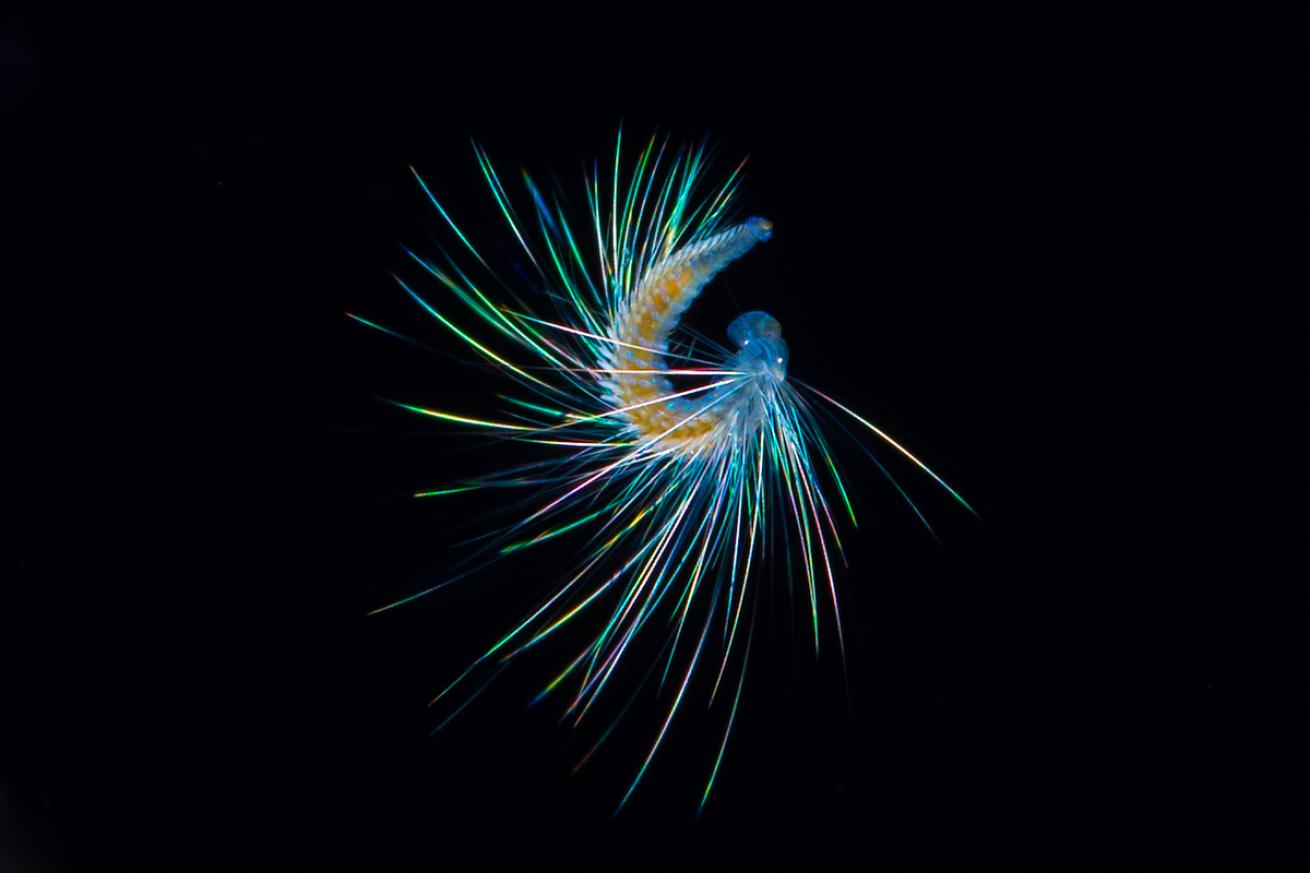 A tiny fireworm on a West Palm Beach black-water dive.

Joni Hanebutt/Shutterstock
West Palm Beach
Book a charter for blackwater diving, a shallow drift dive at night over depth out in the Gulf Stream current. Advanced certs, excellent buoyancy control and comfort in a jet-black night environment are vital or you'll scare the pants off yourself the first time a large pelagic brushes up against your leg. Ask me how I know. It is a macro photographer's heaven. I guarantee it's like nothing you've ever seen before: deep-sea larval fish with funky lures, transparent whirligigs—it's bizarre as all get-out.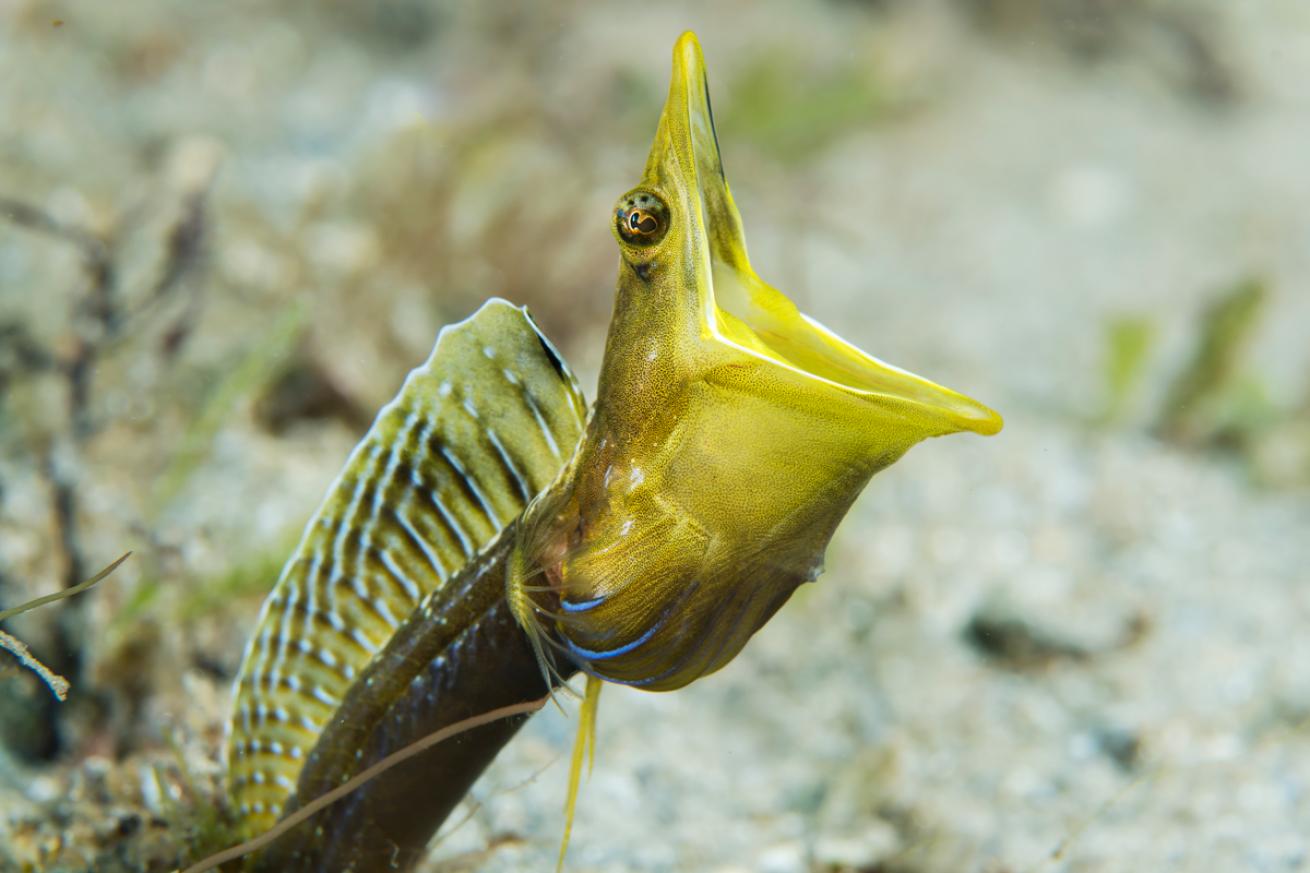 A bluethroat pikeblenny at Blue Heron Bridge.

Joni Hanebutt/Shutterstock
A shore dive in the Intracoastal Waterway, Blue Heron Bridge is shallow and protected from choppy seas, making it an underwater photographer's paradise, especially if you'd like to see spotted eagle rays, jawfish, batfish, stargazers, nudibranchs, hairy frogfish and more. It is free to dive but tide dependent. Enter the water one hour before high tide, and dive the east, west, or out in front along the well-established snorkel trail installed in 2009 (look for the three shark statues on the west end). You could dedicate three to four days just to dive BHB.
A freshwater turtle native to Central Florida.

Joni Hanebutt/Shutterstock
Conditions Freshwater springs: Water temps are 72 de-grees year-round, with crystal-clear visibility exceeding 100 feet. Wear a 5 mm wetsuit. West Palm Beach: Water temps range from 65 degrees in winter to 85 in summer. Viz averages 60 feet.
Operators Freshwater springs: Blue Grotto Dive Resort; Devil's Den Spring;
 Ginnie Springs Outdoors. West Palm Beach: Force-E Scuba Center, Riviera Beach; Pura Vida Divers ; Walker's Dive Charters
Trip Tips Freshwater springs: Your dive buddy must be present with you to get your wrist bands to dive. Snacks and hot chocolate are available at the main entrance to Ginnie Springs. West Palm Beach: Local Five Star PADI Dive Center Pura Vida Divers also offers discounts for hotels centrally located near dive boats and can cover all your other needs, from rentals to booking dive excursions.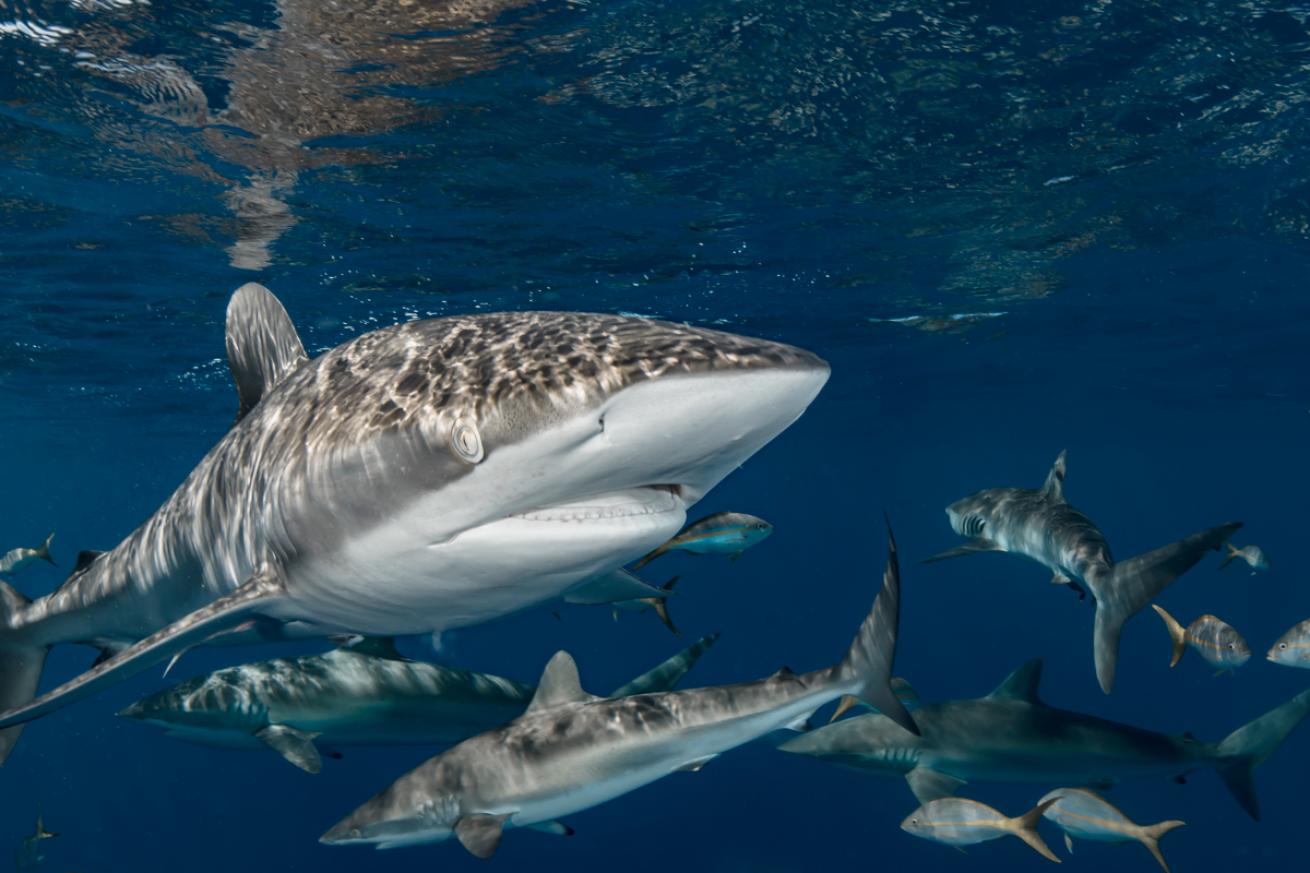 Silky and reef sharks come in for a closer look off West Palm Beach.

Joni Hanebutt/Shutterstock
Shark Diving Season
South Florida
December to mid-March
Shark dives are popular in the Jupiter-West Palm Beach area, where you can expect to see tiger, bull, hammerhead (great and scalloped), silky, lemon, dusky, and sandbar sharks offshore in about 80 feet of crystal-blue water for what is believed to be a spawning prenuptial. The blacktip migration carries literally thousands of blacktip sharks that can be seen from shore. Hammerheads are known to hunt the blackcaps (March to July) before heading to Bimini in the Bahamas, a short 50-mile jaunt from Fort Lauderdale, December to April.
Having the opportunity to observe sharks firsthand can be a unique and rewarding experience. The dive briefing is especially informative, and it is important to follow instructions as given. Dive operators are familiar with the sharks and their individual behaviors, and have even named several of the locals. The divemaster's ability to read the situation makes it possible for you to have a mutually safe close encounter with these magnificent creatures. A nitrox certification will help you maximize your time with them.
Conditions Water temps average in the mid- to high 60s during winter.
Operators Emerald Charters; Salty Divers
Trip Tip Shark dives are baited. Avoid wearing white, and cover your skin. Listen carefully to the dive briefings. Do not try to touch the sharks.
Summer Special
Florida Keys and West Coast
In the Florida Keys the crystal-clear waters and white-sand beaches invite you to kick off your shoes and enjoy the summer vibes. Each island has plenty of cool encounters to choose from, with generally easy diving from Key Largo to Key West.
Heading south from Key Largo (home to John Pennekamp Coral Reef State Park and the iconic Christ of the Abyss statue) along the Overseas Highway, it feels as if you've gone back in time. Islamorada and Marathon offer the third-largest living barrier reef in the world, teeming with turtles, tangs and treasures. Inhale the breathtaking pristine azure sea as you drive along the Seven Mile Bridge on your way to Key West, the southernmost tip of the United States and home to wrecks like the Vandenberg and remnants of Spanish galleons sure to conjure dreams of finding treasure.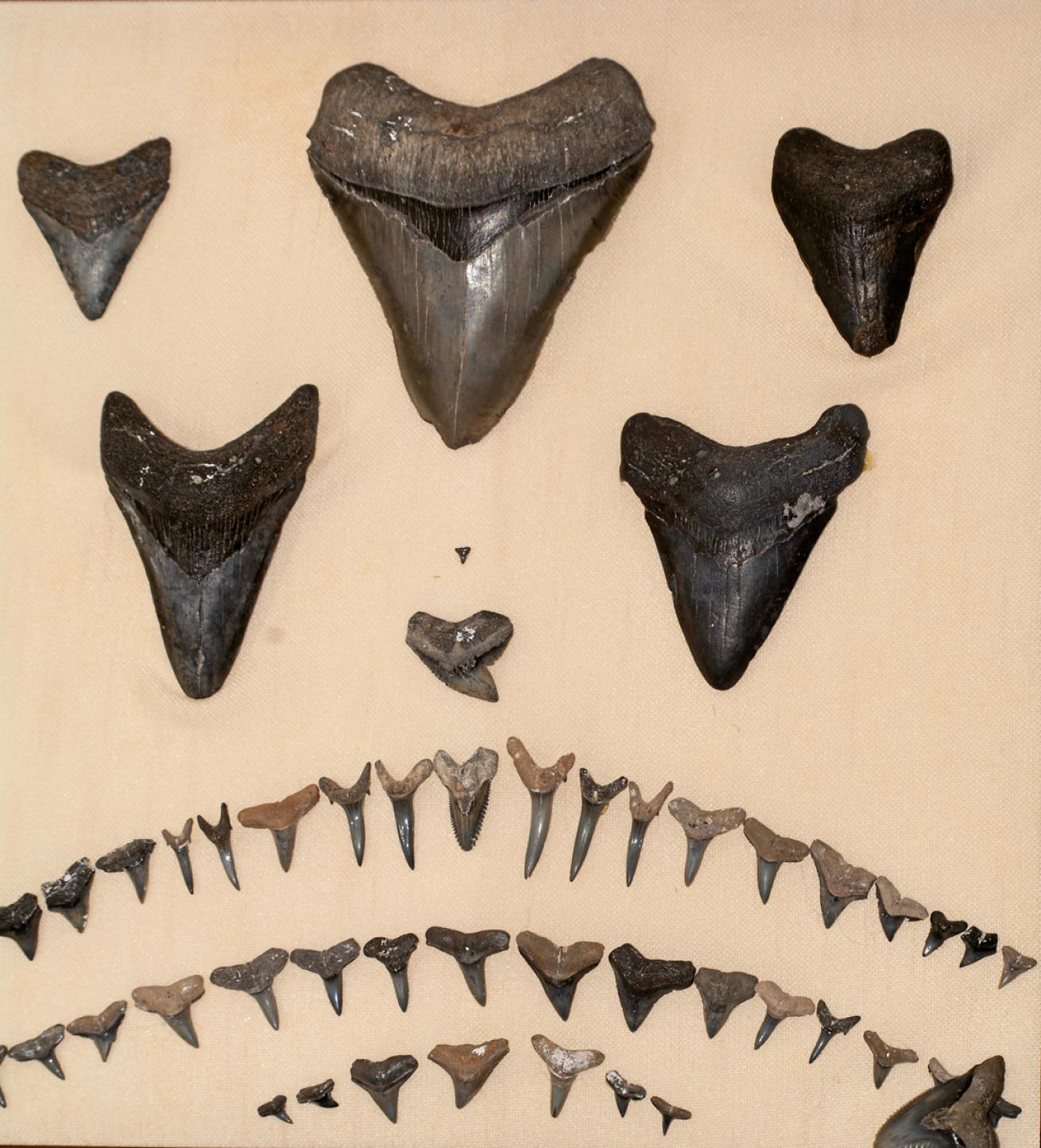 A day's haul of fossilized megalodon teeth collected in the surf in Venice. The largest is 41⁄2 inches long.

joni Hanebutt/Shutterstock