Best Springs for Diving in Central Florida
COVID-19 travel restrictions and border closings are constantly evolving. There is no guarantee that the dive sites mentioned within this article will be open at your time of travel.
---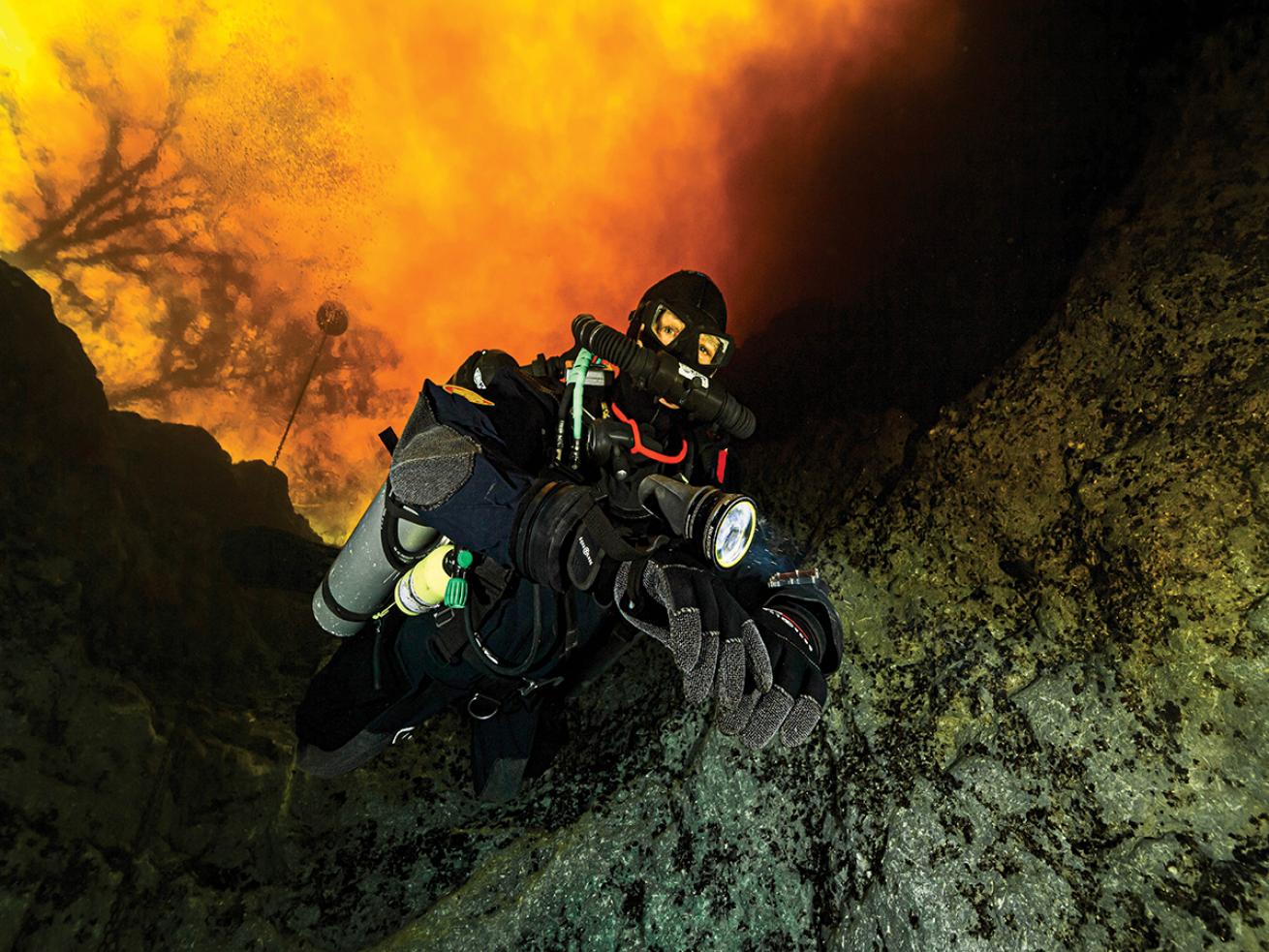 A tec diver descends into the water.

Jennifer Idol
Early in my career, I didn't know diving was available in Florida beyond the Keys, especially for an open-water diver. It wasn't until completing cave-diving training that I learned about the many springs in central Florida accessible to divers of all skill levels. In fact, deciding which spring to dive is the most difficult choice to make for divers in the area.
Dive experiences at the springs, which are scattered inland across the state from Madison Blue Spring near the Geoggia border south to Crystal River, vary widely, with one common thread: discovery. Open-water divers can find freshwater soles and turtles in Ginnie Springs. Cave divers can explore expansive systems such as Wes Skiles Peacock Springs State Park. Each dive site is an exploration into karst geologic formations. However, keep in mind that you should never enter a cave without the proper certification to do so.
These spring systems are hidden amid rural Florida towns and usually require a short walk to stairs leading down to crystal-clear water. Pristine visibility and variety keep divers visiting the parks. Though visibility can diminish after heavy rain, the springs are less susceptible to weather, and never close for high waves or bad currents.
You can really feel the flow at Ginnie Springs, which discharges about 40 million gallons of water per day. At others, such as Peacock Springs or Blue Grotto, the flow is barely felt.
The newly remodeled Blue Grotto is an open-water dive that features Florida's largest accessible cavern. Another famous cavern is Blue Hole in Ichetucknee Springs State Park, also known for the longest hike to reach the entrance—about a half mile.
Central Florida springs all require admission fees and proof of certification that supports planned dives. They're rife with opportunity for vivid photos of sunlight glittering in the caverns' blue water.
DIVE SITES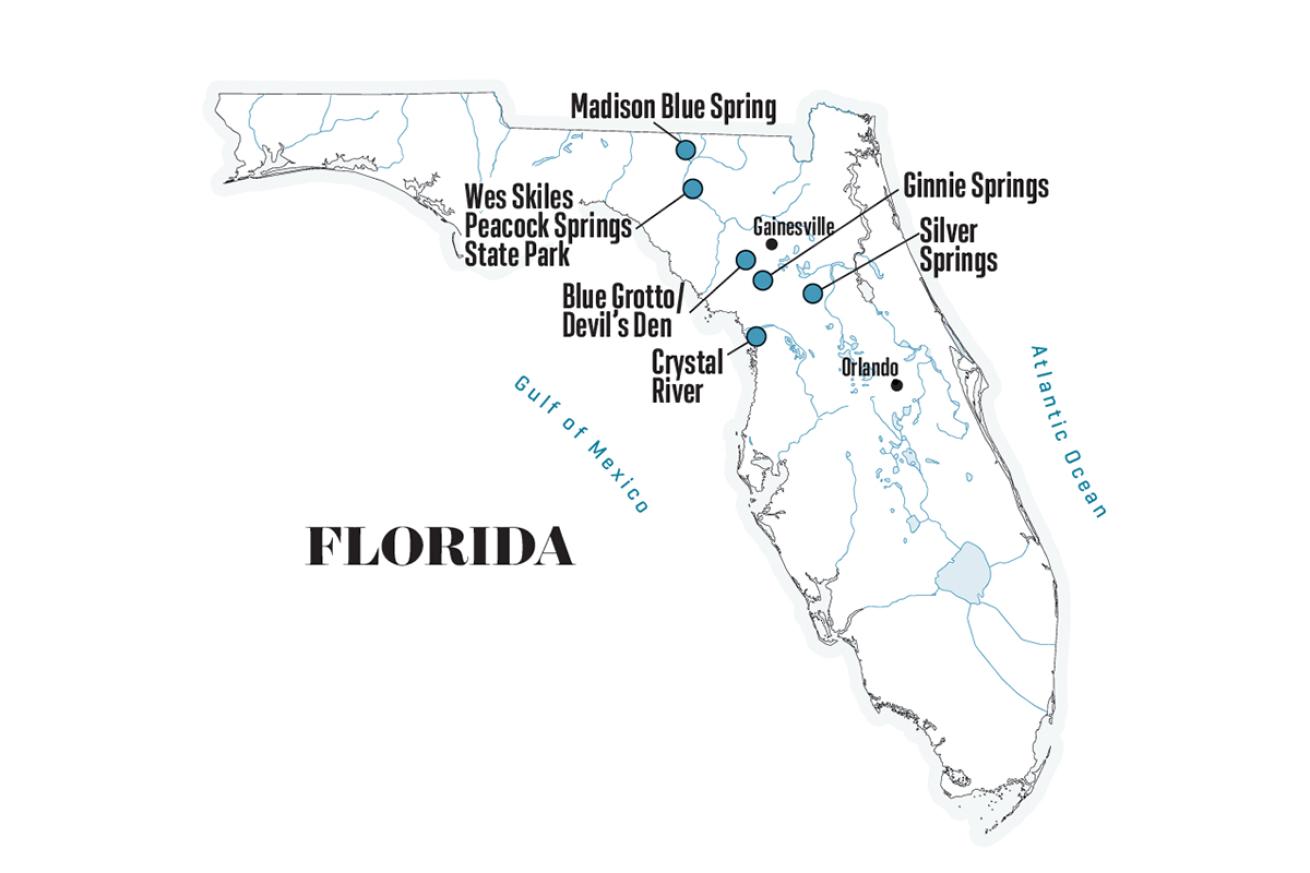 Picking which site to hit first might be the hardest part of spring diving.

Scuba Diving Magazine staff
1. Blue Grotto Known for its training facilities, this spring is a clear destination worth exploring either as an open-water dive with resident softshell turtle Virgil or as a guided dive into the cave. Limited lodging is available. Also visit nearby Devil's Den Prehistoric Spring, accessible by open-water divers.
2. Wes Skiles Peacock Springs State Park Several cave entrances mark experiences that vary from complex sidemount cave diving to open-water diving in the spring at Orange Grove Sink. Peacock 1 is the most popular cave entrance. Leave your C-card visible on your dashboard.
3. Ginnie Springs Tannic water from the Santa Fe River has made Devil's Spring System famous for its wild orange glow just above Devil's Ear. Exiting Devil's Eye is a popular way to end a dive at Ginnie Springs. Ginnie's Ballroom is a famously large and accessible spring dive site.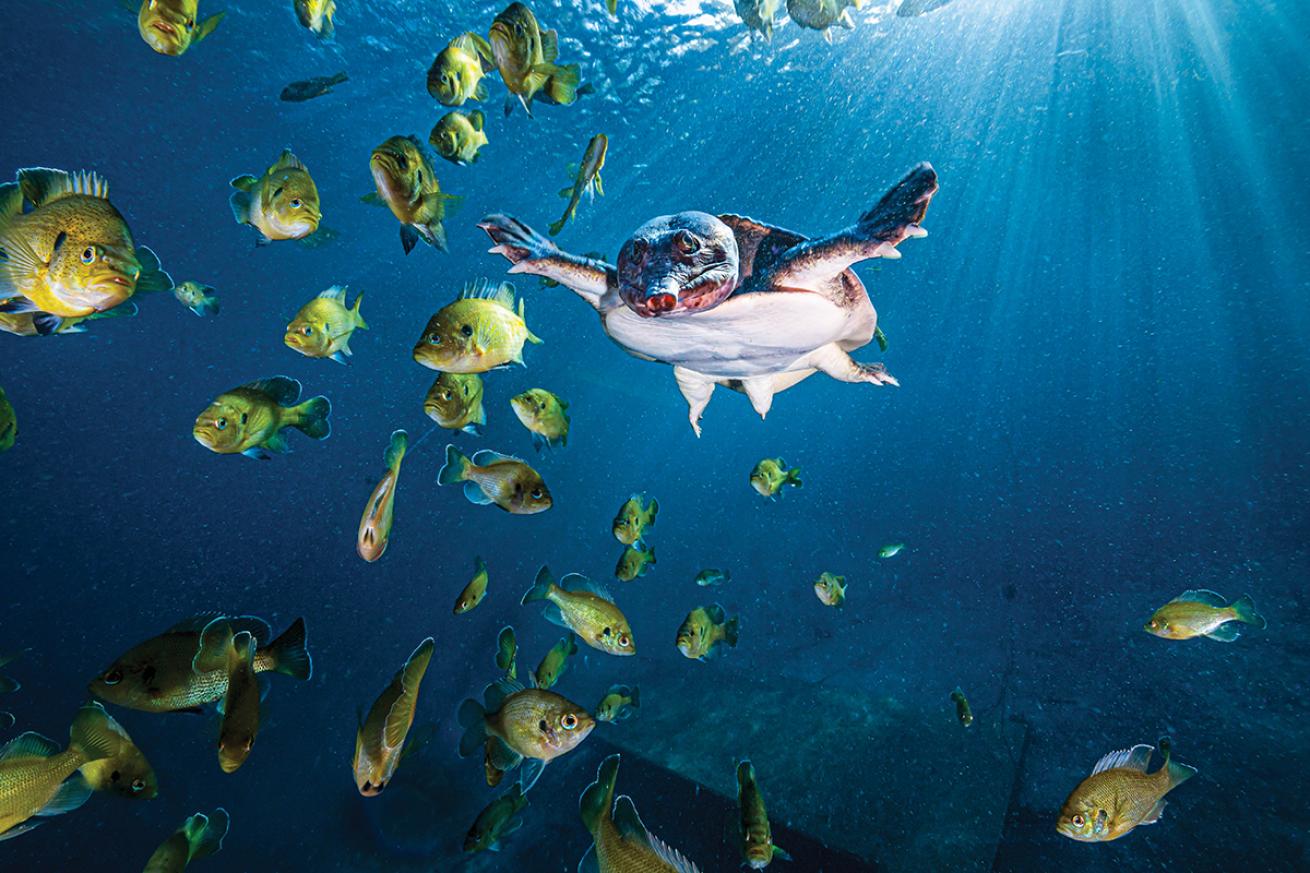 A softshell turtle makes an appearance at Blue Grotto.

Jennifer Idol
TRIP TIPS
1. Ginnie Springs This dive site is also a kayaking, tubing and camping destination that's family-friendly. Rentals are available for all activities. Snorkeling is available next door at Gilchrist Blue Springs State Park. Bring a picnic or head to Gainesville for breweries, gastropubs and Satchel's Pizza.
2. Silver Springs State Park Book a glassbottom-boat tour ahead of time to peer into the springs where films such as Tarzan and Creature of the Black Lagoon were filmed. Rent canoes, kayaks or paddleboards to explore the river, or hike the surrounding nature trails.
3. Crystal River Book a winter boat tour with Bird's Underwater Dive Center to snorkel with manatees in Three Sisters Springs. Visibility can be low in the river but is clear at the springs. Dive guides are available for the springs.
NEED TO KNOW
Conditions Viz typically falls between 50 and 100 feet, depending on rain, with water temperatures in the low 70s. Flow is also affected by rain and spring volume.
What to wear Either a 5 mm wetsuit with a hood or drysuit with wet gloves; a dive light and backup for cavern dives; technical diving gear for cave dives.