Apeks Announces New DSX Technical Dive Computer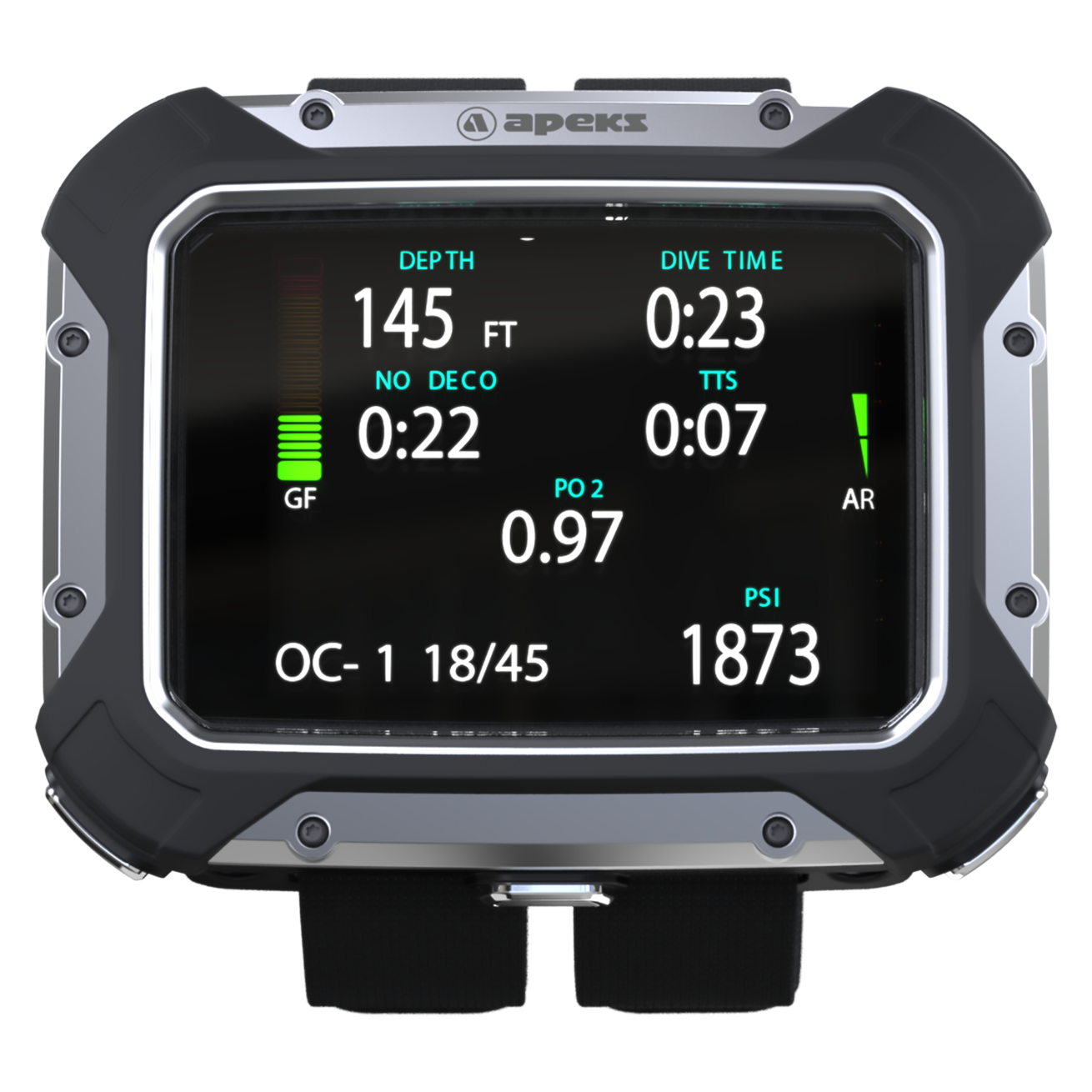 The new Apeks DSX sports a large color display and a lightweight titanium bezel.

Courtesy of Apeks
Apeks announced the DSX dive computer in February, a first for the manufacturer. Here's a first look at the computer and its features.
Full Technical Diving Capabilities
The DSX is designed for technical divers. It uses a ZHL-16C algorithm with gradient factors and is compatible with nitrox and trimix. Five different dive modes support sidemount, closed-circuit rebreather and open-circuit diving. The computer is air-integrated and can be used to manage up to six different gas mixes simultaneously. The DSX uses both audible and vibrating alerts. Divers can save up to 10 images to the computer, such as slates, maps and other dive aids (in addition to three additional images that can be displayed on the startup screen.)
Compass and GPS Functionality
In addition to a 3D digital compass, the DSX features GPS functionality. Not only does it allow users to save dive sites for dive log entries, but it can be used at the surface to set waypoints and navigate back to them using a return heading and distance.
Oxygen Analyzer
One unique feature of the DSX is that it comes with a plug-in oxygen analyzer (note that the R22 type oxygen cell is not included.) This allows users to analyze and set gas mixes directly onto the computer, which adjusts no-deco calculations precisely to the mix at hand and will ideally simplify the analyzer process.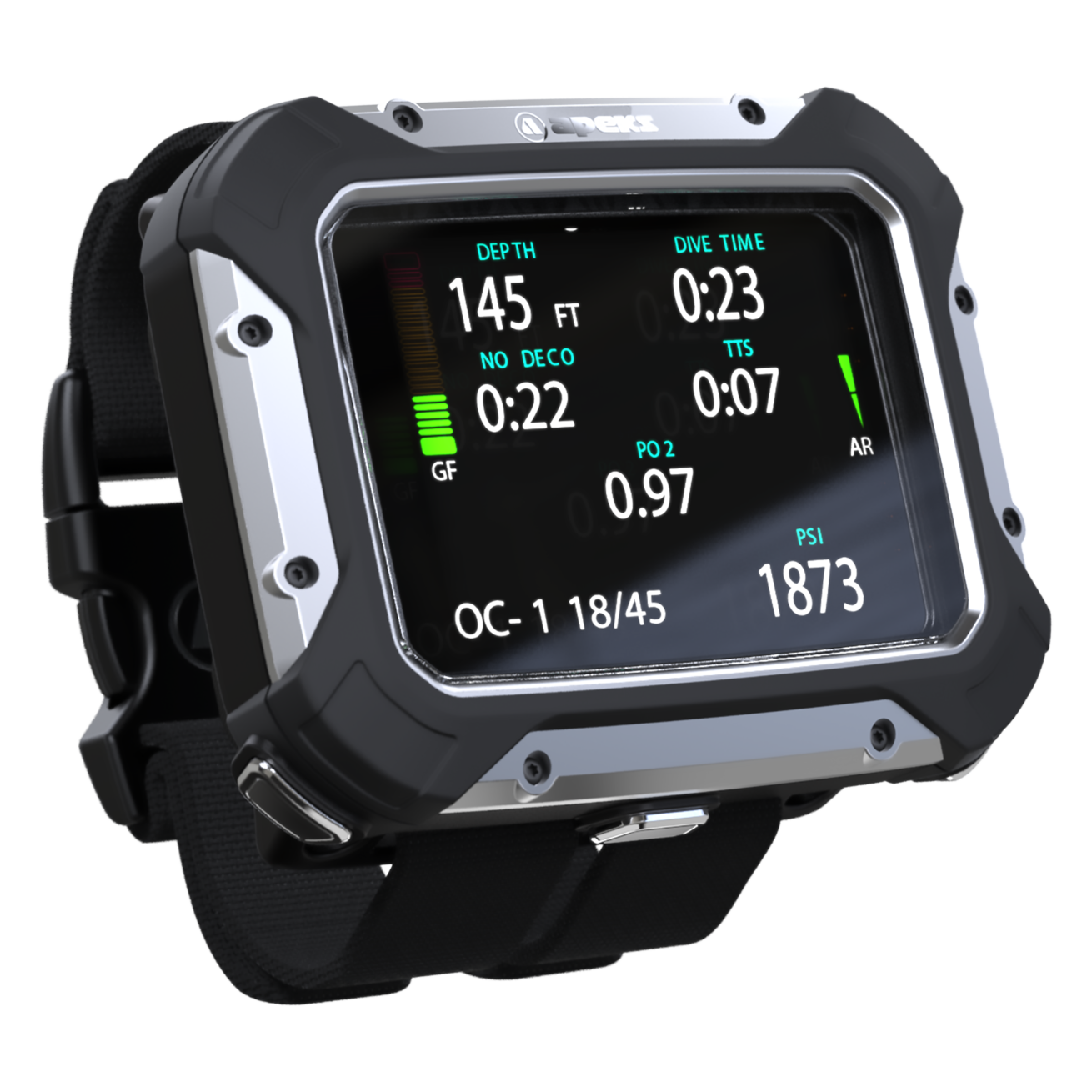 The DSX is a full-featured technical dive computer with modes for side mount and CCR diving.

Courtesy of Apeks
Customizable and Rugged
The computer features a 2.4-inch color TFT LCD. It uses bold characters and colorful graphics to convey pertinent dive data. An ambient light sensor is used to adjust the display brightness automatically. Users can change the color of data titles, customize data fields, increase the size of specific data fields and flip the display. A rugged titanium bezel surrounds the computer to protect it without adding excess weight. Two strap options are included for the computer to the wrist; elastic double straps with buckle releases and a bungee attachment.
Ease of Adjustments
A three-button operation is used to operate the computer. Two buttons are located at the bottom corners of the bezel, with the remaining one placed in the center of the lower bezel. The operation uses short presses and longer holds to navigate and adjust settings. Context-sensitive on-screen button prompts are provided. Users can also change settings remotely over Bluetooth using the free Diverlog+ app.
Induction Charging
The computer uses a built-in rechargeable lithium-ion battery that supplies up to 80 hours of dive time per charge. The computer uses induction charging but can also be charged via a traditional charging cable. An induction charging mat is included.
Bluetooth Compatible
The DSX is Bluetooth compatible and allows for wireless syncing of dive settings and dive logs via the free Divelog+ app. Divers can remotely adjust all dive computer settings using the app. Users can also update dive log entries with additional information and media, view dive stats and share dive logs on social media.
MSRP for the Apeks DSX is $1,399. More information can be found at apeksdiving.com.
---