Art Attack: Raising Awareness for Ocean Conservation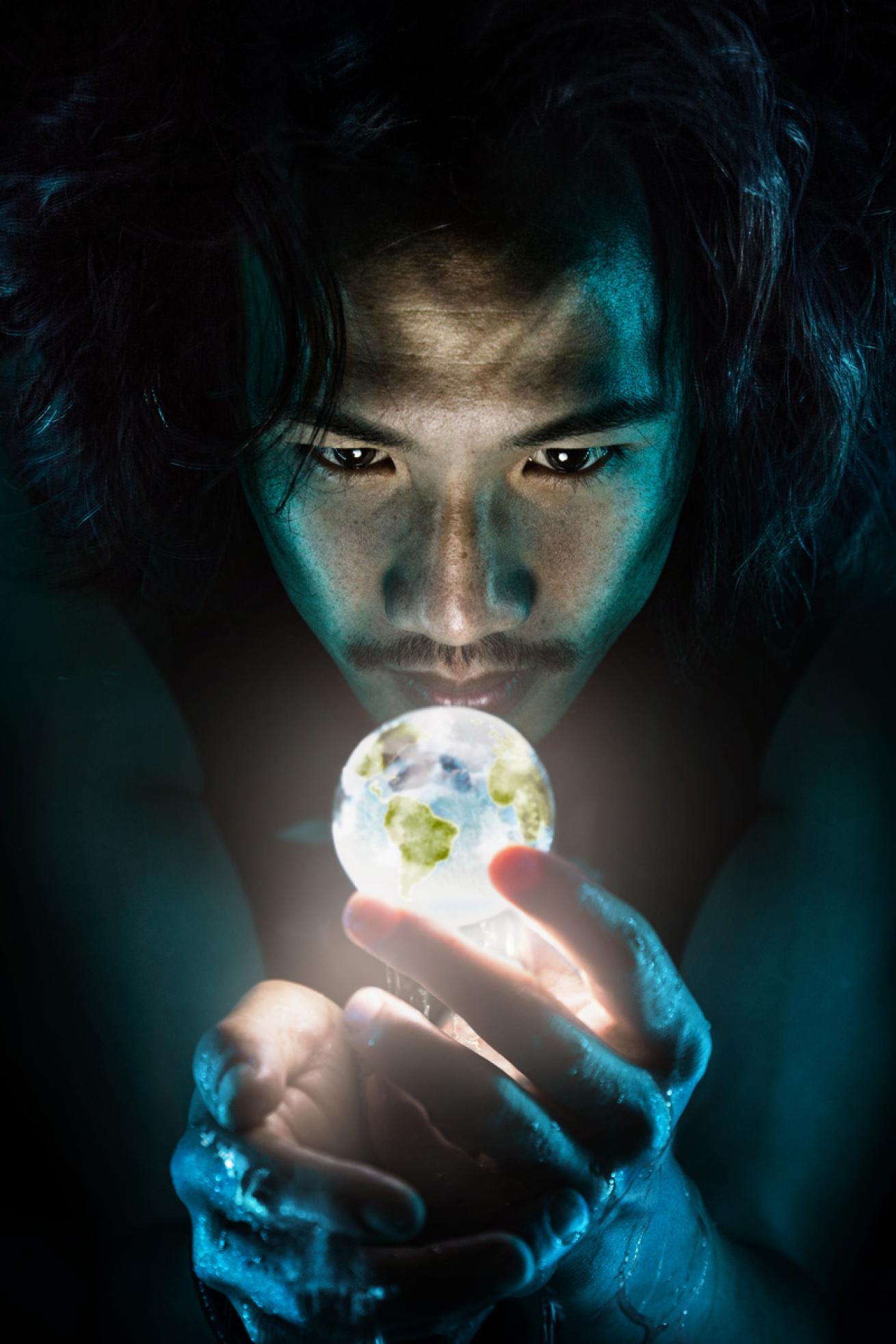 A portrait of Benjamin Von Wong.

Benjamin Von Wong
Benjamin Von Wong
Multidisciplinary artist and activist Benjamin Von Wong's style is hard to pin down.
Sometimes his work is ethereal and dreamy, as it is with the photo series he did in collaboration with conservation organization Shark Shepherds, capturing underwater images of champion freediver Amber Bourke dressed in a white gauzy gown as whitetip reef sharks swim by lazily in a grotto in Fiji. (The shot required six hours underwater spread across two days as each day afforded only a small window where the sun was at the right angle for crepuscular rays to stream into the grotto.)
Sometimes the work is cyberpunk—so dystopian and cyborglooking that it seems computer generated—as is the case with photos of "Skull of Satoshi," an 11-foot-tall sculpture made of electronic waste, commissioned by Greenpeace to highlight the connection between Bitcoin mining and the fossil fuel industry.
Related Reading: The Best Islands in Fiji for Scuba Divers
What do they all have in common? They're always for a cause, and you can't look away.
Von Wong picked up his first camera in 2007 and soon became known for his hyper-realistic photography. In 2016, he began focusing on environmental issues, including fast fashion, ocean plastics and electronic waste—and he has since started building larger and larger sets and art pieces to accompany his activism.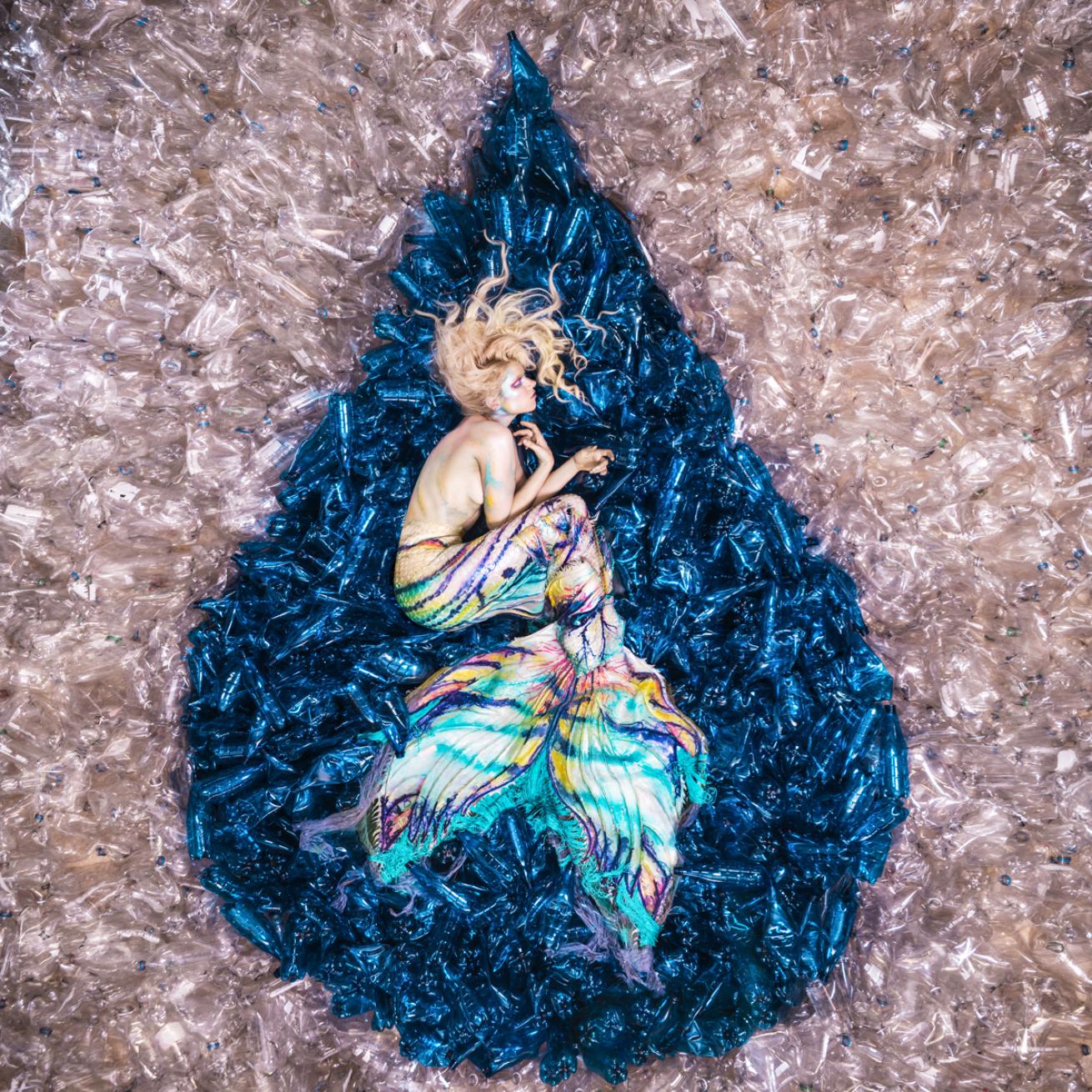 10,000 plastic bottles were borrowed from a waste management center for Von Wong's #MermaidsHatePlastic campaign.

Benjamin Von Wong
One of his most recent installations is a 40-foot-tall "levitating" faucet, spewing 3 tons of plastics across the headquarters of the United Nations Environmental Assembly in Nairobi, Kenya, as 1,500 delegates from 193 different countries gathered to negotiate a Global Plastics Treaty. The installation became the global symbol for the treaty and helped raise $100,000 for the Human Needs Project, the NGO that aided Von Wong in building the installation, to create permanent jobs in waste management.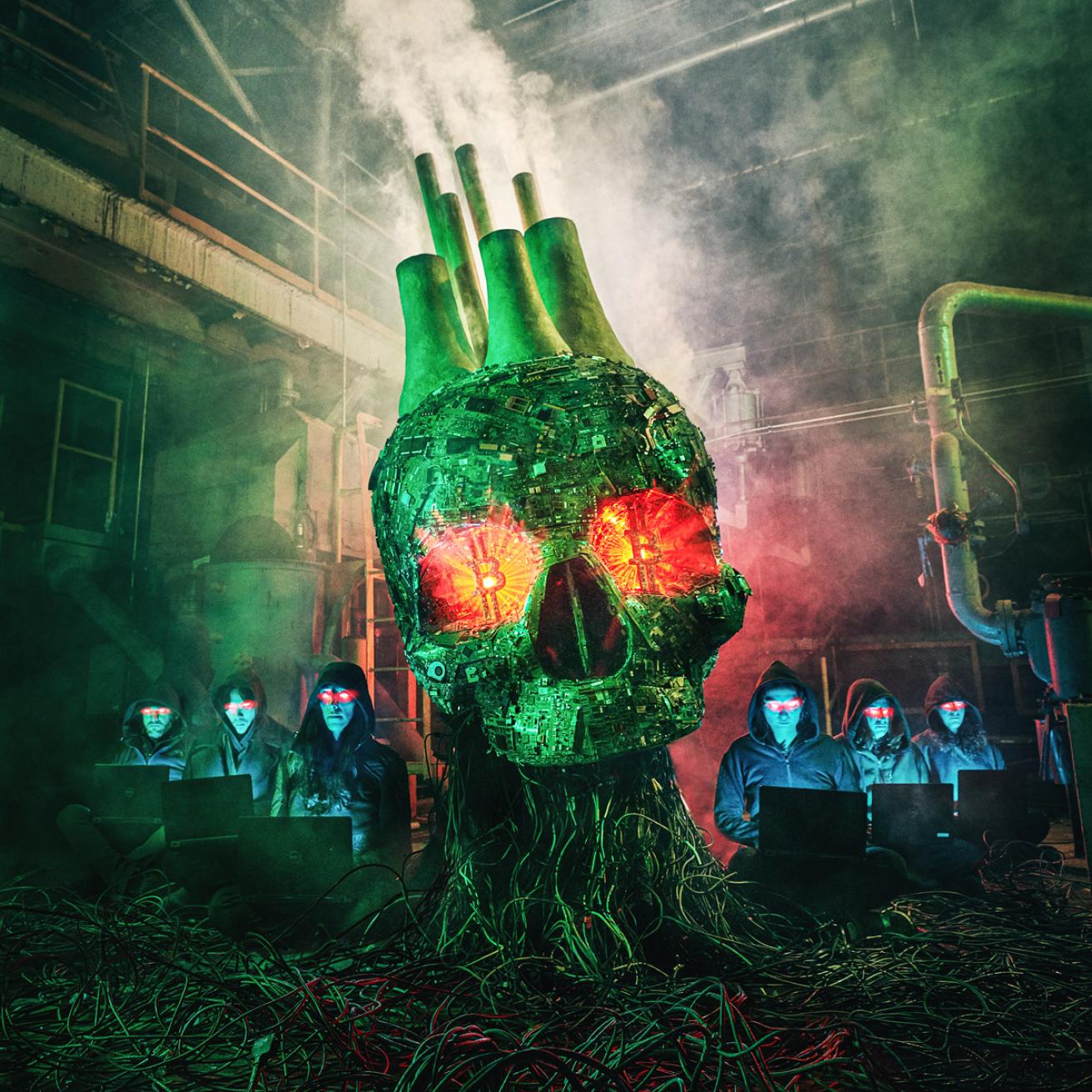 The haunting "Skull of Satoshi."

Benjamin Von Wong
Regardless of the project, Von Wong is a master collaborator, bringing together governments, corporations and individuals to create works of art that are meticulously documented to inspire action. "The first step to getting people to care about a problem is getting them to notice that there is a problem," says Von Wong. "I believe art has a unique role to play, to draw attention to issues that we would rather ignore, and then to transform that into a beautiful spectacle that showcases the power of human ingenuity. Collaboration is how these art pieces are made. Collaboration is how we're going to solve the world's most pressing problems."
Related Reading: Six Ways to Tackle Plastic Pollution Every Day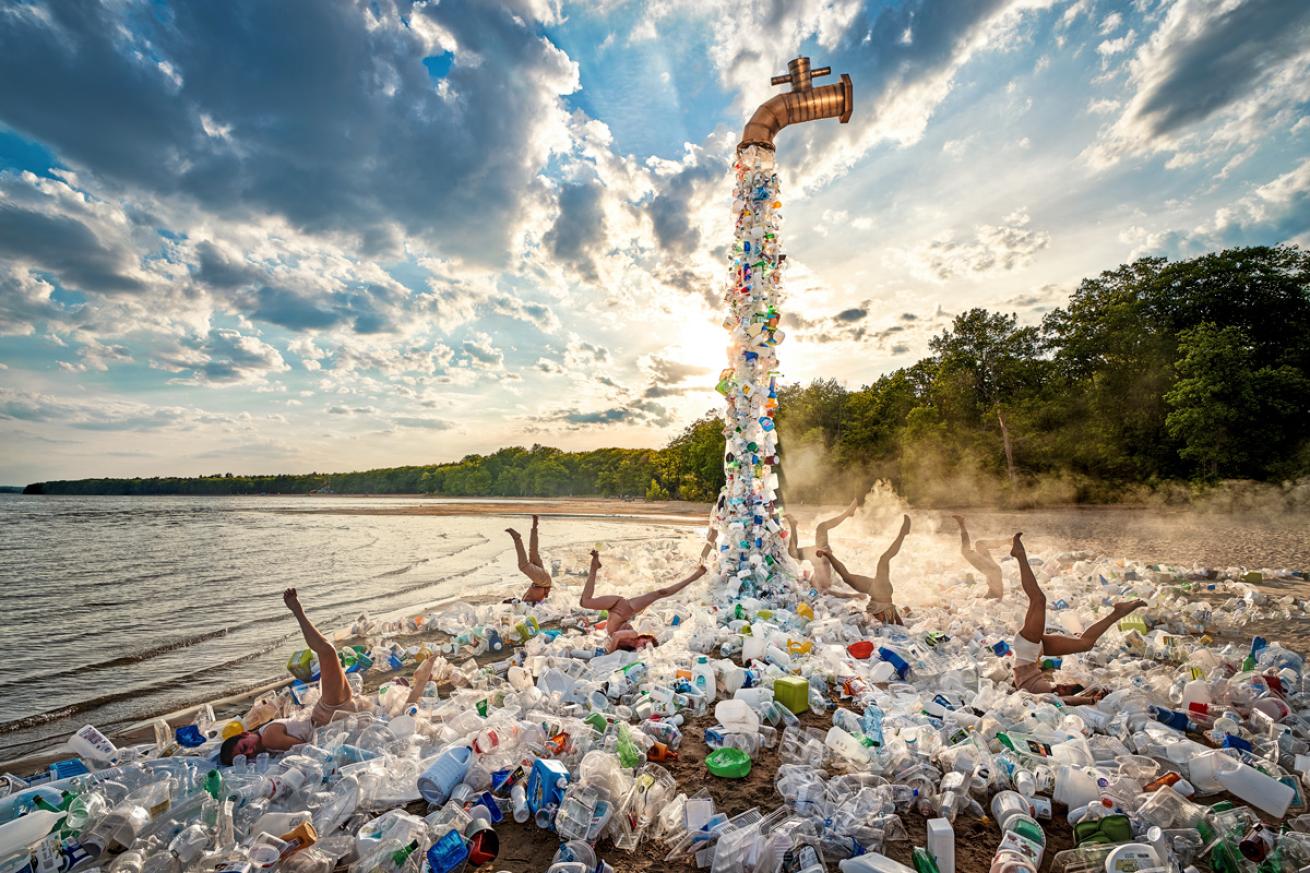 TurnOffThePlasticTap called attention to the need for a Global Plastics Treaty.

Benjamin Von Wong
Ocean Sole
Stare at a 10-foot-tall pink, yellow, green and blue giraffe and you might wonder what it has to do with ocean conservation.
Based in Kenya, Ocean Sole was launched to put the thousands of pounds of flip-flops that wash up on the country's Indian Ocean beaches to good use, repurposed as colorful sculptures of endangered animal species. Julie Church, an ardent marine conservationist, founded a small community-led social enterprise with a group of Kenyan women to recycle flip-flops after watching local children make toys from the sandals they found at the edge of the sea.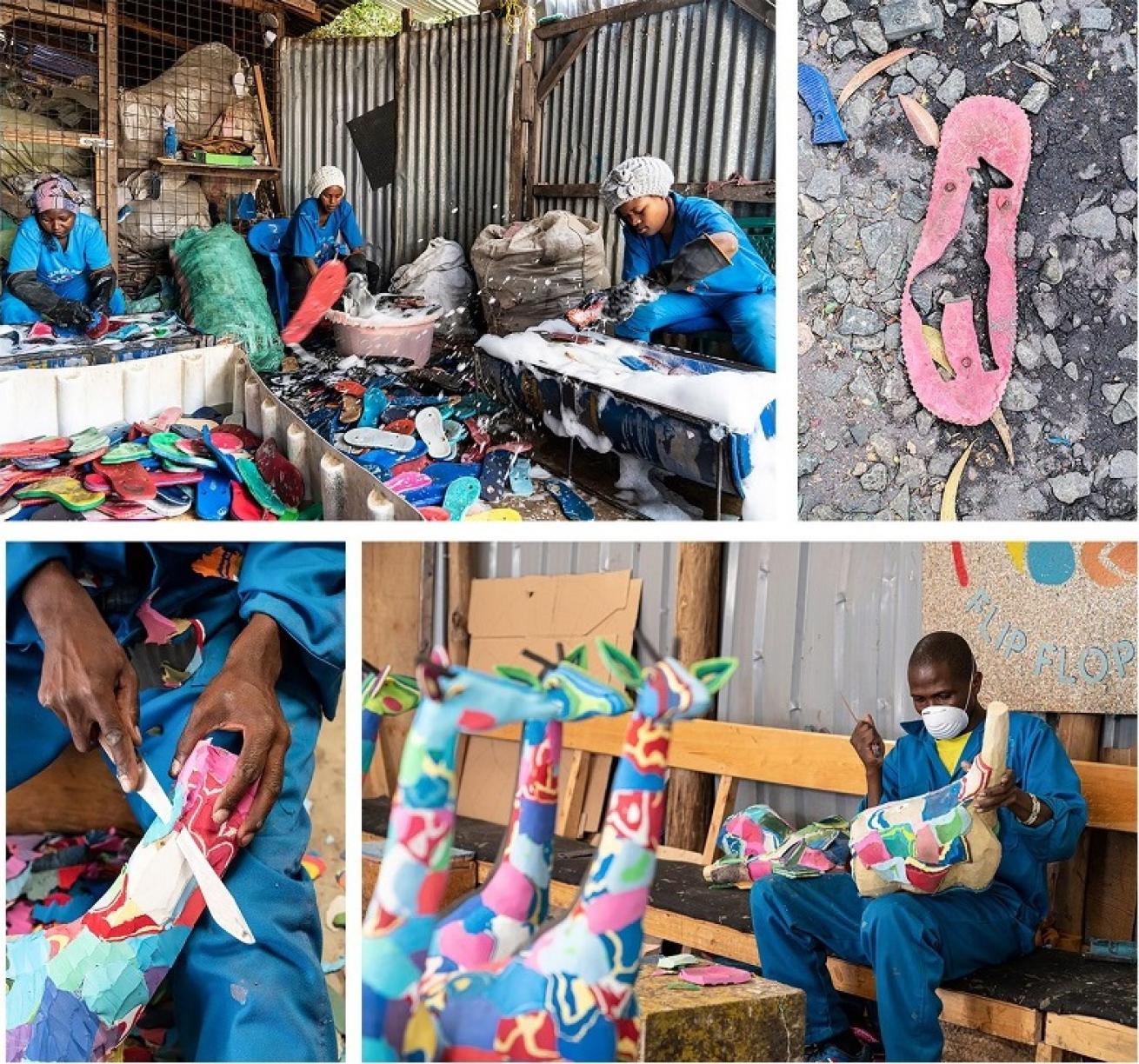 Kenyan artists turn blocks made from flip-flops that washed onto the beach into sculptures of animals, such as giraffes. The aim is to call attention to endangered species and the prolific ocean trash that often winds up being ingested by marine wildlife.

Eva Morel
"Julie is a passionate eco warrior," says Maureen Simba, part of the company's media team. "Besides creating employment for local artists, she also wanted to remove trash from beaches."
Every other week, teams collect 2,000 pounds of shoes from cleanups off the Kenya coast, as well as collections from landfills and waterways.
The shoes are then washed, dried and glued together to make blocks. Those blocks are the material that the artists then carve to create blue whales, hammerheads, buffaloes, jaguars, hippos and more, created in sizes that range from keychains to wall and standing sculptures. The focus of the art is primarily endangered species in order to draw attention to the animals most in need of saving. "When people look at our life-size giraffes, they should realize that had the flip-flops not been removed from the beach and the ocean, that garbage would have certainly ended up being ingested by marine wildlife —and because marine wildlife often confuse trash with food, it would have probably killed them," says Simba.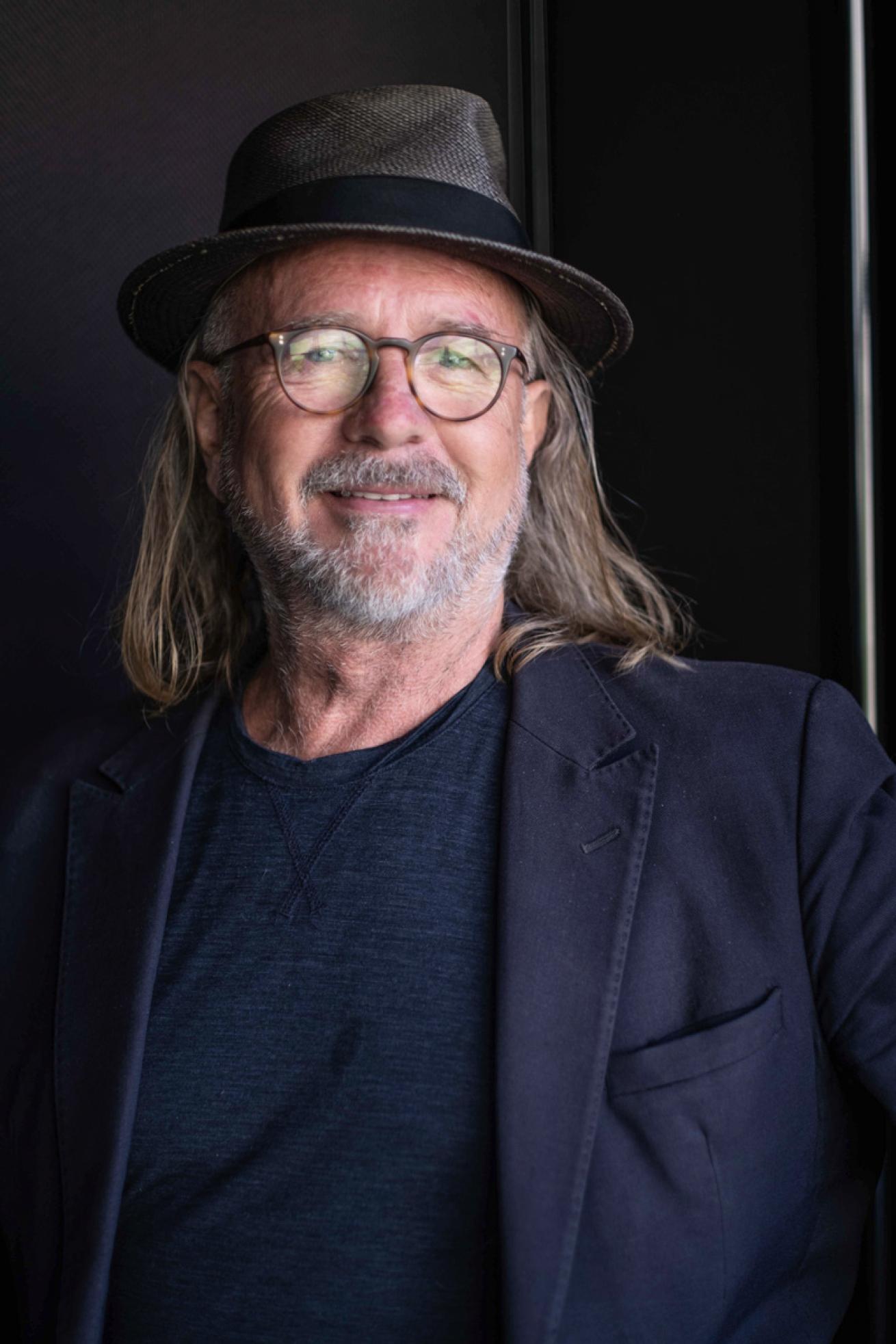 A portrait of John Dahlsen

Nicola Redfern
John Dahlsen
John Dahlsen's contemporary art made from recycled plastic started by accident. The Australian artist fell in love with driftwood while at art school in Melbourne, a city on the country's southern coast. On a trip there hunting for beautifully gnarled branches, he found himself more fascinated by the weathered plastic that had washed ashore.
Just like that, he switched media. "Suddenly, I felt that I had this enormous meaning that I could express in my art," Dahlsen says.
His process starts first with morning and afternoon beach walks to collect the ocean litter plastic on the main beach of Byron Bay in New South Wales, as well as at Belongil and nearby Brays Beach near Broken Head. Then, the plastics and other materials become the inspiration and material for his semiabstract art pieces.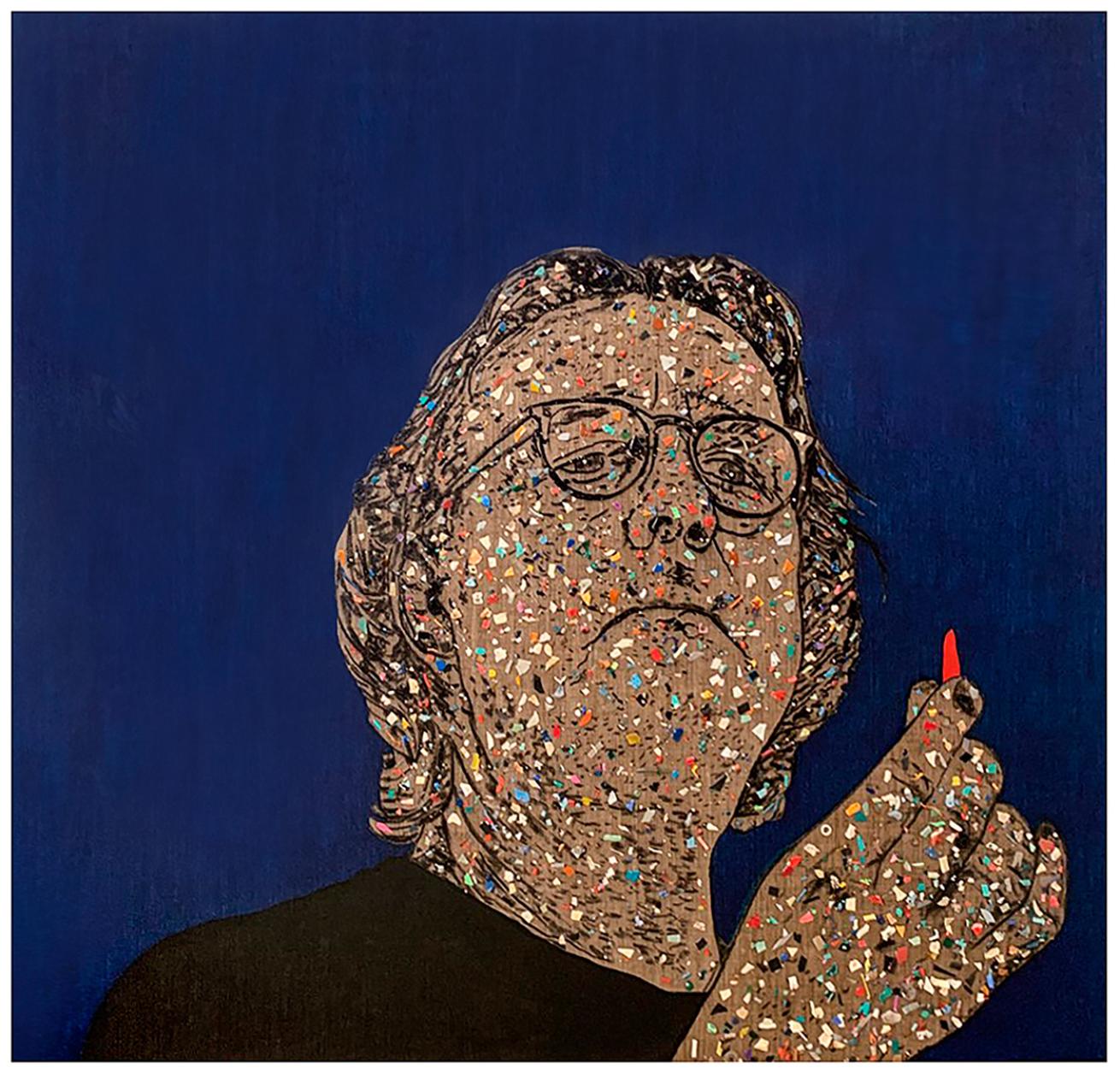 A self portrait of John Dahlsen that incorporates found microplastics.

Courtesy John Dahlsen
Current works have ranged from collected microplastics grouped by color on canvas to a Rothko-esque triptych that's a color study of reds and browns, created from ropes and netting that had all washed ashore.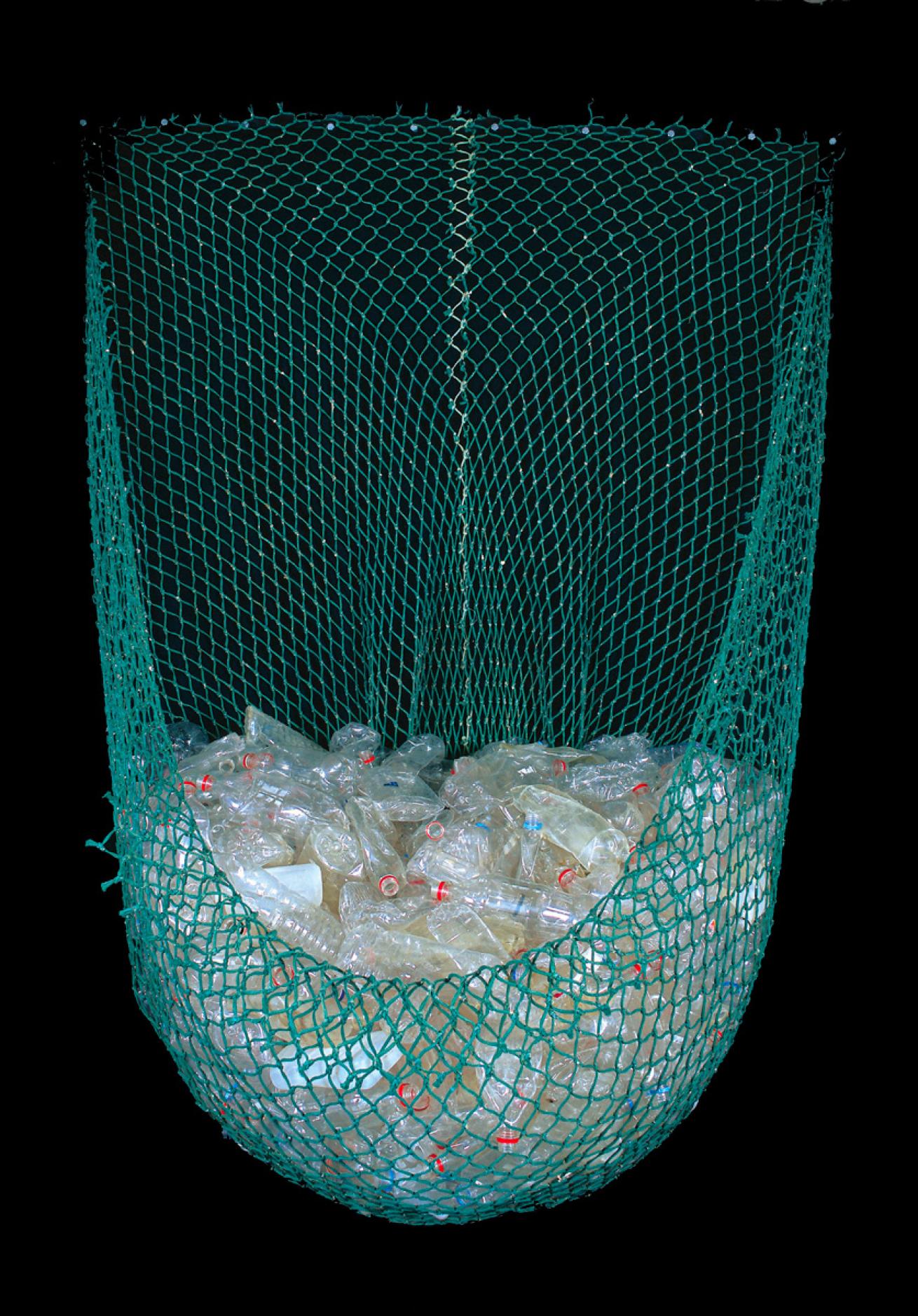 A hanging installation made from nylon rope and plastic bottles found washed up on Australian beaches.

Courtesy John Dahlsen
One of his more arresting works is the "Pacific Garbage Patch" series. He used collected microplastics mixed with resin and applied to linen to recreate the shape of the trash vortex in the Pacific Ocean as seen from above.
The works are undoubtedly pleasing to the eye, and it is only upon second glance that a viewer's mind starts making connections.
Related Reading: 50 Years of Garbage and We Still Don't Know What to Do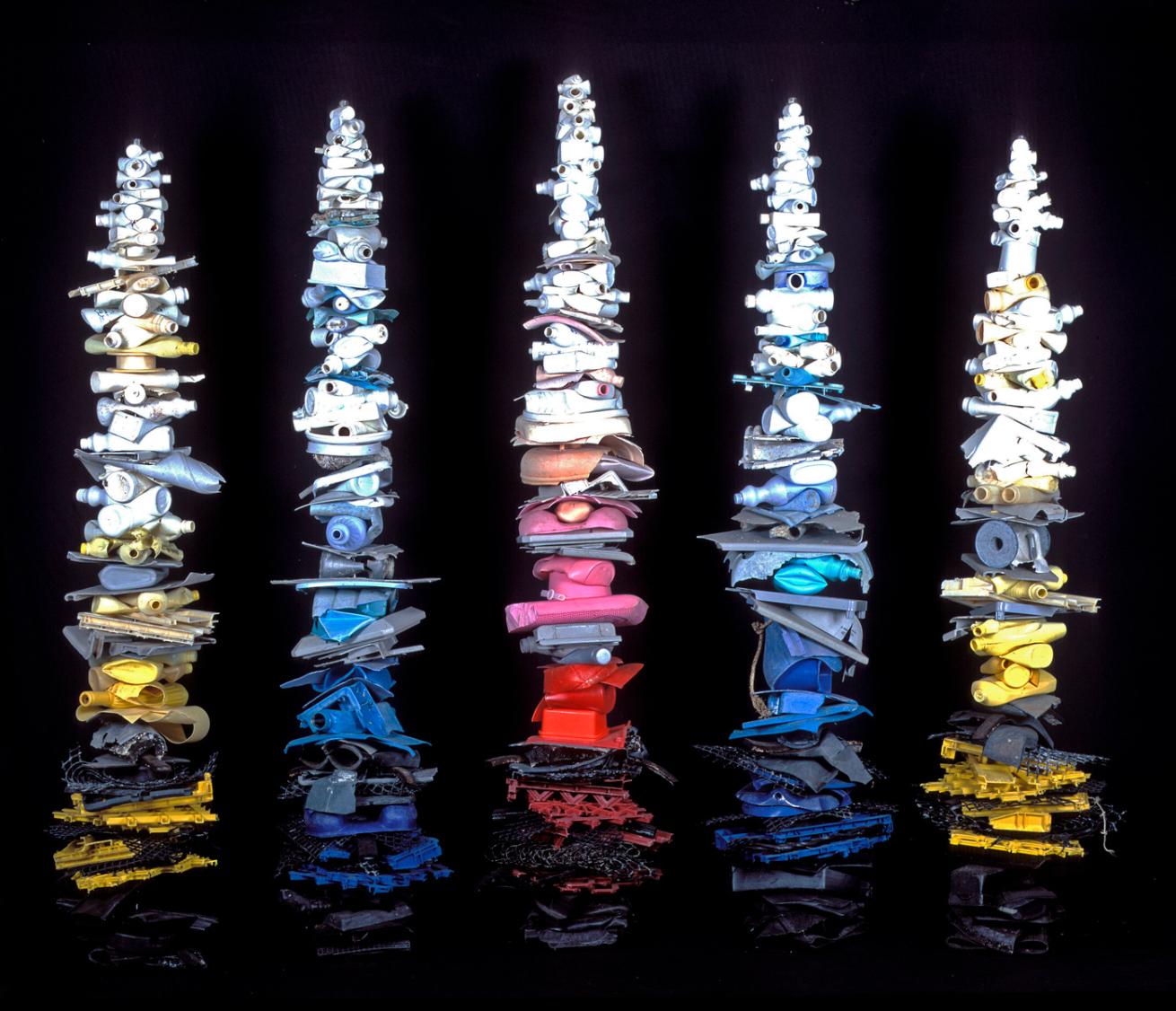 Part of a series of totem sculptures created using colorful plastics collected on beaches.

Courtesy John Dahlsen
Which is precisely the magic of Dahlsen. By presenting the recycling theme in an aesthetic way, he draws viewers in, then engages with his invitation to see the deeper, ugly truth behind the global concern that is plastic pollution. "I see that by making this art, it is a way of sharing my messages for the need to care for our environment," he says. "I feel that even if just a fraction of the viewing audience were to experience a shift in their awareness and consciousness about the environment and art, through being exposed to this artwork, then it would be worth it."
---