Six Ways to Tackle Plastic Pollution Every Day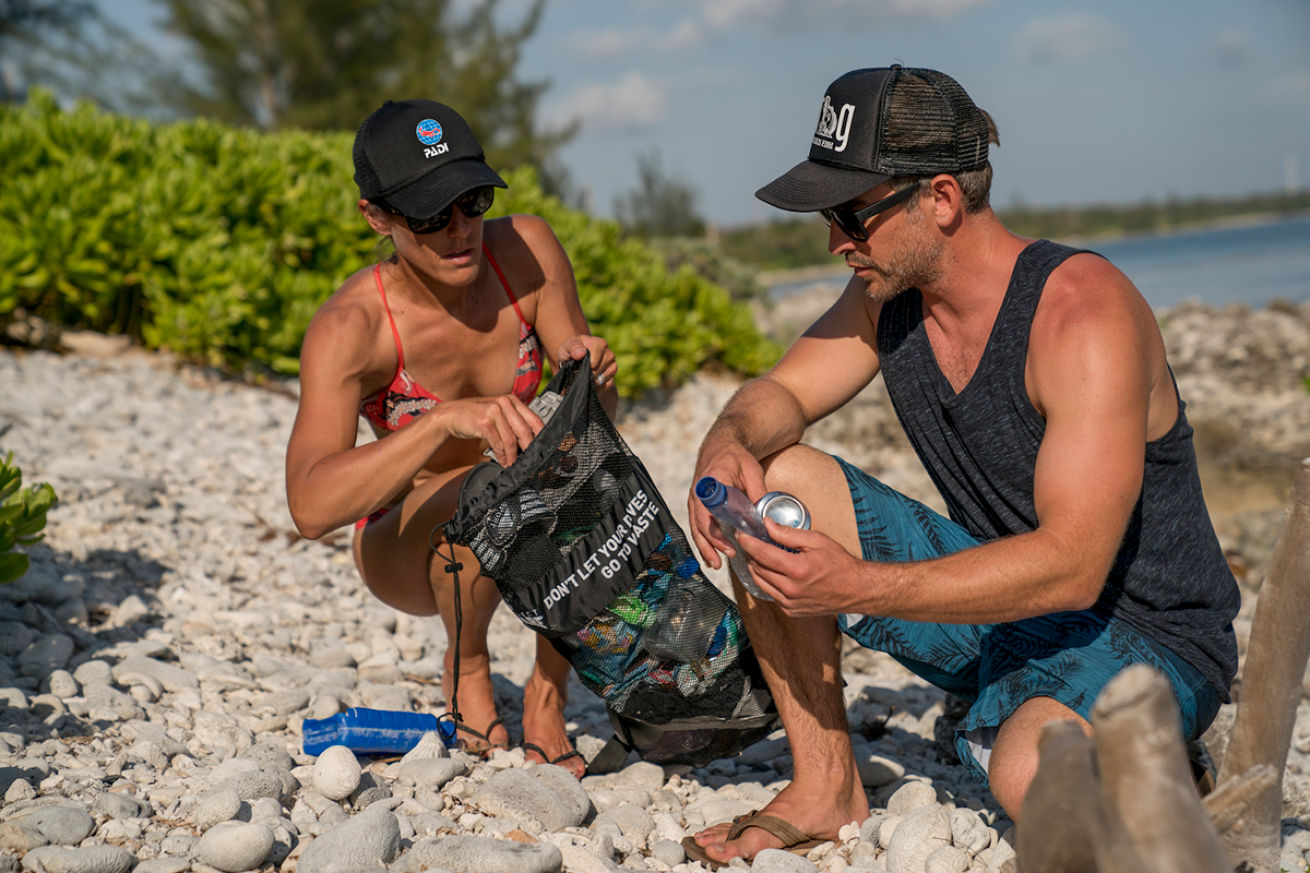 Beach litter is very visible form of plastic pollution, but you don't have to live near the beach to protect the ocean. You can reduce marine debris anywhere every day.

PADI
The world needs our help — the data is shocking when it comes to just how much we've collectively put our planet at risk, especially when it comes to polluting the 70 percent of the planet that gives us life.
One of the biggest issues our oceans face is plastic pollution. Plastic is in our water, soil and air, with particles found in locations as remote as the Arctic and Antarctic Oceans. It is estimated that for every pound of phyto-plankton, there are six pounds of plastic in the ocean. And all this ocean plastic is making its way into our bodies — according to a 2019 University of Newcastle study, we consume the equivalent of a credit card's worth of plastic every week, primarily through water source pollution. Scientists even recently identified the first microplastics in human blood.
PADI is on a mission to unite a billion Torchbearers, people committed to saving the ocean. Here are six ways you can join the movement by protecting our planet from plastic pollution!
1. Forget Fast Fashion
It's estimated that fibers are, by count, the single largest contributor to watershed plastic pollution in developed countries. Synthetic fibers produce microplastics when washed. Over 60 percent of fabric produced by the textiles industry in 2020 was polyester, which translates into 1.7 million tons of microfibers released into the ocean every year!
One fleece jacket alone can shed up to 250,000 pieces per garment per wash. New York City has 6.8 billion microfibers flowing into its harbor every day, and the state of California just dedicated $3 million dollars to addressing this pollutant. Swap fast fashion for clothes made from sustainable, organic materials. Start by checking out these great long-term options from PADI Gear.
2. Tweak Your Laundry Routine
A major source of the fiber and microplastic pollution in our waterways is laundry day. With every wash, plastic fibers shed from synthetic fabrics are making their way from washing machines into the water. You can reduce your fiber pollution by up to 86 percent with products like the Cora Ball and Guppyfriend.
Cora Ball is a laundry ball inspired by coral. Just toss the Cora Ball into your washer before each cycle to collect and dispose of synthetic microfibers properly. Cora Balls are made from 100 percent recycled plastic and are completely recyclable. If 10 percent of US households alone used a Cora Ball, it would be the same as keeping over 30 million plastic water bottles from washing into our public waterways every year!
Guppyfriend is a washing bag developed by ocean-lovers inspired to find solutions to microfiber pollution. Fill the Guppyfriend Washing Bag half-full with synthetic clothing, zip closed, and toss in the wash to collect and dispose of microfibers.
3. Waste Not
Proper waste disposal — like preventing litter and recycling often — are key to keeping waste out of our waters. It's estimated that only nine percent of the 8.3 billion metric tons of plastic ever manufactured has ever been recycled. Approximately 11 million metric tons of this un-recycled plastic waste ends up in the ocean every year, with this number expected to triple by 2040. Making sure you recycle can improve all of these numbers!
Addressing litter where you live is also incredibly impactful, matter how far you may be from a lake, river, or beach, as most land-based debris eventually makes its way to the water. What you see in the forest will end up in the waves.
---
---
If you do live near a beach, make sure you pick up any litter you see, because it's probably plastic: 73 percent of all beach litter is plastic, according to National Geographic. Consider taking beach walks with PADI Gear's Ocean Cleanup TrshBg, a recycled product made by a surfer to enable easy clean up no matter what the activity. Whether you are surfing, paddle boarding, diving, swimming, or just walking on the beach, with a TrshBg, your outdoor activity doubles as a way to help improve water conditions for all of us.
4. Become an Underwater Trash Collector
Did you know that the majority of divers have also appointed themselves as ocean trash collectors? PADI Divers have the unique ability to physically remove and report marine debris beneath the surface. The PADI AWARE Foundation launched Dive Against Debris over a decade ago and since then more than 30,000 divers in over 50 countries have taken part in removing plastic from our oceans.
This year, PADI AWARE is celebrating the removal of the 2,000,000 pieces of debris from waters around the world. It plans to launch a new Dive Against Debris® eLearning product later this year — meaning you can begin your certification from anywhere in the world! In earning this specialty, you'll learn even more valuable and easy ways to take meaningful action to safeguard the waters you love.
---
---
5. Reduce Your Single-Use Plastic Use
Just as the world was turning against plastic, the pandemic brought us back to relying heavily on disposable items. What was considered taboo and even banned in some places was reintroduced and re-accepted as the norm to ensure we were staying germ free. Plastic bags, take out containers, plastic straws and utensils and plastic wrap all found their way back into many of our lives and homes.
It's time to regroup. Be conscious of cutting out single-use plastic wherever possible. The next time you order out, ask the restaurant not to provide plastic straws, cups or utensils since you have reusable items at home. Stop using plastic bags, plastic wrap and single use items – there's plenty of other options from biodegradable materials to silicone to beeswax wraps.
Replace disposable with reusable products like the PADI x Ocean Bottle. Made from upcycled ocean plastic, 25 pounds of ocean-bound plastic is collected for every bottle sold. That's equivalent to 1,000 plastic bottles!
What's more, all that recovered plastic waste from this product is fueling social change for coastal communities in Indonesia, Philippines, Brazil and Haiti. Ocean Bottle and The Plastic Bank pay above market rates to local plastic collectors and established recycling infrastructure so that plastic can be collected, sold and created into new products. Collectors receive digital tokens for their plastic waste to exchange for money, tuition, and healthcare – all via secure blockchain technology.
6. New Lease on Life
Where possible, buy recycled plastic products. From sunglasses to outdoor furniture and dog collars to running shoes, there are so many options when it comes to purchasing items made of recycled plastic.
To make finding these products easier than ever, PADI has created an ocean-first marketplace. From rash guards made of retired fishing nets to towels spun from ocean bound plastic, these products have enabled PADI to remove more than 58,600 pounds of plastic from our waterways – that's more than 1.8 million plastic bottles.
---