Beautiful Ocean Stamps Launch Across America to Celebrate Marine Sanctuaries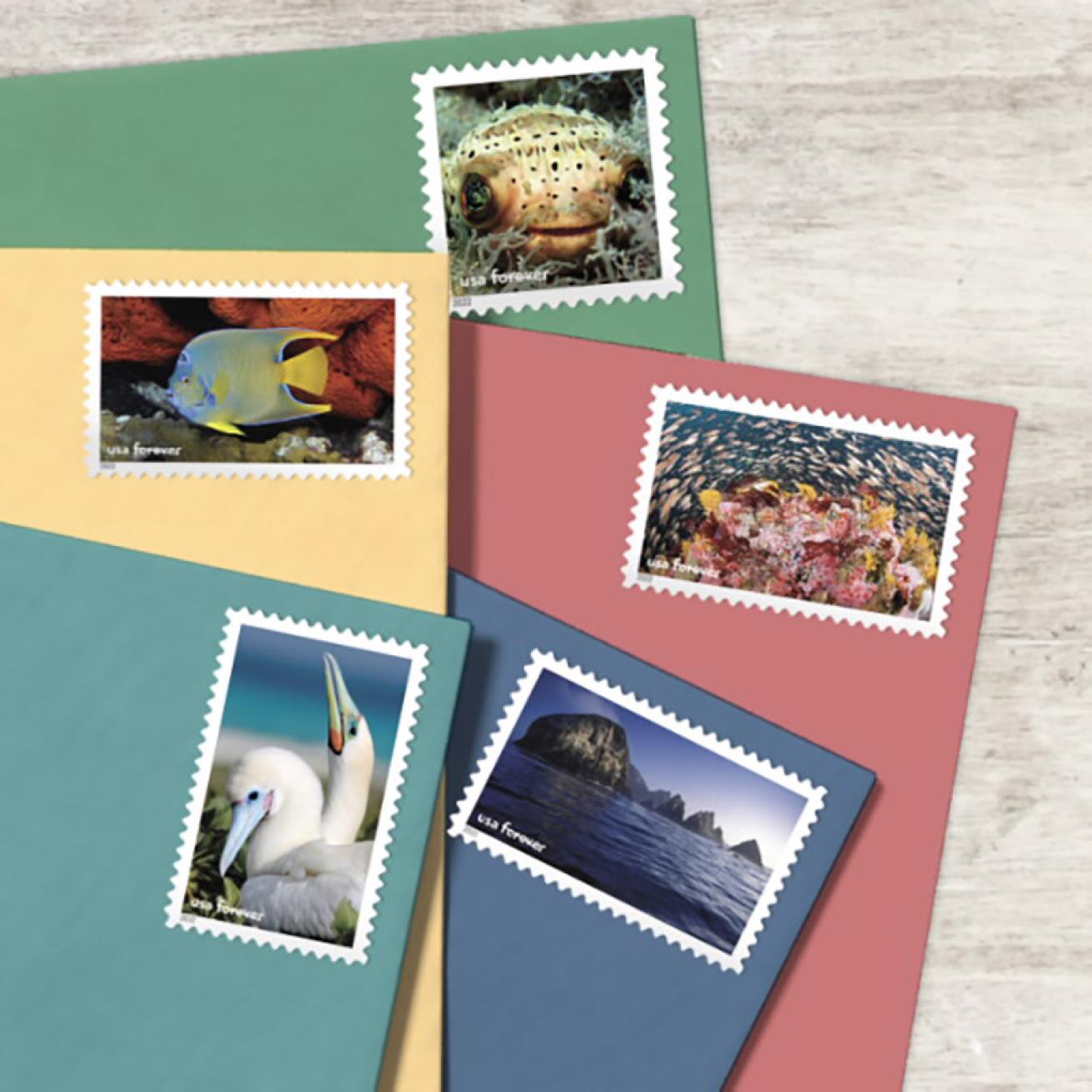 The National Marine Sanctuaries Forever stamp series will be available for about a year.

United States Postal Service
The U.S. Postal Service is celebrating the National Marine Sanctuary System's fiftieth birthday with a series of 16 awe-inspiring stamps, out now, that feature the waters and wildlife protected by the sanctuary system.
"The National Marine Sanctuary stamp series is a colorful acknowledgment of our 50th anniversary and a reminder of the beauty, abundance, and diversity of our nation's most iconic underwater places," said John Armor, director of NOAA's Office of National Marine Sanctuaries. "As these stamps show up in mailboxes across America, we hope they'll inspire everyone to celebrate, discover, explore, and enjoy the unique wonders of the National Marine Sanctuary System."
The National Marine Sanctuaries Forever stamp series features images such as a breaching humpback whale, stands of elkhorn coral, a wreck emerging at the water's surface and a stunning shoreline at sunset.
Established on October 23, 1972 with the signing of the Marine Protection, Research, and Sanctuaries Act, the network—which currently boasts 15 national marine sanctuaries and two marine national monuments—protects America's important natural and cultural oceanic places. NOAA's Office of National Marine Sanctuaries serves as the trustee of these ocean parks, which encompass more than 620,000 square miles of marine and Great Lakes waters, which altogether are nearly the size of Alaska. The system factors public enjoyment and access to these waters into its decision making, striving to find a balance between the waters' many uses.
Daryl Duda, a Florida Keys diver and underwater photographer, contributed the image of a friendly fish—a balloonfish with a perpetual 'smile.' "We see these Balloonfish, and other Porcupinefish in our Florida Keys waters frequently as we saw this fella diving with Rainbow Reef Dive Center at Molasses Reef, which is one of my favorite dive sites…, he says. "They are probably my favorite fish to photograph as they always seem to have a smile on their face."
The National Marine Sanctuaries 16-stamp collection features scenes from America's sanctuary system, including endangered elkhorn coral and a breaching whale.

United States Postal Service
Greg McFall's solitary sand tiger shark from Monitor National Marine Sanctuary represents the late photographer's legacy. His family is touched that he lives on through his underwater photography and now this national stamp.
"For half a century, our sanctuaries have protected these treasures for all of us to enjoy, explore, and discover," says Kris Sarri, president and CEO of the National Marine Sanctuary Foundation. "As we mark the 50th anniversary of the Sanctuary System, we must recommit to saving these spectacular places and protecting their splendor for generations to come."
Each stamp costs $0.60 cents, and the collection of 16 is $9.60. Forever stamps will always be equal in value to the current First-Class Mail 1-ounce price. Orders can be made online at usps.com/stamps.