Great Lakes Shipwrecks Like You've Never Seen Them Before
COVID-19 travel restrictions and border closings are constantly evolving. There is no guarantee that the dive sites mentioned within this article will be open at your time of travel.
---
Great Lakes shipwrecks inspire me. The ships here have been preserved in fresh, cold water for hundreds of years — diving them is like turning back the hands of time. They've become my biggest passion; my challenge is to ­capture their image in a way no one has ever seen before.
There are thousands of ships to dive here, from wooden schooners to steel freighters, and each has a story — you can't help but feel a human connection when you listen to their powerful tales of tragedy, heroism, mystery and survival. History comes alive when I see a ship's name painted on a stern, or ­cargo from automobiles to train cars to shoes, or a 91-year-old box of life preservers frozen in time.
I'm most attracted to the wooden schooners with masts still standing 90 feet tall, as if they were sailing along the lake bed. Sometimes I have to pull my camera away and look with my own eyes because it's hard to believe this is real. To peer through a doorway hundreds of feet deep at a wheel, tools, pictures still hanging on walls, lightbulbs in lamps, and a bell still in place leaves me in awe.
What do I love most? Not every mystery here has yet been uncovered — each year, new wrecks are found, fueling my appetite to explore even farther.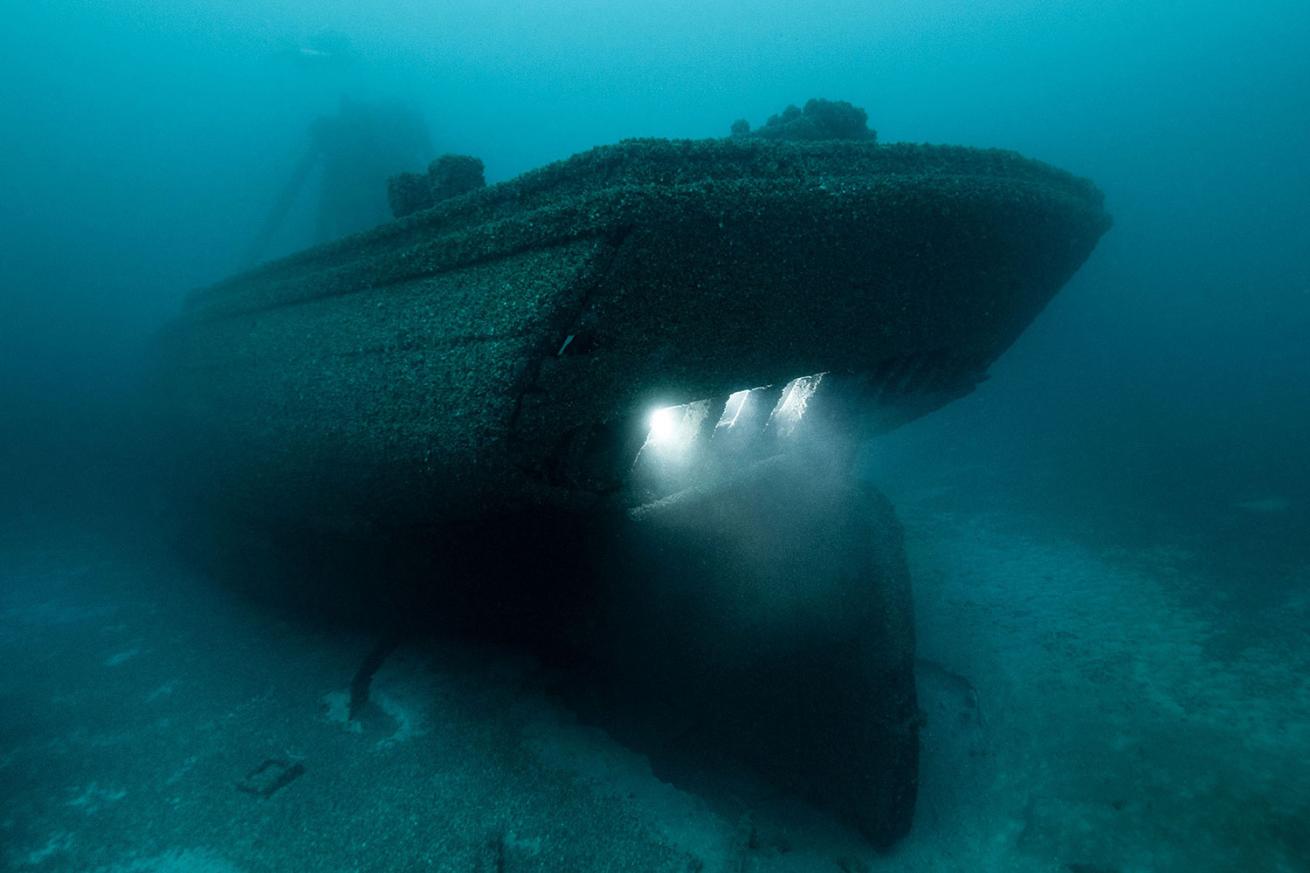 Becky Kagan Schott
EMBA was a wooden, three-masted schooner-barge scuttled near Milwaukee in 1932. The 181-foot ship had been ­converted into a self-unloading barge carrying coal on the Milwaukee River. The wreck is mostly intact, minus damage to the bow, and sits ­upright at 170 feet. The stern is stunning and very ghostly as it sits on the bottom, frozen in time in the cold fresh water. The concept of this shot was to make it appear as if it were a ghost ship sailing beneath the surface, and to show off its intact rudder.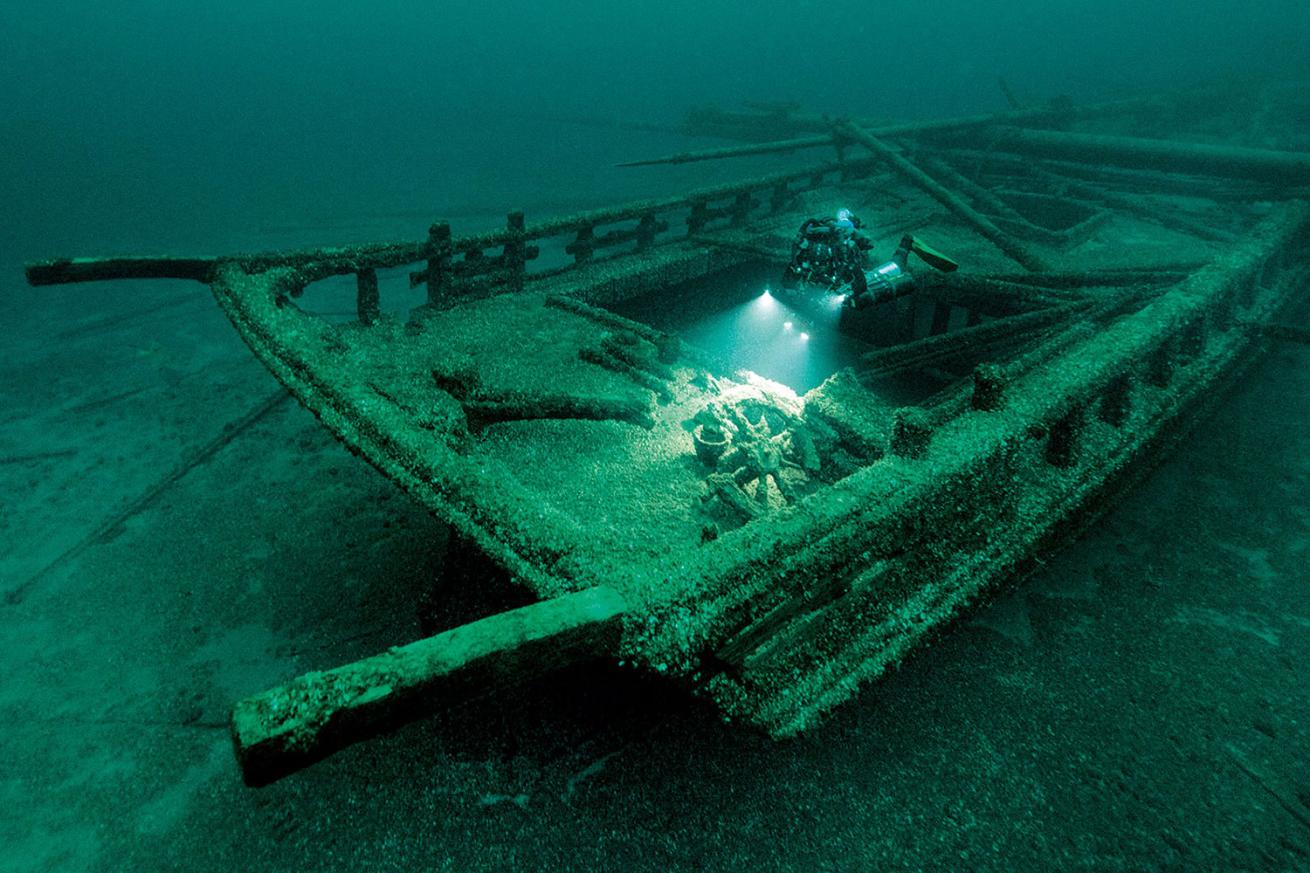 John J. Audubon, Lake Huron

Becky Kagan Schott
Rebreather diver Kevin Bond illuminates the broken wheel on the stern of the John J. ­Audubon. This two-masted brig was only 148 feet long; it sank in a collision with the schooner Defiance in 1854. The ship was ­transporting railroad ties, which can be seen around the wreck, scattered like Pixy Stix. The rudder and davits are in place, but both masts lie across the deck. It sits upright at 180 feet; visibility is typically close to 80 feet.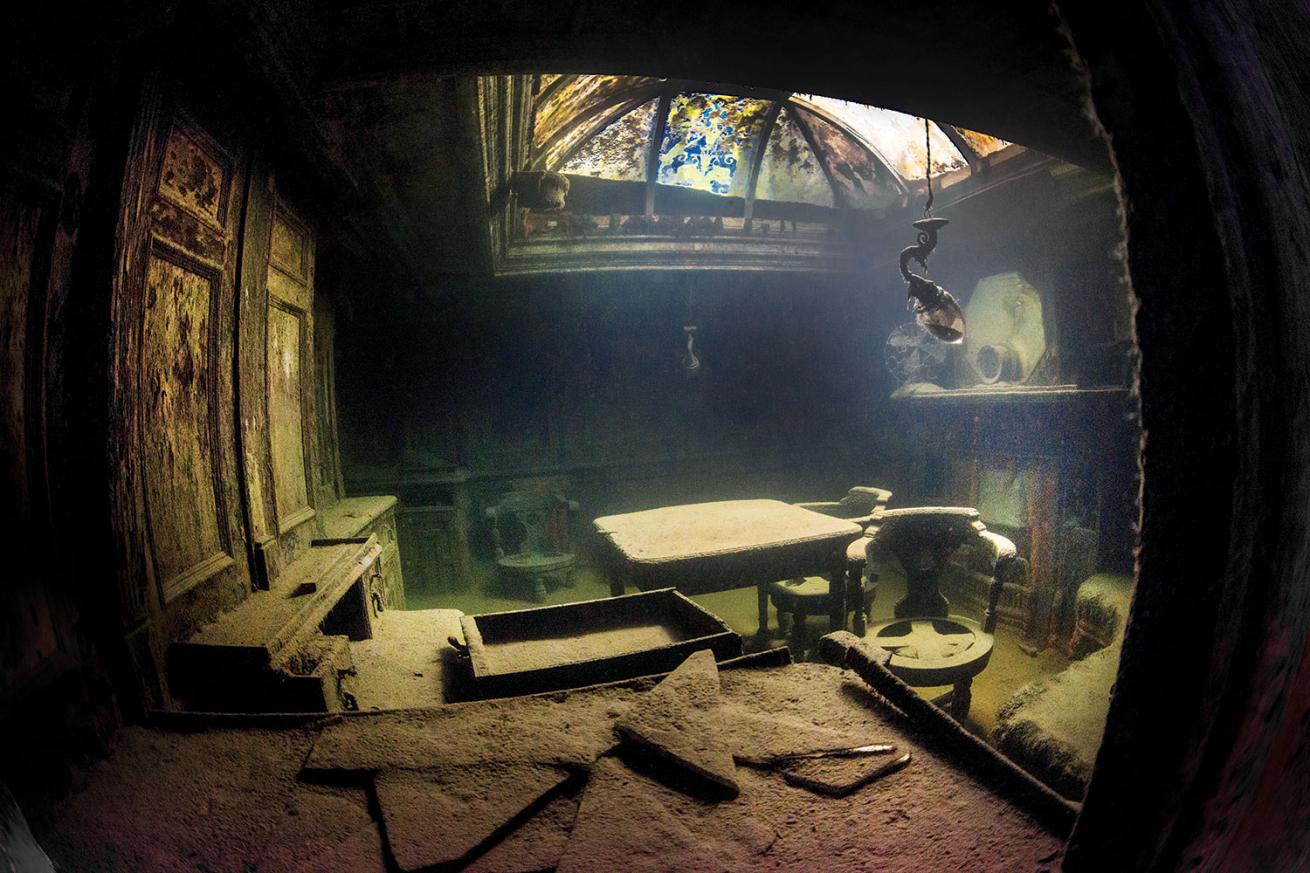 Becky Kagan Schott
The parlor room inside the yacht Gunilda has been in the dark for 106 years. This shot was a team effort to illuminate the skylight as if it were back on the surface, with the sun streaming in. Fine details in the woodwork can be seen, along with a fireplace and clock. When you peer in the door, you can almost see the card games that would have been played at that table in 1911. The lack of ­mussels in the lake keeps this wreck looking like it sank yesterday.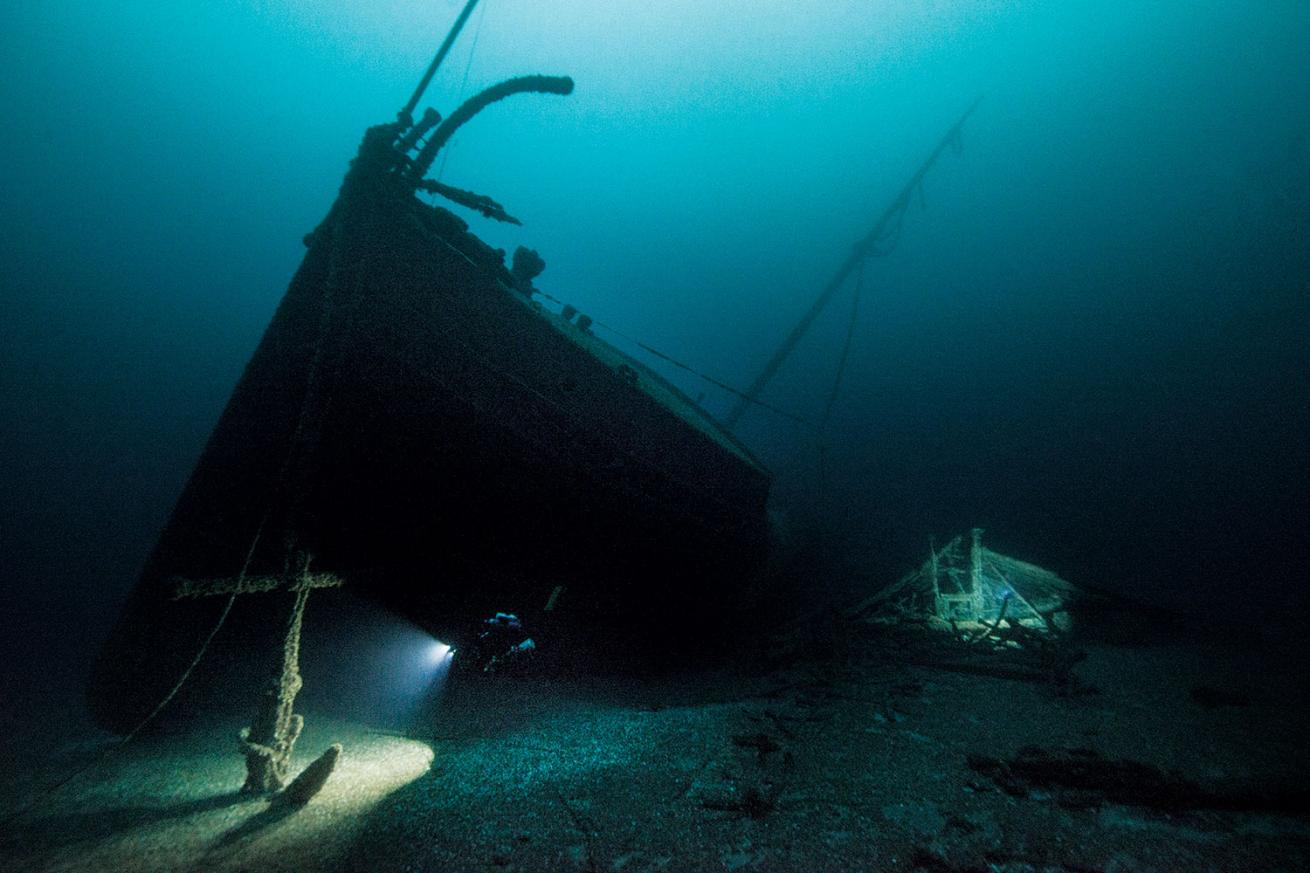 Becky Kagan Schott
Norman was a bulk ­freighter that sank in a collision on a foggy May morning in 1895. The steamer that hit it ­nearly cut it in half, and the crew on Norman began ­jumping into the freezing water to ­scramble into lifeboats. The ship ­quickly sank in 200 feet of water; ­today the stern sits on its port side and the bow is still upright, with its ­anchor resting in the sand. The wheelhouse can be seen sitting in the sand on the port side with a double wheel still in place.