Behind the (Underwater) Scenes: What it Takes to Be an Underwater Videographer for Netflix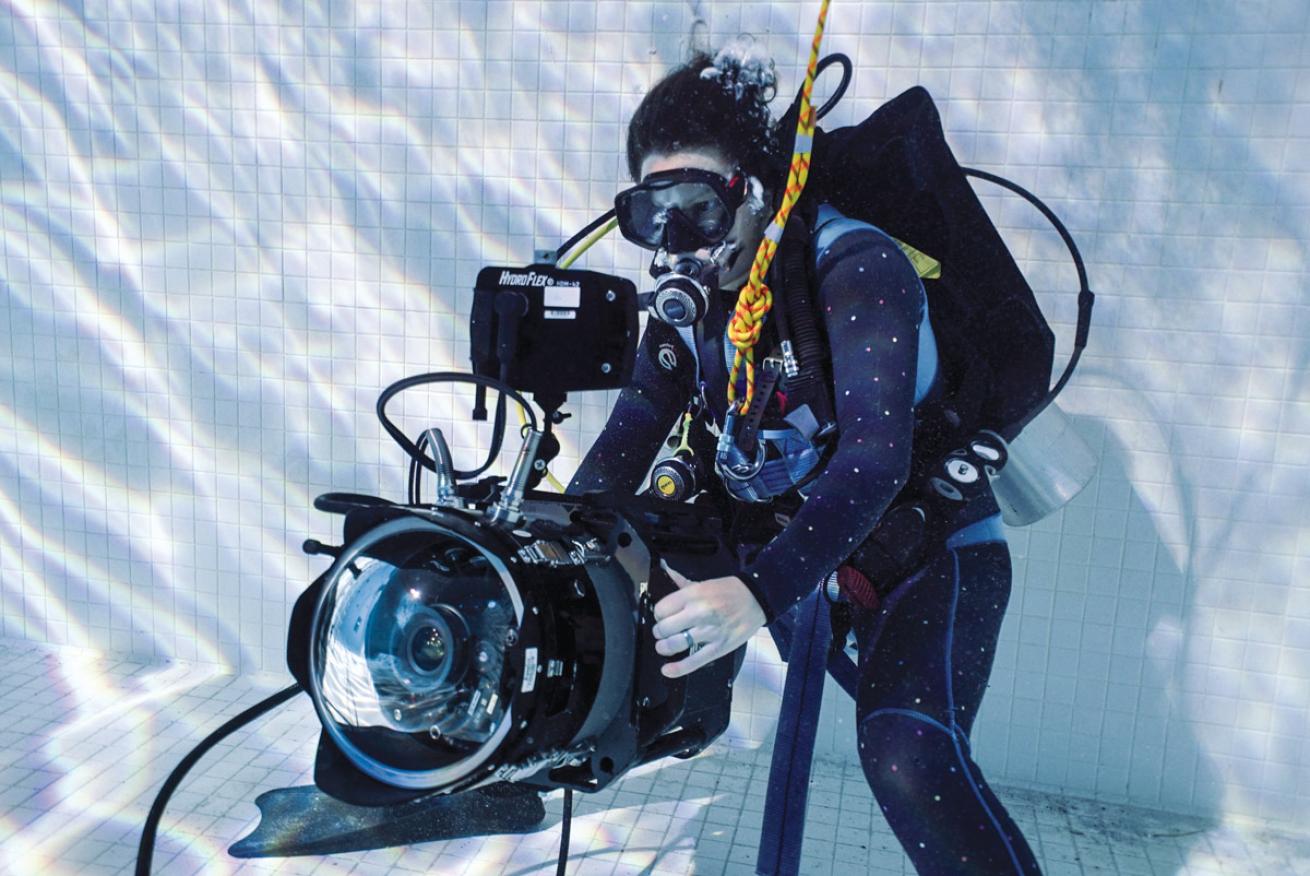 Carly Brenner Hunter in her element on a film shoot in a pool.

COURTESY CARLY BRENNER HUNTER
Carly Brenner Hunter was a couple of years out of film school, 23 years old and working as a camera trainee on the set of a Resident Evil movie when she saw an underwater camera crew in action for the first time.
"I kept leaving my set to go watch the underwater crew," she recalls. "I was blown away by the caliber of the shoot, the way the actors swam on breath-hold, the way the operator worked and how the camera looked. It was mesmerizing to me."
Soon after the project was over, she flew to Thailand and got her open-water and advanced certifications back-to-back on the island of Koh Tao. "I took my first drink of air in the pool and knew this is what I wanted to do for the rest of my life," she says.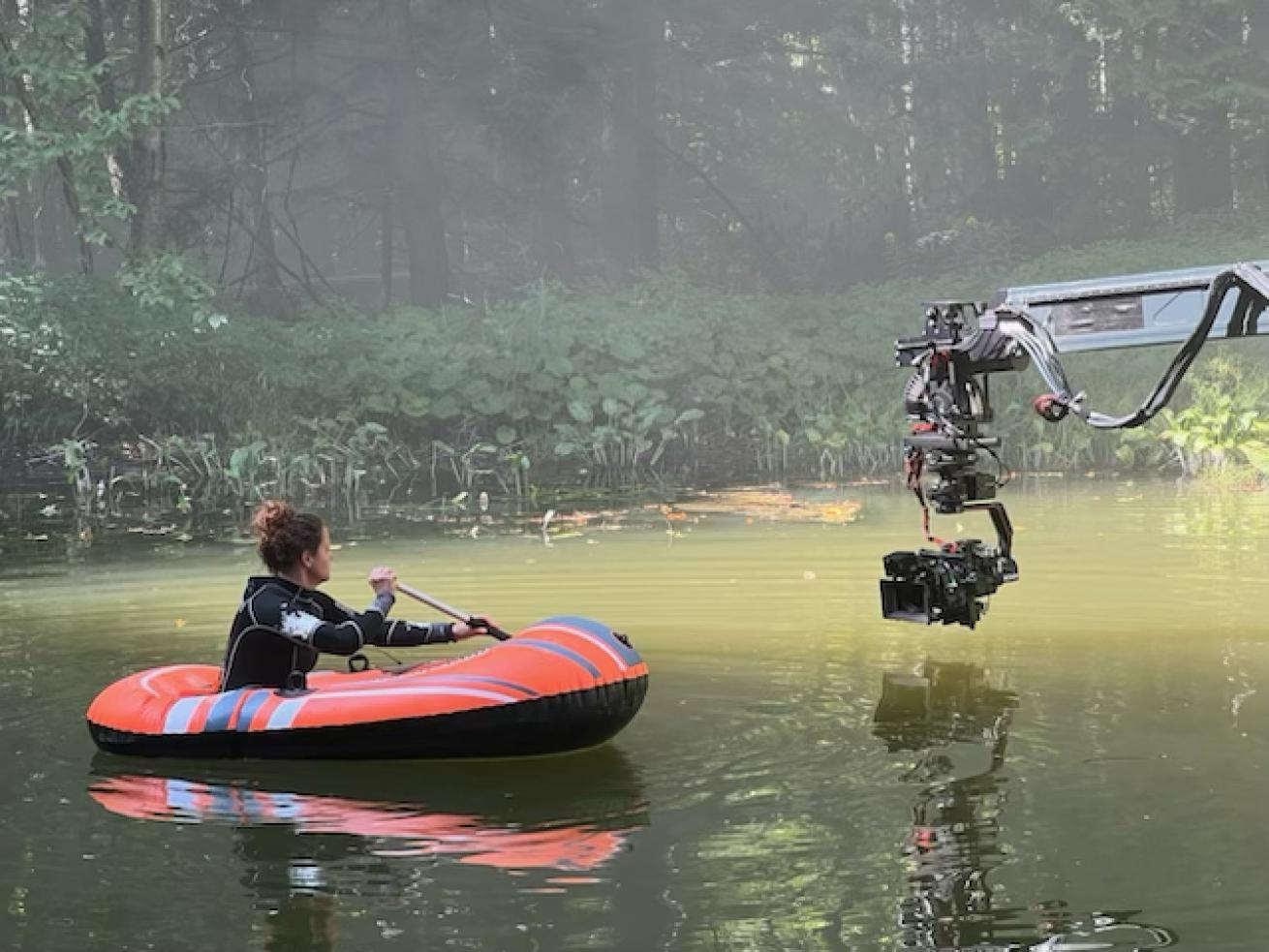 Water safety sometimes involves setting props or scenes in the water, seen here setting lily pads for an establishing shot on a Hallmark TV series, The Way Home.

Randy Butcher
At first, she planned to study marine biology and shoot documentary nature films, but she soon realized she could carve her own path, combining her passion for diving with her expertise and experience in the film industry in her hometown of Toronto, Canada.
Today Brenner Hunter is the owner and operator of Carly Underwater Film and Safety, Inc., which provides underwater cinematography and water safety services for film productions, ranging from commercials and music videos to reality TV and feature films.
"Here in Ontario, our work is highly regulated, so any filming that happens within 9 feet of water requires a water safety crew," she explains. "And if I put a tank on my back, it's considered a commercial dive—even in 4 feet of water— so I'm not only a PADI Instructor but also have my commercial diver certification."
Related Reading: Scuba Diving Photo and Video Tips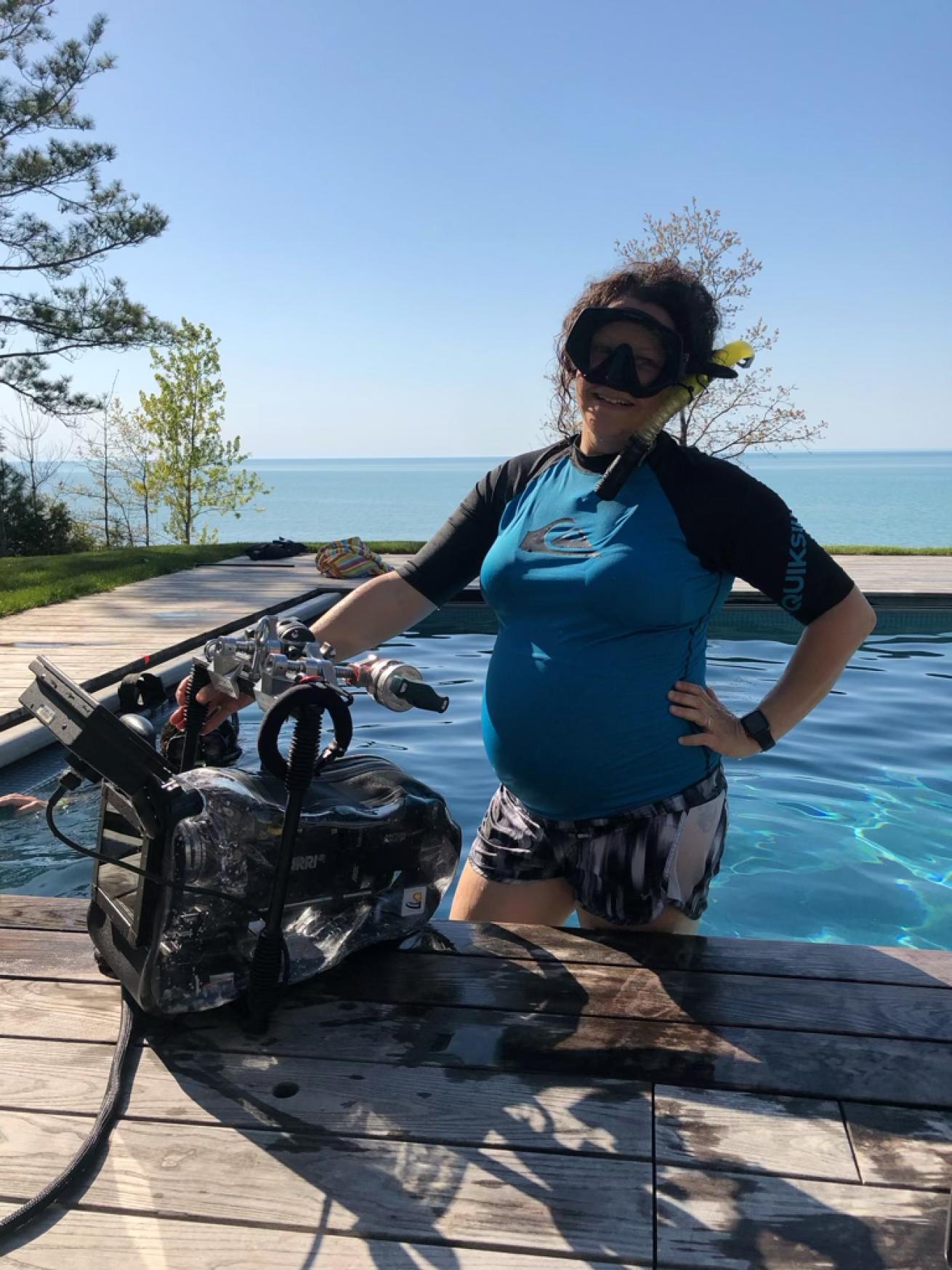 Brenner Hunter operating on a TV series at eight months pregnant.

Craig Jewel
When hiring people to work with her, she says she looks for people with both film industry experience and the requisite commercial diver training. She also hires crew to serve as lifeguards, which requires either a National Lifesaving Society certification and first-aid training or a rescue diver certification.
Brenner Hunter says her team's responsibilities vary depending on the film project, from hanging out topside as water safety supervisors and lifeguards for productions near bodies of water to actively scouting locations and shooting underwater with a full-size cinema camera in a 67-pound housing.
While diving for work rarely involves exploring coral reefs or iconic shipwrecks, Brenner Hunter has worked with famous faces like Cate Blanchett and Arnold Schwarzenegger, and for her it's all about getting the shot safely. Some days that means donning a drysuit in places like Lake Ontario and Tobermory. Other days she's blowing bubbles in a pool or purpose-built tank.
"I recently worked on a show called Locke & Key for Netflix, and we had a scenario where the actors were jumping into a cave when it was flooding," she says. "Most of that was shot in a studio tank, except the jump into the water. For that, we took a boat on Lake Ontario and motored around while I hung off the back in a mask until we found good visibility—and we got the shot."
To aspiring underwater filmmakers looking to break into the industry, Brenner Hunter recommends diving as much as possible before adding a camera into the mix. "I spent eight years diving before I added the camera," she says. "You really need to have your buoyancy dialed to smoothly track your subject through the water while pushing that huge camera."
JOB REQUIREMENTS
Degree: Film school or camera operator experience

Salary: $55 to $81 per hour

Certifications: Commercial Diver certification required in Ontario, but regulations may vary by location.
---