The Best Destinations for Macro Diving in 2022
1. Bonaire
1st Place Winner - Caribbean and Atlantic
Bonaire holds many superlatives when it comes to Caribbean diving: It's home to the oldest marine park and the greatest diversity of fish and marine life species in the region. As such, it's a rewarding place to hunt for the small stuff. 
"Bonaire is one gigantic coral reef," says Alvin Clemencia, assistant dive manager at Divi Dive, a PADI Five Star scuba center. "Because of the density of the reef, there are so many places that seahorses and frogfish can find shelter—they do not have to travel far at all to make a home."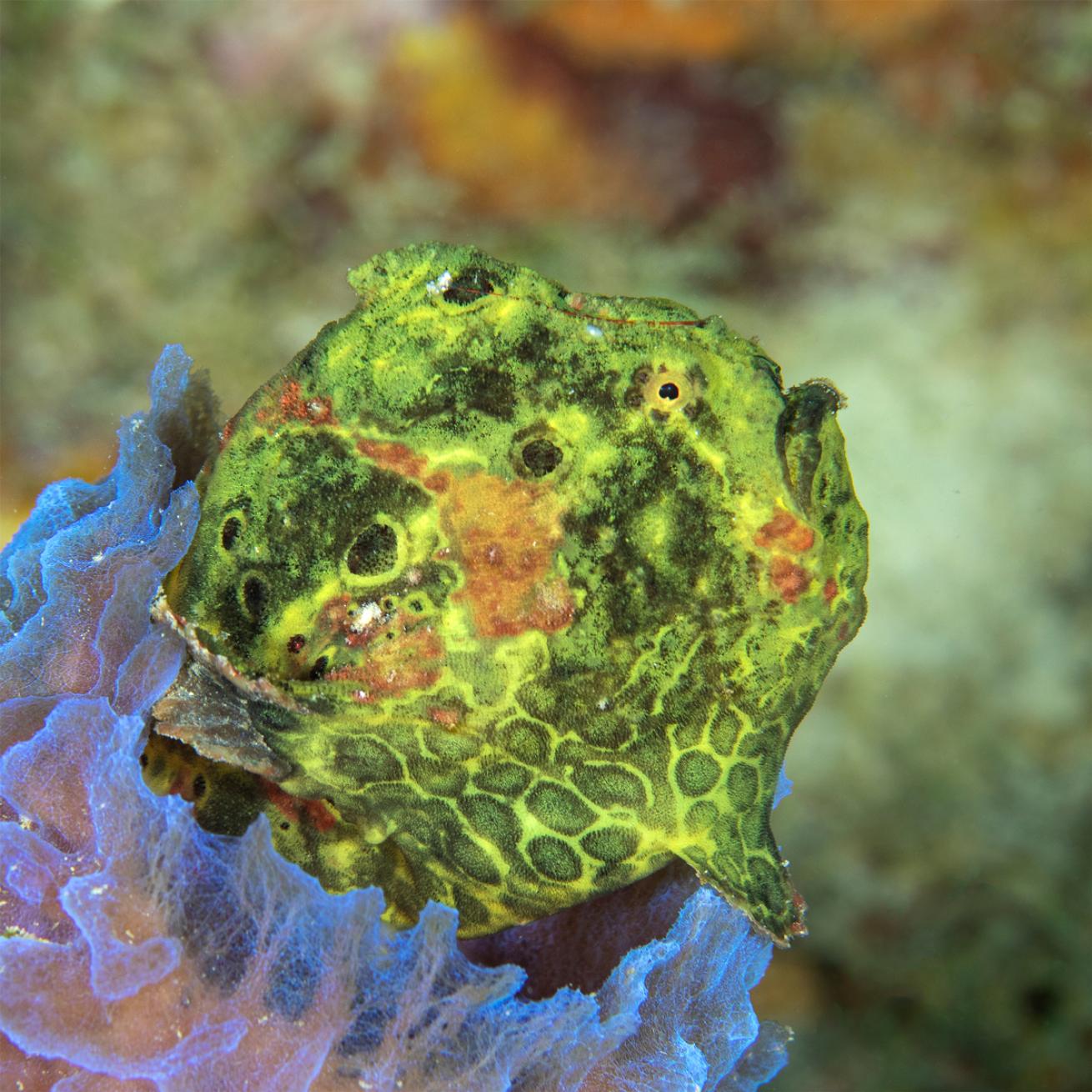 A longlure frogfish (Antennarius multiocellatus) sits atop a sponge on a Bonaire reef.

Shutterstock
Nor do divers have to swim far to see them. The best tactic is to go slow and examine every sponge, from the orange elephant ear sponges to the yellow tube sponges. "You have to look for the frog fish eye," he says. "Sponges don't have eyes, so if you see that, you know you've found something."
Readers Picks
Resorts
Buddy Dive Resort, Bonaire
Carib Inn, Bonaire

Eden Beach Resort, Bonaire
Operators
Buddy Dive, Bonaire

Carib Inn Dive Center, Bonaire

Divi Dive Bonaire

Toucan Divers at Plaza Resort, Bonaire
VIP Diving, Bonaire

Wannadive Bonaire at Eden Beach Resort, Bonaire
2. California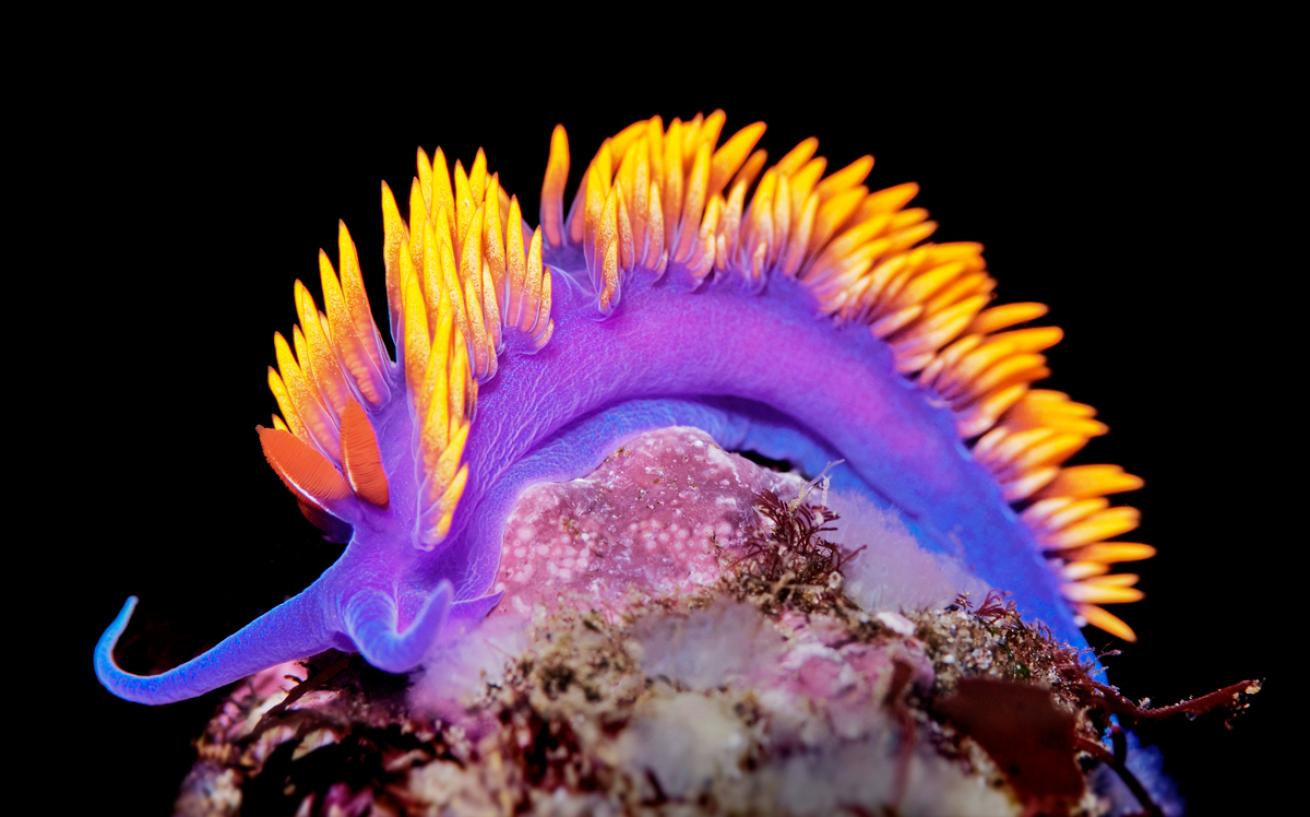 The Spanish shawl nudibranch is a sight to behold in the waters of Southern California.

Antonio Busiello
"People think you have to go to Lembeh [Indonesia] to find good macro subjects, but you really don't at all," says Douglas Klug, a 35-year veteran of diving California's coast, primarily the Channel Islands with the dive charter boat Spectre.
Klug has become so familiar with the small stuff in this environment that he now teaches a nudibranch identification class, which he documents on his Instagram page. In it, students learn to hone in on 40 of the Golden State's 200 nudi varieties—"because those are the ones I have good images of," he jokes.
Most divers who know what they're looking for can expect to find about 10 to 12 nudis per dive. And no, it's not the same ones each time.
Only the Spanish shawl—the area's most common nudibranch and the easiest to spot thanks to its purple and Cheeto-orange coloring—is seen year-round. The rest are seasonal, meaning that every few months sees a turnover in the who's-who of the reefs.
Granted, there's more to see than just nudibranchs. Of the smaller fish, one choice find is the sarcastic fringehead. "It has the best name ever for a fish," jokes Klug. But beyond just its name, its behav­ior is wild. "They're super aggressive; you don't need a mirror to get a reac­tion. Just put a camera lens in front of them, and they flare up and put on a big display," he says. 
For those who have trouble locating tiny marine life, Klug offers guiding ser­vices, which can also help train newer spotters into becoming proficient.
3. Florida Keys
1st Place Winner - U.S. and Canada
The biggest surprise of diving Key Largo might be that there's life to be seen on the bay side—in addition to the star attractions of the Atlan­tic dive sites. "Interestingly, seahorses are much tougher to find on the ocean­ side reefs," says Jeff Gneiser, owner of Amoray Dive Center, located at the re­sort of the same name. "But we see them commonly on the bay side."
The reasons why are twofold.
 One, live corals at sites such as Horseshoe Reef are dense, which makes spotting critters more challenging. Two, the Atlantic along the Florida peninsu­la and the Keys often has a current, whereas the bay is much more pro­tected, and thus a safer environment for seahorses, nudibranchs, lettuce sea slugs, shrimp and other smaller animals that aren't strong swimmers.
"People don't think of doing man­grove snorkels," he says, adding that the resort's dock, in water just 7 feet deep, can be good for these finds. "Sure, the bay isn't the be­-all­-end­-all, but a lot of people enjoy this Florida muck diving because it's something different," says Gneiser.
Readers Picks
Resorts
Amoray Dive Resort, Key Largo, Florida Keys
Courtyard by Marriott Key Largo, Florida Keys
Holiday Inn, Key Largo, Florida Keys

Marina Del Mar, Key Largo, Florida Keys
Operators
Captain Hook's Dive Key West, Florida Keys
Horizon Divers, Key Largo, Florida Keys
Rainbow Reef, Key Largo, Florida Keys
4. Indonesia
1st Place - Pacific and Indian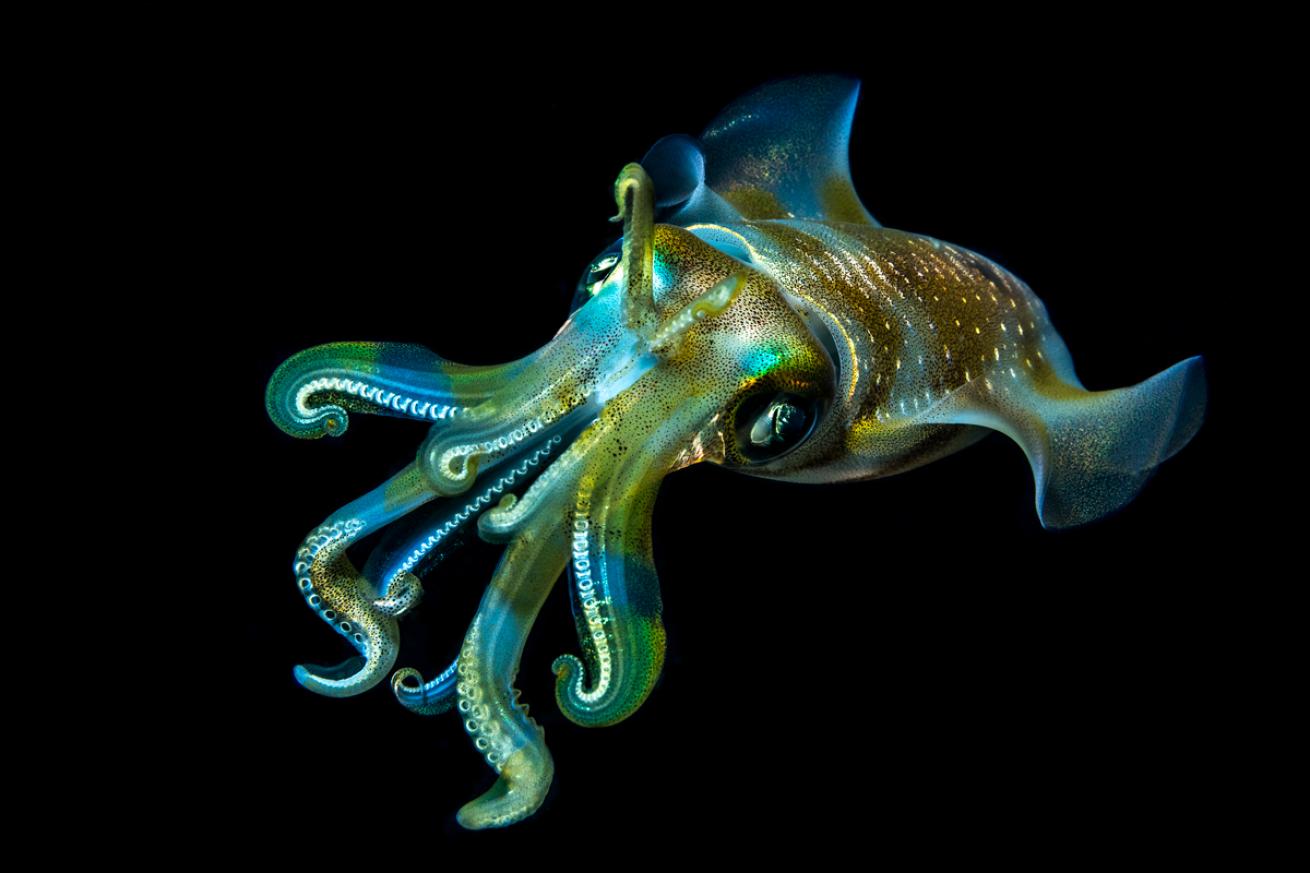 A bigfin reef squid (Sepioteuthis lessoniana) lights up the black water on a night dive in Indonesia.

Tobias Friedrich
Not only is Indonesia proven as the world's epicenter for marine bio­diversity, it also hails as the home of some of the most reliable and seasoned dive guides.
"It's a much more serious dive guide community than perhaps any­ where else," says Danny Charlton, one of the owners of Lembeh Resort, lo­cated on the Indonesian island best known for muck-diving, and thus macro-photography.
Many professional photographers and resort staff have taken the time to train local guides to be unmatched in their ability to find critters. Guides in this part of the world are able to point out whichever life most interests each guest.
For Charlton, it's mollusks. "I'm a cephalopod guy, so I like seeing the flamboyant cuttlefish," says Charl­ton, referring to the species with arms like orchid petals, hot pink at the tips. The list of mollusks off Lembeh is long. The starry night octopus, identi­fied by the bright­white dots dappled across its arms, is a common find.
However, the most fun encounter could very well be the coconut octopus. "They're really smart, and they'll play with you," he says. "I don't mean cards or anything like that, but if you offer them a shell, they'll take it and hang out a while."
Readers Picks
Resorts
Wakatobi Dive Resort, South Sulawesi, Indonesia
Operators
Wakatobi Dive Resort Dive Center, Indonesia
Liveaboards
All Star Aurora, Indonesia

The Arenui, Indonesia

Dewi Nusantara, Indonesia
Pelagian Yacht, Sulawesi, Indonesia
5. Philippines
In the Philippines, while areas such as Tubbataha Reefs Natural Park are hailed for larger marine life, a handful of destinations, including the Visayan Is­lands, Leyte Island and the area of Dau­in in the province of Negros Oriental, are much prized for smaller finds. These areas are home not only to reefs that support biodiversity, but also to a lot of black sand.
"Animals like nudibranchs, pad­dlefish and purple rhinopias all stand out against the black—it makes finding things really easy," says Mik Jennings, business manager for Master Liveaboards, the fleet that operates Philippine Siren.
It helps that many dive guides have been covering the same sites for years, if not decades. "When I first visited the Philippines, I really wanted to see the rhinopias," says Jennings. "Sure enough, four minutes into the dive, there you go." His dive guide had simply pointed it out. "These guides know exactly where everything is," says Jennings.
Readers Picks
Resorts
Atlantis Dive Resorts, Puerto Galera and Dumaguete, Philippines
Atmosphere Resorts & Spa, Dumaguete, Philippines
Liveaboards
Philippine Siren, Philippines
6. Hawaii
Like the endemic fish of Hawaii, the critters of this North Pacific destination have evolved independently from surrounding islands, resulting in a unique menagerie rarely found elsewhere.
Take the Hawaiian freckled frogfish, known locally for not traveling great distances. One became a resident of the Kauai dive site Sheraton Caverns, staying more than three years. "We can't guarantee you'll see one, but if you do, you'll see it all the time," says Josh Childress, general manager of Seasport Divers.
Unlike other destinations, Kauai's waters are thick with the otherwise rare longnose hawkfish. Tiger flatworms, fuchsia flatworms and a handful of nudibranchs—including the gold-lace and the imperial—are also reef regulars.
Perhaps most unusual of the lot is also Childress' favorite: the eared sea hare. It's a sea cucumber—that has ears. "If he gets freaked out, he inks purple, which looks so cool," he says.
Readers Picks
Operators
Big Island Divers, Hawaii
Dive Maui, Hawaii

Dive Oahu, Hawaii

Jack's Diving Locker, Hawaii
Kona Diving Company, Hawaii
Kona Honu Divers, Hawaii
Maui Dive Shop, Hawaii
Maui Diving Scuba Center, Hawaii
Maui Dreams Dive Co., Hawaii
Seasport Divers, Kauai, Hawaii
---
What Is Readers Choice?

We've averaged reader survey results from 2020, 2021 and 2022 to bring you the Best of Readers Choice awards. Here we feature some of
the top-rated destinations in the world, along with the winning resorts, operators and liveaboards serving those areas, listed in alphabetical order. For more: /readerschoice
Caribbean and Atlantic

Bonaire

Bay Islands

Cayman Islands
Belize
Mexico

Bahamas

Curacao

U.S Virgin Islands
St. Lucia
Cuba
Pacific and Indian
Indonesia
Philippines
Hawaii

Palau

Fiji
Thailand
Red Sea
Australia
Maldives
Mexico
U.S. and Canada
Florida Keys
California

Washington

British Columbia
Florida
---