Go Big or Go Home! Best Dive Spots for Big Animals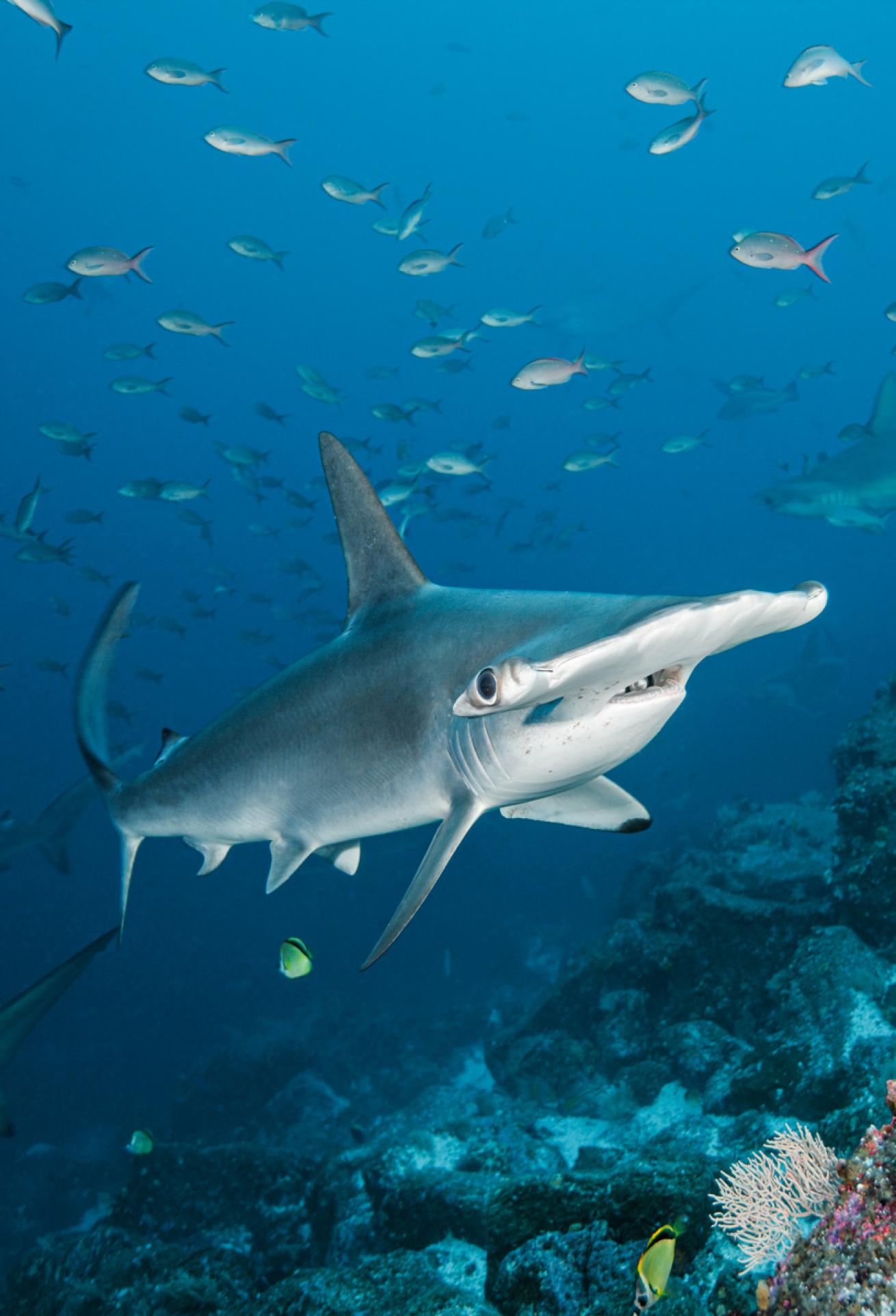 A scalloped hammerhead moves among a school of smaller fish in the Galapagos Islands.

Brandon Cole
1. Bahamas
A Navy buoy in 6,000 feet of water off the island of New Providence changed everything for Stuart Cove when he visited this deep-water site with the intention of snorkeling with silky sharks. Sure enough, there in the mix were jacks, tuna and wahoo—a swirl of life that attracted sharks as hoped.
In 1985, Cove began running his own regular shark dives out of his Nassaubased dive operation, Stuart Cove's Dive Bahamas. These dives are now offered four afternoons a week, rotating between four dive sites, including Runway and Shark Wall.
Most regular scuba trips offer good odds of seeing a shark too. Several wrecks, including the 200-foot freighter Ray of Hope, combine the thrill of sharks with the excitement of diving a wreck— dialing up the experience a long way from the blue water of the Navy buoy. "In our part of the world, shark diving with tourists is such a mainstream thing," says Cove. "It all started here. Now there isn't an island in the Caribbean you can go that doesn't have a shark experience."
READERS PICKS
Operators
Stuart Cove's Dive Bahamas, New Providence
Liveaboards
Aqua Cat, Bahamas

Bahamas Aggressor

Blackbeard's Cruises, Bahamas

Cat Ppalu, Bahamas
Related Reading: The Best Destinations in the World for Diving with Big Animals
2. Galapagos
Six hundred miles separate these remote islands from mainland Ecuador. If that alone wasn't enough to limit boat traffic, the government also restricts operator permits to just a handful so that the islands of this marine preserve—one of the world's largest and most biologically diverse—stay much as they were when Charles Darwin and the crew of the HMS Beagle first set foot there in 1835.
"The encounters with marine life are in the most natural state possible, and that makes these islands a playful place that's full of life," says Gustavo Reyes, sales and marketing executive for Calipso Galapagos Expedition and Diving.
Divers can encounter whale sharks June to November and manta rays December to May. Throughout the year, the waters are home to some 30 species of shark, including scalloped hammerheads, tiger sharks, Galapagos sharks and whitetip reef sharks. "One of my most memorable encounters started when I was looking at a school of hammerheads, more than 200, and in the middle of this group, a whale shark appeared," says Reyes. "Then, as I made my way to the surface, dolphins surrounded us. Then, suddenly the dolphins opened up and killer whales appeared."
Experiences like this, he says, "cause sudden and intense emotion," perhaps not unlike what Darwin first felt as he explored these then-unknown isles.
READERS PICKS
Liveaboards
Galapagos Shark Diving
Humboldt Explorer, Galapagos
Related Reading: Galapagos - Shark Diving for Marine Conservation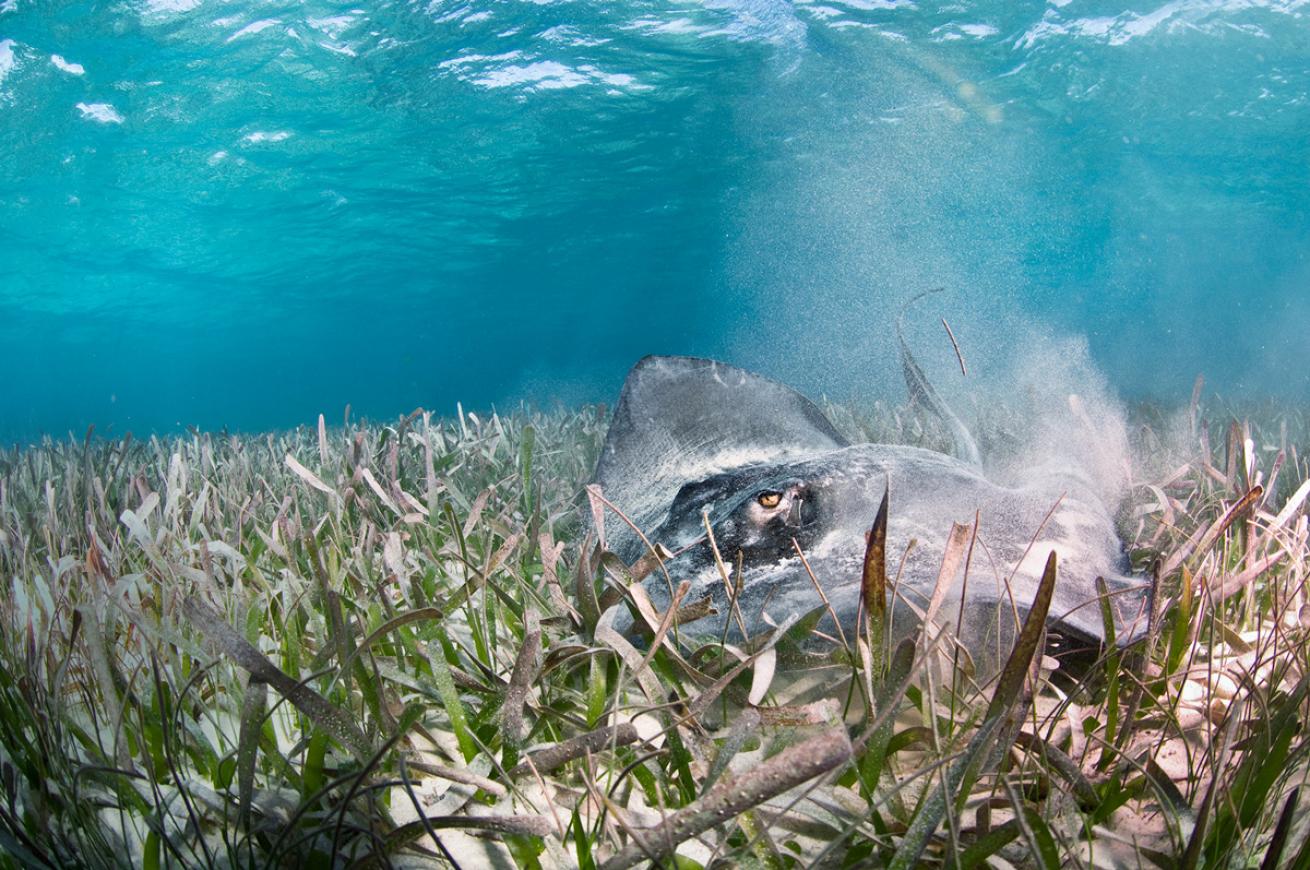 A stingray photographed on a sandy bottom in Belize's Hol Chan Marine Reserve.

Antonio Busiello
3. Fiji
The shark dive offered by AquaTrek in Fiji is the only place in the world where divers regularly encounter seven shark species—tiger, bull, lemon, gray, whitetip reef, blacktip reef and nurse— all in one dive. And it's one of the few locations where divers can witness the hand-feeding of these species. All of this takes place three times a week at a 60-foot-deep site called the Bistro, off Beqa Island, a satellite of Fiji's main island of Viti Levu.
"We hand-feed because we want the dive to be educational," says Brandon Paige, dive manager at AquaTrek. "Most media have portrayed these animals as mindless killing machines that are not very bright," he says. "Showing these animals in a relaxed environment with food and no aggression toward divers is what we want people to see."
READERS PICKS
Resorts
4. Belize
Far away can be good. Just ask the guests of Ranguana Caye, a Muy'Ono Resort with just three cabanas, all located on one of the most remote atolls off the coast of Placencia, Belize.
As much as this secluded spot offers sanctuary, it also enjoys easy access to reefs where the occasional dolphin, manta ray and hammerhead cruise past. Out there, the island's dive boat is often the only one in sight. "It's far from overpopulated," says Brittany Haury, operations manager at Belize Underwater, a dive center that's part of Muy'Ono.
Big-animal encounters aren't as guaranteed here as they are in some other hotspots, but when they do occur, it's on a more intimate level.
Recently, a group of snorkelers from the resort came upon a group of five small whale sharks. "There was absolutely nobody else in sight," says Haury. "It was one of those encounters that you write a book about."
READERS PICKS
Operators
Liveaboards
Belize Aggressor III

Belize Aggressor IV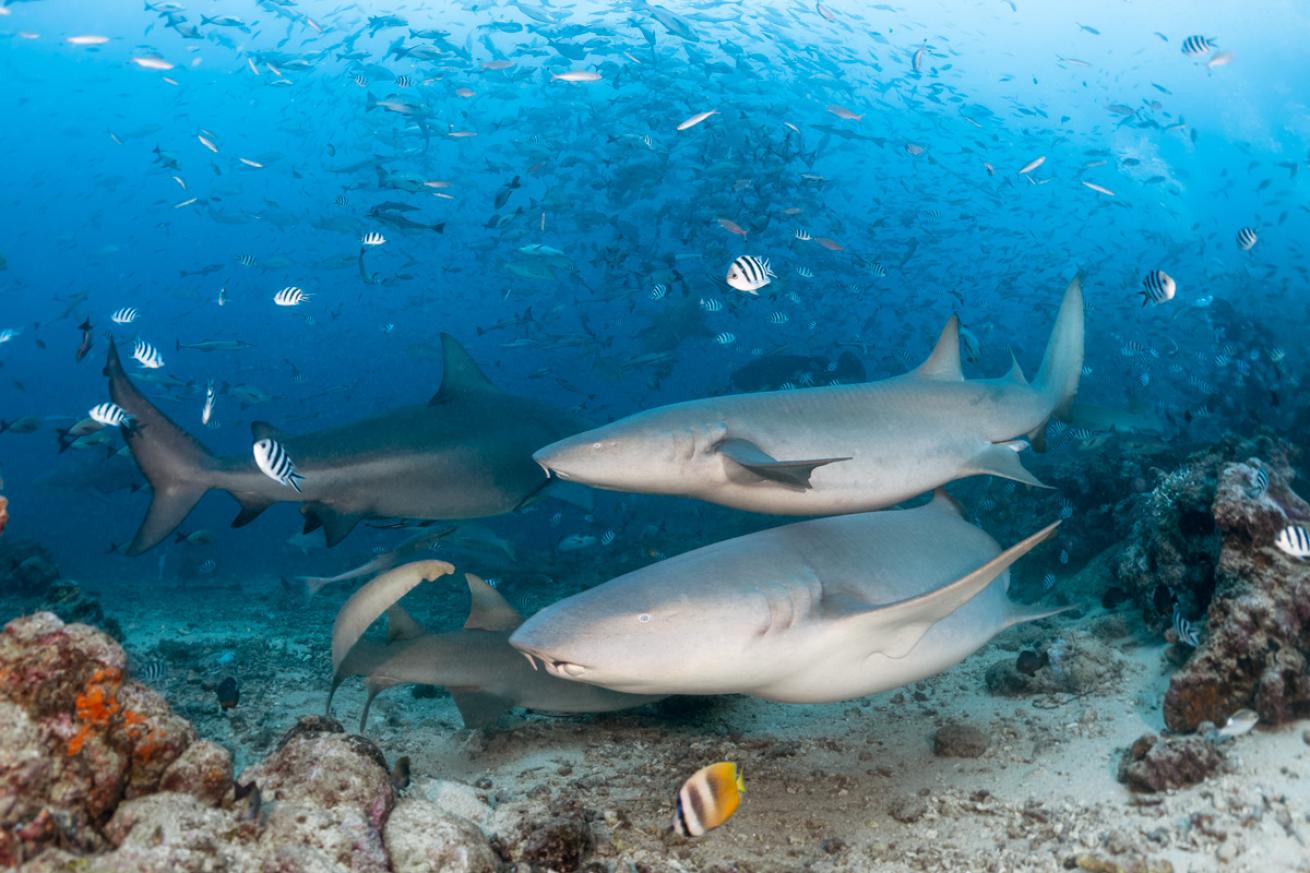 Nurse sharks swim along the reef at Pacific Harbor on the island of Viti Levu, Fiji.

Felipe Barrio
5. California
One of the top sites for sea lion encounters in California is San Carlos Beach, aka Breakwater Cove, about 120 miles south of San Francisco. This kelp forest site is protected from swells and big weather by the breakwater, and offers an easy entry as well as an average depth of 35 feet.
Dive in, and it won't take long before the harbor seals approach. "They are immediately interested in who we are and what we are doing—even though they see hundreds of divers a day," says Dane Durand, PADI Master Instructor and general manager of Aquarius Dive Shop in Monterey.
Then there's the added thrill of diving this kelp forest at night. "A harbor seal will come right up to you, using your light to hunt fish—it's one of my favorite things," says Durand.
Related Reading: How to Dive Lobos Rocks in Monterey Bay
6. North Carolina
"It's a fallacy that the sand tiger sharks are only here in the summertime," says Bobby Purifoy, owner of Olympus Dive Center, based in Morehead City.
In the past couple of years, Purifoy started comparing notes with other local operators. Olympus also began taking on more contracts aiding research teams from NOAA and UNC Wilmington. "We were with NOAA at the Papoose when they were practicing with ROVs," he says, referring to a wreck in 200 feet of water. "It looked like the Galapagos, but with only sand tiger sharks."
That was March, a month when the sharks weren't typically expected in North Carolina waters. Purifoy and his team have since found that the sharks aren't moving as far as people thought. They're just rotating between a small number of wreck-diving sites.
In spring, the sand tigers congregate on the Aeolus and Spar wrecks. Come summer, the big numbers collect around the Caribsea and the Atlas. In October and November, they gather around the U-352.
And that's the dive season off North Carolina, full of chances to see these large predators on the wrecks.
Caribbean And Atlantic
1. Bahamas
Belize

Turks and Caicos

Mexico

Cayman Islands

Bay Islands

U.S. Virgin Islands

Bonaire

Aruba

St. Lucia

Curaçao
Pacific And Indian
1. Galapagos
Maldives

French Polynesia

Costa Rica

Mexico

Indonesia

Hawaii

Fiji

Philippines

Red Sea

Australia

Thailand
U.S. And Canada
1. North Carolina
Texas

Florida

Florida Keys

California

Washington State

New York/New Jersey

Great Lakes
What Is Readers Choice?
More than 3,000 readers cast their vote in our 2023 survey to decide this year's Readers Choice awards. Here we feature some of the top destinations, listing in alphabetical order the winning resorts, operators and liveaboards serving those areas. More at scubadiving.com/readerschoice
---