The Best Destinations in the World for Diving with Big Animals
What Is Readers Choice? 
We've averaged reader survey results from 2020, 2021 and 2022 to bring you the Best of Readers Choice awards. Here we feature some of the top-rated destinations in the world, along with the winning resorts, operators and liveaboards serving those areas, listed in alphabetical order. For more: /readerschoice
1. The Bahamas
1st Place Winner: Caribbean and Atlantic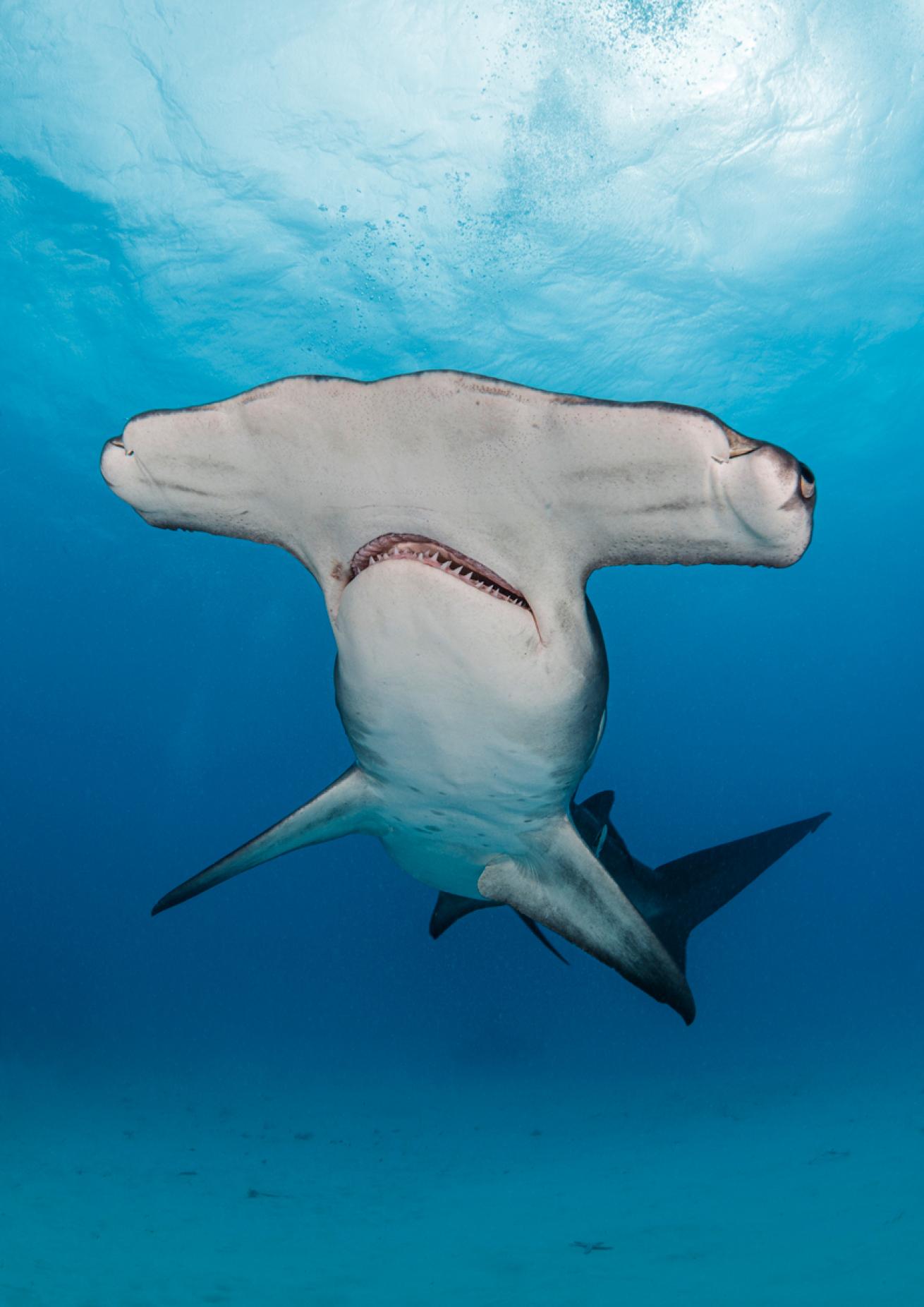 The Bahamas is a hotspot for seeing several species of sharks, including great hammerheads.

Brandon Cole
This year marks the 10th anniversary of the great hammerhead dive off the Bahamian island of Bimini. Along with the tiger sharks off Grand Bahama and the Caribbean reef sharks off Nassau, hammerheads have become such a reliable occurrence that it's well worth the trip. In the past few years, the biggest change to the site is what else shows up: Bull and tiger sharks have also become regulars. "More and more operators have been offering this dive, so there has been that much more bait in the water," says Neal Watson Jr., owner of Bimini Scuba Center, explaining why a greater diversity of shark species has been showing up. "The biggest draw for the sharks is the consistency," he says. Beyond just the hammerheads, Bimini is also the playground of wild spotted dolphins. "What we have is completely different from the captive dolphin experience," he says. "There's so much interaction, and you get the chance to see just how similar to humans they are. We see them interacting just the same as we do—the mom will have to tell the child it is time to go, but the kids get distracted and come back to play."

The dolphin trips, offered as snorkel sessions only, are available in summer and fall. The dolphins are year-round residents of Bimini, but seasonal weather proves limiting. Winter's high winds impede access. However, "You can get a beautiful day in February and go find them," Watson says.
READERS PICKS
Liveaboards
Aqua Cat, Bahamas
Bahamas Aggressor
Blackbeard's Cruises, Bahamas
Cat Ppalu, Bahamas
2. Hawaii
The Aloha State is famous for many things: surfing, luaus, volcanoes—and legions of sharks.
This outpost destination can credit those numbers to a few things, from being the first state to ban shark fishing to its remote location serving as a waypoint for migrating animals.
Heading farther offshore brings better odds of sighting the big stuff, allowing for more time in deep water. Operators such as Jack's Diving Locker aim to maximize the number of big-animal sightings for their guests, cruising these grounds during the safety interval—and it often pays off.
One area called Hammerhead Point is a known aggregation site for dozens of scalloped hammerheads. "Sometimes they forget and their fins go above the surface," says Teri Leicher, managing partner of Jack's Diving Locker, which makes for easy sightings of these large predators.
The sightings happen underwater just as often. Leicher describes a recent outing where the group snorkeled with scalloped hammerheads. And just outside the Kailua-Kona harbor is an area where divers can easily see 100 fish species, plus sandbar sharks and even the occasional tiger shark. "Seeing one is like watching the Goodyear blimp with stripes go by," says Leicher.
READERS PICKS
Operators
Big Island Divers, Hawaii

Dive Maui, Hawaii

Dive Oahu, Hawaii

Jack's Diving Locker, Hawaii
Kona Diving Company, Hawaii
Kona Honu Divers, Hawaii

Maui Dive Shop, Hawaii

Maui Diving Scuba Center, Hawaii
Maui Dreams Dive Co., Hawaii
Seasport Divers, Kauai, Hawaii
3. Australia
Australia's Great Barrier Reef is home to the only known predictable aggregation of minke whales in the world. Every June and July (austral winter), these animals congregate on the world's largest barrier reef for reasons still unknown to researchers.

Divers and snorkelers aboard Mike Ball Dive Expeditions' liveaboard, Spoilsport, can interact with these especially curious marine mammals during three-, four- and seven-night trips. "Minke whales are exceptionally inquisitive and often approach boats, divers and snorkelers closely, sometimes interacting for extended periods," says Dorothy Johnson, manager with the company. Each of the trips includes a researcher working with the James Cook University Minke Whale Project to educate guests about the whales' behavior, help identify individual whales, and relate their sightings and migration histories.
READERS PICKS
Liveaboards
Spirit of Freedom, Great Barrier Reef, Australia
Spoilsport, Great Barrier Reef, Australia
4. Florida Keys
1st Place Winner: U.S. and Canada
Almost every dive off the island of Key Largo comes with sharks. The only questions are what kind and how many. "Almost every reef—Molasses, Elbow—has a blacktip on it," says Dan Dawson, owner of Horizon Divers, a local scuba center offering instruction and day trips.

The wrecks, including the area highlight Spiegel Grove, have long been a hotspot for a variety of big stuff. More recently, the Spiegel Grove has attracted primarily blacktip sharks. "Out of nowhere they started showing up, and now we see them every day," says Dawson.
Turtle nesting season in summer shakes up the mix as well.
"When the turtles come, so too do the hammerheads," he says. "We've had a great hammerhead swim right by all the divers on a dive at the City of Washington." Another wreck, the 327-foot Duane, is favored by bull sharks. "We've had nine just circling the bottom of the boat—it was really wild," Dawson says.
READERS PICKS
Resorts
Amoray Dive Resort, Key Largo, Florida Keys
Courtyard by Marriott Key Largo, Florida Keys
Holiday Inn, Key Largo, Florida Keys

Marina Del Mar, Key Largo, Florida Keys
Operators
Captain Hook's Dive Key West, Florida Keys
Horizon Divers, Key Largo, Florida Keys
Rainbow Reef, Key Largo, Florida Keys
5. Galapagos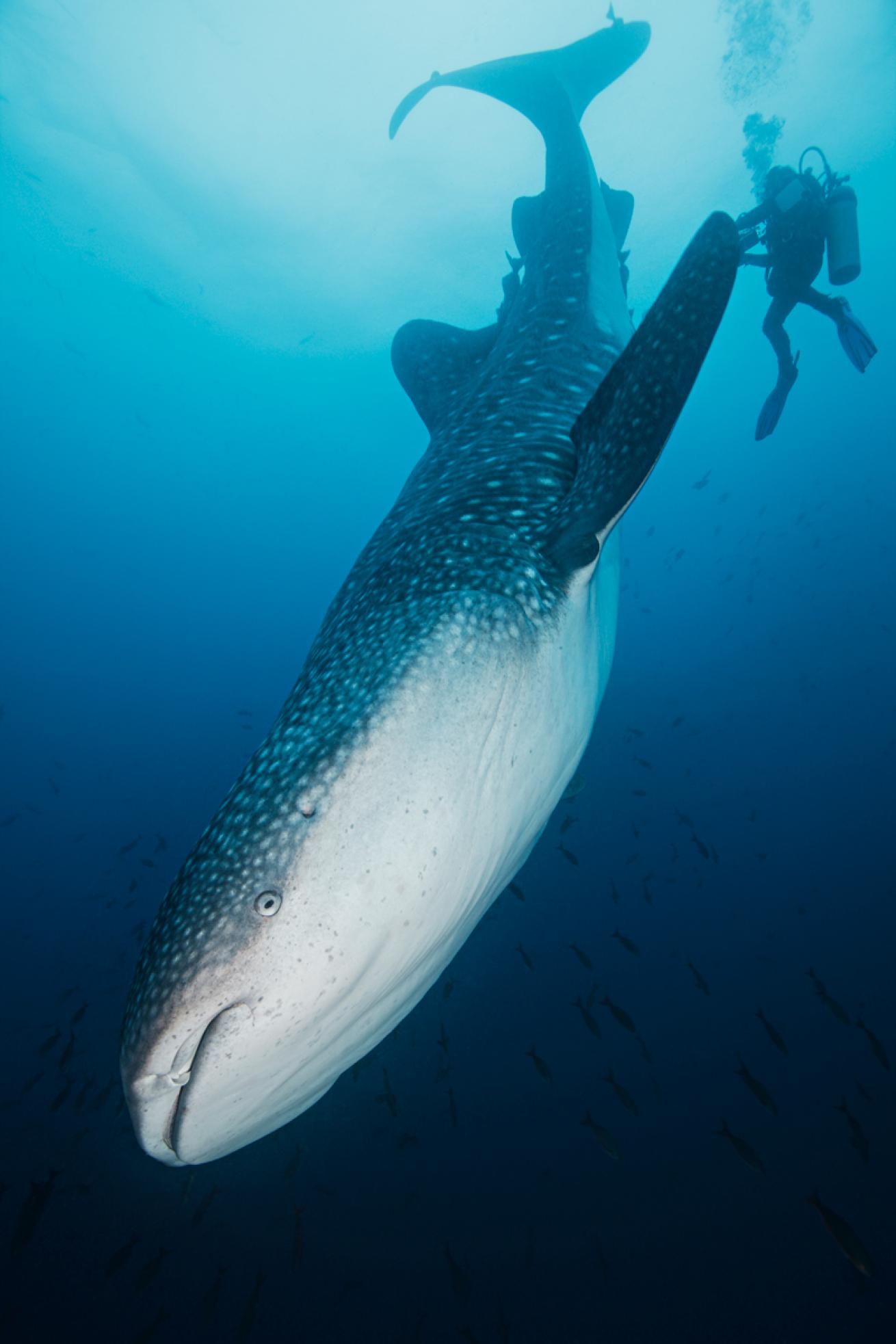 A diver encounters a whale shark in the Galapagos Islands.

Brandon Cole
A birthing ground for whale sharks June through November, the Galapagos Islands of Ecuador are famous for attracting 99.8 percent females—the bigger of the genders—each up to 45 feet long.
Of the 10 companies holding permits to dive this exclusive destination, Galapagos Shark Diving is unique in bringing two shark researchers on every sailing to share their findings on the birthing and migratory patterns of individuals and the population as a whole. "Galapagos might be one of the few places on the planet where whale sharks give birth, which is one of the reasons scientists from all over the world come here to study this unique population," says Jenny Waack, owner of the company.
This outfit limits its liveaboard trips to just 15 guests, and places four divemasters in the water with them, a ratio that allows for added attention.
READERS PICKS
Liveaboards
Galapagos Aggressor III
Galapagos Shark Diving
Galapagos Sky

Humboldt Explorer
6. Costa Rica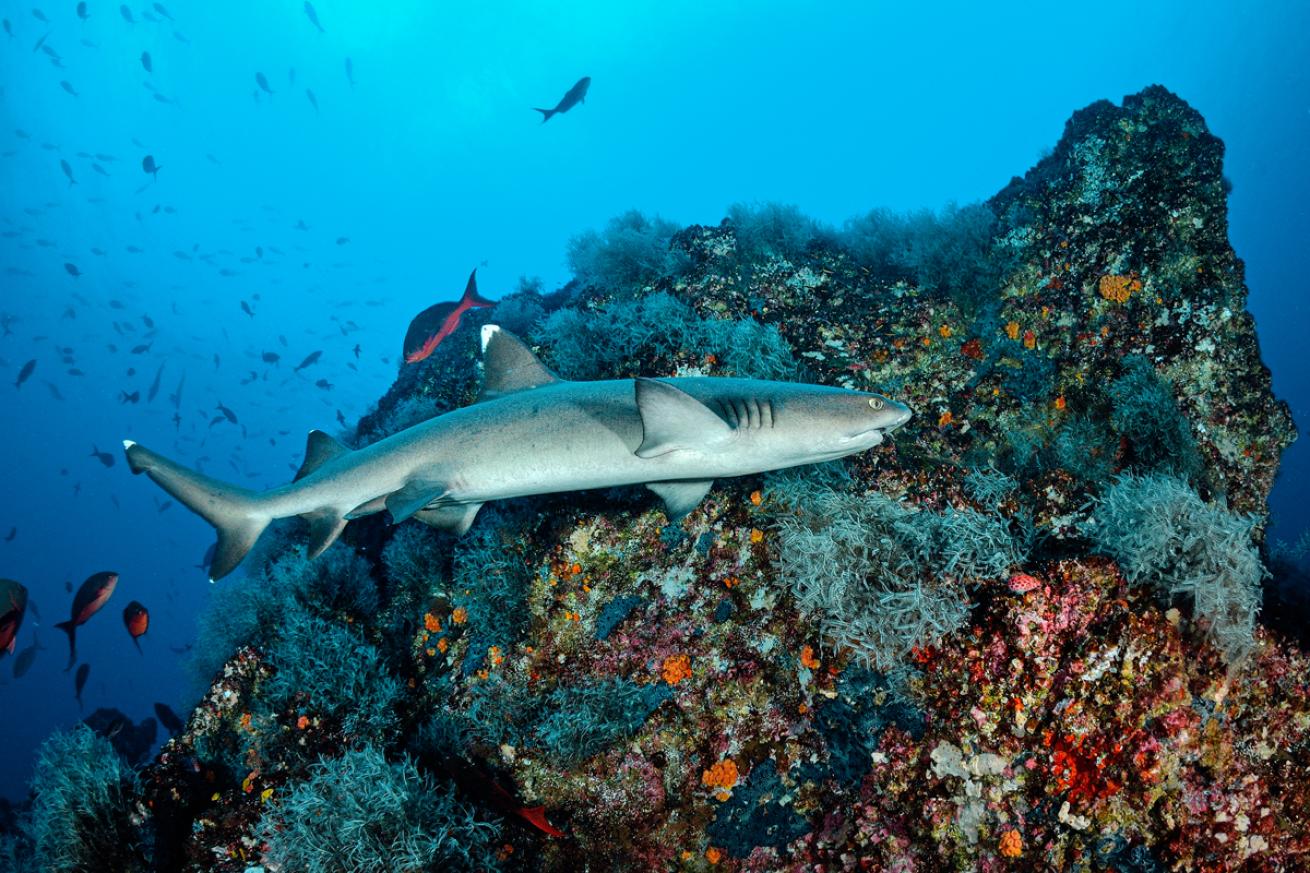 A whitetip shark prowls a reef near Cocos Island, Costa Rica.

Damien Mauric
Costa Rica's Gulf of Papagayo, off the northern Pacific coast, offers a wealth of big-animal encounters, varying by season and water temperature—starting with whitetip sharks that appear on nearly every dive, especially those off the Catalina Islands.
"They're always a memorable time because they are generally in a group of three to seven or eight," says Celine Monfort, MSDT and co-owner of Rich Coast Diving, a Career Development Center in the town of Playas del Coco in the Guanacaste Province. "On a recent DSD, the student and I were suddenly surrounded by juvenile whitetip sharks—at least 10 of them." The whitetips are year-round, whereas the bull sharks and mantas each have a season. June to October sees the bull sharks at Bat Island; November to May brings giant manta rays in the Catalinas.
READERS PICKS
Operators
Rich Coast Diving, Guanacaste, Costa Rica
Liveaboards
Undersea Hunter, Cocos, Costa Rica
---