The Best of Maui Shore Diving
Consistently honored as the world's premier island by numerous travel outlets, it should be no surprise that Maui is home to some of the best shore diving in Hawaii. Scuba divers will feel right at home, with several outstanding dive sites featuring convenient access and turtles galore. At $5-10 dollars a tank, Maui shore diving is also easy on your wallet. Here are five of the best shore dive sites on Maui. (For all but Black Rock you will need a dive flag).
Mala Wharf Pier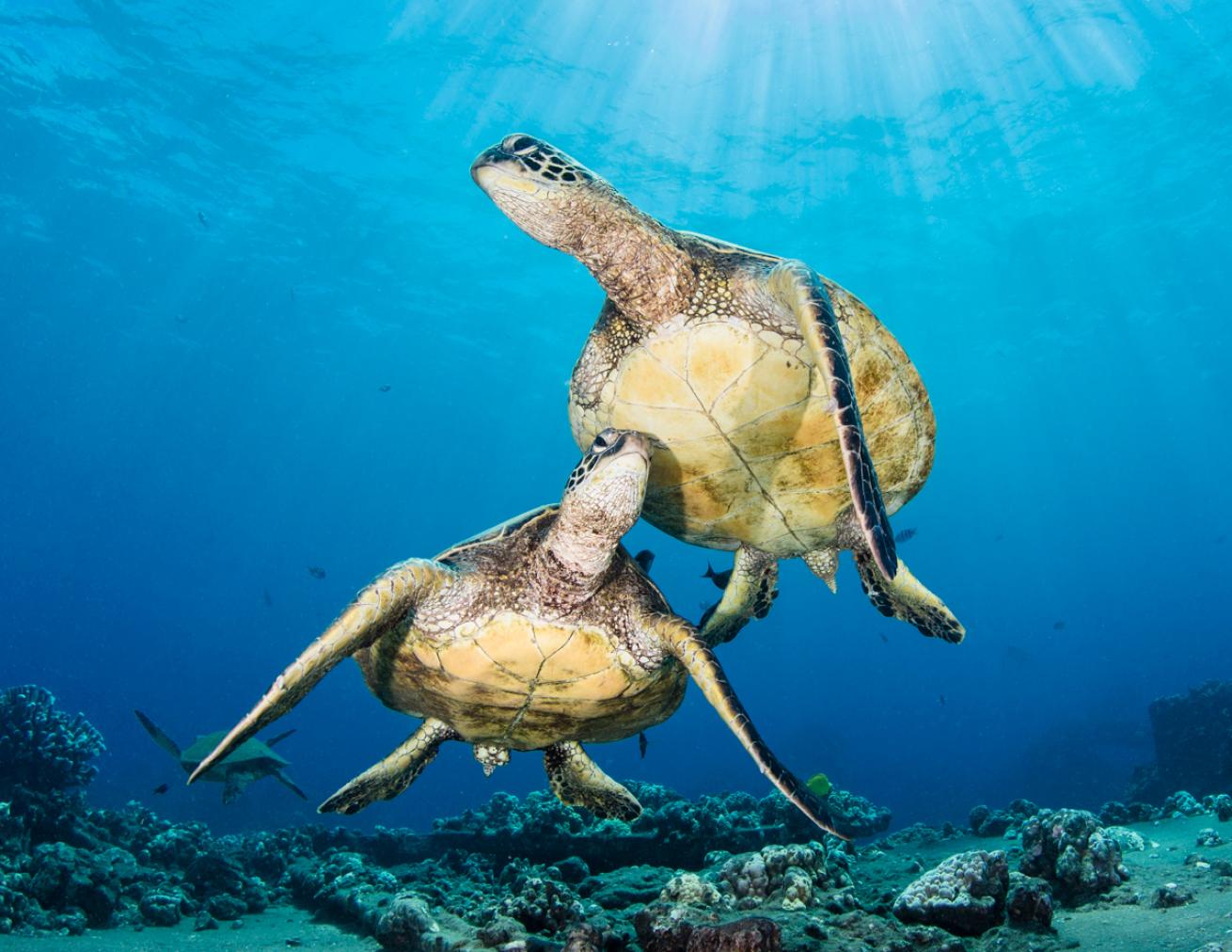 Two friendly green sea turtles - with one missing a front flipper - come in close at Mala Wharf Pier, one of Maui's best shore dive sites.

Renee Grinnell Capozzola
Destroyed by Hurricane Iniki in 1992, much of the pier above the water is in ruins, but underwater it has become an ideal habitat for marine animals and particularly features abundant coral growth and hiding places between the cement slabs. Located on the west side of the island and thus protected from the south and north swells, Mala Pier regularly offers stable diving conditions and is also appropriate for novice divers. Mala is also home to a turtle cleaning station and usually has more turtles than any other dive site on the island. Entry is to the left of the existing pier, from a sandy beach which then becomes a rocky substrate until hitting deeper water, so good booties are a must. Watch for frogfish, eels, and whitetip reef sharks, which are often seen here.
Honolua Bay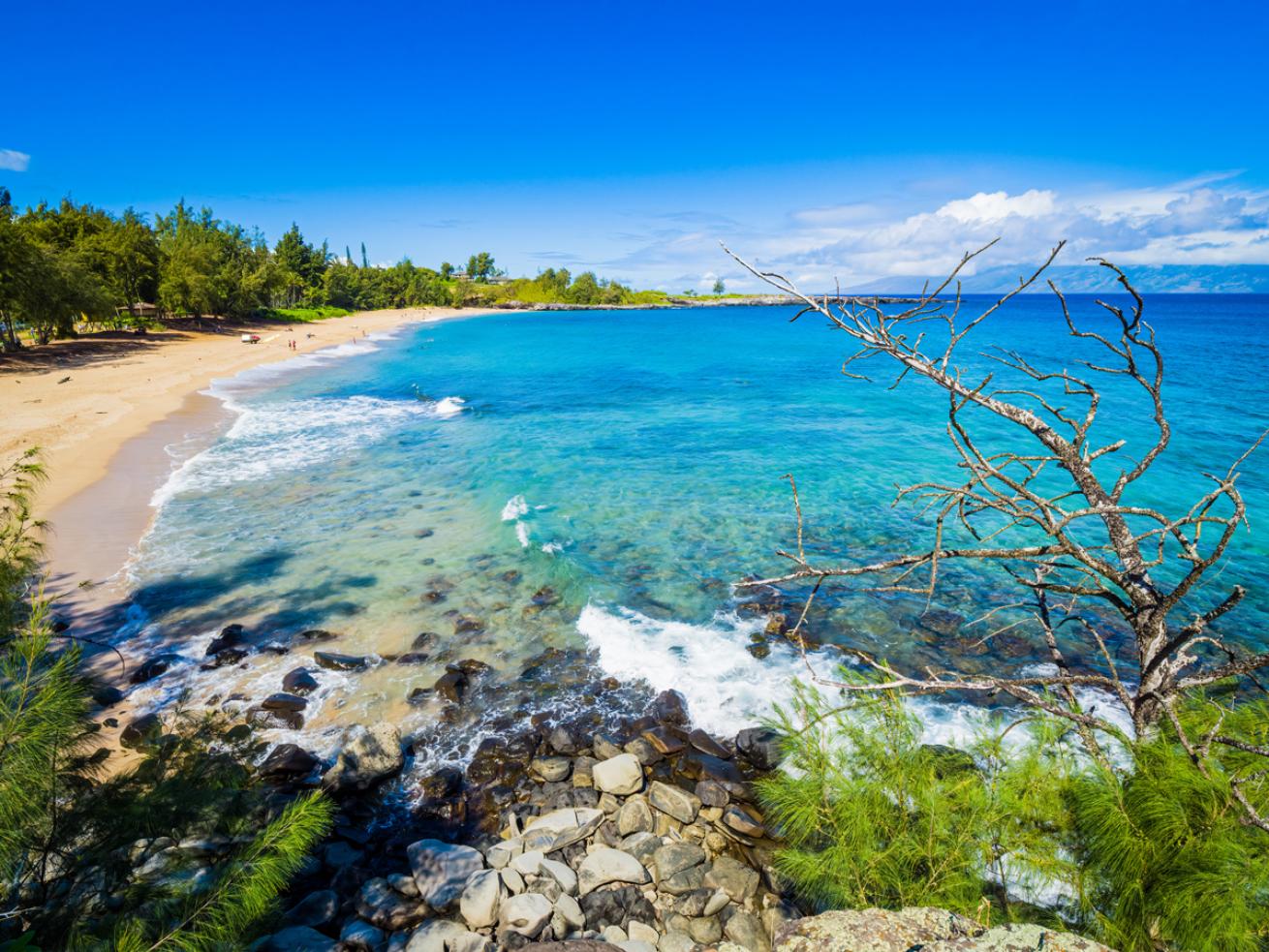 The snorkeling paradise of Honolua Bay is located north of Kapalua, West Maui Hawaii.

Shutterstock.com/arkanto
The word "Honolua" means twin harbors in Hawaiian, referring to the neighboring bays of Honolua and Mokuleia. Declared a marine life conservation district in 1978, Honolua features some of the healthiest corals on the island and teems with abundant sea life. Turtles are regularly seen here, along with barracuda, eels, octopus, and numerous large schools of fish. Manta rays and whitetip reef sharks may also make an appearance so keep looking into the blue and under the many crevices. The best section of the reef lies on the north side of the bay, about 80-100m from shore. You will have to haul your gear about 200m along a lush forest trail and then enter the water from a rocky shoreline, so this site is harder to reach. Also, Honolua Bay is accessible to snorkelers and divers mainly between the months of May and October when there is not a north swell. If you are in Maui between November and April when the waves are up, you can watch the surfers from the lookouts above.
Black Rock at the Sheraton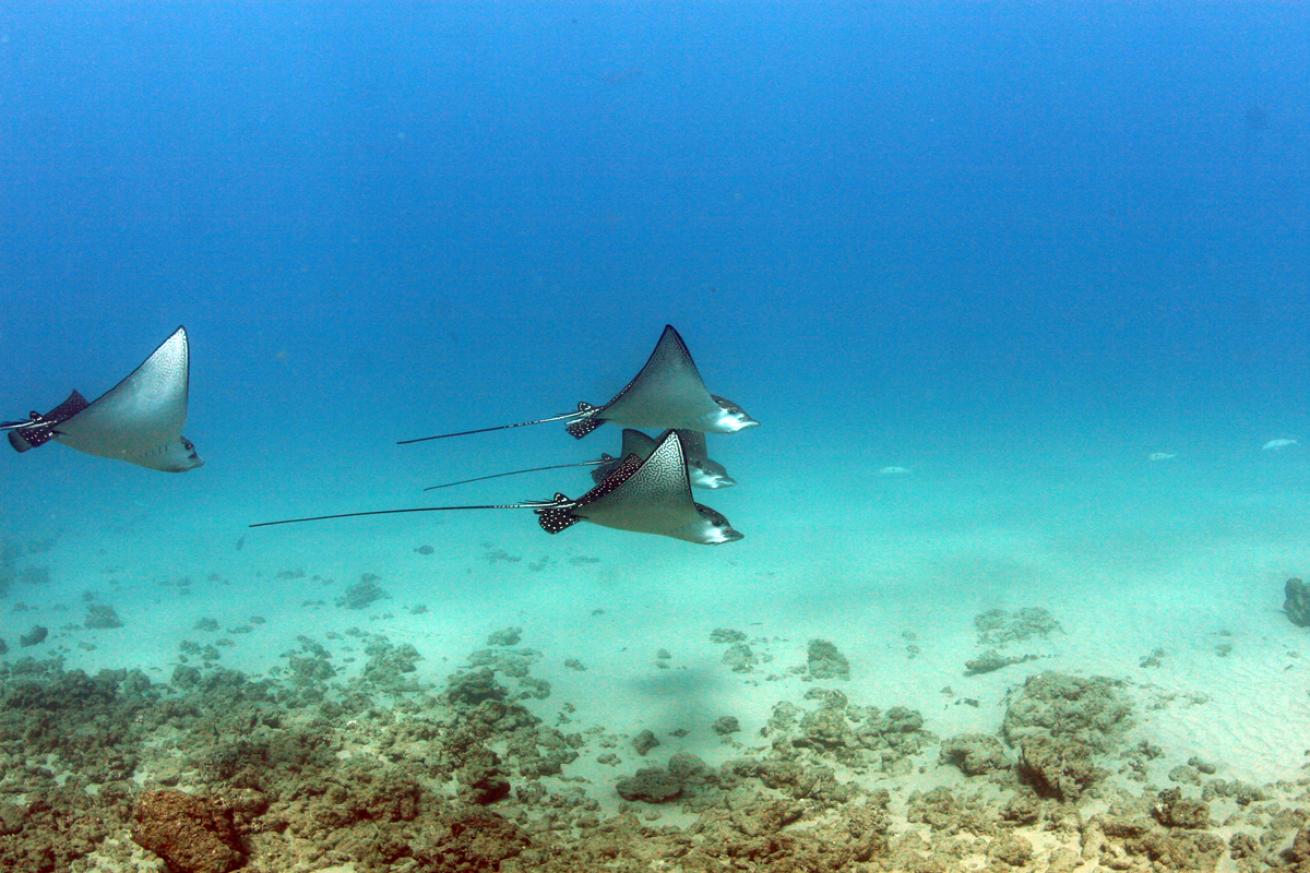 A school of spotted eagle rays off the coast of Black Rock, Maui, Hawaii.

Shutterstock.com/MCKaske
Known as just "Black Rock," this site is located at the Sheraton Resort and Spa's picturesque family beach and is appropriate for all levels of divers and snorkelers. Because it is a very popular location, it is best to arrive first thing in the morning, before the "free" parking area adjacent to the Sheraton lot fills up. Notable marine life here includes sea turtles, eagle rays, large schools of goatfish, whitetip reef sharks, nudibranchs, and crustaceans, including crabs and lobsters. However, Black Rock really comes alive at night, when divers regularly see hunting conger eels, squid, sleeping parrotfish, and crustaceans on the prowl. Be aware that currents often run north-south or vice versa, so it may not be easy or even possible to turn around at the halfway point, and you may plan instead to do a drift dive from one end to the other.
Makena Landing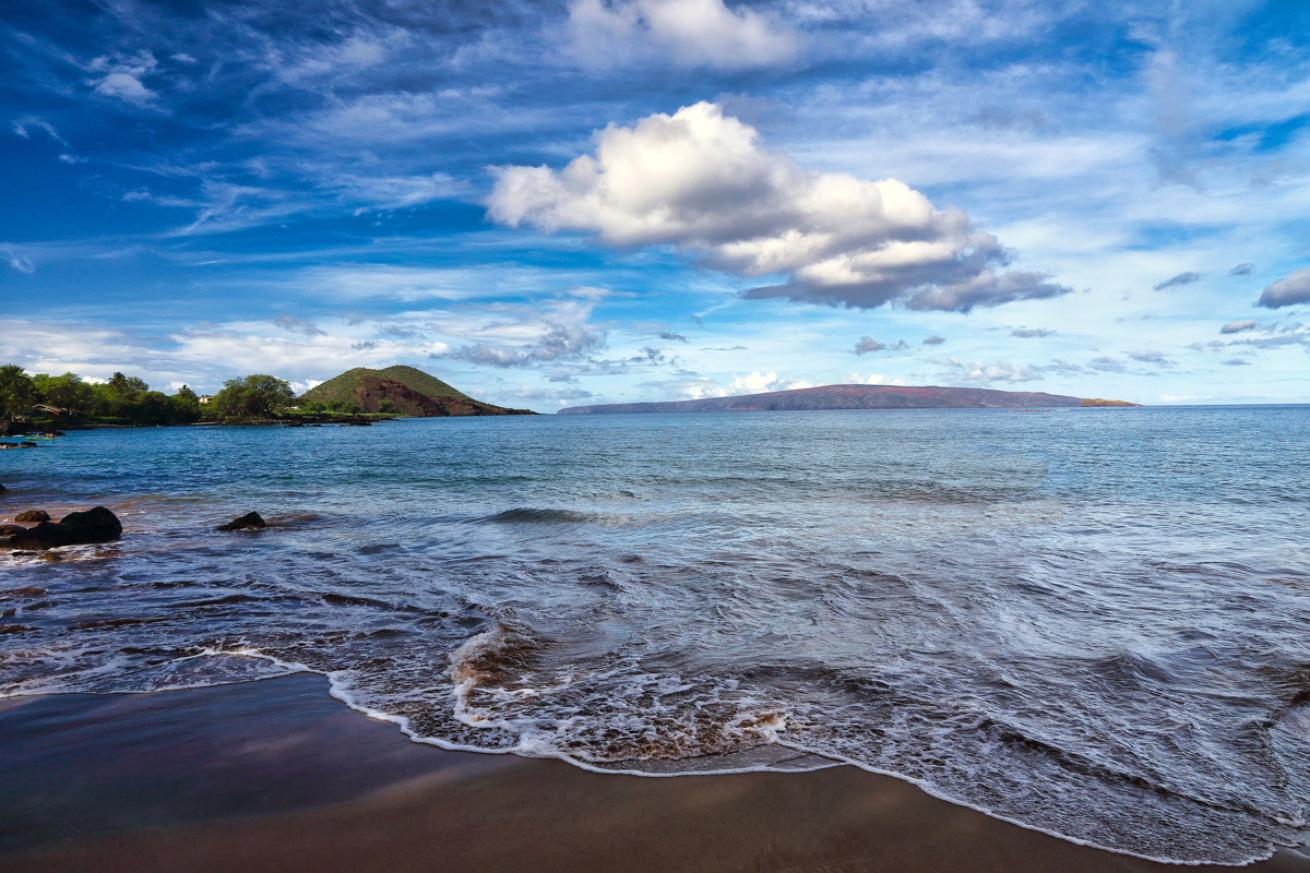 Early morning view of Makena Landing on Maui.

Shutterstock.com/Manuel Balesteri
Makena Landing is one of the most popular shore dives on the south side of the island. It is also one of the most pleasant sites to access, with a nice sandy entry, a fairly large parking lot, and bathrooms nearby. After entering the water, follow the reef out on your right, looking for the many sea turtles found here. As you get slightly deeper, you may notice some crevices or tiny "caves" on the right where whitetip reef sharks and turtles can be hiding. Depending on how well you manage your air, you may make it to the "bubble cave" before the turnaround point, often with fish and turtles inside. Makena Landing is suitable for novice divers and snorkelers and is accessible without a south swell.
Ulua Beach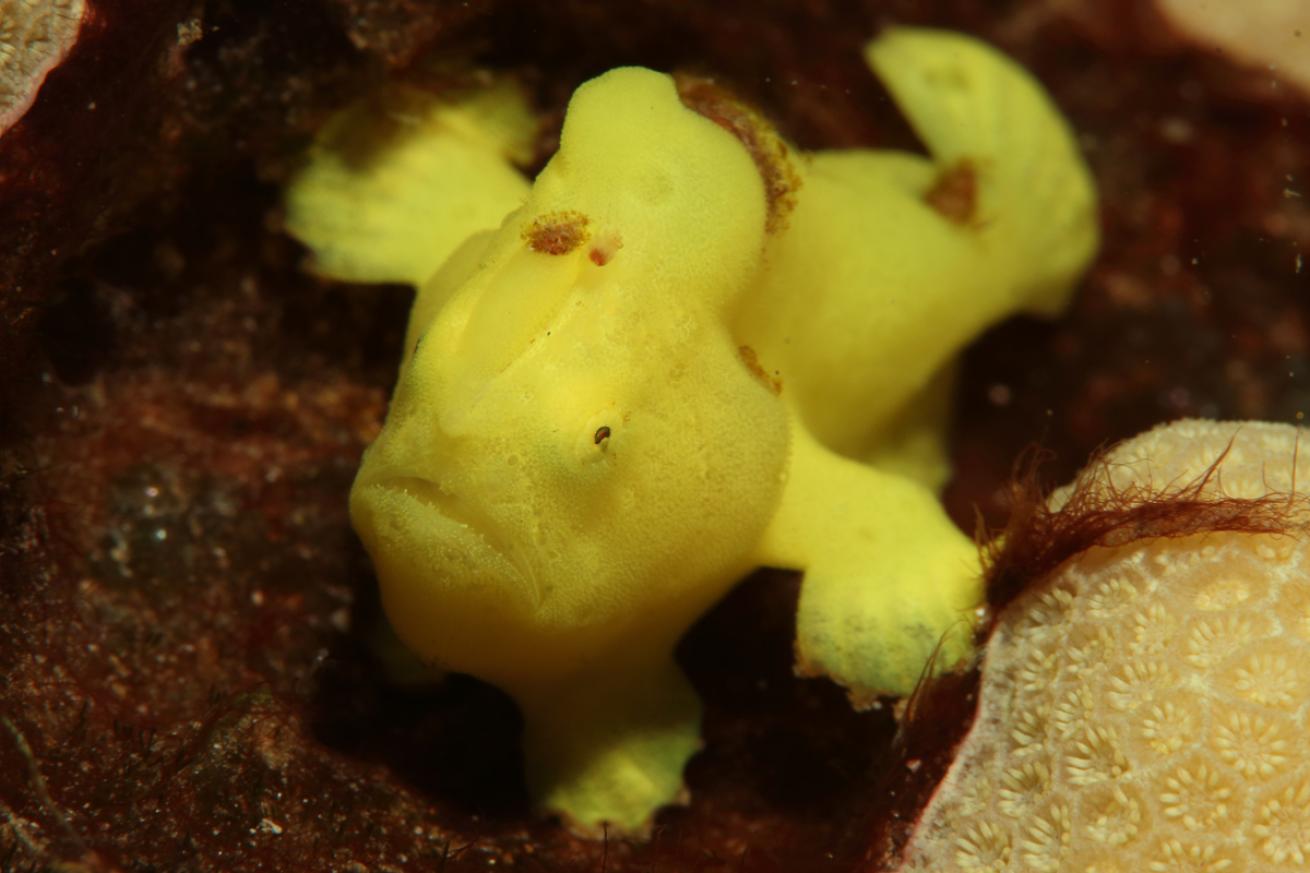 Juvenile Commerson's frogfish in Maui, Hawaii

Shutterstock.com/Dai Mar Tamarack
Located just north of Makena Landing, Ulua is another viable option with easy entry and great amenities, including a parking lot, bathrooms, and even benches with scuba tank holders. Ulua is also more protected than Makena Landing, so it is accessed more often throughout the year. Entry is via a well-groomed beach and then there is a shallow reef as you swim out to your right. You can then proceed to the second reef, past the sandy section, where the depth increases to 30-40 feet. Here, macro life abounds including leaf scorpionfish, shrimp, nudibranchs, frogfish, and scorpionfish. Keep your eyes into the blue for occasional manta rays. Ulua is the perfect spot for beginner divers and snorkelers. Happy diving!
---