The Best Shore Diving Destinations in 2021
Nearly 6,000 readers chose their favorite destinations, resorts, operators, liveaboards and more for our 2021 Readers Choice Awards awards. Here we feature some of the top vote-getters for each category, and highlight the winning resorts, operators and liveaboards serving those areas, listed in alphabetical order.
Hawaii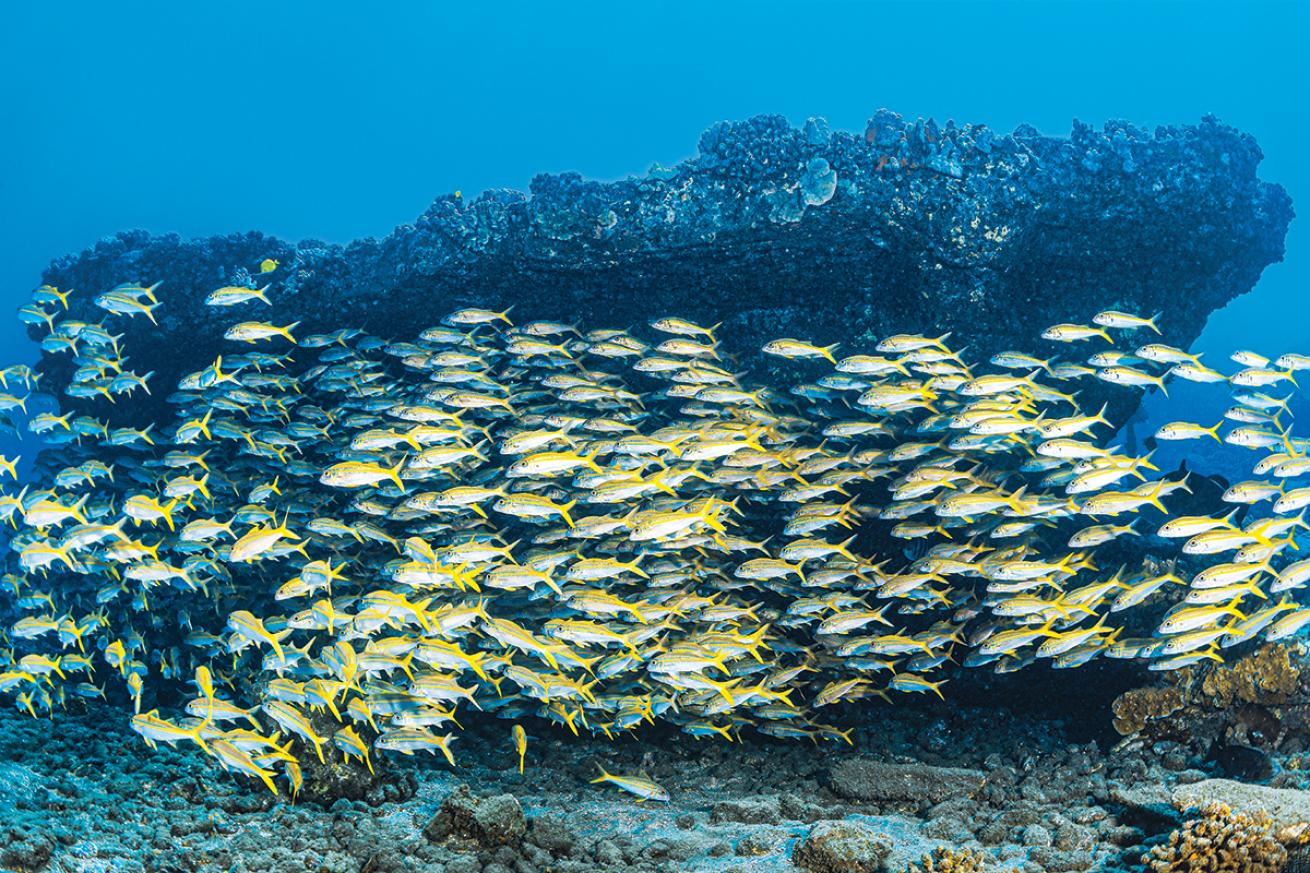 A school of snapper hangs out beneath Maui's Mala pier ,a magnet for species of all kinds.

Jennifer Penner
Thanks to their volcanic origins, the Hawaiian Islands rise steeply from the ocean, placing their outer reefs within swimming distance from shore and making for ideal shore-diving conditions. But Maui takes it one step further.
"Maui is miles and miles of sandy beach that makes it super easy to enter," says Jessica Pickering, owner of Maui Diving Scuba Center.
Take a site like Mala Pier, built in 1922 and rendered unusable by boats after damage from a 1992 hurricane. Today it is lush with decades of growth.
"Everything you would want to see on a Hawaiian Island dive you can see at Mala Pier," Pickering says, rattling off a list that includes the beefy Commerson's frogfish, harlequin shrimp and leafy scorpionfish.
And, yes, there are turtles. "Sometimes there are 30 turtles on top of these concrete blocks," she says. Even a slow day typically sees at least 20. Another highlight is the whitetip reef sharks that seek shelter under the pier. "They get pregnant every year, and we get to see the babies."
With so much to see, shore diving is an easy sell compared to boat diving, especially considering the start times. Because the reefs off shore are so rich, most dive boats make the trek to Molokini Crater, 2½ miles off the southwest coast of Maui, to give guests something different. Because of sea conditions, most boats have a start time of 6 a.m. to ensure they're returning back across the channel before afternoon winds pick up and make for a rough crossing. Molokini is worth the trip for the big-animal sightings, Pickering says, but, "with so much amazing marine life in close, there is no reason to drive away from Maui."
Readers Picks
Operators
Big Island Divers, Hawaii
Dive Maui, Hawaii
Dive Oahu, Hawaii
Jack's Diving Locker, Hawaii
Kona Diving Company, Hawaii
Kona Honu Divers, Hawaii
Maui Dive Shop, Hawaii
Maui Diving Scuba Center, Hawaii
Maui Dreams Dive Co., Hawaii
Scuba Shack, Maui, Hawaii
Seasport Divers, Kauai, Hawaii
Liveaboards
Kona Aggressor II, Hawaii
Japan
This island nation offers a handful of destinations for shore diving, with a couple of options just hours from Tokyo. One of the easiest to reach is the island of Kozushima, separated from the capital city via overnight ferry. Its white-sand beaches give way to reefs home to a wealth of macro life: sea slugs, nudibranchs, crabs and starfish. Night divers can chance upon octopuses, lobsters, sea snakes and planktonic critters.
Osezaki Cape on the Izu Peninsula is another good option. It's about two hours southwest of Tokyo by high-speed train and bus, and it's home to leagues of critters of all sizes, including moray eels, clownfish and sea bass.
Washington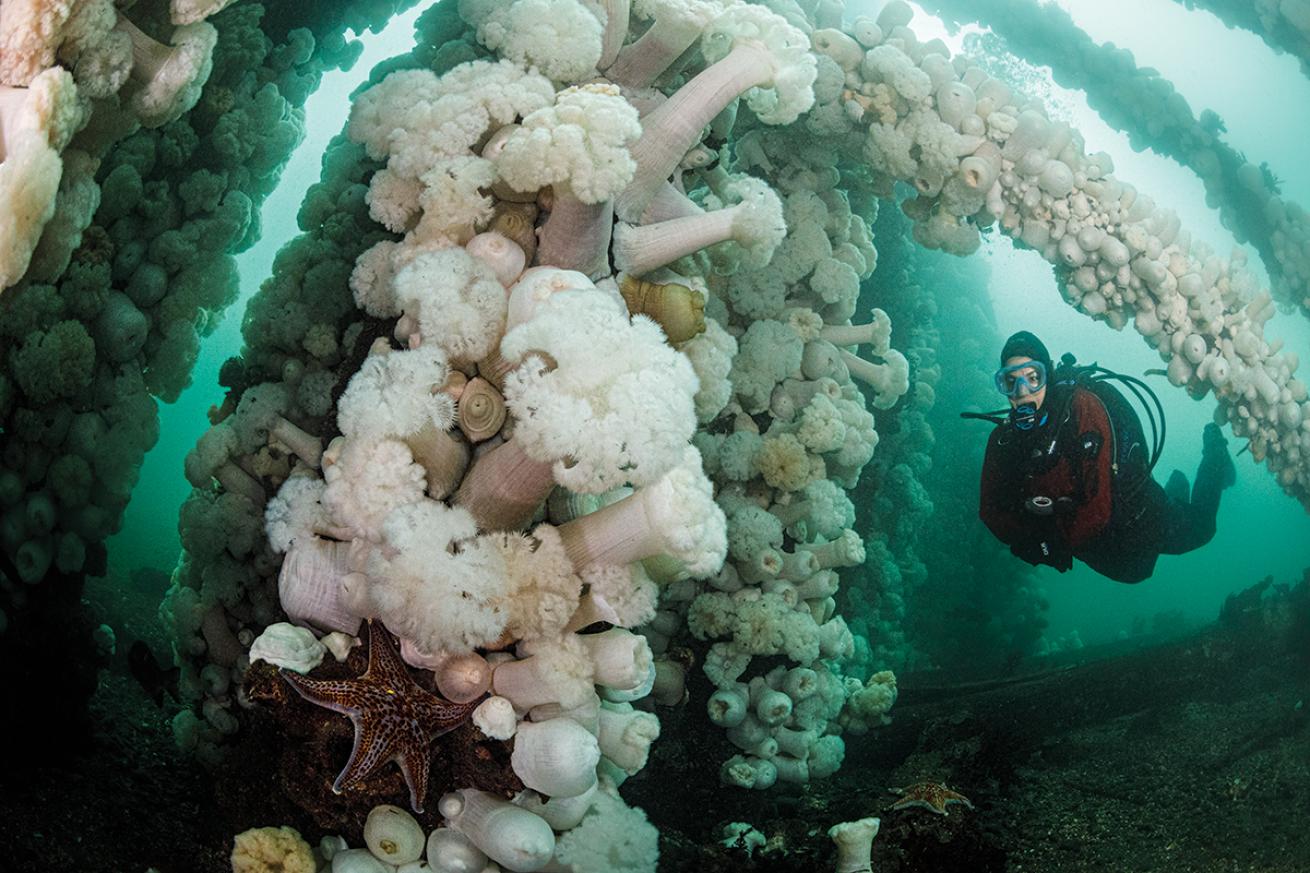 Gian plumrose anemones at Washington's Titlow Beach.

Brandon Cole
From Olympia to Anacortes, nearly every beach and burg throughout the Puget Sound area offers shore diving, with Bainbridge Island—a 35-minute ferry ride from Seattle—delivering some of the easiest-to-reach spots. But the hands-down favorite site on the island is Rockaway Beach. "The nice thing about Rockaway is that there's something for every ability level," says Alec Dyke, instructor with Exotic Aquatics, a scuba center located on Bainbridge that offers guided shore dives.
In fact, Dyke picks this spot on his days off. Whereas newer divers might stick to the shallower reef at 30 feet, he and other experienced divers drop to the main reef at 60 feet, and explore from there. "It's got the big two critters that everyone comes to the Pacific Northwest to see—wolf eels and giant pacific octopuses," he says.
Plus, the spot is crawling with nudibranchs. As for what species can be found in the biggest numbers, that depends on the season, but could include clown nudibranchs, white with orange tufting, or frosted nudis, whose backs are covered in petal-like flaps with bright white on the edges.
"Some months we see more of some, and other months we see more of others—but we always have lots of nudibranchs to look at," Dyke says.
U.S. Virgin Islands
If there's any doubt that Frederiksted Pier anchors the St. Croix shore-diving scene, one need only walk the few surrounding blocks to find four dive shops within spitting distance.
The site itself is a veritable parade of Caribbean highlights, such as flying gurnards, batfish, seahorses and juvenile eels. Turtles and stingrays round out the mix. The turtles here are especially abundant thanks to the nearby Sandy Point National Wildlife Refuge, which is 5 miles from the pier and provides nesting grounds for leatherback, green and hawksbill turtles.
Dive groups seeking convenience and walkability can bed down less than a block from the pier at Victoria House, a boutique hotel catering to this demographic with gear lockers and unbeatable access to the site.
"All you have to do is walk 50 feet across the street and you can start diving," says Kevin Shea, owner of the resort.
California
"It's kind of a joke around here that our visibility is a little bit better and our water is a little bit warmer," says Chelsea Karosas, instructor with Catalina Divers Supply, of why the diving's better 22 miles off Los Angeles at Catalina Island.
Conditions are slightly more favorable at this rocky isle—long known as a hotspot for lush kelp forests—but perhaps the bigger draw is the community.
Just 300 feet from the entry area at Casino Point Dive Park, the main shore dive on the island, is the fill station run by Catalina Divers. Here you'll see folks taking a surface break and swapping stories about their underwater sightings, from soupfin sharks to wreckfish, some weighing up to 700 pounds.
"All around you, everyone is experienced and coming from all walks of life," says Karosas, who often runs into the regulars and divers she knows from the mainland.
Bonaire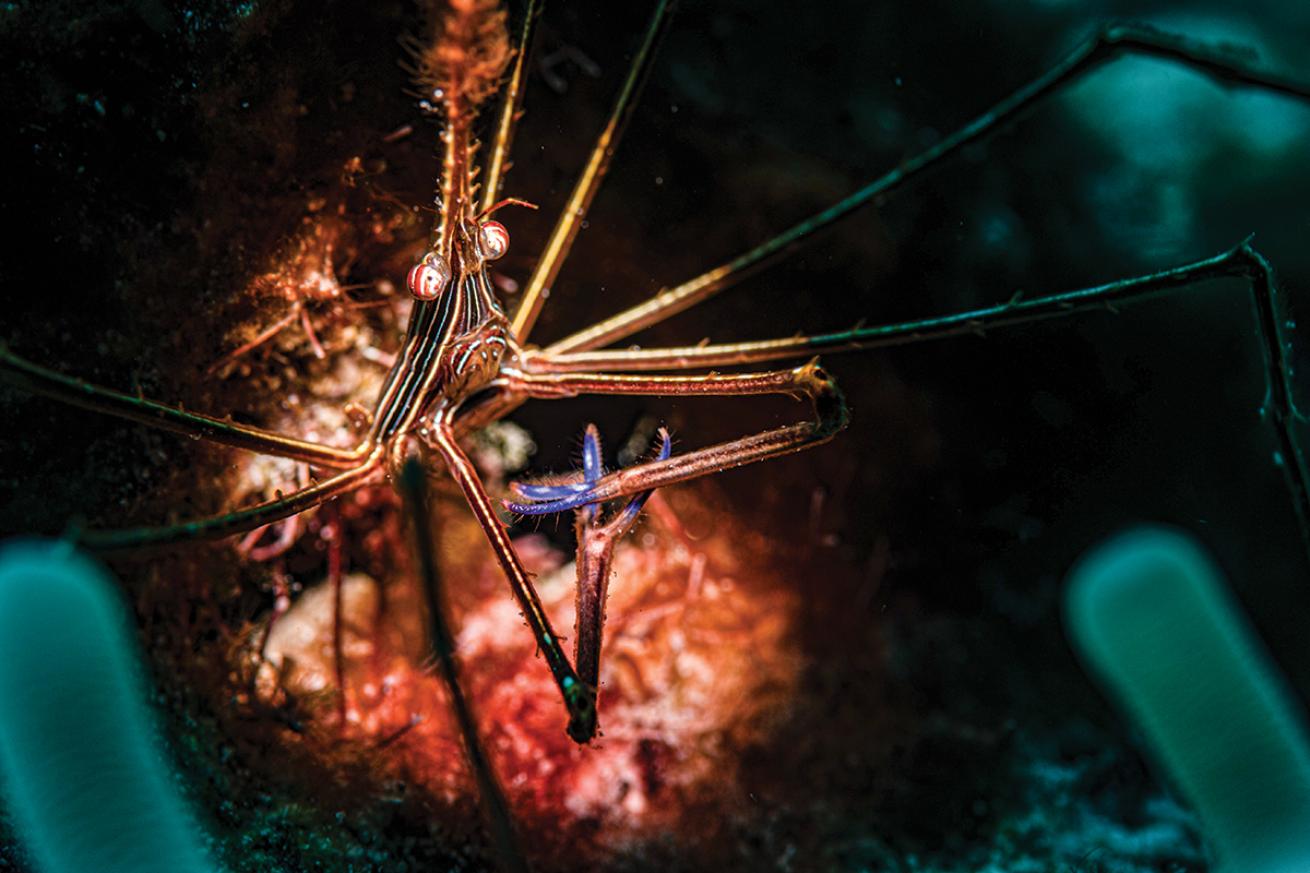 A yellowline arrow crab makes for a unique species sighting at Bonaire site Something Special.

Shutterstock.com/TimsImages.UK
With more than 60 well-marked shore dives, Bonaire offers an experience unrivaled in the Caribbean. For some, the sheer number of choices might be overwhelming.
To start with the best of the best, Bart Linders, general manager at Dive Friends Bonaire, a PADI Five Star IDC at Delfins Beach Resort and seven other locations on island, recommends starting with the site known as Something Special. "It's almost in the middle of town, and from shore, it looks like a harbor—at first glance, the reef is not that spectacular," Linders says. "But the bizarre thing about it is that you find the most bizarre creatures."
For him, top of that list is the box crab, which folds its scissorlike claws into itself to make a perfect box. The site also is as close as it gets to a sure thing for frogfish and seahorses. "It's the only place where I have seen a huge hammerhead, which is absolutely not common but was pure luck," he says.
Readers Picks
Resorts
Buddy Dive Resort, Bonaire
Carib Inn, Bonaire
Divi Resort, Bonaire
Eden Beach Resort, Bonaire
Plaza Resort, Bonaire
Operators
Buddy Dive, Bonaire
Carib Inn Dive Center, Bonaire
Divi Flamingo Divers, Bonaire
Toucan Divers at Plaza Resort, Bonaire
VIP Diving Bonaire
Wannadive Bonaire at Eden Beach Resort, Bonaire
---