The Best Southeast USA Scuba Road Trip
To experience the best warm-water diving in the continental U.S., head to the Southeast. This road trip starts in Georgia, takes you across both Florida coasts and ends in southern Alabama, with nine unique dive opportunities along the way.
Except for Florida's springs, which stay a constant 72 degrees Fahrenheit year-round, most diving in the Southeast is warm. Pack a 3mm full suit as well as a shorty or dive skin for maximum comfort.
Day 1: Gray's Reef National Marine Sanctuary, Georgia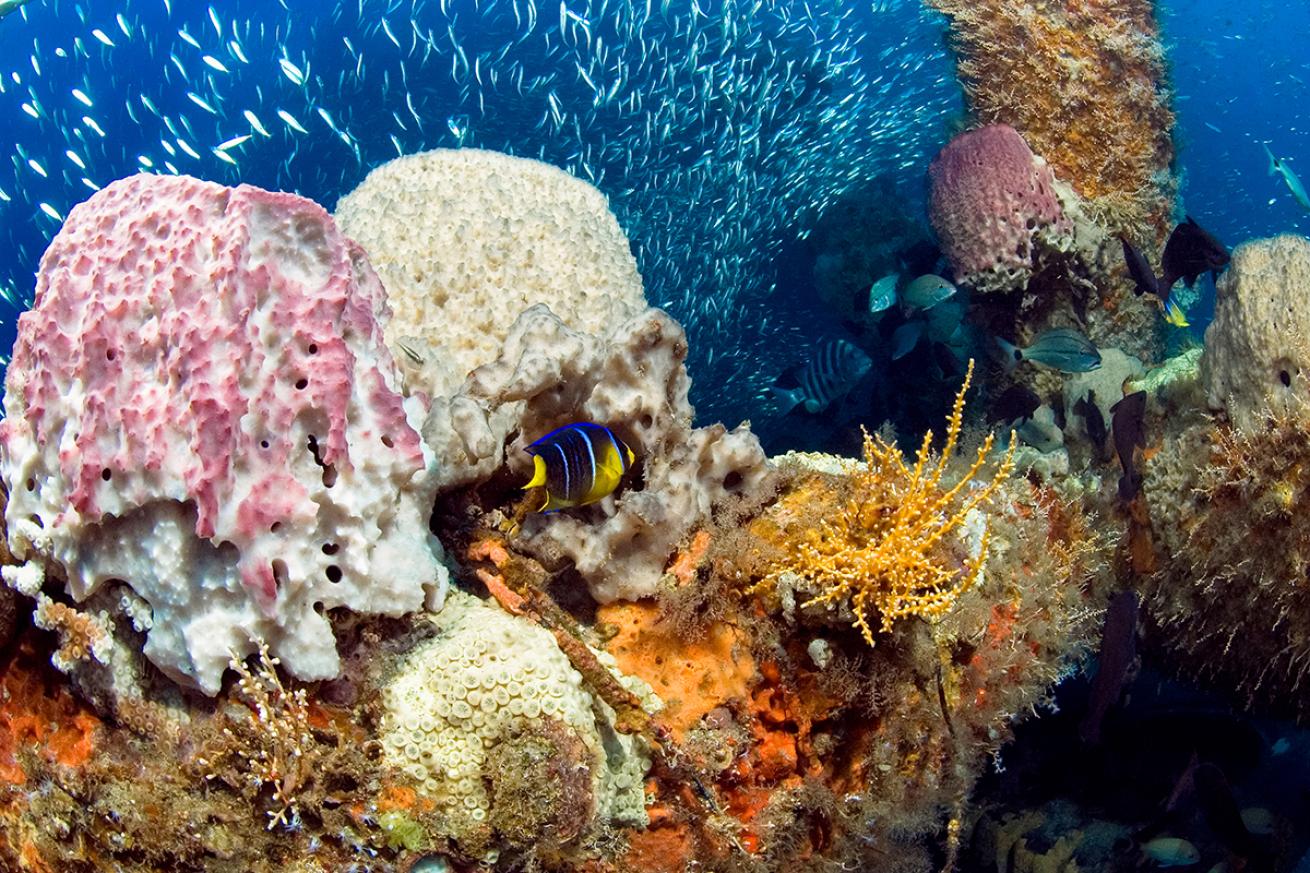 Gray's Reef National Marine Sanctuary bustles with life.

Shutterstock.com/Love Lego
Meet Latitude 31 Dive Company at a marina 45 minutes south of Savannah for your first dives of the trip: Gray's Reef National Marine Sanctuary. This 22-square-mile underwater park is home to tons of colorful corals, over 200 species of fish, loggerhead sea turtles, spiny lobsters and much more, all of which divers can find among the site's sandy bottoms and rocky reefs from 50 to 70 feet. Due to the sometimes-challenging Georgia conditions, Latitude 31 requires proof of 25 oceans dives to participate.
After returning to the dock around 3 p.m., drive three and a half hours south and stay the night in New Smyrna Beach, Florida.
Where to Eat: Two Cracked Eggs Cafe in Savannah, Third Wave Cafe & Wine Bar in New Smyrna Beach
Where to Stay: Ocean Eleven Suites in New Smyrna Beach
Day 2: Jupiter, Florida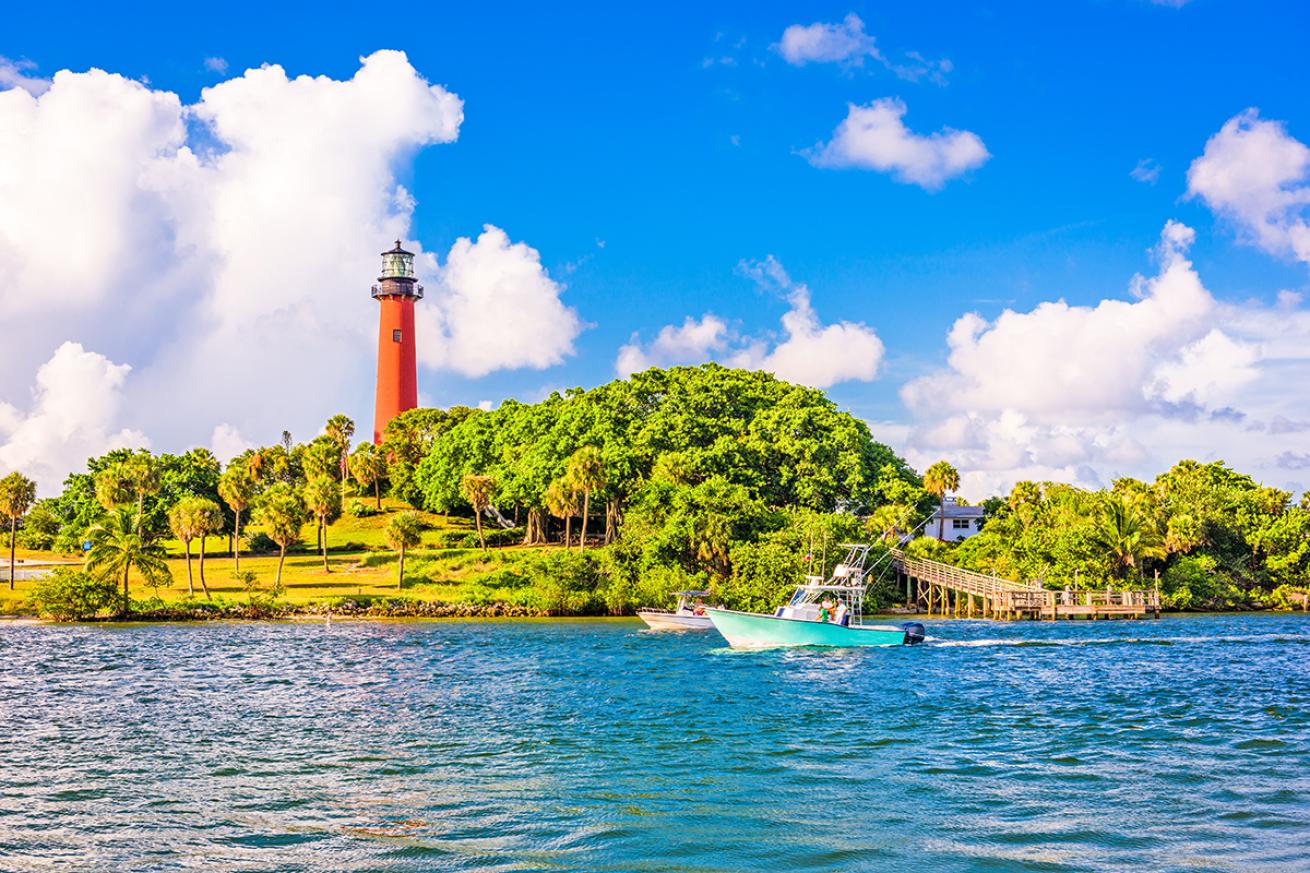 A lighthouse overlooks an inlet in Jupiter, Florida.

Shutterstock.com/Sean Pavone
Wake up and drive two and a half hours down the coast to Jupiter for a dive with Scuba Works. Most popular reefs, like Tunnels, Scarface and Capt. Kirle's, are deeper than 60 feet, but there are shallower trips for less-advanced divers, too. Either way, you'll have the chance to get up close and personal with goliath grouper, sea turtles, and tiger, hammerhead and lemon sharks.
After your charter, grab a bite to eat at the dockside bar and grill. Then, depending on the tides, gear up for a self-guided night dive at Blue Heron Bridge, where you can see rays, octopus, seahorses and more.
Where to Eat: Bagel World in New Smyrna, Square Grouper Tiki Bar in Jupiter
Where to Stay: Jupiter Waterfront Inn
Day 3: Key Largo, Florida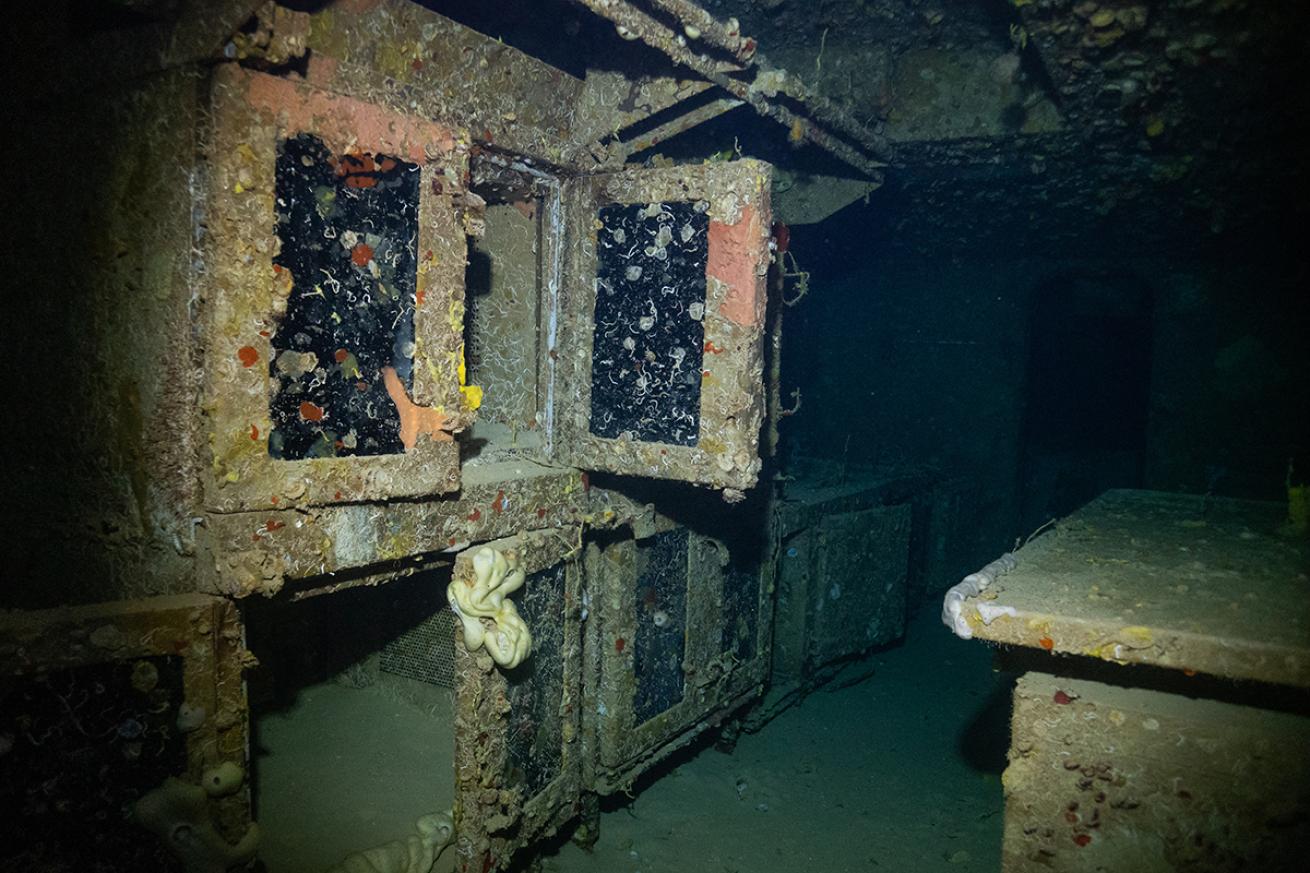 The galley of the USS Spiegel Grove.

Shutterstock.com/LLCimaging05
Drive another two-and-a-half hours south to Key Largo and take an afternoon dip with Horizon Divers. If you're an advanced diver, you won't want to miss the Spiegel Grove, a 510-foot coral-encrusted wreck with plenty of swim-throughs home to barracuda, jacks and the occasional bull shark. The wreck ranges from about 60 to 130 feet, with much of the wreck about 85 feet deep. Beginners have plenty of healthy reefs to explore as well at sites like Alligator Reef, Carysfort Reef and Christ of the Abyss.
After your day of diving, enjoy dinner alfresco and soak up the paradise that is the Florida Keys.
Where to Eat: Lazy Loggerhead Cafe in Jupiter, Sundowners in Key Largo
Where to Stay: Sunset Cove Beach Resort in Key Largo
On the Road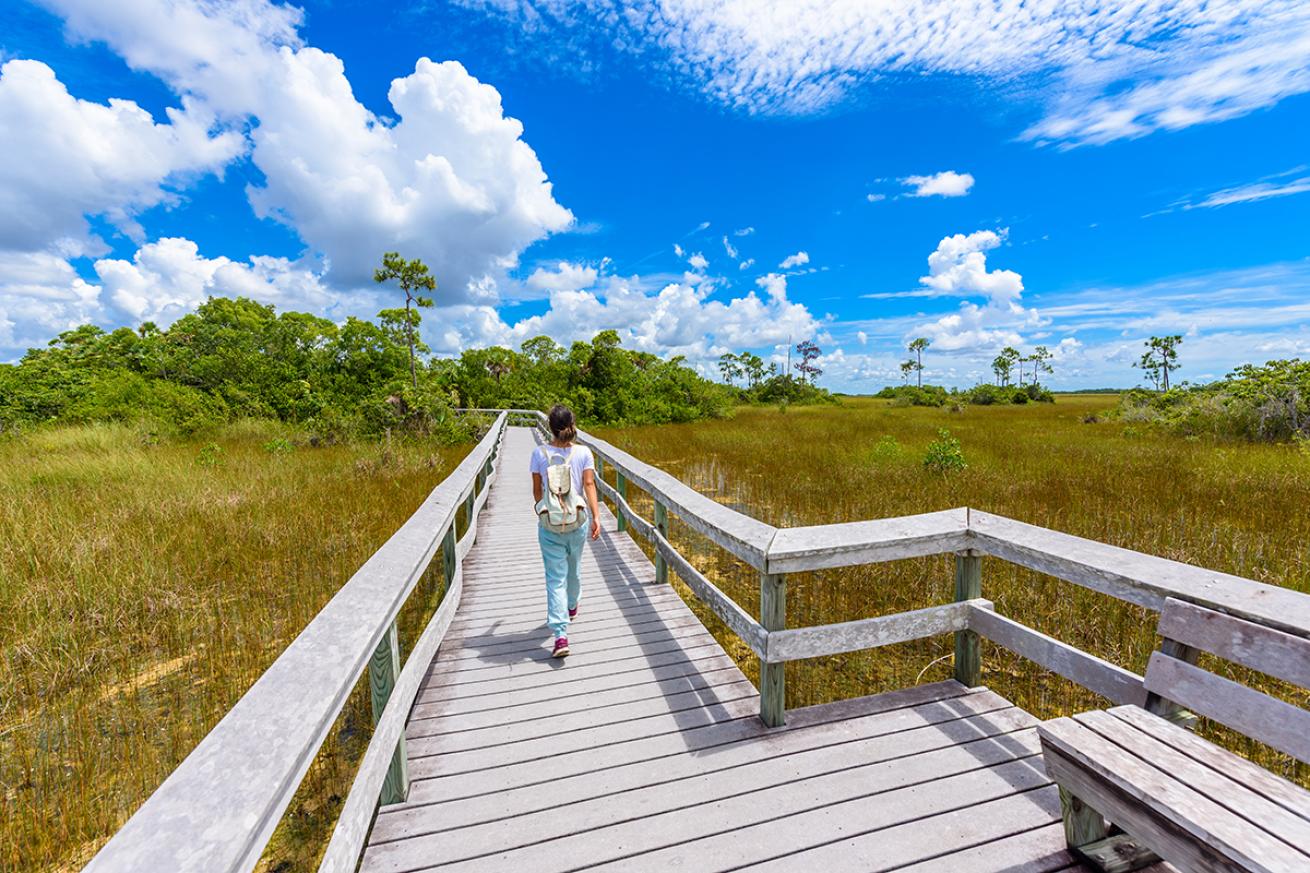 Mahogany Hammock Trail in Everglades National Park

Shutterstock.com/Simon Dannhauer
From the Keys, it's about a six-hour drive to Florida's springs. Leaving Key Largo, cut west through the Everglades and head up the Gulf Coast, where you're sure to find a pit stop to fit your interests. Tour the Salvador Dalí Museum in St. Petersburg, fill up on Greek food in Tarpon Springs, or, from November to March, visit Crystal River to see hundreds of wild manatees huddling in the spring water.
Your destination is Blue Grotto Dive Resort, where you'll make your first dive the next morning.
Where to Eat: Mrs. Mac's Kitchen in Key Largo, The Ivy House in Williston
Where to Stay: Blue Grotto Dive Resort in Williston
Day 5: Florida Springs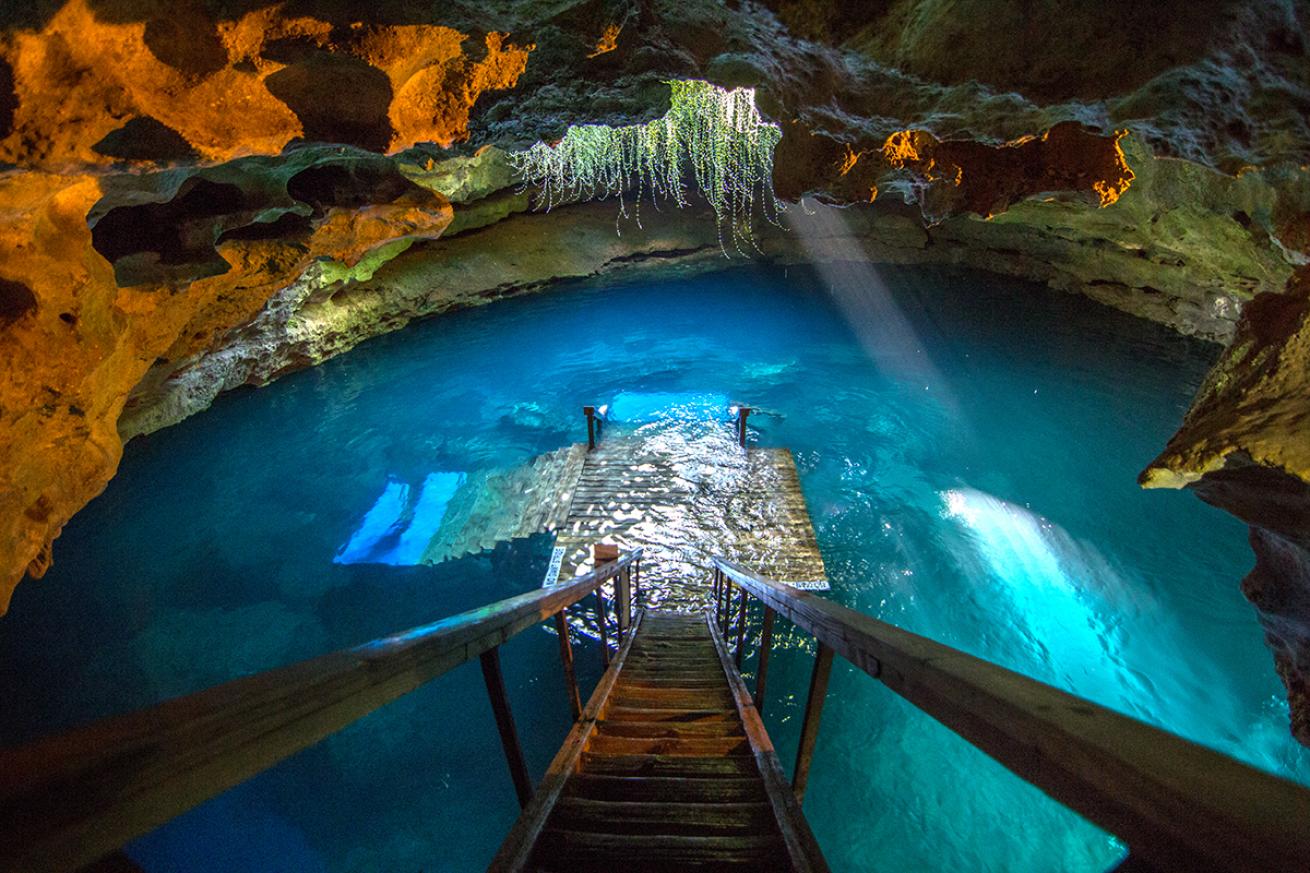 Shutterstock.com/ADRIAN DIAZ CADAVID
It's easy to hit a few springs in a day, as dives are relatively short, and many places have gear rentals available on-site. Start early in the morning at Blue Grotto. With a 100-foot-deep traverse, this is the deepest cavern in the area that's accessible to non-cave divers. Then cross the street to Devil's Den. This spring has partially flooded an underground cave, making it one of the most picturesque dive entries in the U.S.
From there, it's an hour's drive to Ginnie Springs. The Ginnie Ballroom is one of the few overhead environments that's safe for Open Water divers, but make sure to check out the entrances to the Devil's Spring System as well. Afterward, stay the night in Lake City, about 30 minutes from Ginnie.
Where to Eat: BubbaQue's BBQ in Williston, Great Outdoors Restaurant in High Springs
Where to Stay: Home2 Suites in Lake City
Day 6: On the Road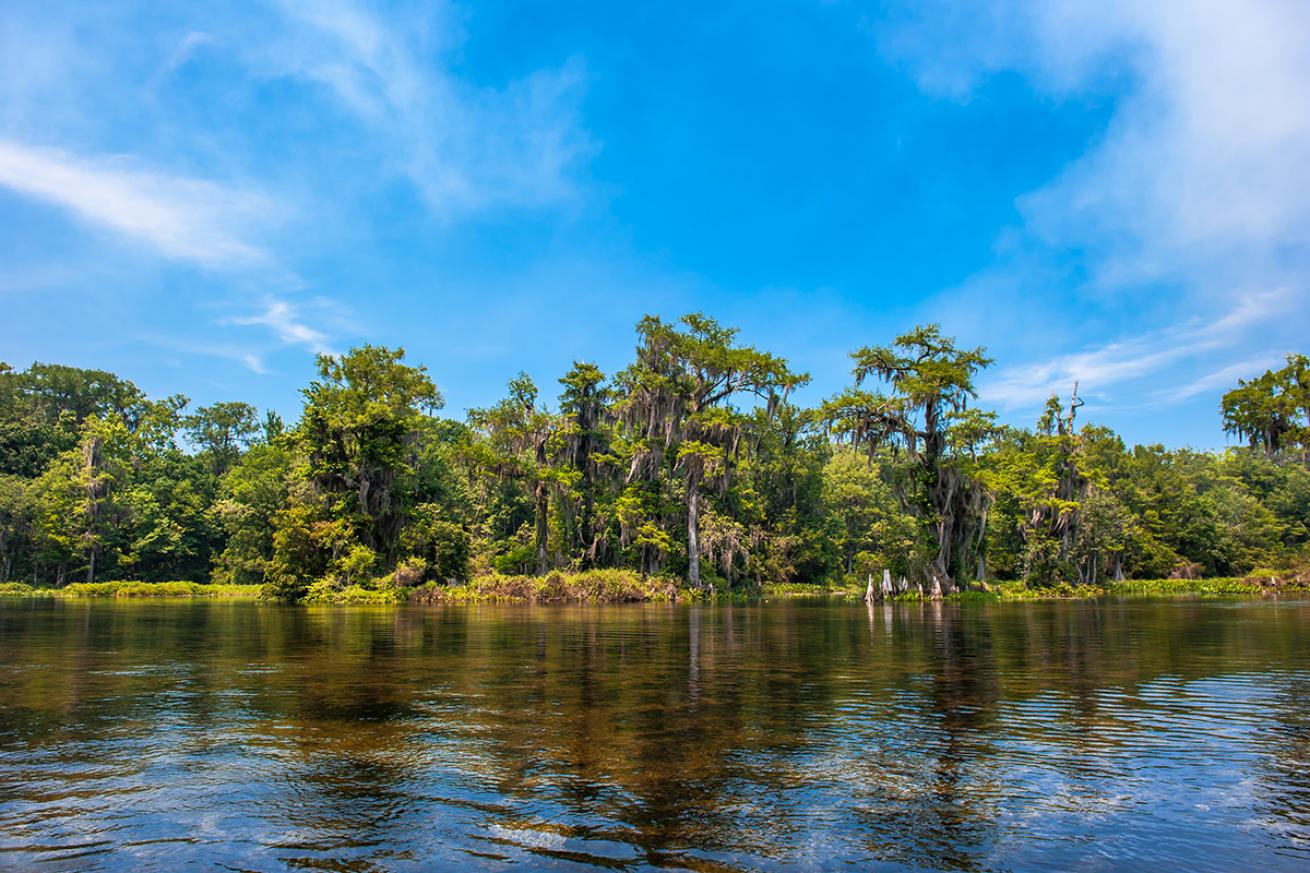 Shutterstock.com/Chongbum Thomas Park
The five-hour drive from Lake City to Gulf Shores, Alabama, is lined with state parks where visitors can experience Florida's natural beauty. See stalactites and stalagmites at the Florida Caverns, hike a mile to the state's tallest cascade at Falling Waters, or take a slight detour to rent gear at Wakulla Diving Center and have a mid-trip dive at Wakulla Springs.
Where to Eat: Shirley's Restaurant in Lake City, Original Oyster House in Gulf Shores
Where to Stay: The Lodge at Gulf State Park in Gulf Shores
Day 7: Gulf Shores, Alabama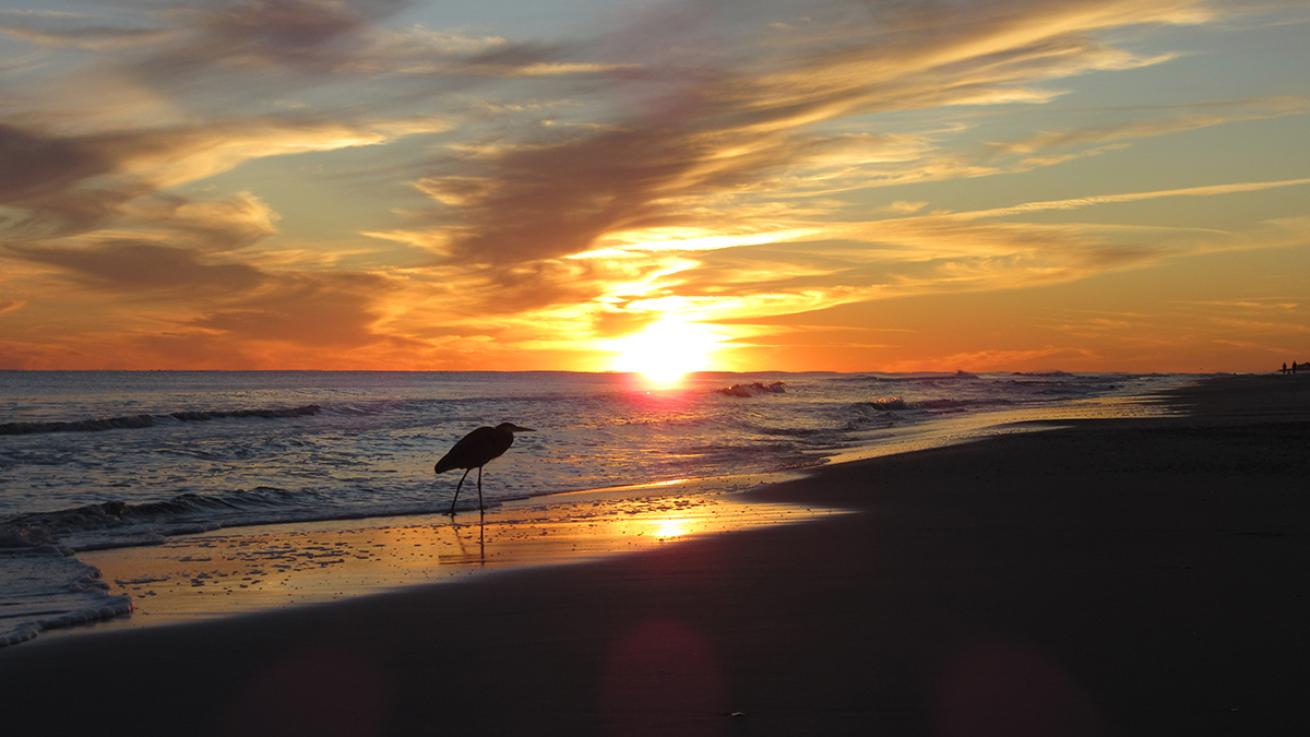 The sun sets on the Gulf Shore after a great day — and trip!

Shutterstock.com/Griffin Photography Co
Make your last splash one to remember with a trip to the Oriskany through Down Under Dive Shop. This 911-foot wreck is one of the world's largest artificial reefs — so large that it's effectively become its own ecosystem. The top of the ship is 80 feet deep and, with eight decks that start at 146 feet and hit sand 212 feet down, there's more than enough to explore.
For something more beginner-friendly, check out the LuLu an artificial reef purpose-sunk in 2013. The site has three open decks, easy penetration, and sits from 60 to 115 feet.
After a full week of diving, wind down your road trip with dinner on the beach, watching the sun sink into the Gulf.
Where to Eat: Kitty's Kafe and Sea N Suds in Gulf Shores
Where to Stay: The Lodge at Gulf State Park in Gulf Shores
---
This guide is one in a running series of great scuba diving road trip itineraries. Keep the adventure rolling with more drive-and-dive road trip ideas!
---