Director of the University of Miami Shark Research and Conservation Program Named August Sea Hero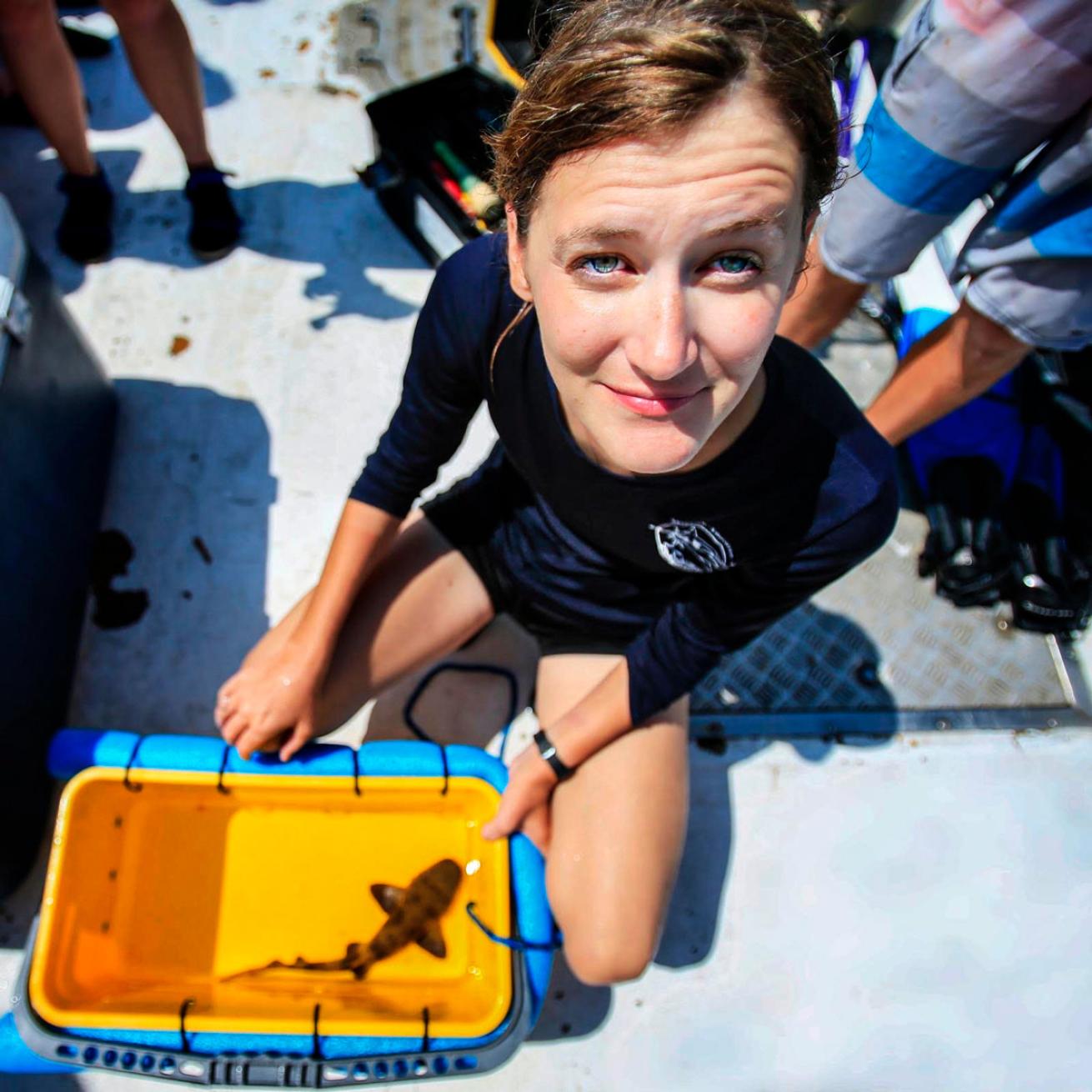 A portrait of Catherine Macdonald

Courtesy Cliff Hawkins/Field School
YEAR DIVE CERTIFIED: 2007
AGE WHEN CERTIFIED: 23
DIVE CERTIFICATION LEVEL: Rescue Diver
WORDS TO LIVE BY: "Small actions taken by a lot of people have a big impact. We all share responsibility for co-creating the kind of world we want to live in."
WEBSITE: getintothefield.com
FACEBOOK: @getintothefield
INSTAGRAM: @field_school @drcatmac @sharktagging
---
Catherine Macdonald believes that you don't need anyone's permission to get to work making a difference. Before becoming the first woman appointed director of the University of Miami Shark Research and Conservation program, she co-founded Field School to provide research and mentorship opportunities for aspiring marine biologists. Macdonald also teaches classes through the Rosenstiel School at the University of Miami and conducts research in South Florida and the Southern Caribbean. For creating opportunities and shattering glass ceilings, Catherine Macdonald is our August Sea Hero.
Related Reading: Scientists Discover Surprising News About the Fate of Coral Reefs in the Tropical Pacific Ocean
Q: What does it mean to be the first woman to direct the Shark Research and Conservation Program?
A: I feel very fortunate to have a job I find so meaningful and rewarding. Women are underrepresented in many branches of science, including shark science, especially at leadership levels. Many girls grow up seeing predominantly male representations of scientists and come away with the impression that science isn't for them. I'm thrilled if young people look at me or my women students and colleagues and feel we can help them imagine their own futures. I'm also proud of the role we're playing in making scientific opportunities more accessible and welcoming to people from all backgrounds.
Q: What do you hope to accomplish in your new position?
A: My priorities are to create safe and supportive work and educational environments for my students and colleagues, to learn more about South Florida's marine environments, and to communicate our research to nonscientists. By sharing our science with K-12 students and the public we hope to foster a desire to protect the animals and ecosystems we study, including many in our own backyard—Biscayne Bay, which lies alongside Miami-Dade County.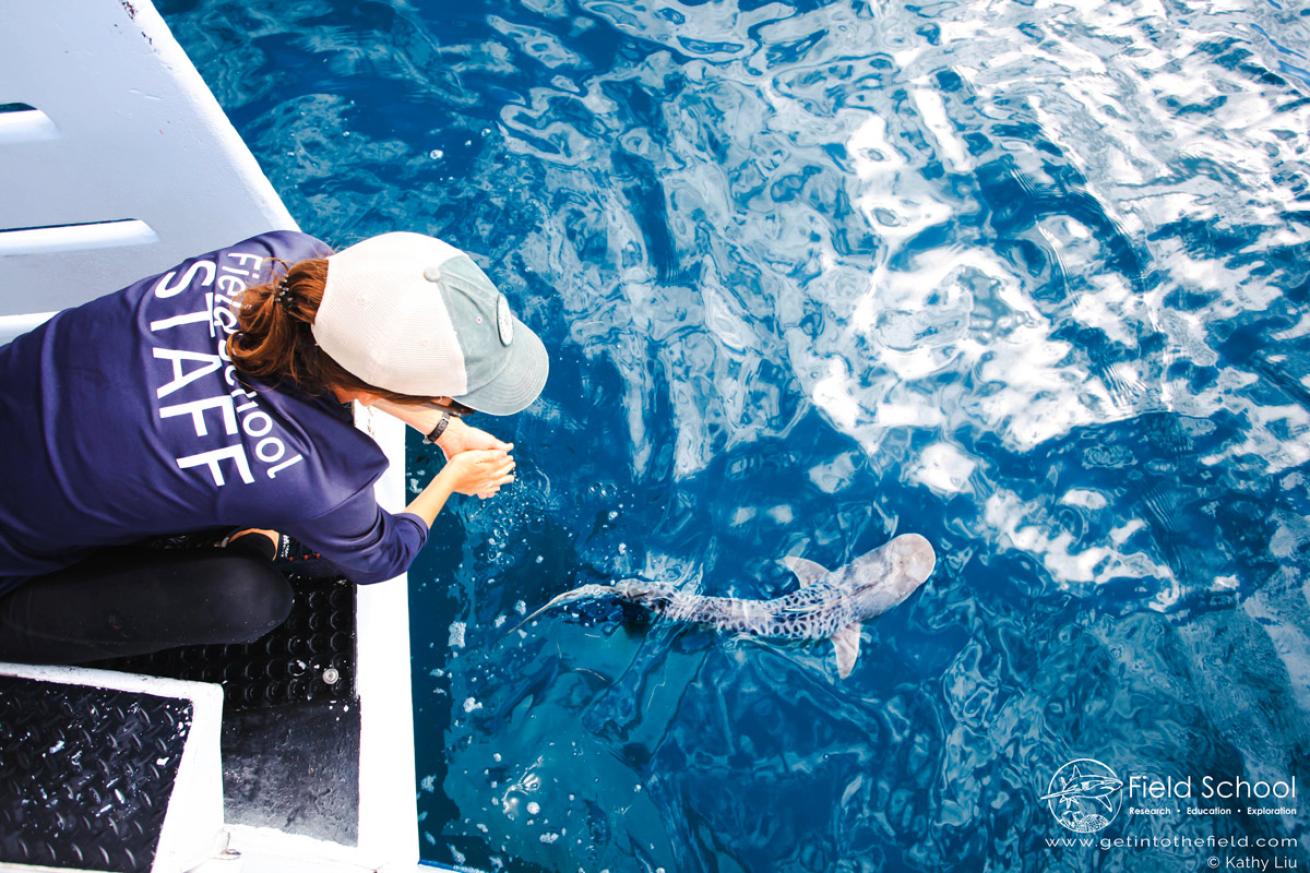 A juvenile tiger shark is released from the stern of research vessel Garvin after scientific data collection is complete.

Courtesy Kathy Liu/Field School
Q: How has Field School evolved since its founding in 2014?
A: Field School is constantly evolving. We maintain a growth-focused culture and mindset, always working to improve at the individual and organizational levels. We've grown a lot in size and scale and learned an incredible range of skills, from financial planning to repairing fiberglass, but despite all the ways we've grown and changed in the last eight years, our mission has stayed the same: to better research and science education.
Q: Through Field School, you've partnered with inclusive organizations and provided opportunities for underserved communities. Tell us more about your motivations.
A: I want science to be welcoming to everyone. The best way to make that a reality is by educating ourselves about the barriers faced by people who have been historically excluded from STEM opportunities. By connecting with those people and working alongside them, we can make our community safer and more inclusive. I'd especially like to highlight the work of Minorities in Shark Sciences and Black in Marine Science, as well as acknowledge Pridelines, an organization providing services to LGBTQ+ youth in the Miami community, which we support through our annual Drag 'N Tag fundraiser.
Related Reading: Minorities in Shark Sciences Makes Marine Biology and Conservation Accessible to All
Q: What do you view as the greatest challenges in marine conservation today? How are these challenges reflected in your own work?
A: I'm concerned about conservation being used as a justification for not caring for people. Conservation problems are often blamed on population growth or subsistence resource harvesting in low-income countries, and solutions often propose depriving vulnerable communities of access to resources in the name of environmental protection. I believe that conservation solutions that aren't founded in environmental justice and respect for human rights are always going to fail and that our core challenge is seeking out solutions that work for and with communities.
One of the most critical challenges we face here in Miami is how highly developed our coastline is—there is a need to re-imagine urban spaces, including waterways, to create opportunities for wildlife and nature to thrive. I seek to demonstrate the ecological importance of human-altered urban marine habitats. We need to reconceptualize which environments are worth saving (or improving) to include these. We also need to work to achieve our conservation goals alongside communities that will be affected by any proposed changes to create a world where people's and nature's needs aren't seen as being in opposition.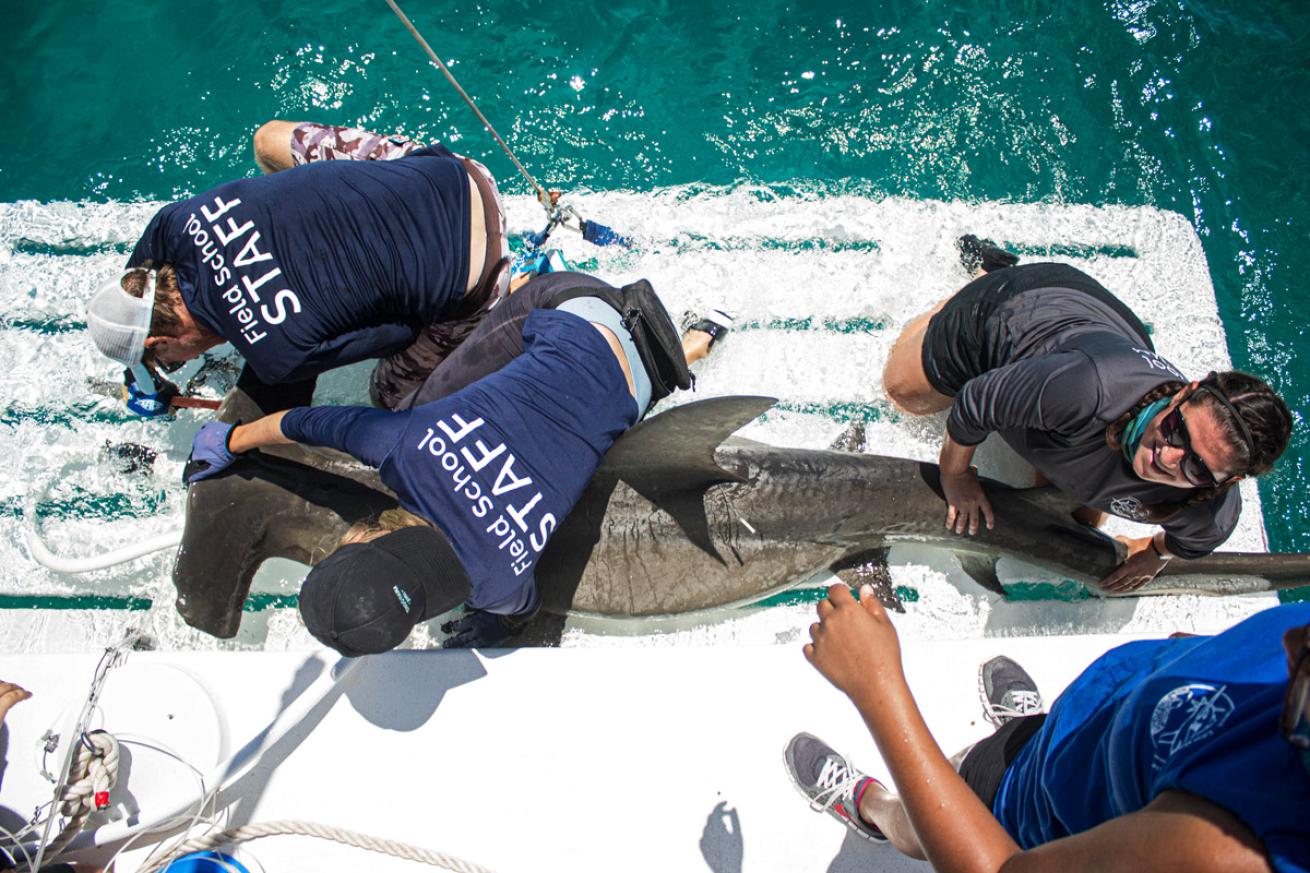 Field School staff work to collect scientific data as quickly as possible from a great hammerhead shark off the coast of Miami.

Courtesy Julia Wester/Field School
Q: What's been your most satisfying moment?
A: The most satisfying moments are those where students grow—when something clicks for them in the field, and you coach them through landing a shark successfully for the first time, or when you get a draft of their work to review, and you're nodding along reading it because it's so intelligent, thoughtful and well-researched. Watching my mentees teach other students what they've learned always warms my heart, as does getting to share a student's first time seeing, handling or releasing a shark— that keeps the wonder of getting to do this work alive for us too. Hearing from students that my mentorship has made a difference for them helps make even the challenging days feel worthwhile.
Q: What's been your most surprising moment?
A: One of the things I love the most about fieldwork is that every day is a surprise—you literally never know what's going to happen or what you'll catch. Every day in the field has the possibility of being one of the most exciting days of your career. For me, that helps ensure it never gets old. I think probably the most incredible surprise I've had at work was the first time we caught a juvenile great hammerhead, which weren't previously known to be present in the habitats where we work. We quickly worked it up, released it in great condition, and stood there looking at each other like "what just happened?".
Q: Who are your "sea heroes"?
A: I have too many friends and colleagues whose work I admire to list, but the people who inspire me the most on the hard days are often my students, who are choosing, despite all the bad news in conservation today and the inaction of previous generations on key environmental problems, to spend their careers trying to conserve the ocean. As long as they're fighting for a better future, I'll always believe it's possible.
Q: Is there anything we did not ask that you would like readers to know? Tell us what's important to you!
A: That there are so incredibly many ways to make the world a better place, and you don't need anyone's permission to get to work. We need scientists, sure, but that isn't the only way to make a difference for oceans. I appreciate the divers who are always carrying mesh bags to pick up trash on their dives, or the folks who head to the beach for the day and leave it a little cleaner than they found it. Small actions taken by a lot of people can have a big impact. We all share responsibility for co-creating the kind of world we want to live in.
---
Each Sea Hero featured in Scuba Diving receives a Seiko SRPD43 watch valued at $525. For our December issue, judges select a Sea Hero of the Year, who receives a $5,000 cash award from Seiko to further their work. Nominate a sea hero at scubadiving.com/seaheroes.
---