Conservationist Douglas Woodring Named June Sea Hero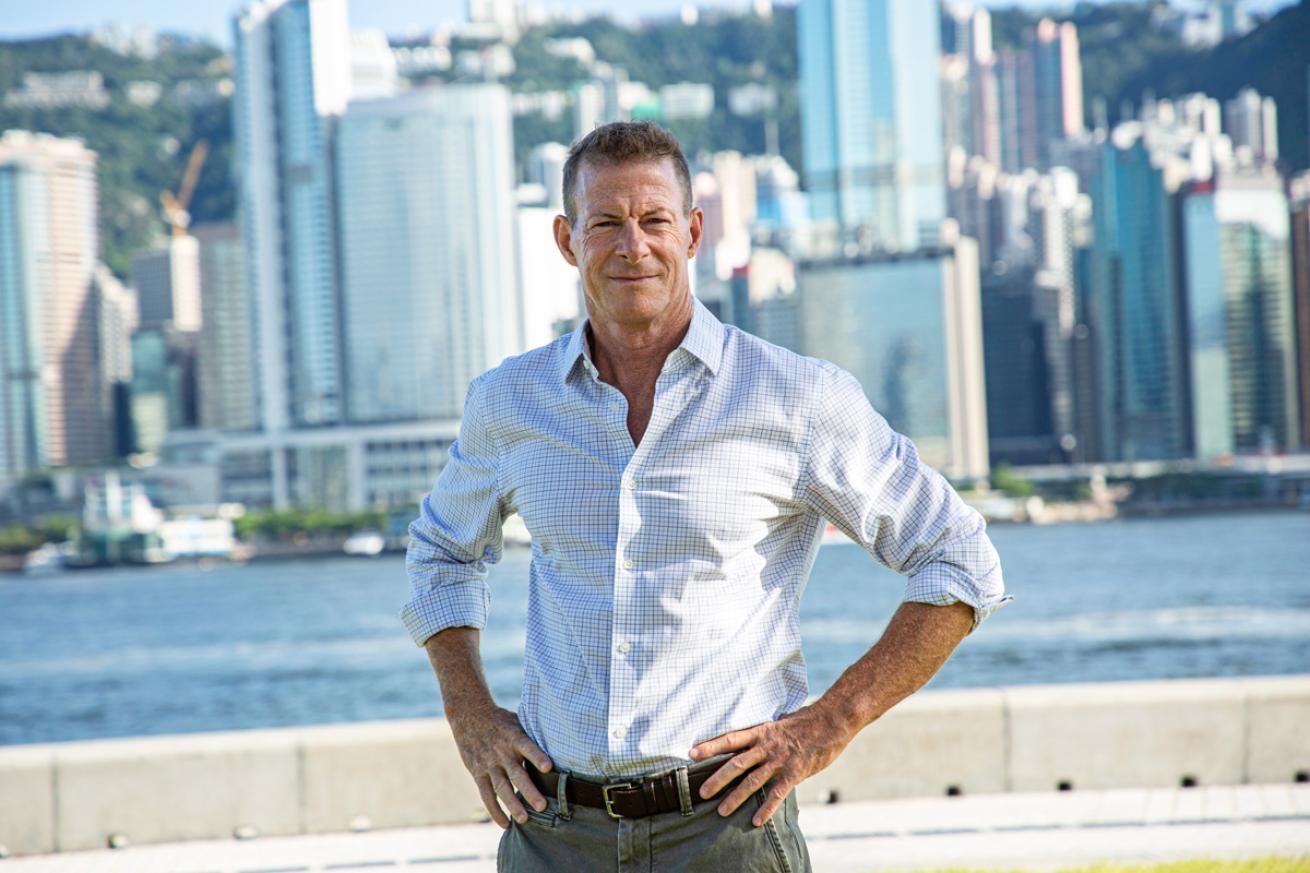 A portrait of Douglas Woodring.

Courtesy Ocean Recovery Alliance
Year Dive Certified: 1998
Age When Certified: 33
Dive Certification Level: Advanced
Website: www.OceanRecov.org
Facebook: Ocean Recovery Alliance
Words To Live By: "The Ocean is one body of water, and we are all owners and protectors of it, so we shouldn't use the 's' at the end of the word Ocean. The nuance is important, and people understand if you explain it, but if you don't feel ownership, then you don't protect."
---
A dive off the Blue Corner in Palau solidified the need for change for Ocean Recovery Alliance founder Douglas Woodring. At 20 meters deep, Woodring found plastic suspended in the water column, in the middle of nowhere, in otherwise pristine and clear water. He surmised that this plastic pollution was not from the island of Palau but must have been carried in from farther abroad by the currents of the Pacific. His urge to raise global awareness of the effects of plastic in the ocean was born. For his innovative solutions and global mindset, Woodring is our June Sea Hero.
Q: You've spoken candidly about poor waste management and lack of recycling capabilities in several regions. Do you consider this a global issue?
A: This is the biggest global issue. Even the United States, Japan, Europe and other developed countries do not have the full capacity to handle their plastic. If you don't have the ability to clean, recover, sort and process material, it is almost impossible to recycle it or reuse it in some way. When there are big rains or weather events, and poor waste management systems and illegal dumps, much of that material floats to the waters. Most waste systems are not set up to recover plastic well, and instead, much of it gets contaminated with food waste, making it hard and too expensive to clean, sort and recycle. We suggest a global campaign for everyone to start sorting their waste by "Wet and Dry." This is easy for all to understand, and by keeping the organic/ wet material out, it is easier to recover all other materials for recycling. The organics can then be better used without contamination from plastic.
Related Reading: 50 Years of Garbage and We Still Don't Know What to Do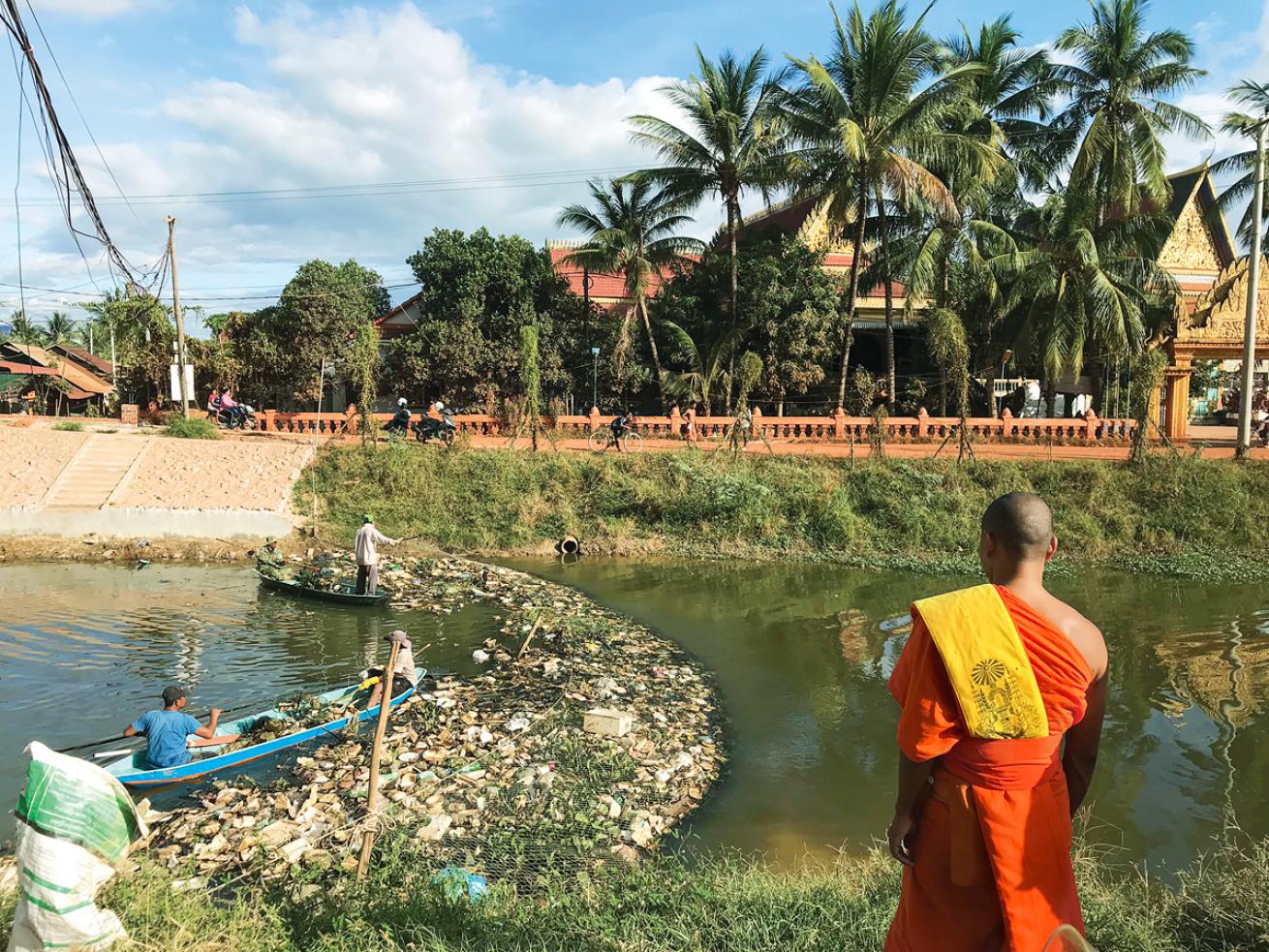 Locals in Cambodia take part in the Global Alert River Care Program to collect and remove trash from their home waters.

Courtesy Ocean Recovery Alliance
Q: What is the status of the Plastic Disclosure Project and Global Alert app today, and how can everyday divers get involved with the cause?
A: The Plastic Disclosure Project (PDP) is a tool for businesses, governments and institutions like hospitals, universities, airports and stadiums to assess and report their own plastic use and engage in a circular economy that incentivizes reuse of plastics rather than relying on new materials. It was the first in the world of its type. Now, with a "circular economy," you can't circulate something unless you know what you have and are working with, and the PDP helps with that. The great part with both of these globally powerful tools is that they require no bans, taxes or legislative changes, and that can save a lot of time! Any company, government or institution can use them. A dive center or other tourist-related business could undertake the PDP to find out its own plastic footprint, as can hotels, restaurants and schools.
The Global Alert app is available in app stores in English, Spanish and soon Indonesian. People can report trash hotspots anywhere in the world's waters—it's mainly meant for creeks, streams and rivers, where 90 percent of ocean plastic comes from. As divers, if you see nets or plastic wrapped around coral, or something on the bottom, and you know it won't move with the tides or currents, you can take a photo of it or GPS the location when you get to the surface. Then others could return to that site to recover the plastic/nets at a later date, if you can't do it yourself.
We approve photos before they go live on the site—and once they're up, if you do a cleanup, you can add cleanup photos on the site, and the pin on the site will become green, not red. This enables you to show stakeholders where you have done cleanups or management of a site. The goal is to use this to inspire and direct cleanups, and to put up booms, nets and catchment devices in streams and rivers, to slow the flow of plastic to the sea.
Related Reading: Six Ways to Tackle Plastic Pollution Every Day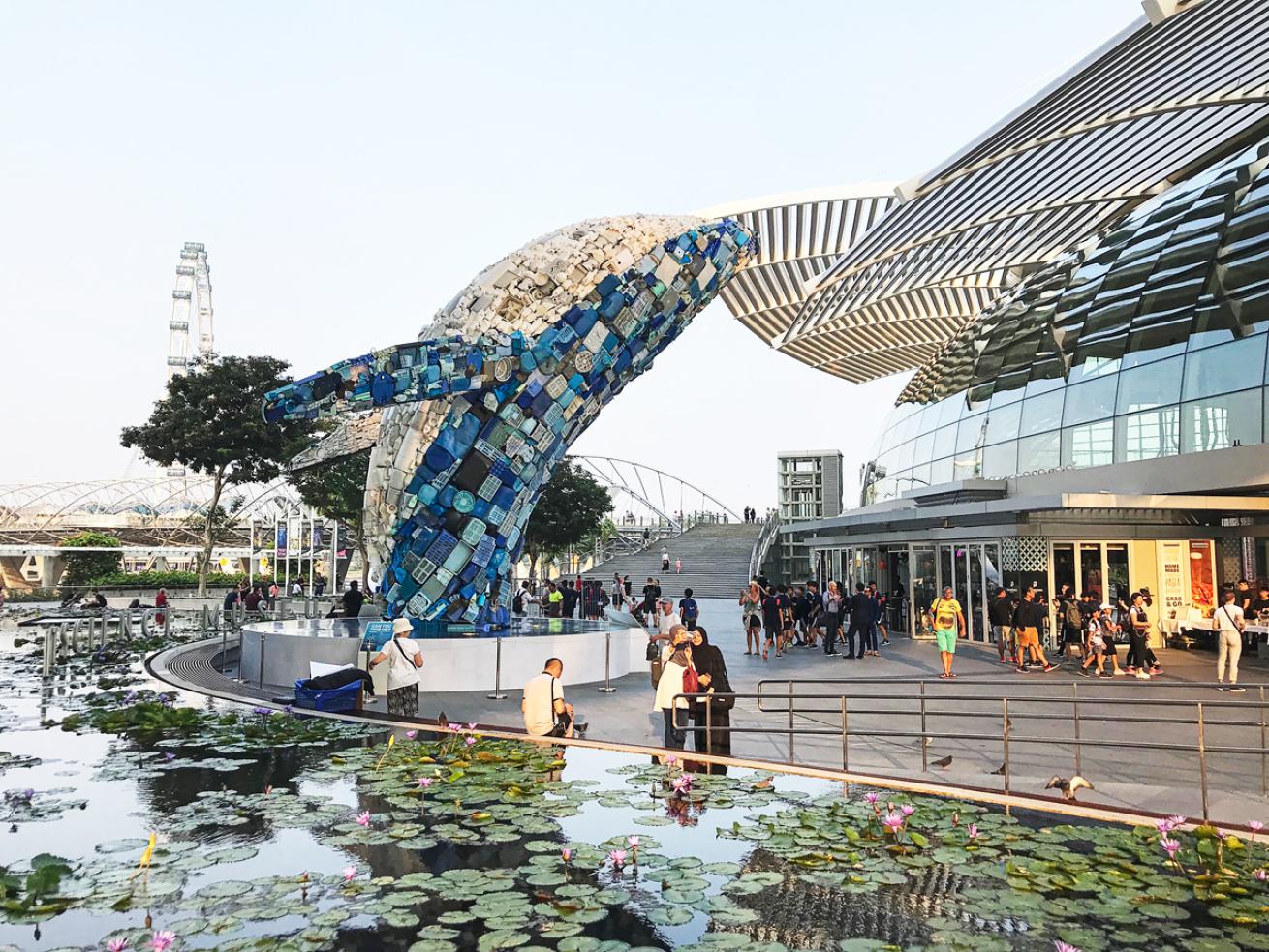 Ocean Recovery Alliance took "Skyscraper," a 36-foot-tall whale made from 5 tons of ocean plastic, to Singapore in 2019 to raise awareness about plastic pollution

Courtesy Ocean Recovery Alliance
Q: What tools do you provide to countries without means to give plastic a second life?
A: The goal is to "intercept" and prevent plastic from getting away—from getting into waters, and then causing pollution that has many human and ecosystem issues. We created the Global Alert app so people can "See, Share, Solve." Just getting plastic out of rivers is already a big step forward, even if it is too dirty for recycling and goes to a landfill. But there are many new options for "mixed dirty plastic" that require little to no sorting, and these will be impact-makers in a positive way once they start to scale. They include the use of mixed plastic for concrete (designed in a high-tech way, but with low-tech machinery) that is lighter weight, stronger and able to absorb plastic pollution. This can bring higher value to construction material, which will last for decades and can be recycled again. Similarly, asphalt will be an offtake option, as well as some highly compressed construction boards and tiles that can replace wood.
Q: What's next for Ocean Recovery Alliance?
A: We are excited about our growing programs in Cambodia on the Tonlé Sap Lake, the largest lake in Southeast Asia—it rises and falls 6 meters each rainy season. As part of our annual Water Rising Festival, we are initiating the first-ever Inland Ocean Festival on the lake in June, before the water rises, in honor of World Ocean Day. It is important to acknowledge inland waterways, as many people in the world never get to the ocean themselves, but they likely care about their own watershed. If the watersheds upstream are clean, so too will be the ocean, which is the downstream recipient of all waste that might escape them.
---
Each Sea Hero featured in Scuba Diving receives a Seiko SRPD43 watch valued at $525. For our December issue, judges select a Sea Hero of the Year, who receives a $5,000 cash award from Seiko to further their work. Nominate a sea hero at scubadiving.com/seaheroes.
---