Coral Restoration Nursery and Dives to Launch in Islamorada
Islamorada's first coral-restoration program aims to bring Florida reefs back from the brink of functional extinction.
"I've been diving for decades, and watching the reef decline in more recent years was crushing to me," said Mike Goldberg, owner of Key Dives and a co-founder of the recently launched Islamorada Conservation and Restoration Education (I.CARE), a project financially supported by the National Marine Sanctuary Foundation. "So I decided to make a difference."
Coral reef cover around the Keys has decreased in some areas by more than 95 percent, largely due to disease and climate change. Florida's reefs support over 70,000 jobs and protect $880 million in infrastructure and economic activity from storm-related flooding annually, according to research by the National Oceanic and Atmospheric Administration (NOAA).
I.CARE will bring the new restoration program to life in partnership with Mote Marine Laboratory and Aquarium and Bud N' Mary's Marina, where a land-based coral nursery will soon be built for the program's education sessions.
Mote cultivates baby corals in an existing program that has outplanted more than 78,000 coral fragments in damaged Florida Key reefs. In a land-based nursery on Summerland Key, Mote breeds corals and accelerates their growth using a process called micro-fragmentation, where corals are intentionally broken and cut into small pieces before being replanted. Coral genotypes are tested to see which can withstand diseases, as well as the high temperatures and increased acidification scientists expect by the end of the century due to climate change. Those strains are selected for outplanting.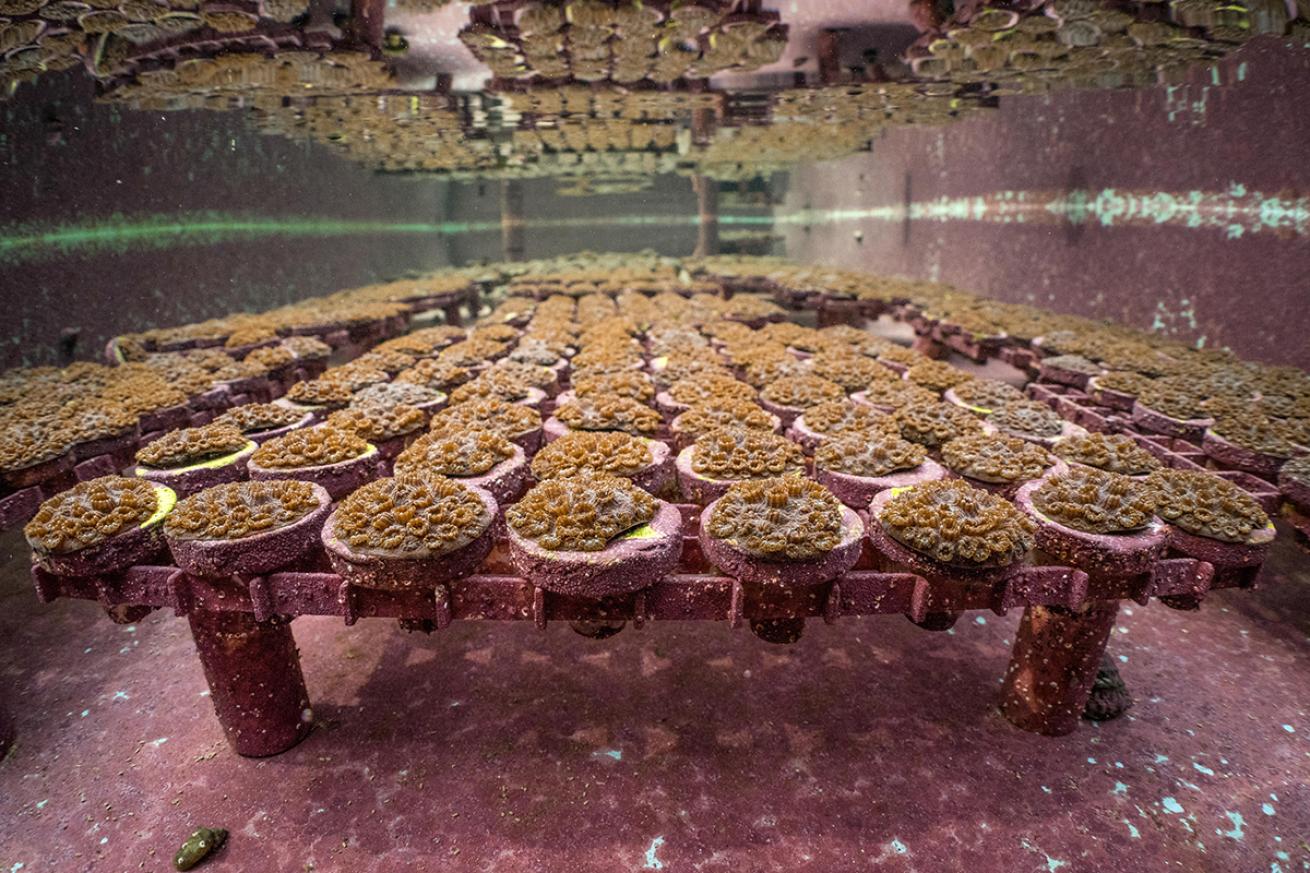 Pieces of star coral grow in Mote's land-based nursery.

Conor Goulding/Mote Marine Laboratory
"We've been incredibly successful with our efforts in the Lower Keys, but to meet the urgent demand of restoring our rapidly declining reef, we must double our operations and capacity to serve additional parts of the reef tract," says Dr. Michael P. Crosby, Mote's president and CEO.
Led by Dr. Kylie Smith with the help of four interns, I.CARE will oversee the replanting of up to 6,000 of Mote's reeflings over the next year with the help of dive shops like Key Dives.
"Mote doesn't have legions of people to do this work," said Goldberg. "That is what the dive operators do. We have the network to go out and bring divers here to create the demand."
He anticipates restoration dives will begin as early as August, pending permitting approval from NOAA and the Florida Fish and Wildlife Conservation Commission.
Citizen science divers will be able to book a coral restoration dive with Key Dives, Islamorada Dive Center, Conch Republic Divers and Forever Young Charters. Dives will focus on rehabilitating sites like Alligator Reef, Cheeca Rocks, Rocky Top and Victory with elkhorn, staghorn, star and brain corals. Each shop will donate $2 per diver and $1 per snorkeler to I.CARE, which is also supported by donations from local resorts, snorkel operators and Mangrove Mike's, a local restaurant.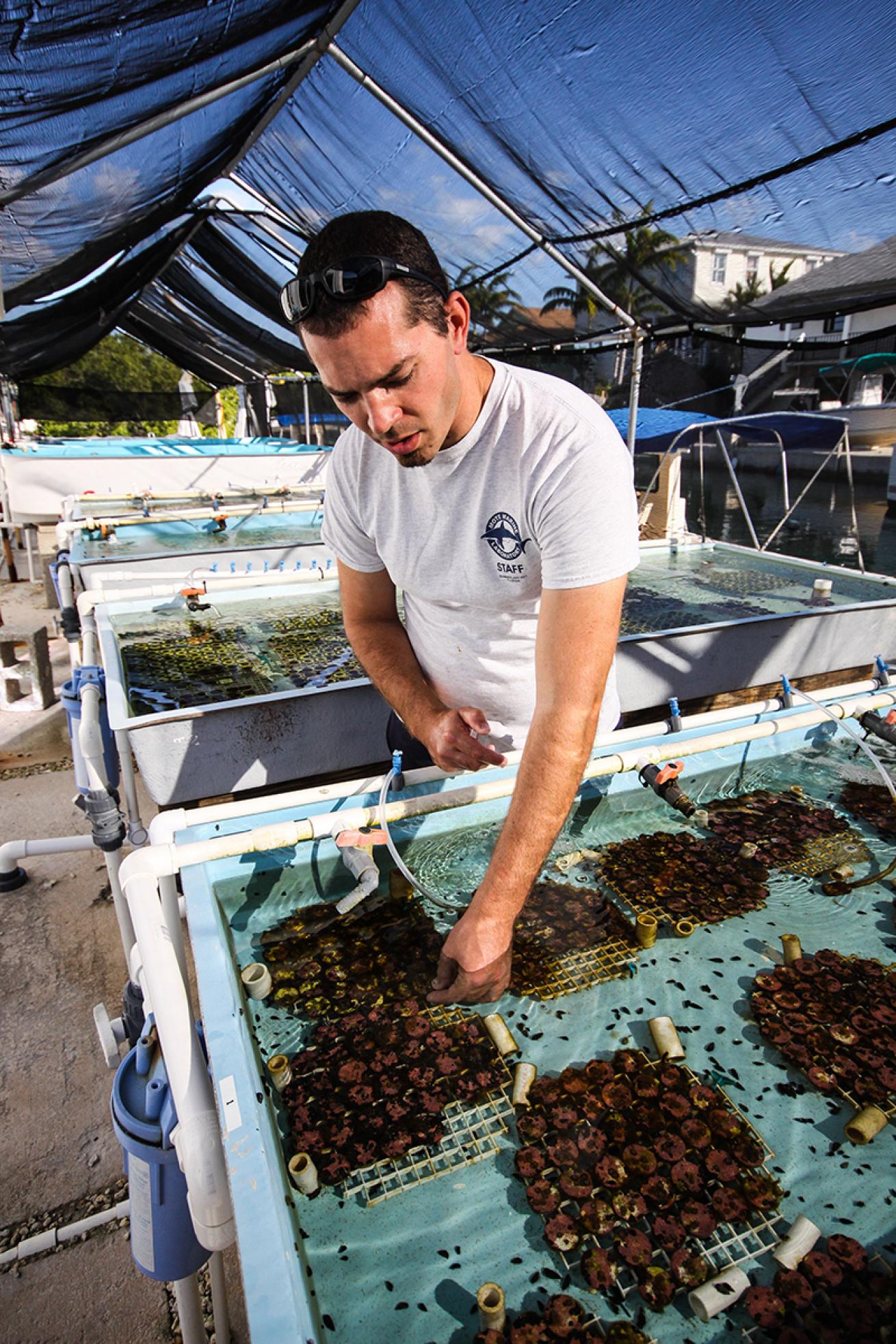 A Mote scientist tends to an above-ground nursery of micro-fragmented coral.

Conor Goulding/Mote Marine Laboratory
All four dive operators will offer a morning of land-based reef education followed by two restoration dives in the afternoon. Morning lessons will include a tour of the above-ground coral nursery at Bud N' Mary's Marina.
Over 40,000 coral fragments from 17 different species already reside in Mote's above-ground and underwater nurseries, where coral grows until it can be planted in Floridian reefs.
"There isn't a soul that lives in this community that doesn't either directly or indirectly depend on the reef," said Goldberg. "Besides what it means to the fish, and the marine life," restoring reefs will have "a lasting impact on fishing, diving, real estate prices, general contractors, snorkel operators and hoteliers."