The Deeper, Dialed-Up Side of Nassau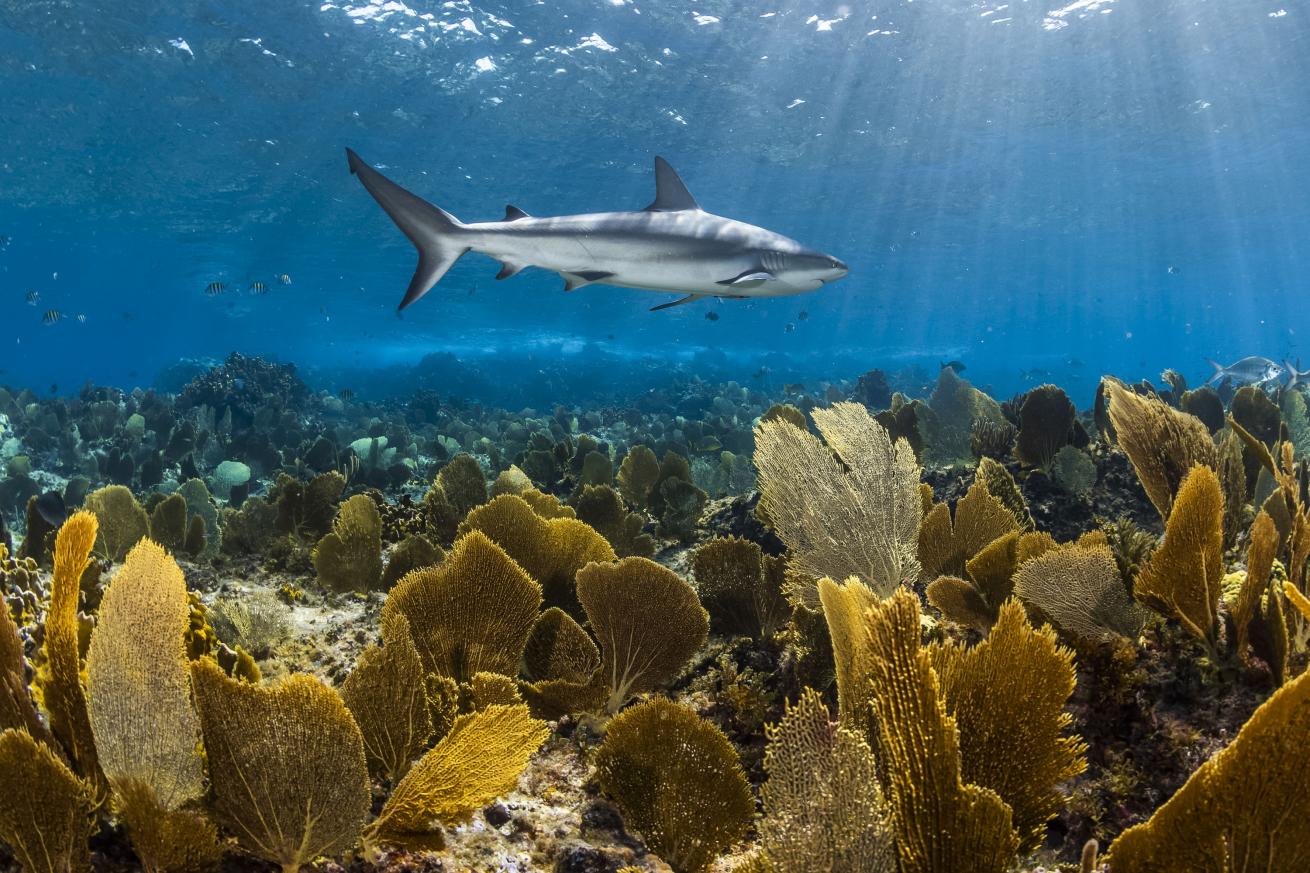 Dive with sharks in The Bahamas

Courtesy of Bahamas Ministry of Tourism
Nassau — considered the 'big city' of The Bahamas — delivers plenty of big thrills for certified and experienced divers. Sharks, wrecks, walls, reefs, DPVs and more are all on offer here.
Starting with sharks. Stuart Cove's Dive Bahamas, a PADI 5-Star Centre and one of the predominant scuba operators on the island of New Providence, home of capital city Nassau, offers a shark dive four times a week. At this active feeding open only to certified divers, trained handlers help guide sharks in for closer encounters with kneeling divers. A bonus: Staff photographers capture the action, preserving the memories of this epic encounter. Those who want to take their shark experience to the next level can also take a PADI Shark Awareness Specialty course, which gives you a foundation in reading shark behaviour.
Nassau is also home to wrecks at a variety of depths—so much so that they're a big reason that the island has been called "Underwater Hollywood" after a lineup of films, including "Into the Blue" that filmed using a sunken DC3 plane, were shot here. That plane is just one of the underwater metal attractions. There is also the 110-foot freighter, Tears of Allah, and the 130-foot Willaurie mail boat dripping in sea sponges, but the must-see is the 200-foot Ray of Hope freighter, sunk at 60 feet right at the edge of a small wall. This vessel also sits at the edge of one of the shark-feed sites. Sharks regularly cruise the deck and perimeter, making for unlimited photo opportunities for underwater shooters and an overall more lively dive.
Another wreck, sunk by Cove's team, can be found on the south side. "One of the must-do wrecks is the Sea Trader, on our southernmost dive site, where we get a lot of sharks as well," says Cove of the 250-foot oil tanker sunk to a depth of 60 to 80 feet. This southern coast is a side of New Providence Island that not all divers who've visited Nassau know about. "We have a tremendous wall that starts at 35 feet and drops vertically," says Stuart Cove, owner of the dive center bearing his name. "It rivals any wall dive I have seen anywhere." The north side of New Providence has wall diving as well, with drop offs riddled with tunnels and caves. The south side stands out for its grander, more towering corals.
Sandals Royal Bahamian, another PADI 5-Star dive operator, also dives both sides of the island—north and south. A bonus for staying at this upscale all-inclusive is that scuba-certified guests dive free, up to two dives per day. Rental gear is included, making for added savings. Plus, every dive is guided, so you don't miss out on seeing the special finds at each site, whether that's a lettuce sea slug or a peacock flounder. "We don't tell you what to do, but we do make sure we show you the best parts of the reef," says Michael Clarke, Corporate Director of Watersports for Sandals Resorts.
If wall diving is something you'd like more experience with, Nassau is a good place to add more of these deep dives to your logbook, as well as a variety of other courses and specialties. As a PADI Five Star, Stuart Cove's or Sandals Royal Bahamian can help you earn that next certification, be it Advanced Open Water Diver—which includes five adventure dives, such as a night dive, wreck dive and deep dive—or your Nitrox certification that grants you longer bottom times on the deep wrecks and walls. Other specialty courses, including Peak Performance Buoyancy and Search and Recovery, are also on offer to help you refine buoyancy and search-pattern skills, and more. Stuart Cove's also offers an experience they call "wall flying". Divers harness the power of an Apollo DPV—that is, an underwater scooter—for a faster cruise and adrenaline rush along the wall and the wall's edge.
Whether you're taking a course or just looking to stay thrilled underwater, Nassau delivers. "We certainly have enough to keep any diver excited for a week or longer," says Cove.