Dive Deeper into Wildlife Adventures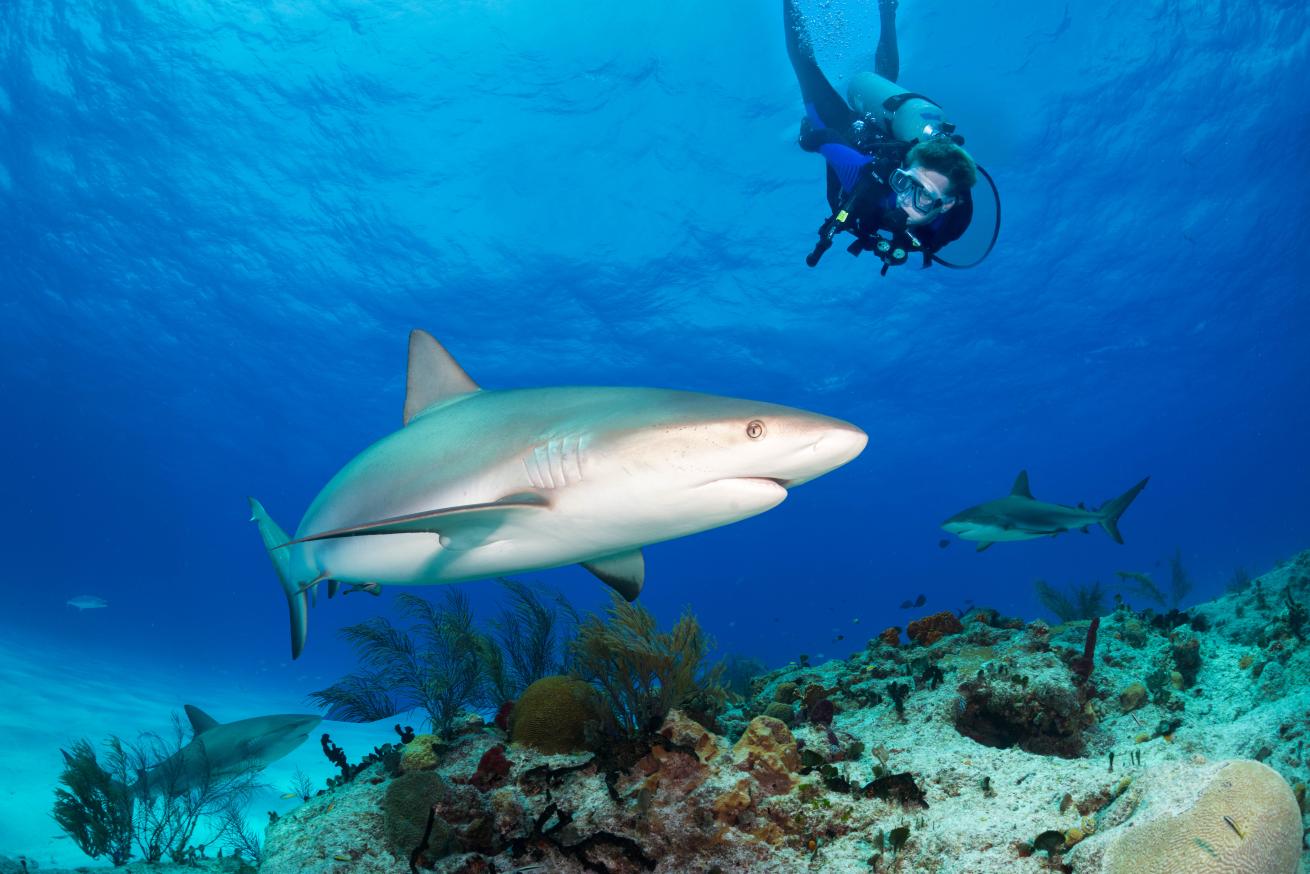 Of the roughly two dozen dive sites surrounding Bimini, the island is most famous for its exhilarating shark dives.

Courtesy of Bahamas Ministry of Tourism
Hear the word "Bimini", and most divers think of the giant hammerhead sharks that have become seasonal regulars December to April. But this big-animal experience should not eclipse all that this Bahamian island offers: Year-round, Bimini has sharks, dolphins, shallow-water stingray encounters and wrecks on the menu.
Any time of year, shark diving is on offer. Several shark dives off Bimini aren't active feeds, so divers can swim freely with Caribbean reef sharks and lemon sharks. This island supports such healthy elasmobranch populations that it's home to one of the world's only shark-focused research centres. Technically called the Bimini Biological Field Station, it's known to folks on island as Shark Lab. Upon request, researchers offer one tour a day, typically around low tide.
The most-talked-about shark encounter is the great hammerhead dive. Now celebrating 10 years, this experience is unique in that the boat carries divers to a location no more than 20 yards from shore. It's close and easily accessible—so much so that you can access the Wi-Fi of Bimini Big Game Club Resort. Most other dive destinations known for hammerheads either require long boat rides that can take as much as a day and a half, or don't offer the nearly sure-thing availability that Bimini does. Plus, given the site's depth of about 20 feet, it's a photographer's dream for ample light and long bottom times. It's also an experience that continues to evolve.
"After a while, it started to develop on its own into something more," says Neal Watson Jr., owner of Bimini Scuba Center. "The hammerheads were still showing up, but they were joined by bull sharks and tiger sharks. It's a mix that's constantly changing." The bull sharks can also be seen from a cage that Bimini Scuba lowers into the water near the harbour, right next to Sharkies Bar and Grill, known for their barbecue. It's an experience both in and outside the cage. "You can have a Kalik [beer] and watch as other people dive in the cage," he says. "It's a whole vibe."
Swimming with wild Atlantic spotted dolphins is another popular Bimini encounter open to all snorkellers; however, those who move more easily and comfortably in the water will get more out of the experience. "All the photographers want shots, not just of the sharks but of the dolphins, too," says Watson.
Honeymoon Harbour Beach is yet another opportunity for snorkellers and divers alike: This shallow-water site attracts a dozen or so Southern stingrays. For underwater photographers, it's something different, and another chance to hone skills and craft perfectly composed shots.
Bimini also offers a growing collection of wreck dives. Most recently, the island saw the sinking of wrecks placed close together underwater to create a veritable "Wreck Alley", which can be done on one tank. In the mix: a 150-foot barge, 90-foot tugboat, 70-foot landing craft and 35-foot steel boat. They've also sunk two barges near one of the coral nurseries.
Post dive, Bimini is easy to explore. Says Watson, "The island is so quaint and small, and everything is within walking distance." This includes Radio Beach and a straw market, open daily, where vendors sell locally made hats, bags, baskets and more. This site is also where you'll find Bimini's Fish Fry, also happening daily, where just-caught seafood, made-to-order conch salad and drinks served in coconuts are dished up.
Walk, ride a bike or drive a golf cart the length of Bimini to find the perfect swimming spot along the island's 2-mile strip of white sand beach. Along the way, stop for a cold beer, cocktail or soda at the various open-air bars.
If you're staying the night, opt for the Bimini Big Game Club with cabana-style rooms, the new Hilton at Resorts World with five restaurants and two poolside bars or the island's more than two dozen Airbnbs.
There's so much to experience on Bimini. A day trip or weekend from Fort Lauderdale, Florida, or from Nassau is a good way to see a piece of what's here, but to really do the island's underwater scene justice takes at least a week.