Divers Clean Up Almost 1.7 Tons of Marine Debris in California
On a bluebird February day on Southern California's Catalina Island, 561 pairs of fins were shoved onto feet, and a flotilla of divers headed down the beach for the 40th annual Avalon Harbor Underwater Cleanup.
Divers, joined by over 150 nondiving volunteers and staff, tackled three harbor locations: Step Beach, Casino Landing and Green Pier. In total they removed 2,743 pieces of marine debris weighing a whopping 1.69 tons, or about 3,380 pounds. Volunteers sorted the collected debris into categories on the beach. Their findings were reported to PADI AWARE and added to the Dive Against Debris database, the largest underwater marine debris database in the world.
The database is used by scientists, governments and the global dive community to track and document the origins of marine debris. "Just having access to that additional data is an incredible addition to what we're doing," says Katie Chvostal, community relations and special events coordinator for the University of Southern California Wrigley Institute for Environmental Studies, an organizer of the event. "We're not just cleaning the ocean, we're learning in the process."
Started by a dive club in the 1980s, the event has grown considerably over the past four decades. This year's cleanup was a joint effort organized by USC's Wrigley Institute for Environmental Studies, Catalina Hyperbaric Chamber, and WIES-Catalina Conservation Divers, with support from PADI, PADI AWARE and Seiko. "We weren't able to hold the event in person last year, so the dive community was really excited to get together," Chvostal says.
She knows firsthand that organizing hundreds of divers is no small feat. Safety was a top priority, Chvostal says. "Divers check in and get a wristband with a unique diver number on it, then they go through a safety briefing. As they exit the water, they have their wristband punched and a volunteer checks them back in. We also have a kayak and a surf safety patrol that make sure people are within the designated area, and assist anyone who got separated from their buddy." The event is the only time of year that diving is allowed within the mooring field at Avalon Harbor. There is normally so much boat traffic in the area that diving would be unsafe, but for this event boaters are notified in advance to increase awareness of down divers.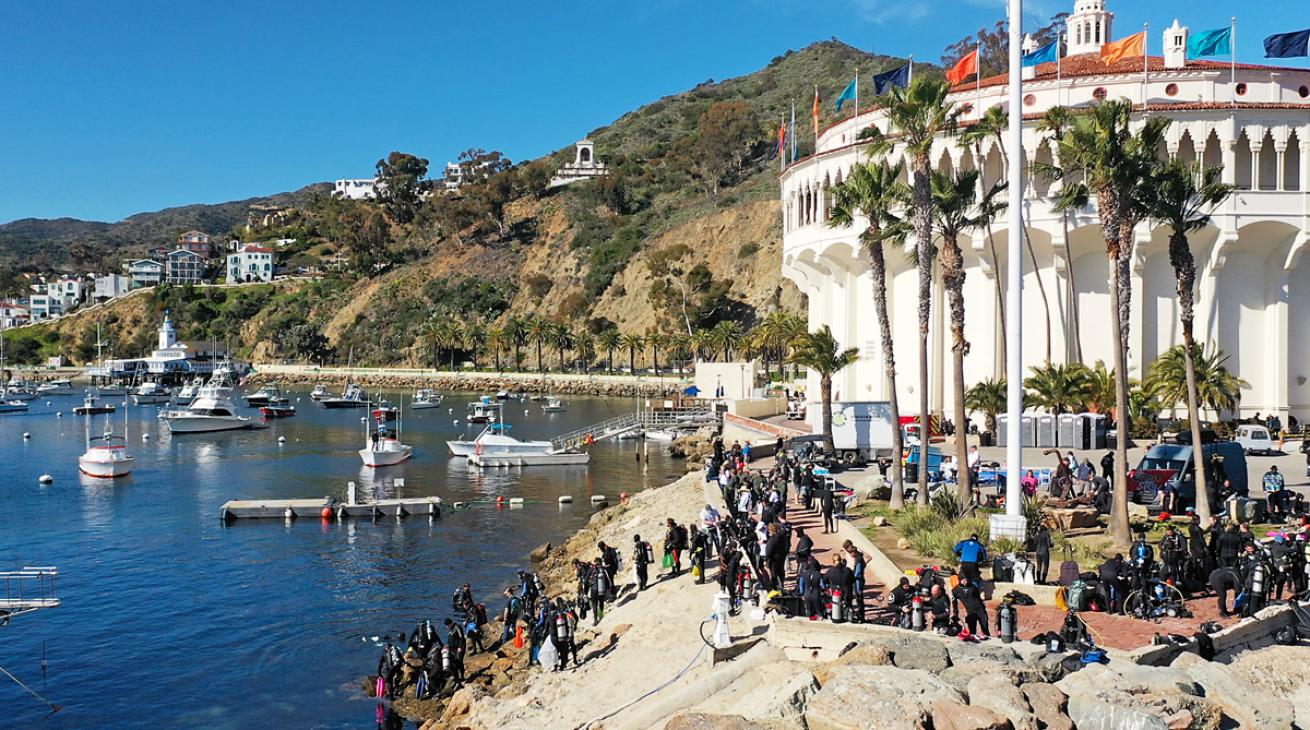 Divers enter the water empty-handed and exit with collected trash that is then sorted and documented on the beach.

Jack Fishman
Jack Fishman, community and campaigns officer for PADI AWARE, says the data will be used to measure the community's impact on a local level and to create opportunities for future community events and policy changes. "The event was such an important indicator that more events like this are possible and needed to maintain that excitement and potential for saving the ocean," says Fishman.
As a community, divers care about the ocean because it is their home away from home. While many threats facing marine ecosystems can seem enormous and out of our hands, the event brought into perspective the positive effects of collective action. The value extends beyond just pulling trash out of the ocean. Throughout the day, divers encountered marine life entangled in human-sourced debris, and they were able to release a total of 119 marine animals in their efforts. And Chvostal says the fees collected for participation will go toward the Catalina Hyperbaric Chamber, which provides emergency medical care and lifesaving support to divers; the USC science diving program, which trains future marine scientists; and the WIES-Catalina Conservation Divers.
The cleanup was a palpable success for participants and a boost for community morale. "It's the sense of community and seeing everyone band together to clean our ocean," says Chvostal. "The fact that people come back to Catalina to make sure it's as pristine as possible is pretty inspiring."
---
Feeling inspired? Organize a cleanup in your community and check out padiaware.org to learn how you can participate in a Dive Against Debris!
---