Diving With Citizen's New Promaster Dive Watch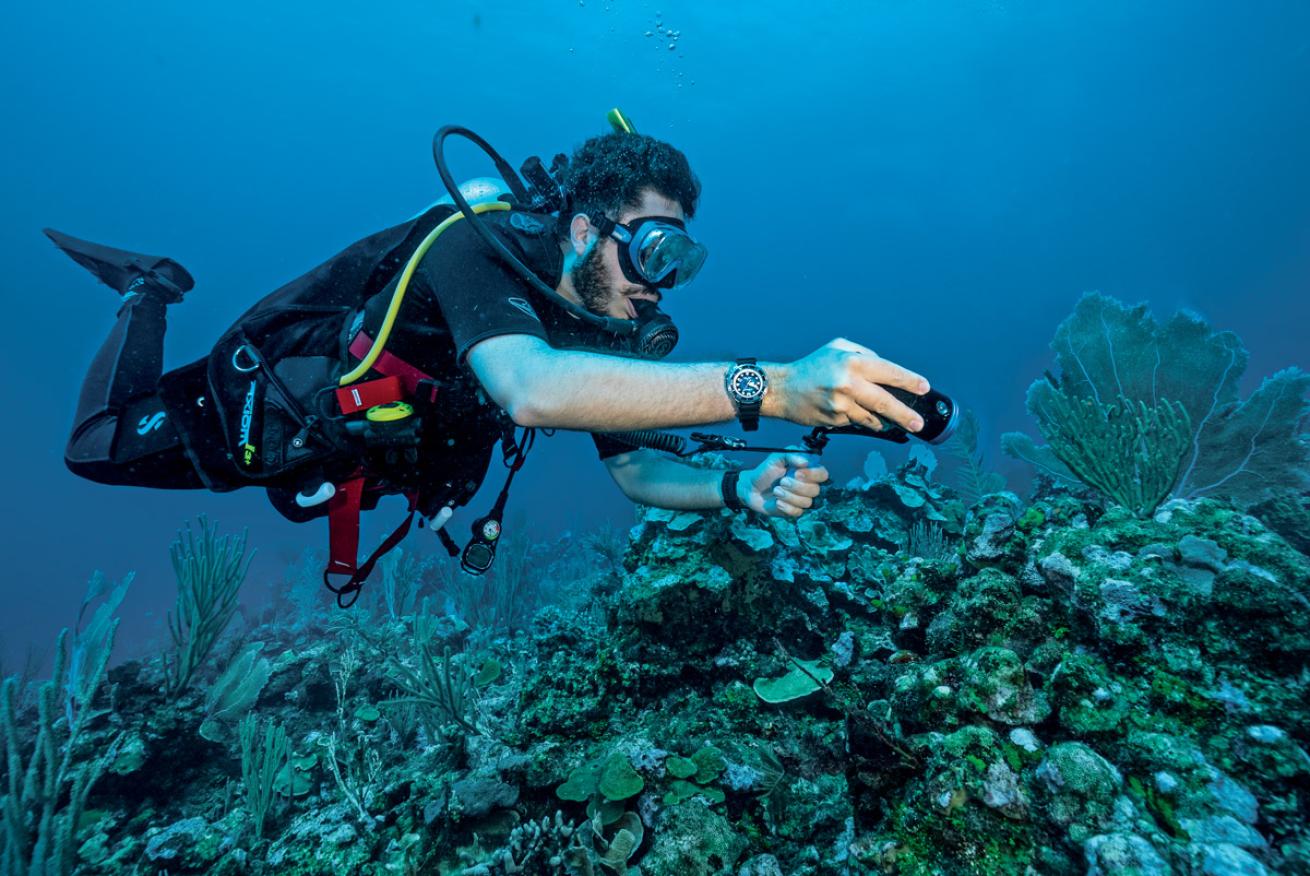 The Unite with Blue dial uses a special structural color ink to reflect the myriad beautiful colors of the world's oceans.

KRISTIN PATERAKIS
Unveiled on World Oceans Day last June, Citizen's new Unite with Blue collection is made up of five limited edition timepieces, including a new Promaster Diver. Inspired by the beautiful oceans that unite our world, the dial of each watch is made of recycled materials and reflects the numerous shades of blue and green found throughout the world's oceans. Keeping with the theme of sustainability, each watch is equipped with a biomass-based polyurethane strap and utilizes Citizen's proprietary lightpowered Eco-Drive technology.
Related Reading: Blancpain Fifty Fathoms: An Icon Reimagined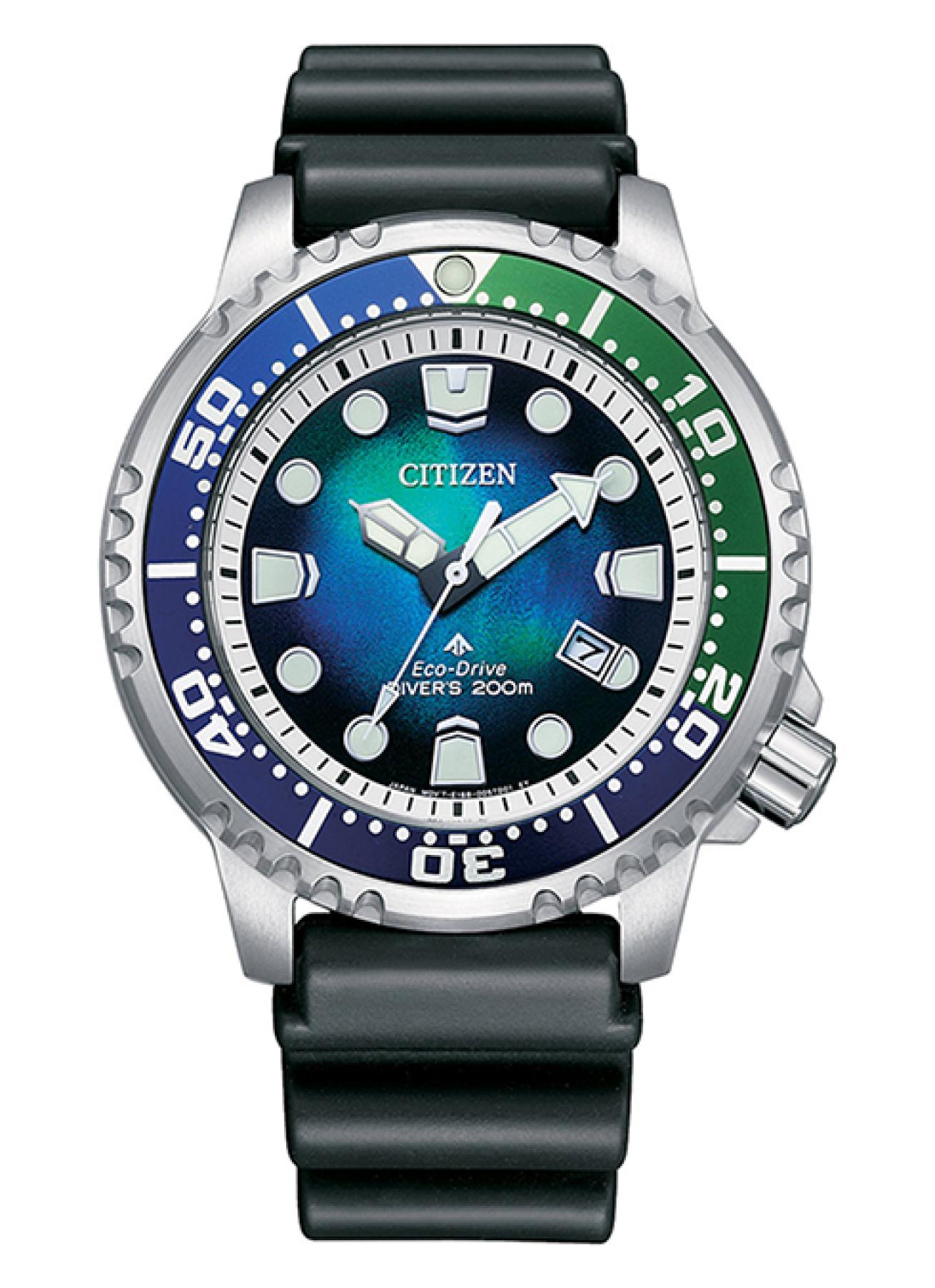 WATCH SPECS

Citizen Promaster Dive BN0166-01L

MSRP $475

Movement E168 Eco-Drive

Power Reserve Six months on a full charge

Water Resistance 200 meters/656 feet

Case 44 mm

Material Silver-tone stainless steel with polyurethane strap

Crystal Spherical mineral crystal

Website citizenwatch.com

COURTESY CITIZEN
The use of recycled and repurposed materials is nothing new—you can find them in everything from plastic dining utensils to high-end scuba regulators. However, the Unite with Blue Promaster's iridescent dial isn't noteworthy just because of its eco-friendly 100 percent recycled polycarbonate construction. The engineering involved in transfiguring reclaimed plastic waste into a beautiful, desirable undersea treasure is truly something else. The secret is a special pigment-free structural color ink that harnesses light on a nanoscopic level to produce brilliant blue, turquoise and emerald hues. This method of producing color relies on diffraction, similar to how a prism creates a rainbow from white light. It is found in nature, most prominently in bird feathers and butterfly wings.
During a recent dive trip to Ambergris Caye in Belize, I lost track of how many times I was stopped by divers and nondivers alike so they could more closely admire the Promaster's glittering dial, whose shifting colors perfectly complemented the underwater palette of the Mesoamerican Barrier Reef—from the lively shades covering Turneffe Atoll to the subtle twilight hues of a night dive at Hol Chan Marine Reserve. The already breathtaking timepiece takes on a new dimension at depth, where the ambient light reveals the texture of the structural ink. The captivating ripples and waves were difficult to describe, at least until a dive at Hol Chan Marine Reserve, where my giant-stride entry was accompanied by a sudden rainstorm. Looking back toward the surface I was amazed at how perfectly the dial's hidden pattern matched the dynamic play of raindrops upon the water's surface.
Related Reading: Introducing the Praesidus A-5 UDT World War II-Inspired Dive Watch
The watches in the Unite with Blue collection utilize the properties of light to create their colorful dials. Thanks to Citizen's Eco-Drive technology, they also use light to power their internal components. By using light as a sustainable source of energy, these watches eliminate the need to replace and dispose of dead batteries. This beautiful symmetry of design ensures that the collection embodies an eco-mindful mentality in both form and function that will spark conversations about sustainability among collectors and divers alike.
---
POWERED BY LIGHT Citizen debuted the world's first light-powered analog quartz watch in 1976 and has continued to pioneer and innovate using this alternative source of clean energy ever since. The watchmaker's Eco-Drive technology utilizes a solar cell that captures and converts light energy from any light source—sunlight, incandescent, fluorescent, etc.—and uses it to power the movement of the watch. Surplus energy is stored in a battery, which can power the watch for months, even if left in complete darkness. Unlike that of a traditional quartz watch, this battery is designed to last the full lifetime of the watch and never needs to be replaced, which significantly reduces battery waste in landfills. Citizen estimates that each year, for the past 47 years, the amount of disposable batteries kept out of landfills by Eco-Drive would stack 27,559 feet high—almost the height of Mount Everest.
---